Recipe
Braised Cucumbers with Roasted Potatoes
Vegan | Gluten-Free | Dairy-Free | Sugar-Free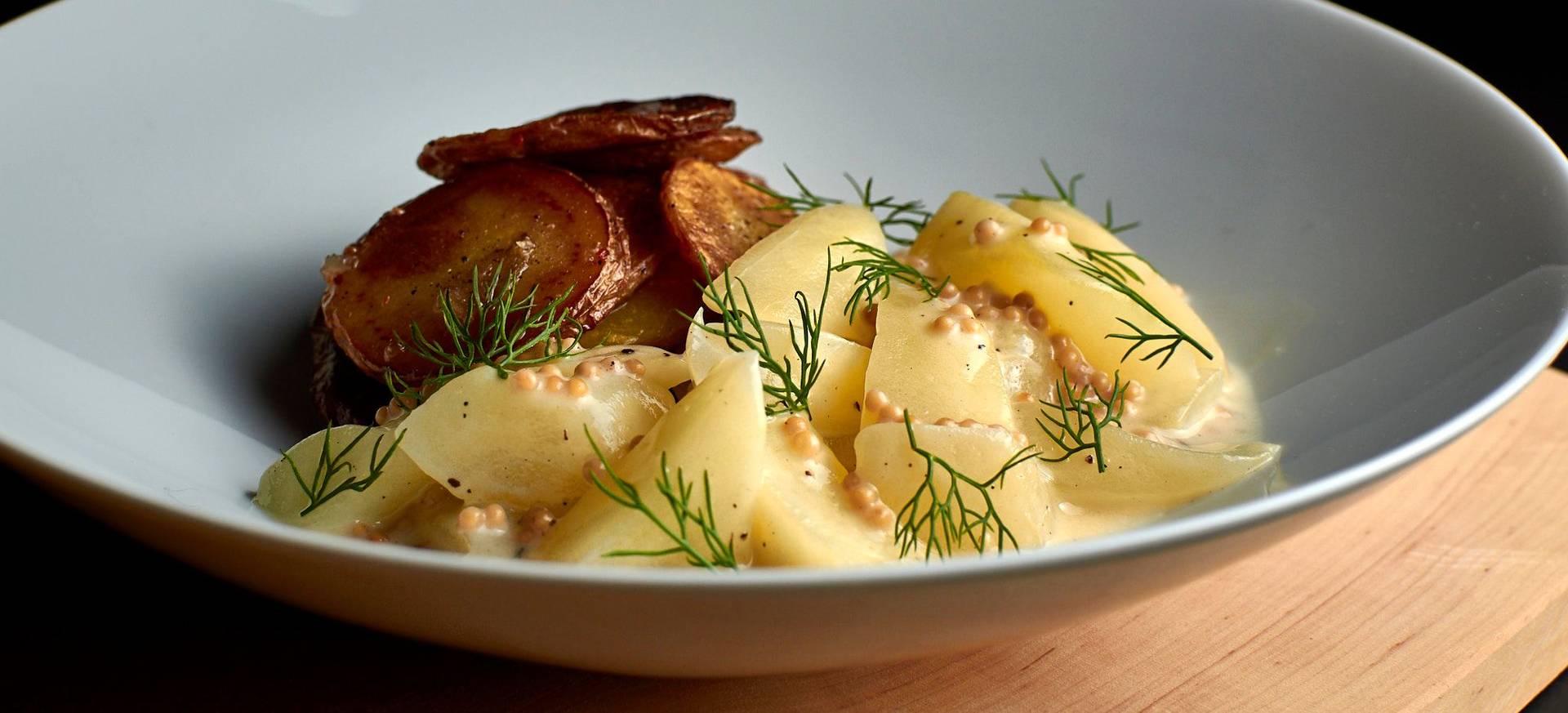 Today's recipe is a good old acquaintance from the early days of my life. As a child, braised cucumbers were a real favorite dish of mine and that hasn't changed to this day. We had braised cucumbers as a side dish with meatballs, fish or as a full meal with fried potatoes. I wanted to share this simple recipe with you. I don't know why, but my fondness for recipes with vinegar, mustard or similar ingredients has been a long history. Well, maybe it's the whole combination of sour vs. sweet that makes these recipes so good. What are your thoughts on this? Is it something you find in your cooking as well?
Braised cucumbers – good fast food
No, braised cucumbers and fried potatoes are certainly nothing new, and I've written a lot about nutrition in general and how I think it's good for us to pay respect to the farmers and their ingredients. So, this cucumber recipe is another one to show how we can cook quick and easy on stressful days without sacrificing the culinary aspect. Gathering the family for dinner is the most important time of the day and we enjoy the whole process of cooking, setting the table and sharing the latest news from the day. We don't always need it to be fancy and it's just good for all of us to wind down in the evening.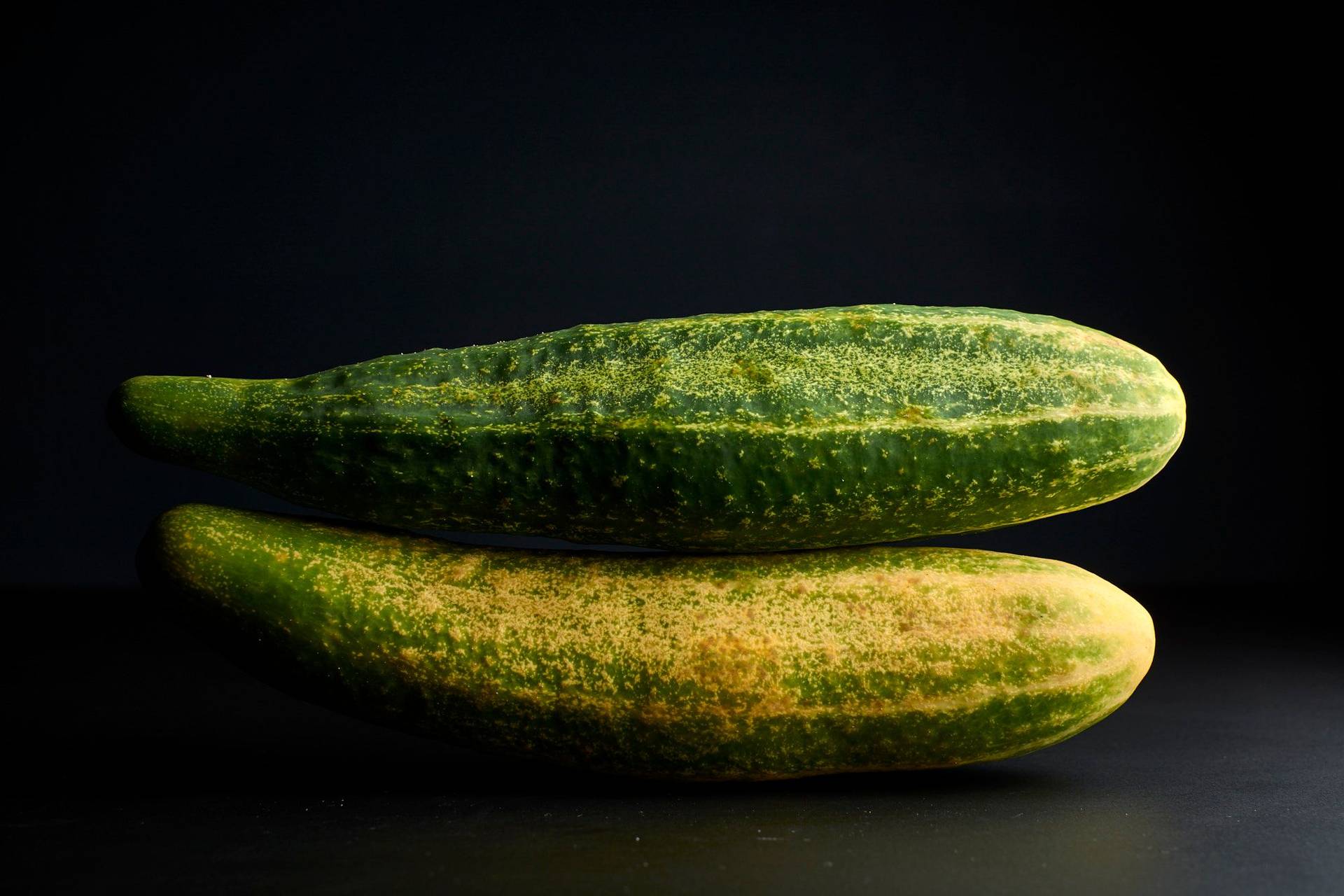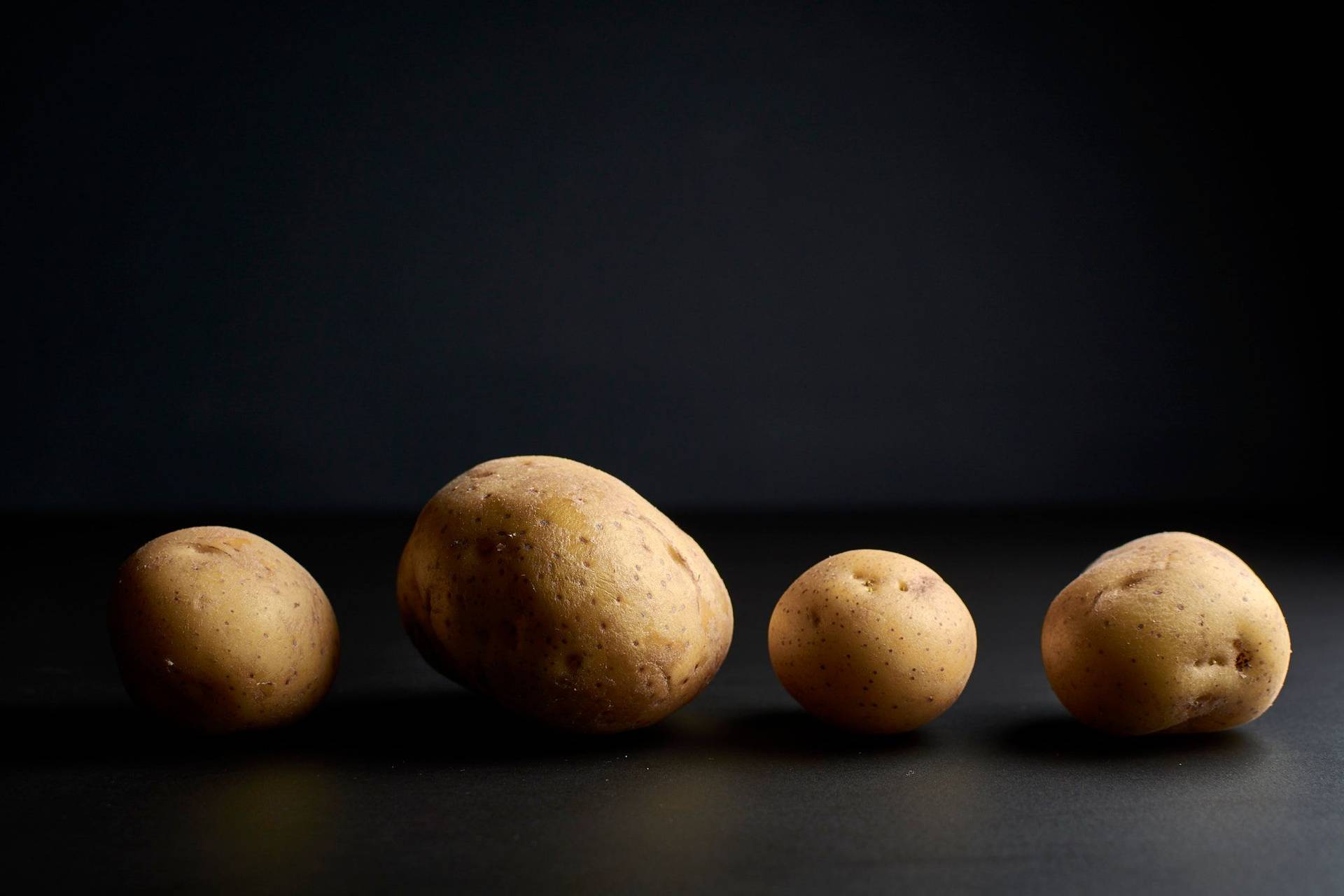 What I like about braised cucumbers
First, cucumbers are the bomb for me and that's one reason why you can find recipes like Charred Cucumber with Skyr or Cucumber Daiquiri here on this site. Cucumber is a vegetable that is so easily accessible to us, yet so variable in flavor. Sure, there are different varieties of cucumbers and you can use the juice of one, ferment the other or, as described today, braise it. Simple recipes without expensive ingredients are always close to my heart and I suspect many of you feel the same way. For example, cook the simplest recipe with love and compare it to one made with only expensive ingredients! So, it's obvious why good fried potatoes are so popular. Anyway, cook what you love and serve it with passion!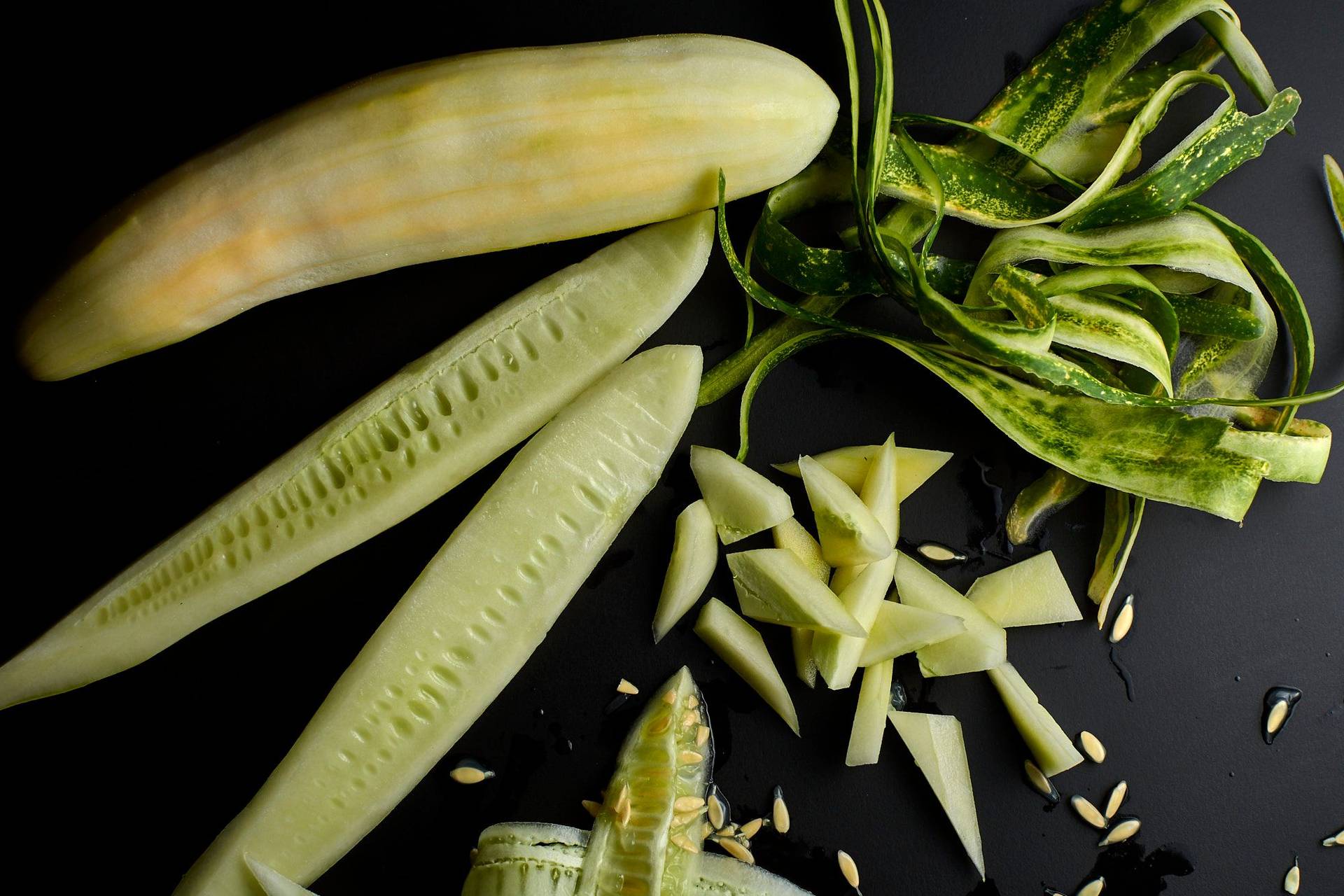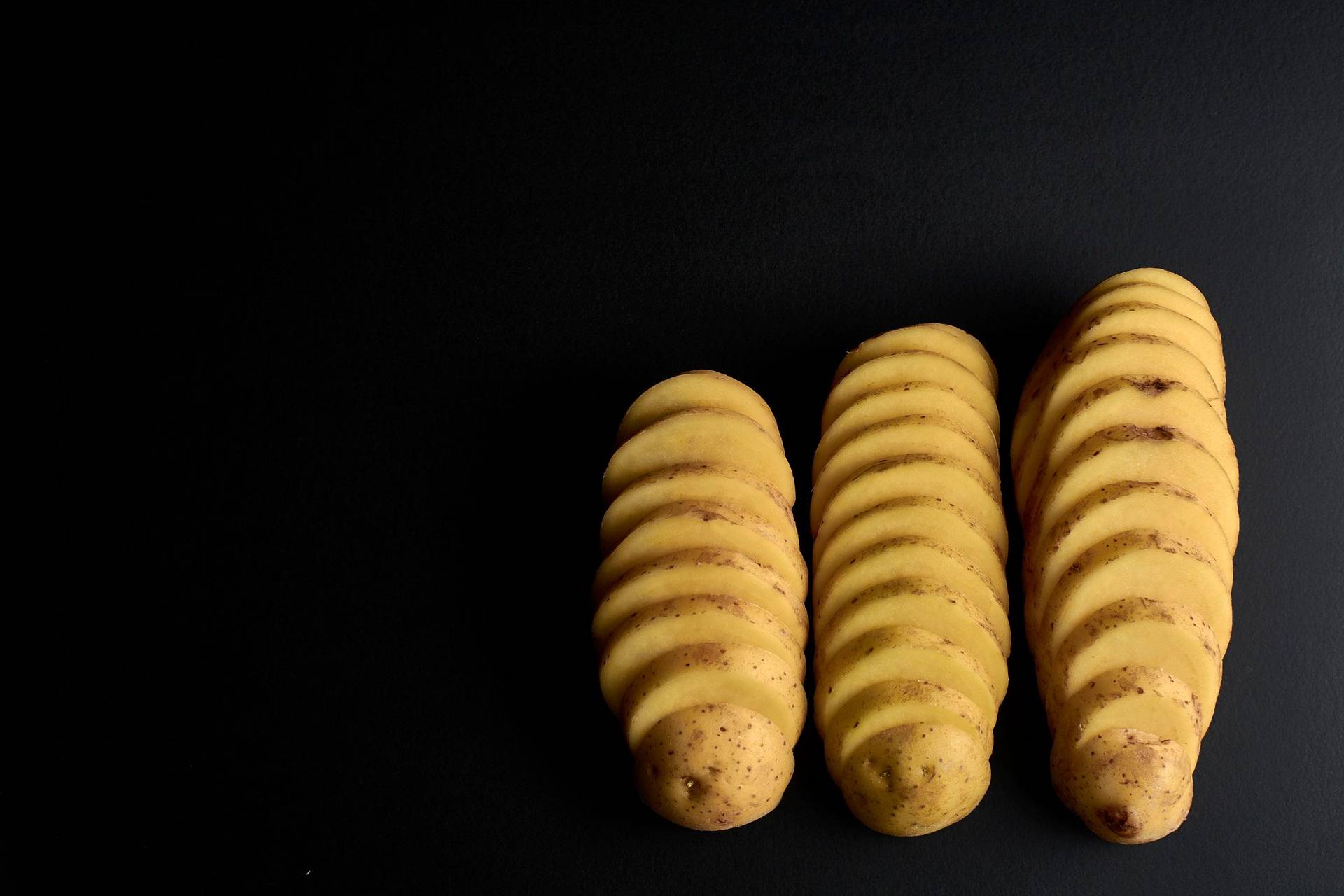 Recipe
Braised Cucumbers with Roasted Potatoes
2 Persons20 Minutes
Braised Cucumbers
500 g Cucumber
20 g Margarine
125 ml Vegetable Stock
2 Dill Stems
1 tsp Mustard Seeds
2 Bay Leaves
3 Allspice
1 tbsp Apple Vinegar
50 g Soy Cuisine
Salt, Pepper & Agave Syrup to taste
For the braised cucumbers, peel, seed and cut the cucumbers into the desired shape. Now sauté in the margarine and add the vegetable stock, dill, mustard seeds, vinegar and spices. Stew everything on low heat for about 5 minutes and then add the Soy Cuisine. Now reduce the whole thing for another 2 minutes to thicken.
Roasted Potatoes
600 g Potatoes waxy
1 Shallot
Salt, Pepper, Nutmeg & Chili Flakes to taste
For the Roasted potatoes, cut the washed potatoes with the skin into 5 mm thick slices and dice the shallot. Now roast the potatoes in a hot pan with oil from both sides. Then remove the pan from the heat and add the shallot cubes and spices and season to taste.
Serving
To serve, simply place the fried potatoes in a bowl and arrange the braised cucumbers next to them. Then garnish with some fresh dill.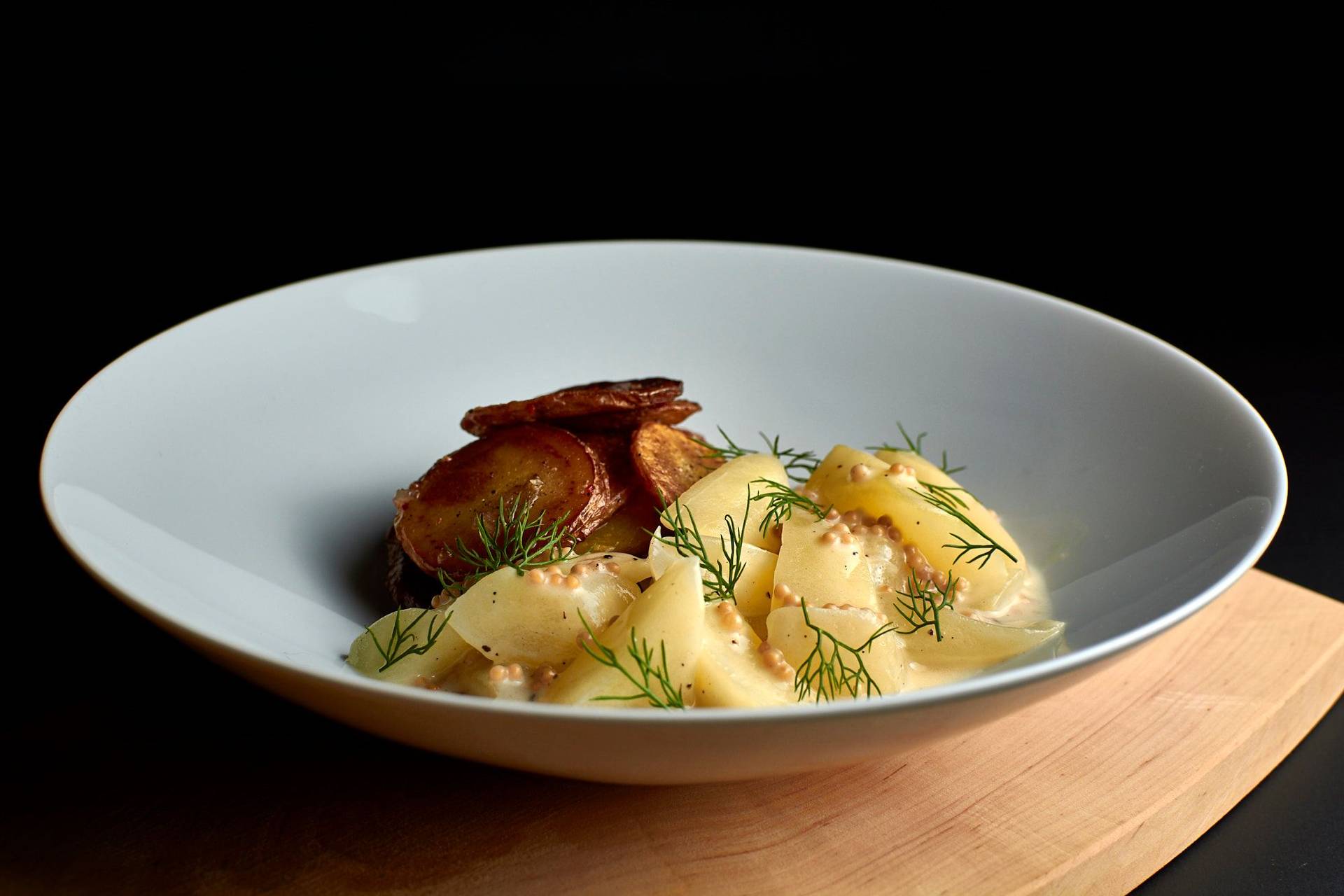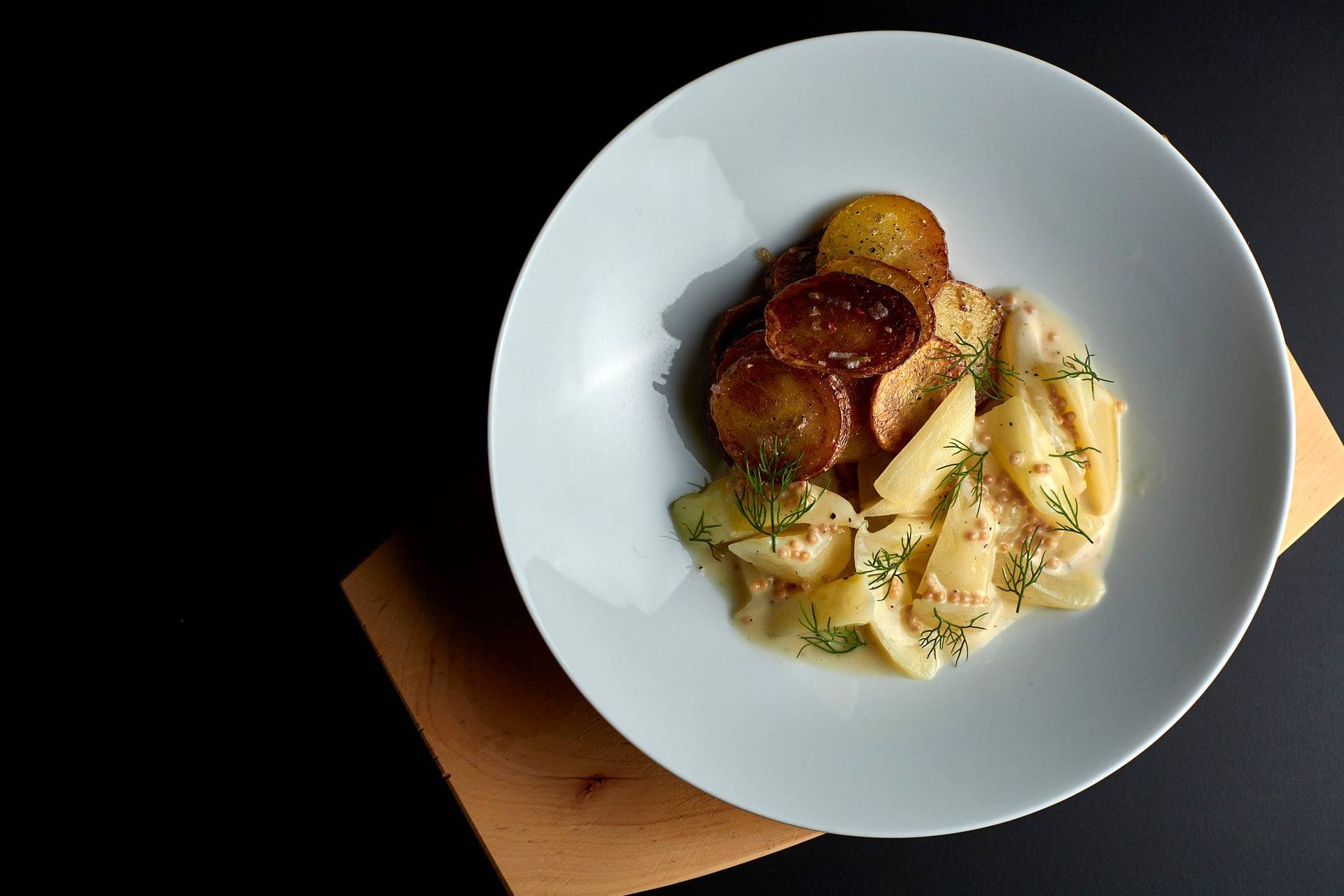 Newsletter
Can't get enough?
Get some secret ingredients through our newsletter!