Recipe
Vegetarian Asparagus Katsu Sando with Nectarine & Mint Mayonnaise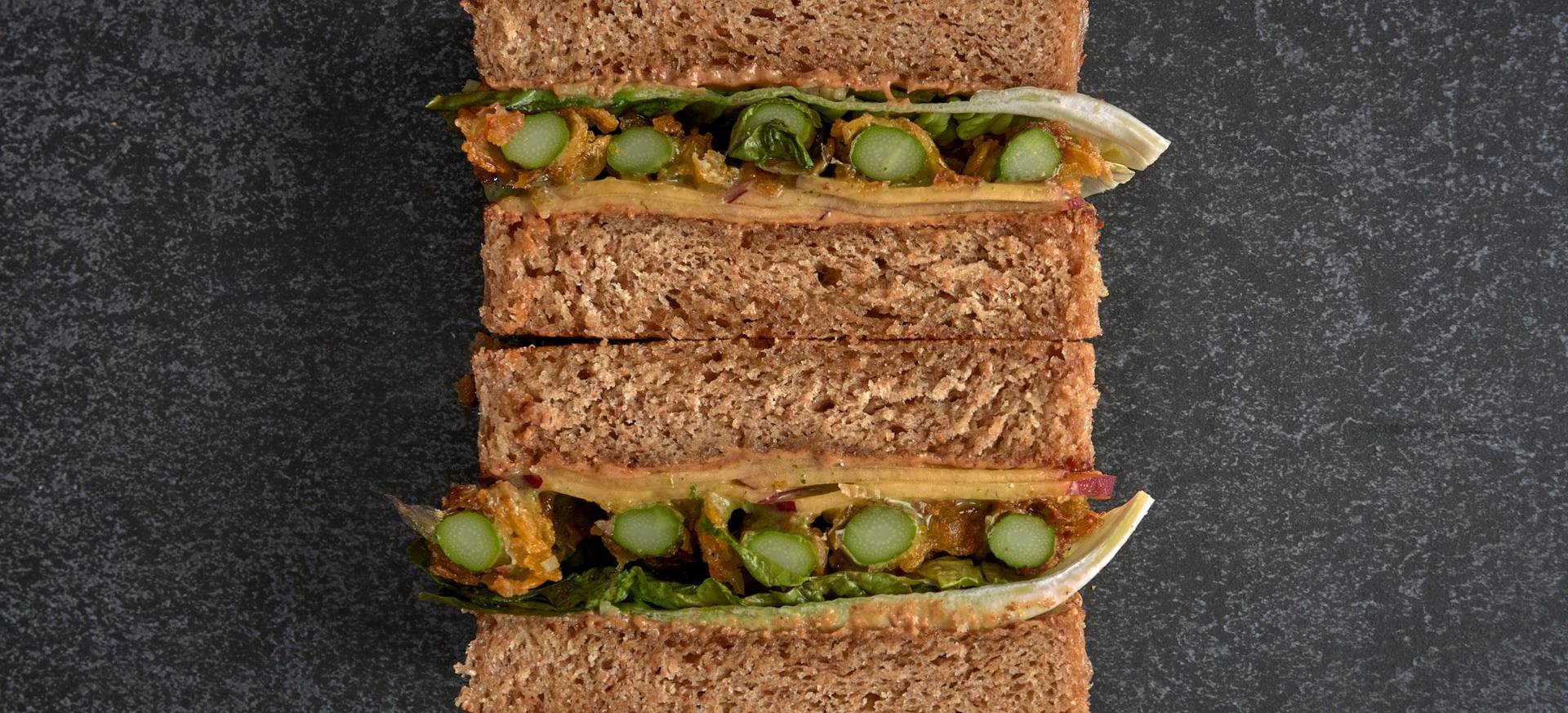 This article contains advertising.
Together with Ti refreshing tea, I was looking for a delicious picnic idea for these little time out moments in between. Matching the season, I thought of blackberries and stone fruit quite quickly. Now for a picnic snack, it wasn't just going to be blackberries and nectarines, I rather wanted to incorporate these ingredients into a hearty and satisfying snack. It was to be a Japanese-inspired bento lunch, i.e., a small box filled with delicious food, easy to prepare and yet a full meal on the go. A takeaway for the lunch break in the backyard or outside in nature.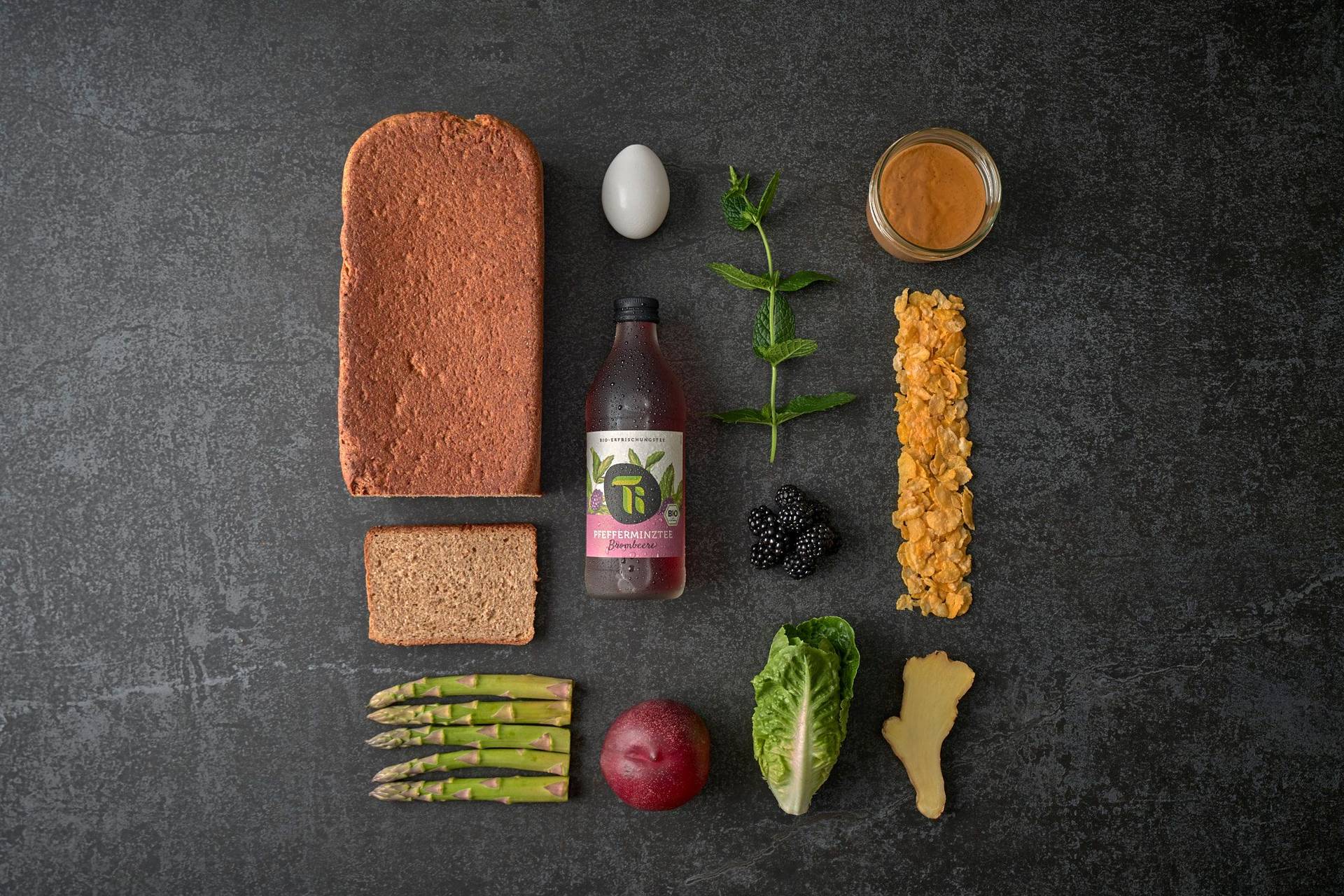 The Katsu Sando
A Katsu Sando is a Japanese schnitzel sandwich, where the meat is a little thicker than the schnitzel as we know it and it is also turned in a coarse breading, which makes it particularly crispy, but also juicy. Usually, the Katsu Sando is topped with sour vegetables and some delicious Japanese mayonnaise is spread on it. So, you can already imagine how the Katsu Sando feels in your mouth. Soft bread with crispy Katsu, or schnitzel and in addition the acid from the vegetables with mayonnaise. No fitness food but guaranteed worth a sin.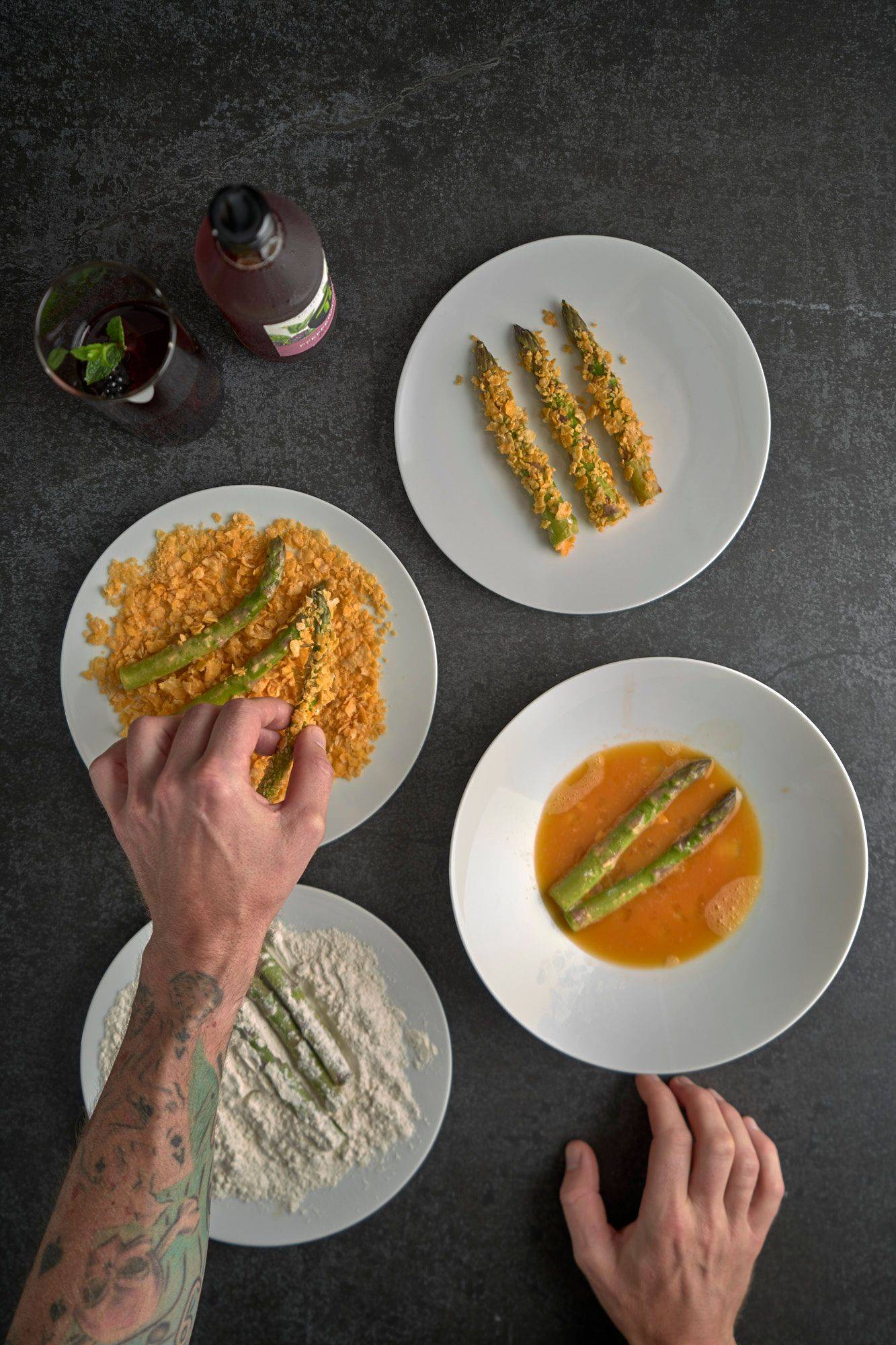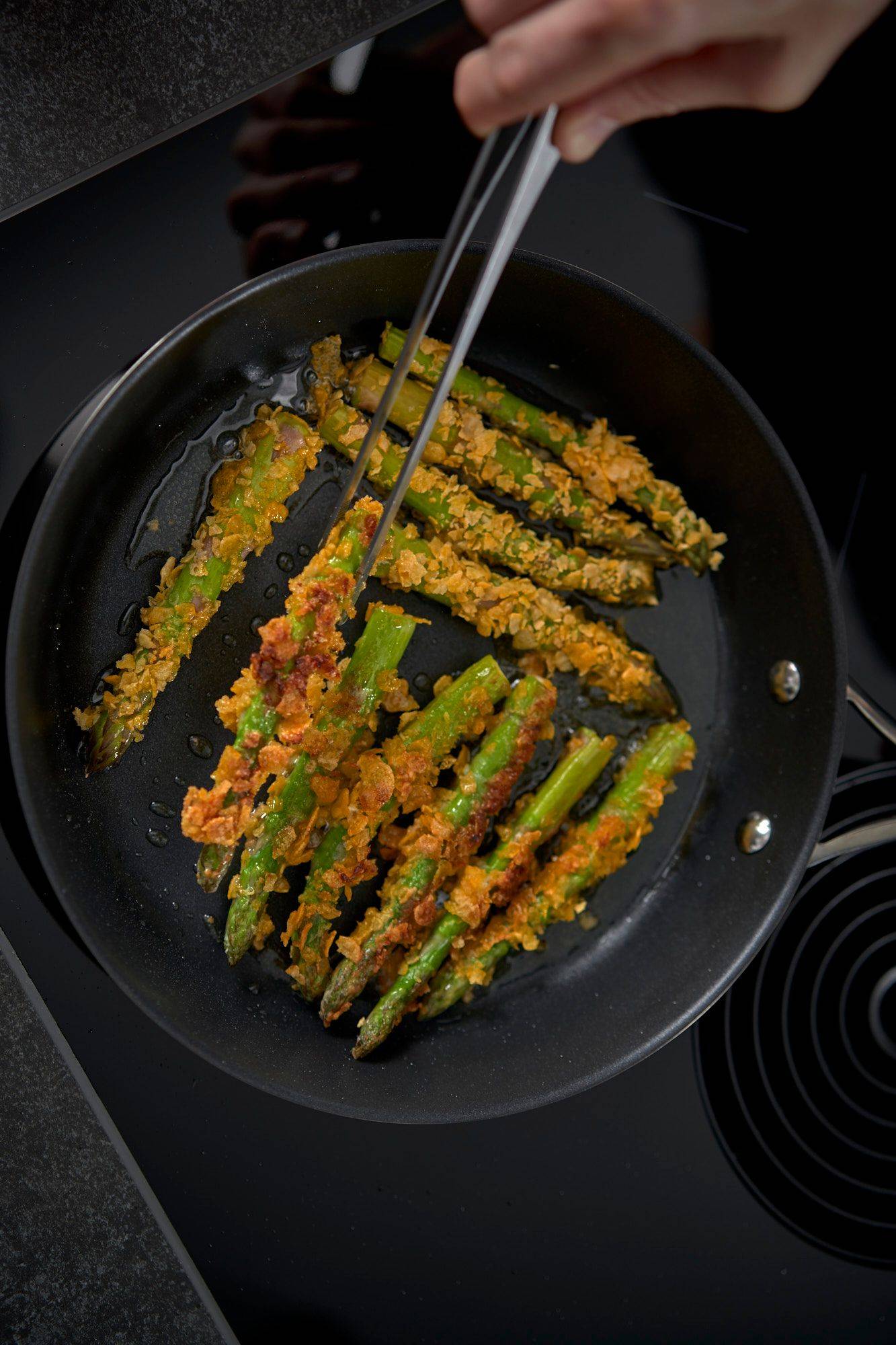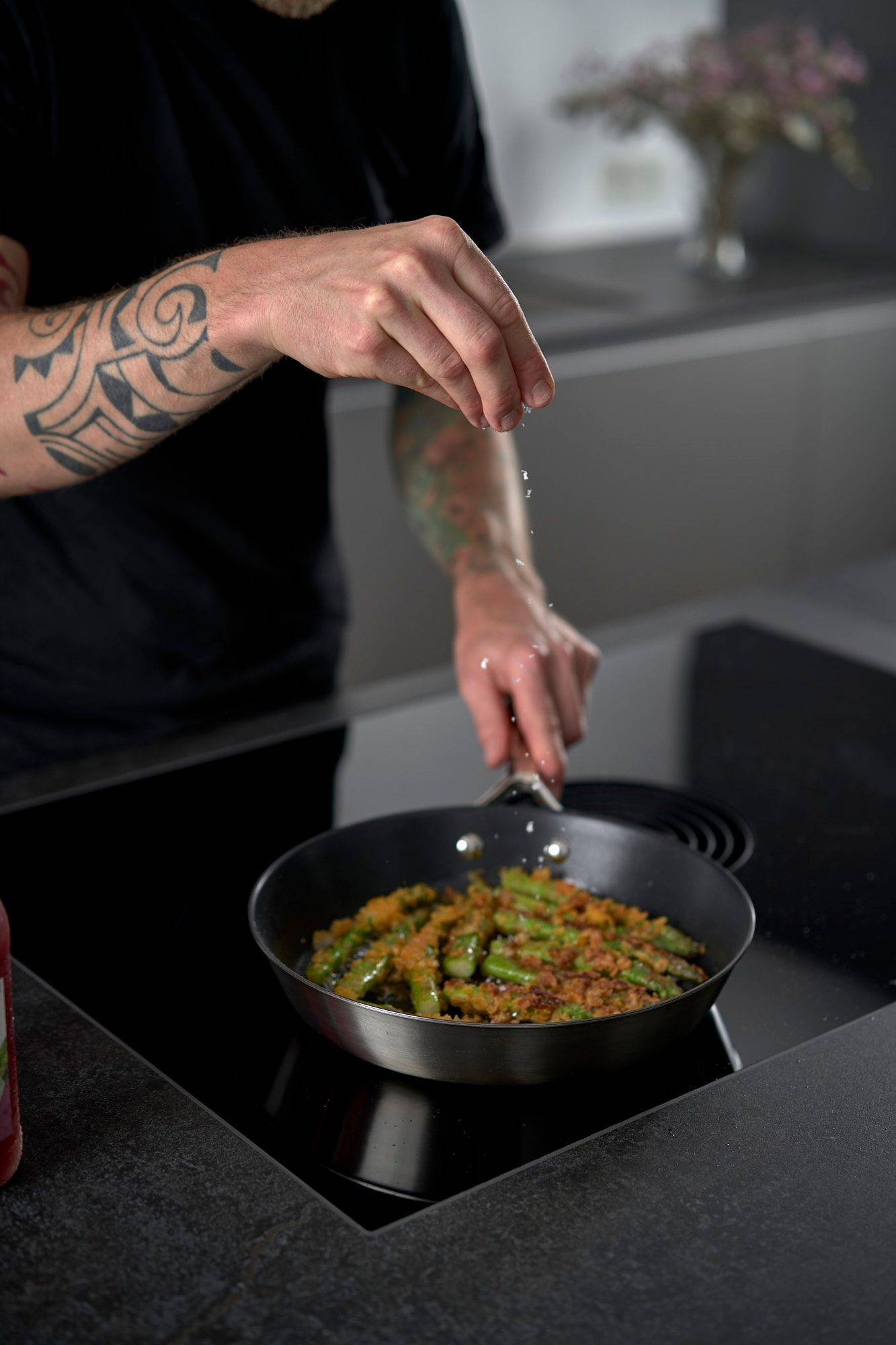 Vegetarian Katsu Sando
As the title suggests, I converted my sandwich to a vegetarian Katsu Sando. The meat was replaced by crunchy green asparagus, but you could also get creative here and use another vegetable. For the sour vegetables, lettuce hearts took a bath in a sour sake-ginger broth and of course the mayonnaise could not be missing. For this, I finely mixed fresh mint with canola oil and made my own mayonnaise with this mint oil. The sandwich bread I used, was a spelt-wholemeal Brioche, which was previously roasted in brown butter, but also a good sandwich bread from the bakery will serve you well here. A few slices of fresh nectarine and we have built a tasty and vegetarian Katsu Sando. So, try it out and prepare yourself my delicious asparagus Katsu Sando!
Just not the right sandwich for you? How about my Easter Bread Sandwich?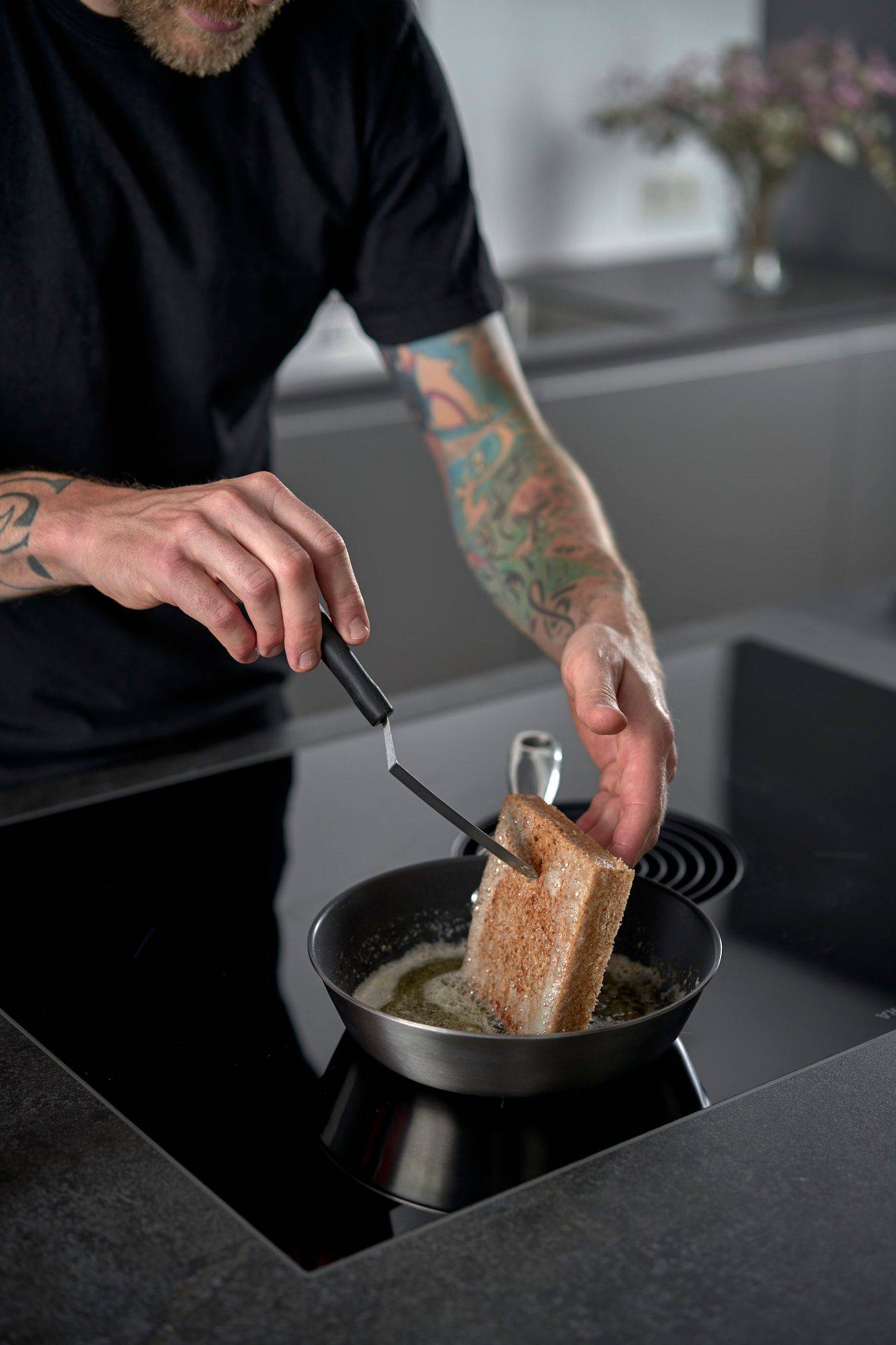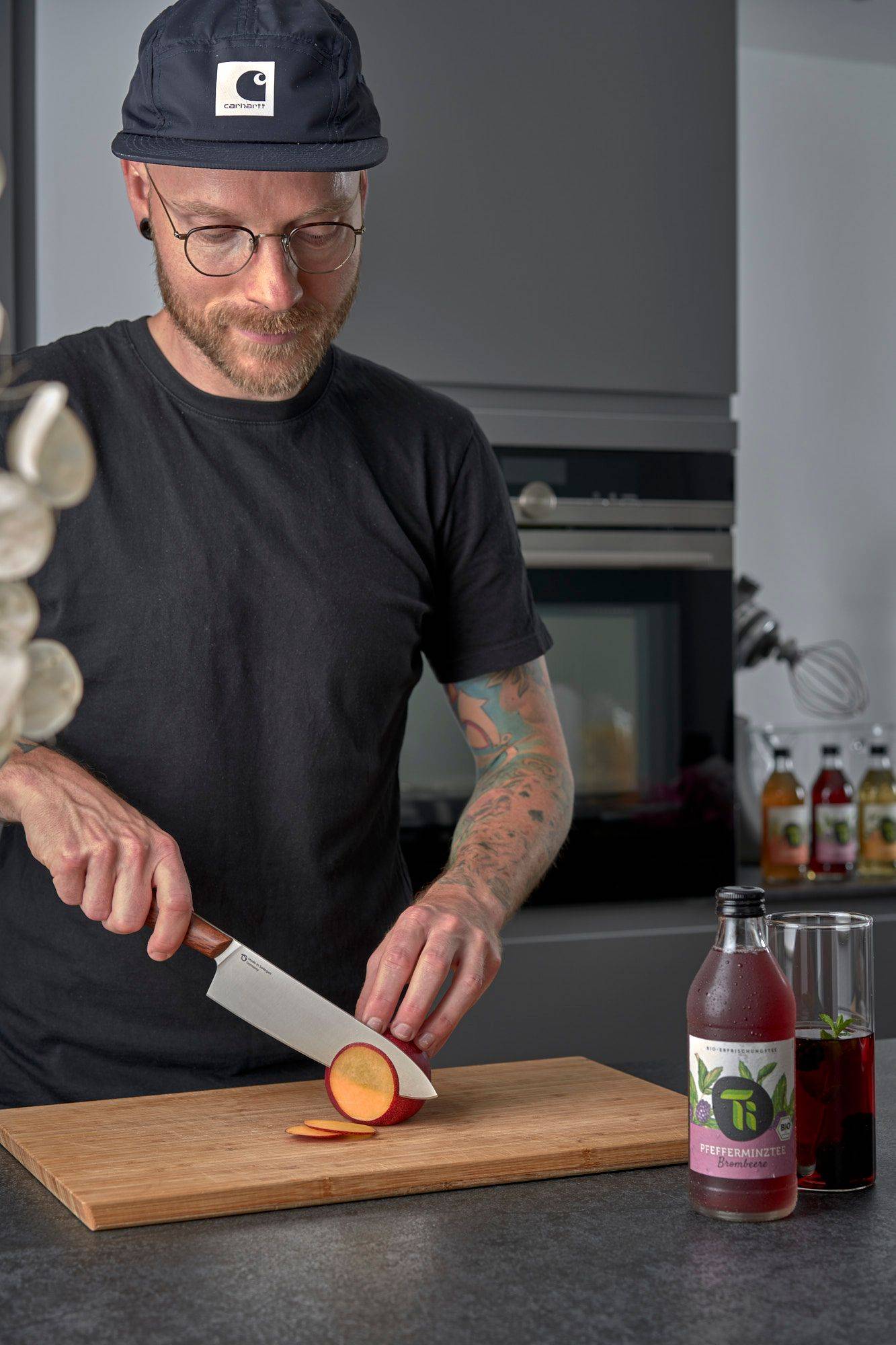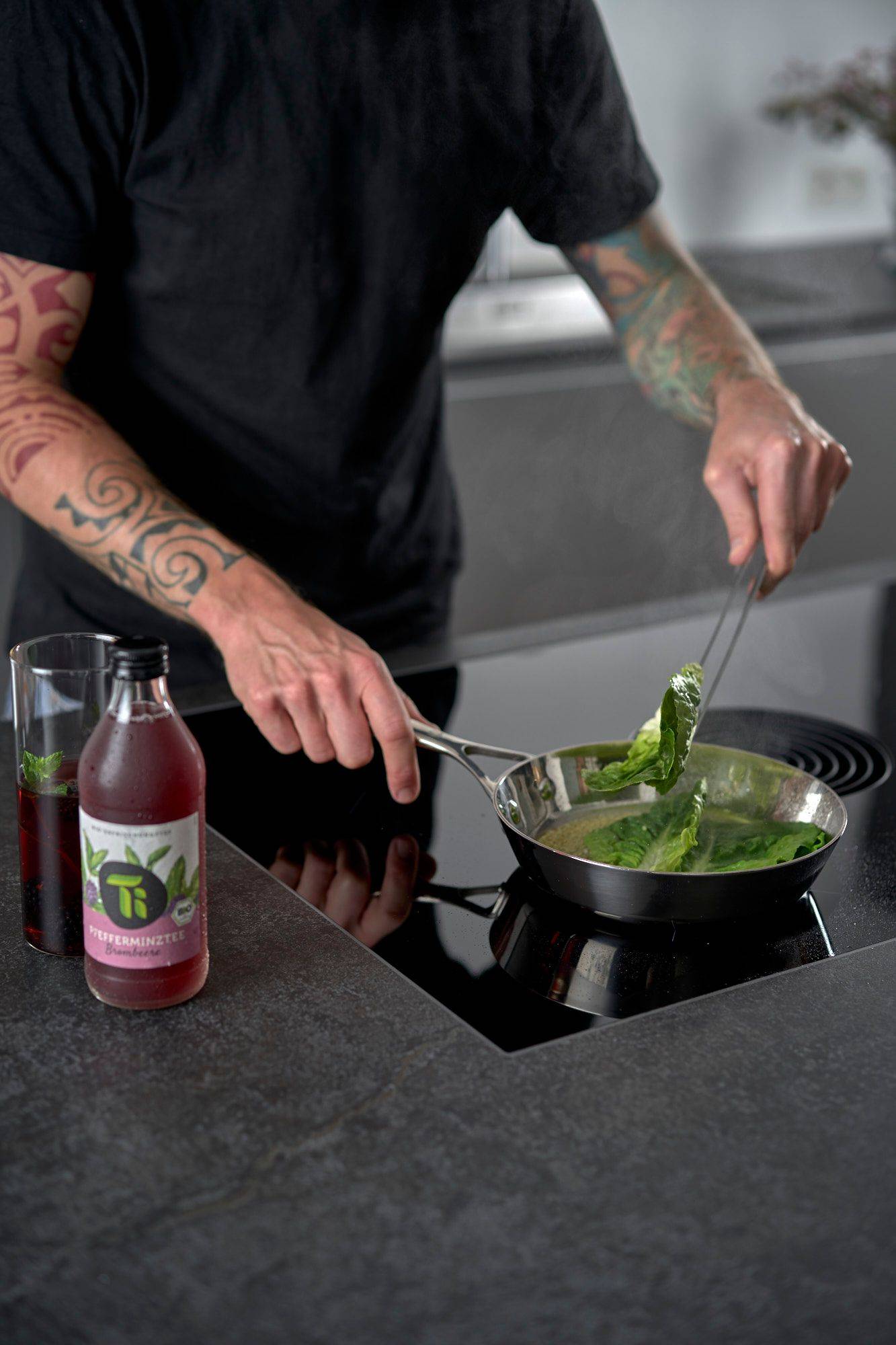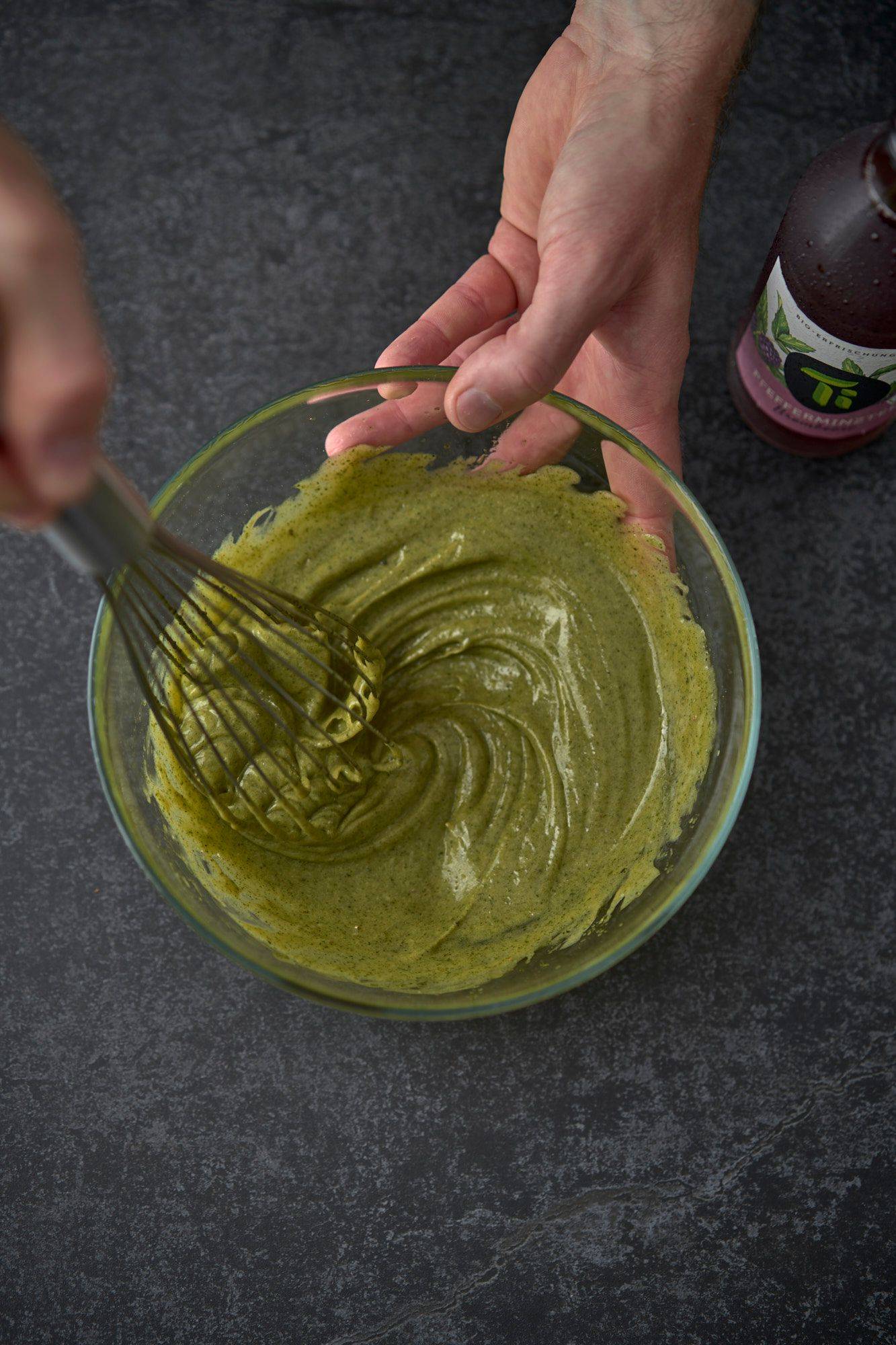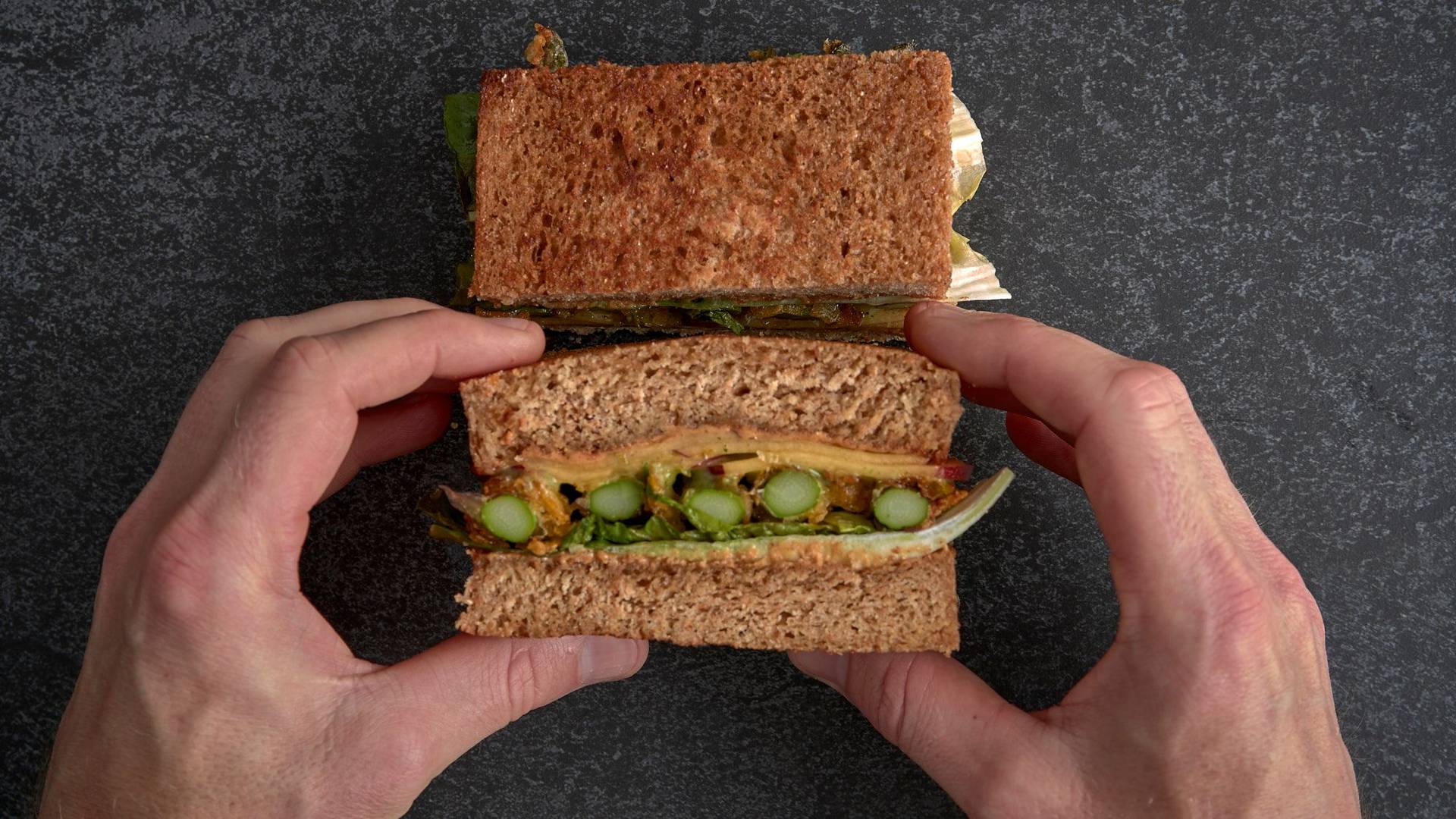 Accept YouTubes marketing cookies to watch this video.
Recipe
Asparagus Katsu Sando with Nectarine & Mint Mayonnaise
2 Persons30 Minutes
Asparagus Katsu
10 pc Green Asparagus
2 Eggs
Salt to flavor
2-3 tbsp Spelt Whole Grain Flour
100 g Cornflakes
Canola Oil for frying
For the asparagus katsu, wash the green asparagus and cut off the dry ends, then beat up the egg with salt. Turn the asparagus first in the flour, then in the egg and finally in the slightly crushed cornflakes. Afterwards heat up a pan with canola oil and fry the asparagus katsu on all sides until golden brown, then drain on paper towels.
Mint Mayonnaise
150 g Canola Oil
1 Bunch Mint
2 Egg Yolks
1 tsp Mustard
20 ml Apple Vinegar
1 EL Agave Syrup
Salt & Pepper to flavor
For the mint mayonnaise, first wash the mint and pluck the leaves into a blender jug. Then add the canola oil and process everything finely. Now mix the egg yolks with mustard, vinegar, agave syrup and spices and slowly mix in the mint oil, while constantly stirring, so that it emulsifies and the mayonnaise thickens.
Sour Lettuce Hearts
1 Lettuce Heart
3 tbsp Sake
3 tbsp Mizkan Vinegar
2 tbsp Water
1 tsp Agave Syrup
1 tbsp chopped Ginger
Salt to flavor
For the sour lettuce hearts, pluck the romaine lettuce into leaves and wash them. Bring the remaining ingredients to a boil in a pan and simmer for a minute, then add the lettuce leaves into the pan and mix with the broth. Remove the pan from the heat and set aside until ready to serve. The lettuce should still have a slight bite to it.
Serving
4 Slices Spelt Whole Grain Brioche (or good Sandwich Bread)
4 tbsp Butter
1 Nectarine
4 tsp Cashew Butter
Maldon Salt
To serve, first cut off the crust of the brioche and roast it in a pan with the butter on both sides until golden brown, then drain on kitchen paper. Now spread two slices of brioche with cashew butter and place four thin slices of nectarine on each. Spread a tablespoon of mint mayonnaise on top and place five pieces of asparagus katsu on each sandwich. Now put the sour lettuce hearts on top of the asparagus katsus and cover the sandwich with the remaining two slices of brioche, which have also been spread with cashew butter. Finally, cut the asparagus Katsu Sandos in half and serve with the cut facing up.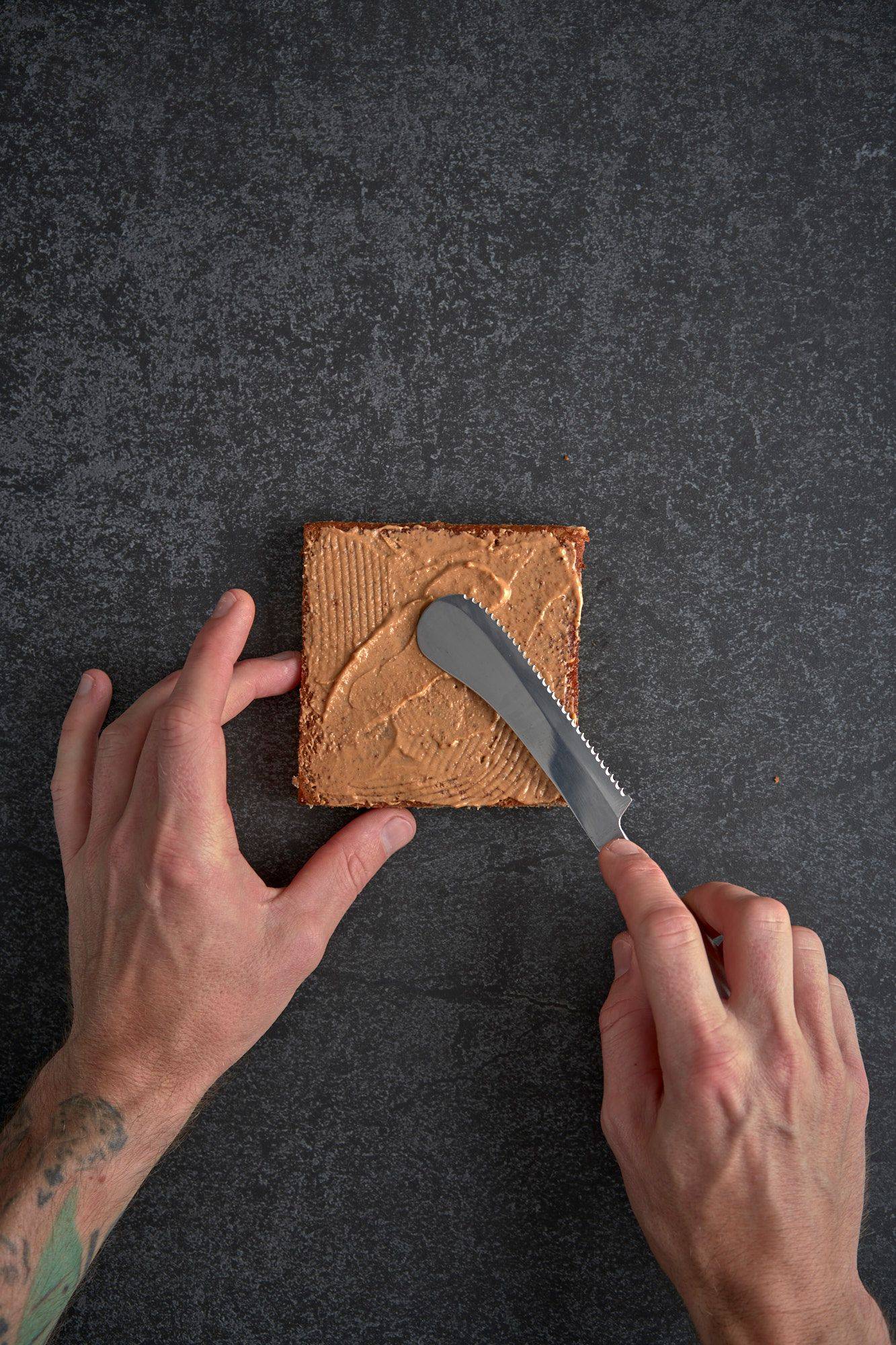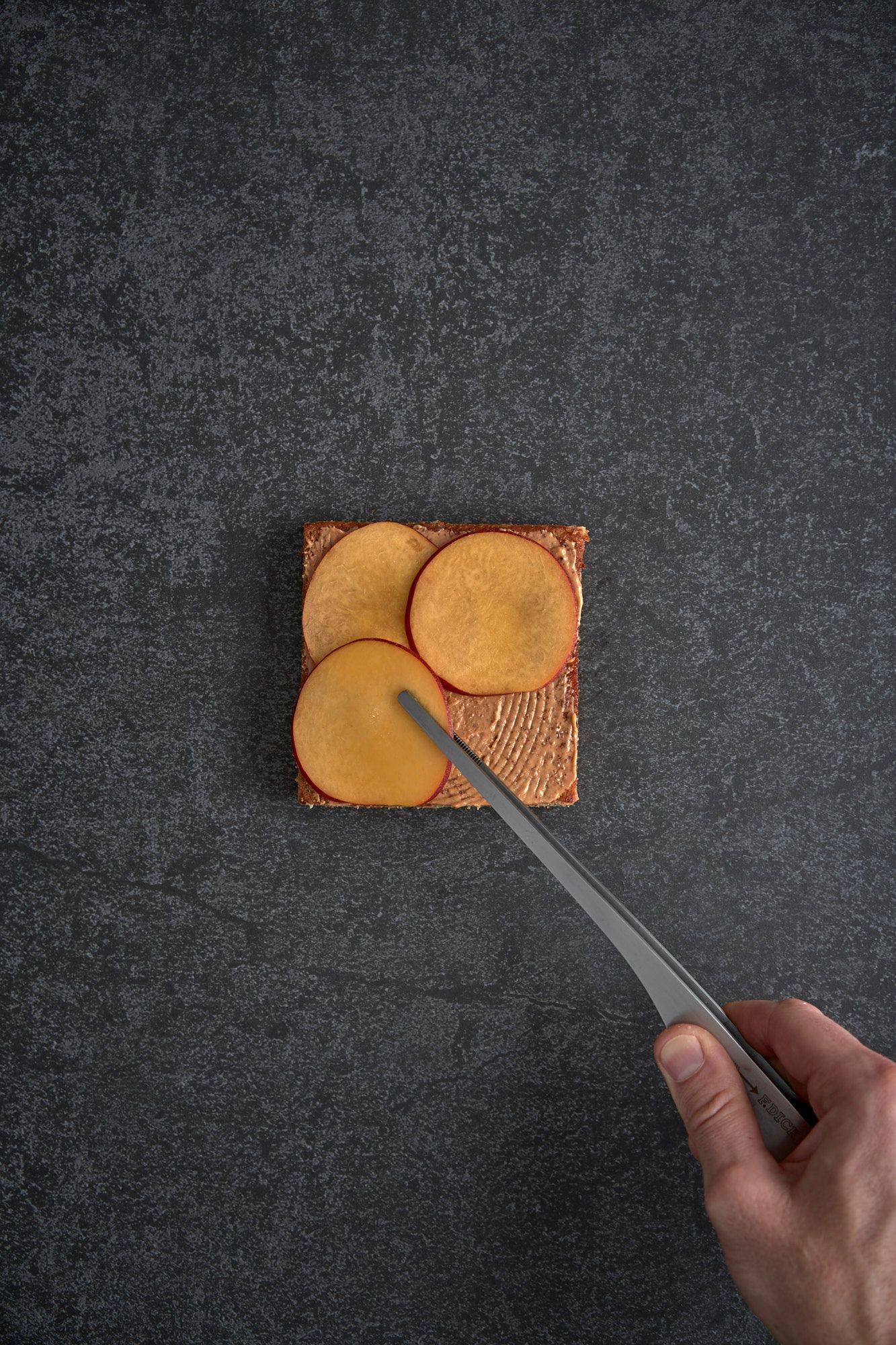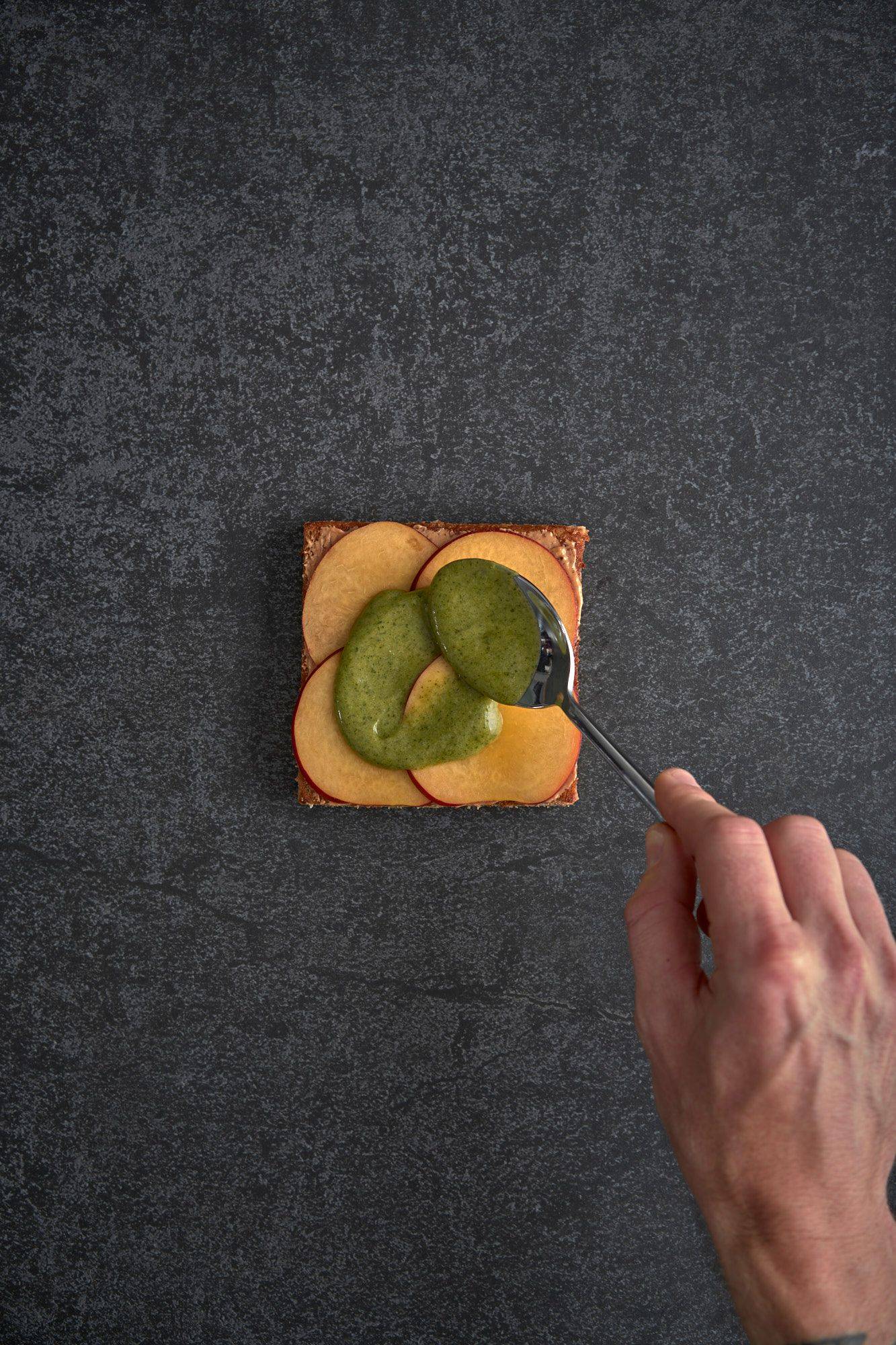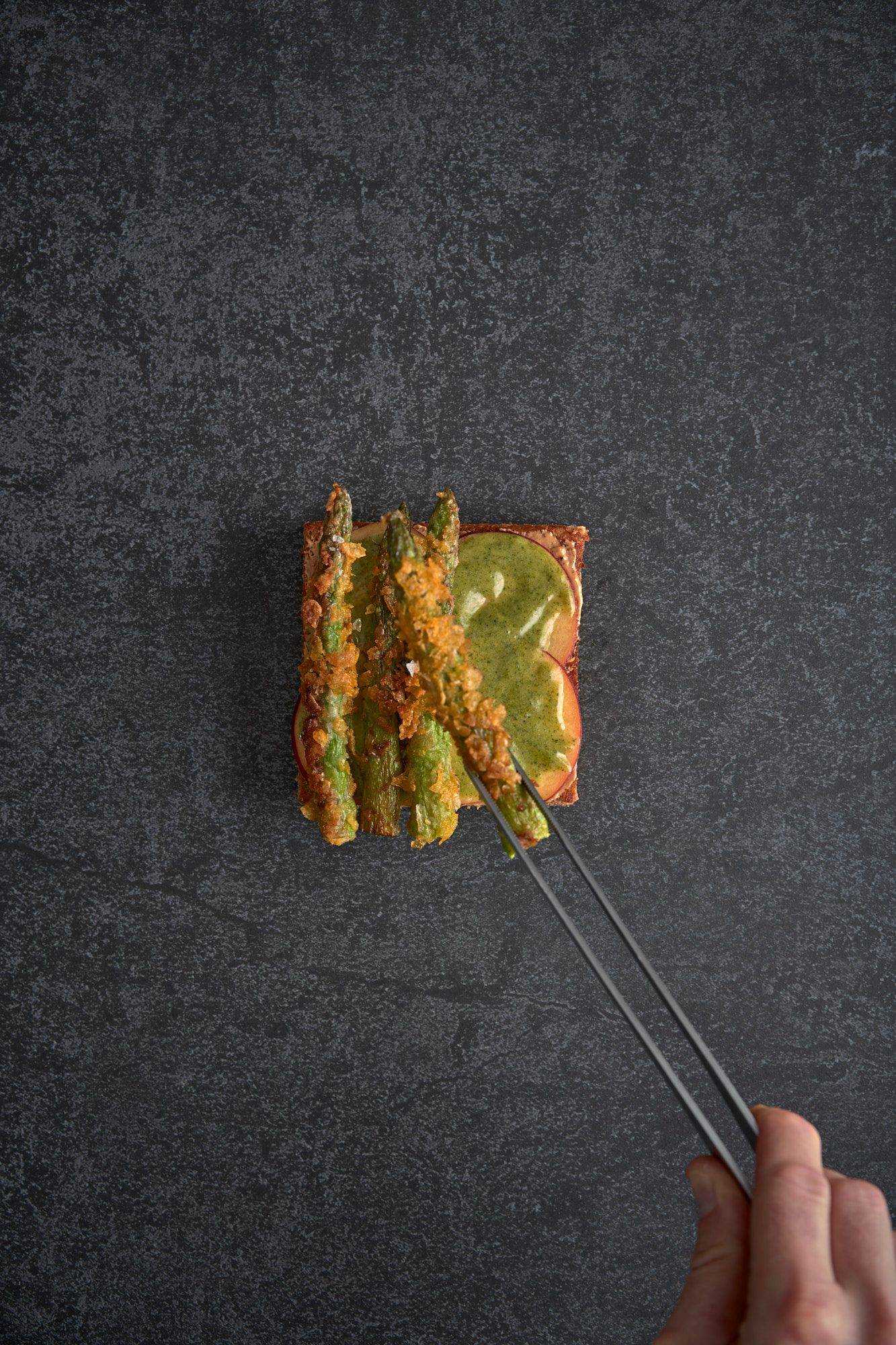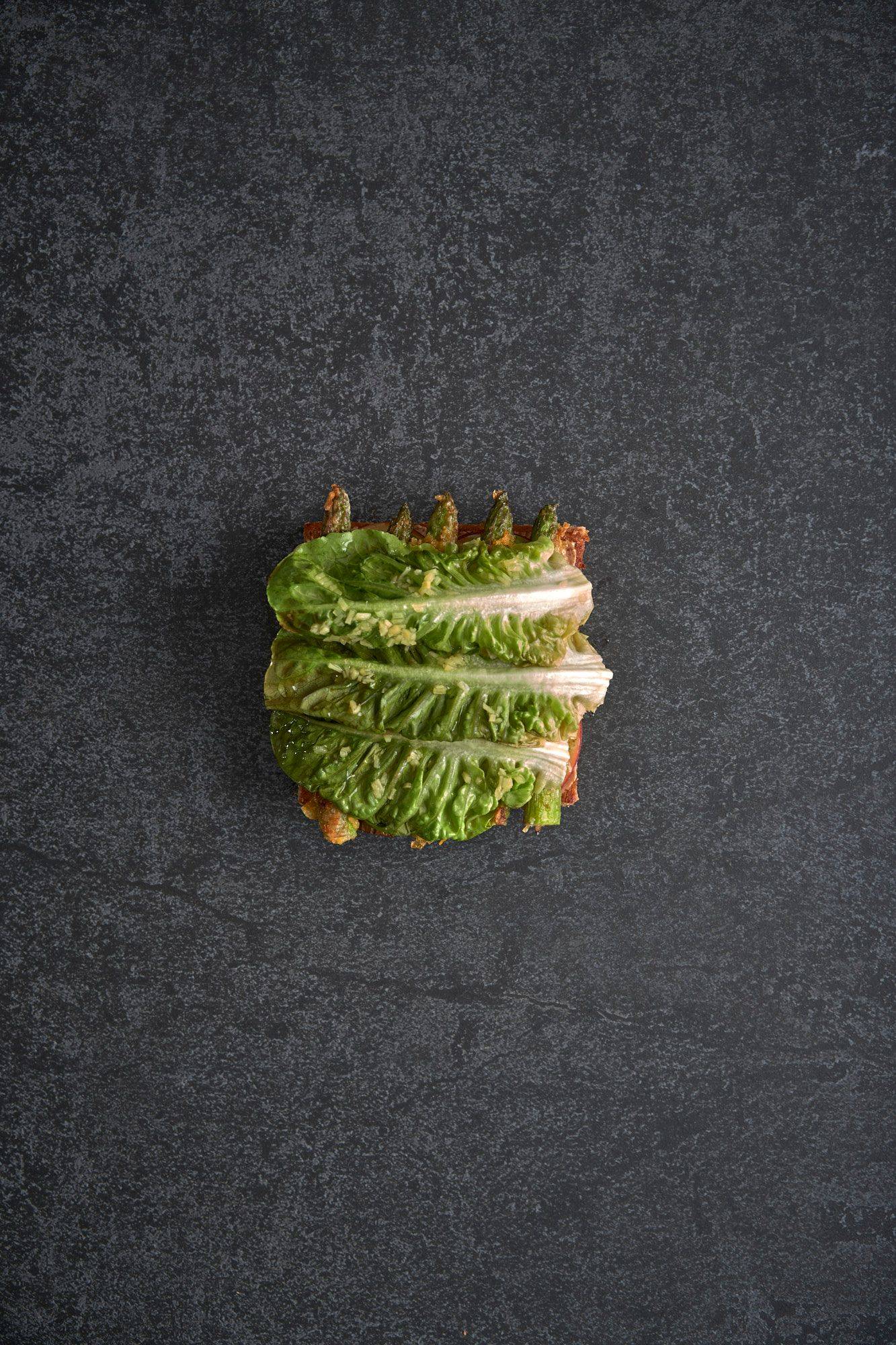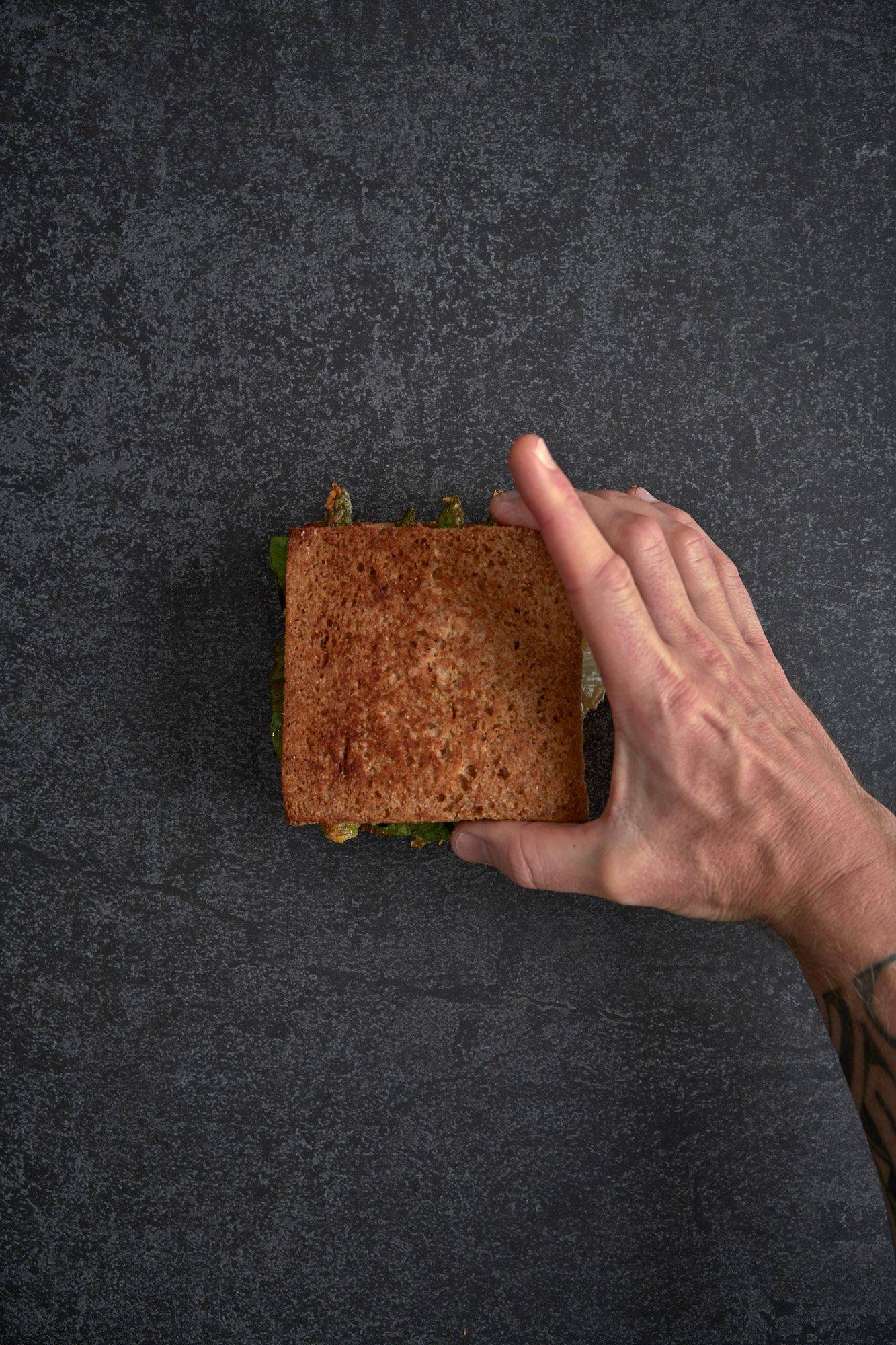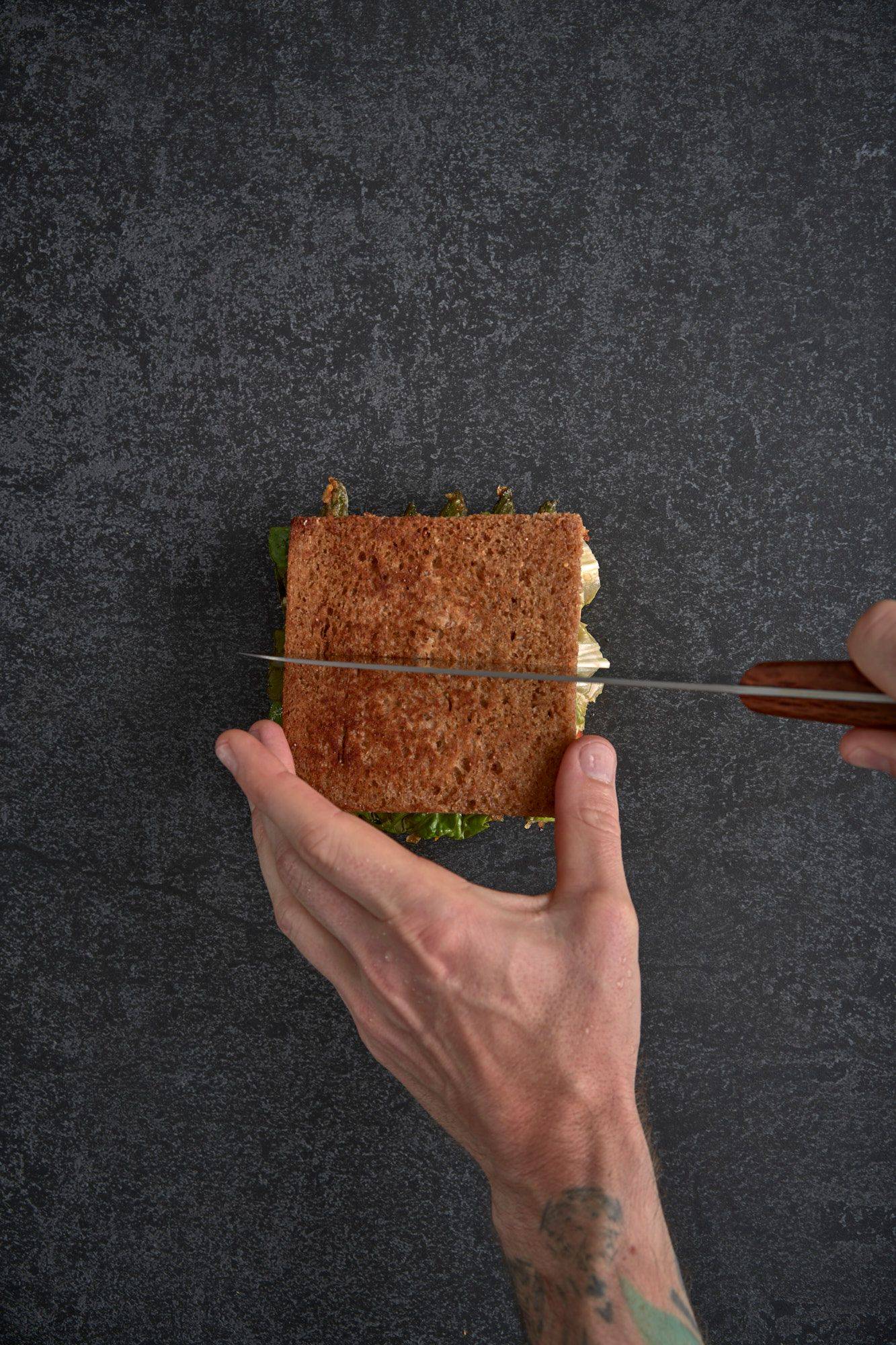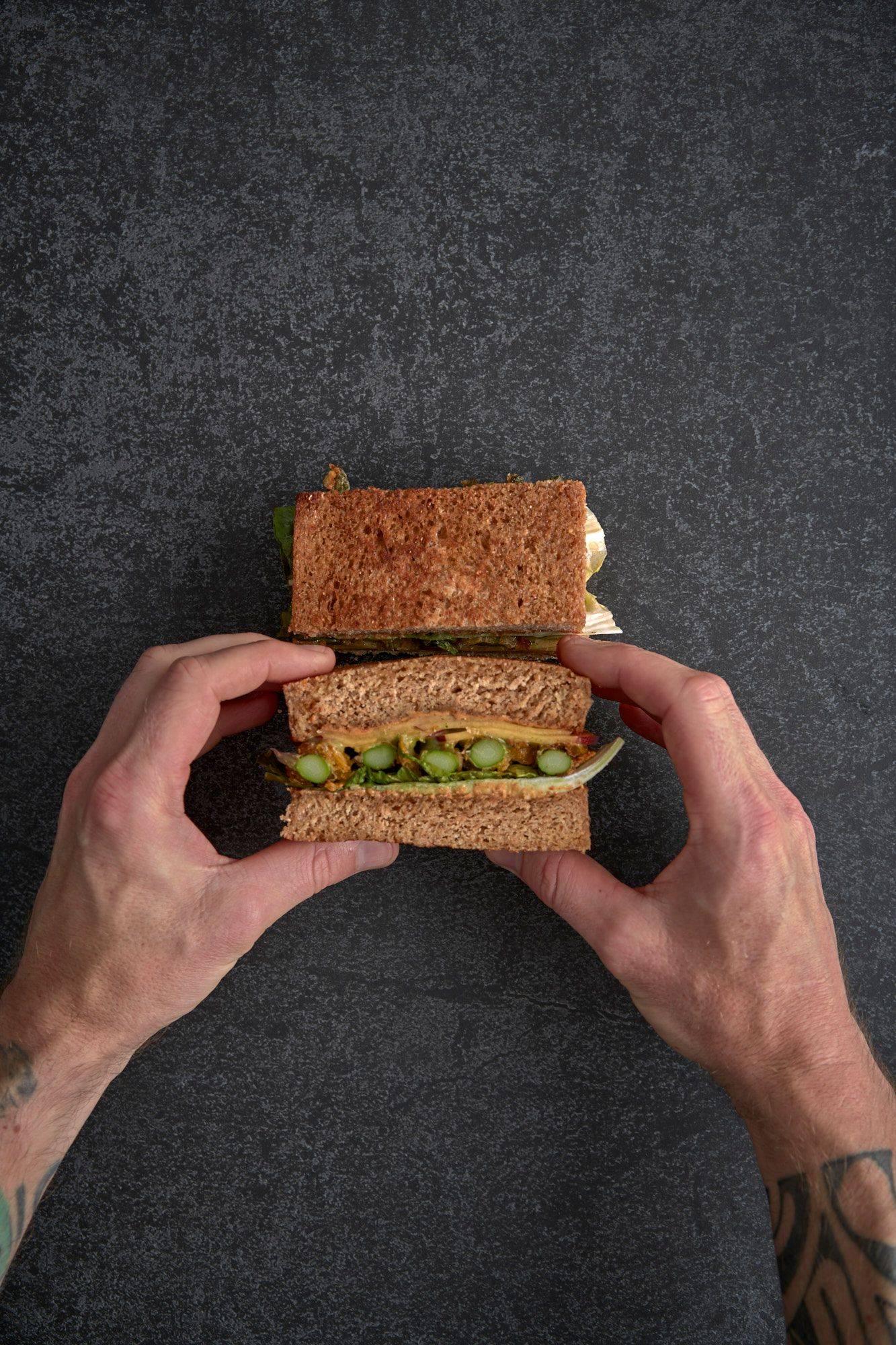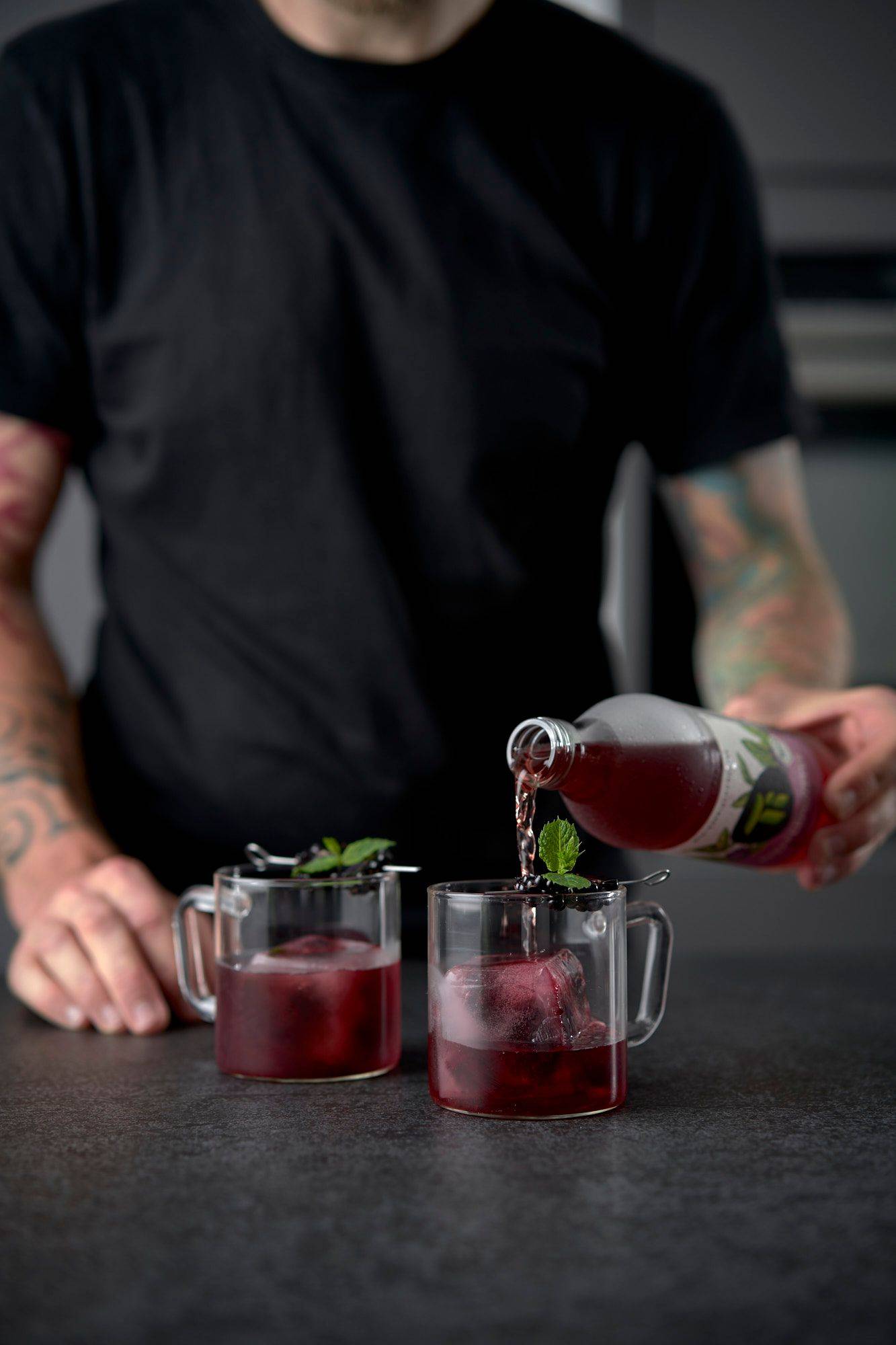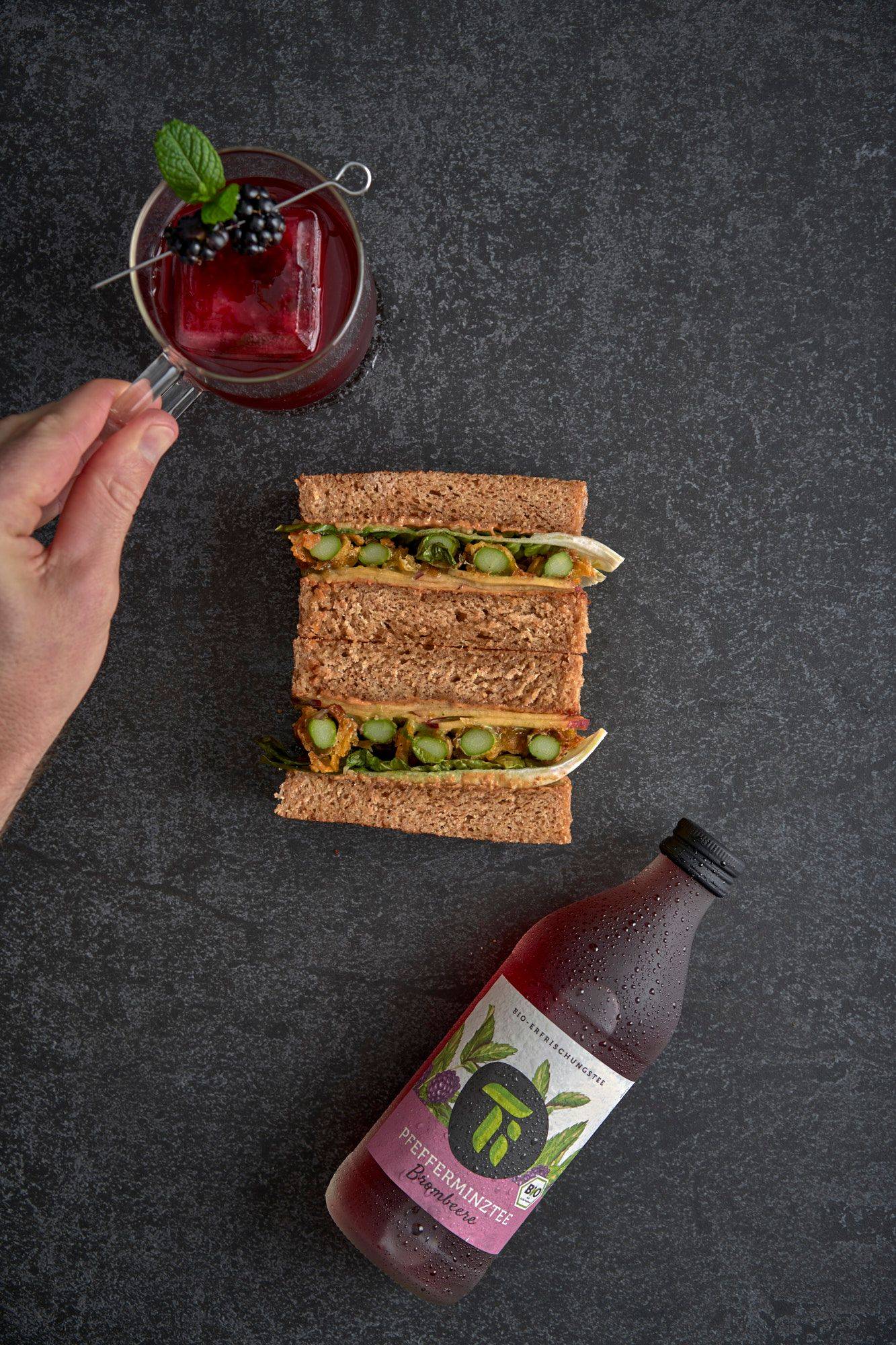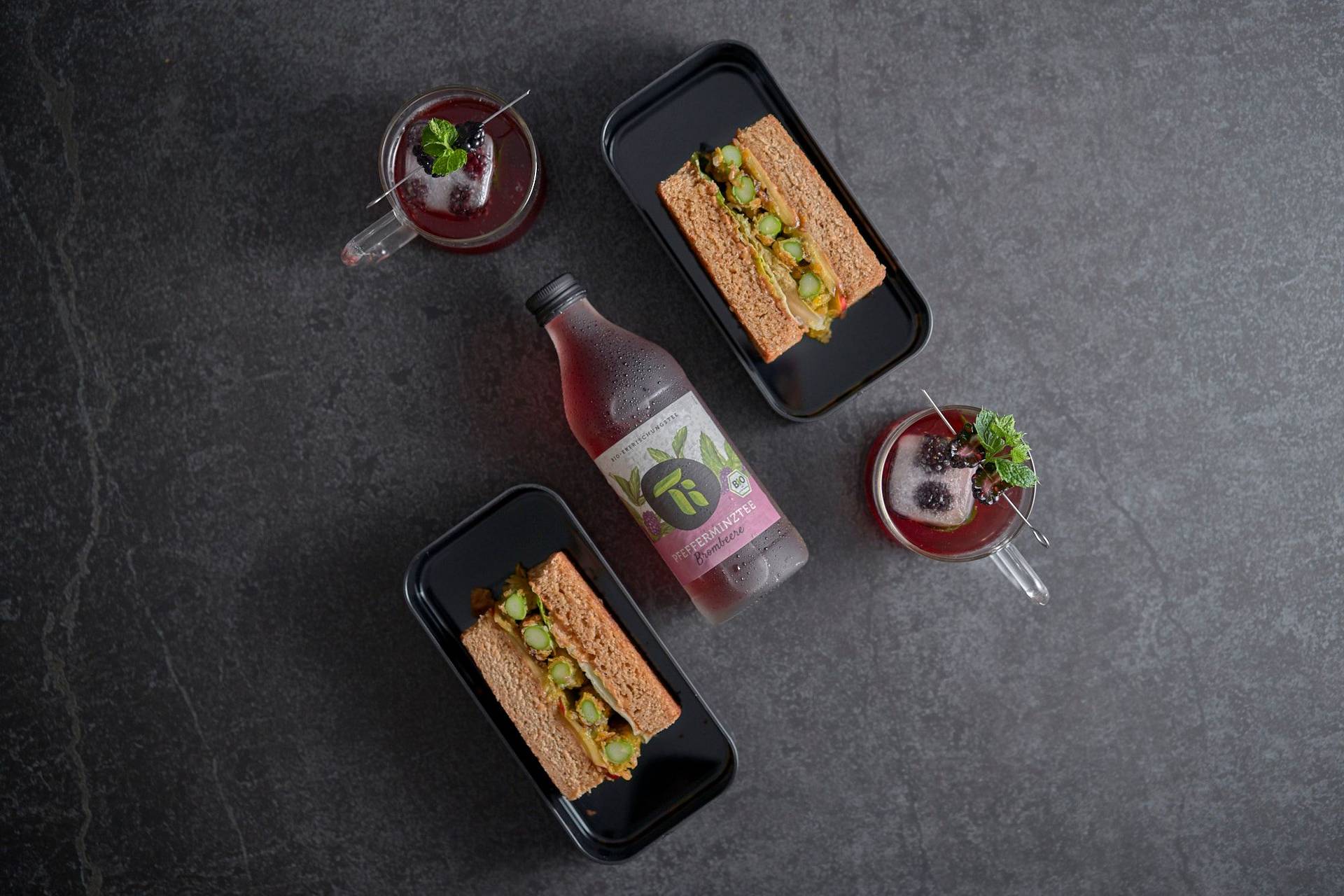 Newsletter
Can't get enough?
Get some secret ingredients through our newsletter!