Recipe
Spelt Risotto with Harzer Cheese & Red Wine Shallots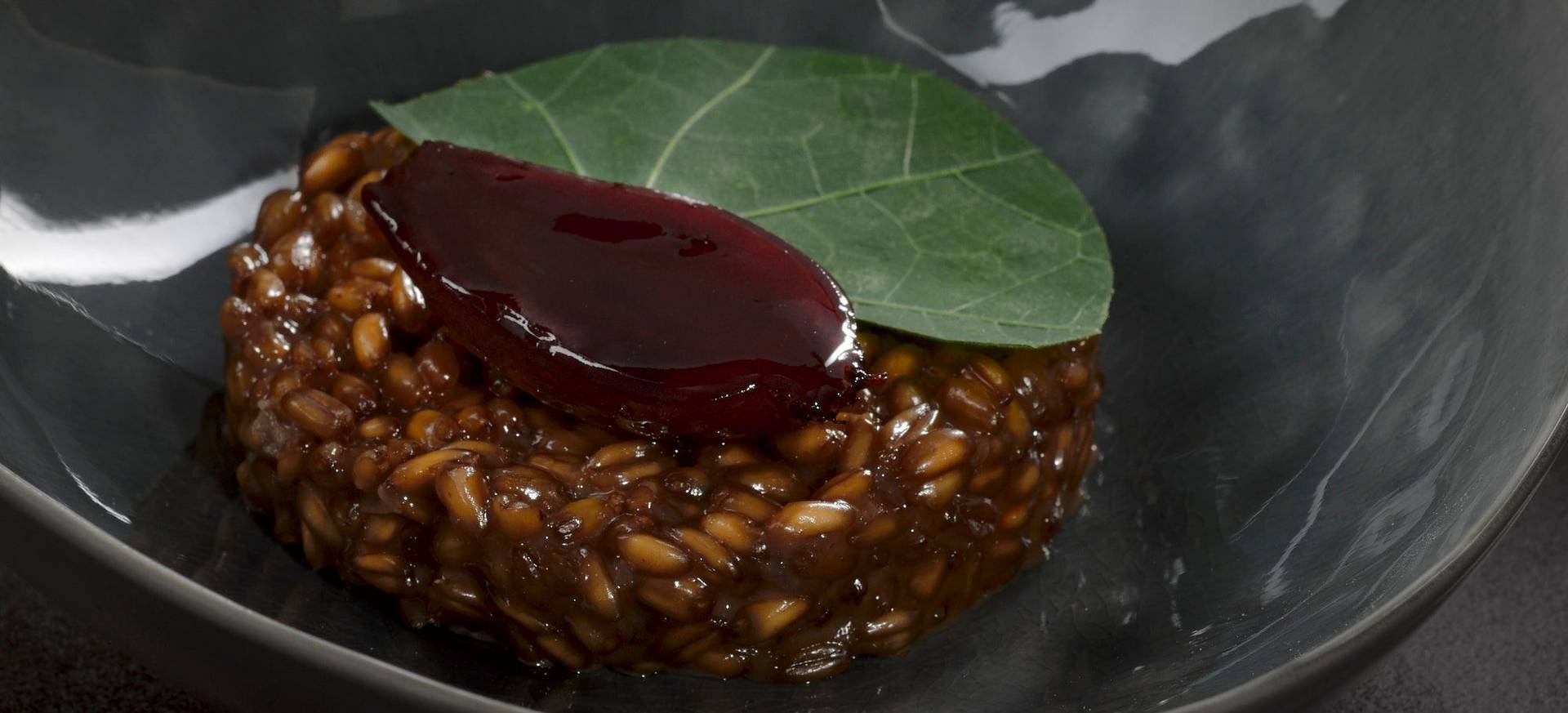 When you think of risotto, what is the first thing that comes to your mind? Rice, Parmesan cheese or maybe Italy. Exactly, that's what I would think too, but why not interpret risotto in a completely different way? That's what I wanted to do with this recipe and so I only left the basic principles of the classic risotto. A risotto can also be made from cereals like buckwheat, barley or even spelt. Sure, we no longer speak of a risotto made from round grain rice, but why not? Spelt has a completely different taste even if you cook it like risotto.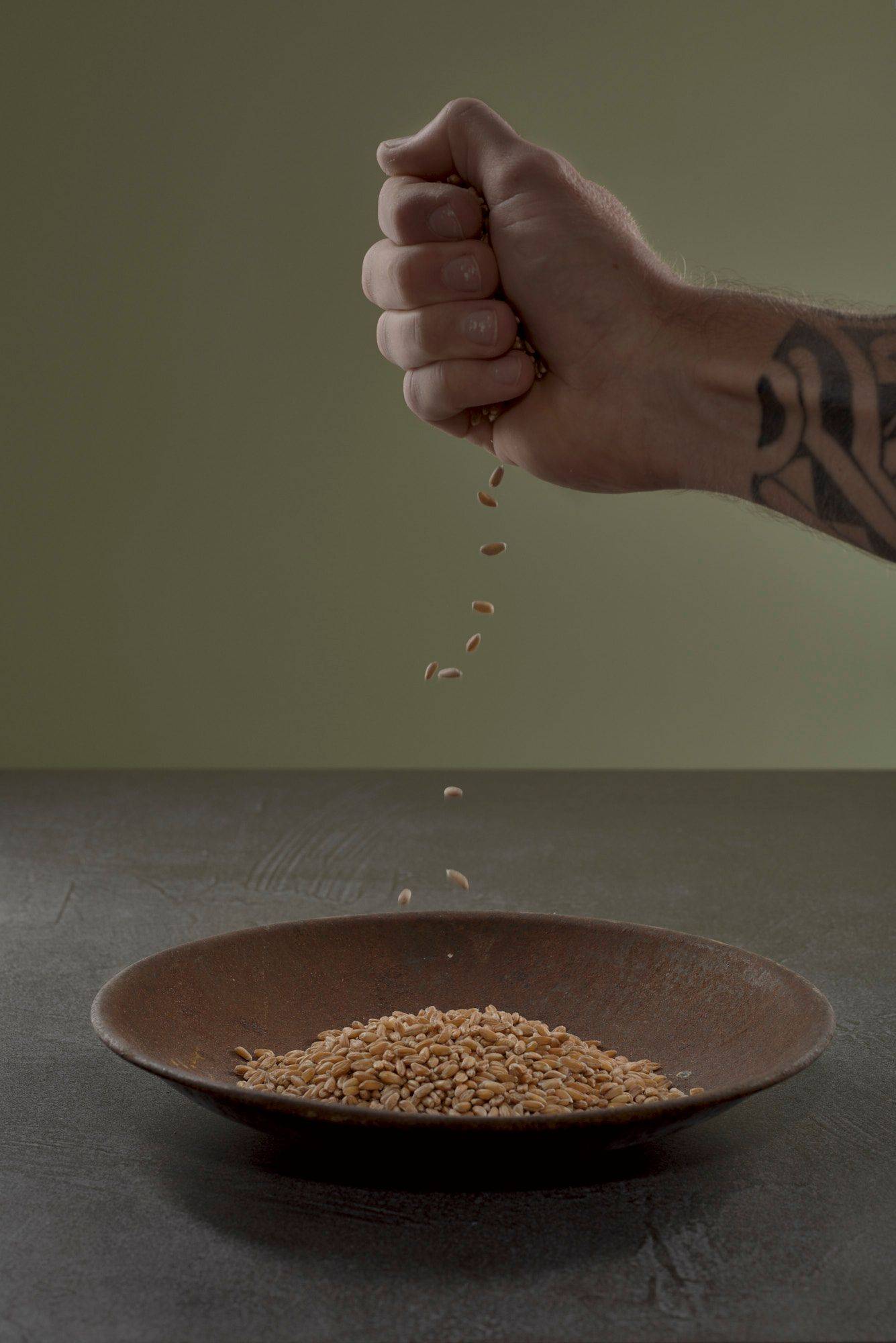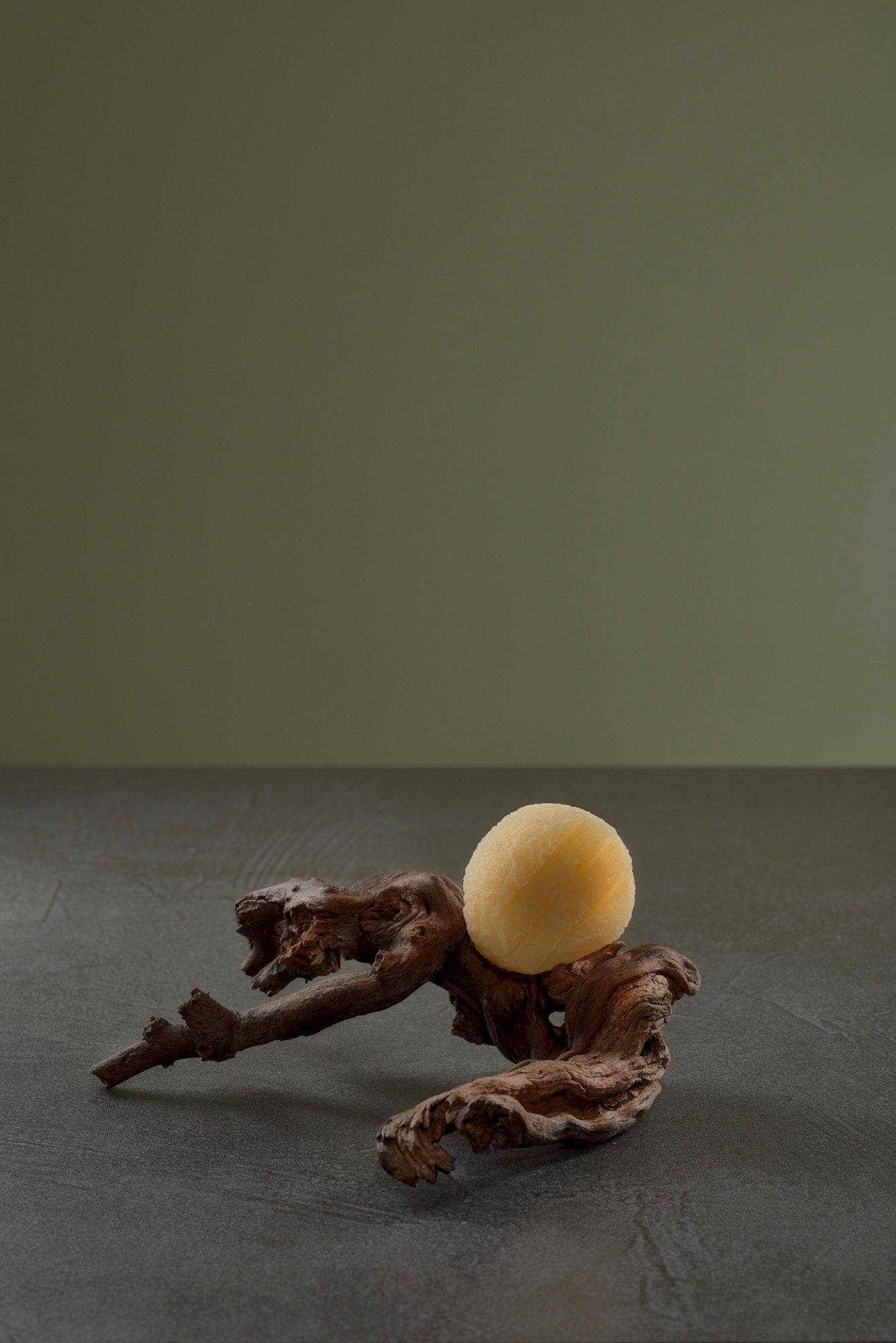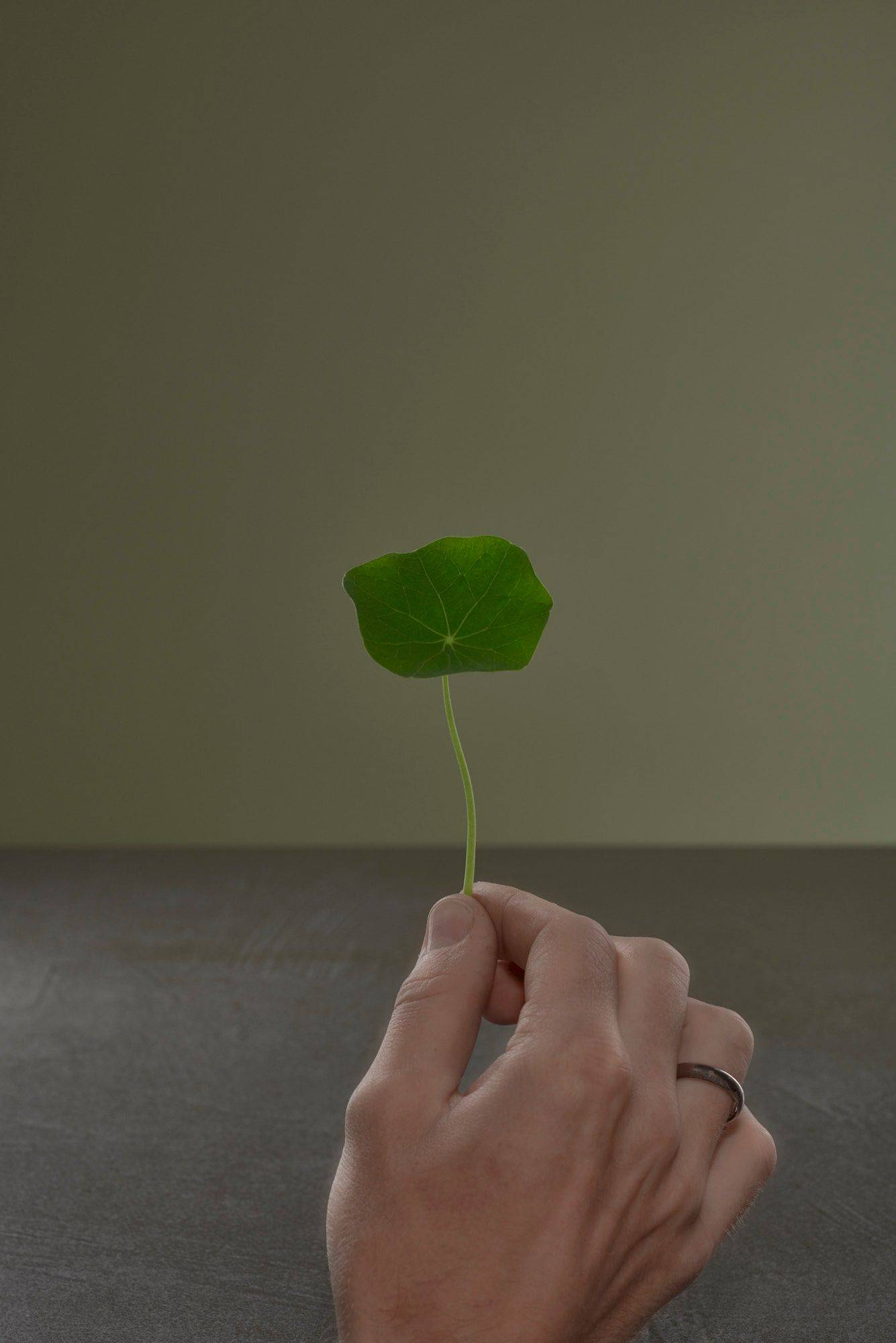 Spelt Risotto with French red wine
The classic advocates of risotto will now surely fold their arms over their heads, because in this recipe I prepare my spelt risotto with French red wine and not with white wine. I simply found that a red rather meets the characteristics of the spelt grain than a white wine. If you are skeptical now, you should definitely try it. I also like it when some ingredients of a recipe meet again. For example, I would like to serve red wine shallots with it, which also goes into French cuisine. Now we have the grainy spelt risotto with a somewhat rustic taste and, as a contrast, the delicate sweetness and acidity of the shallots cooked in red wine.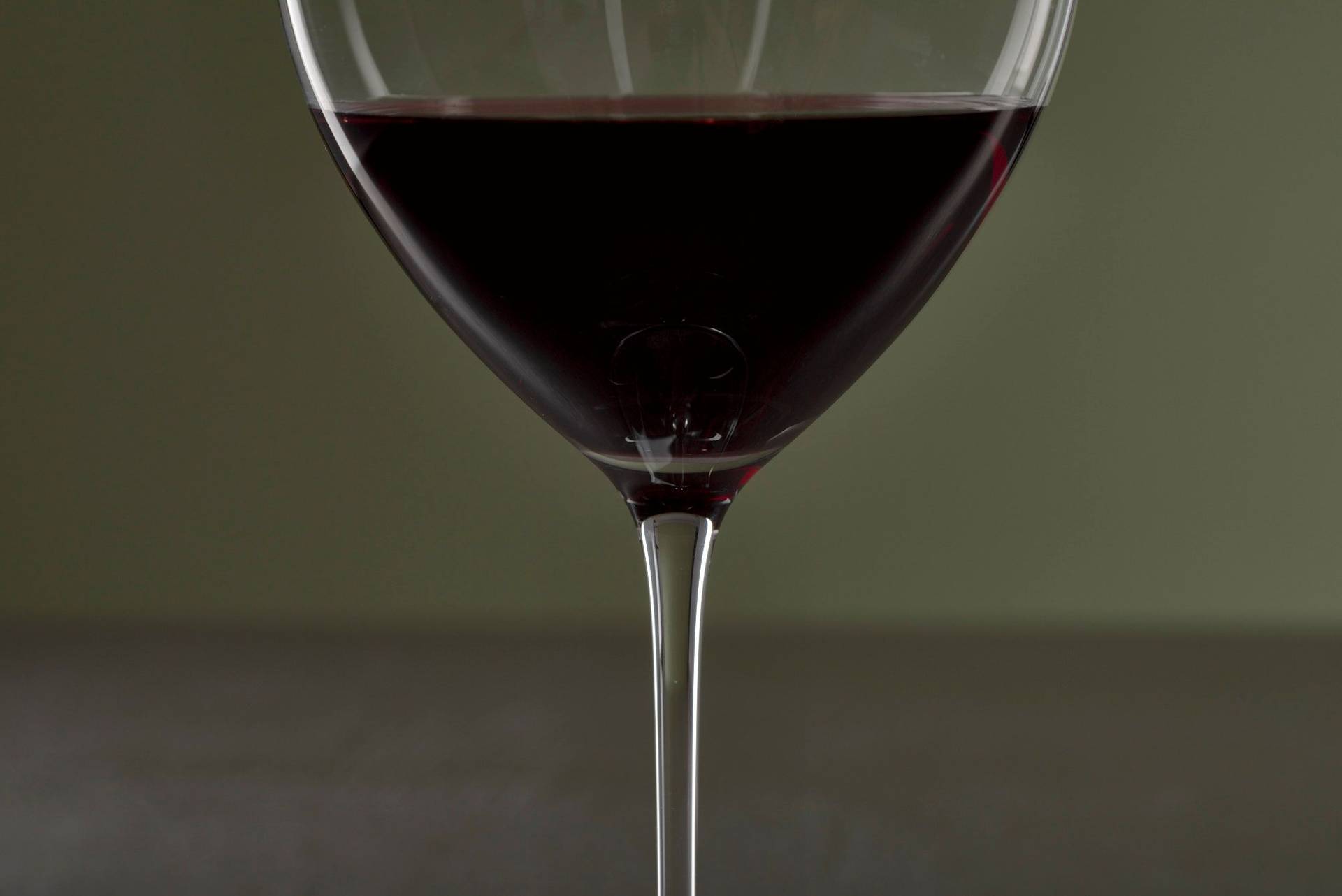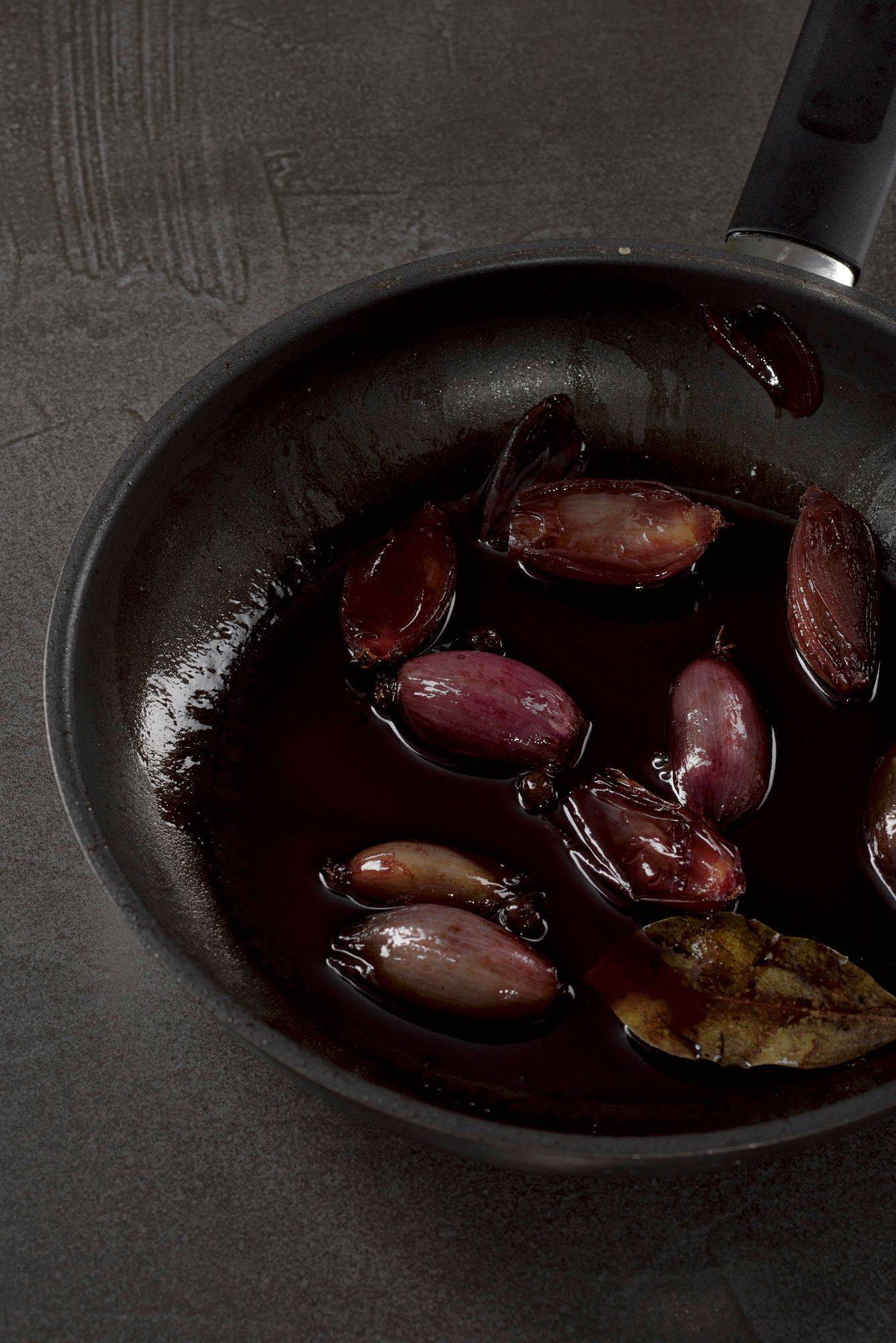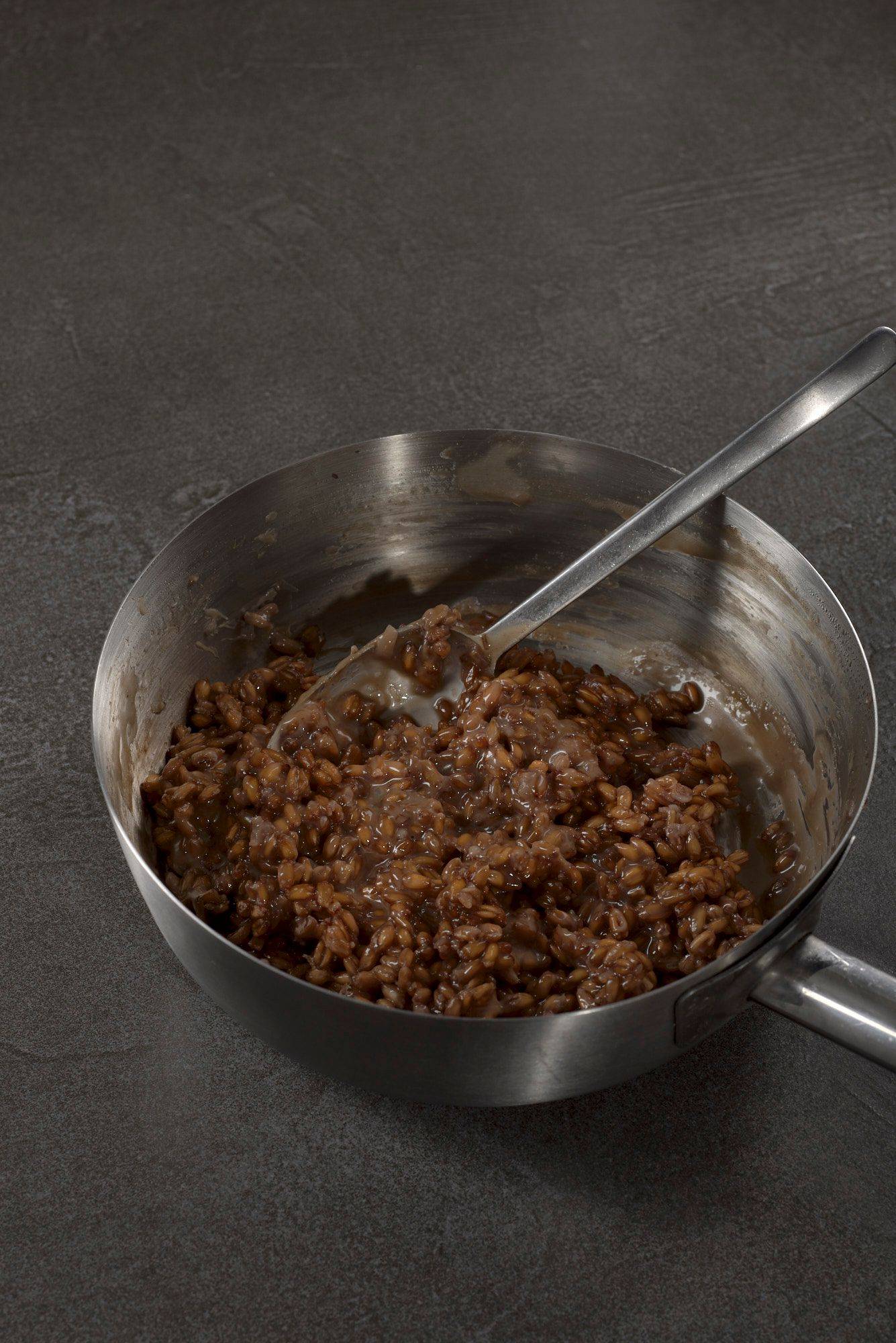 Harzer cheese - hand cheese with music
Harzer Cheese is a sour milk cheese made from curd cheese and can be found especially in the Hessian region here in Germany under the name hand cheese with music. Harzer Cheese has a very spicy taste and because of its smell it may not necessarily find lovers at all tables. The hand cheese with music is classically marinated in vinegar, oil and onions and then enjoyed as an appetizer, especially in wine regions. I tasted Harzer cheese there for the first time over 20 years ago in this variant and was very surprised how well I liked its taste. Today I only want to use the Harzer cheese and its seasoning and replace the Parmesan cheese in my risotto with it. I can only recommend cooking this recipe, because the seasoning of the Harzer cheese gives this differently interpreted risotto recipe a completely new taste. Together with the grainy spelt risotto and the delicate red wine shallots, this risotto recipe is once again proof of how freedom in the kitchen can and should create its own interpretations.
Looking for more vegetarian cheese recipes? Try out my recipes for Onion Tarte Tatin with Blue Cheese & Pear or my Kale Cake with creamy Epoisse cheese!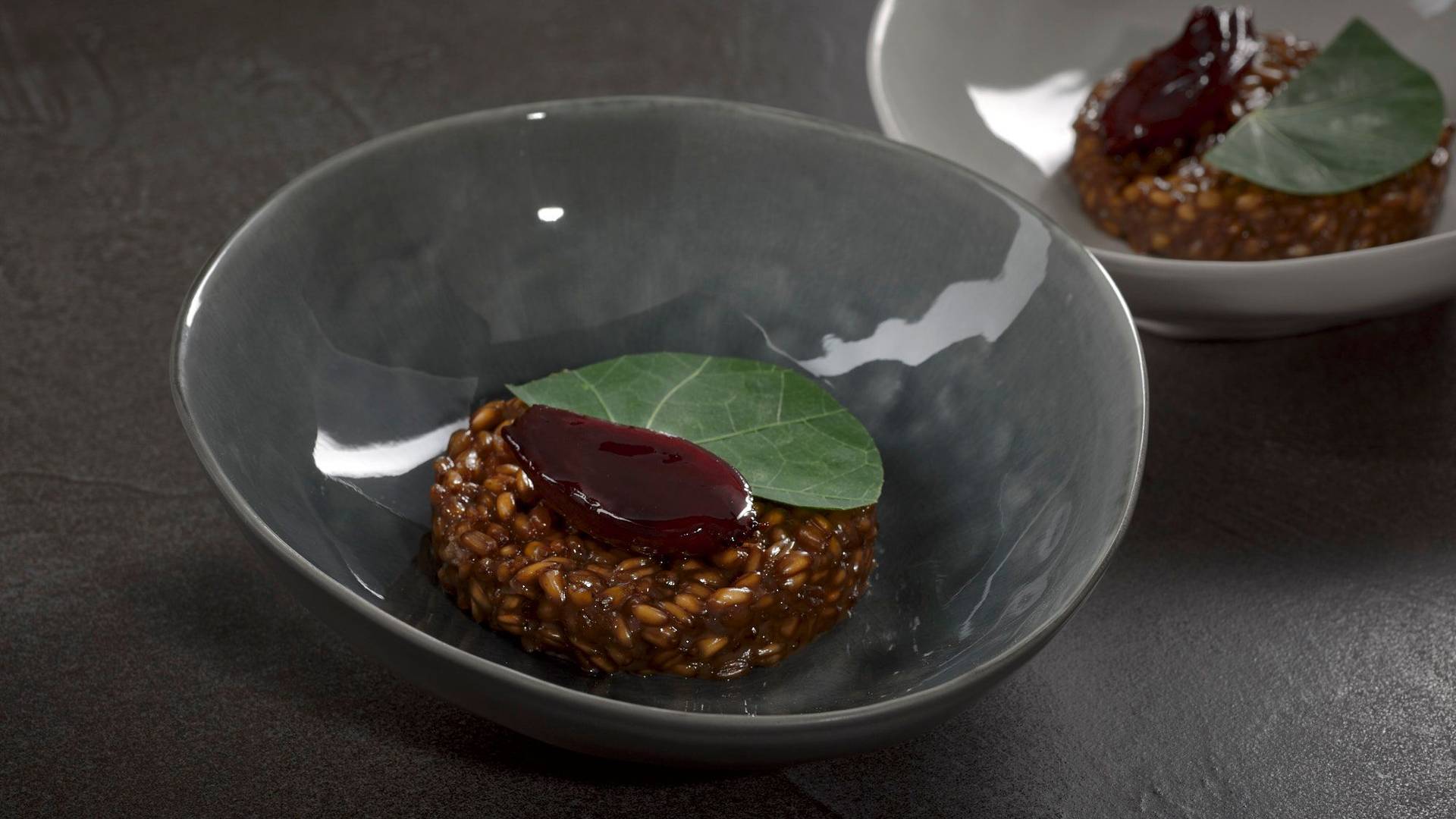 Accept YouTubes marketing cookies to watch this video.
Recipe
Spelt Risotto with Harzer Cheese & Red Wine Shallots
2 Persons40 Minutes
Spelt Risotto with Harzer Cheese
150 g Spelt
1/2 Shallot
30 g Butter
80 ml Red Wine
350 ml Vegetable Stock
60 g Harzer Cheese
For the spelt risotto, peel the shallot and cut into fine dices. Heat up a pot and add half of the butter to sauté the shallots. Add the spelt, also sauté and deglaze with red wine. When the red wine is reduced a bit, add vegetable stock so that the spelt is covered. Now continue cooking carefully, like a normal risotto, stirring occasionally and filling up with vegetable stock again and again. In the meantime, cut the Harzer cheese into dices. After about 45 minutes, depending on your preference, add the remaining cold butter and mix. Then add the Harzer cheese and stir until it is completely melted. The Harzer Cheese is spicy enough to give the spelt risotto taste, so no further seasoning is necessary.
Red Wine Shallots
3 Shallots
2 tsp Sugar
20 g Butter
120 ml Red Wine
1 Bay Leaf
3 Allspice Grains
Peel and halve the shallots. Heat up a pan, add the sugar and let it caramelize. When the sugar has taken on color, add the shallots on the cutting edges and let them caramelize a little. Then add the cold butter, toss the pan and deglaze with red wine. Now add bay leaf and allspice and simmer with lid on low heat for 10 minutes. The sauce should then be slightly boiled down and thickened so that it coats the shallots.
Serving
Before serving, cut the Indian cress into round pieces, using the same ring that is used to prepare the spelt risotto. Then place the ring in a bowl and spread the spelt risotto in it. Press the spelt risotto carefully into the ring, so that it keeps its round shape. Now put a red wine shallot on one side and the Indian cress on the other. Finish with a little sauce and enjoy with a nice glass of French red wine.
Santé!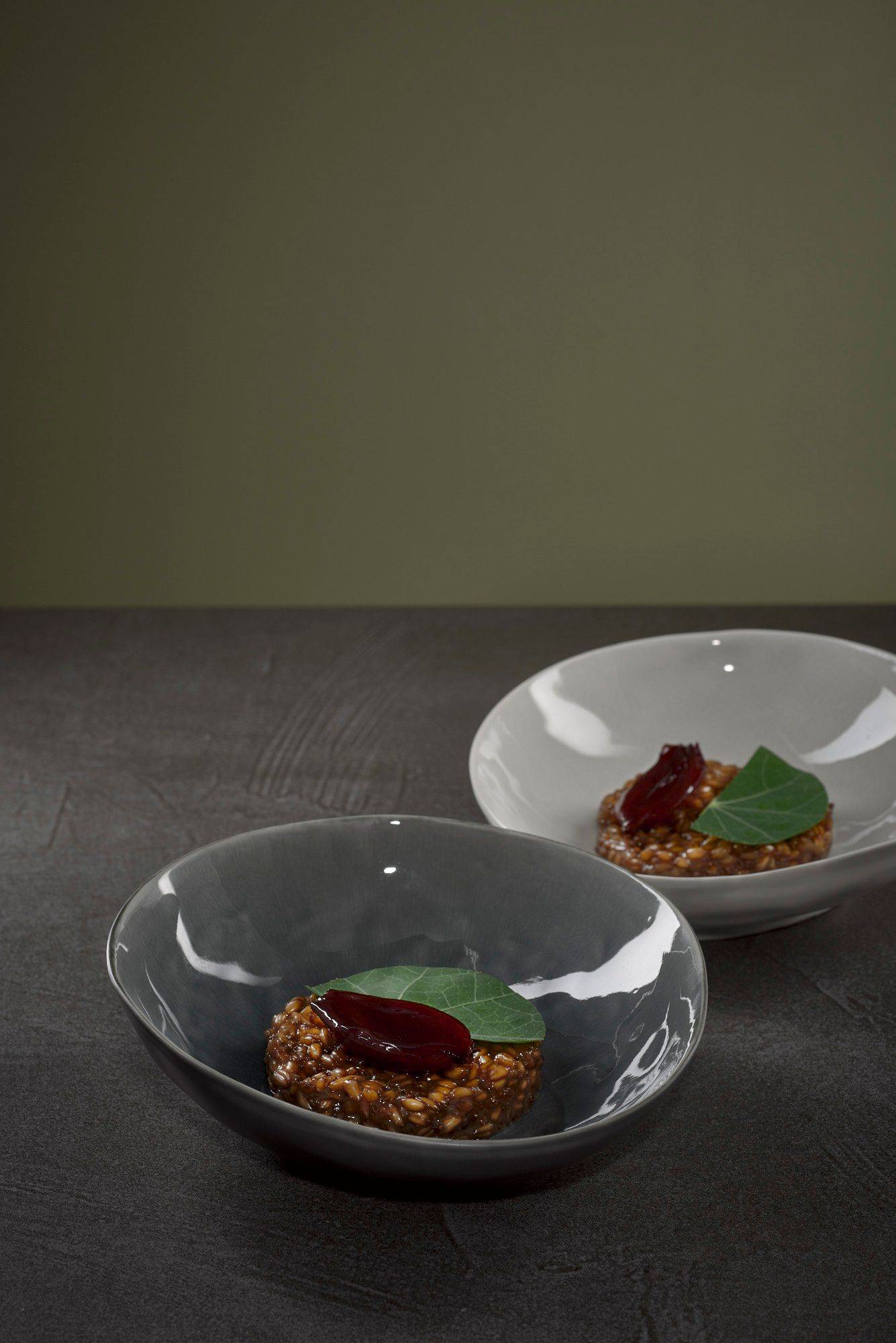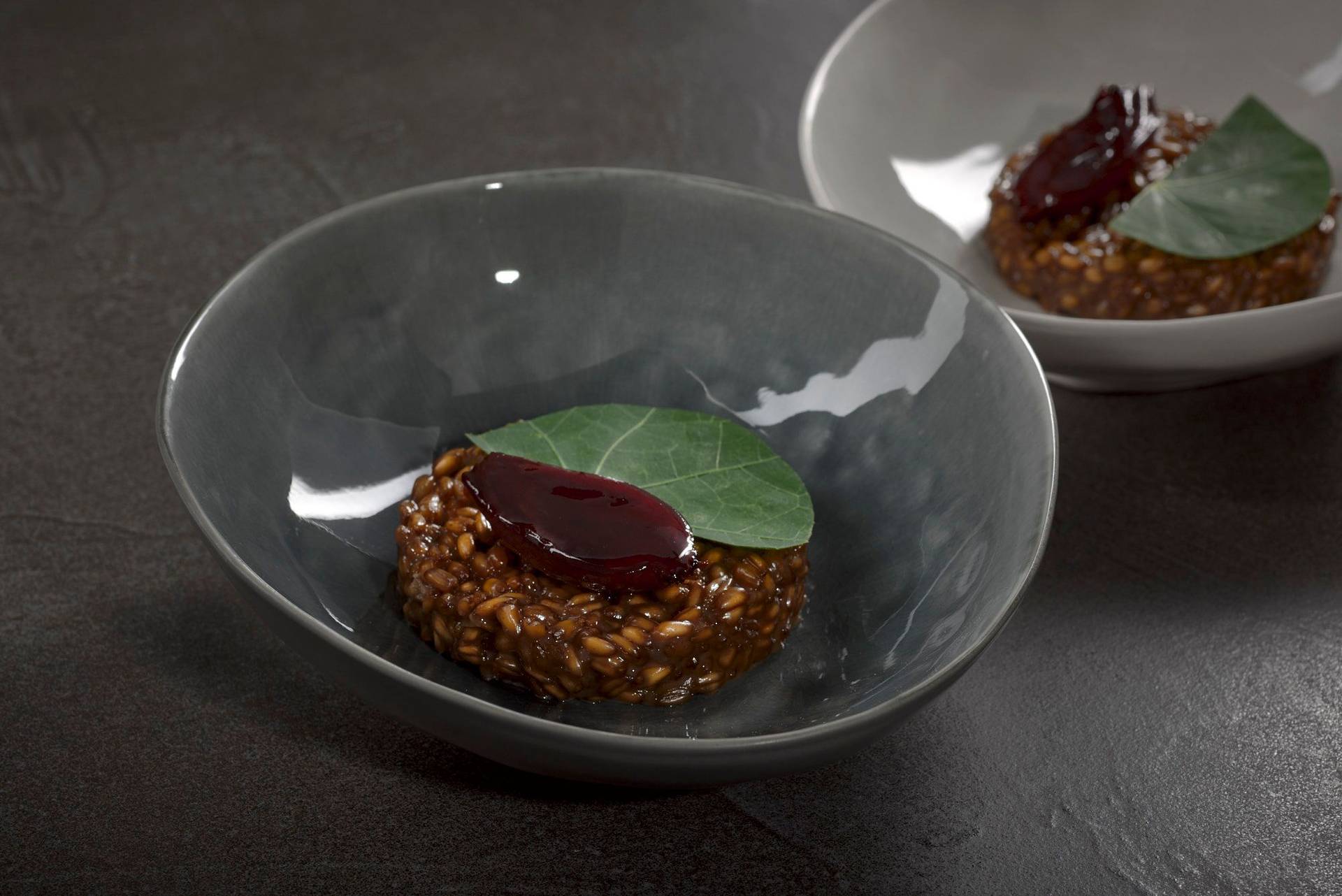 Newsletter
Can't get enough?
Get some secret ingredients through our newsletter!