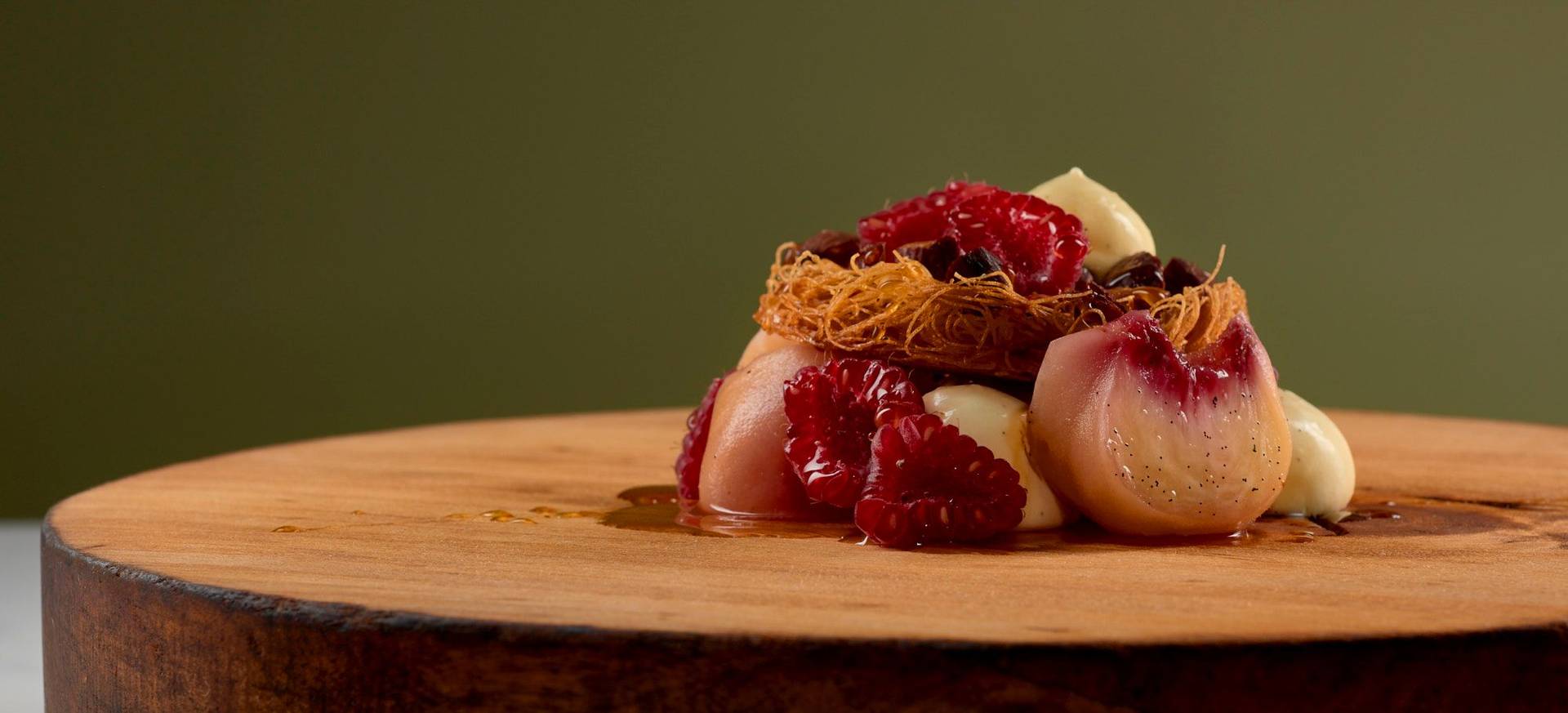 Peach Melba was created around 1900 by the French cook Georges Auguste Escoffier. He created this dessert for Nellie Melba at the London Royal Opera House. He poached half a peach in syrup and served it on vanilla ice cream. Sure, a simple plate would not have been opulent enough until then, so he presented his peach Melba dessert in a swan carved out of ice cream. Voila, a dessert classic was born
Peach Melba sugar free newly revised
I have used Peach Melba and its flavor over the years as the basis for various desserts or praline creations, but this is the latest recipe for a Peach Melba dessert from my kitchen. It should be sugar free without missing on taste. So, the basis was poached peach, vanilla, raspberries and almonds, and from this point I love to mix the classics with new influences. But I wanted to preserve the origin of the dessert and leave the poached peaches as they have been. I replaced the ice cream, because I think most of you don't have the luxury of an ice cream machine to make a creamy vanilla ice cream yourself.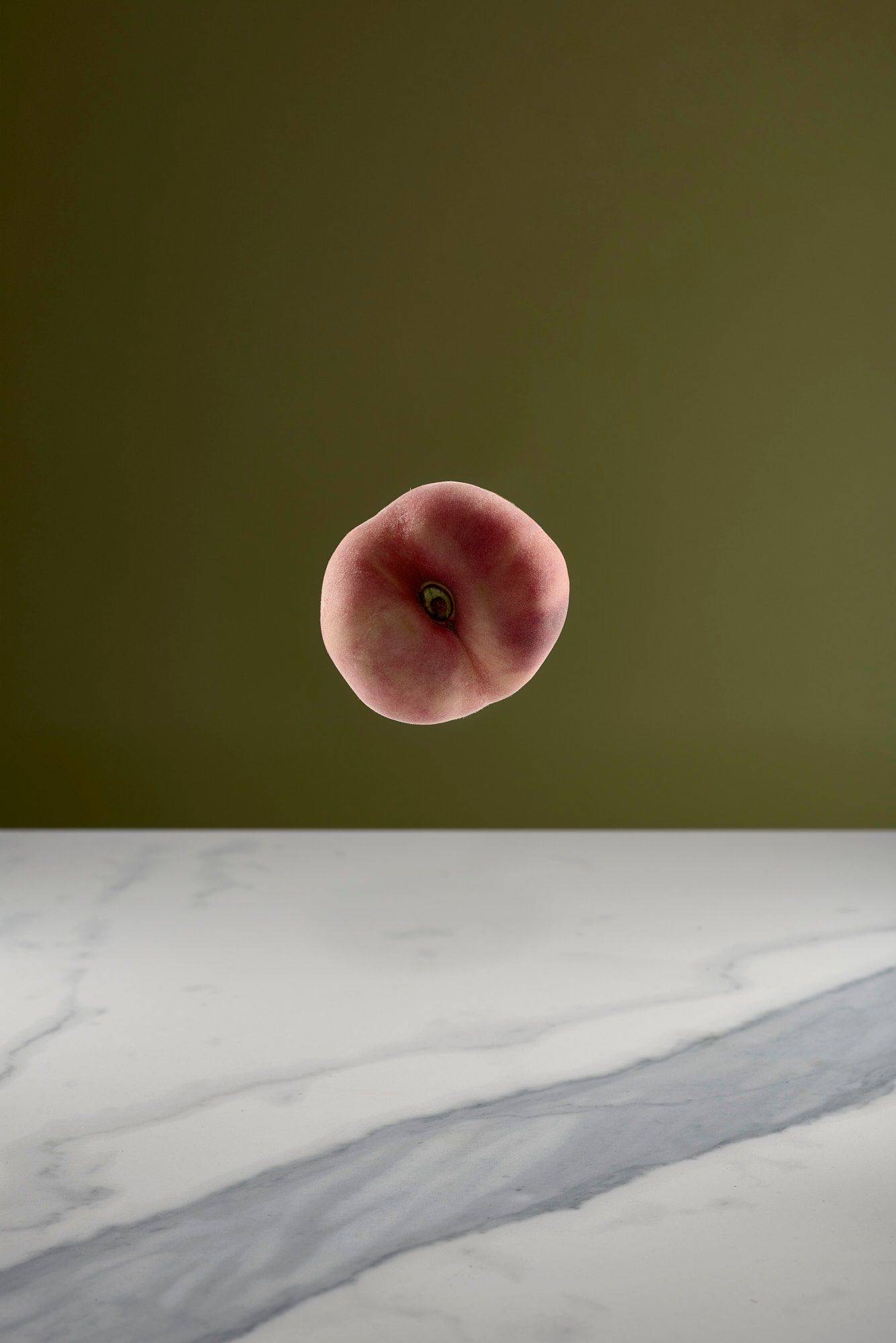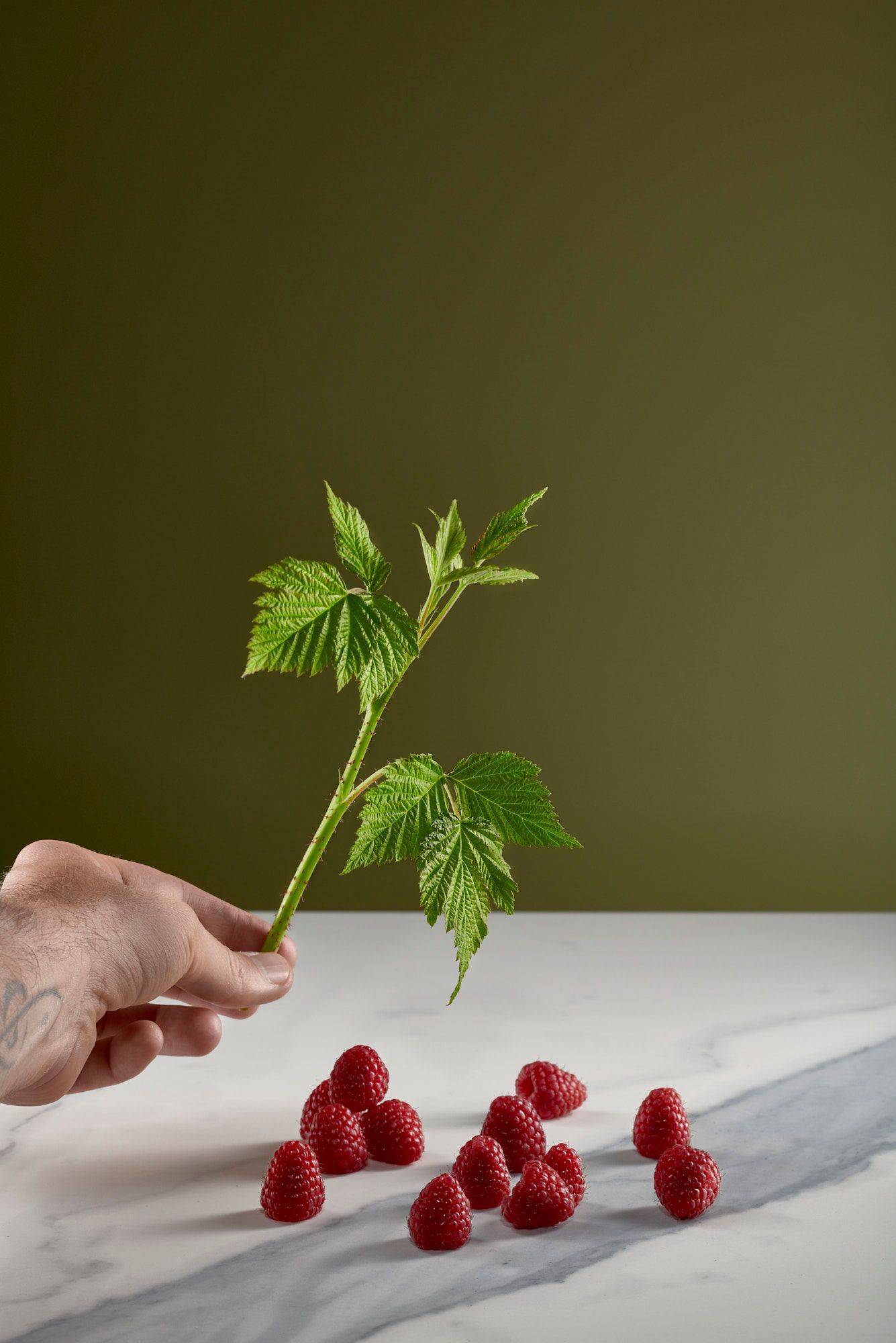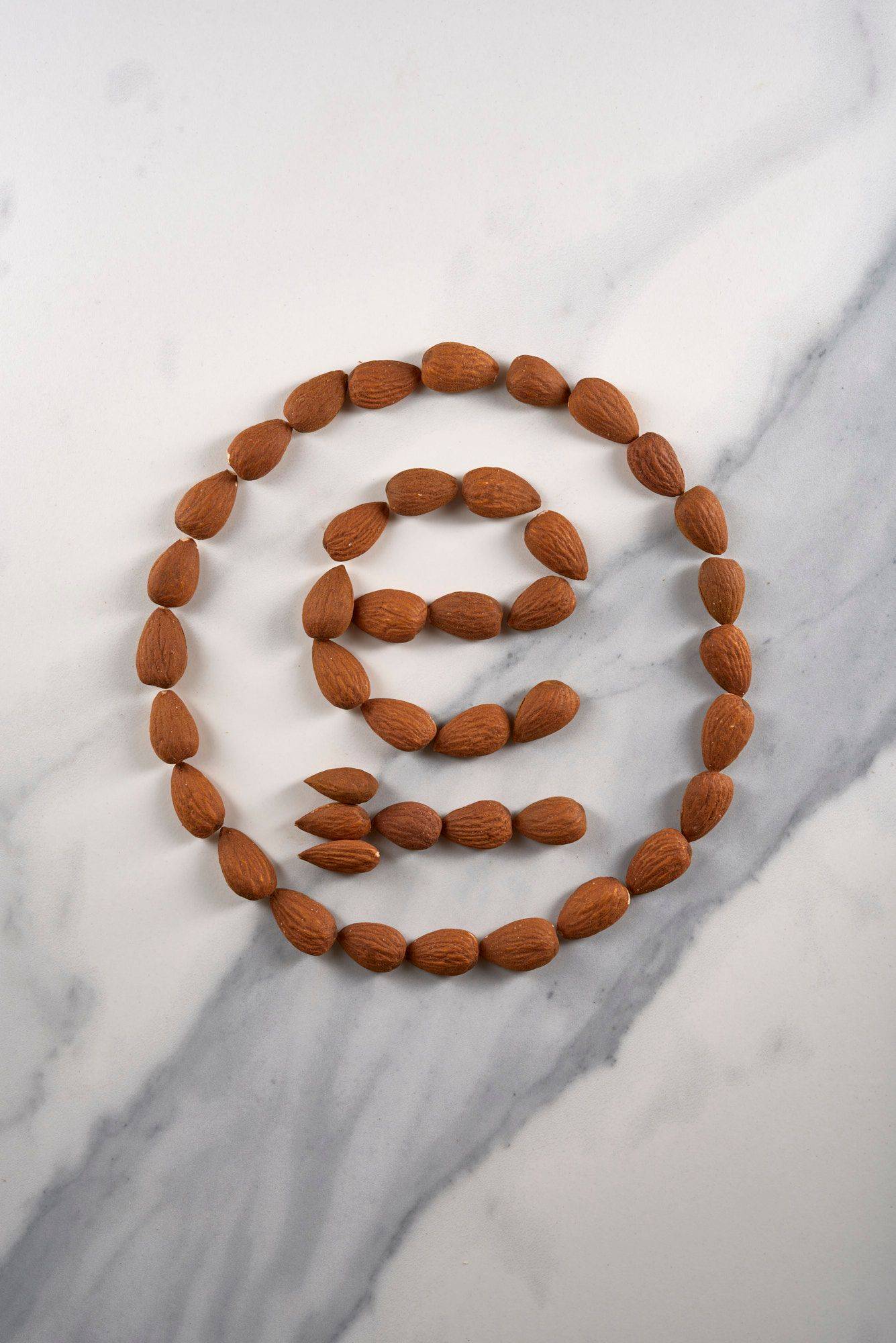 Creating desserts
I always pay attention to consistencies and a balance between sweet and sour. Today, by the way, this works very easily sugar free thanks to the various sugar substitute products. Since the peaches were set, I wanted to add something rich on the plate. Fat is enhancing flavor and a delicious vanilla custard made from cream butter and vanilla is just perfect for this. Now the play of different textures was still missing, something with a bit of bite was needed. Via detours my mind went from brittle and filo pastry to Kataifi, also called angel´s hair. This dough, which is normally found in oriental desserts, becomes wonderfully crispy when baked and still retains a delicate consistency. Enriched with almonds and butter, a little bit of the Orient was added.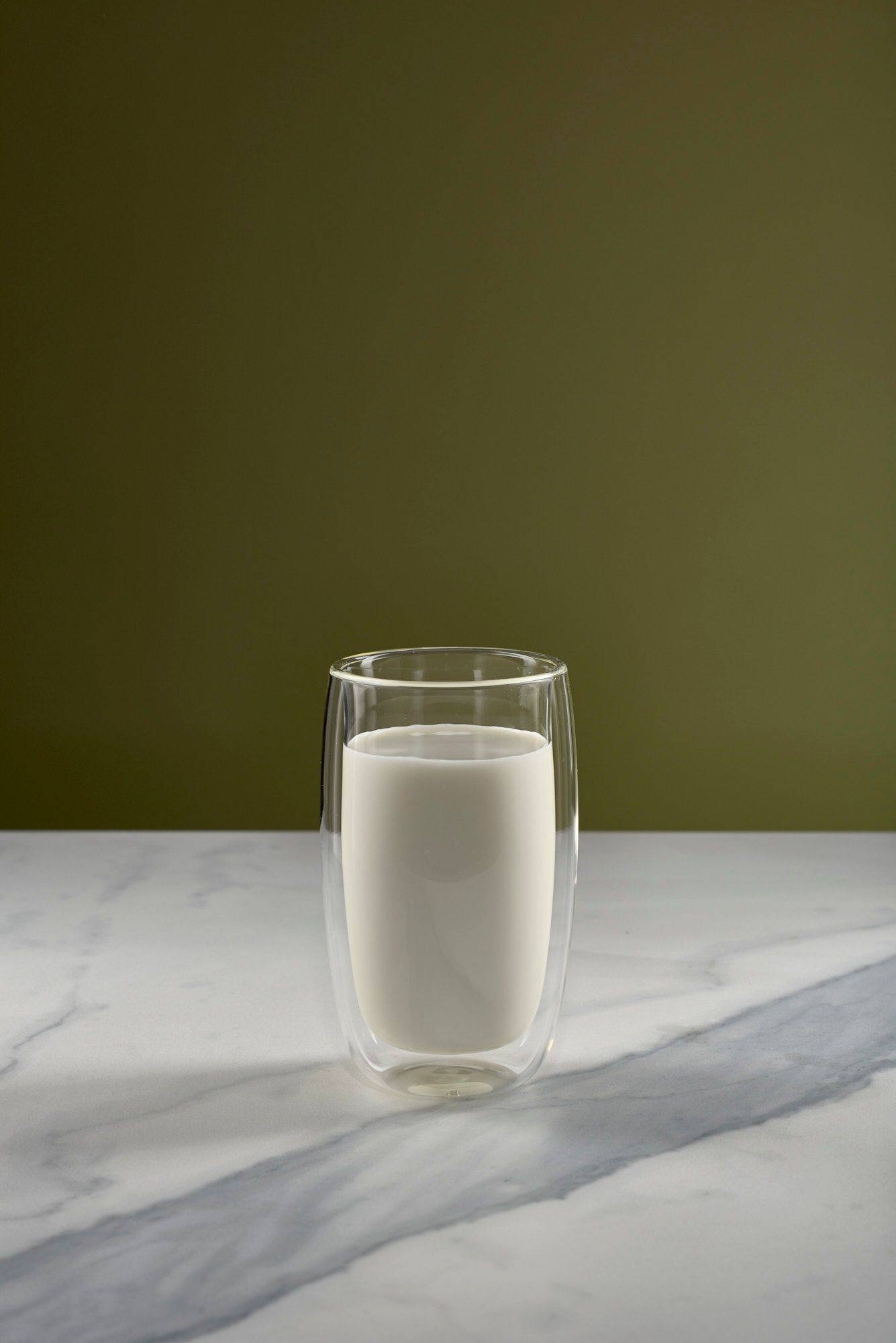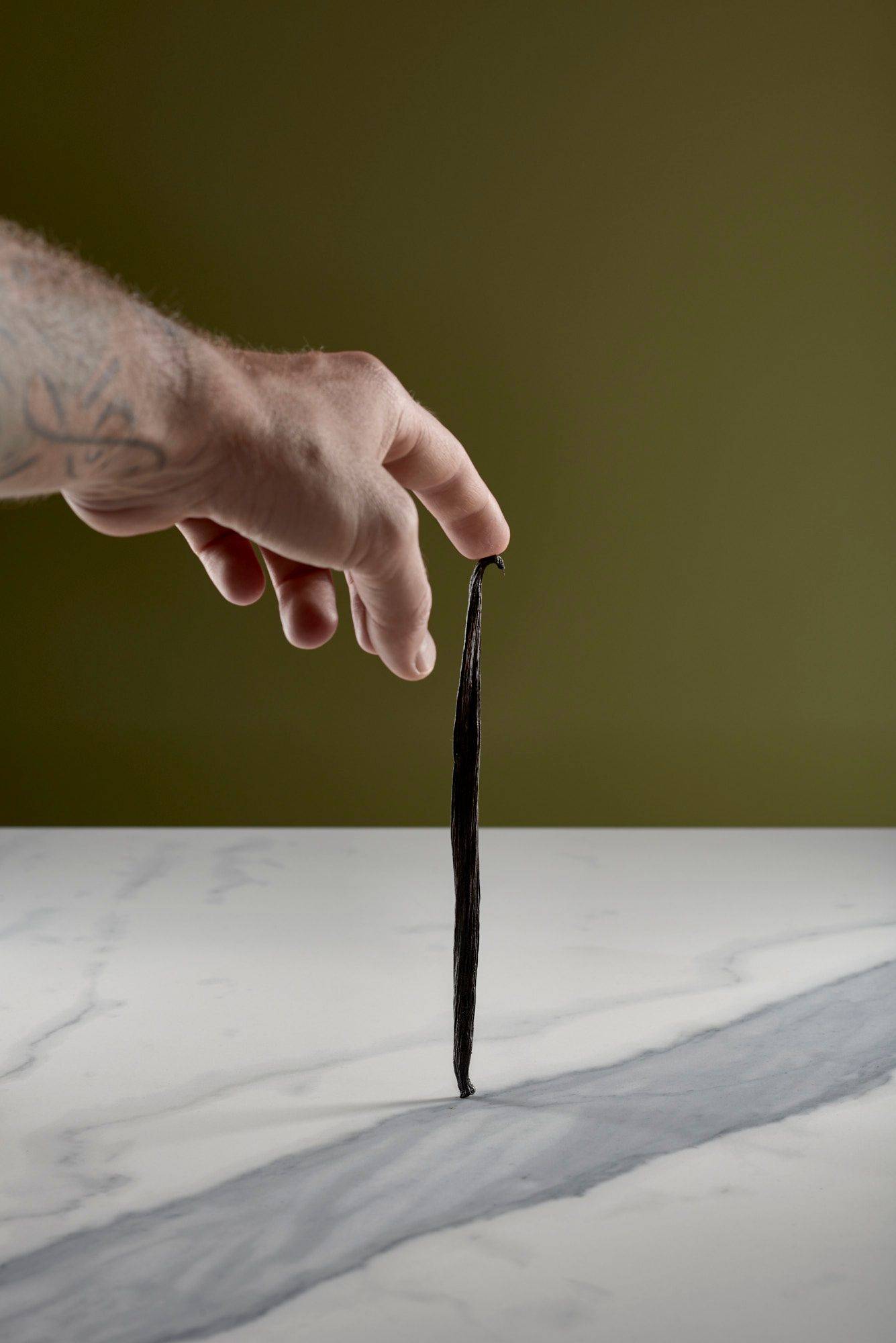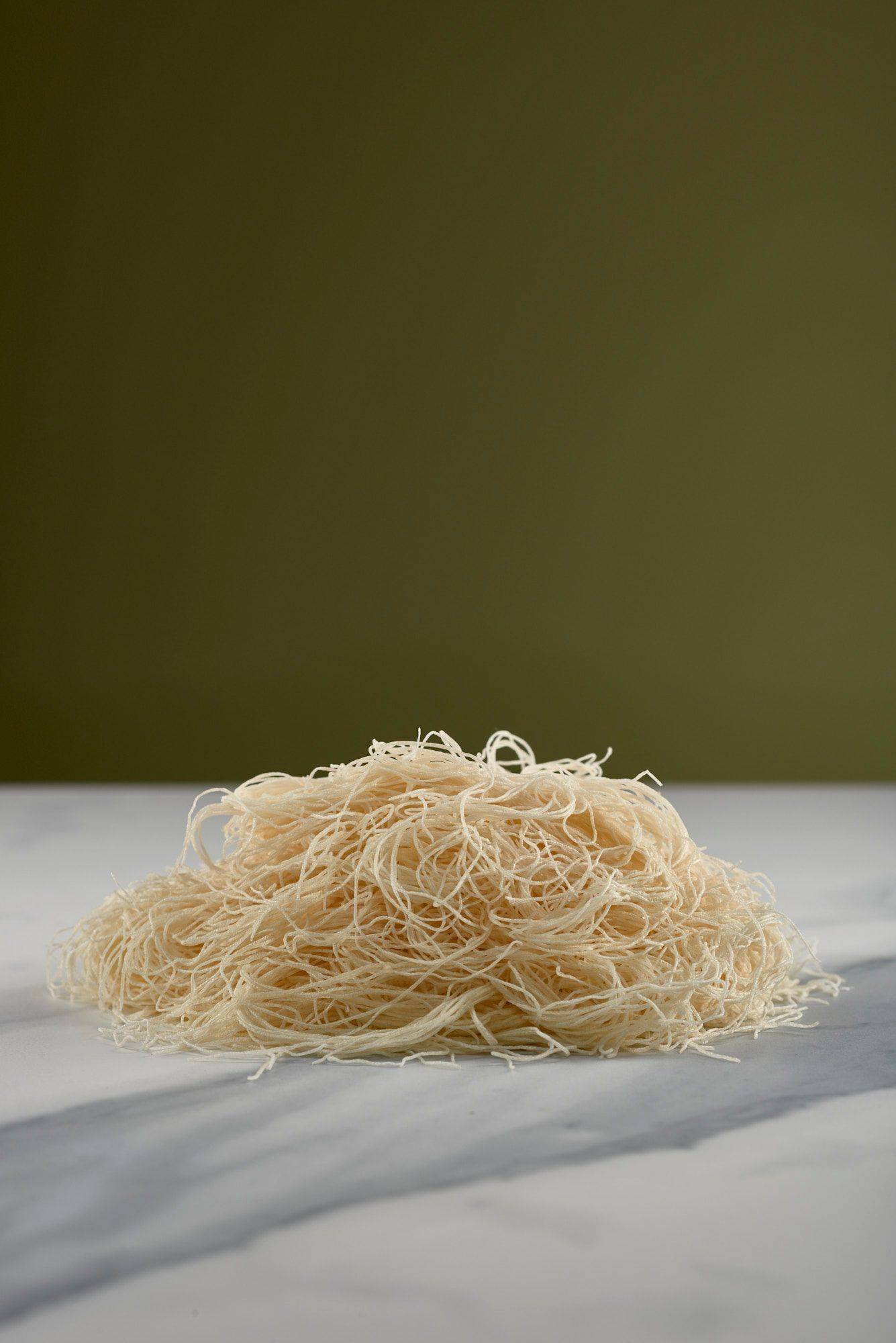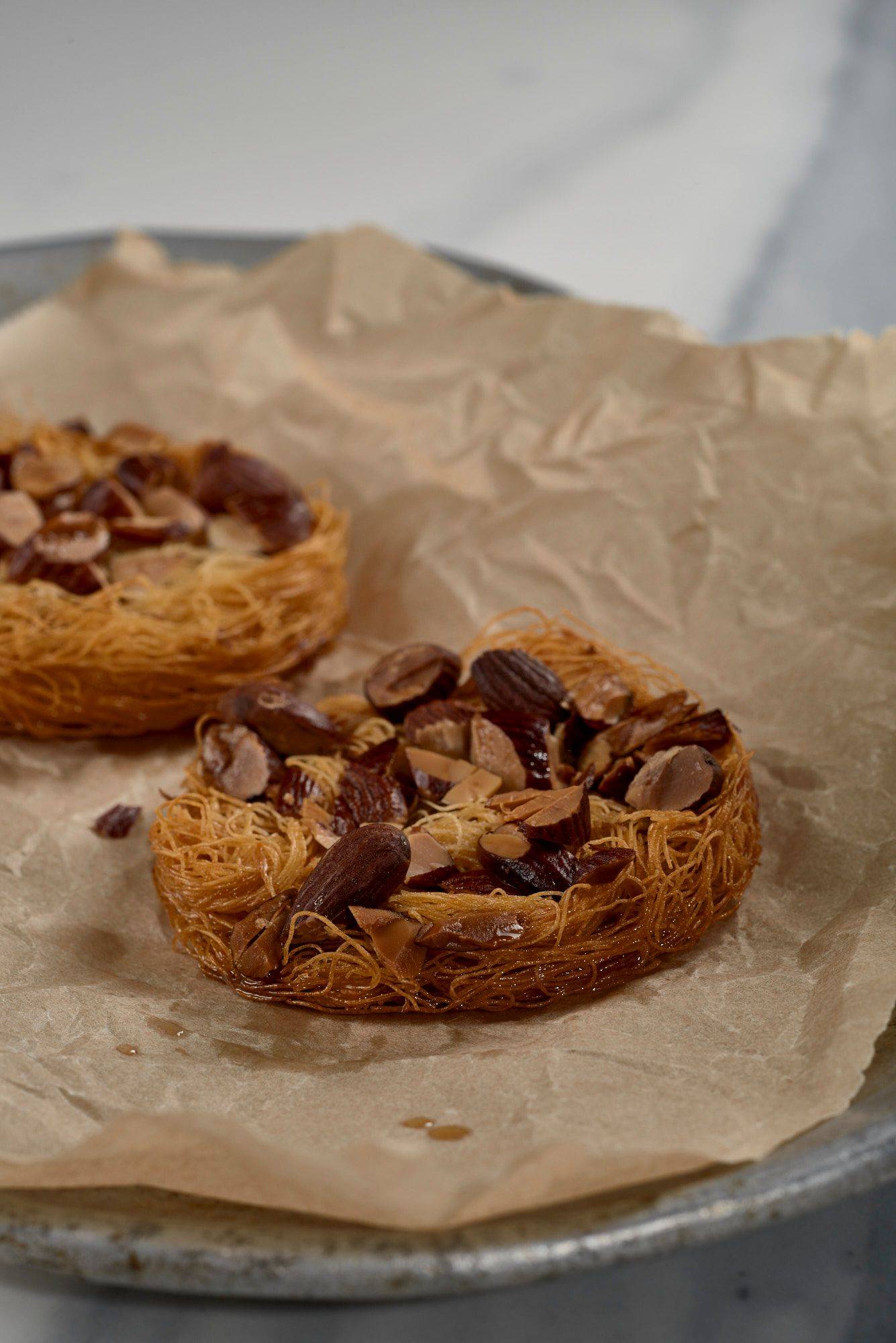 Melba sauce
What have I forgotten? Exactly, the Melba sauce made from raspberries. It is usually used to cover the peach, but I always have the decorative aspect in mind. That's why the raspberries were only cut in halves and left like this with their beautiful appearance. Thinking of baklava because of the Kataifi dough, some honey was added. At the end, still a Peach Melba dessert, yet sugar free and only slightly different. If you ask me, it cannot be wrong to re-make a classic every now and then, especially after more than 100 years since Peach Melba was served first.
You would like to see more revised dessert classics? Have a look at my recipes for Hay Panna Cotta or my Ayran Black Forest Cake with Cherries & Bacon!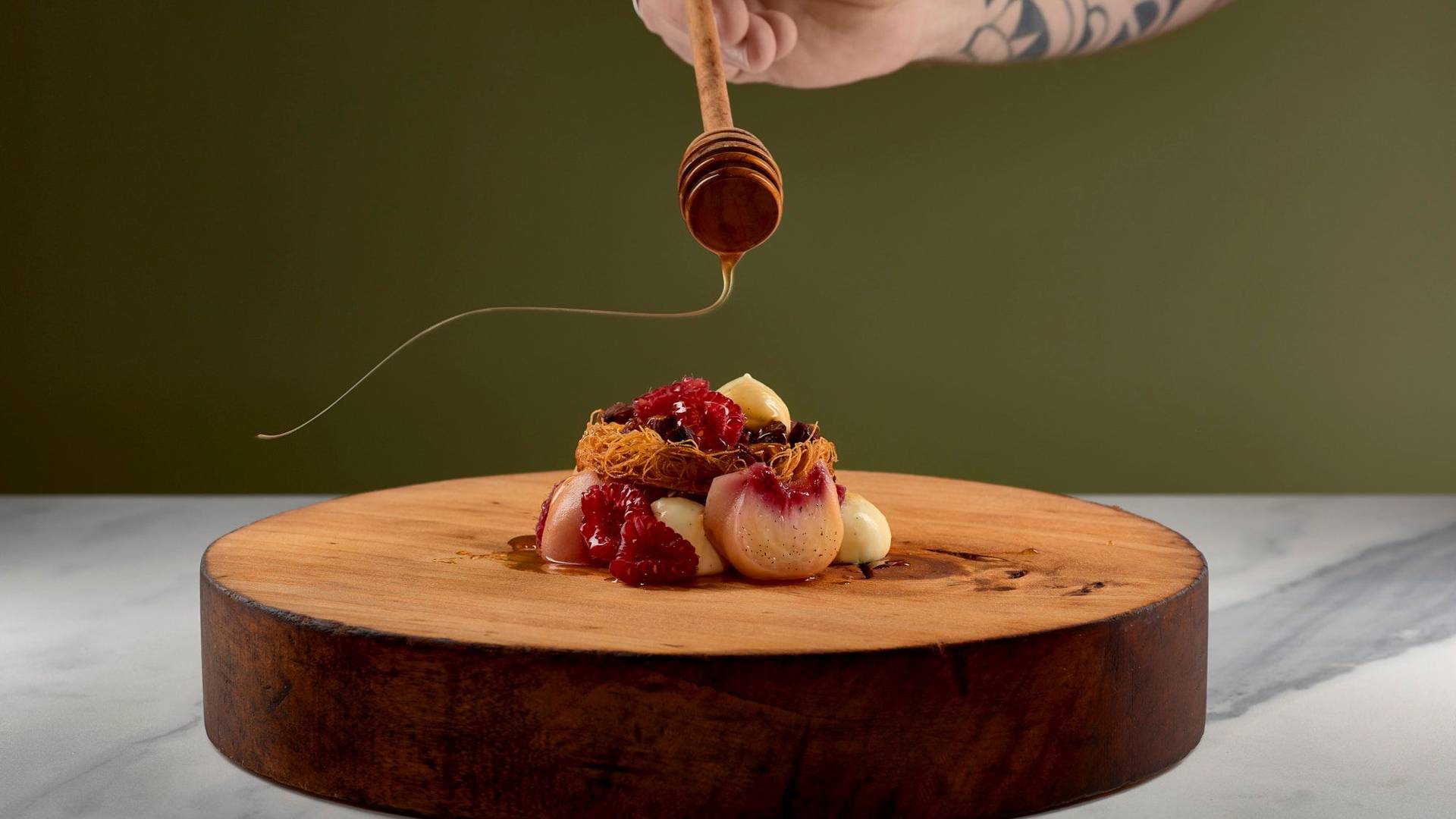 Accept YouTubes marketing cookies to watch this video.
Recipe
Peach Melba Dessert
4 Persons40 Minutes
Poached Peaches
350 ml Sparkling Wine
50 g Agave Syrup
1/4 Lemon Peel
1/2 Vanilla Pod
3 Peaches
For the poached peaches, first cut the peaches in half, remove the seeds and cut the halves into 4 pieces. Then boil up sparkling wine, agave syrup, lemon peel and vanilla in a pot. Let the stock simmer for 5 minutes and then add the peaches. Let the peaches simmer for another 2-3 minutes, remove from heat and let them cool down.
Vanilla Custard
125 ml Milk
250 g Cream
15 g Butter
50 g Agave Syrup
1/2 Vanilla Pod
1 Egg Yolk
35 g Starch
Salt to flavor
For the custard, put 1/3 of the milk in a bowl and the remaining 2/3 with the cream in a pot. Put butter, vanilla, agave syrup and salt also in the pot and starch and egg yolk in the bowl. Then stir the starch mix with a whisk until smooth, so that there are no lumps left. Place the pot on the stove and bring to the boil while stirring occasionally, then empty the bowl into the pot and let it boil for 1 minute, stirring constantly. Let the custard cool down in a covered bowl for at least 2 hours. Mix the chilled vanilla custard with a food processor until smooth and fill it into a piping bag with a perforated spout.
Kataifi & Almond Cracker
50 g Kataifi Dough
40 g Almonds
40 g Butter
For the crackers, put the Kataifi dough into rings or muffin tins and press them slightly. Then chop the almonds coarsely and also put them into the rings. Then dissolve the butter and pour over the Kataifi dough. Now bake the Kataifi Crackers in the oven at 190°C for 10-12 minutes until golden brown.
Serving
20 Raspberries
4 Tsp Honey
Before serving, cut the raspberries in half. To serve, put three peaches on a plate and add the custard in between. Spread the raspberries over them and put a Kataifi Cracker on top. Then garnish with some vanilla pudding and raspberries and finally sprinkle with honey.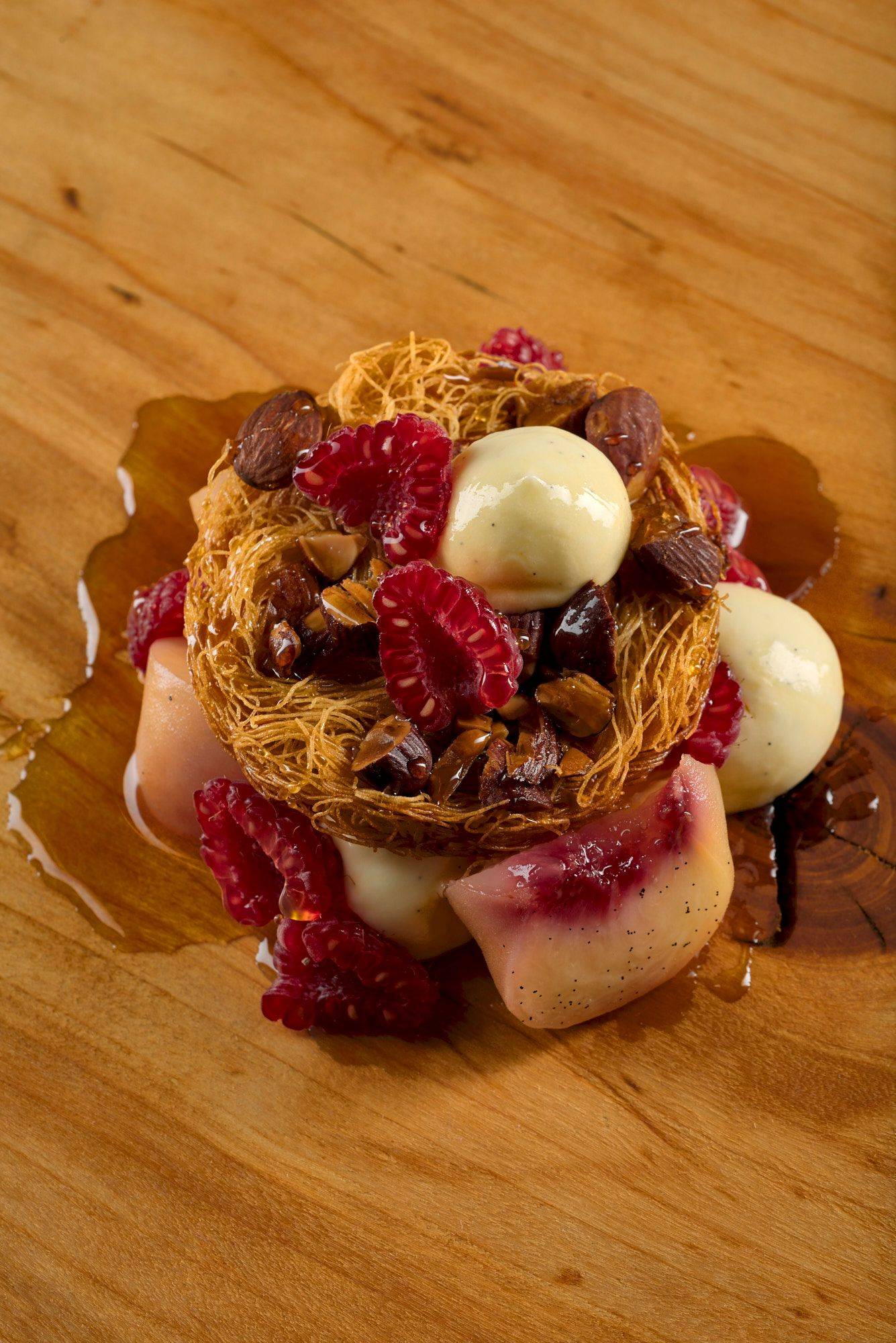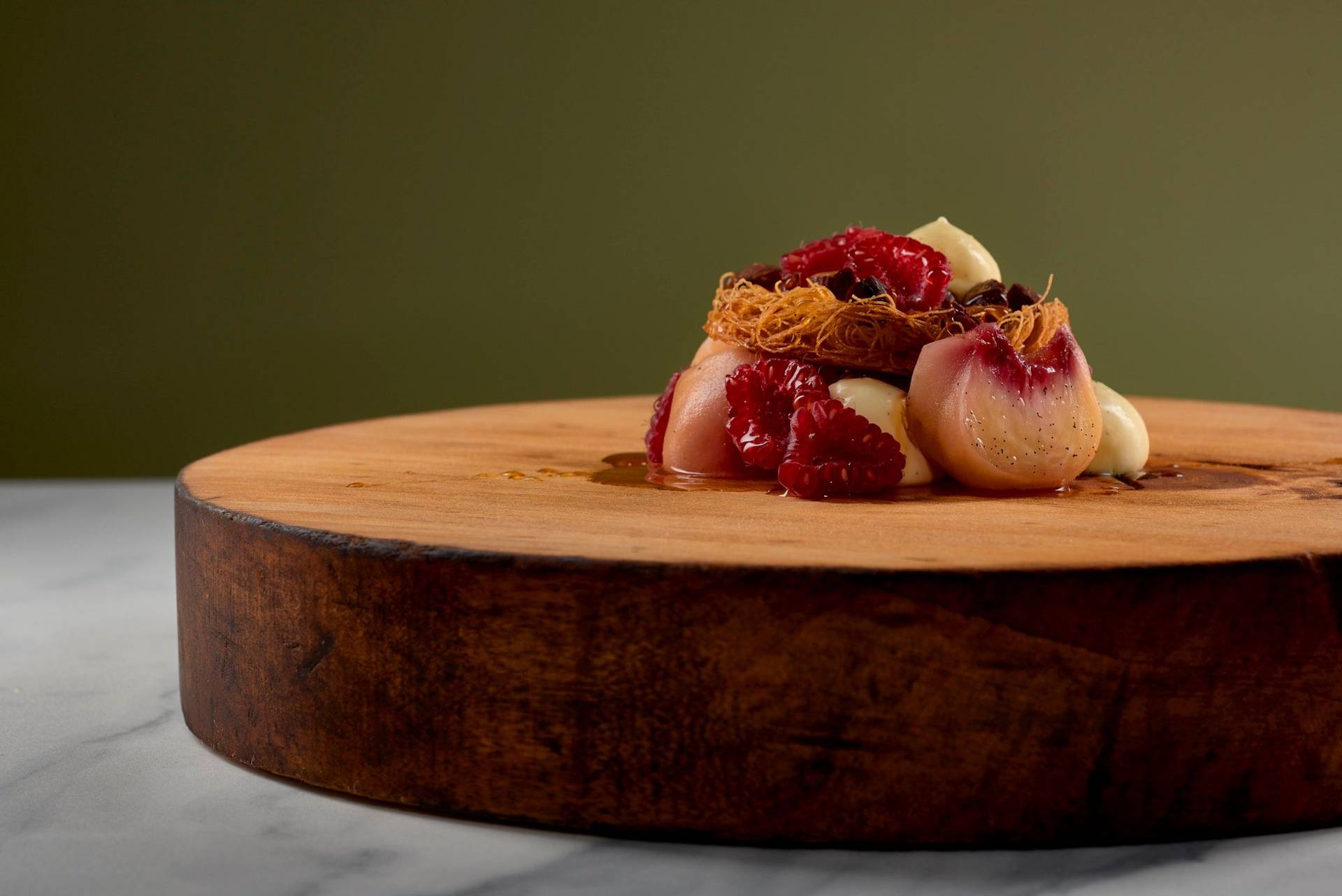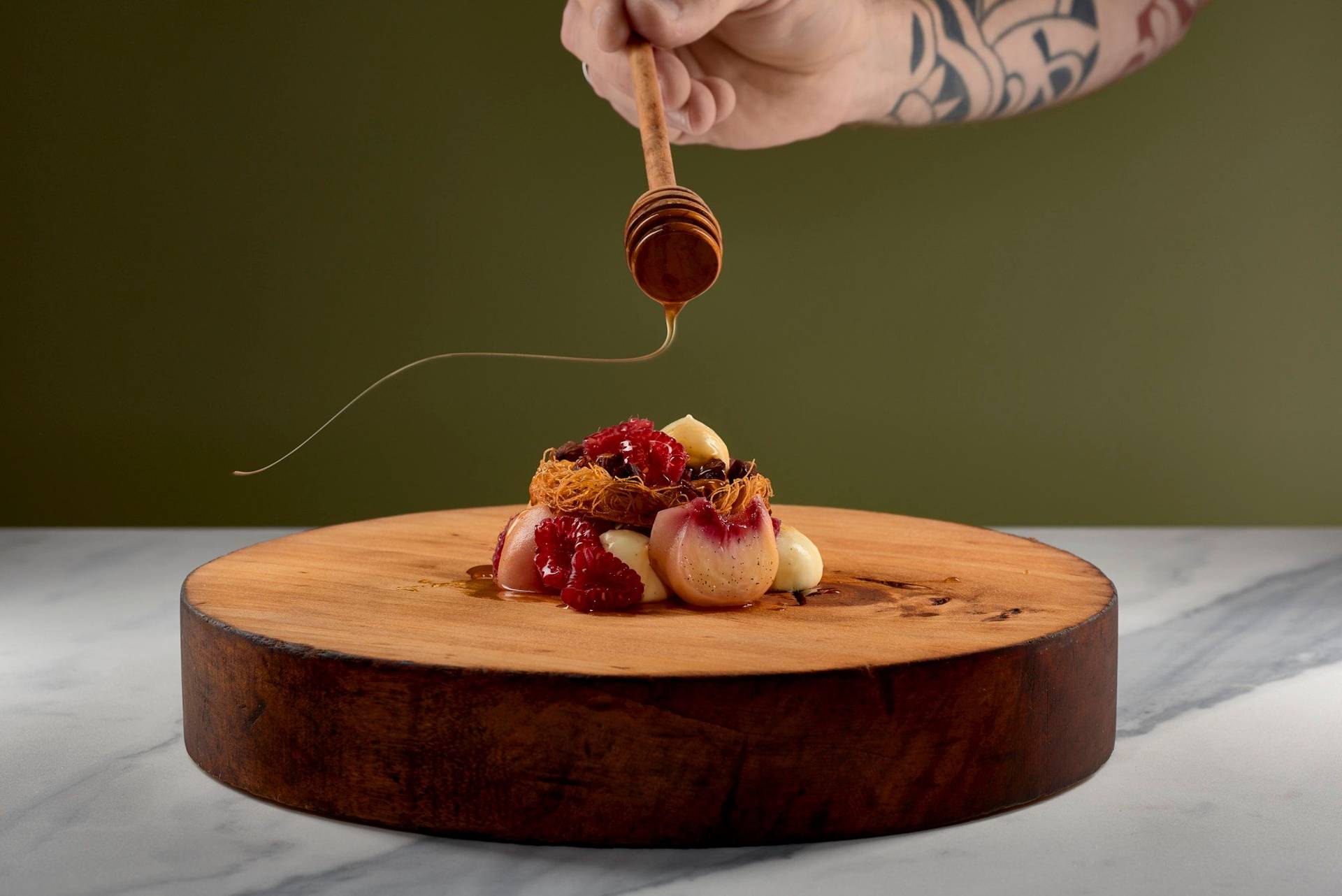 Newsletter
Can't get enough?
Get some secret ingredients through our newsletter!