Recipe
Pan Baked Rye Sourdough Bread
Vegan | Dairy-Free | Sugar-Free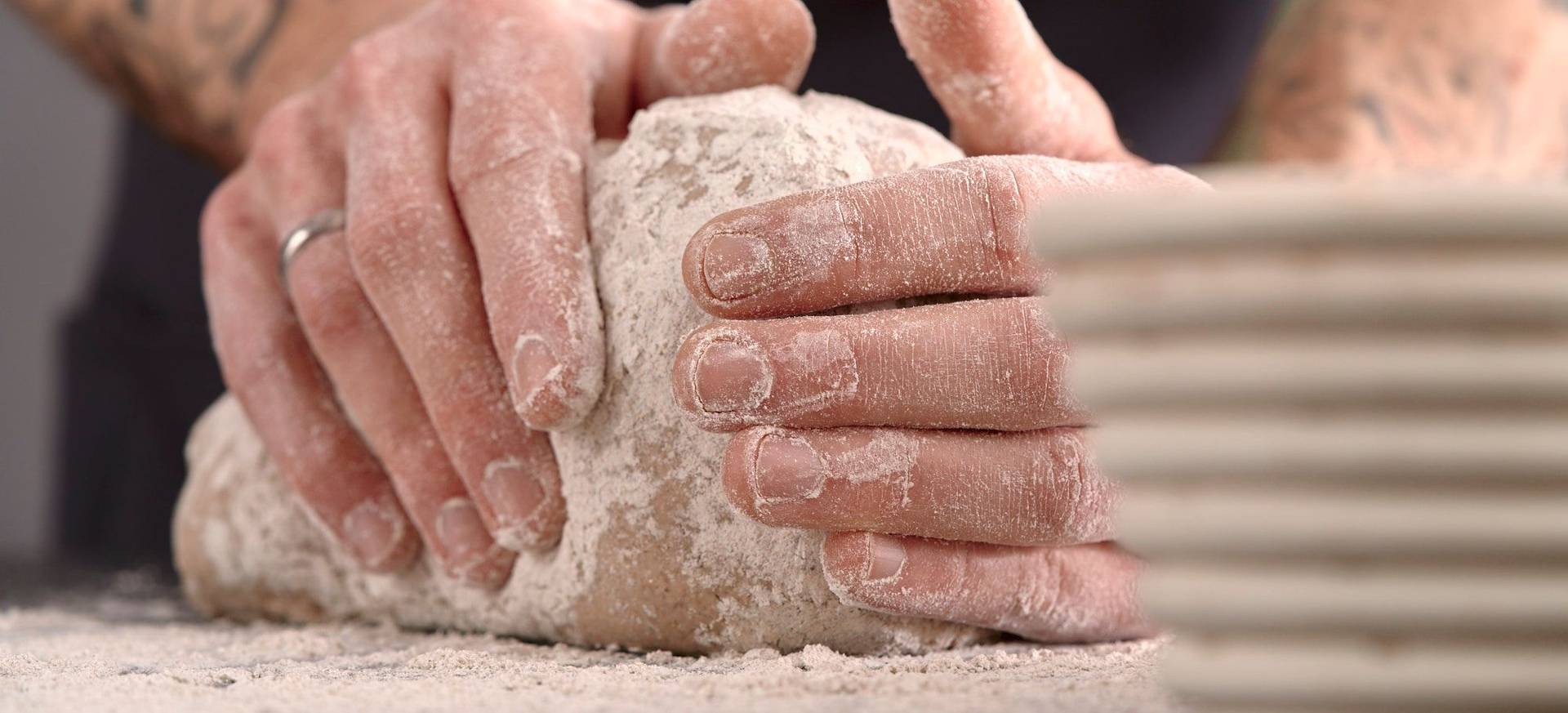 This article contains advertising.
We are constantly trying to work on how to live more sustainably at home, consume less, but consciously and doing our part for a healthier planet earth. There is still a lot to change and it is a constant process of questioning our own habits. We are noticing more and more how well we are doing, how we feel healthier and how our consciousness is changing. So, like so many before us, we came to the point of baking our own bread and rolls. An exciting initial phase of trial and error, but also of success, lies behind us. The new addition to the family, named "Gärfried", has grown into a young adult sourdough since being with us after several feedings and thus provides us with our daily bread.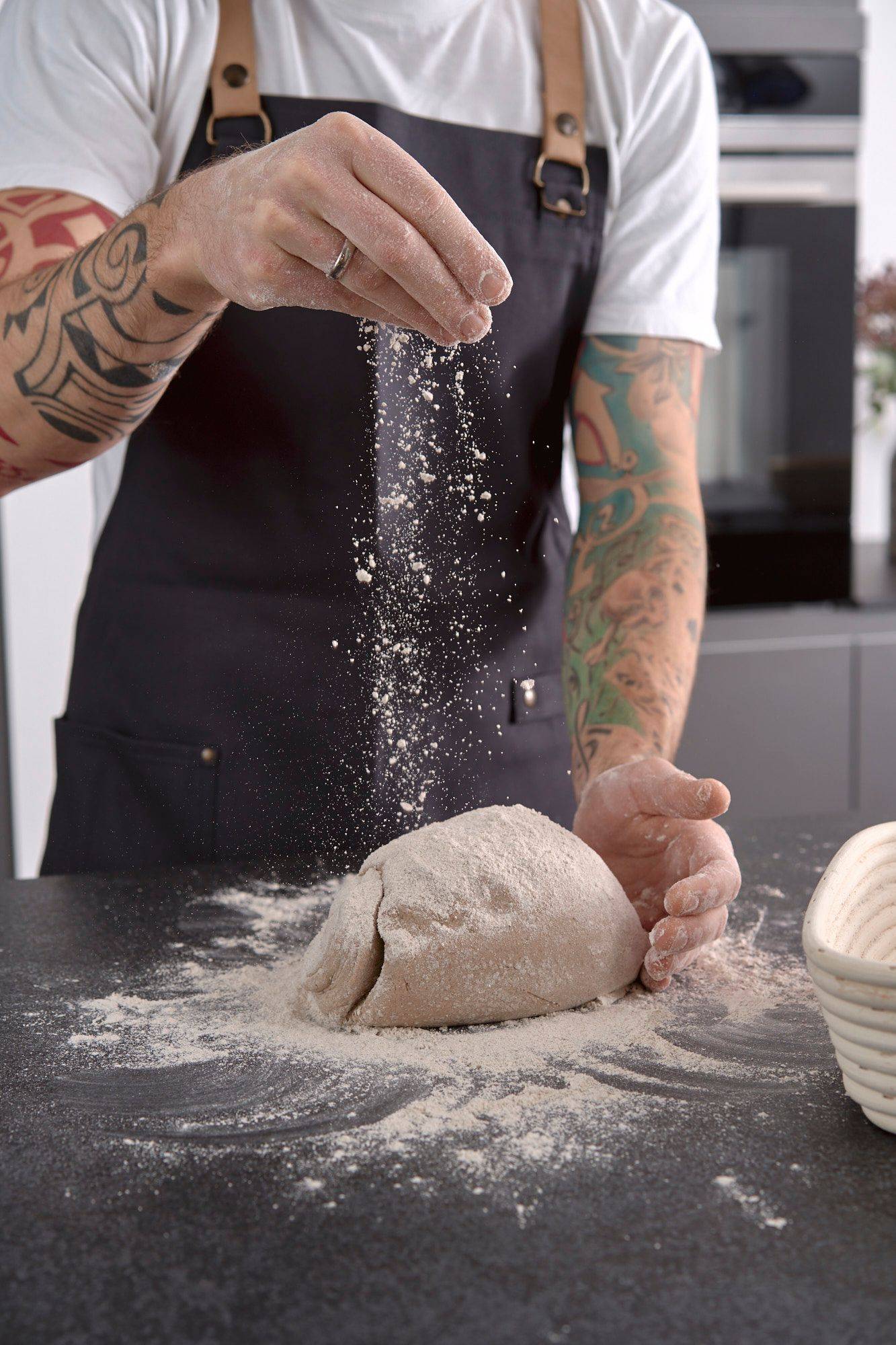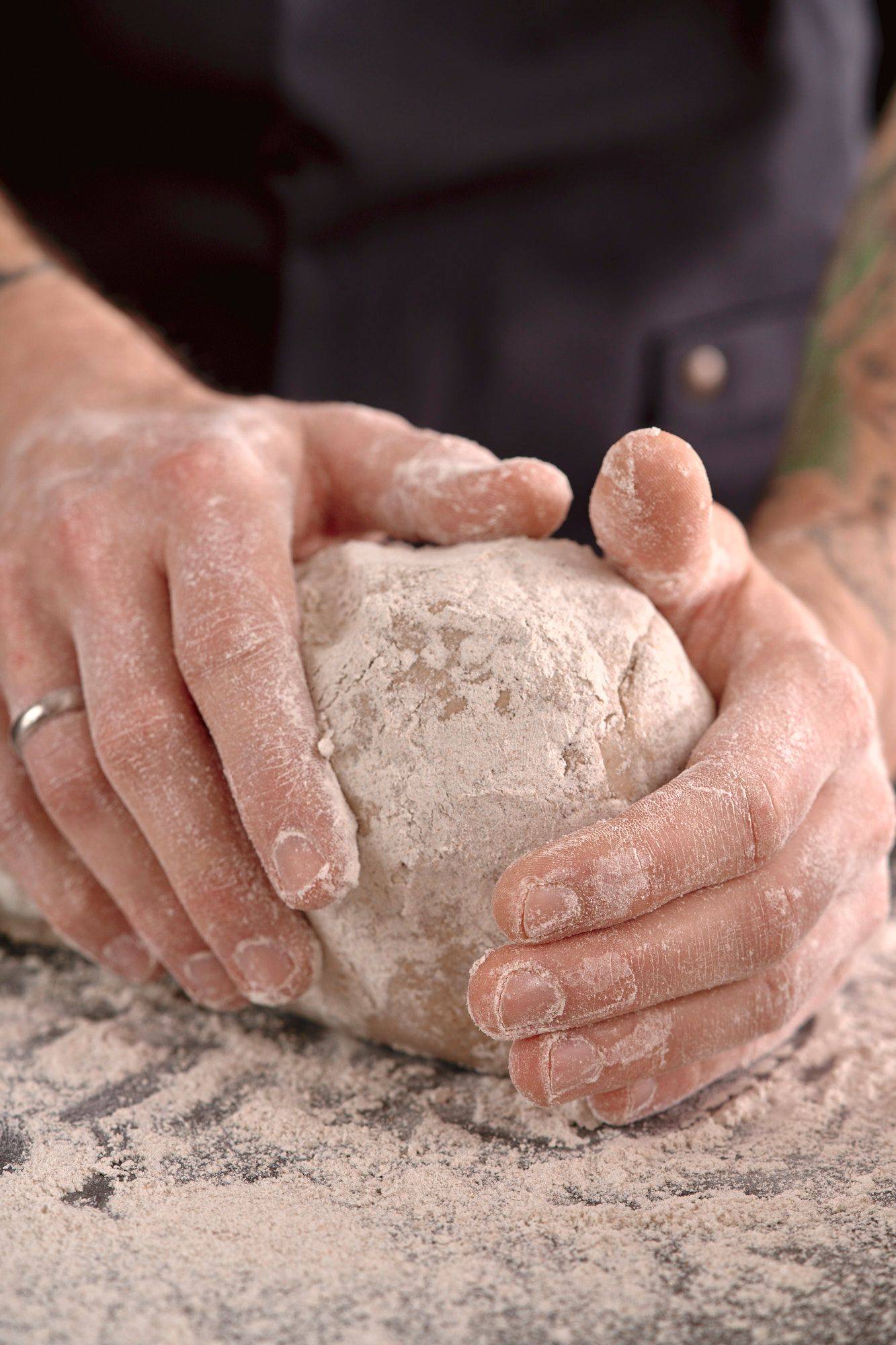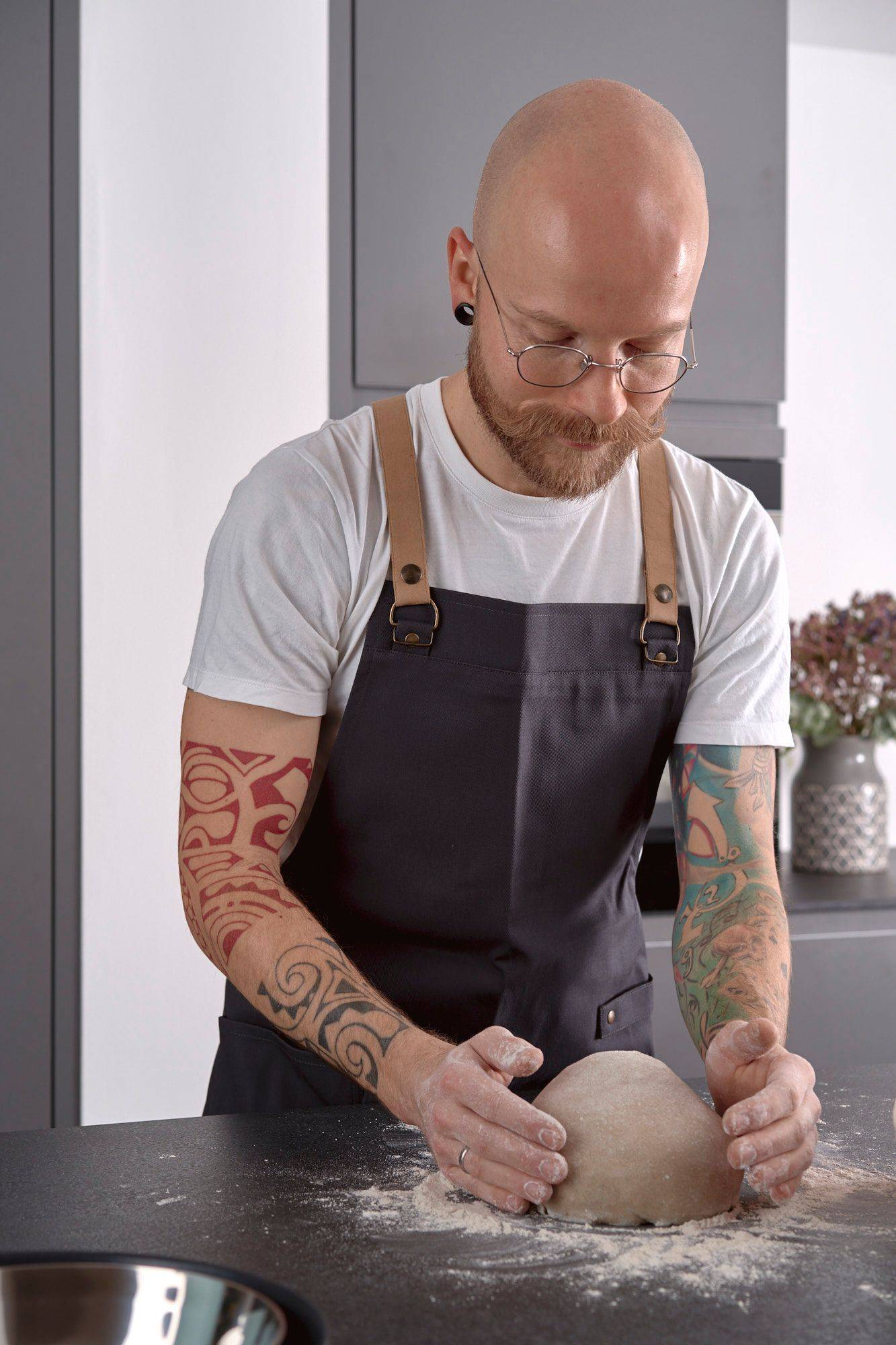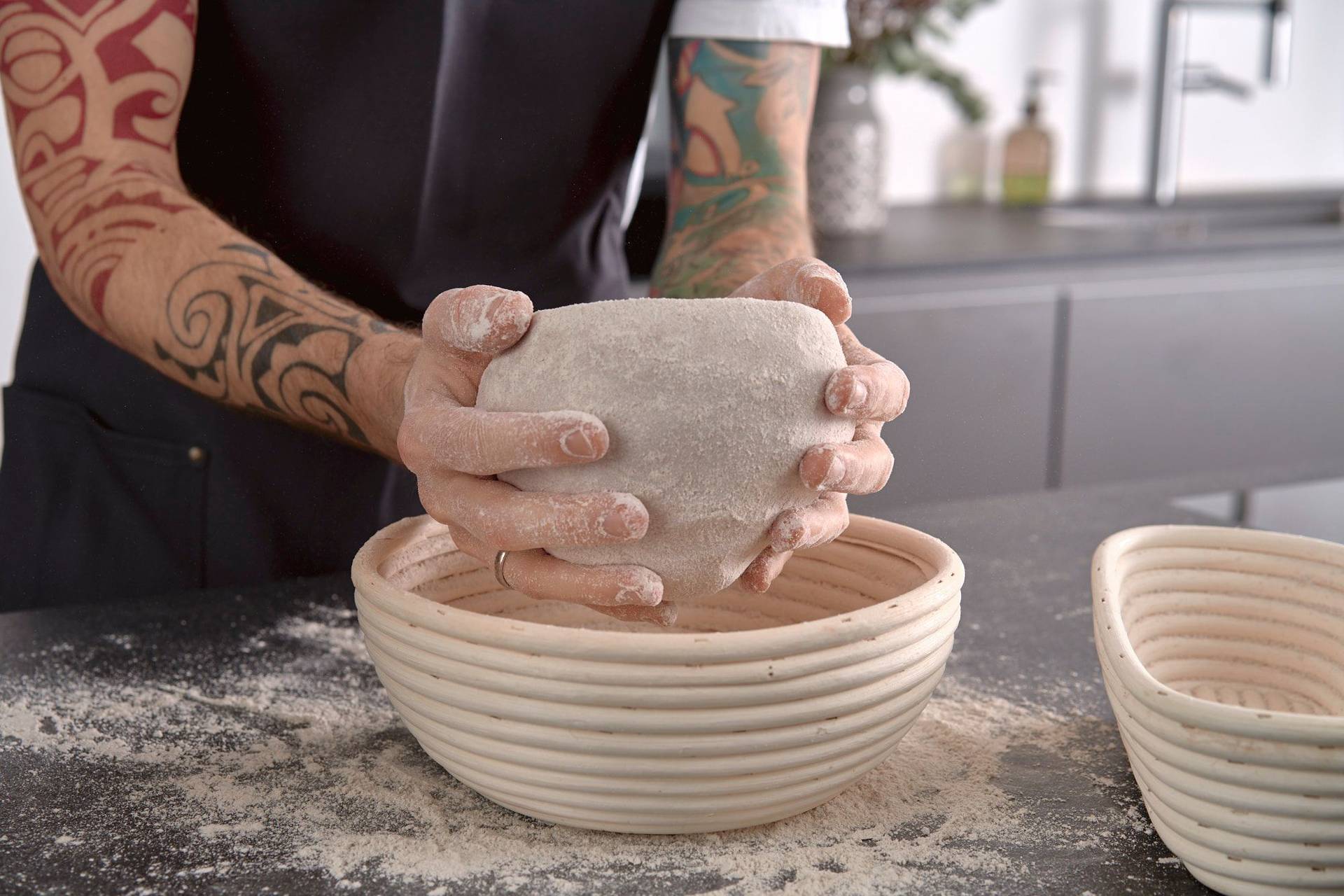 The pan as a substitute for a baking stone
You don't need much to bake good sourdough bread, only good flour, water, salt and above all time. Once you have incorporated these four things into the process of baking sourdough bread, you can improve the results by using a baking stone, for example. Many of you, and us too, do not have a baking stone available right at the beginning of baking bread, so I wanted to help myself in another way and came to use my Olav pan with copper core as a baking stone. And I can say sourdough bread can be baked very well in the pan.
The Olav pan
Pans from Olav are not only incredibly aesthetic, but also incredibly high-quality kitchen aids thanks to the copper core. Good food needs good preparation and copper is the best heat conductor, which is why even the smallest temperature changes are immediately passed on to the food. This means you can control the heat supply precisely and fry evenly without heat spots. You also save a lot of time and energy, because copper gets hot immediately, even at low temperatures.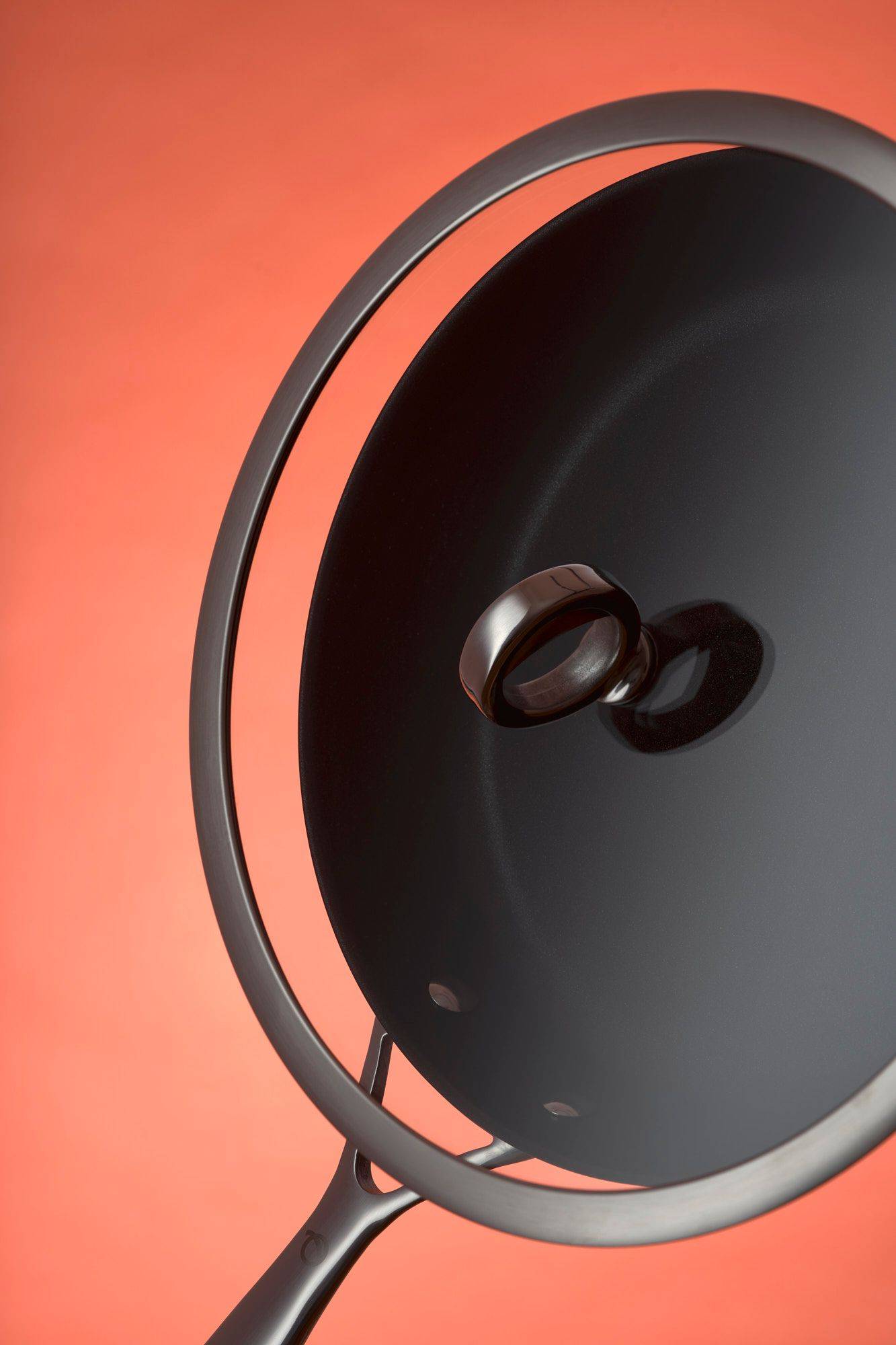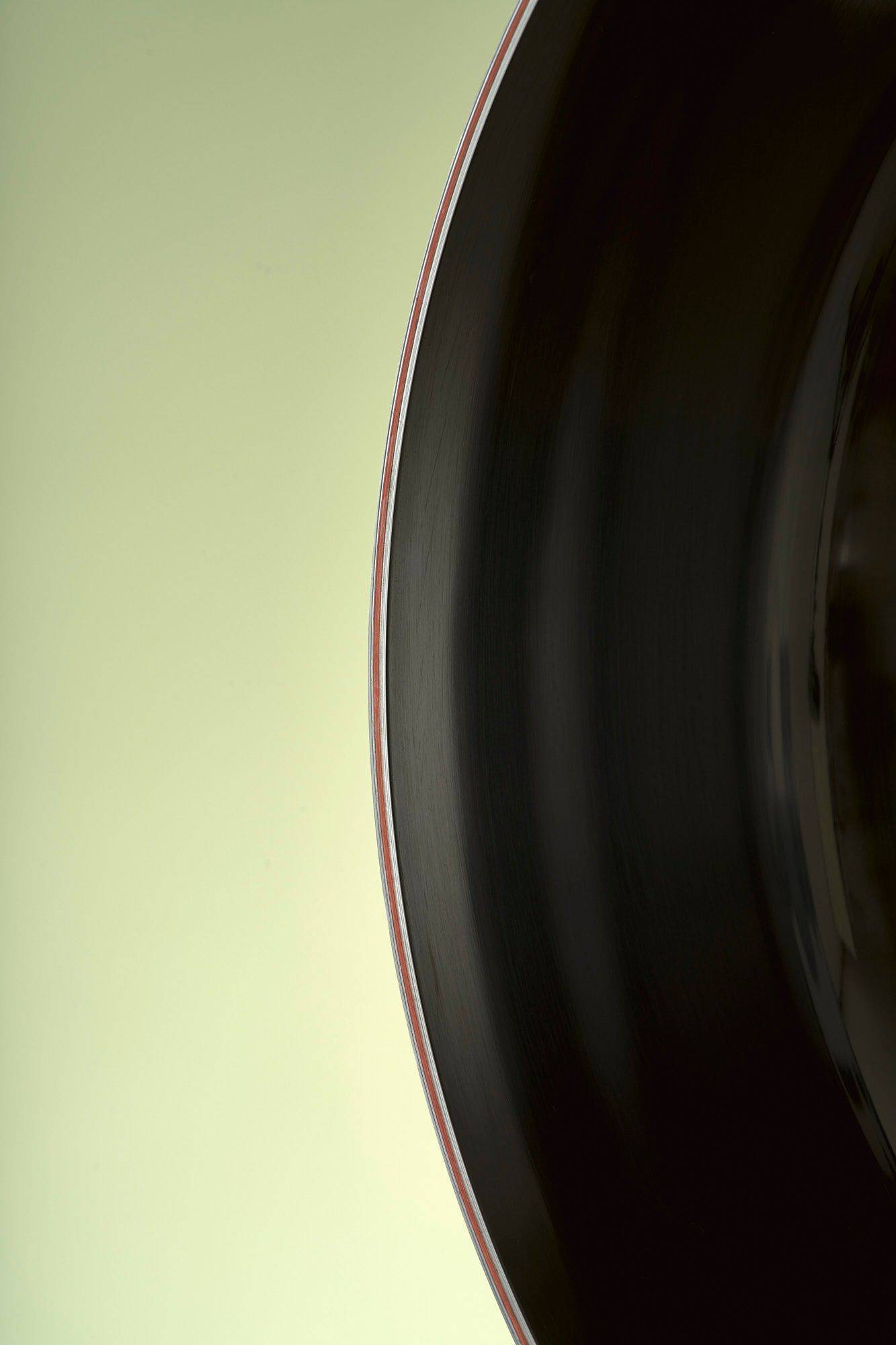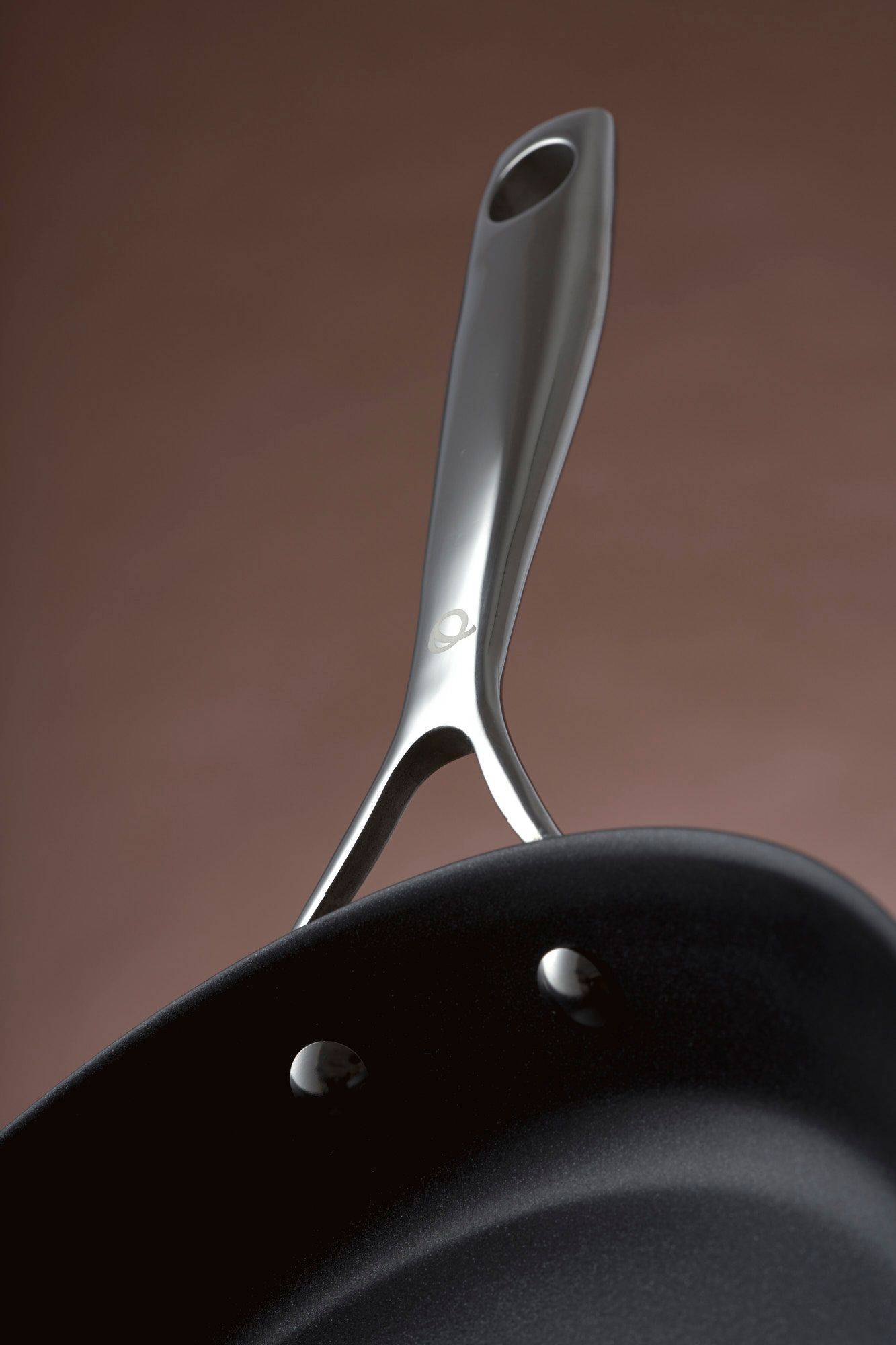 Sustainable pans
When you pick up the Olav pan, you immediately get the impression of a high-quality product that is not only durable, but also sustainable. The pan is without a doubt one of the most used kitchen utensils and I, for example, work down a coated pan in two years. After that, the coating is simply no longer usable and an excessive oil consumption is the result. Olav offers a re-coating service that ensures your Olav pan doesn't go to waste and should have a permanent place in your kitchen for many years.
Simple sourdough bread
As a beginner, you can hardly get past this simple made rye sourdough bread. However, that doesn't mean I wouldn't appreciate the taste after a little progress, quite the opposite is the case. If you already have an active sourdough starter at home, you can start right away. The difficulty level is low and it has a wonderful crust with a spicy, firm crumb. Best of all, it lasts so much longer, is more digestible and tastes much better than industrially baked bread.
If you start baking your own sourdough bread, you may experience some sourdough starter leftovers every now and then but what to do with it? Well, one option could be to use it as a compost accelerator, or you simply use it for other delicious recipes. I made a delicious treats such as my Sourdough Ice Cream Sandwich with Salted Caramel or my vegan Romaine Lettuce with Miso & Sourdough with it.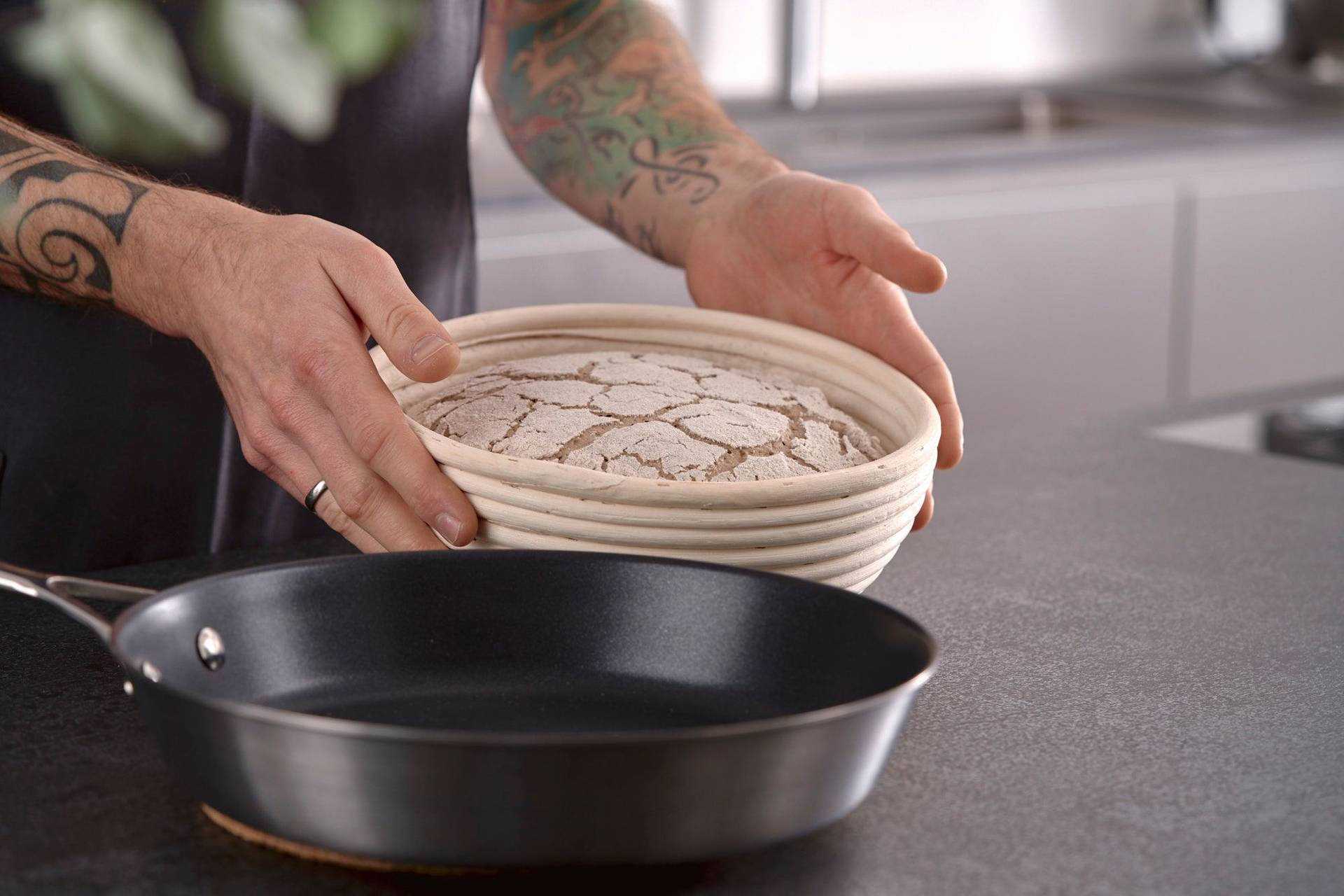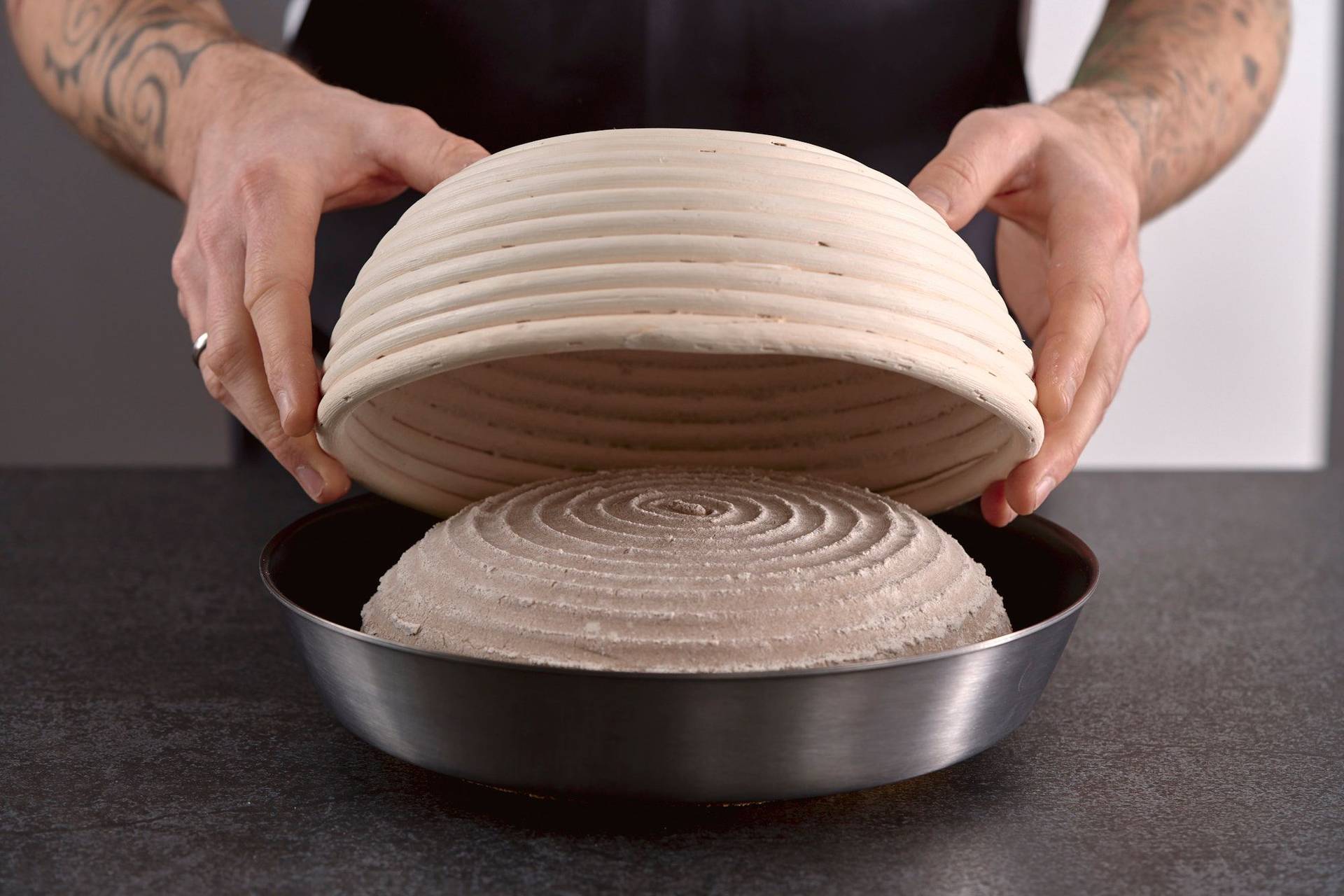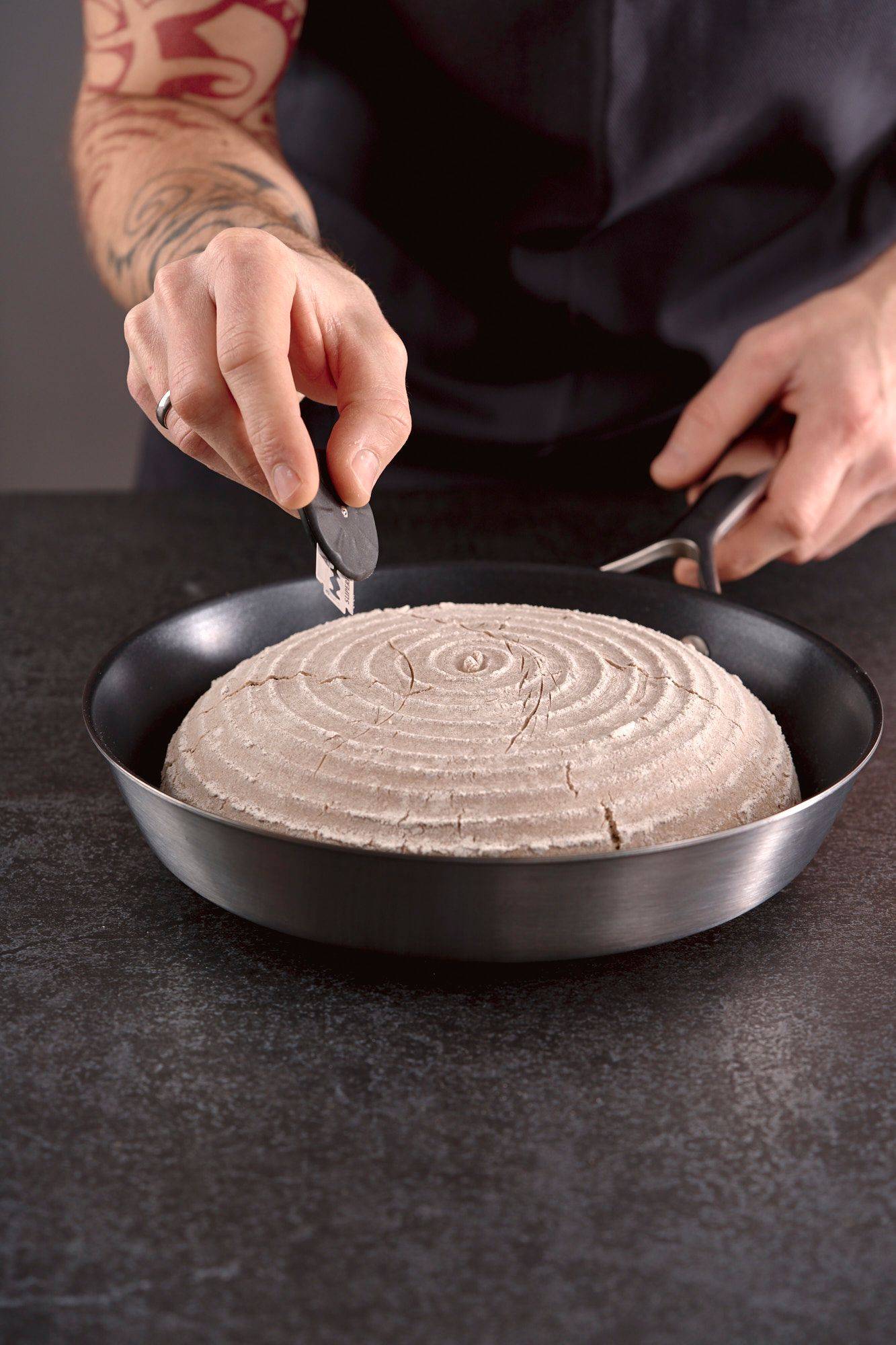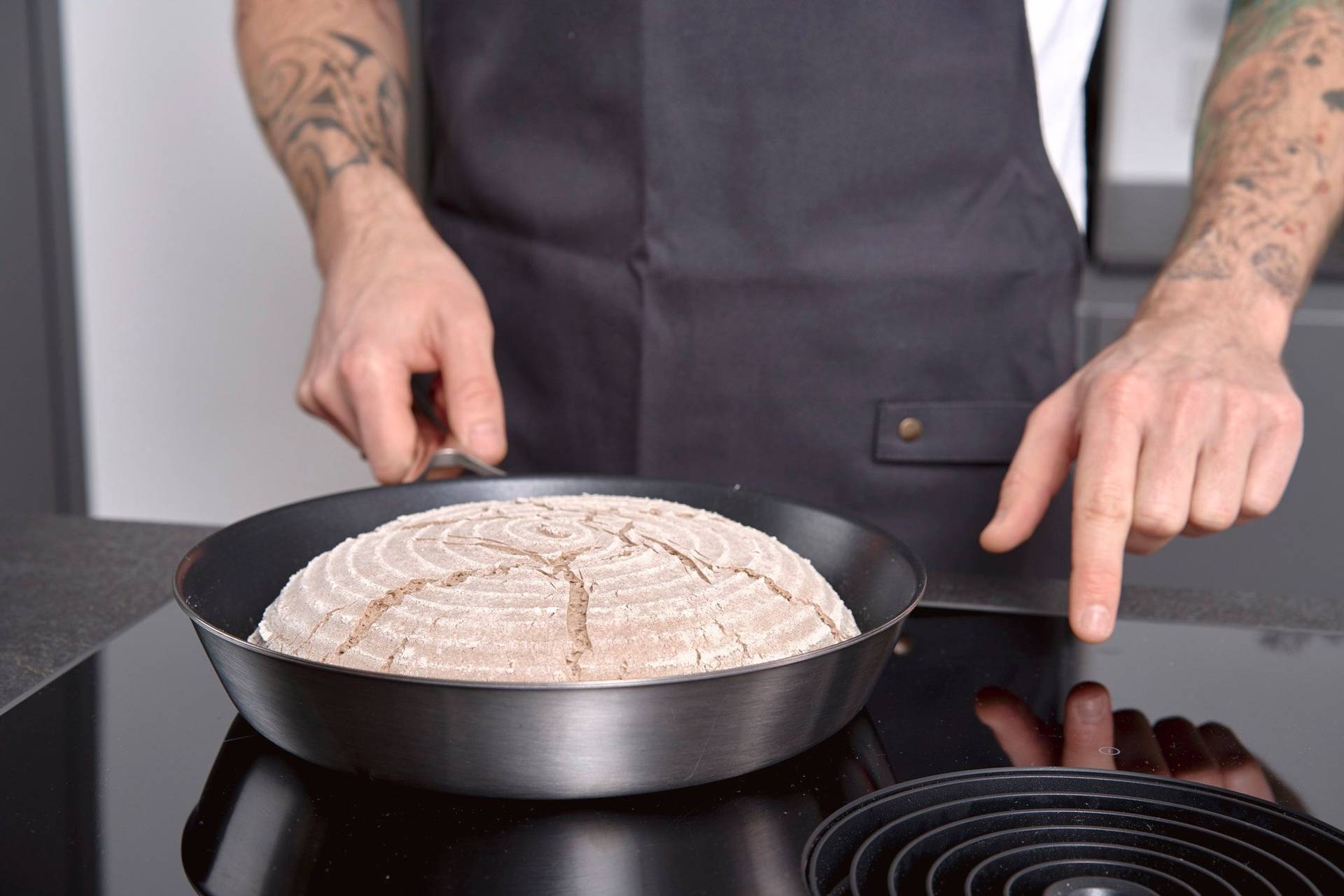 Recipe
Rye Sourdough Bread
4 Persons20 Minutes
Rye Sourdough
180 g Rye Flour Type 1150
180 ml Water 40°C
40 g Sourdough Starter
4 g Salt
For the rye sourdough, mix the freshly refreshed starter with the flour and water. If the starter comes cold from the fridge, the water may be slightly warmer. Then let it ferment at 28 °C for 12 - 16 hours.
Main Dough
240 ml Water 40°C
9 g Salt
400 g Rye Flour Type 1150
Rye Sourdough
For the main dough, add all the ingredients to the sourdough and knead it for 4 minutes on low speed and then a little faster for 1 minute. Let the dough rest for 5 minutes and shape it to your liking. Put the dough into a proofing basket and let the bread proof for 1 - 3 hours, depending on the environment. The dough should have almost doubled in size. Preheat the oven to 250°C bottom and top heat, turn the bread dough into the pan and score it to your liking. Put the pan on the cooker to get some bottom heat, like a baking stone, then put the pan in the oven and add a small metal bowl with water in it so that some steam develops in the oven. After 20 minutes, remove the bowl of water, turn the temperature down to 210°C and bake the rye sourdough bread for another 35 minutes. Then let the bread cool on a grid.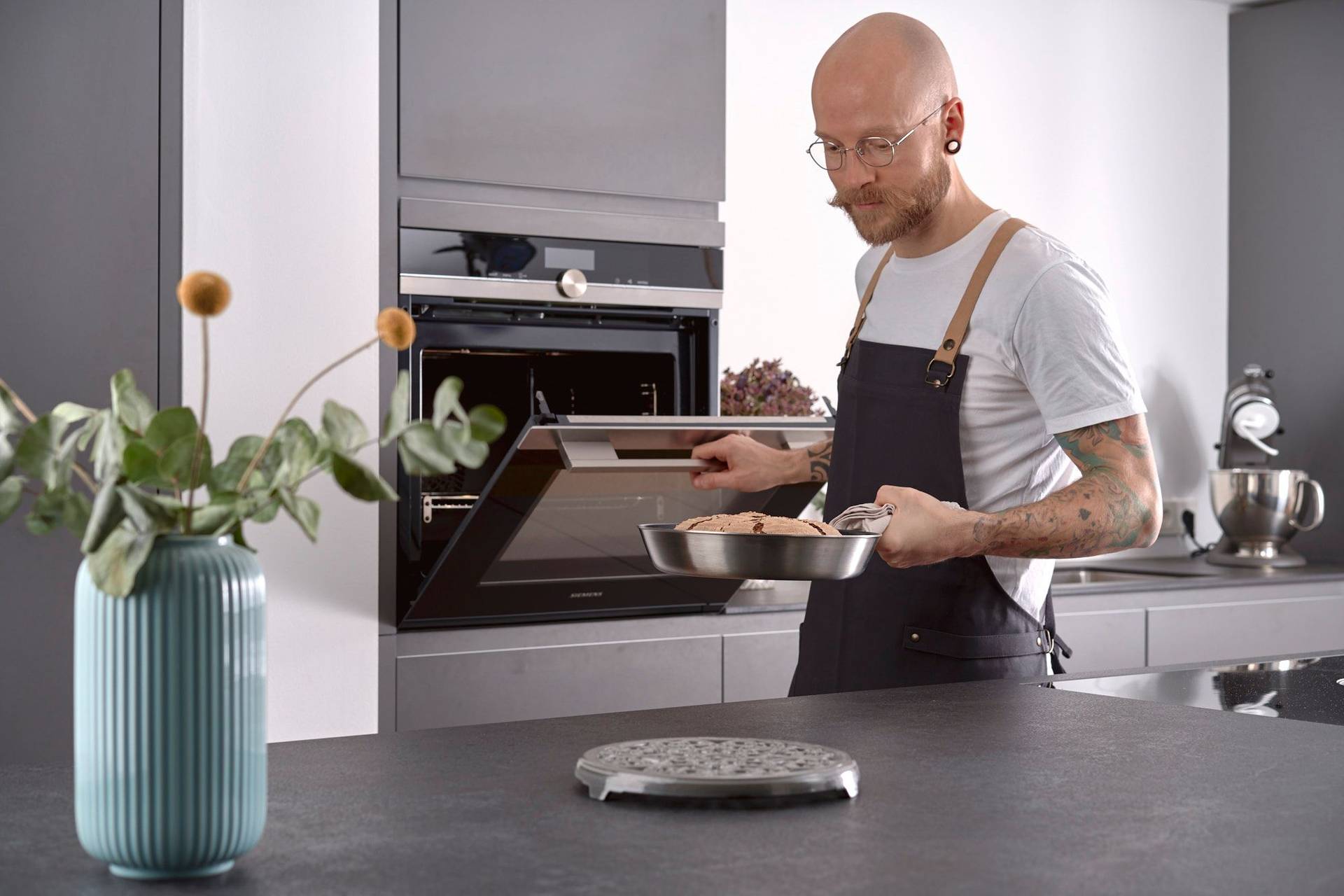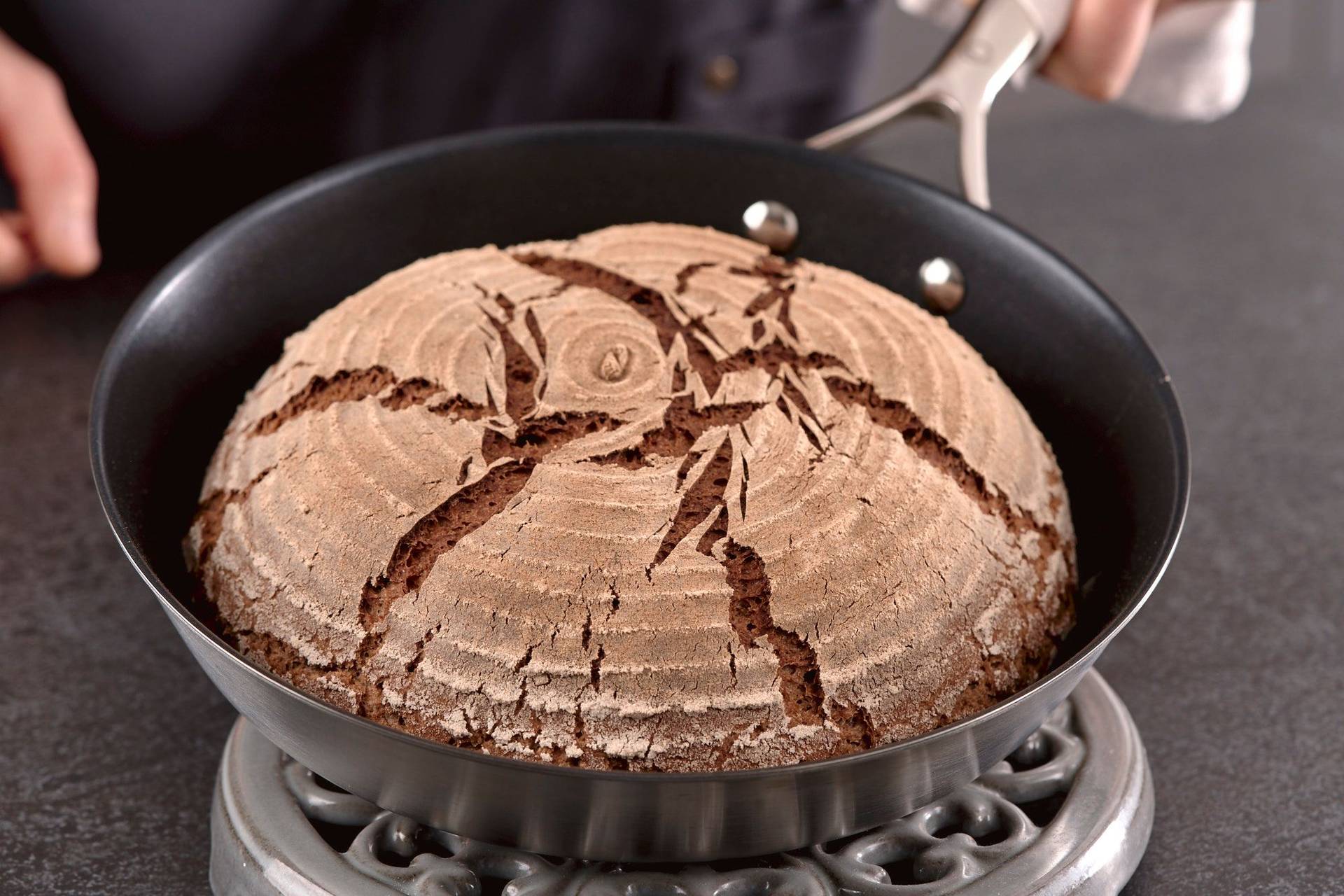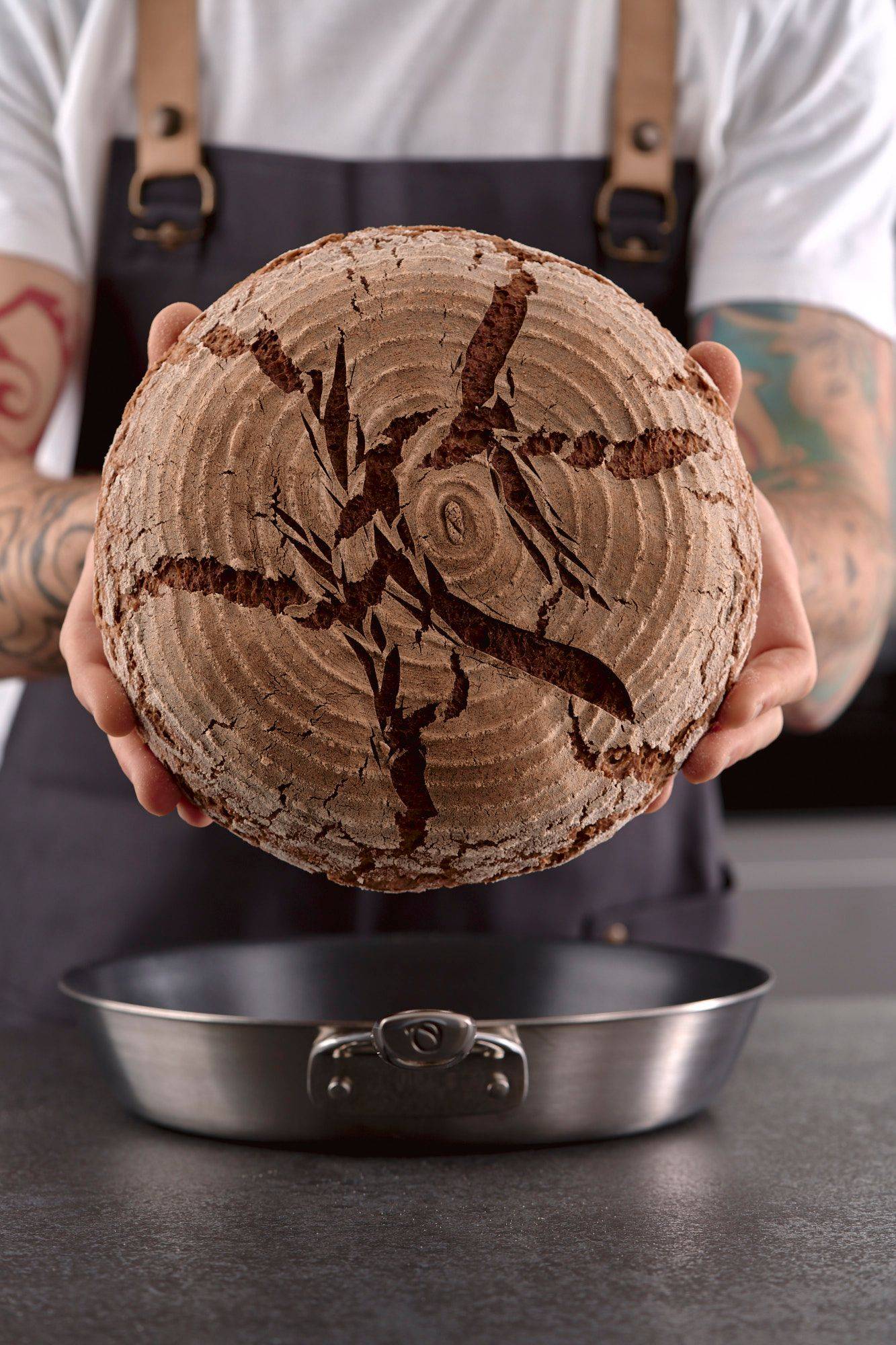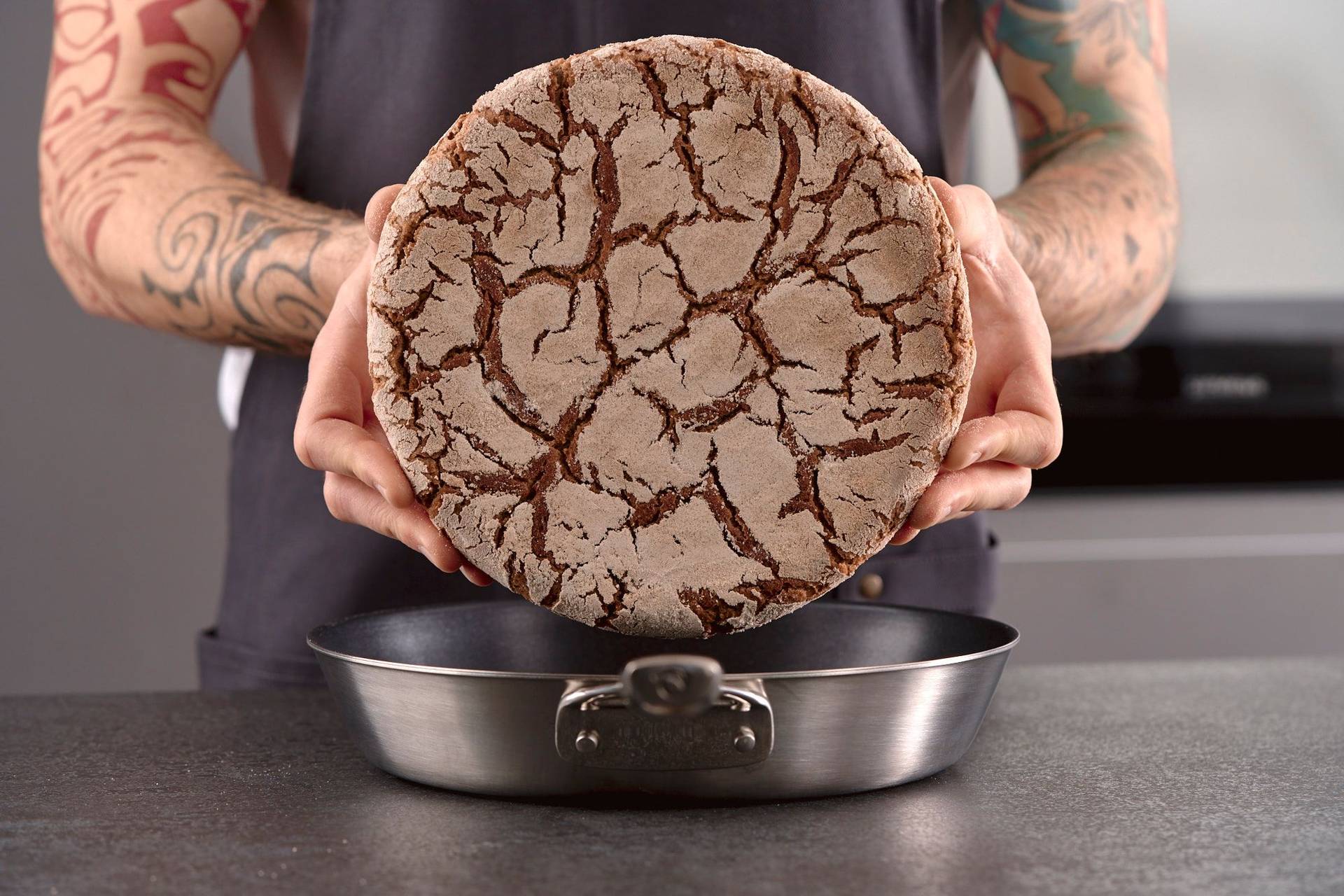 Newsletter
Can't get enough?
Get some secret ingredients through our newsletter!