Recipe
Crispy Potato Swirls with Egg Yolk & Caviar
Fish | Gluten-Free | Dairy-Free | Sugar-Free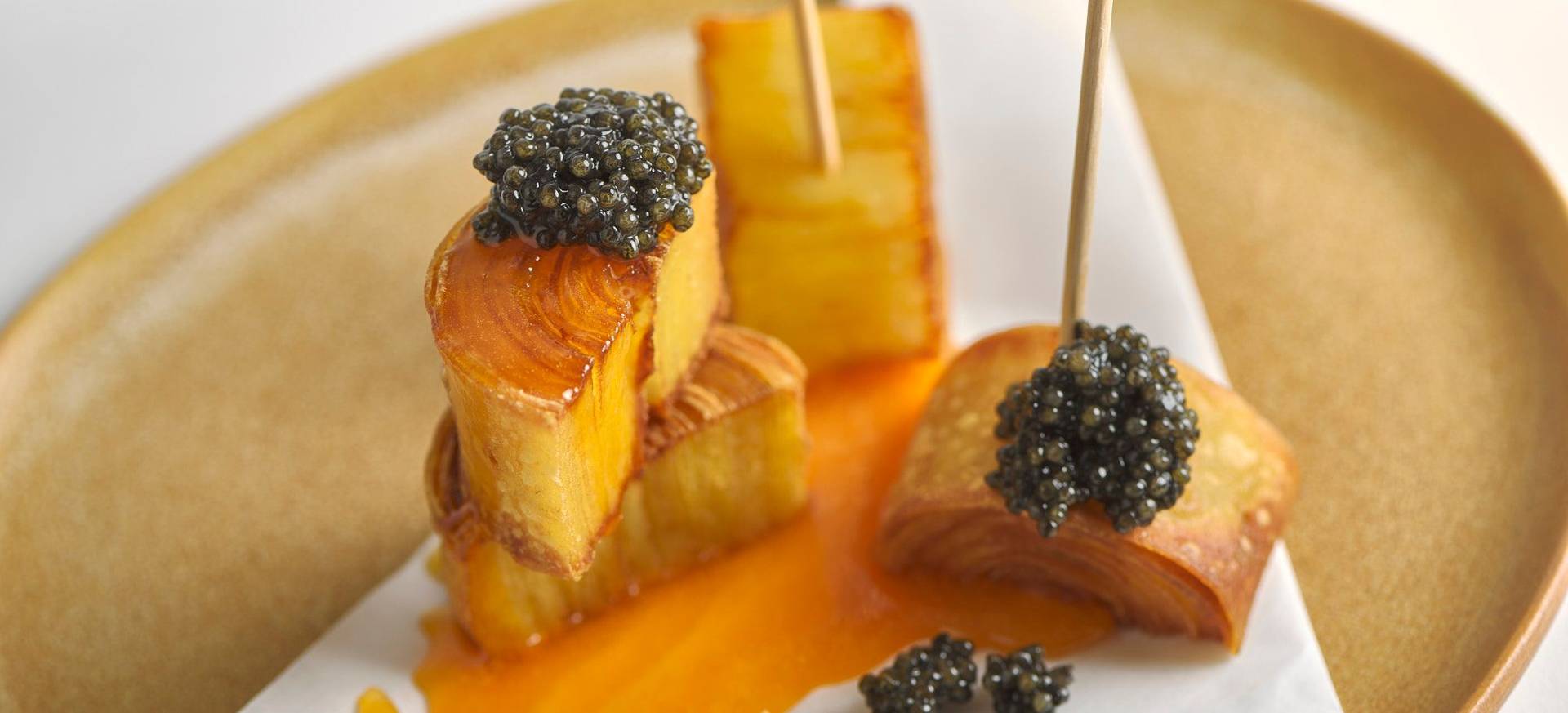 This article contains advertising.
After my visit to Santiago de Compostela, besides the inspiration for scallop recipes, I came back with many beautiful memories of this beautiful city, the people and the good food. A lunch visit to Casa Marcelo was indeed very memorable and I was already sure, while still eating, that I would like to cook one of these dishes served.
Potato so simple
One of the dishes served was a kind of crispy potato swirl, served with egg yolk as a sauce. You must imagine shaving off a potato with a peeler until you get a long potato ribbon. The potato is then rolled up and boiled in spicy water and then deep fried in vegetable oil until crispy. The result on the plate is as simple and delicious as it gets. The potato has absorbed the spices during cooking and gets a crispy coating after deep-frying. The individual layers here act like a kind of puff pastry. Because of its simplicity, textures and flavors, I was immediately taken with this recipe and can only recommend it to you here.
Egg yolk & caviar
These two ingredients sound very classic and are certainly not alien to each other. Let's think for example of a noble breakfast with a soft breakfast egg in whose runny yolk the caviar slowly dips, or a beef tartar which is served with quail fried egg and caviar. The small difference here for me is, that I have already processed fresh egg yolk to thicken sauces, but to consider liquid egg yolk as a separate sauce itself, until then, had not yet been on my screen. The top priority here is certainly the freshness and quality of the ingredients. A fresh organic egg yolk and well chilled caviar form the flavor of this simple potato recipe.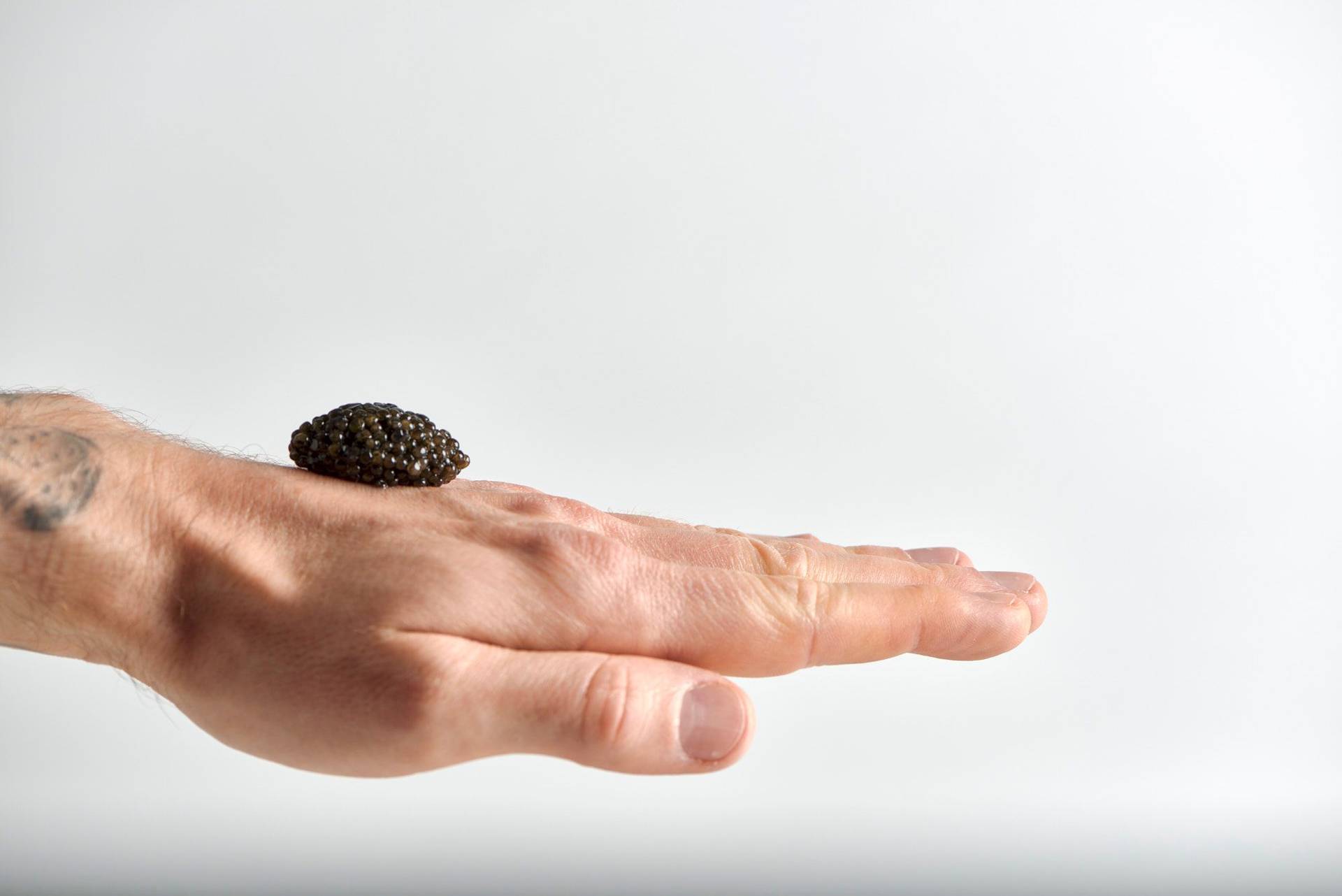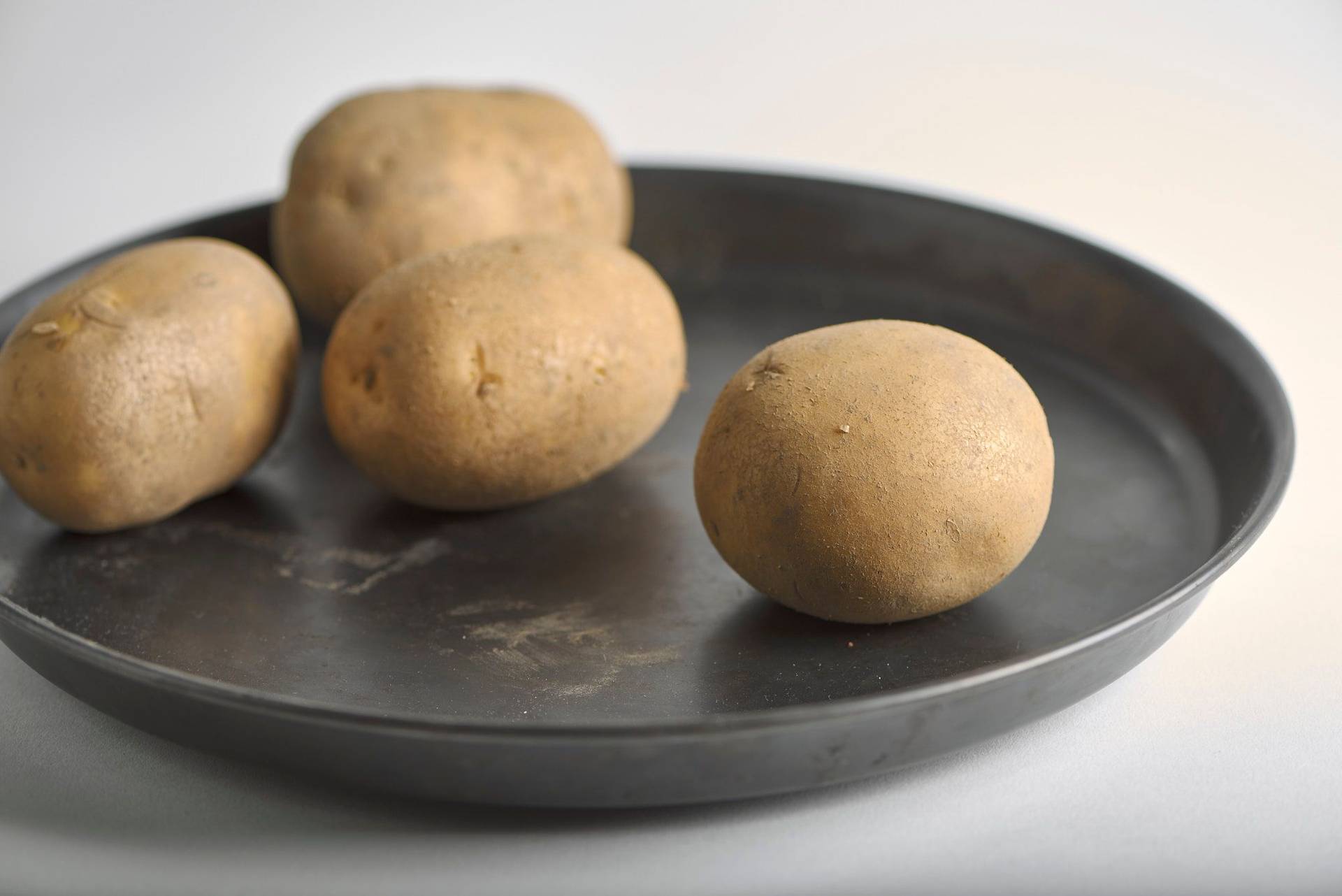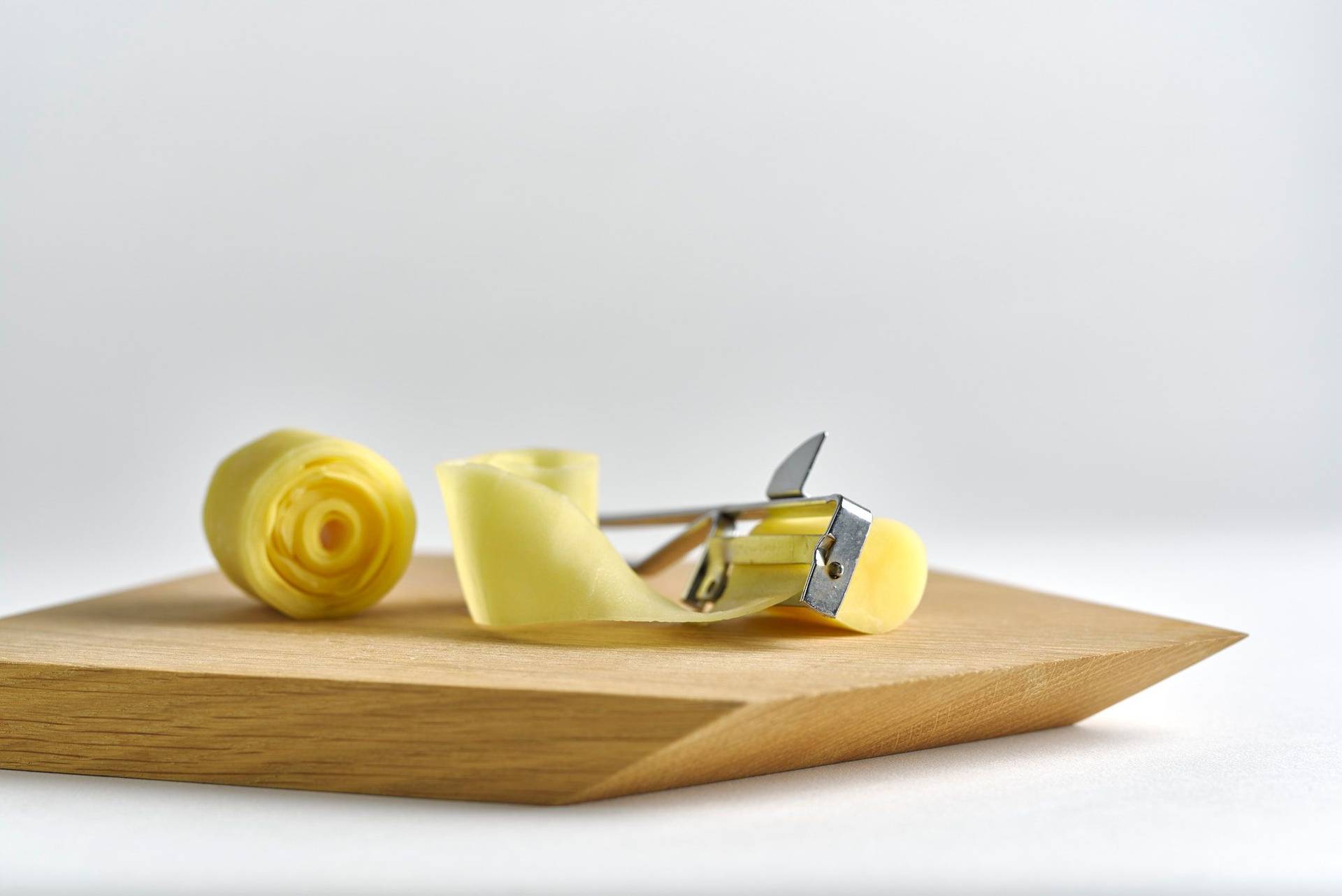 Recipe
Crispy Potato Swirls with Egg Yolk & Caviar
2 Persons30 Minutes
Crispy Potato Swirls
4 Potatoes
3 Bay Leaves
8 Pimento Seeds
Salt to taste
400 g Canola Oil
For the crispy potato swirls, cut the potatoes into rings as wide as a peeler and then peel into long strips. Then wind up the potato strips and pierce them crosswise with a roulade needle. Now cook the potato swirls in salted water with bay leaf and allspice at low heat for about 15 minutes. Then remove from the water and drain on a kitchen towel. Now heat up canola oil in a sufficiently high pot and deep-fry the potatoes in it for 1 minute. Then remove from the oil, remove the roulade needles and cut in half. Now fry them again in until they are golden brown. Finally, drain on paper towels and season with salt.
Serving
3 Organic Eggs
Salt to flavor
40 g Caviar
Before serving, separate the eggs and lightly whisk the yolks with a little salt. To serve, arrange the crispy potatoes on a plate, pour over the egg yolk and arrange the caviar.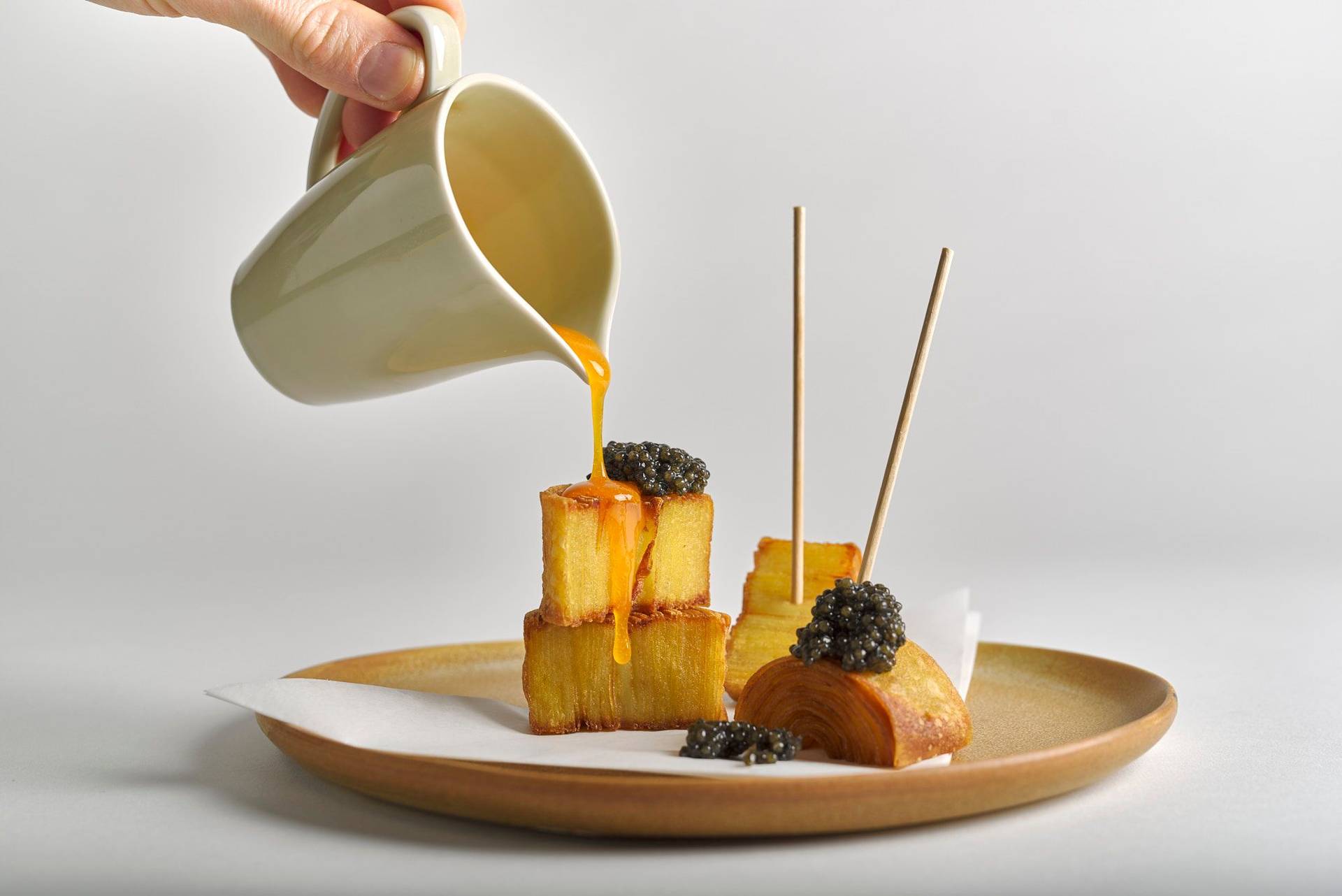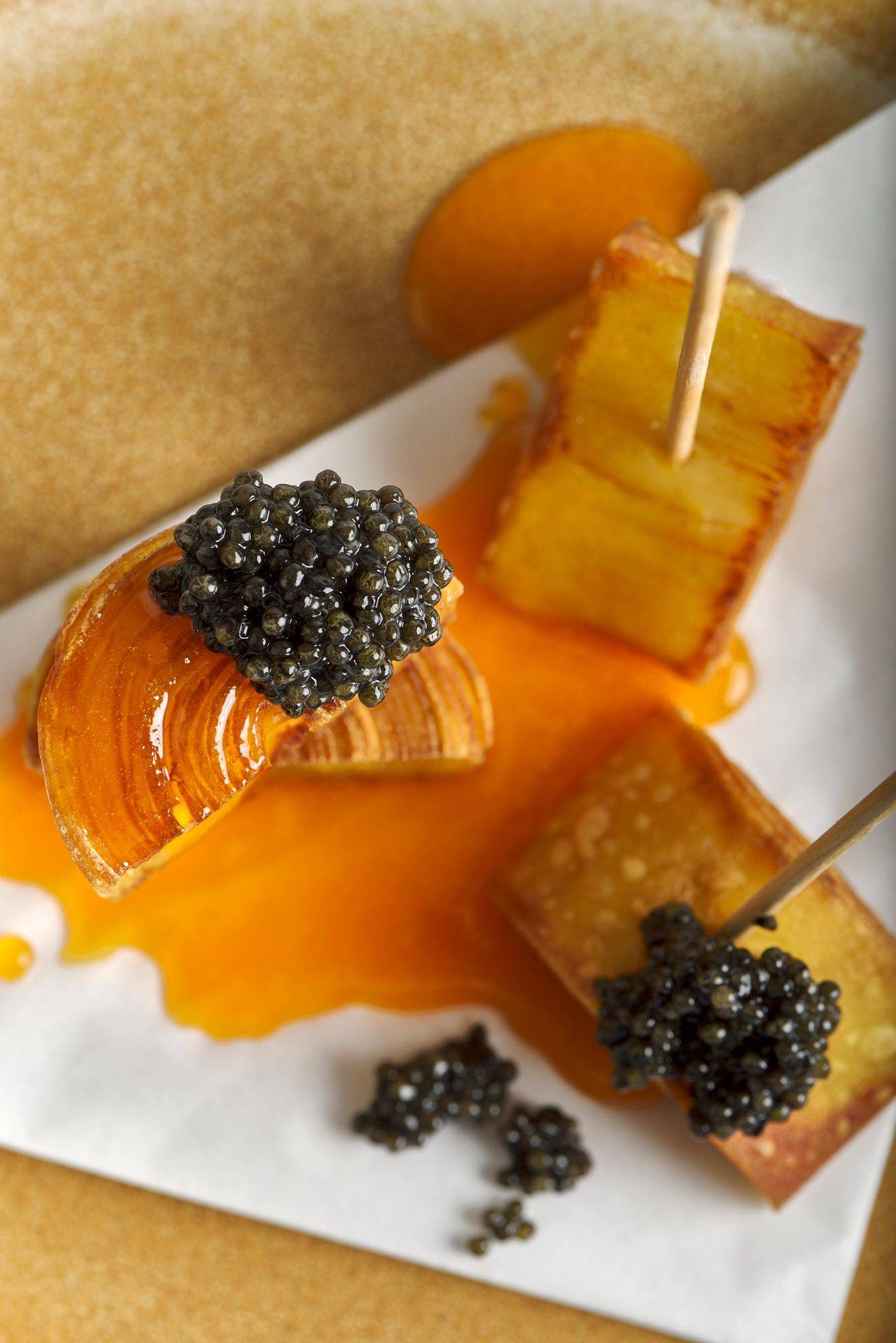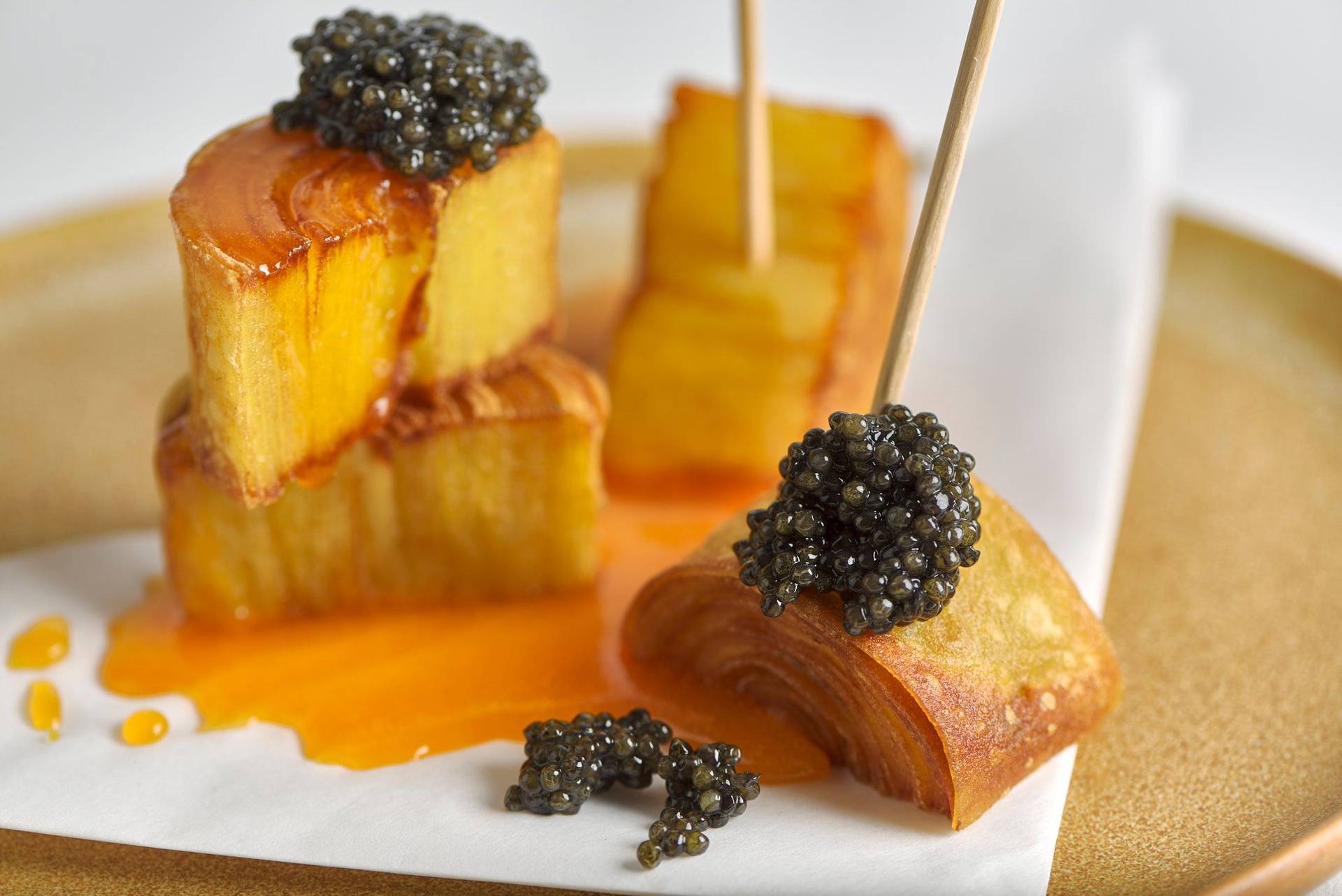 Newsletter
Can't get enough?
Get some secret ingredients through our newsletter!