Recipe
Braised Rhubarb with Vegan Ricotta, Spelt Pops & Sorrel
Dessert | Vegan | Dairy-Free | Sugar-Free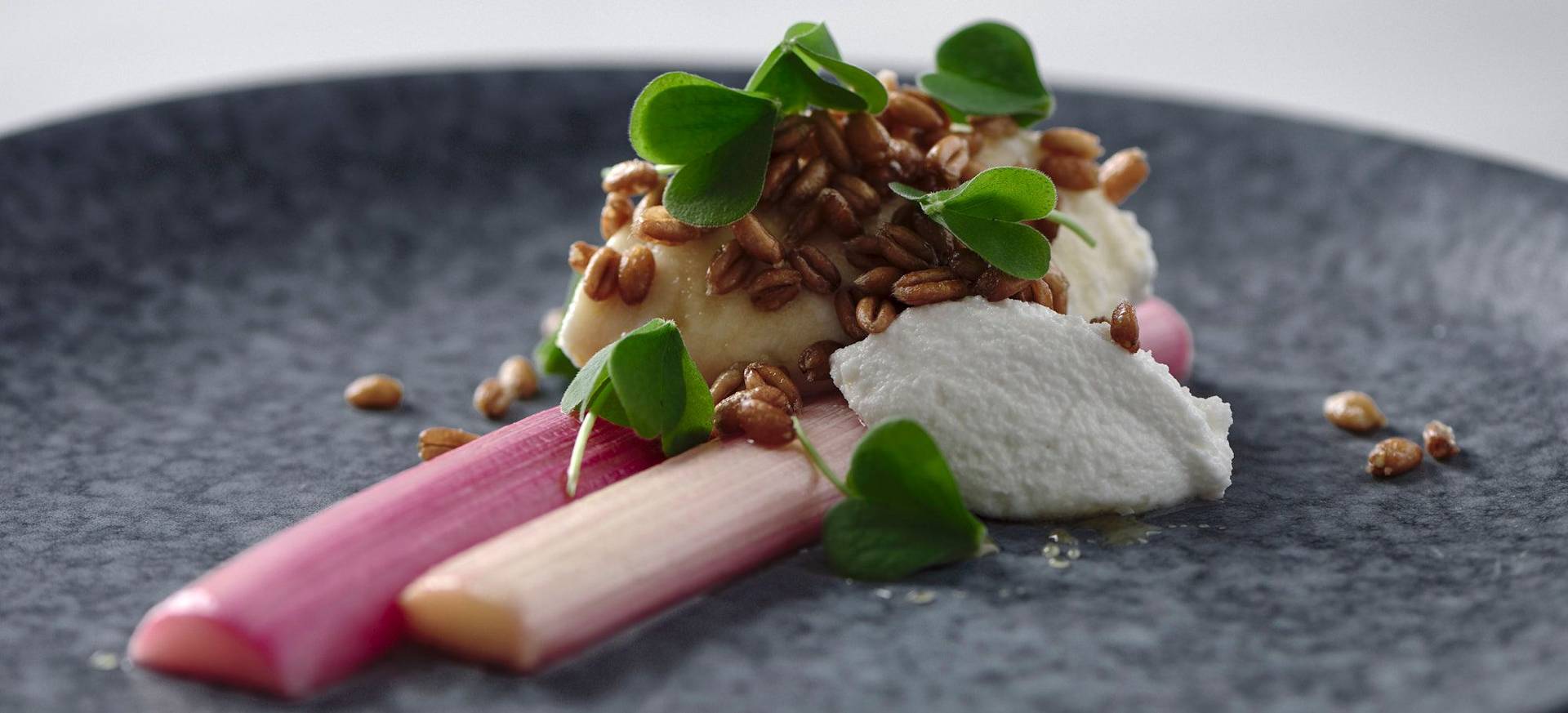 I always like to go food shopping without having any ideas about what the result should look like. In this case, I stumbled upon the first rhubarb of the year, shining in bright pink and colorful through the other shelves of the fruit department. This is always the moment I am sure winter will soon be over. So, I grabbed some rhubarb for this recipe and picked up a few more to make some delicious rhubarb jam. Rhubarb is one of those fruits that crossed my culinary paths, when I was a kid. My grandma used to bake rhubarb crumble cake with it, or it was cooked to simple rhubarb compote, which we then just enjoyed plain for dessert. Sometimes we also dipped raw rhubarb in sugar to eat right away. I always loved the sour flavor and obviously still do these days.
A vegan rhubarb dessert
My nutrition and that of my family tends to include a lot of vegetables and recently also a wide variety of vegan dishes. This is not because we find it super trendy, but because we feel good about it and want to advocate for proper and sustainable meat consumption. However, the most important thing is good taste and a good background of all the food we eat. For this reason, here is another great vegan dessert recipe with which you can not only feel good, but that you can fully enjoy.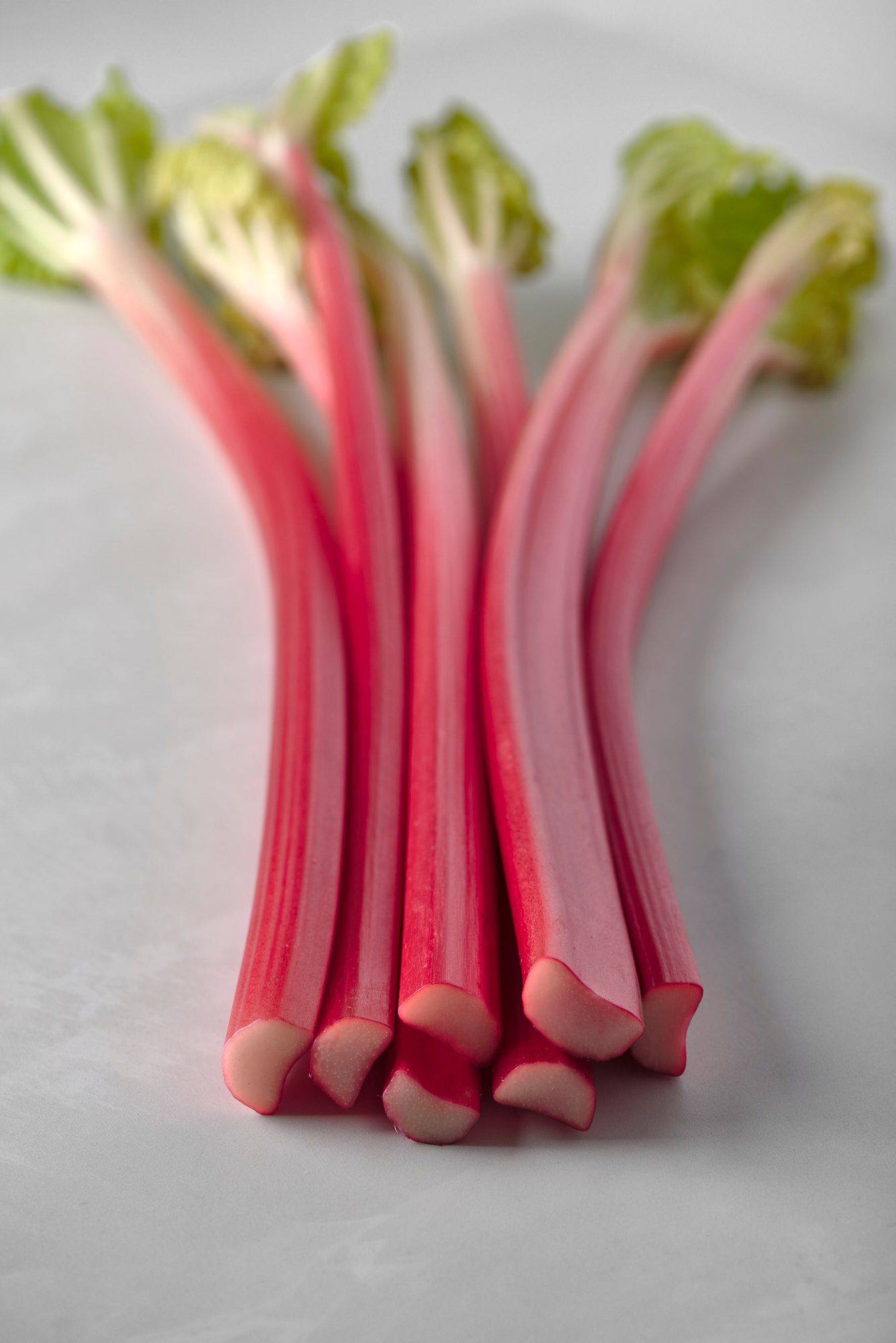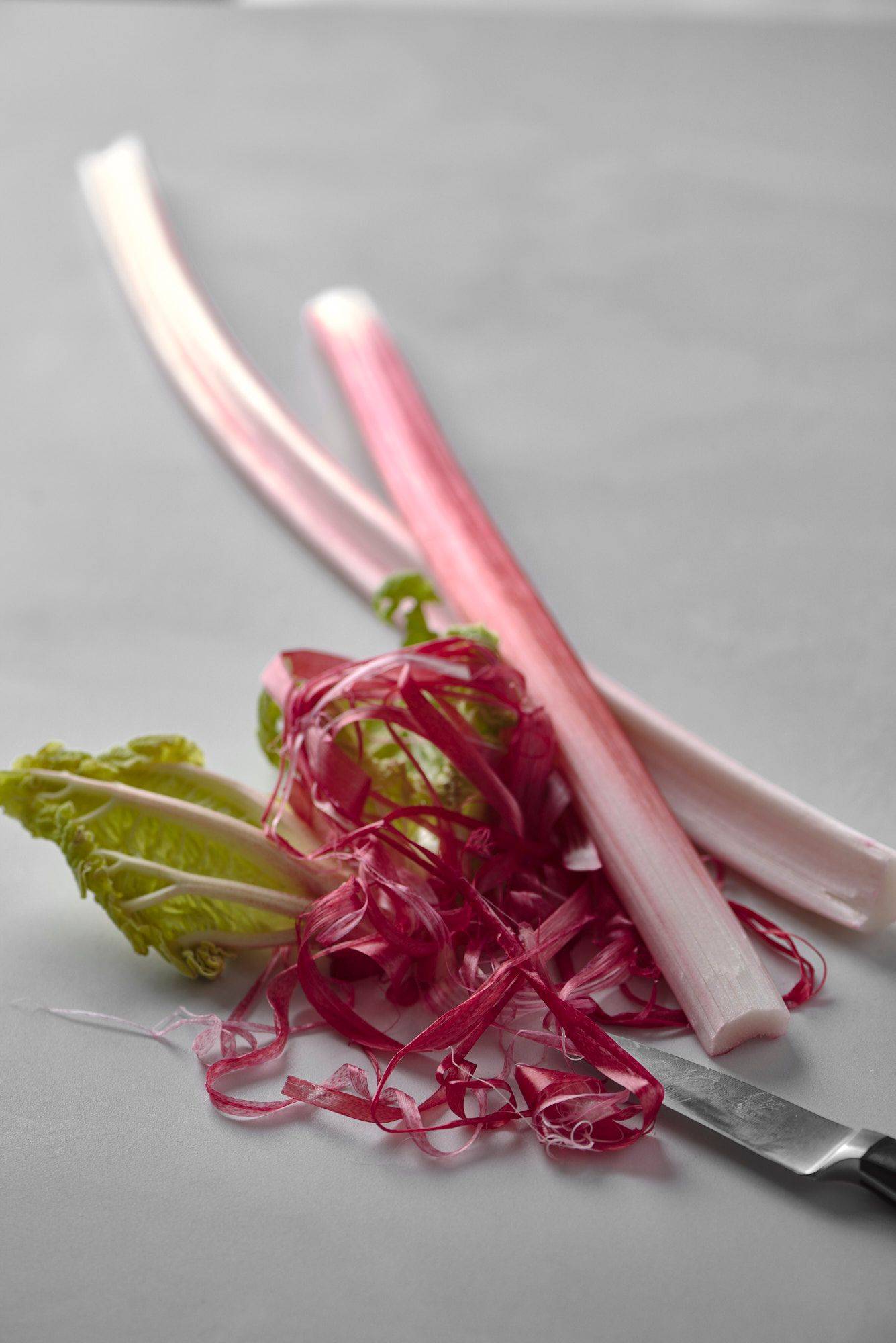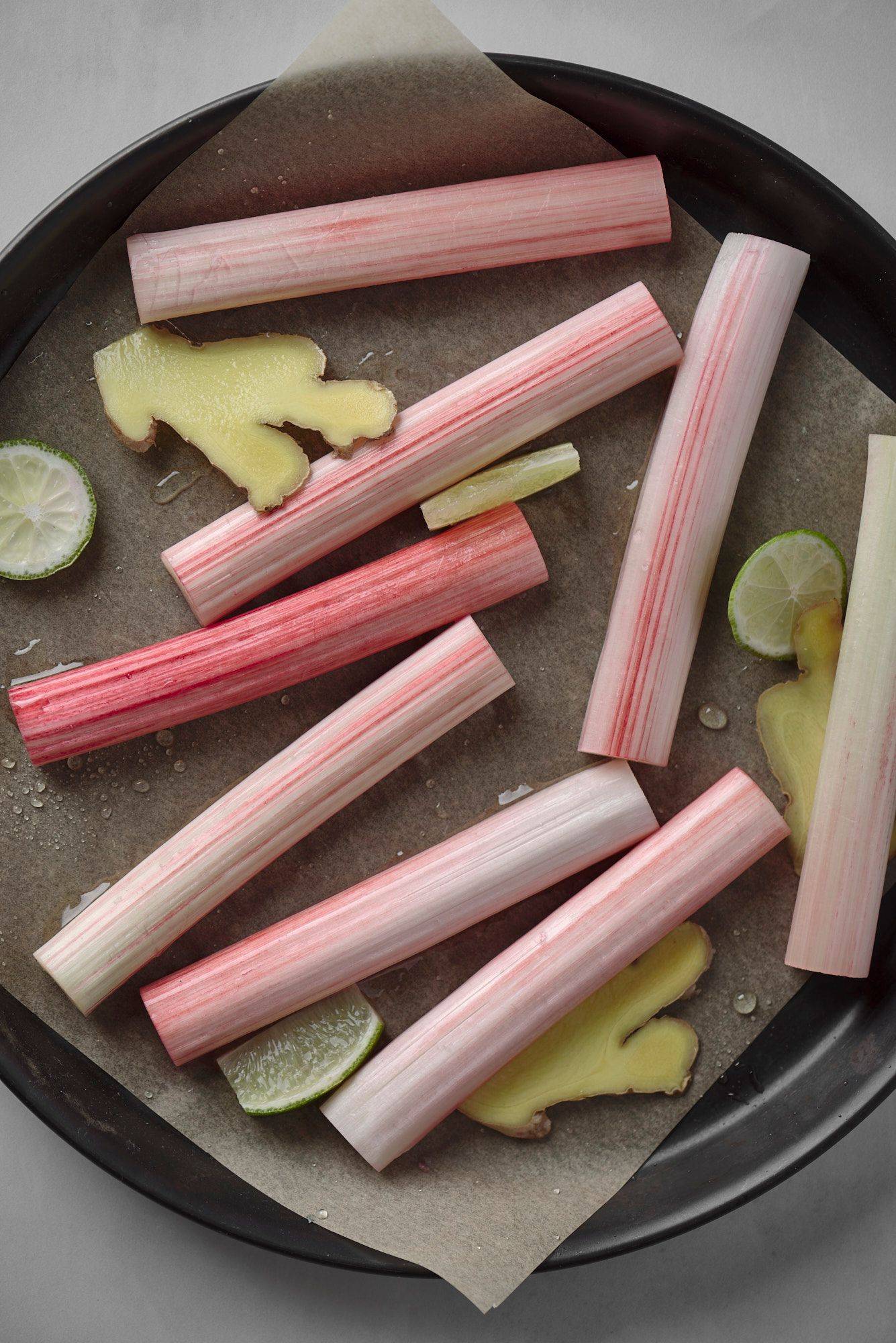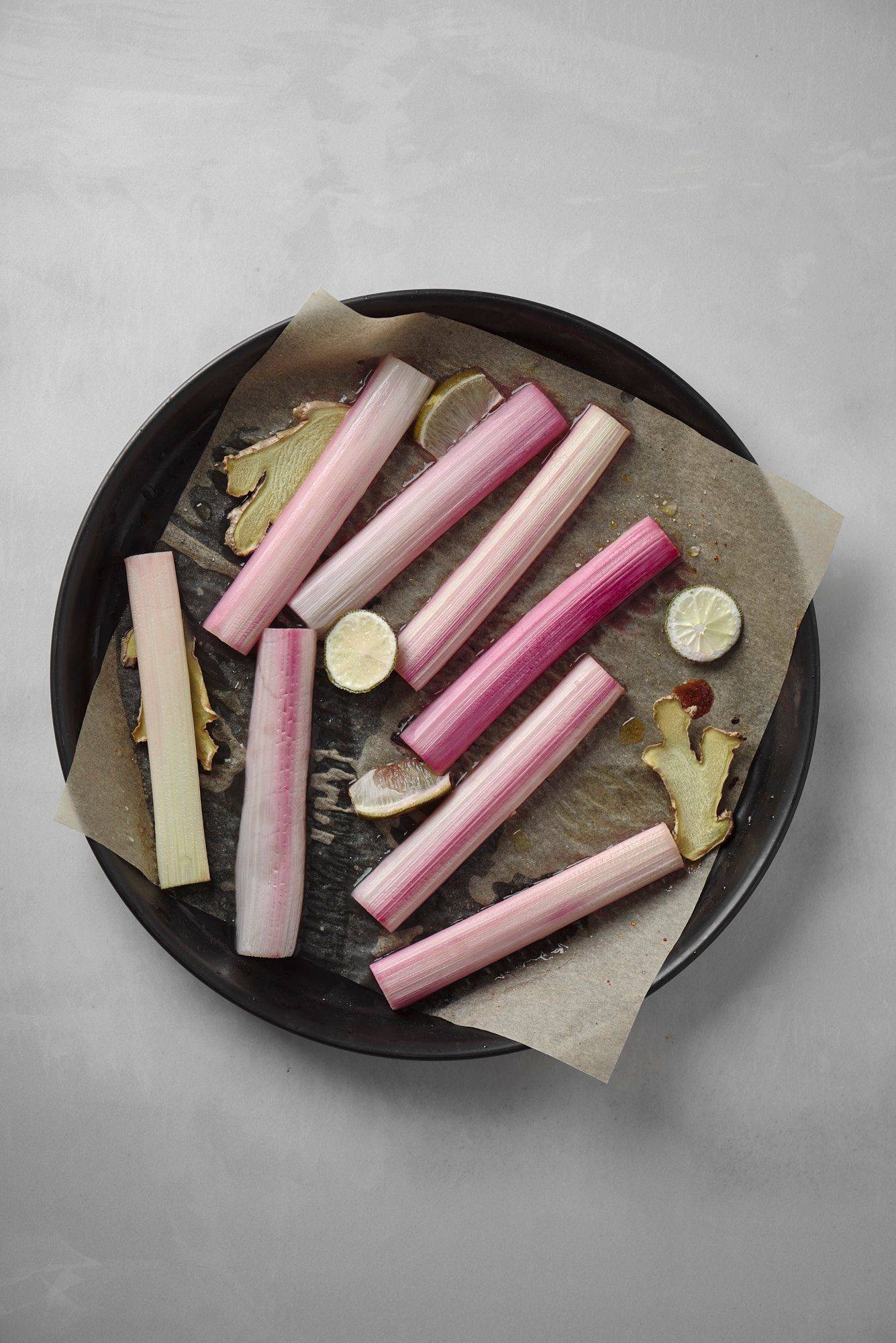 Rhubarb combination
Sour dishes for me must always be balanced and of course this recipe is not just one ingredient. I think something must happen on the tongue when you eat and that's why a vegan macadamia-based ricotta cheese, crunchy spelt pops and green wood sorrel were added. It is a classic tasting dish yet with a twist. Best enjoyed while the braised rhubarb is still lukewarm with the cold and rich taste of the ricotta. The popped spelt adds some texture to the dessert and what could be better than biting into a leaf of fresh green wood sorrel in between. No question in my mind, a great simple recipe with lots of flavor. But try it out for yourself and let me know what you think!
You are looking for more delicious dessert ideas with that certain something? Here is my recipe for Ayran Black Forest Cake with Bacon & Cherries or the light Passion Fruit Meringue Dessert!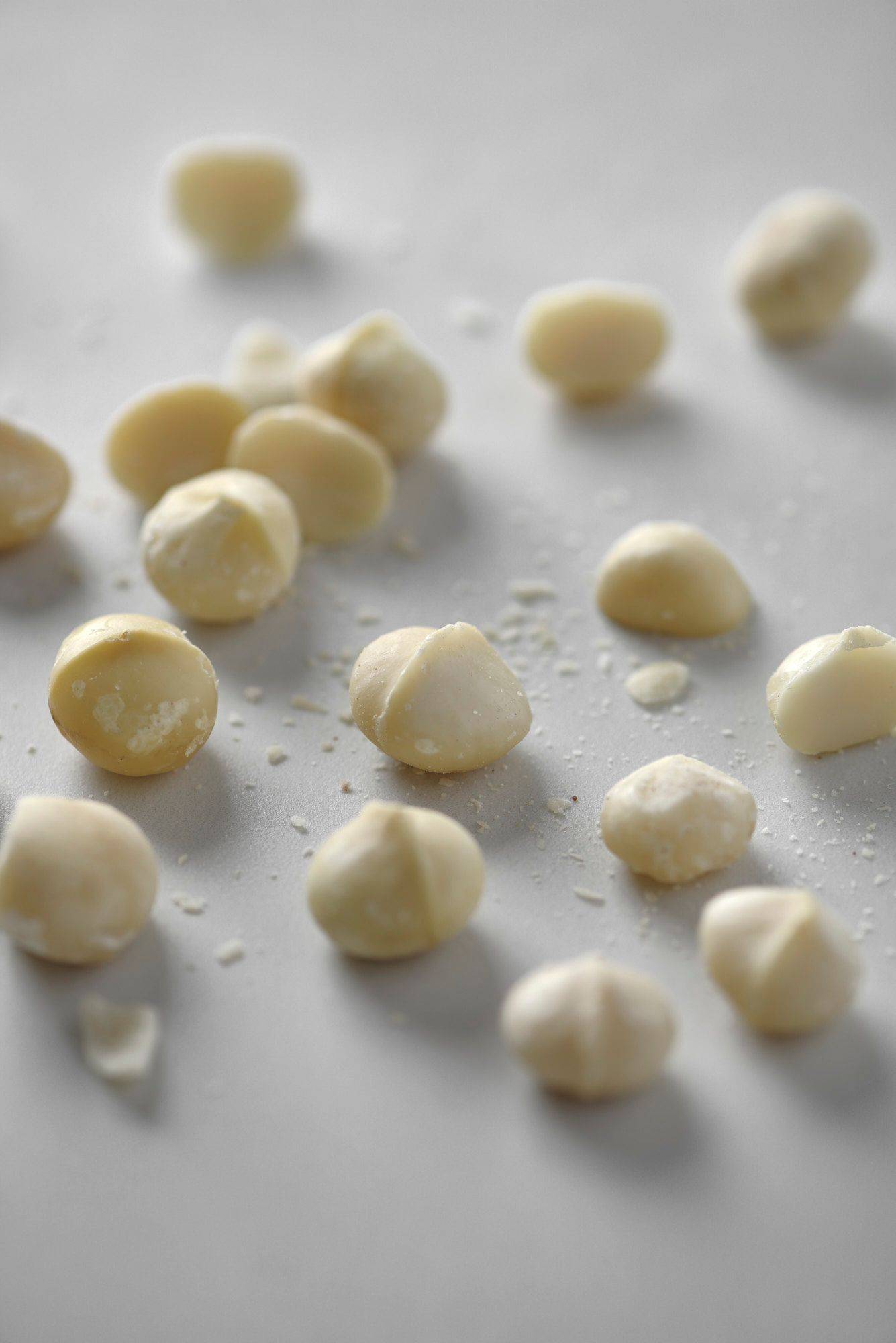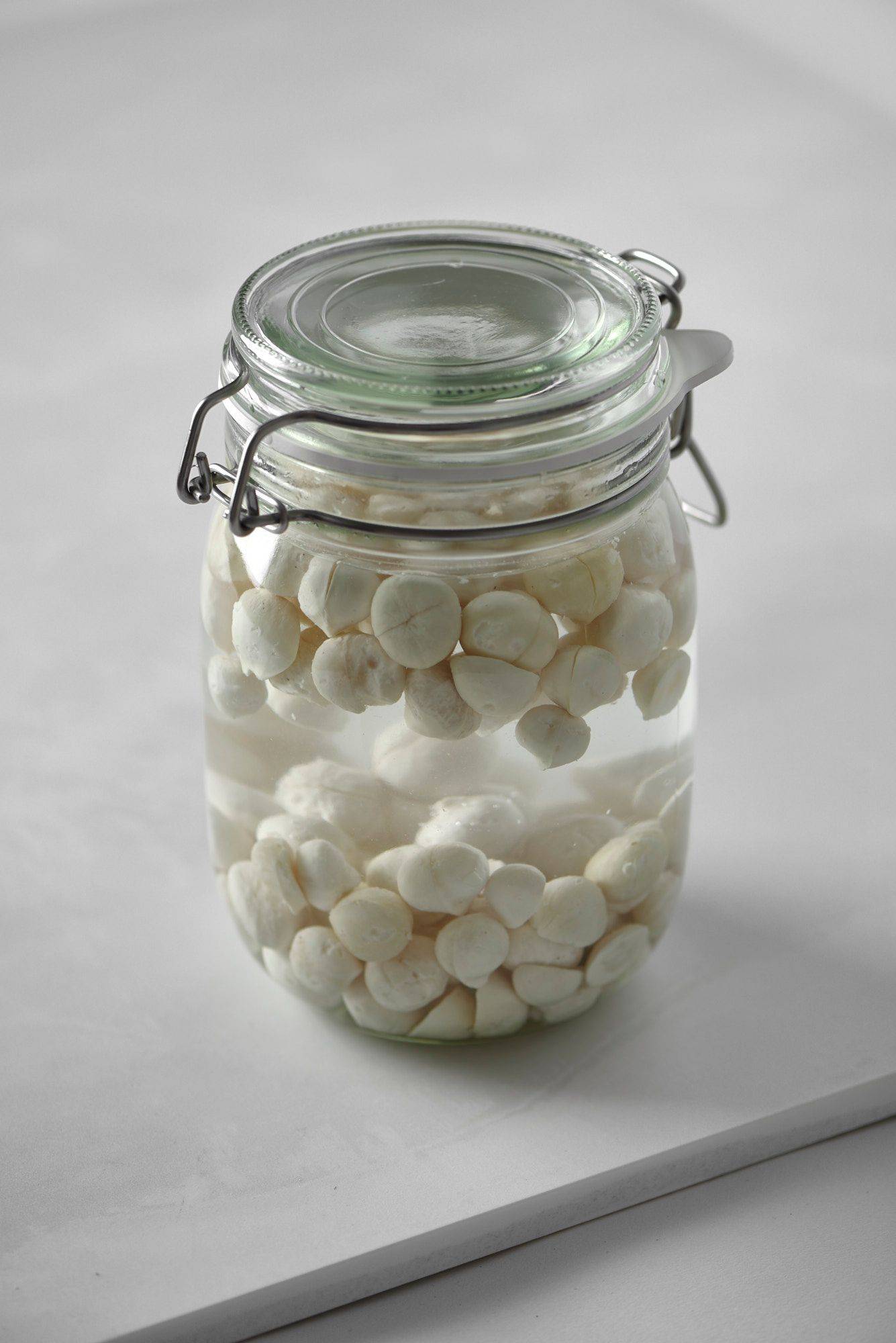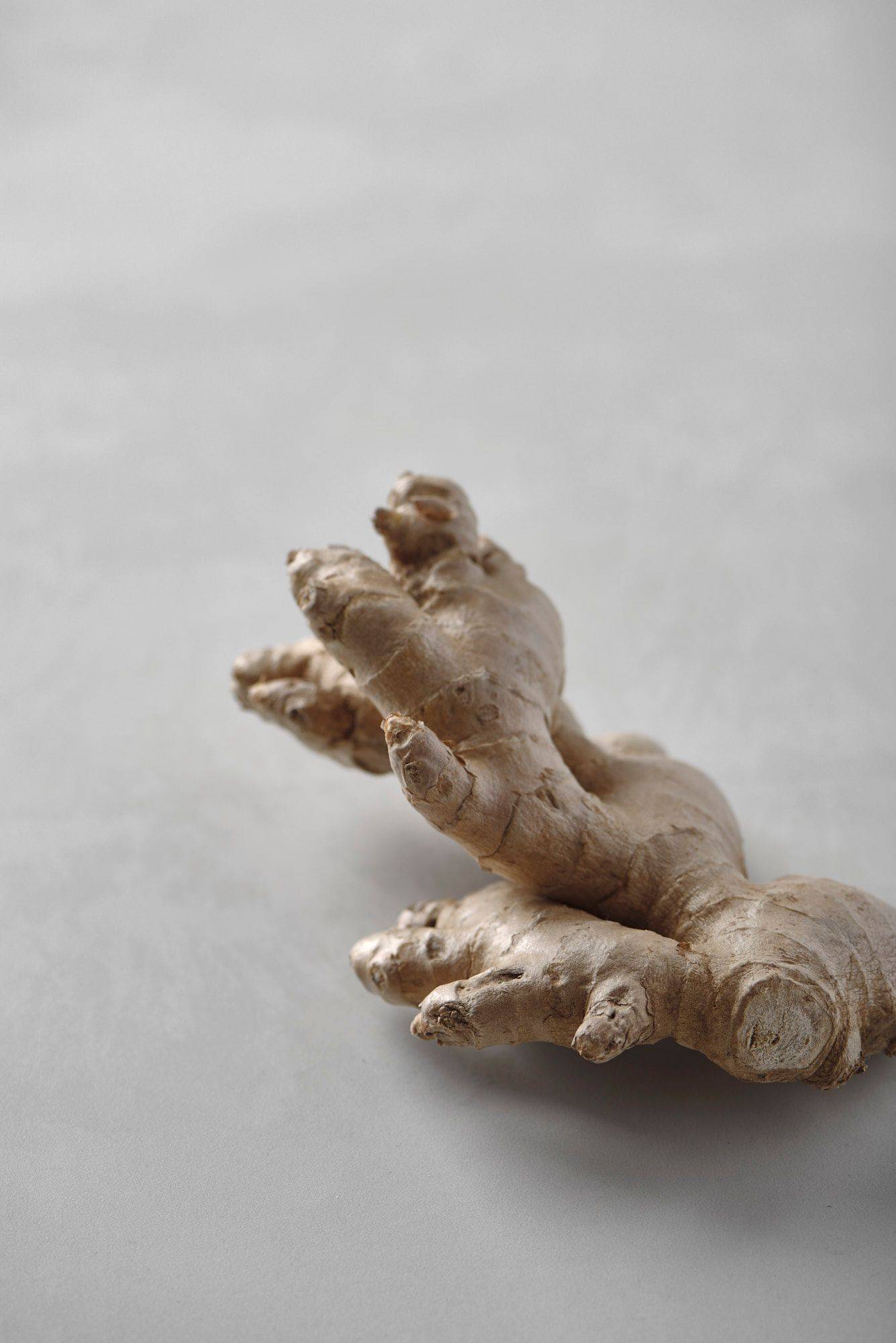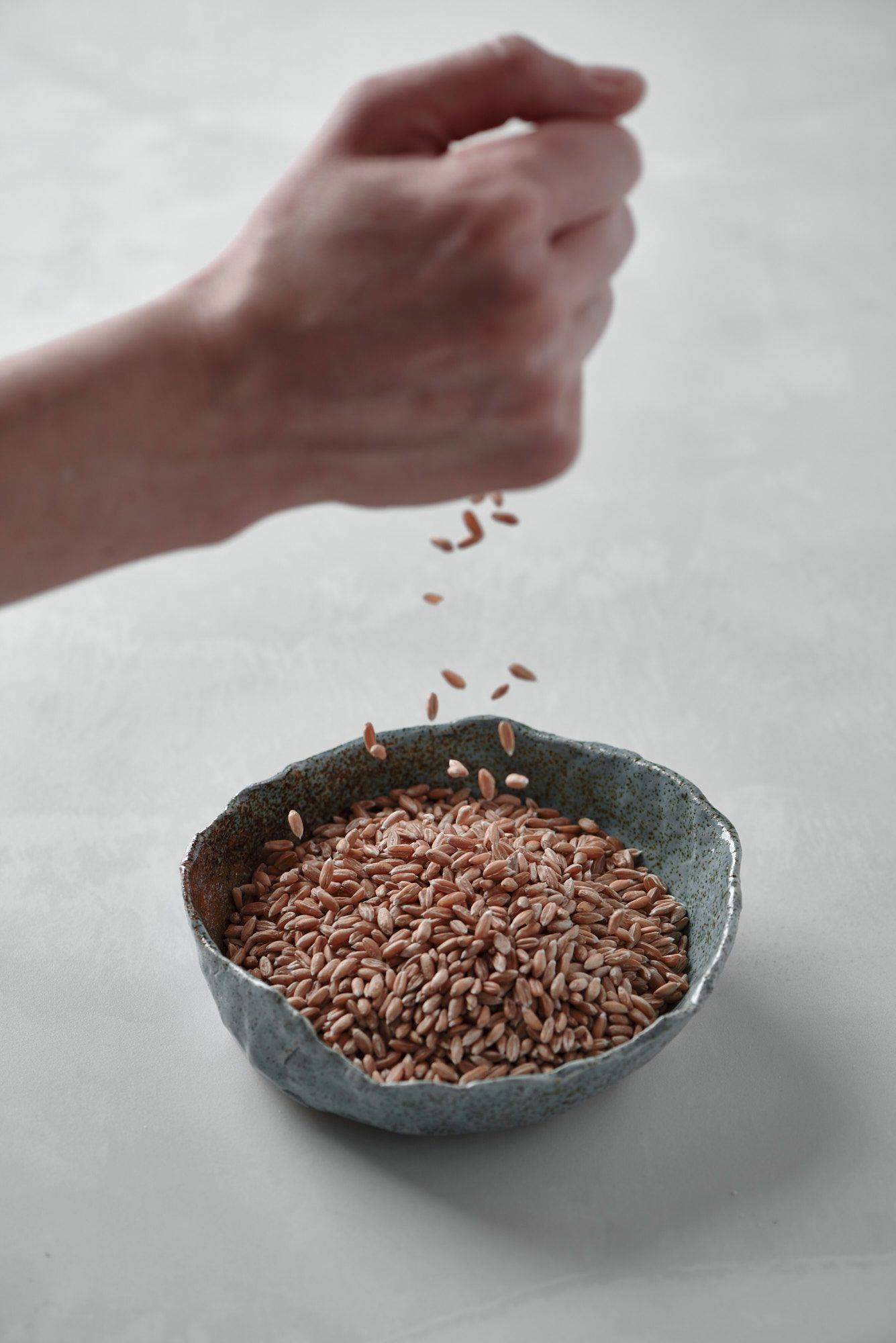 Recipe
Braised Rhubarb with Vegan Ricotta, Spelt Pops & Sorrel
4 Persons45 Minutes
Vegan Ricotta Cheese
100 g Macadamia Nuts
100 ml Birch Water (Water is fine too)
1/4 Lemon
1 tbsp Agave Syrup
Salt to flavor
For the vegan ricotta cheese, cover the macadamia nuts with enough water and soak overnight. The next day, rinse the macadamia nuts properly and blend together with the birch water, lemon zest and juice as well as agave syrup in a high-powered blender until creamy. Now add a pinch of salt to taste and set aside until ready to serve. The leftovers can be put in a jar and kept for a few days inside the fridge.
Braised Rhubarb
2 pc Rhubarb
Ginger, Lime & Honey to flavor
For the braised rhubarb, peel the rhubarb and cut each into four equal pieces. Then place in a baking dish with paper and season to taste with the spices. Now braise the rhubarb in the oven at 200°C for 7-10 minutes until soft.
Spelt Pops
50 g Spelt
150 g Canola Oil
Salt to flavor
For the spelt pops, bring the spelt to a boil in lightly salted water and cook until tender. Then strain everything through a sieve and heat the oil in a sufficiently large saucepan (it must be hot, but not yet smoking). Now let the cooked spelt pop in the hot oil, this gives the dish a nice crunchy texture. Then drain the spelt pops on a kitchen towel.
Serving
To serve, arrange two pieces of braised rhubarb side by side and top with a spoonful of vegan ricotta cheese. Drizzle some honey and spelt pops on the dessert and decorate with wood sorrel.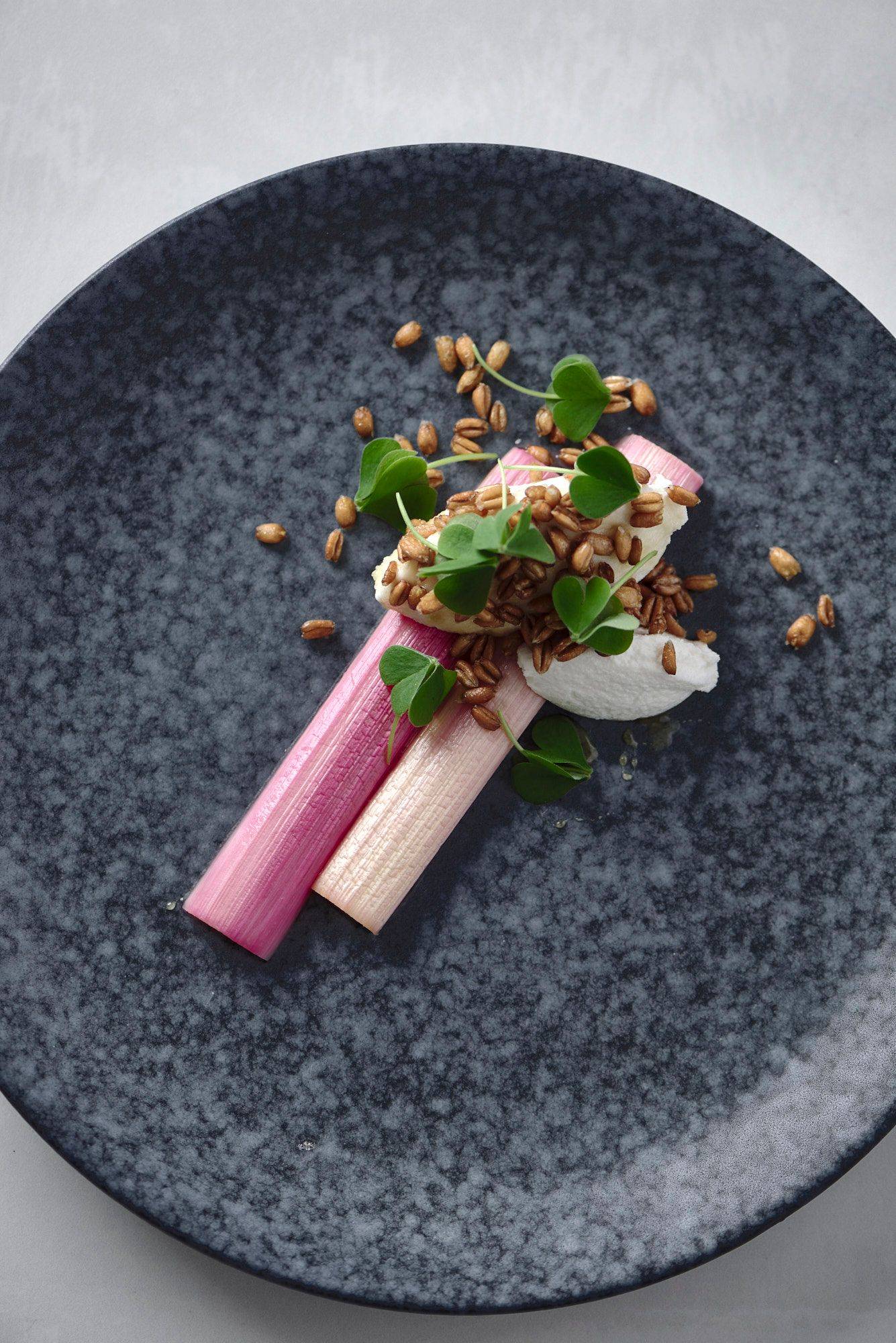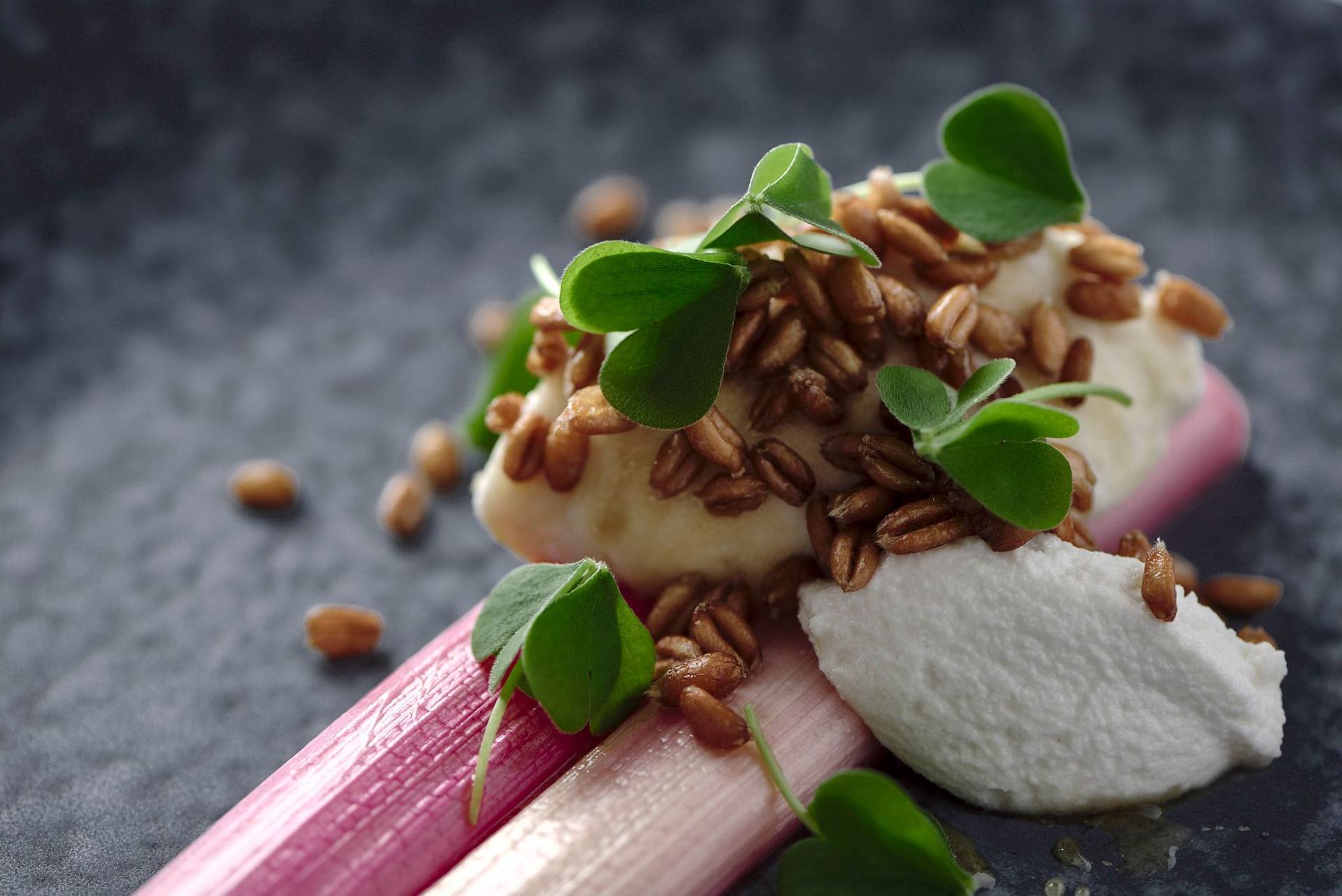 Newsletter
Can't get enough?
Get some secret ingredients through our newsletter!