Story
Poland tastes good - a culinary journey to the East
Producers | Restaurants & Bars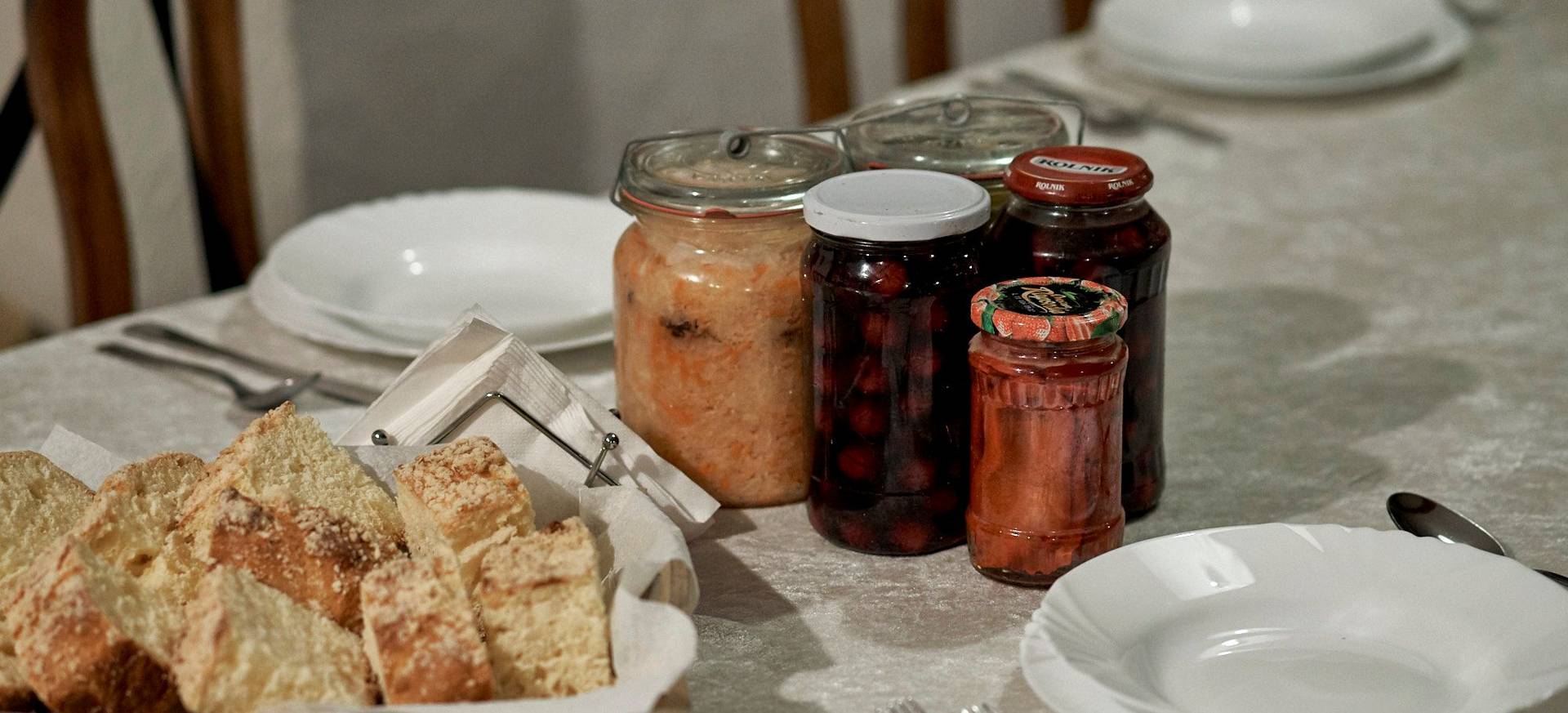 This article contains advertising.
That was the headline of a little trip just before Christmas last year. I had been invited, along with a few others, on a culinary tour around Poland. Although we are neighbors, I didn't know too much about the culinary background of the country. So, I set out for Warsaw to find out what was on the plates and in the glasses of the Poles. Before the trip, I decided not to do any research, to be completely without expectations and with a free mind. For me, this was the best way to experience everything from the perspective of our hosts.
You can find the recipe I created in the aftermath of this trip here!
Łódź
After a dinner to get to know our hosts and fellow travelers, we headed off to Łódź. At Baccaro Studio, we got our first introduction to Poland's regional cuisine from Malgorzata Pindych. When we got off the bus in a small alley, we walked through a small corridor, and arrived at a typical industrial courtyard, like the ones we know from Berlin. The old factory buildings have all been brought back to life, with art, gastronomy, apartments or in our case: a cooking studio.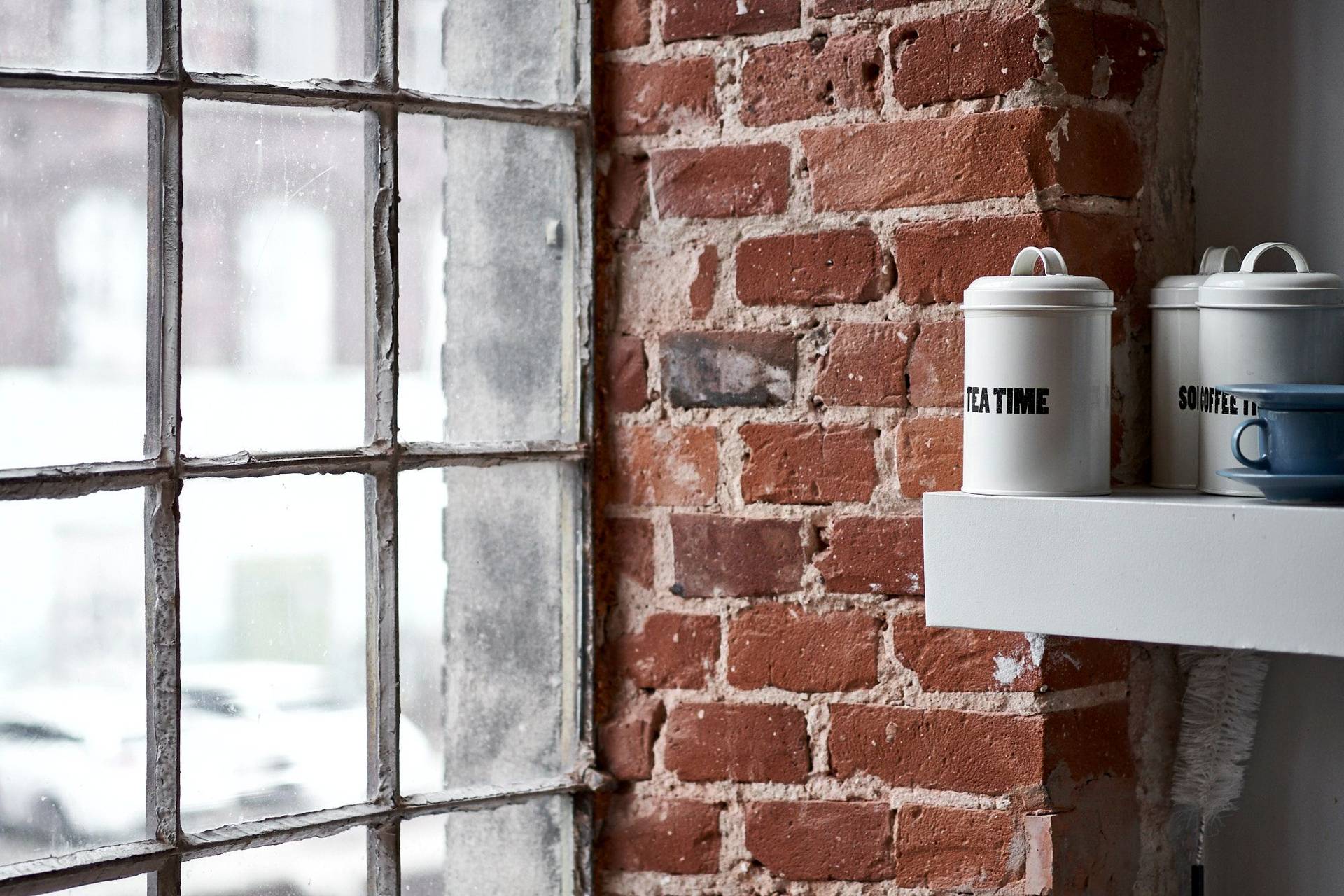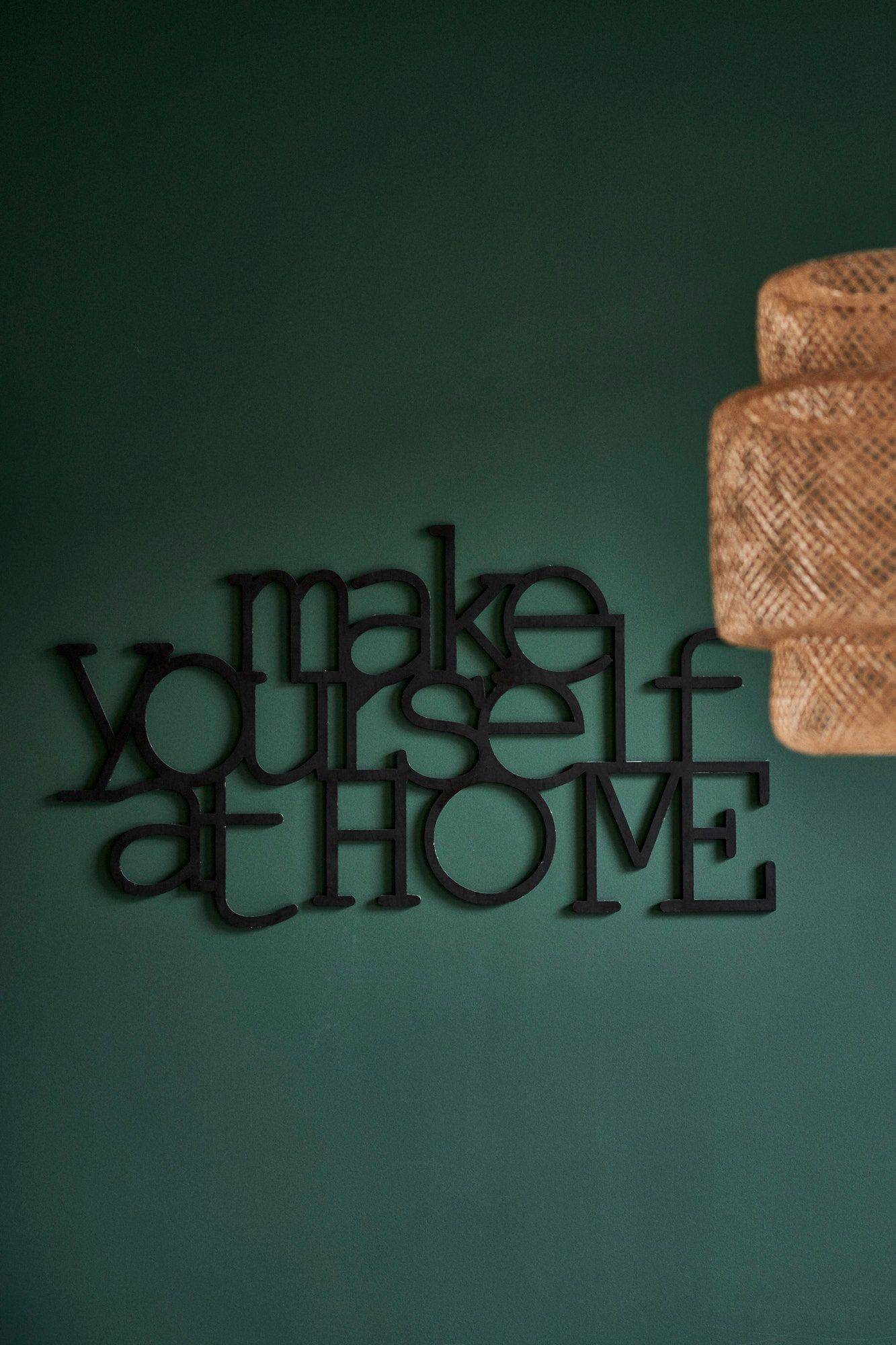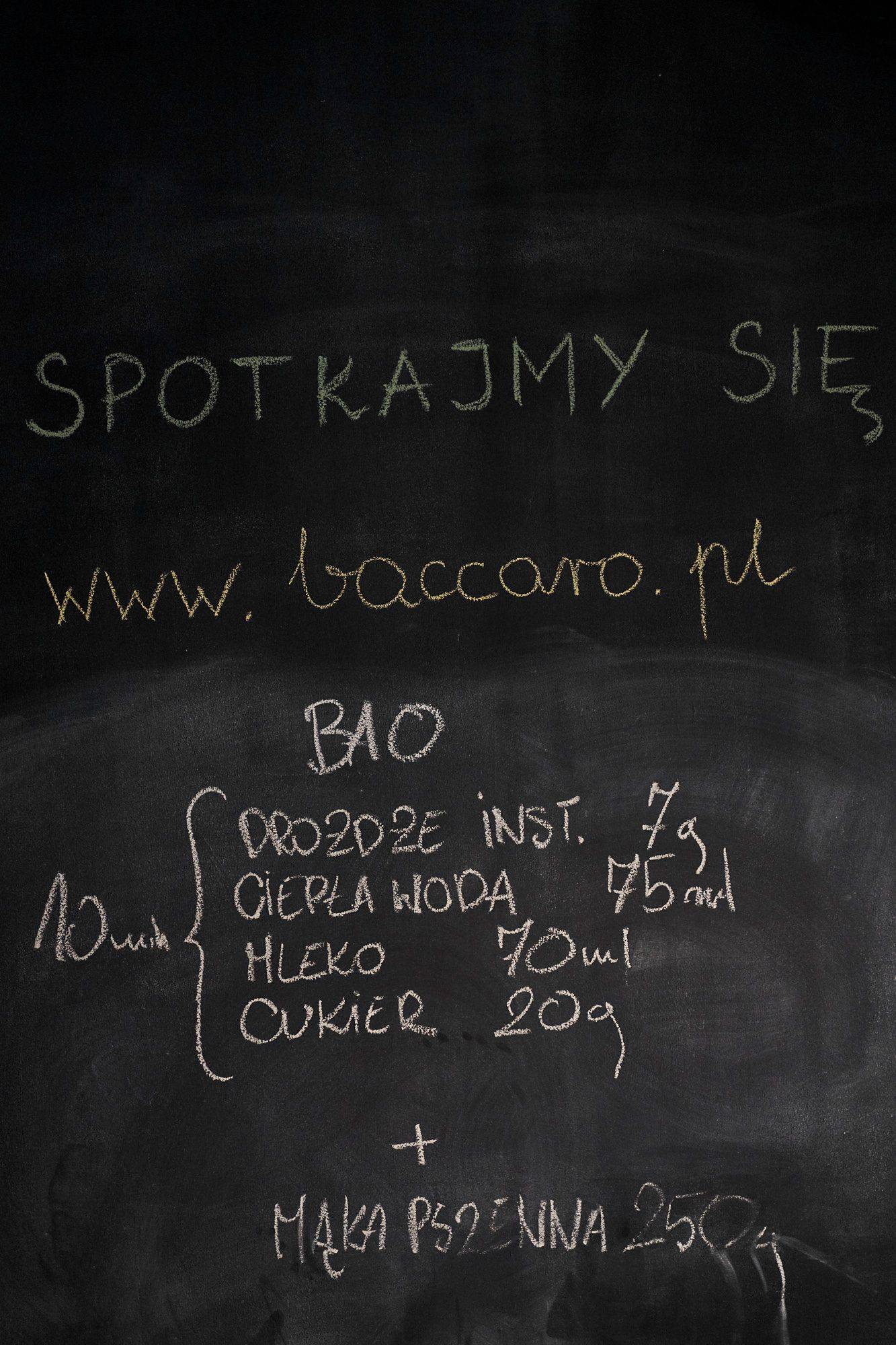 Polish cuisine
The studio looked very inviting to me and it felt good to dive into Polish cuisine in such a relaxed way, rather than with a dry presentation. Malgorzata wanted to show us her way of celebrating a Polish zero waste cuisine with traditional influences. One thing that struck me was the simplicity of the ingredients, even some "leftovers" were presented on the table. Potatoes, Matjes, duck, apples and flour to name only a few. The art of a delicious meal is always created by the chef and can be presented very nicely without luxury foods.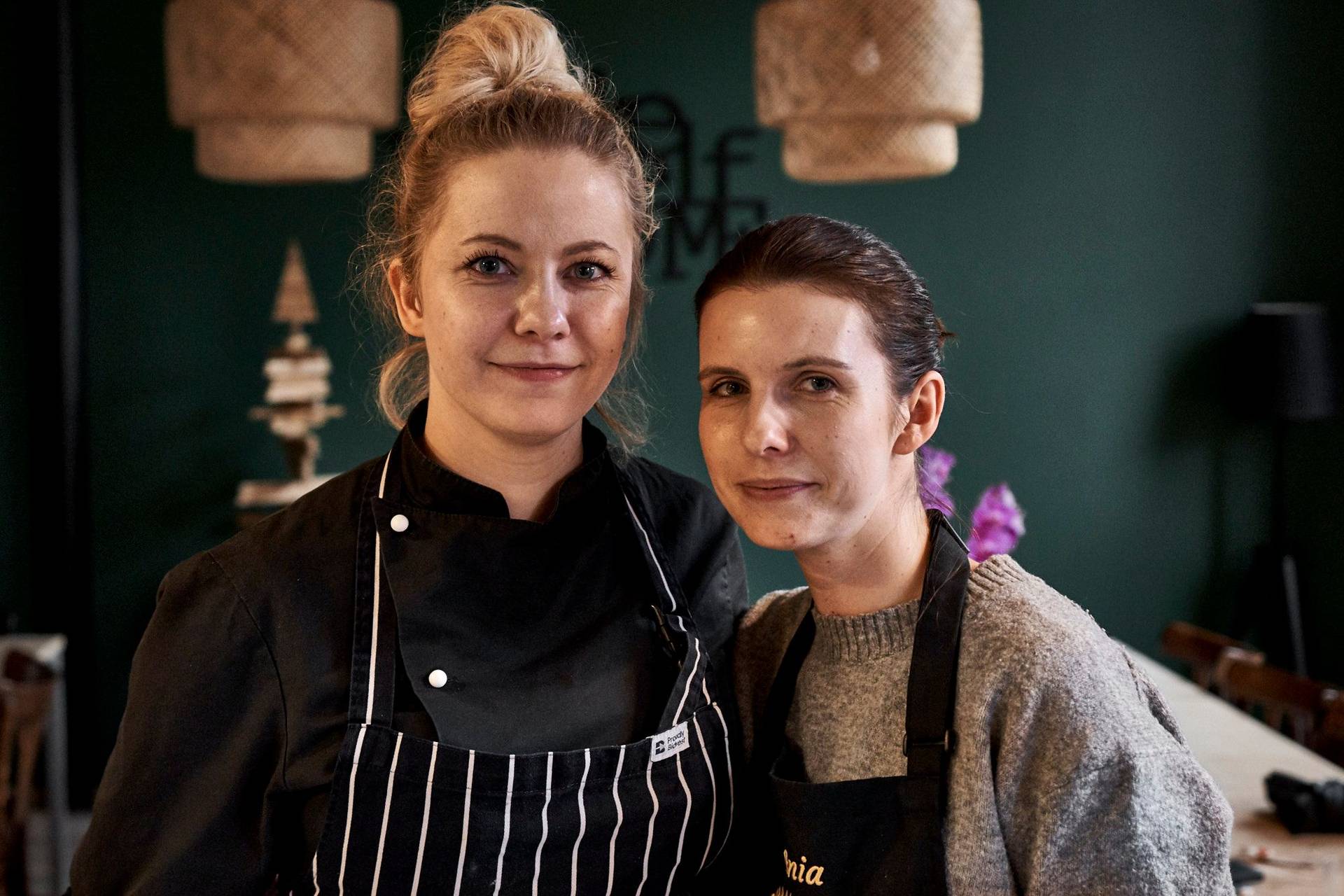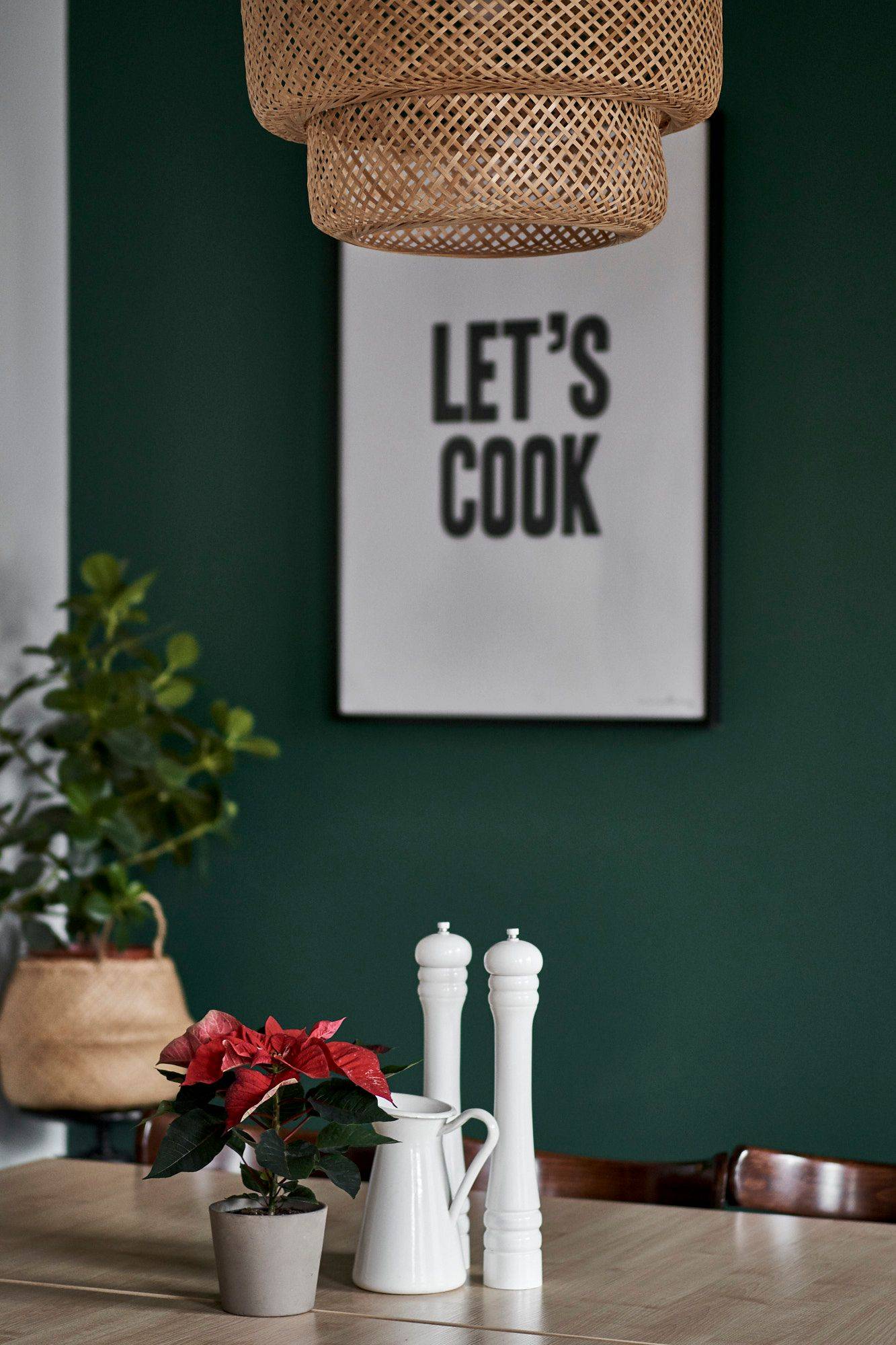 Zero waste menu
We started with a warming soup called "Zalewajka", made from chopped duck, the produced whey of ricotta for our main dish, instead of fermented rye and from thickly peeled potato skins. This soup was so tasty that I even forgot to take a photo for you, but that was only a sign of good taste. The second course was a tartare of Matjes with cucumbers and a very fast made bread. These tastes were very familiar to me, because we eat Matjes also in the north of Germany. I really liked the mayonnaise that was made from the leftover Matjes oil. These little things always make the difference and are something I take home with me.
I also really liked the main course that Malgorzata had in mind. It was confit pork belly with turnips, potato dumplings and homemade ricotta. The meat was cooked in oil at a low temperature until it was nice and tender, then caramelized. Together with the other ingredients, a very tasty and filling dish. Of course, there was also a sweet treat on the menu, which was a banana cake with an apple chutney.
So, what do you think? We enjoyed not only the food, but also the preparation. The whole process of being together in the kitchen, with good company and someone taking care to serve some food in the end was just a great way to start this trip for me. So, thank you Malgorzata and Baccaro Studio.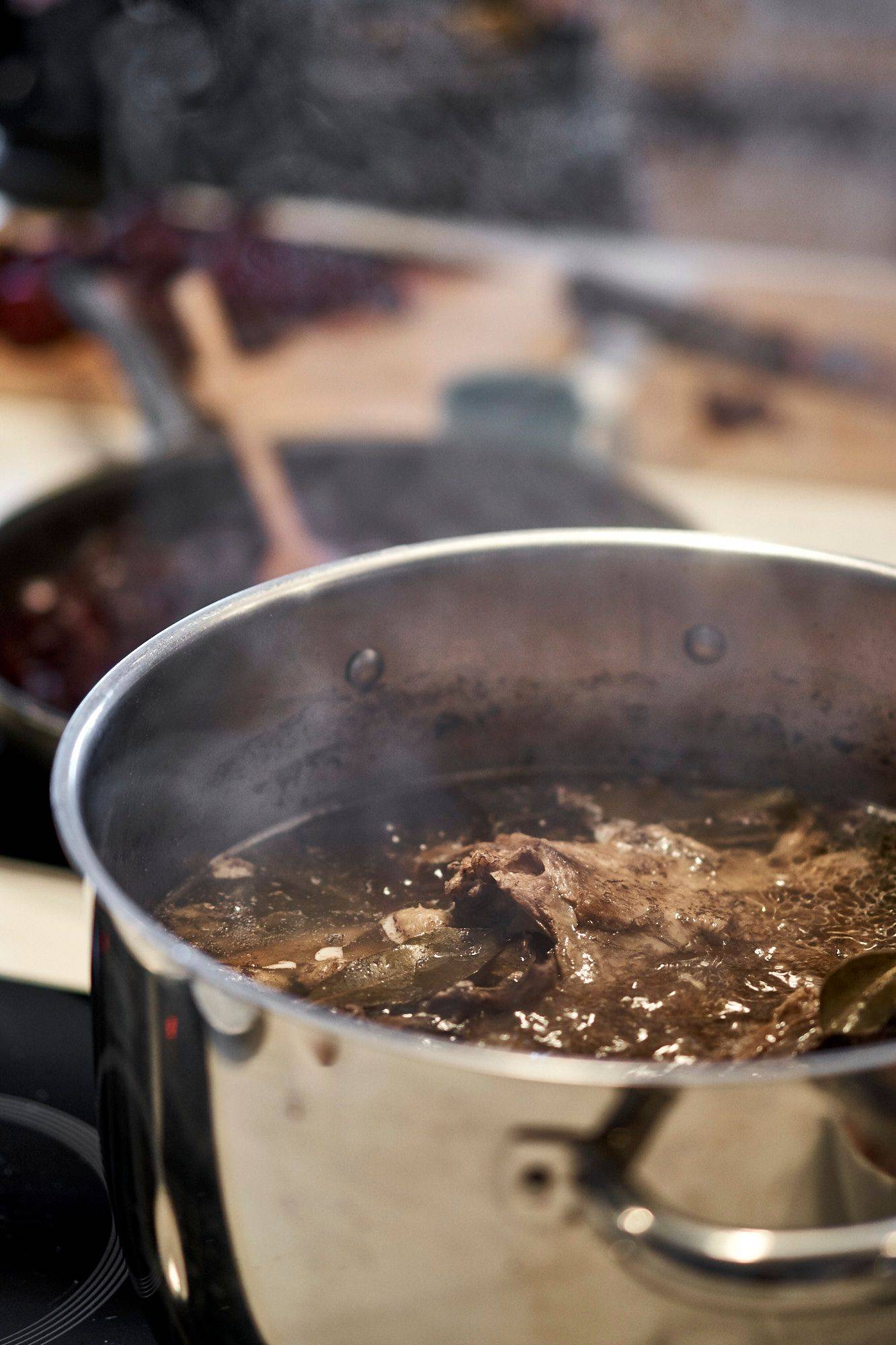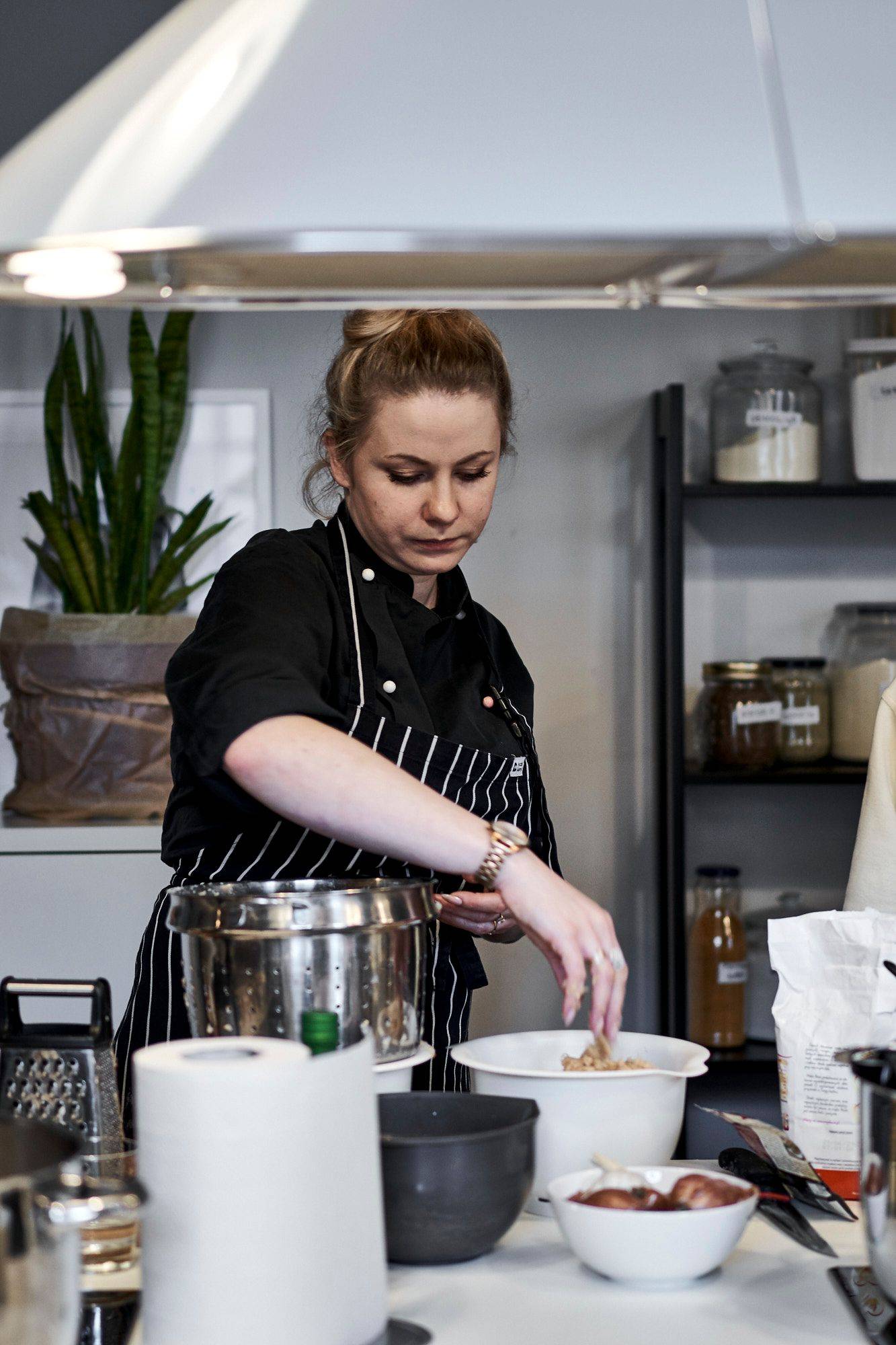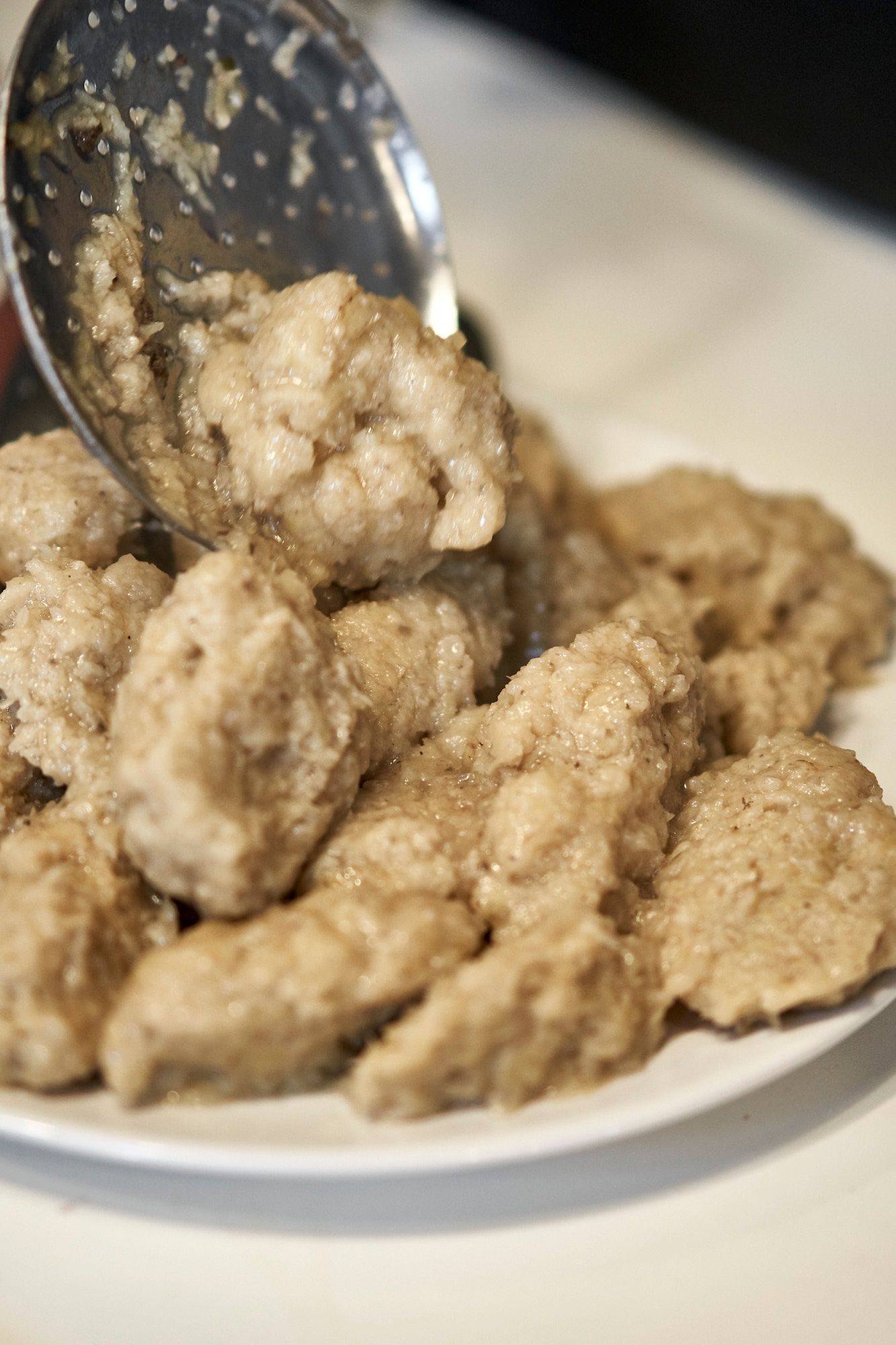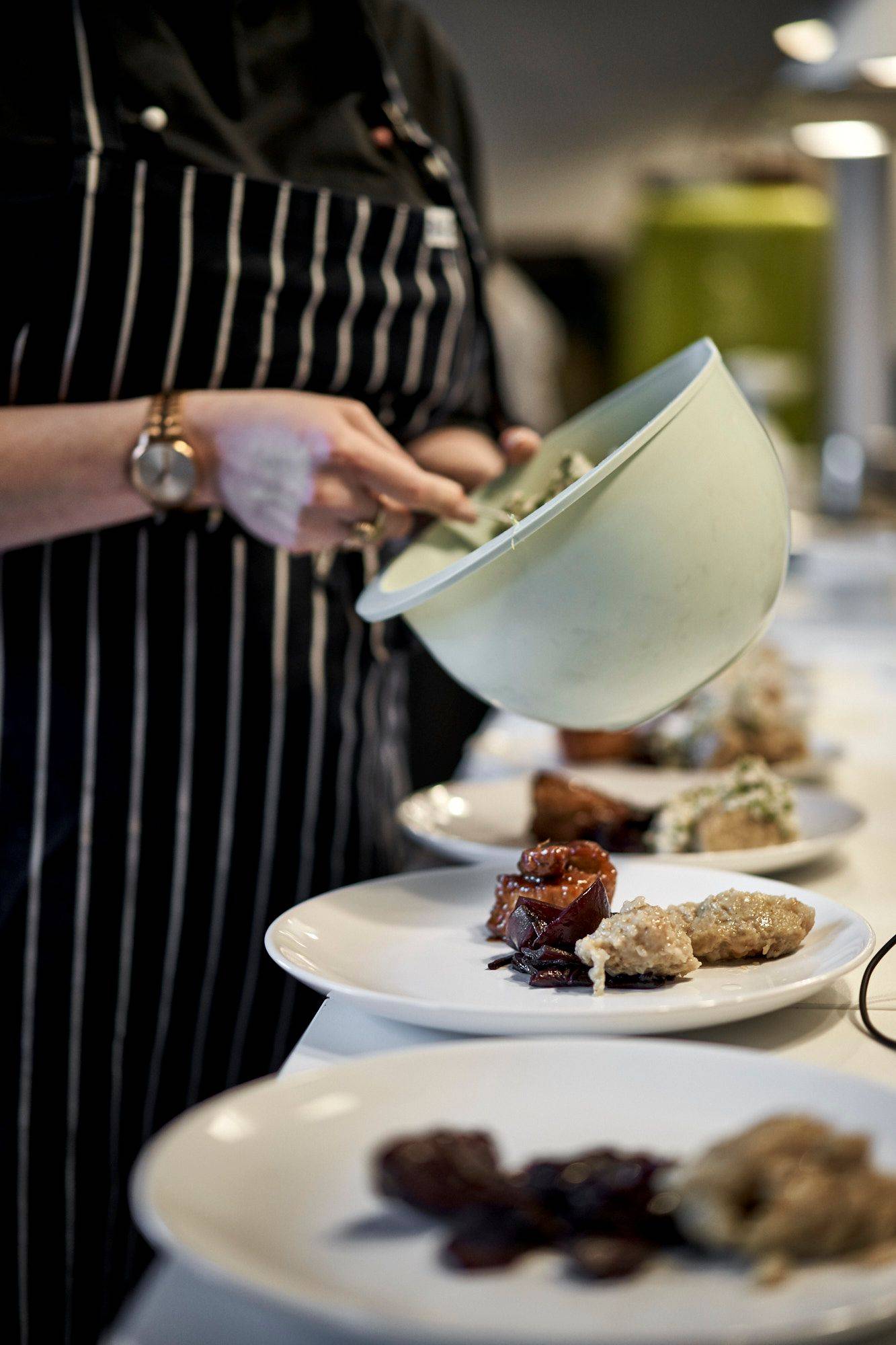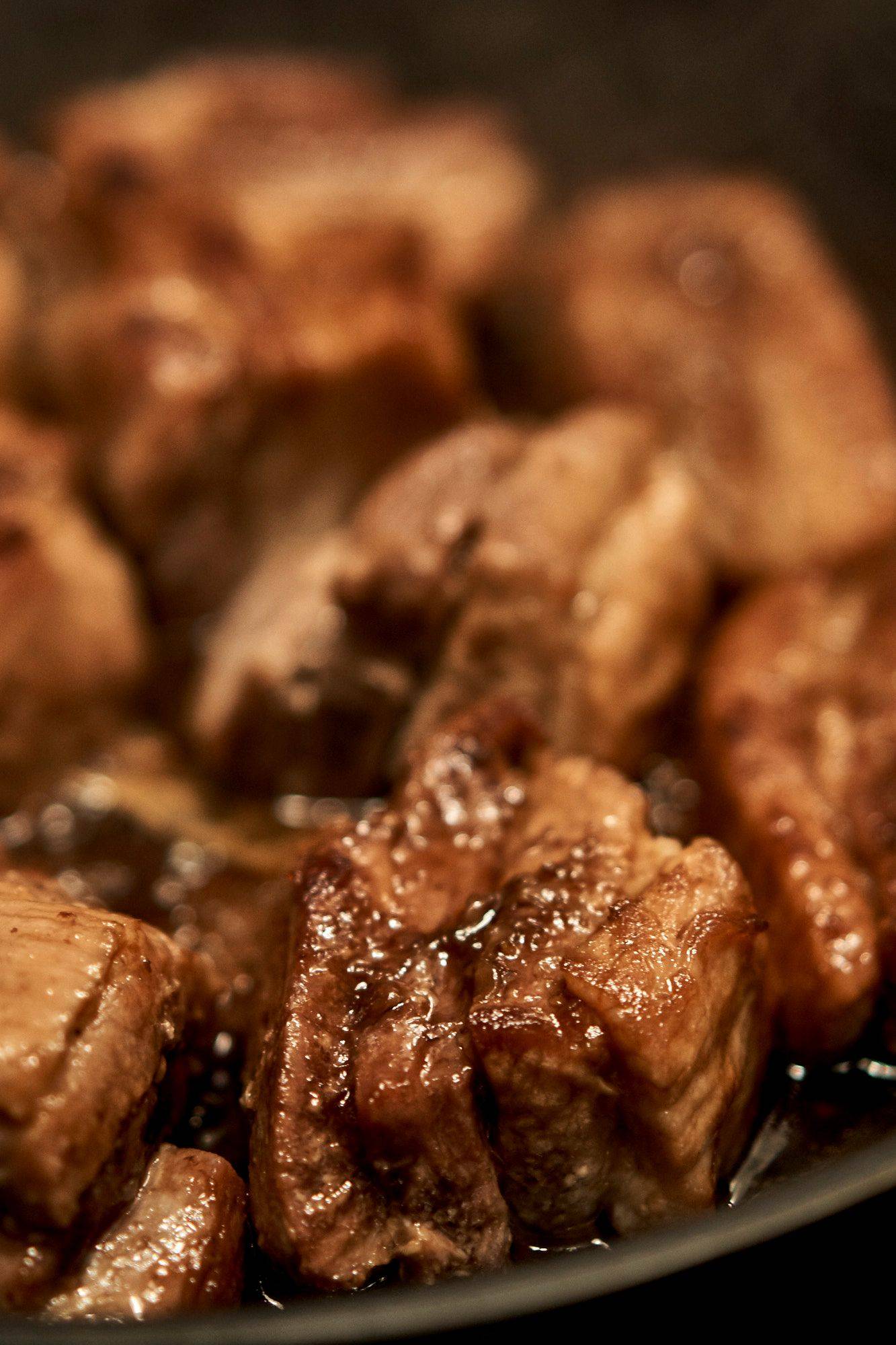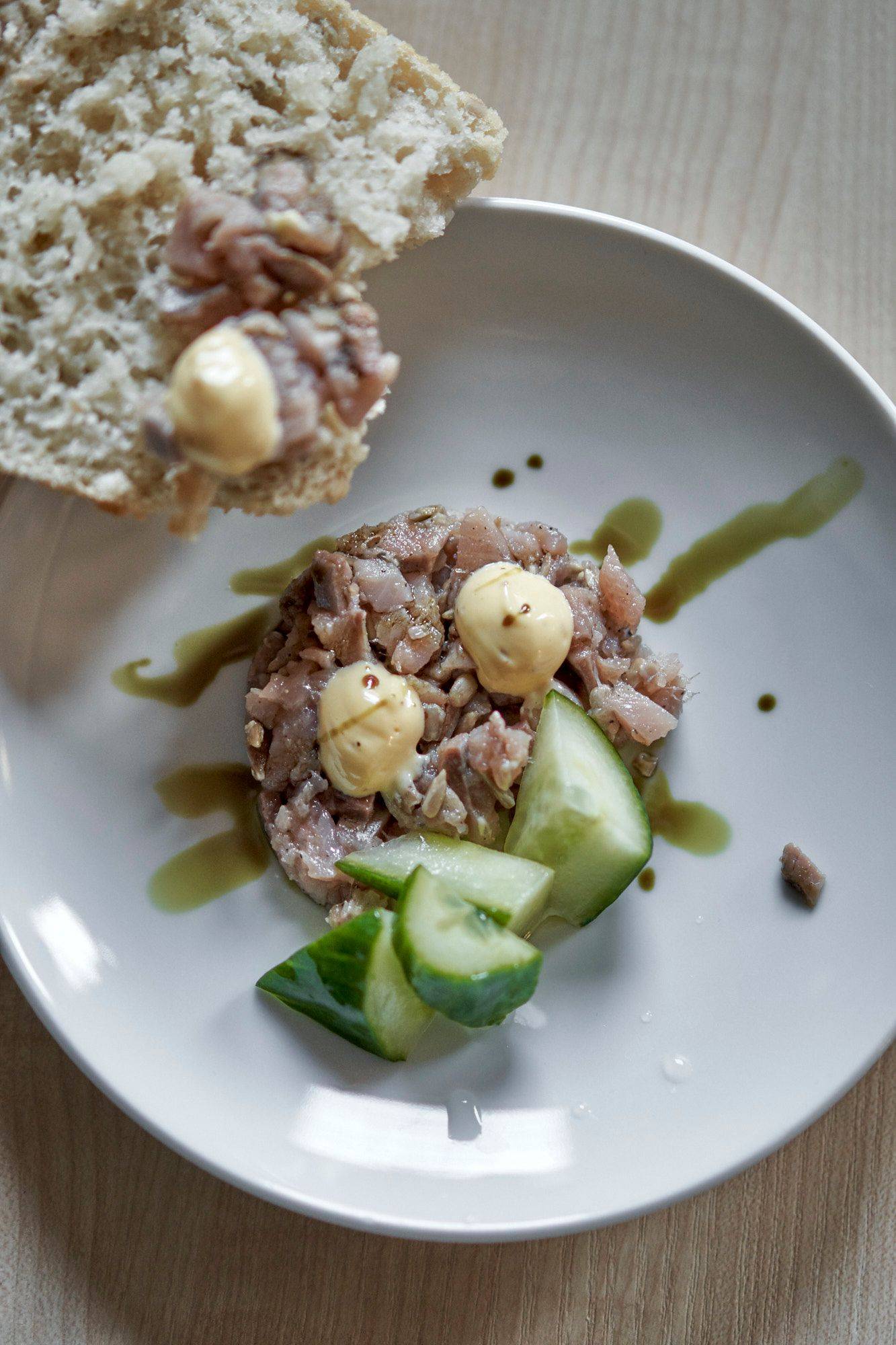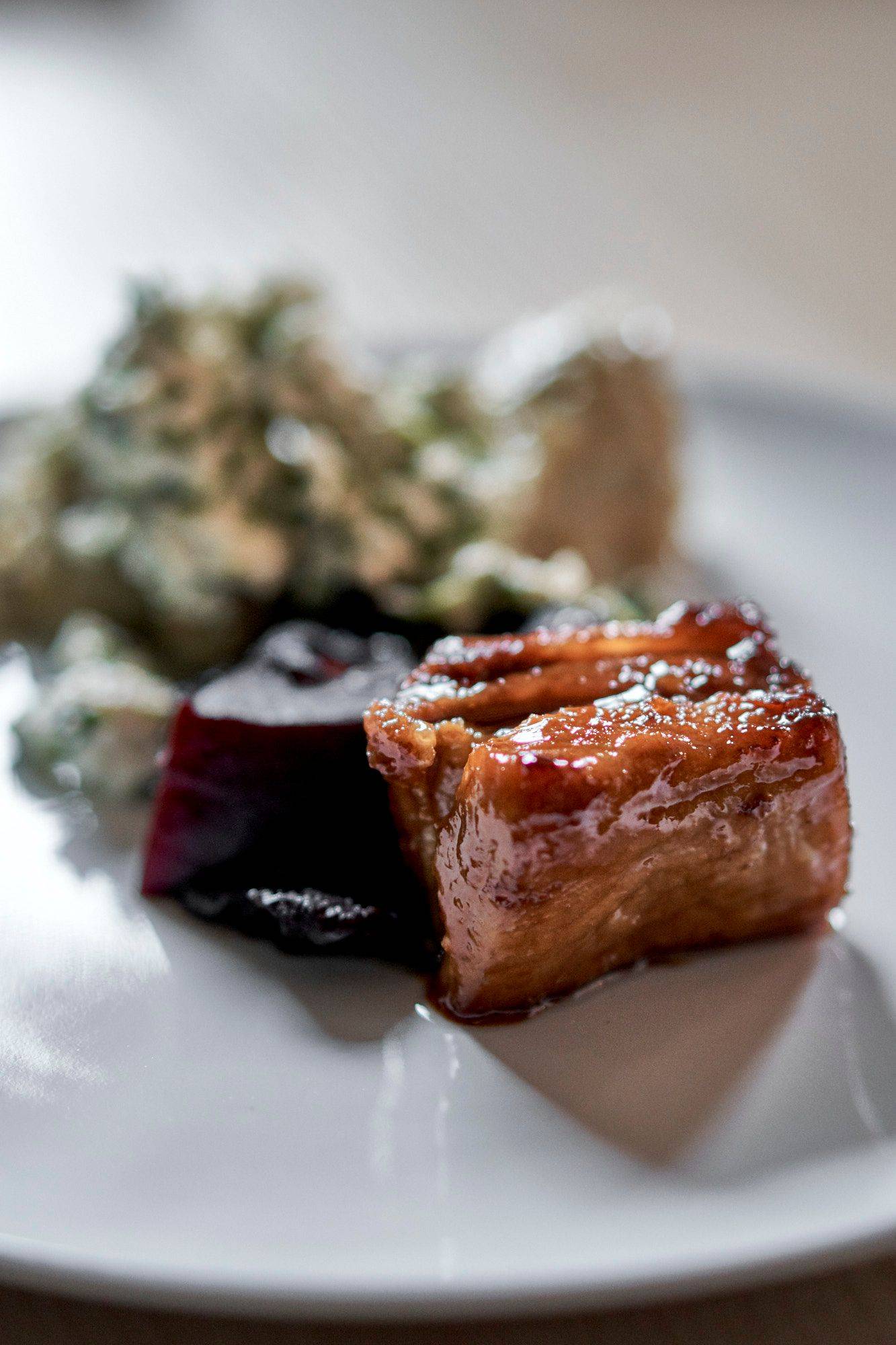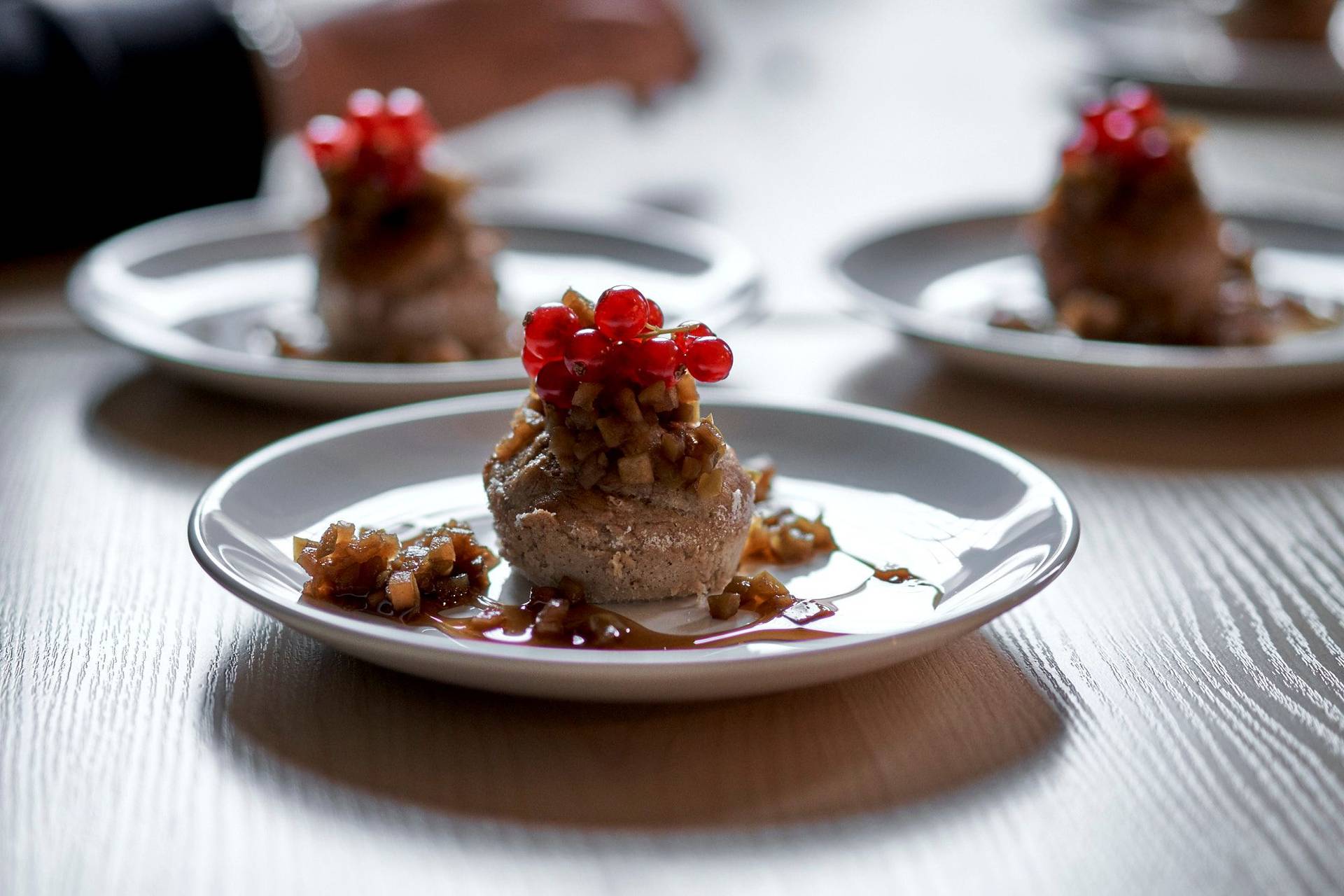 Departure to the north of Poland
With a full stomach and a good feeling, we took a walk around the city and made some room for more food. By bus we headed to the countryside to the Gozdawa Palace, the place where you can eat more than just goose. People come from all over Poland and even further away to enjoy what is brought to the table here. Originally this place was only for events, but fortunately a few years ago the restaurant opened its doors to the public and now it is possible to get a table without joining a large group to celebrate.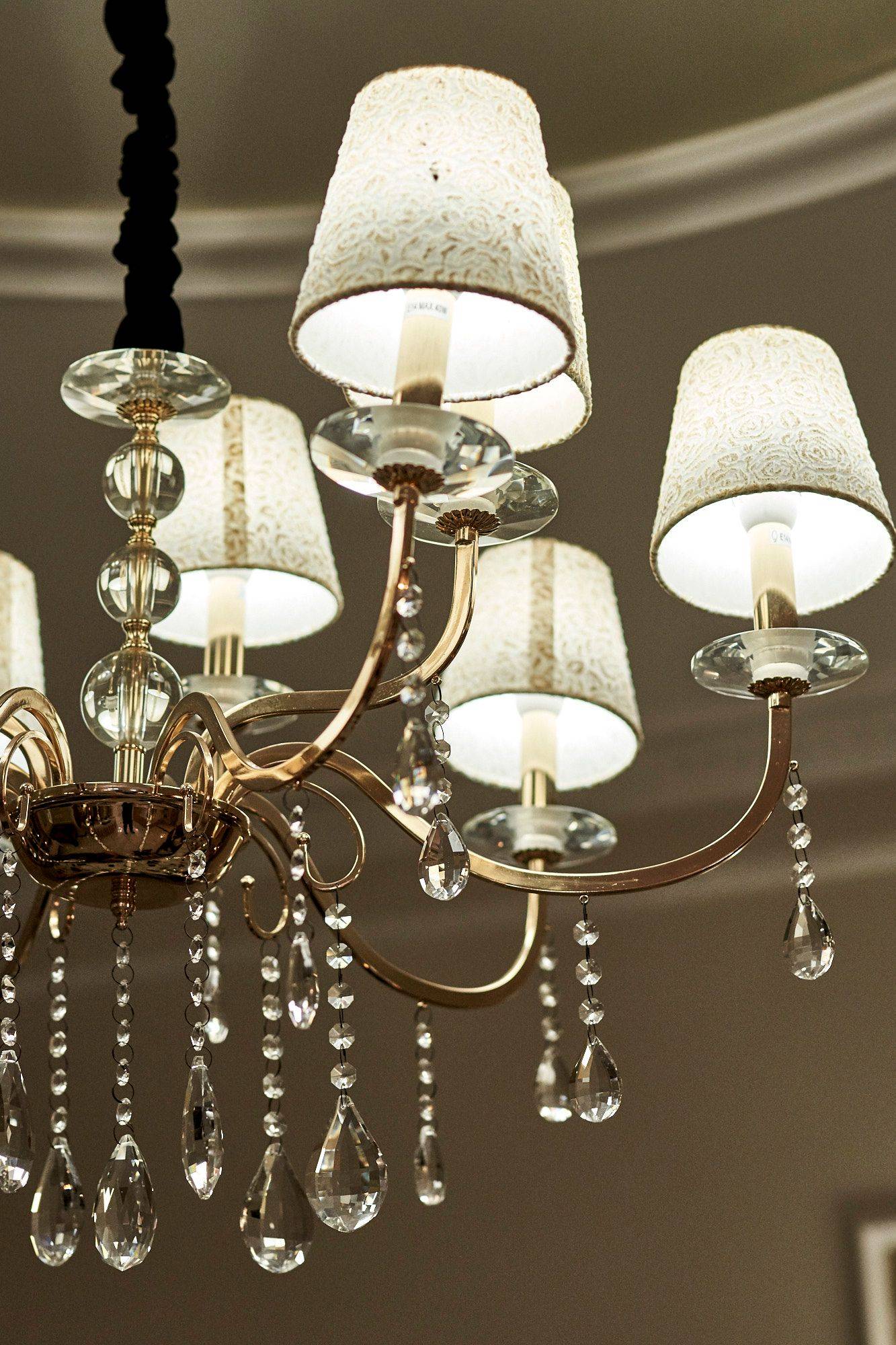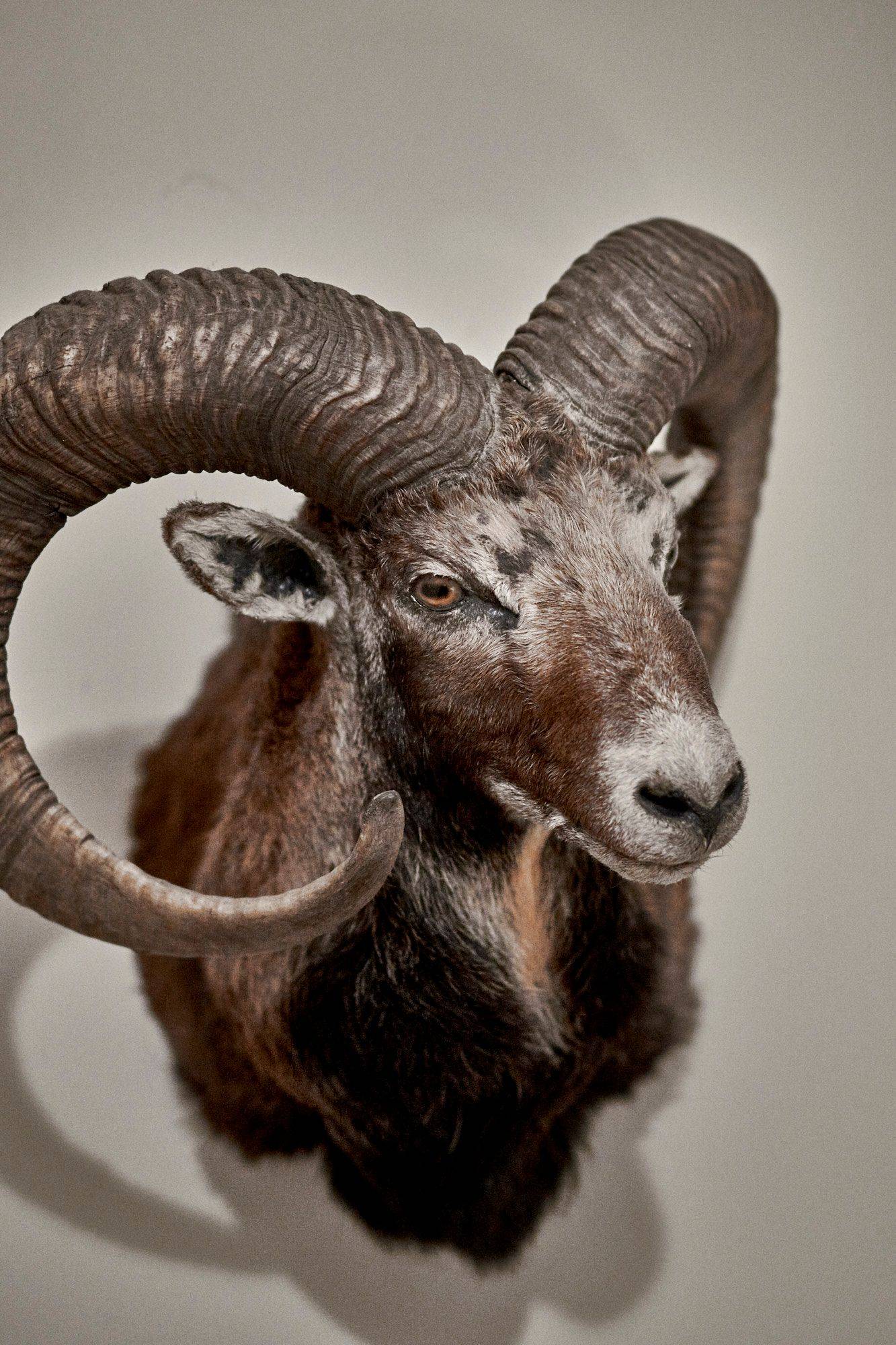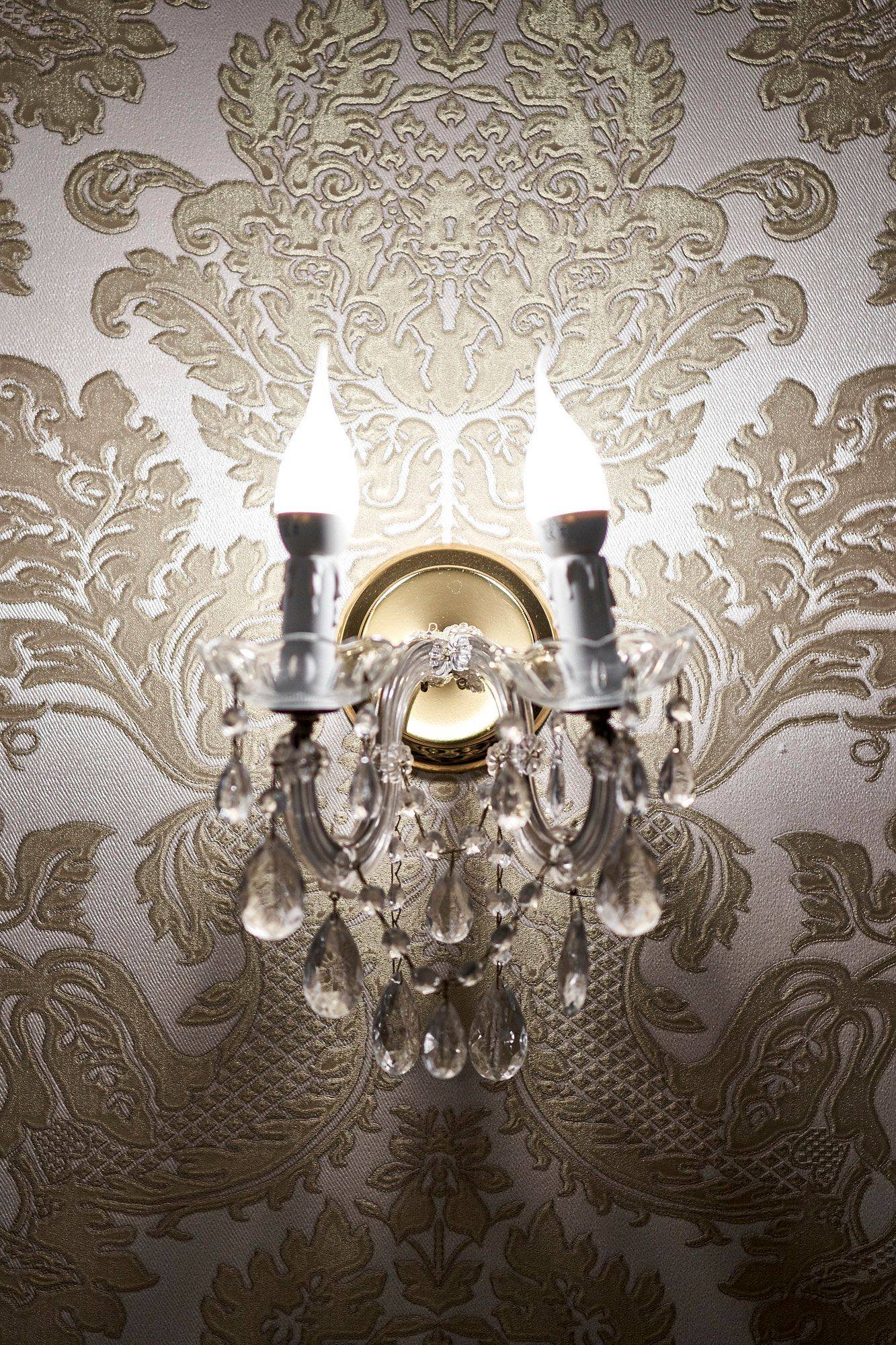 Polish greetings
The Gozdawa Palace looks like you imagine it to be when you first hear its name. It has an opulent looking appearance with all the glass, marble and gold wallpaper, making it a popular destination for weddings and anniversaries. We were warmly greeted with a glass of vodka and given a brief introduction about the place and what awaited us as we looked out over the lavishly stocked buffet.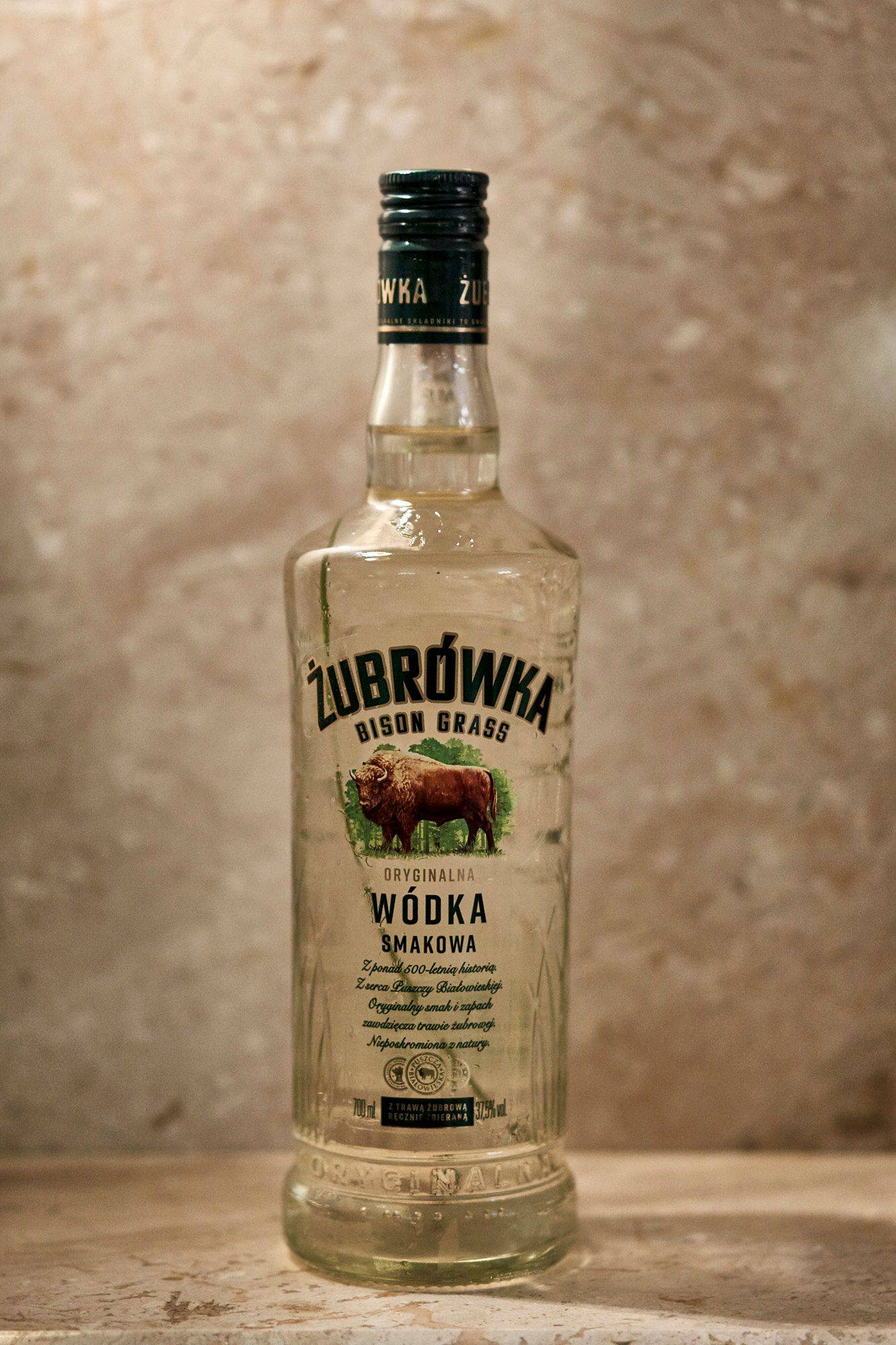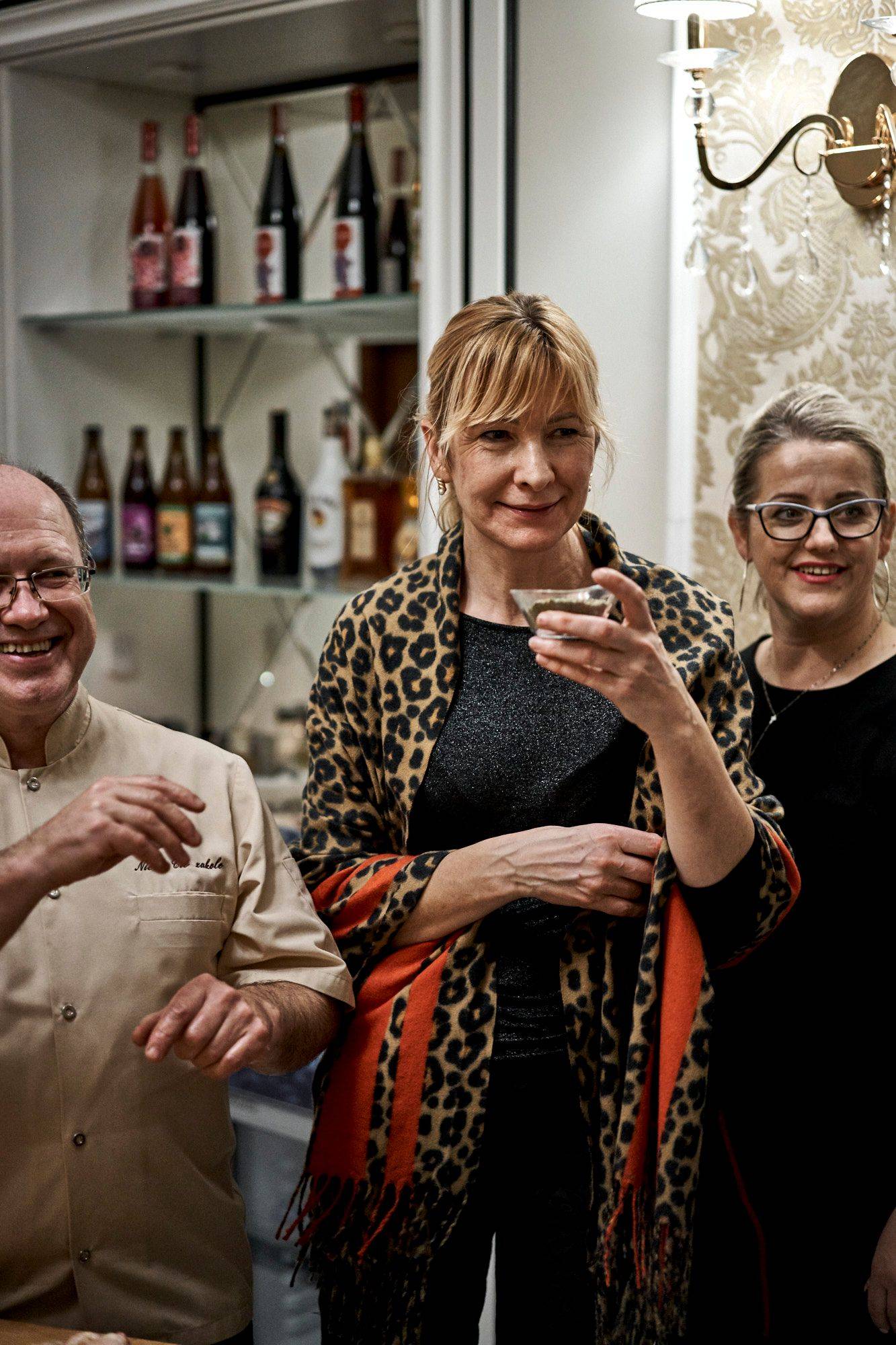 The goose whisperer
Now it was time for Chef Piotr Lenart to take over. Piotr, with his long experience in traditional Polish cuisine impressed us with his very straightforward manner and personality. He very modestly described his cuisine as "country house cuisine", but I doubt you can find anything like that in many other places. He wanted to show us different ways of preparing a goose and by that, I mean more than just making a roast out of it.
So, Piotr prepared a buffet filled with pâté, salami, terrine, rillettes, pickles and cheese to show us just a few ways of preparing goose. He sources his meat only from nearby farms he knows and says "a supermarket goose just doesn't taste the way it should" and once you've sat at his table, you'll be able to confirm what I mean. That being said, I certainly wouldn't want ten different meat products on my table either, but he wanted to point out that each part is used to respect the animal.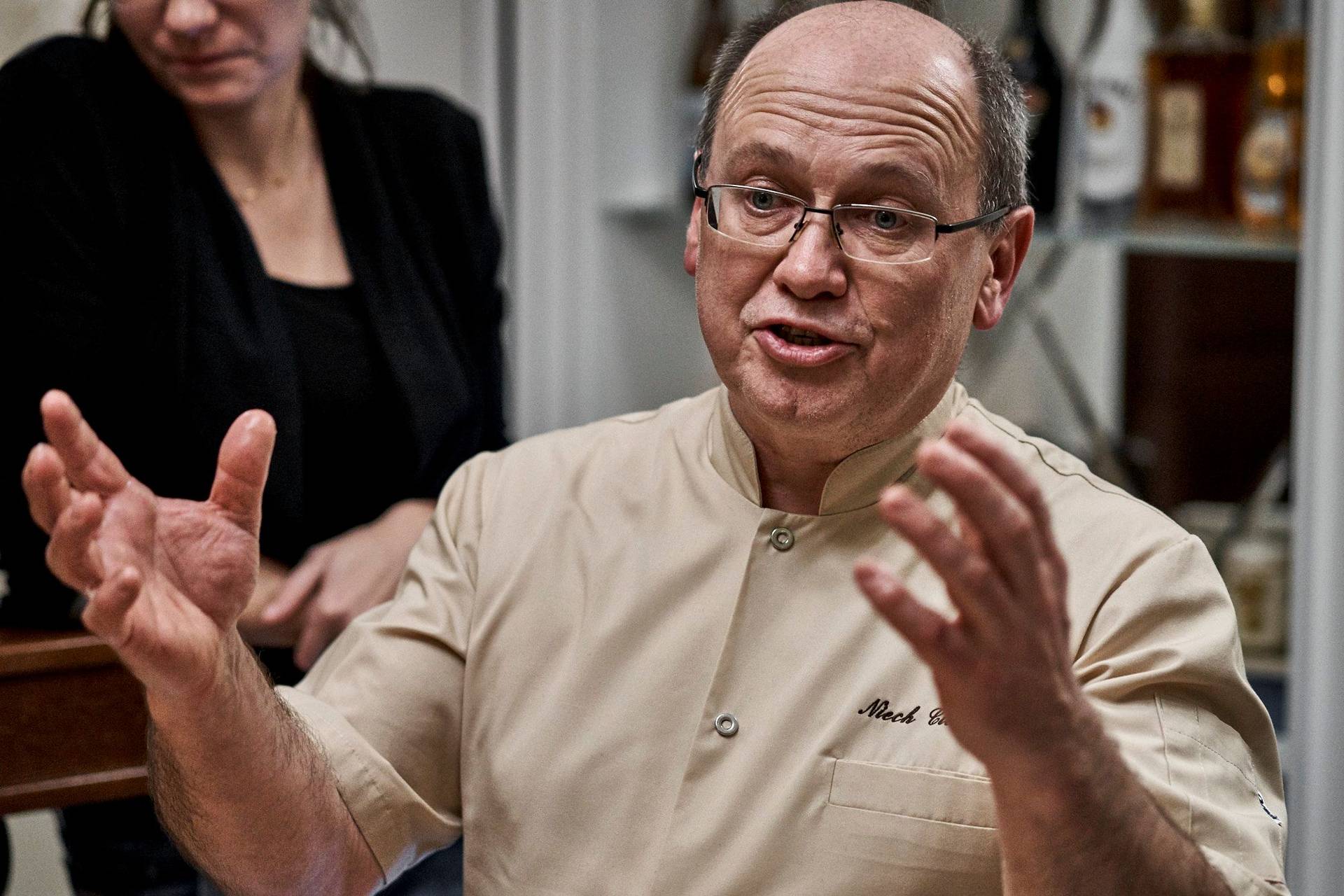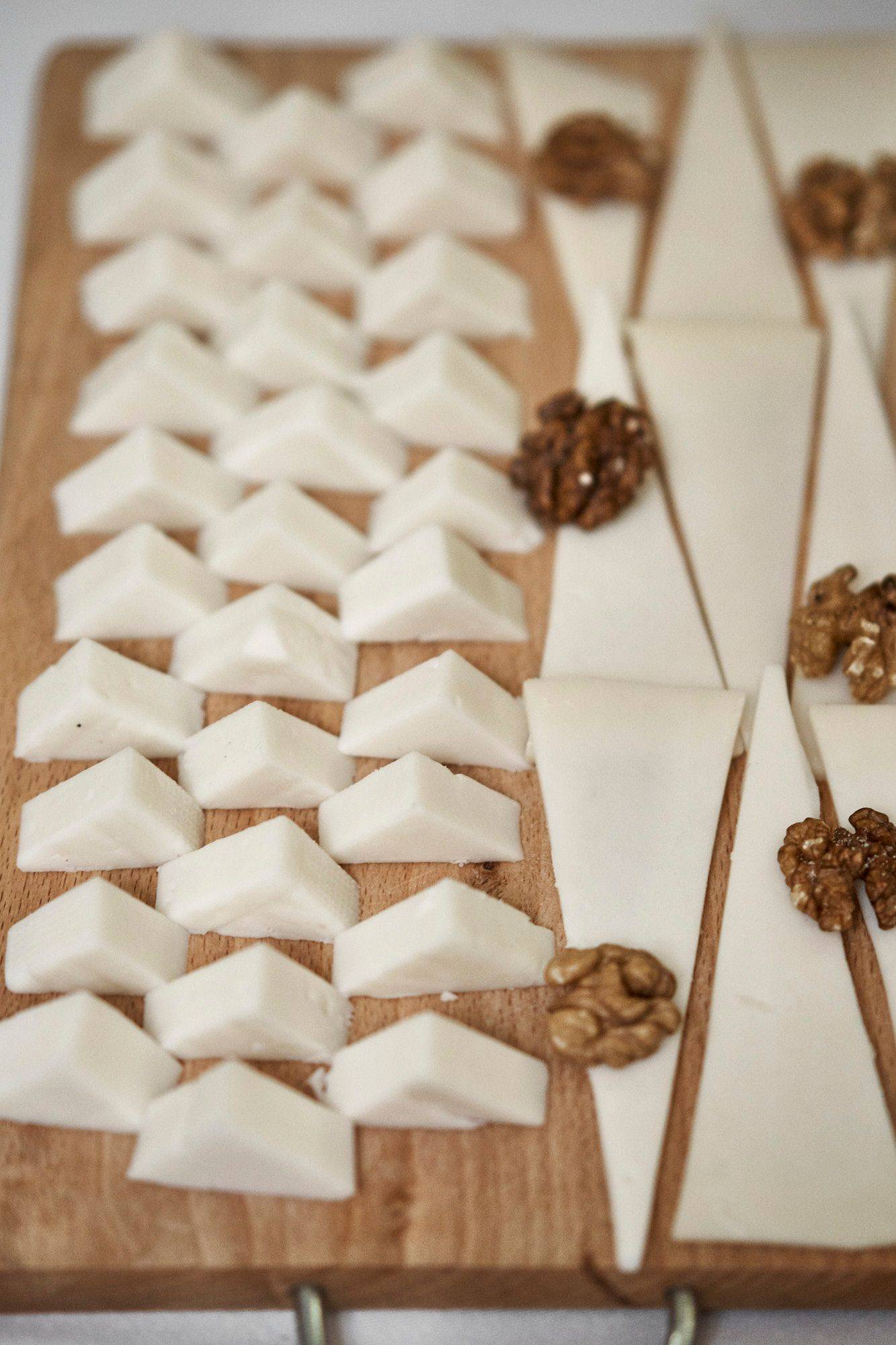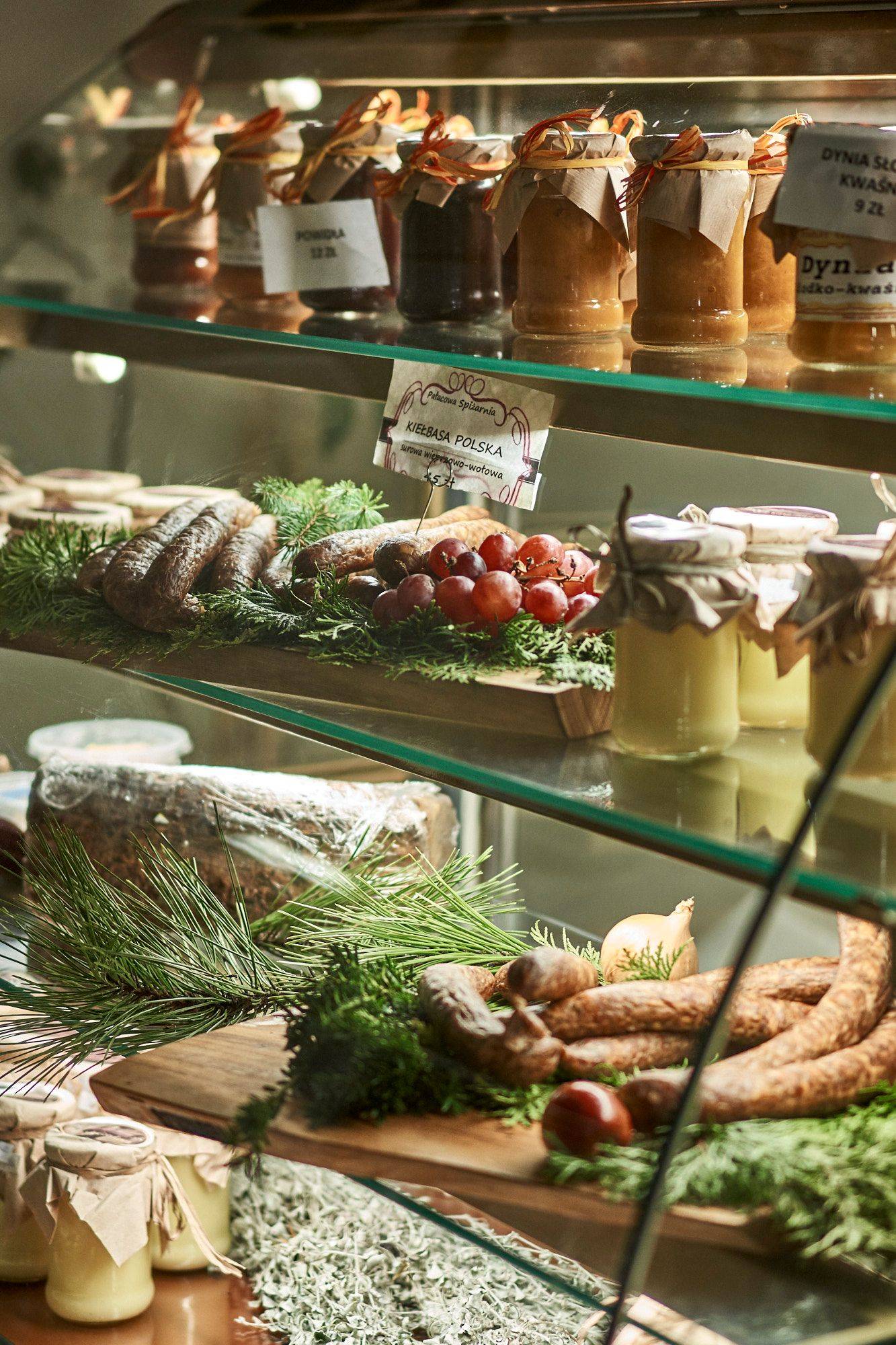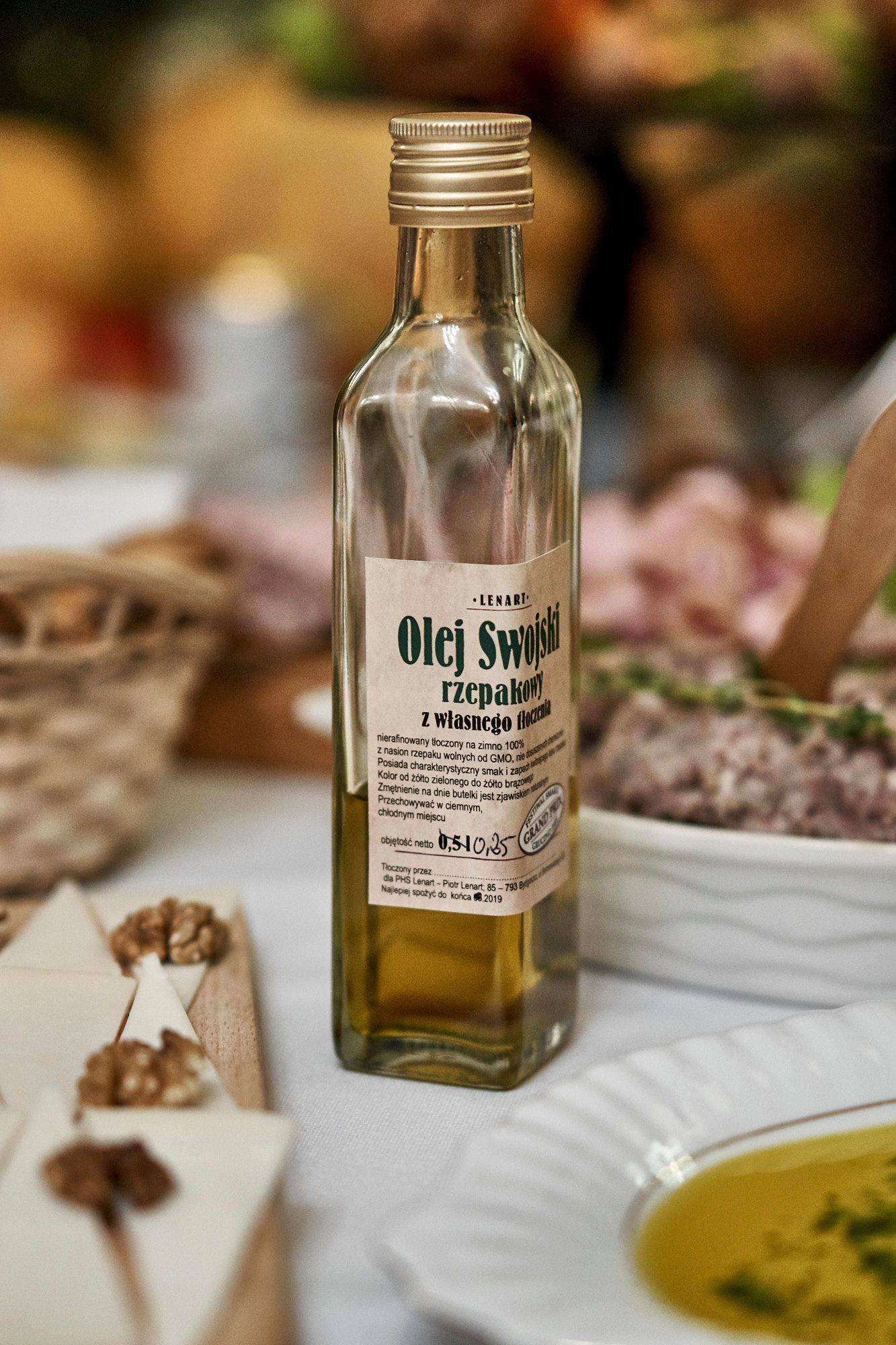 Ham from goose
There were a few standouts that evening that I wanted to highlight here. These were all handmade in the kitchen, of course. The goose ham was certainly a real delicacy. Chef Piotr first trims the breast, which is then salted to age for 10 days. After that, the meat is watered for two hours and dried for another day, but the ham is not ready yet. The ham is now hung and matured in cold smoke for a week and only now it is ready to be served. The result is delicious, if only you are patient enough to wait.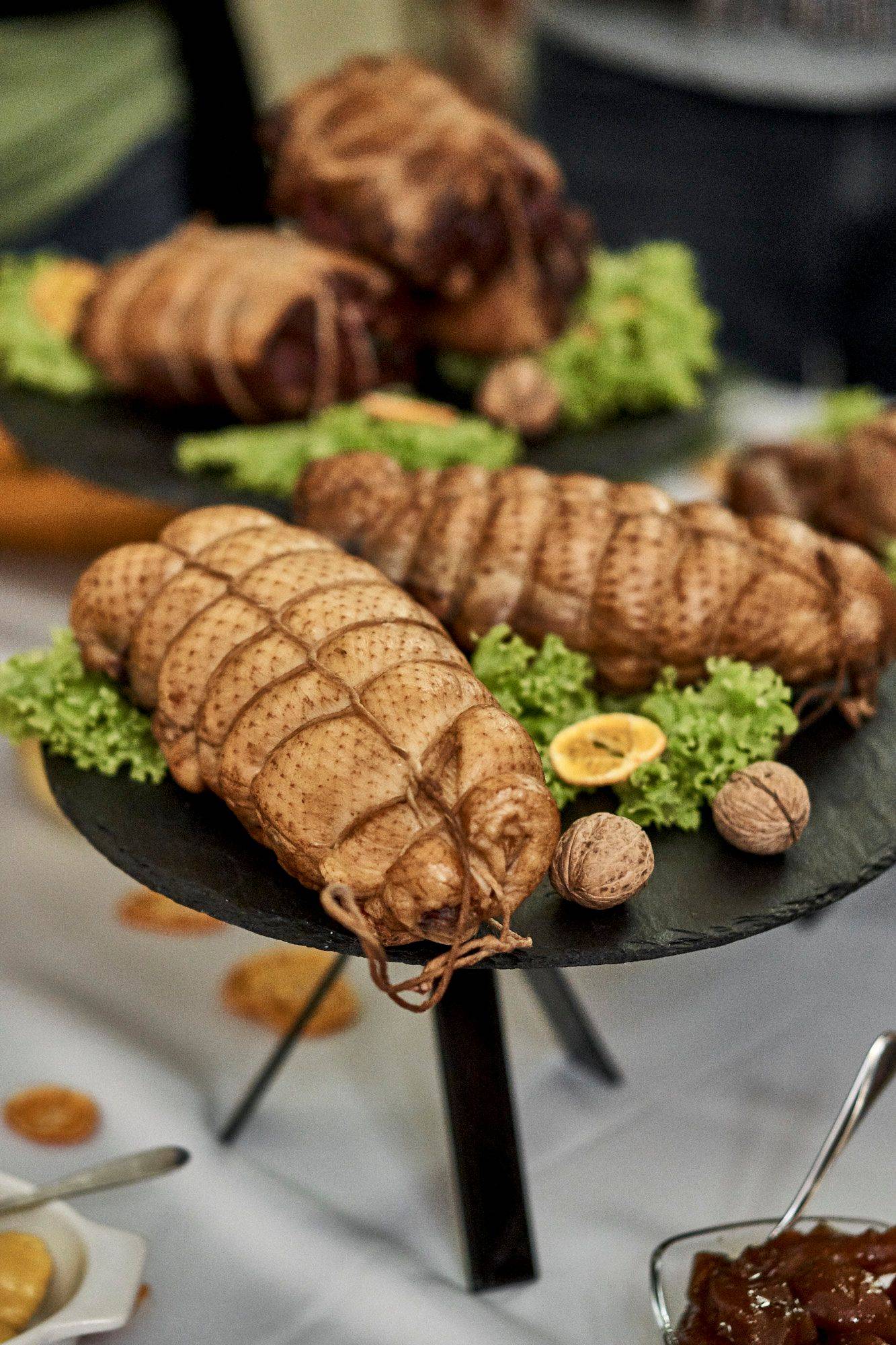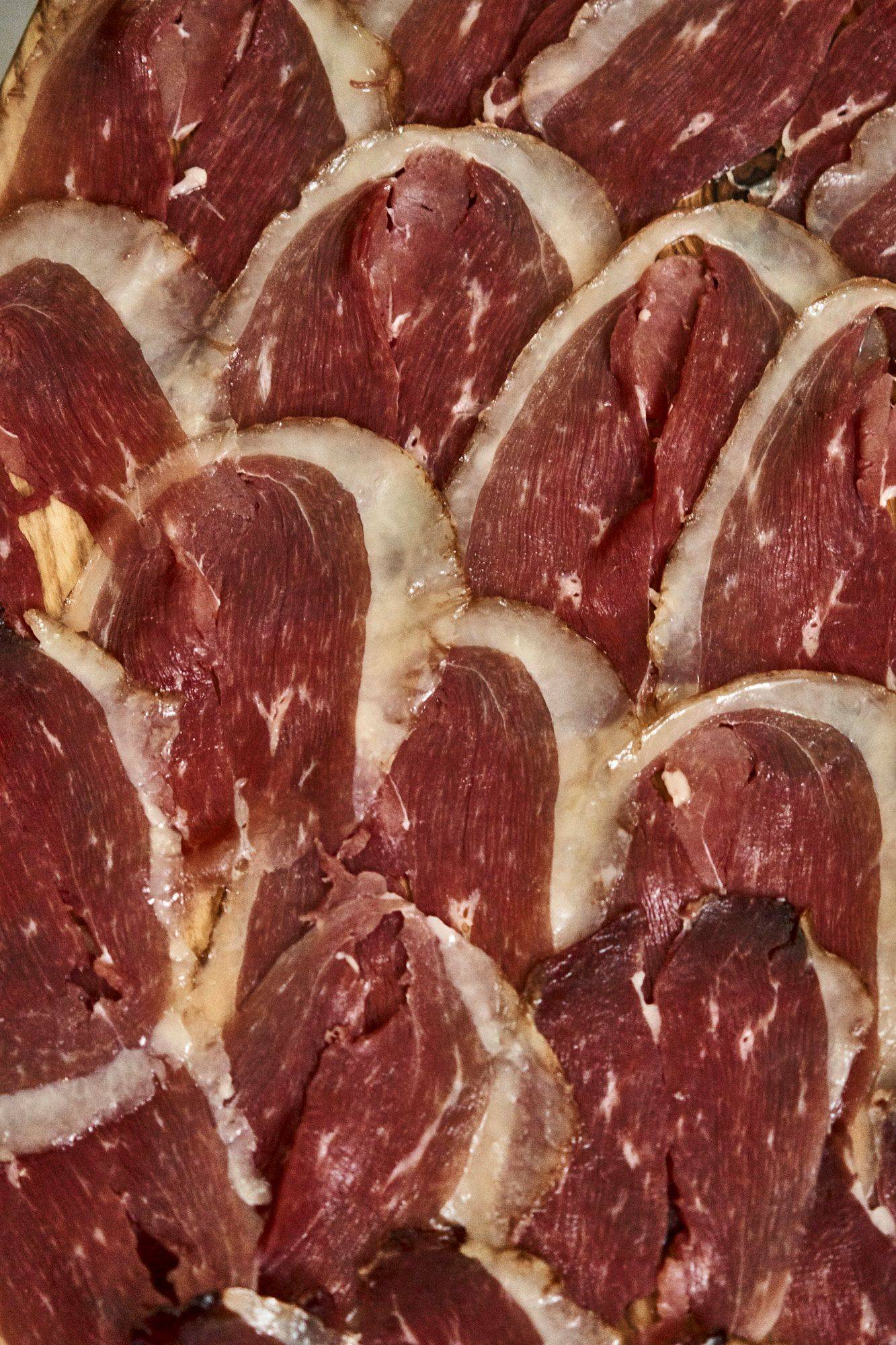 Goose tartare
I know that tartare is nothing new to most of you, but I bet you haven't tried tartare made from goose legs yet. The meat, including the fatty skin, was minced and simply seasoned with salt, pepper and marjoram. Served on a slice of fresh bread, it was unsurpassed in simplicity and flavor on this trip. I will make my own variation of it and share it with you here.
After the cold appetizers, I was actually already full and so were my fellow travelers, but a few more hot dishes were served. Unfortunately, these were hard to tackle, but I had to try the traditional soup made with goose blood. It sounded strange and really not enticing, but my curiosity got the better of me and it turned out to be worth trying. It was cooked with blood, dried fruits and plum vinegar and served with tiny dumplings in it. The soup reminded me a lot of some recipes from the southern parts of Germany, where offal is also cooked sweet and sour. So, if you ever get to Poland and are in the area, you should definitely book a table at the Gozdawa Palace and experience Piotr's food!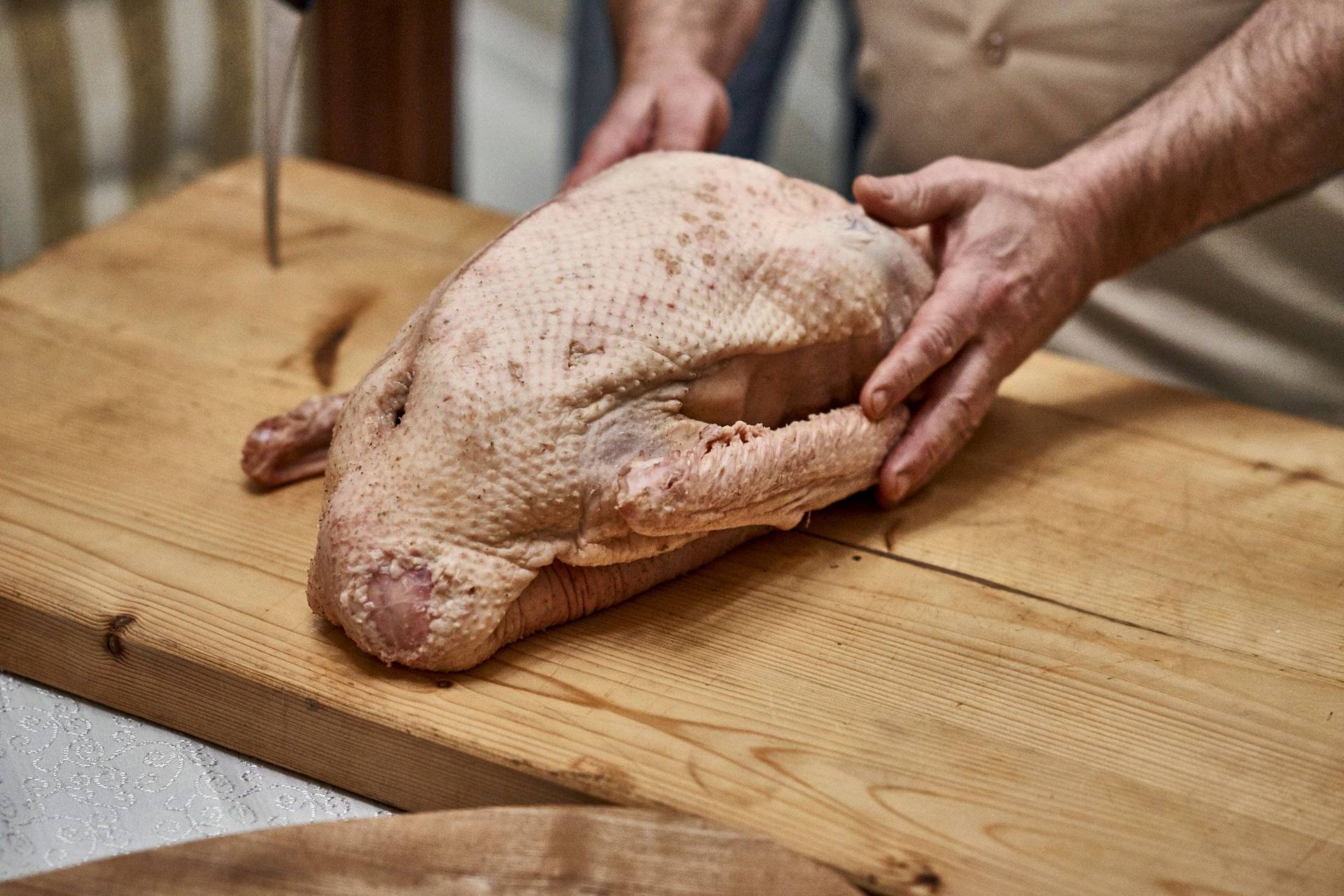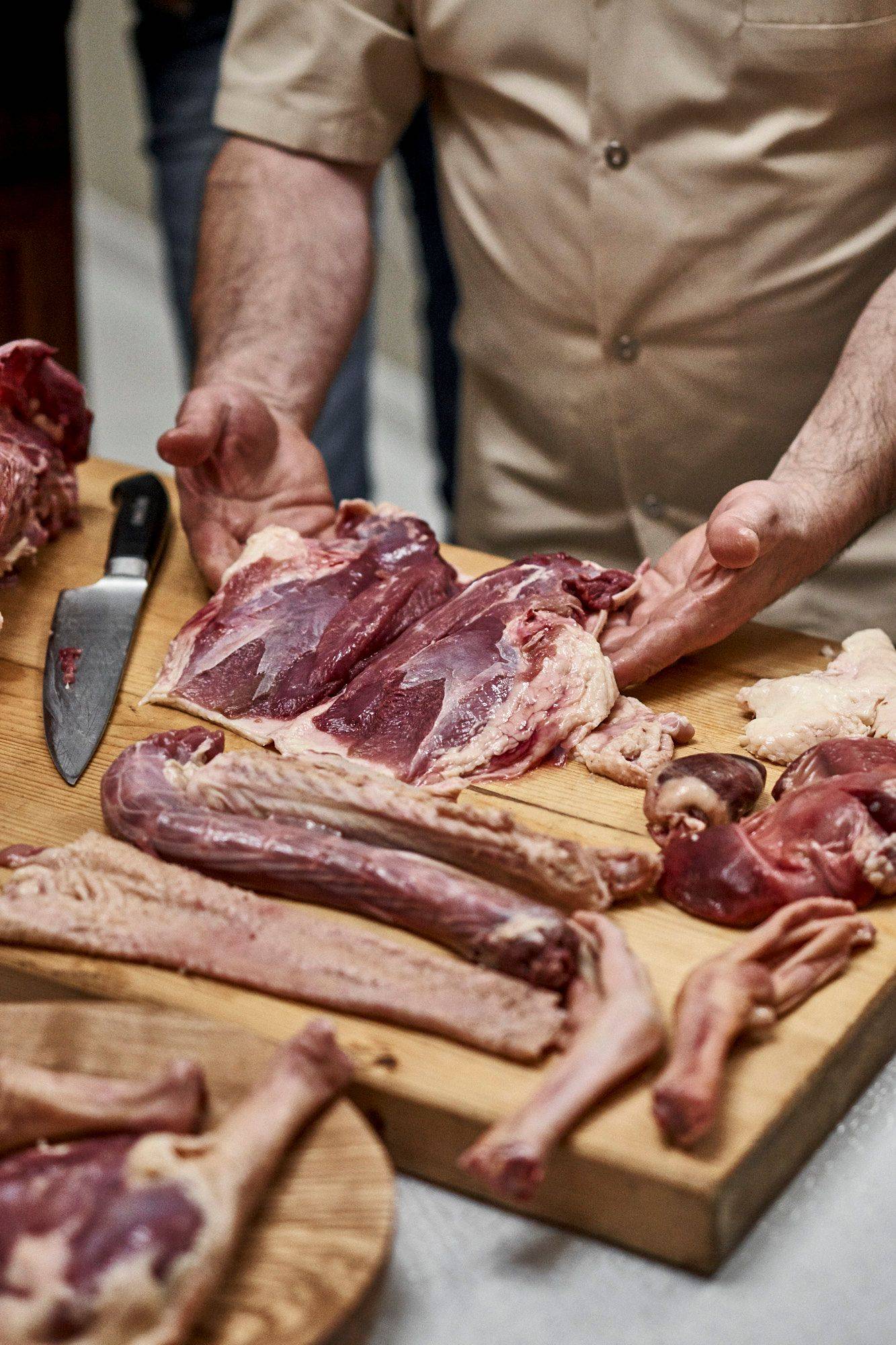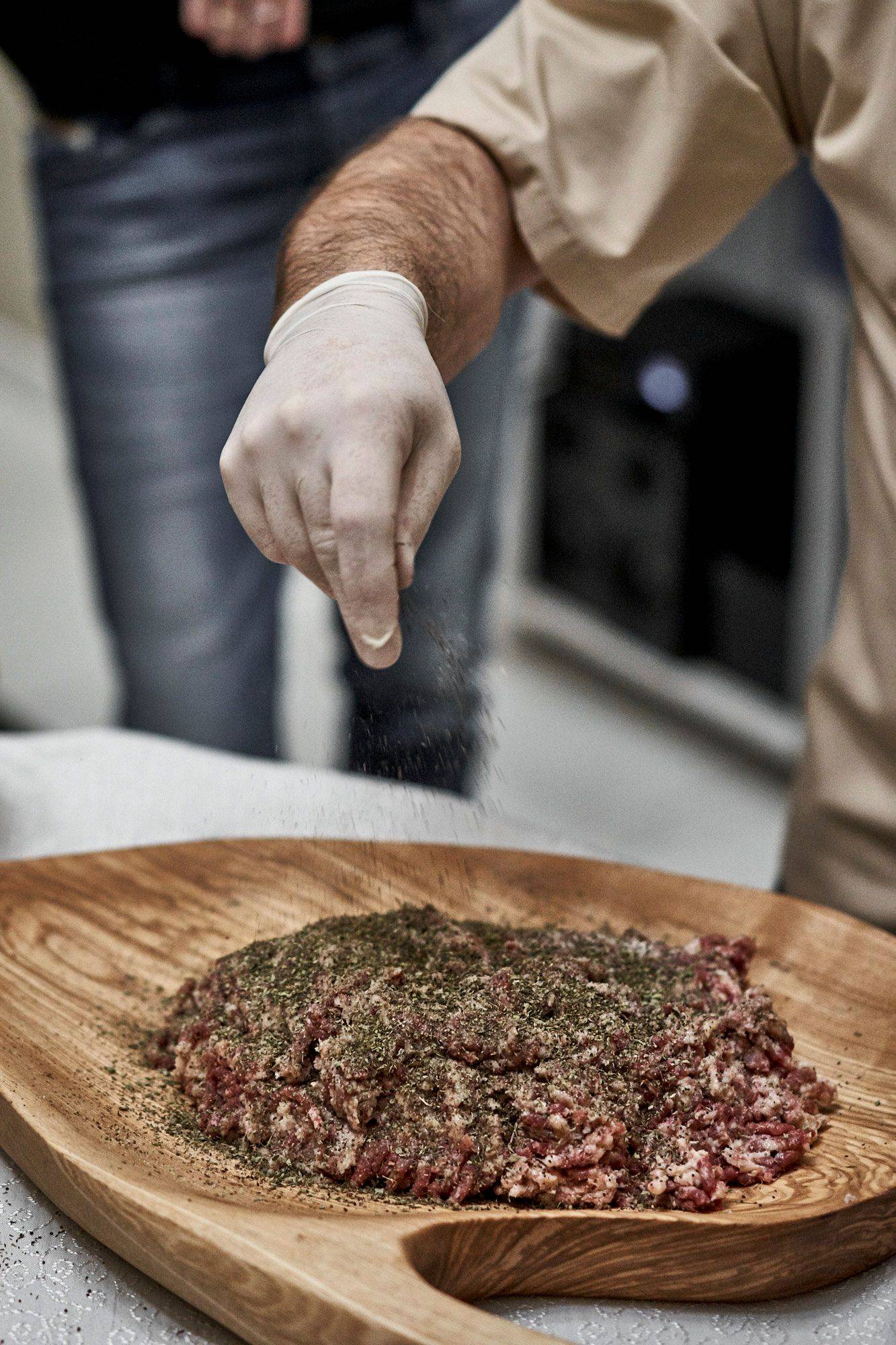 Toruń
After a hard night with only little sleep, because of all the food Piotr served, we drove to Toruń. One of the few relics of Toruń's medieval flavor is the famous Toruń gingerbread or pepperbread. It is one of the most famous products from here, along with Nicolaus Copernicus, whose history dates back to the 14th century. At that time, the city was a very wealthy Hanseatic city, which also imported spices from the Far East and spices were considered very valuable at that time.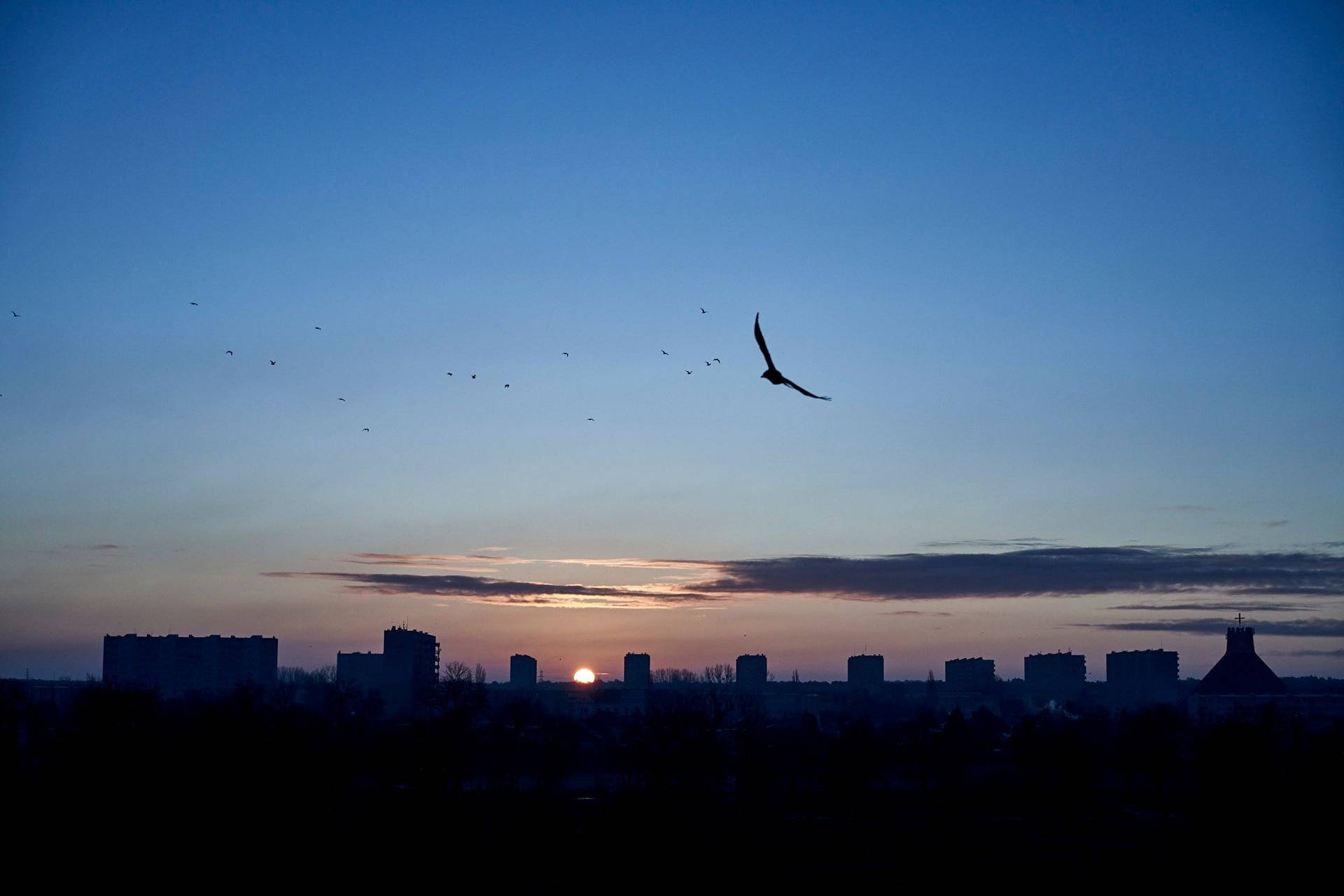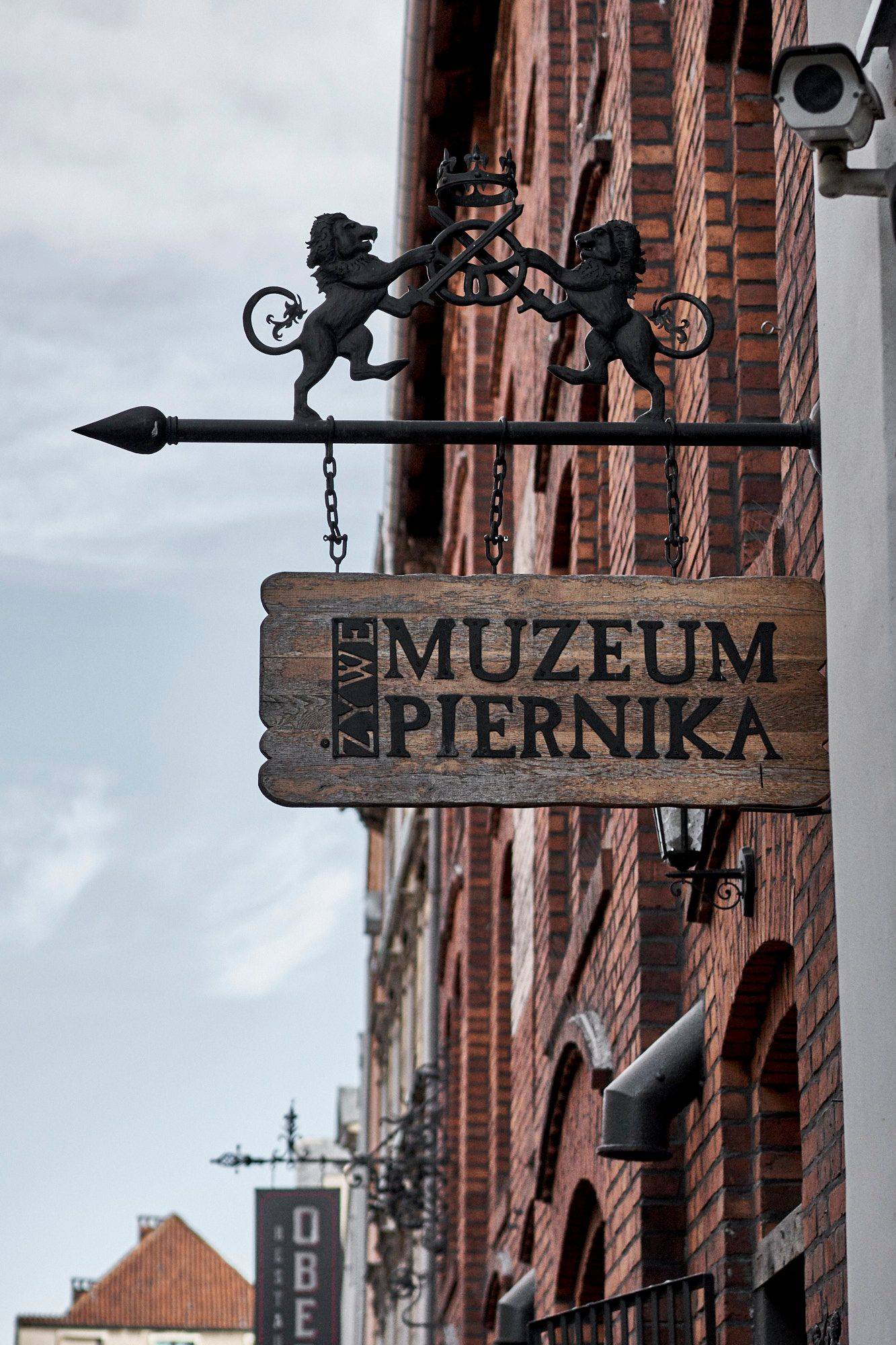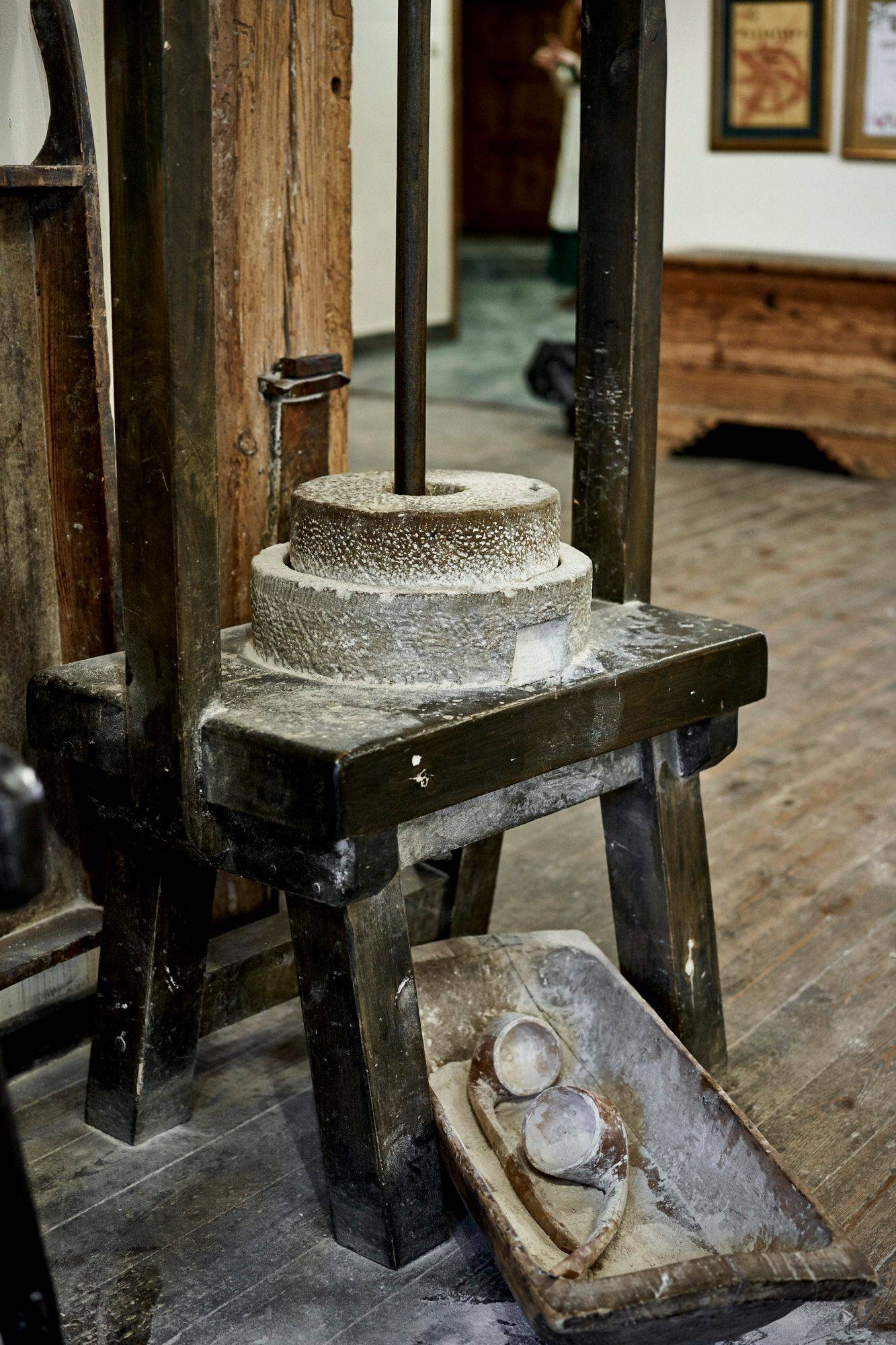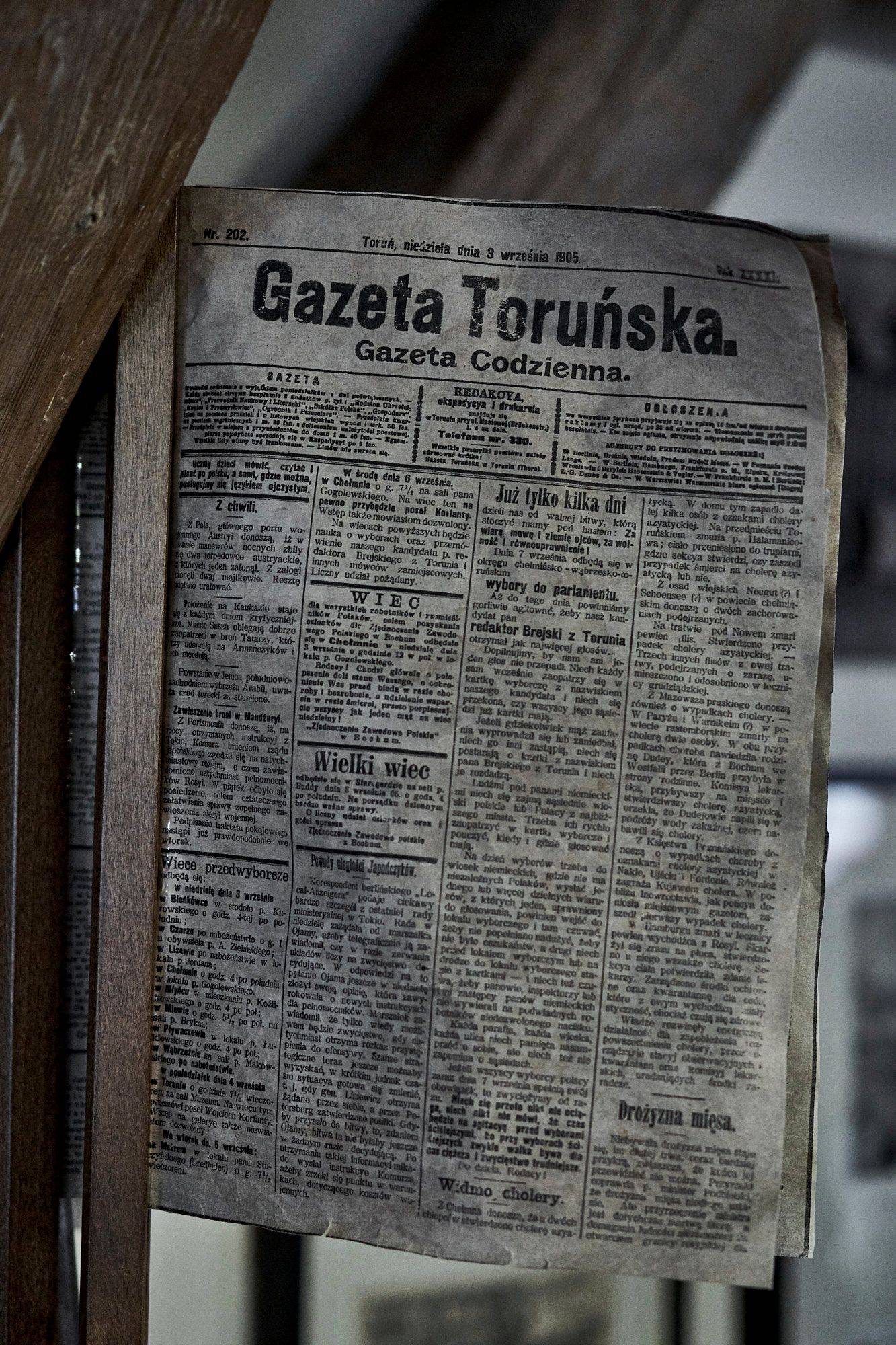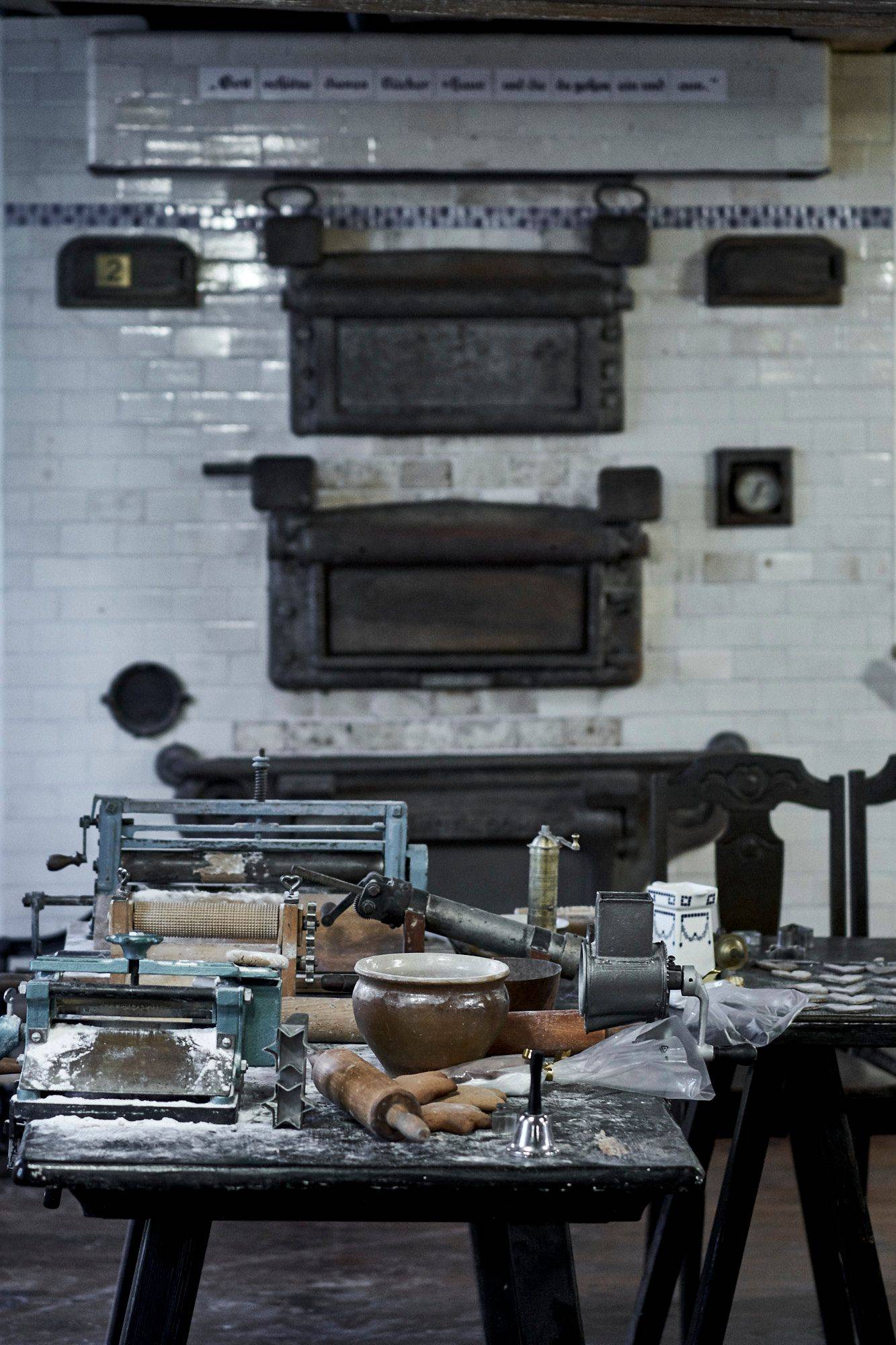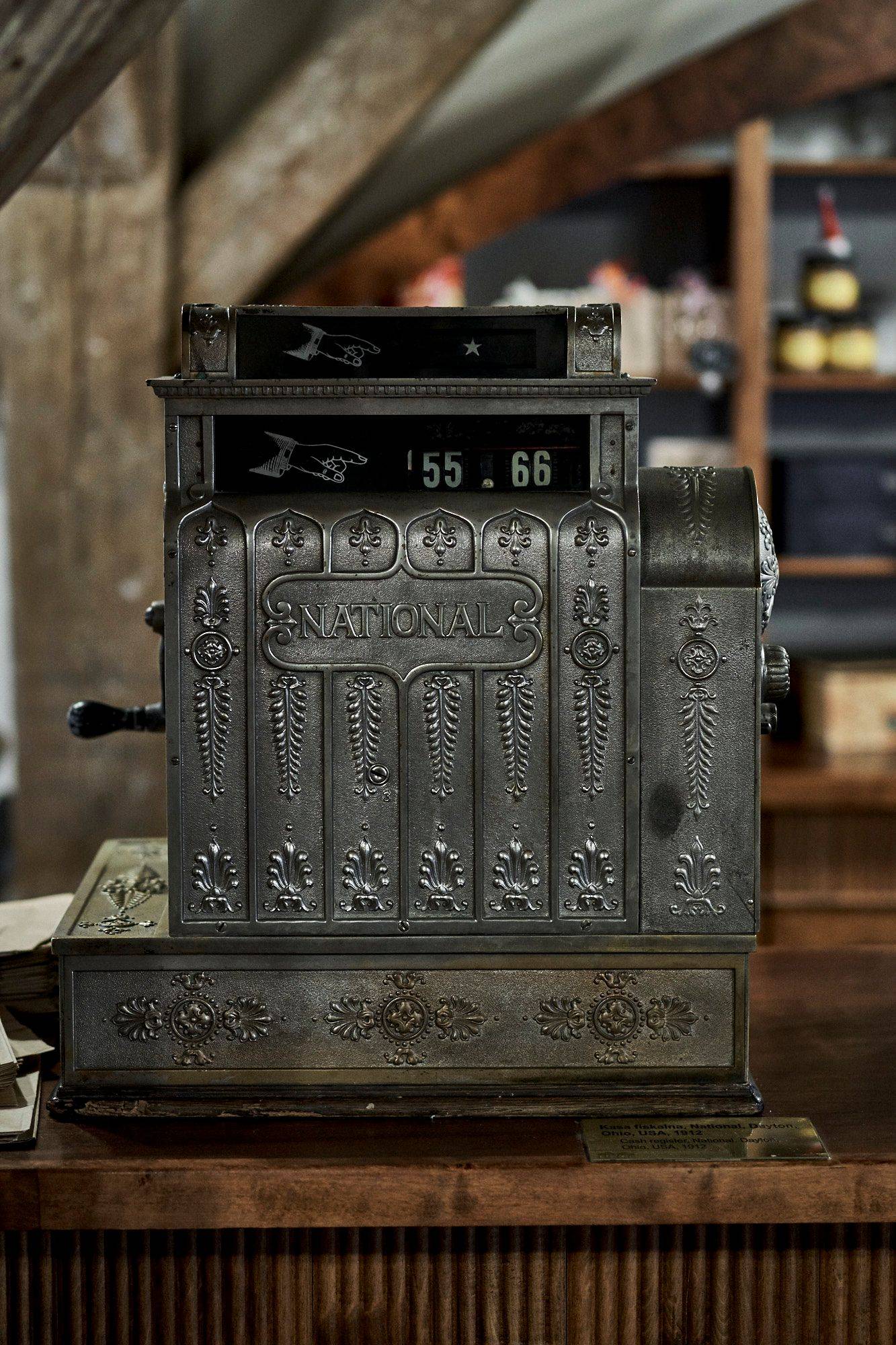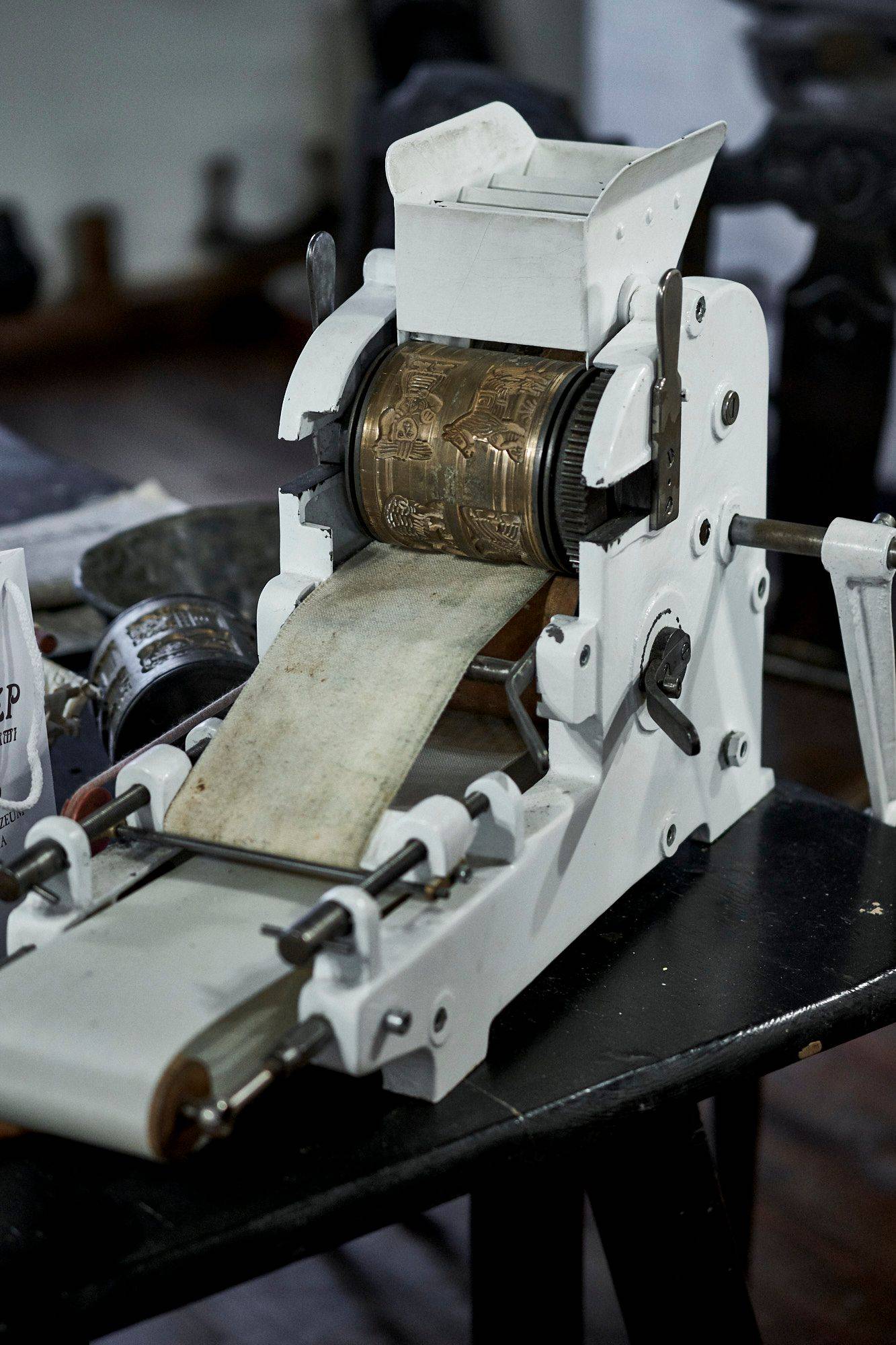 Making our own gingerbread
A visit to the Gingerbread Museum to bake our own gingerbread made us travel back in time a bit. Under the stern eyes of the gingerbread master, we prepared a dough as it was made already hundreds of years ago, without the time to mature, of course. Kneading flour, honey and the spices together, we were able to shape our desired gingerbread pieces in no time, all in a traditional setting with a very entertaining master.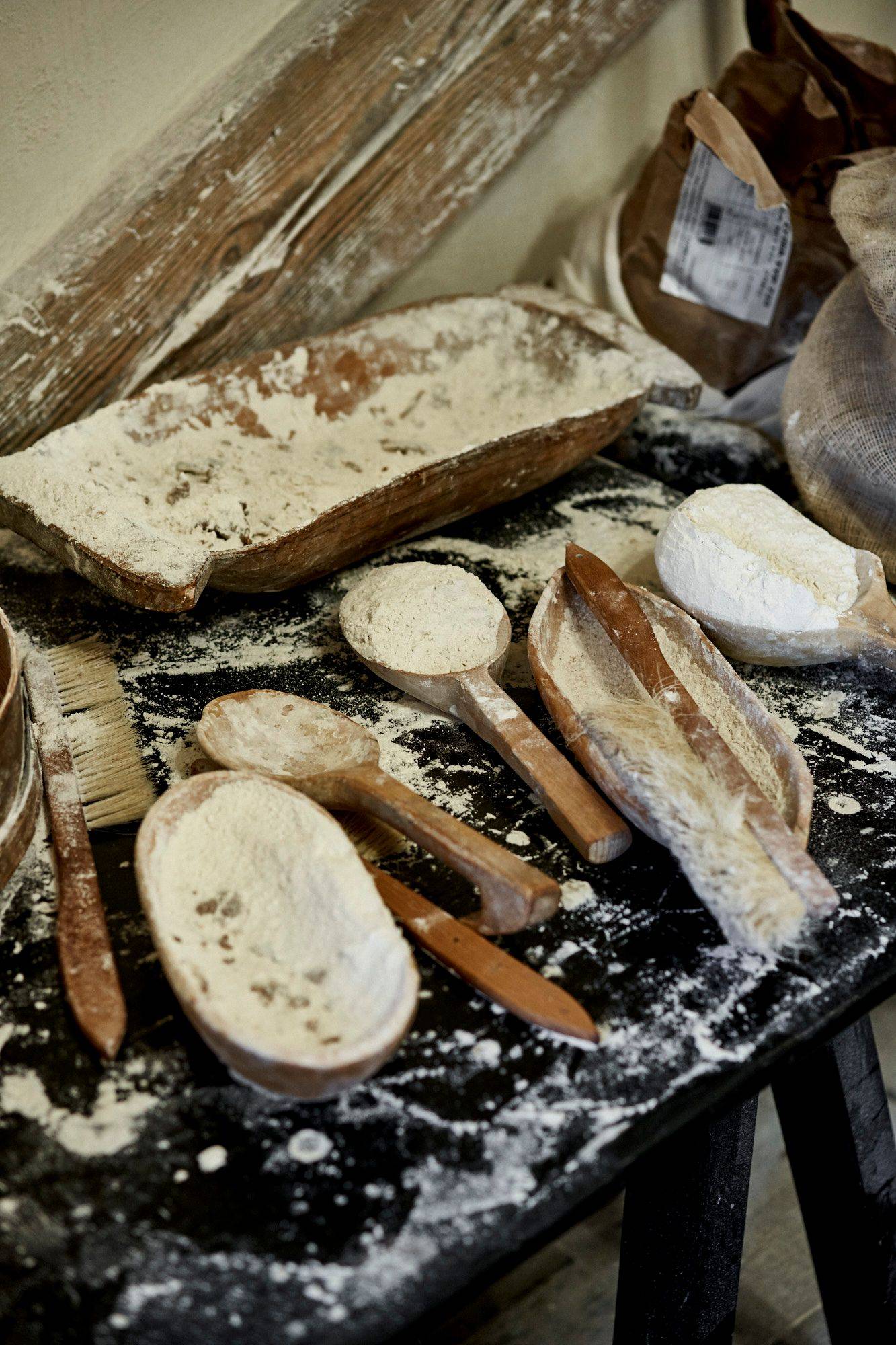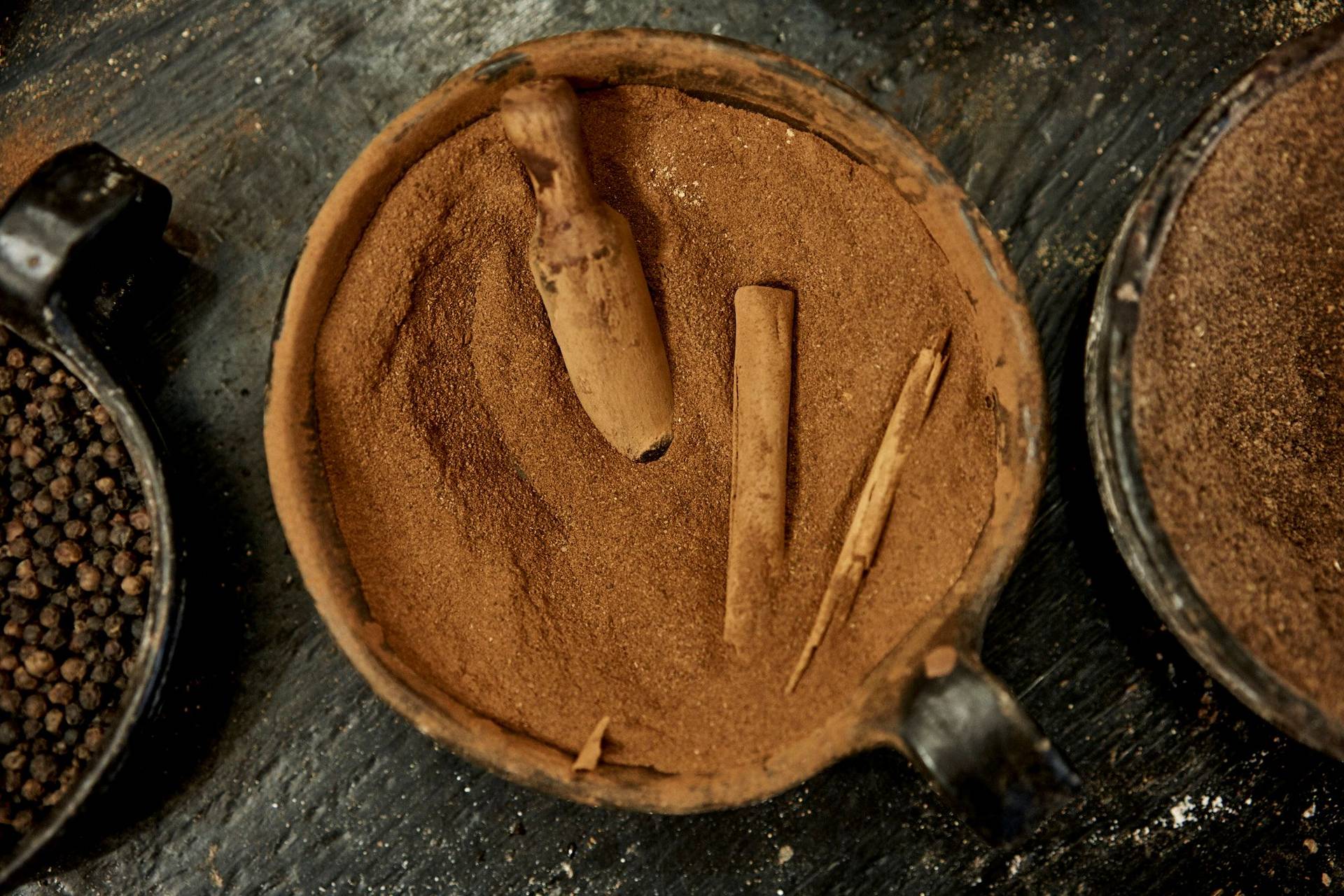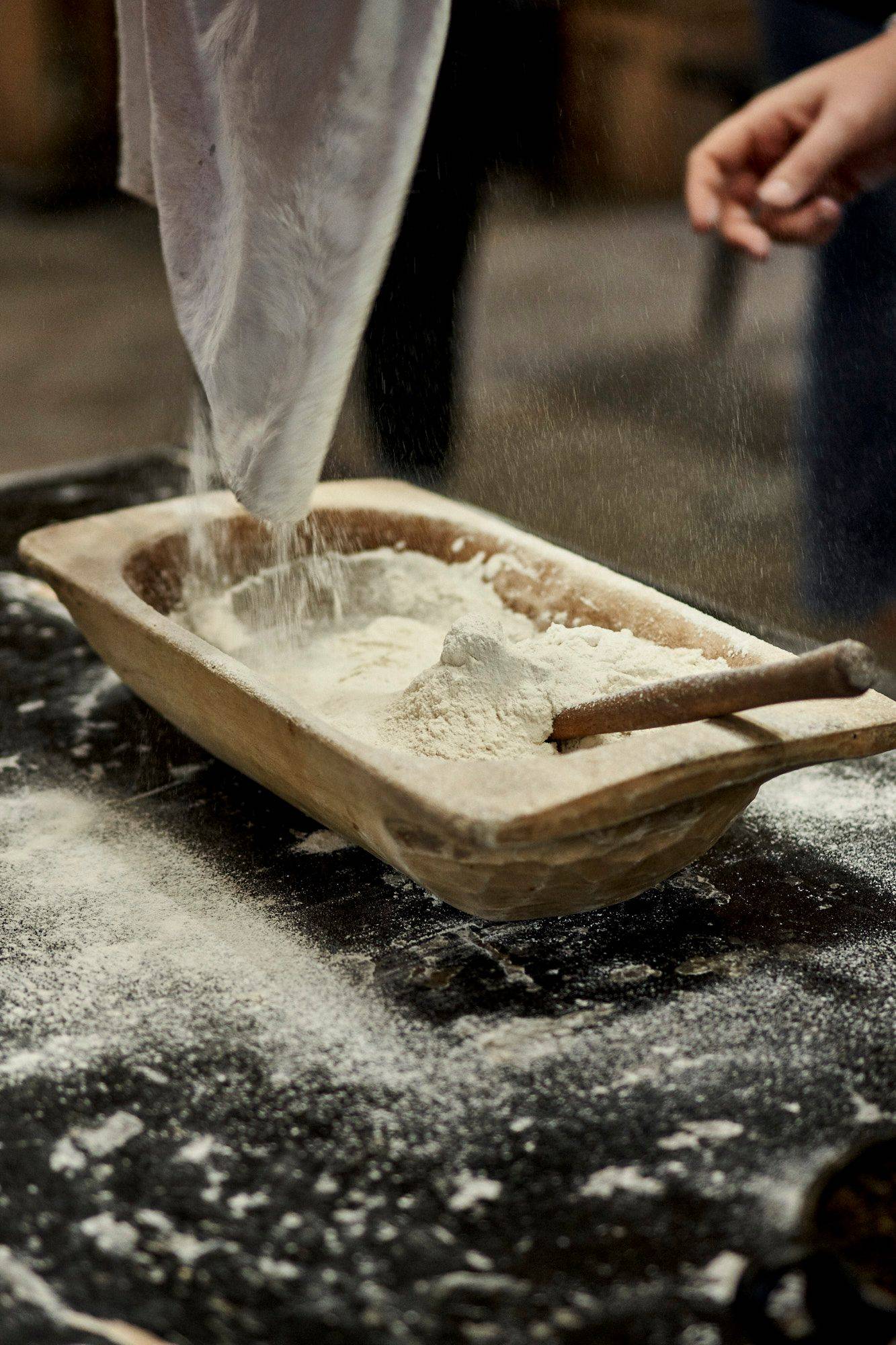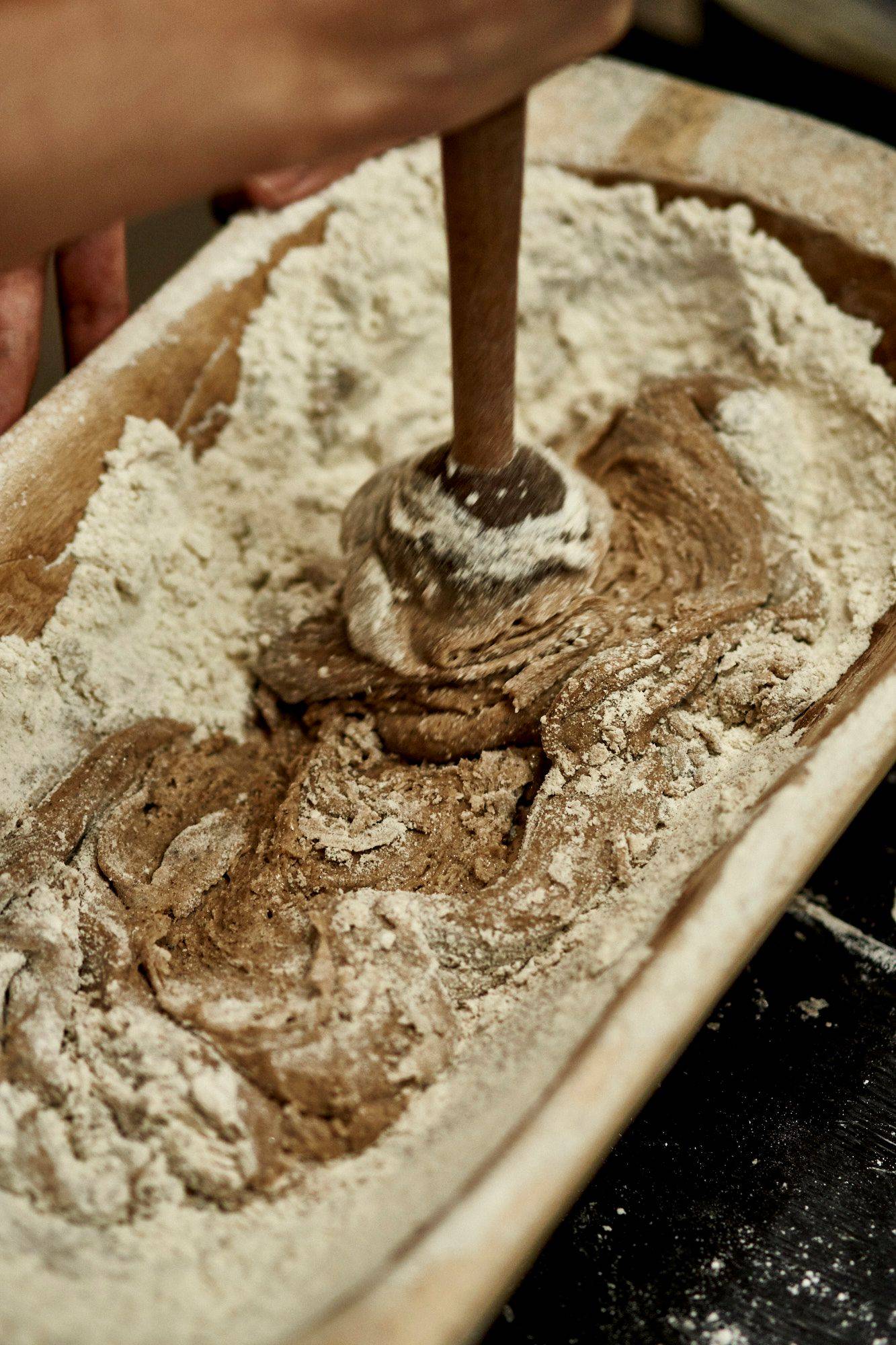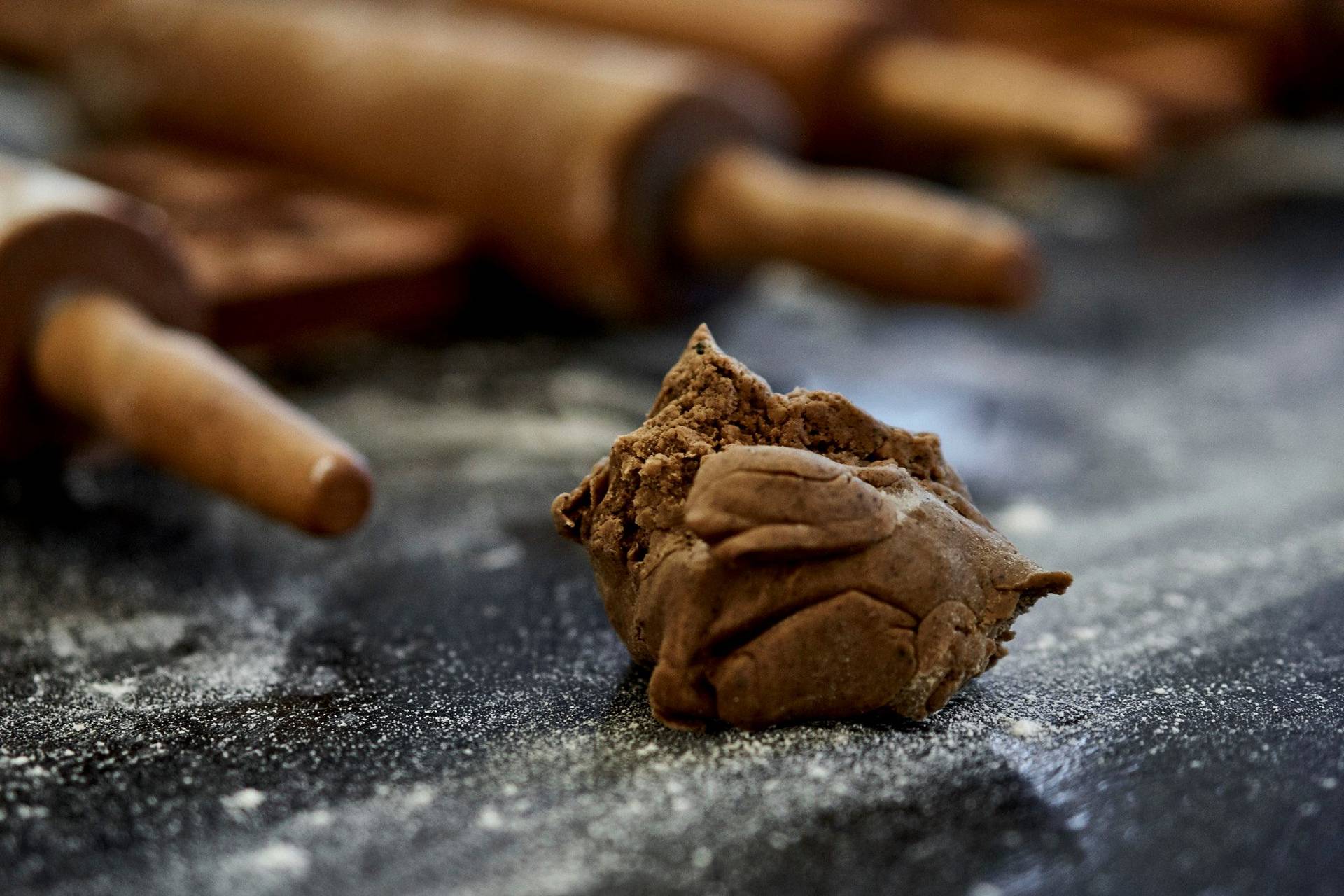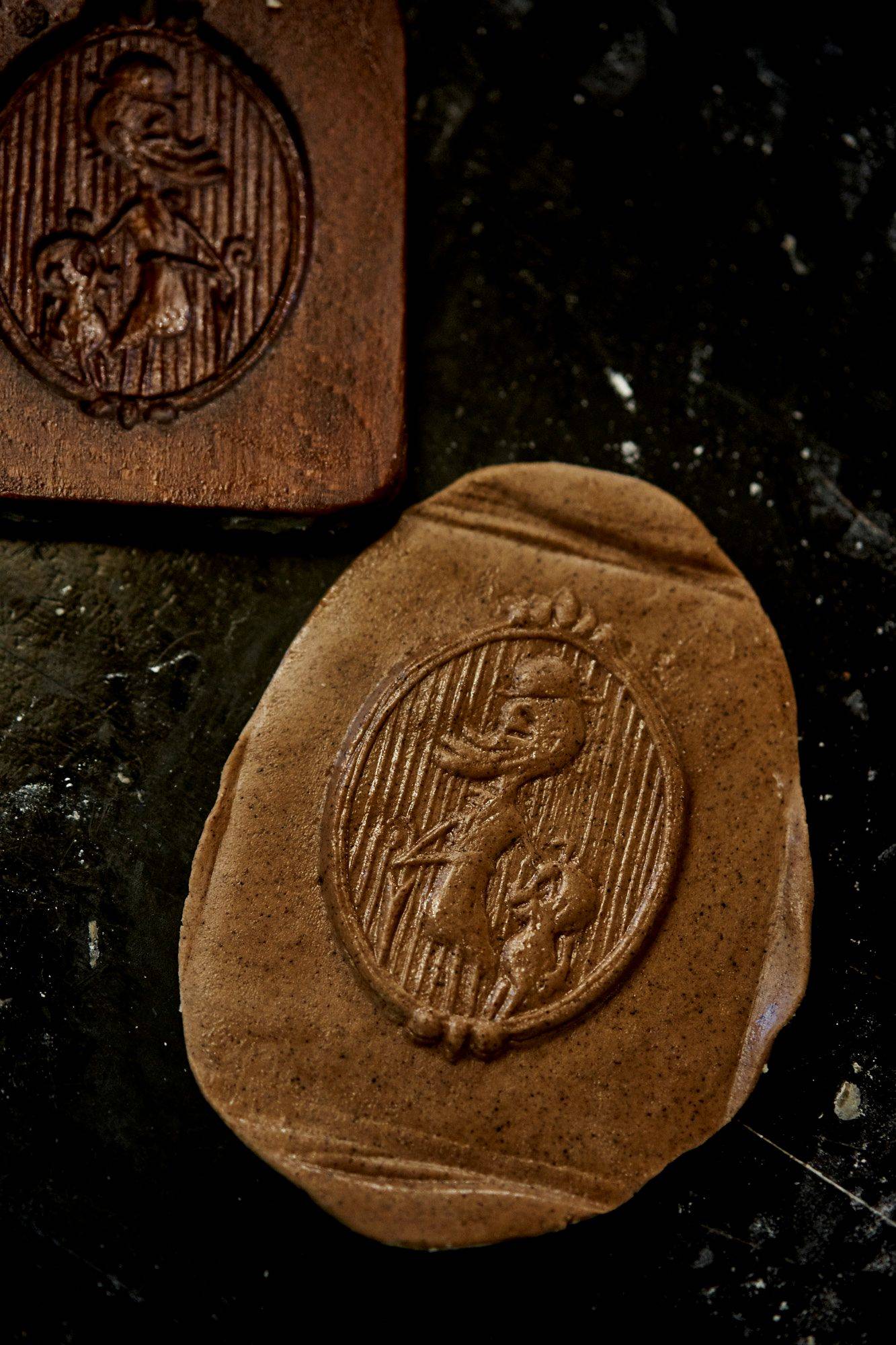 Gingerbread - delicious and pretty
All of us are familiar with the big gingerbread hearts sold at fairs, but apart from the fact that they don't even taste good, the decoration on those is rather poor. After baking our pieces, we went upstairs to be shown how to properly decorate a gingerbread. Tiny piping bags filled with different colored icing were handed out to us so we could paint our ideas on the gingerbread. It was fun to see all the different unique pieces and we were able to watch one lady even making a piece of art out of it, which was very impressive. The Gingerbread Museum, a very fun place for kids and adults alike.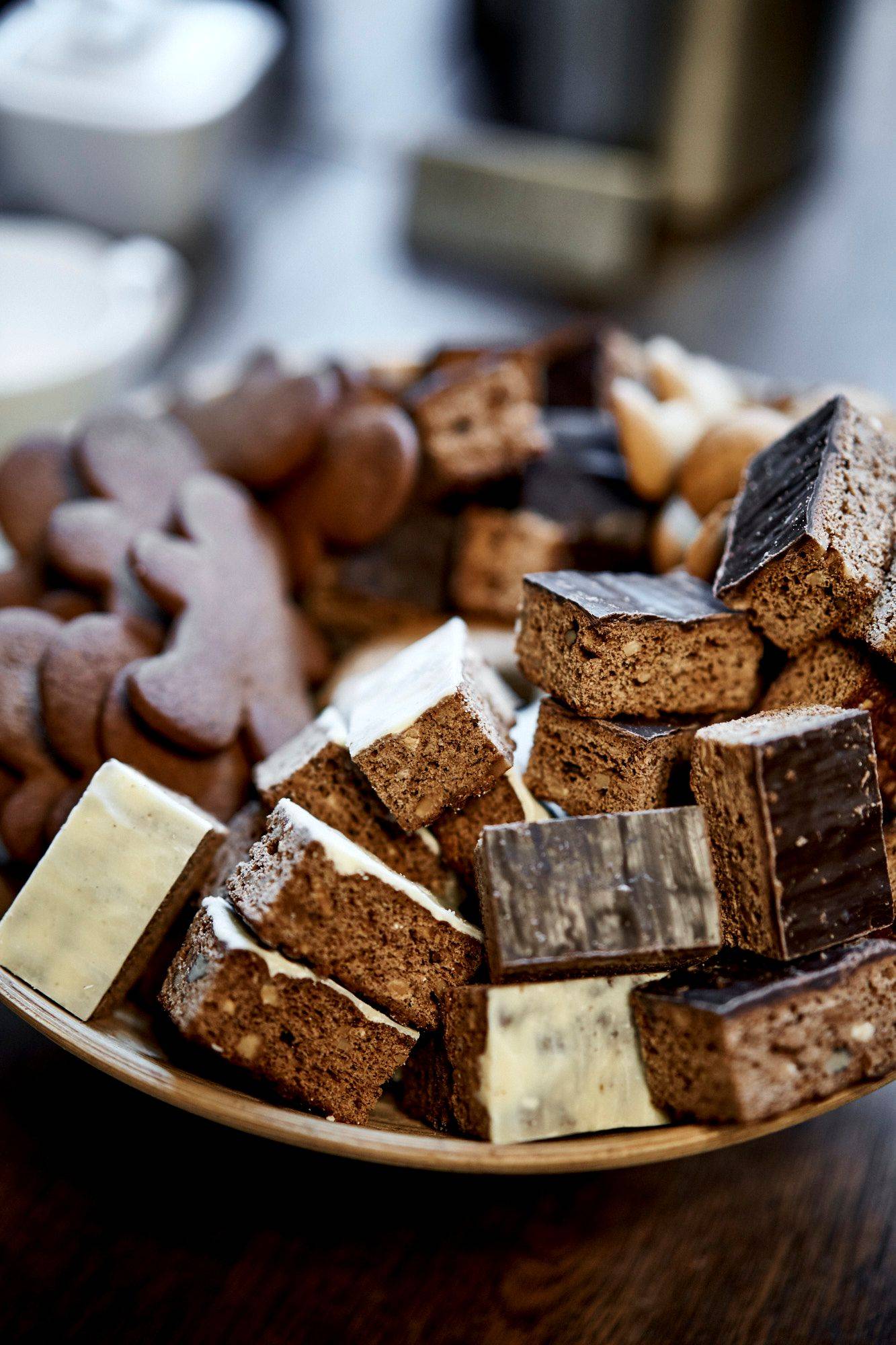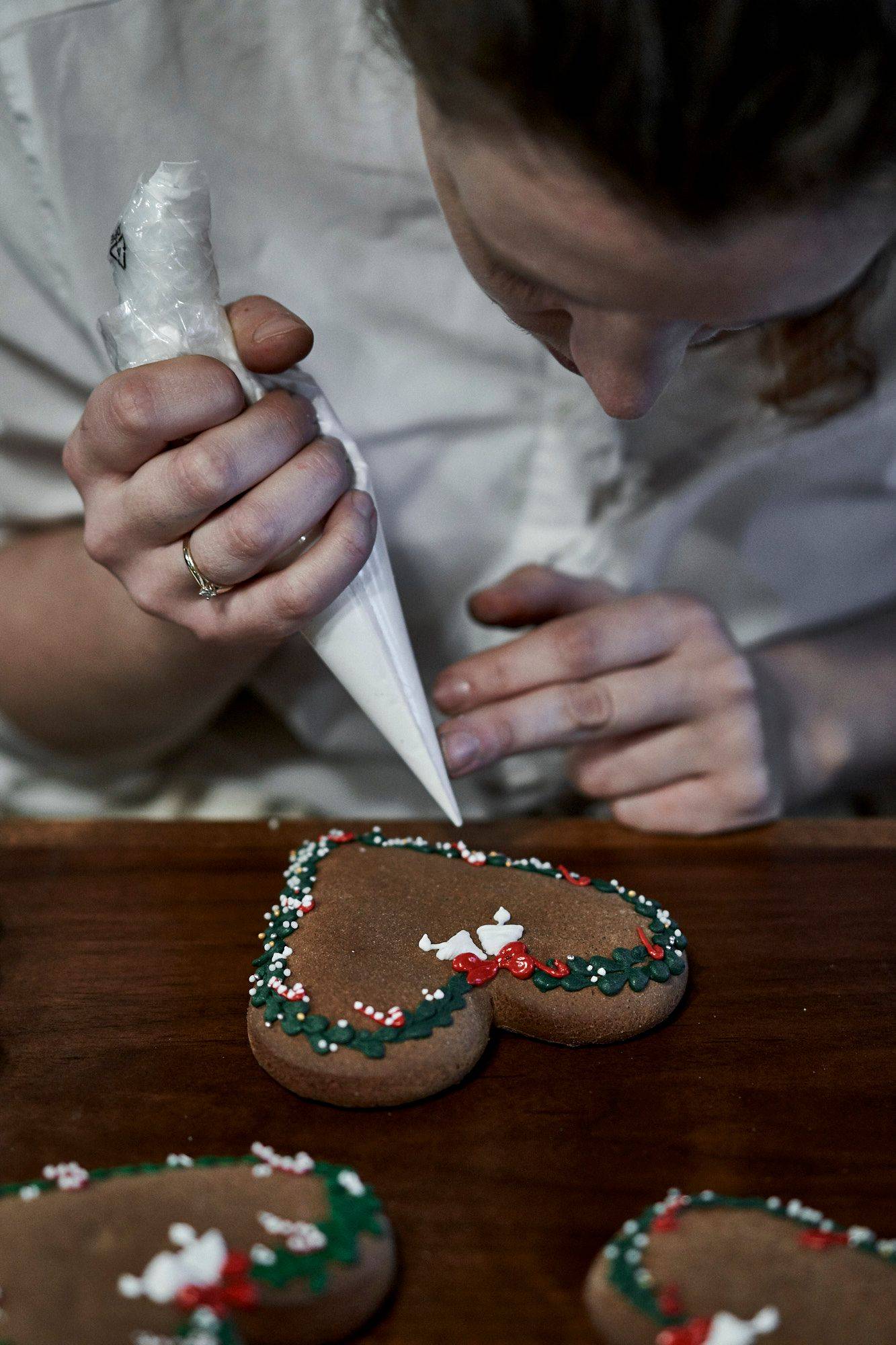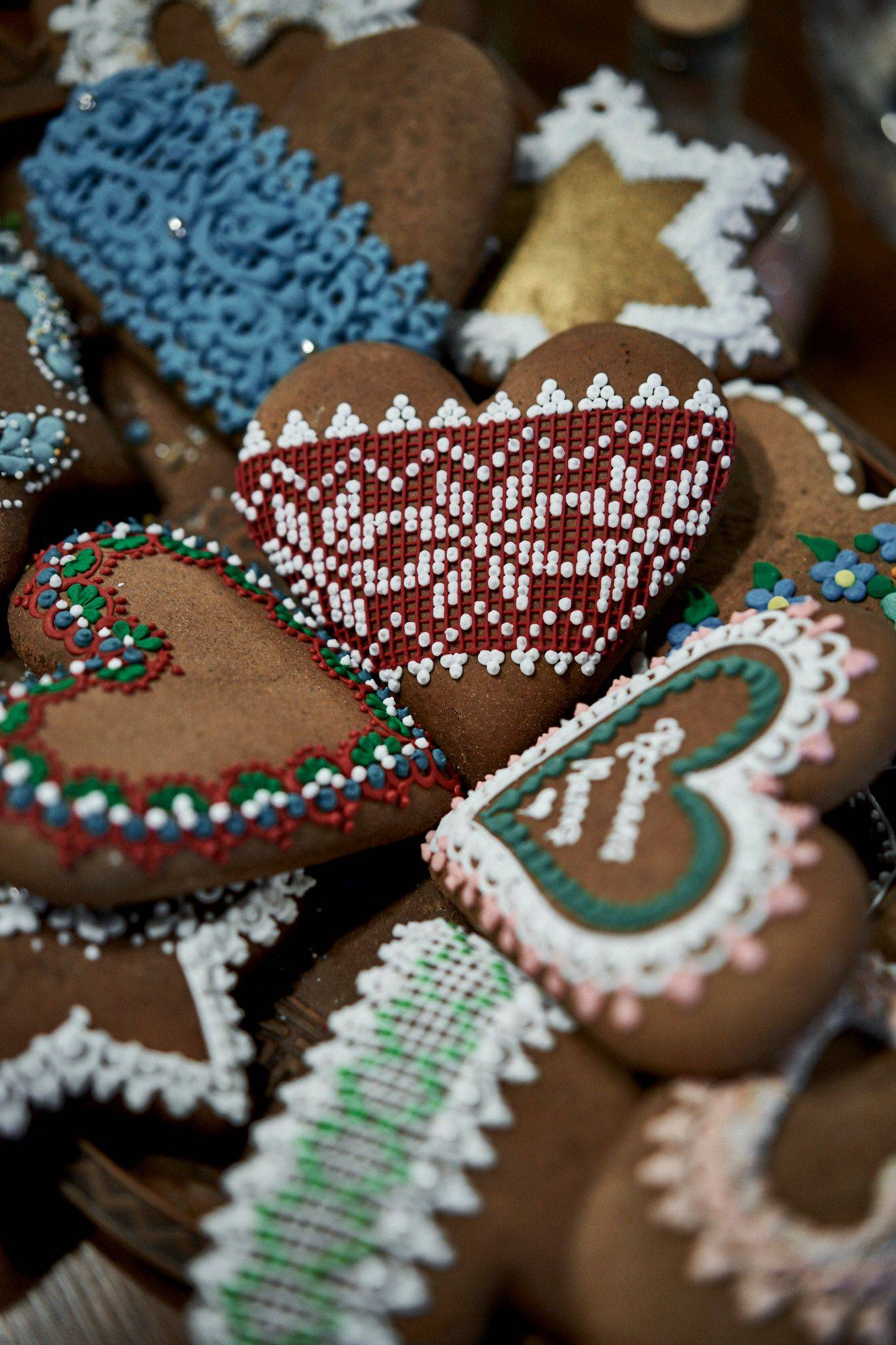 Restaurant 4 Pory Roku
Just reading this text, you can tell there was no way there was a time when a feeling of hunger could have come up, but hey, that was the whole purpose of this trip and we had limited time to try as much as we could. On a guided tour of the city, our path led to the restaurant 4 Pory Roku, which translates to "four seasons". Chef Ariel Gomez Carusso, originally from Buenos Aires, served fresh and regionally sourced products and is a more contemporary chef, albeit with strong influences from his grandmother.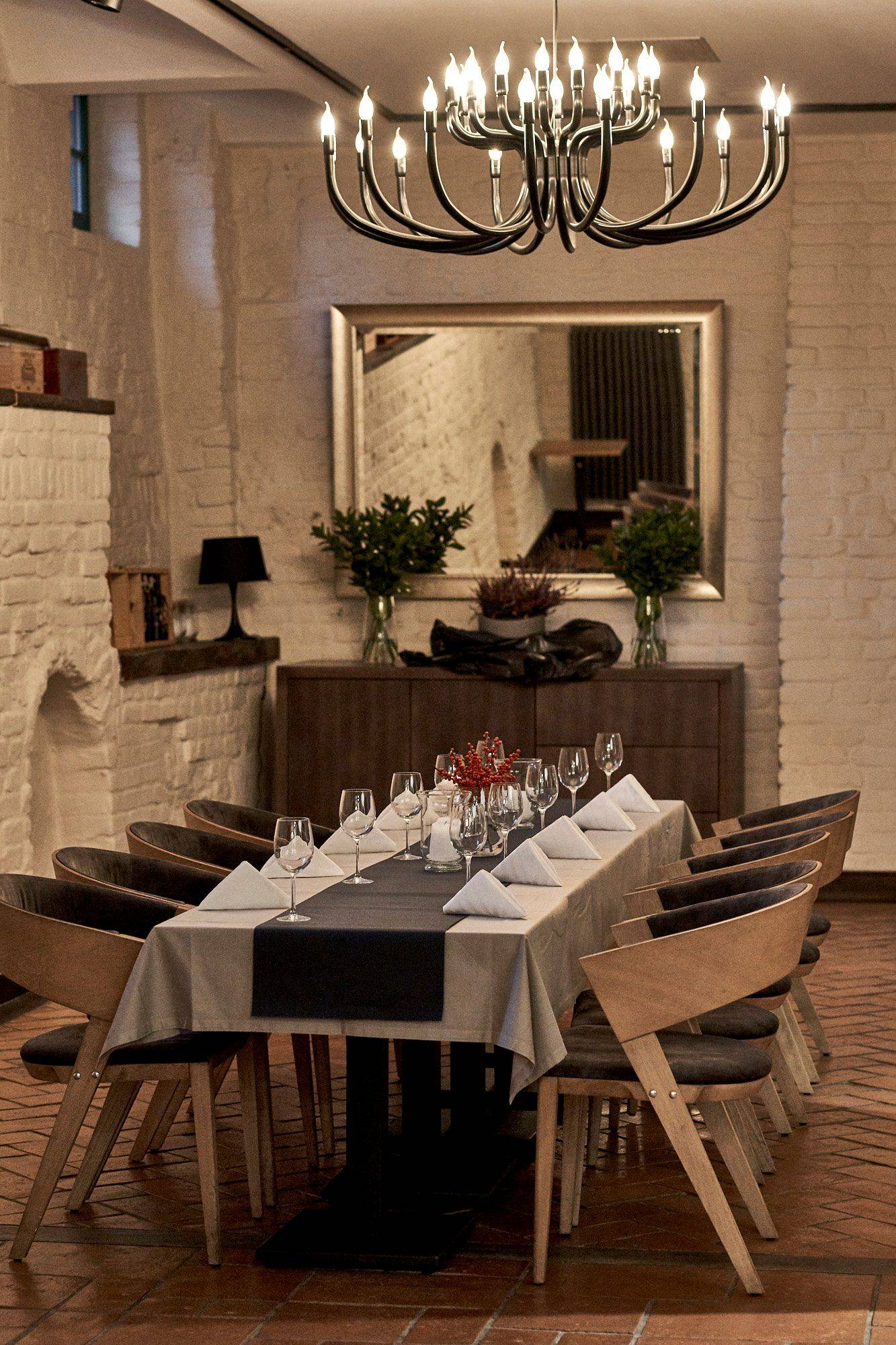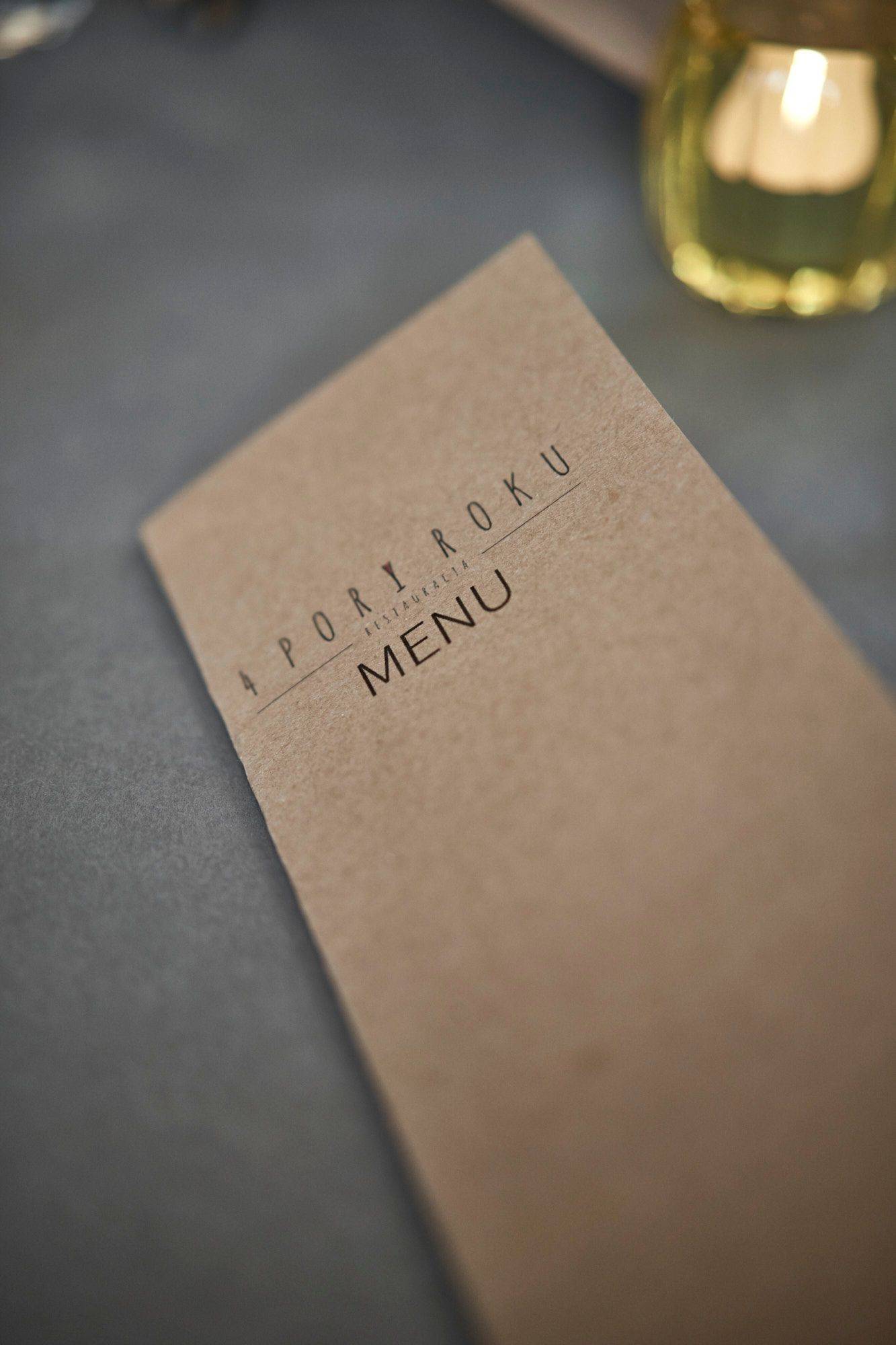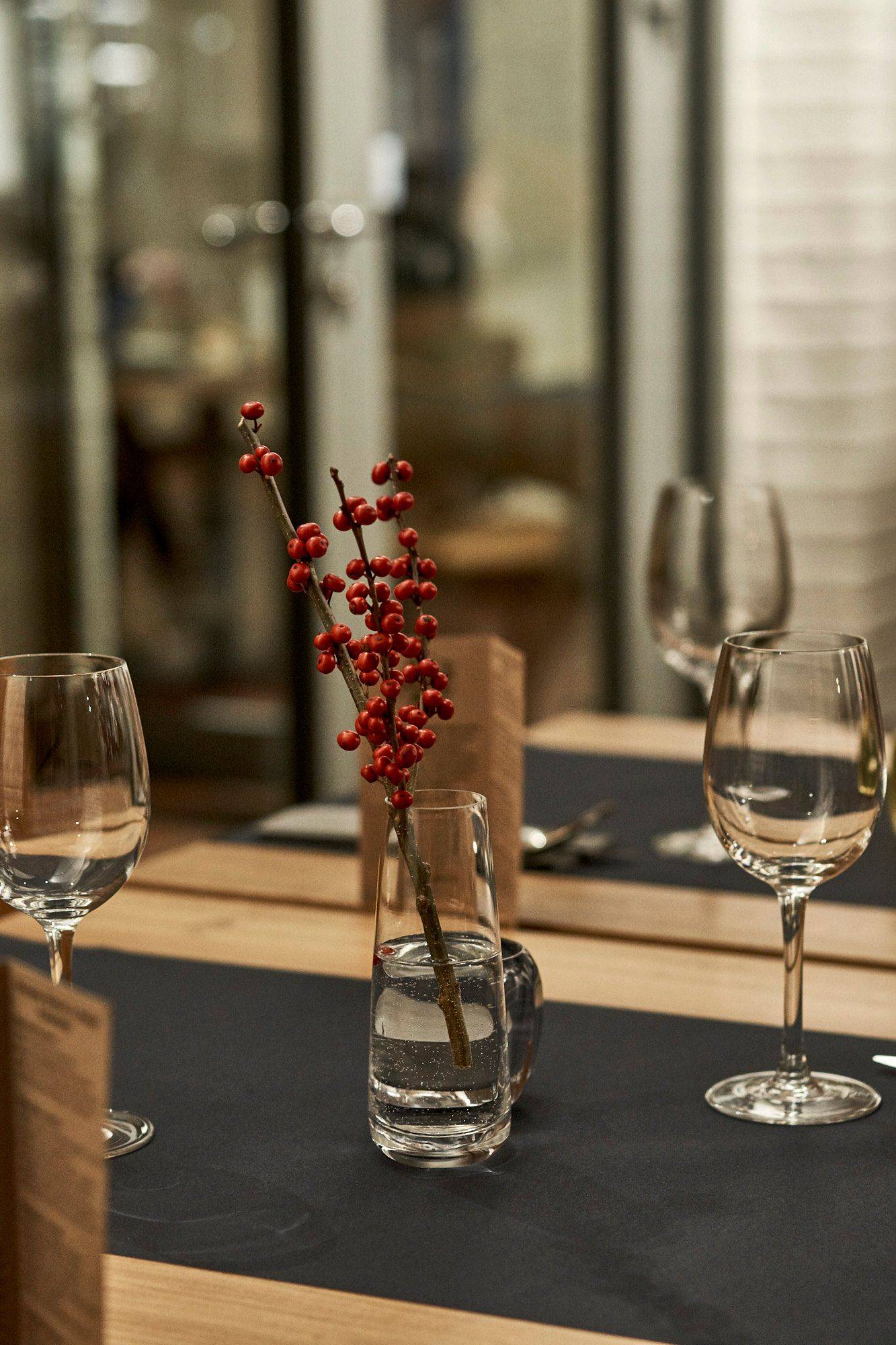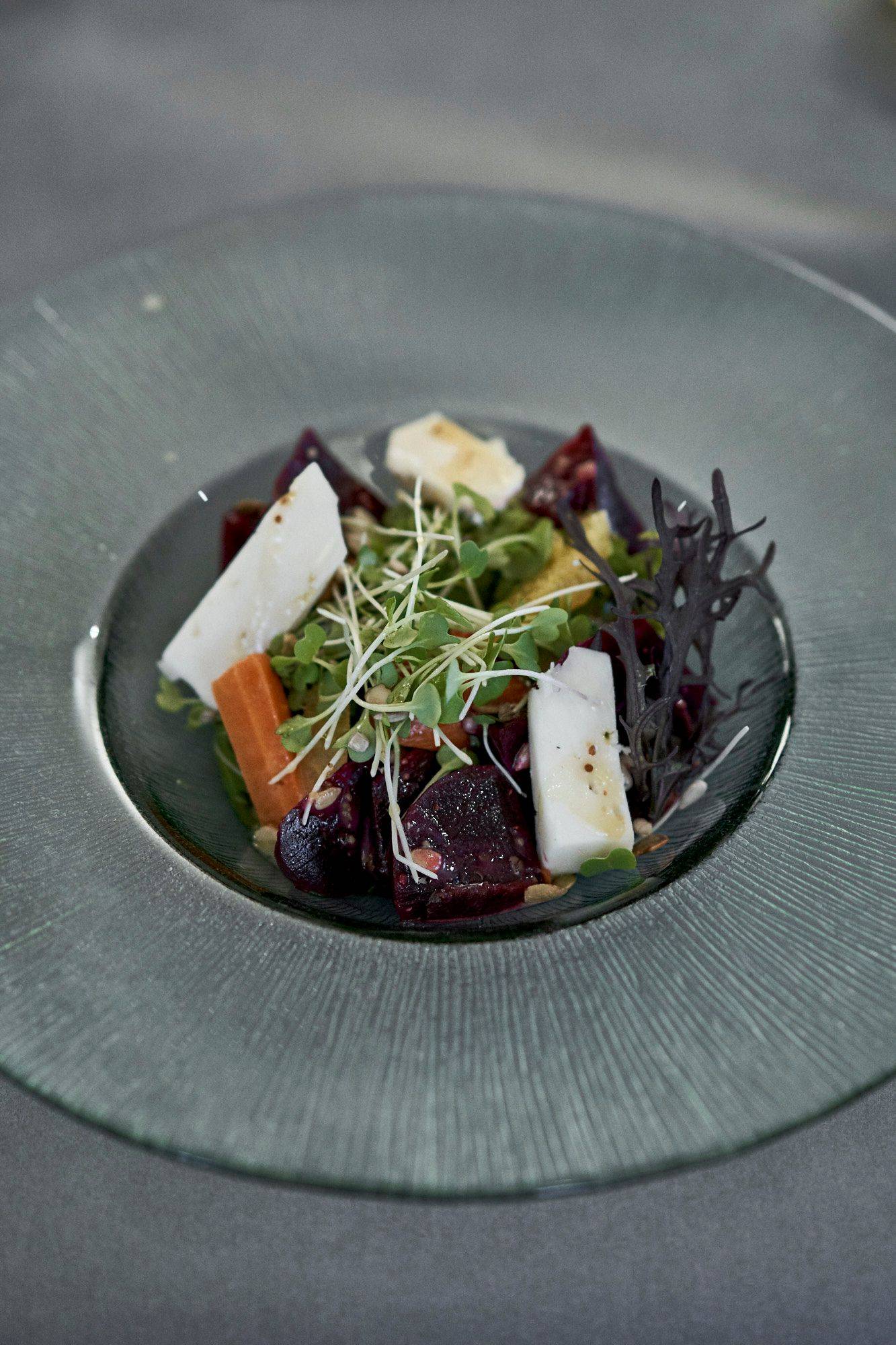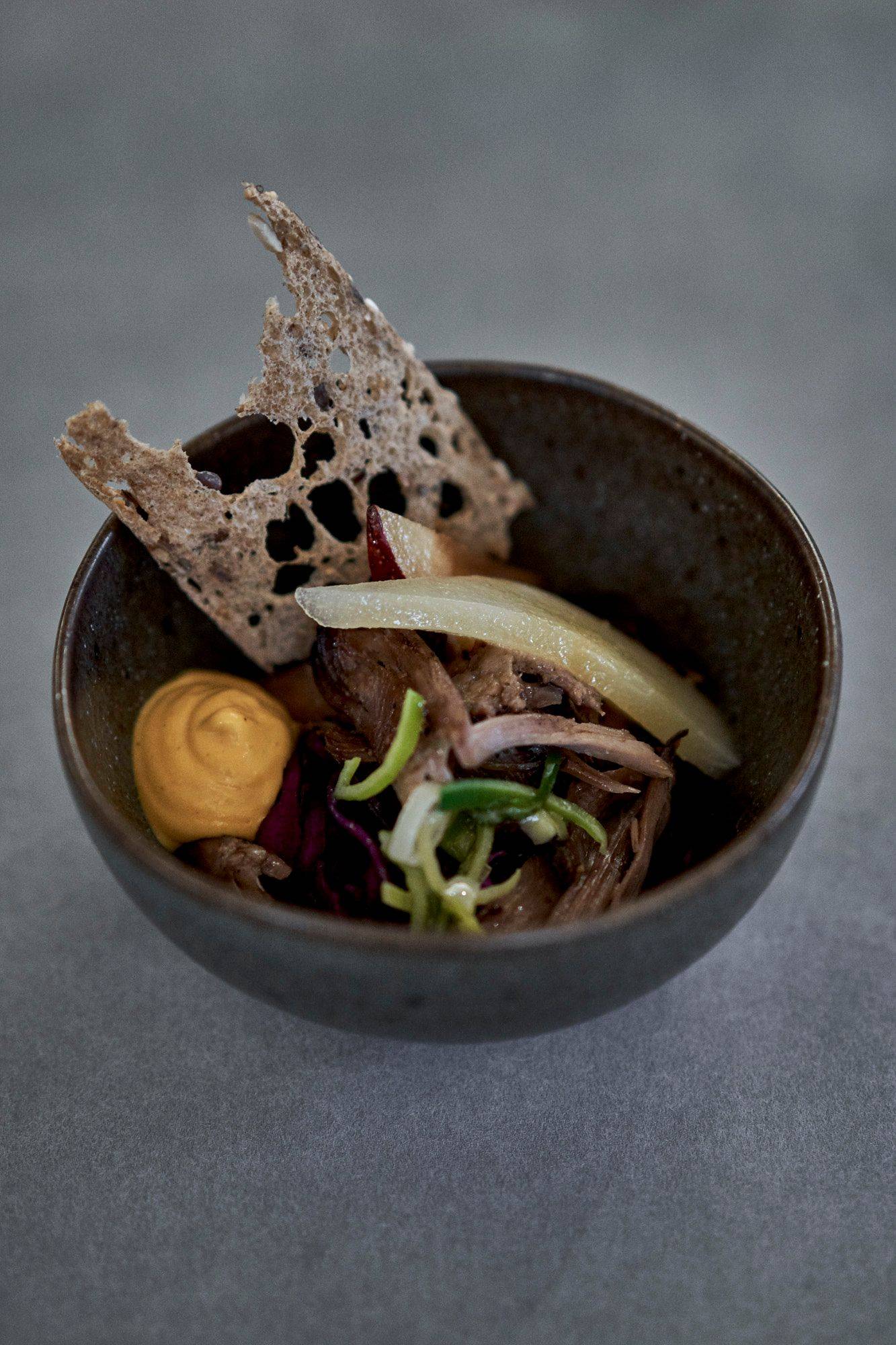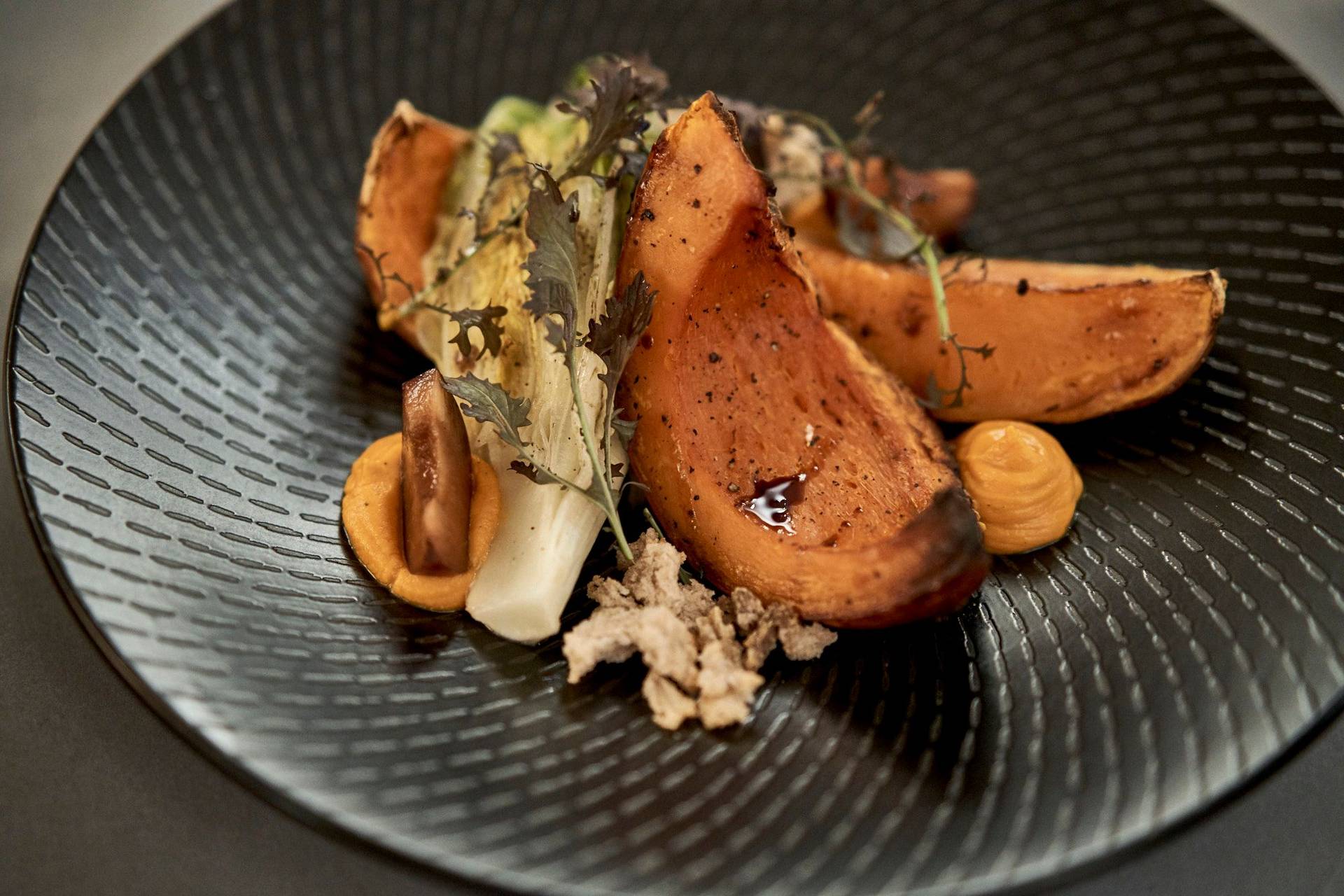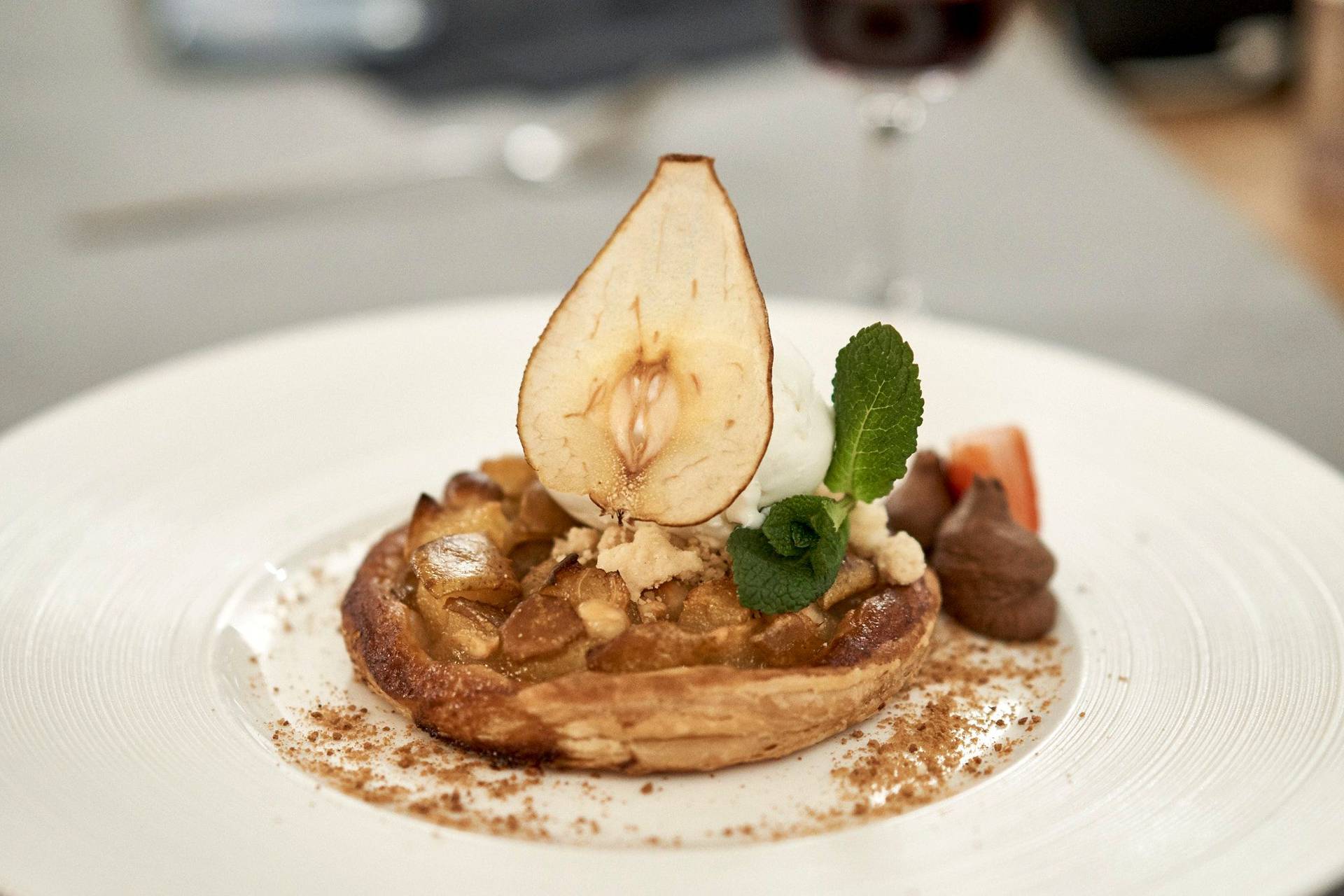 Beer in Gdańsk
From Toruń we continued making our way up north to Gdańsk, the capital of the Pomeranian Voivodeship. The last stop that day was at the Brovarnia Gdańsk and that is as it sounds, a brewery. Gdańsk once had many breweries, at a time when people drank beer rather than water for hygienic reasons. Even children did that, but beer was a little different than it is now. Unfortunately, the Second World War destroyed many parts of the city, including most of the breweries. Fortunately, nowadays many microbreweries have been brought back to life and the city once again offers a wide selection of beer.
House beer & dinner
We had a little tasting at the brewery before putting our feet back under a table. The Brovarnia makes three different beers that have a short shelf life. At the time of our visit, there were a classic Pilsner, a Pale Ale, and a Christmas Ale, all different and each with its fans. With such a small production, it's important to brew consistently fresh, we were told, because of the time it takes for a beer to be drinkable. Again, a nice effort to produce only as much as is needed. However, if you want to get your hands on a beer, you have to travel to the brewery, as it is only sold in the Brovarnia.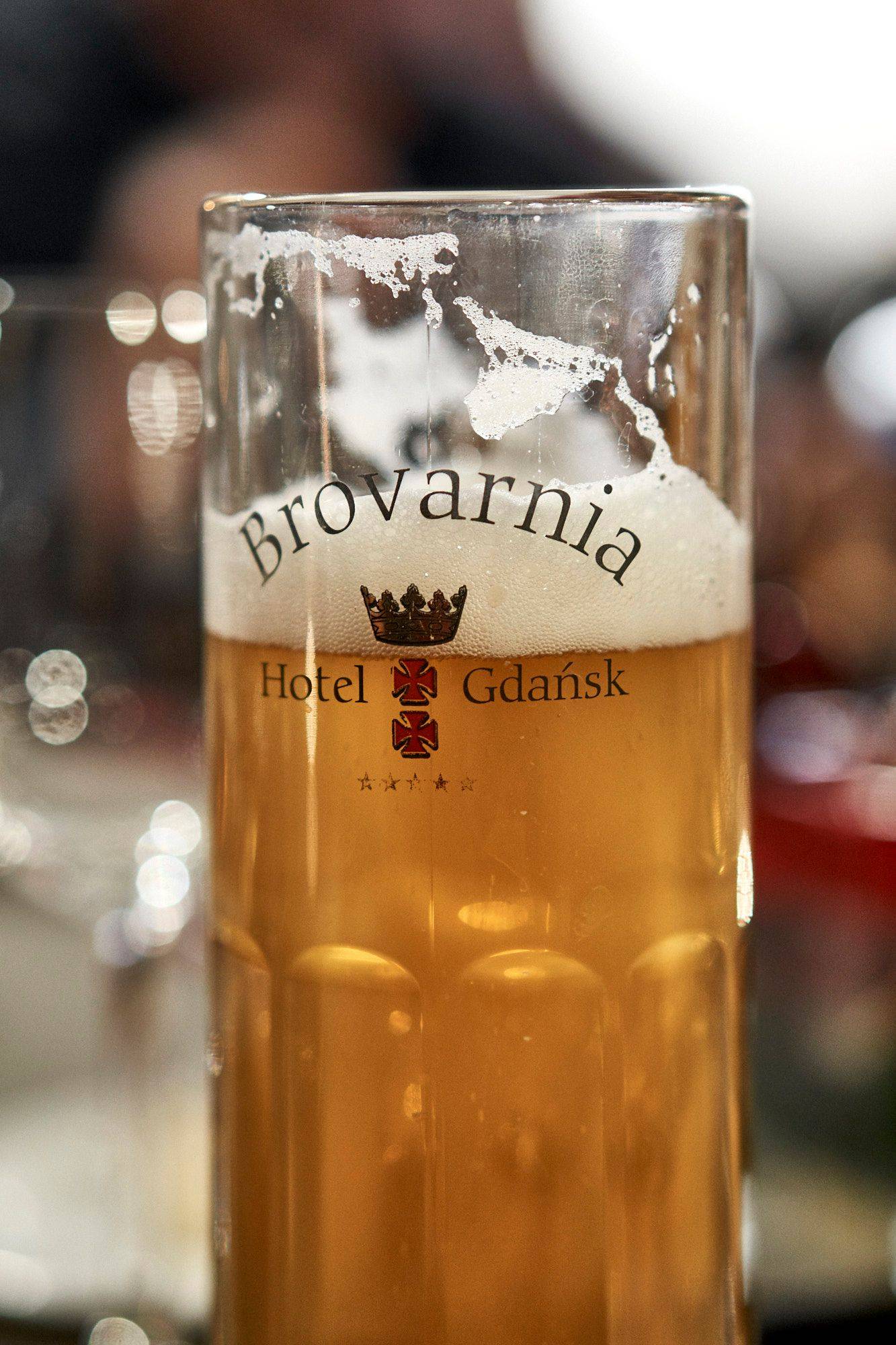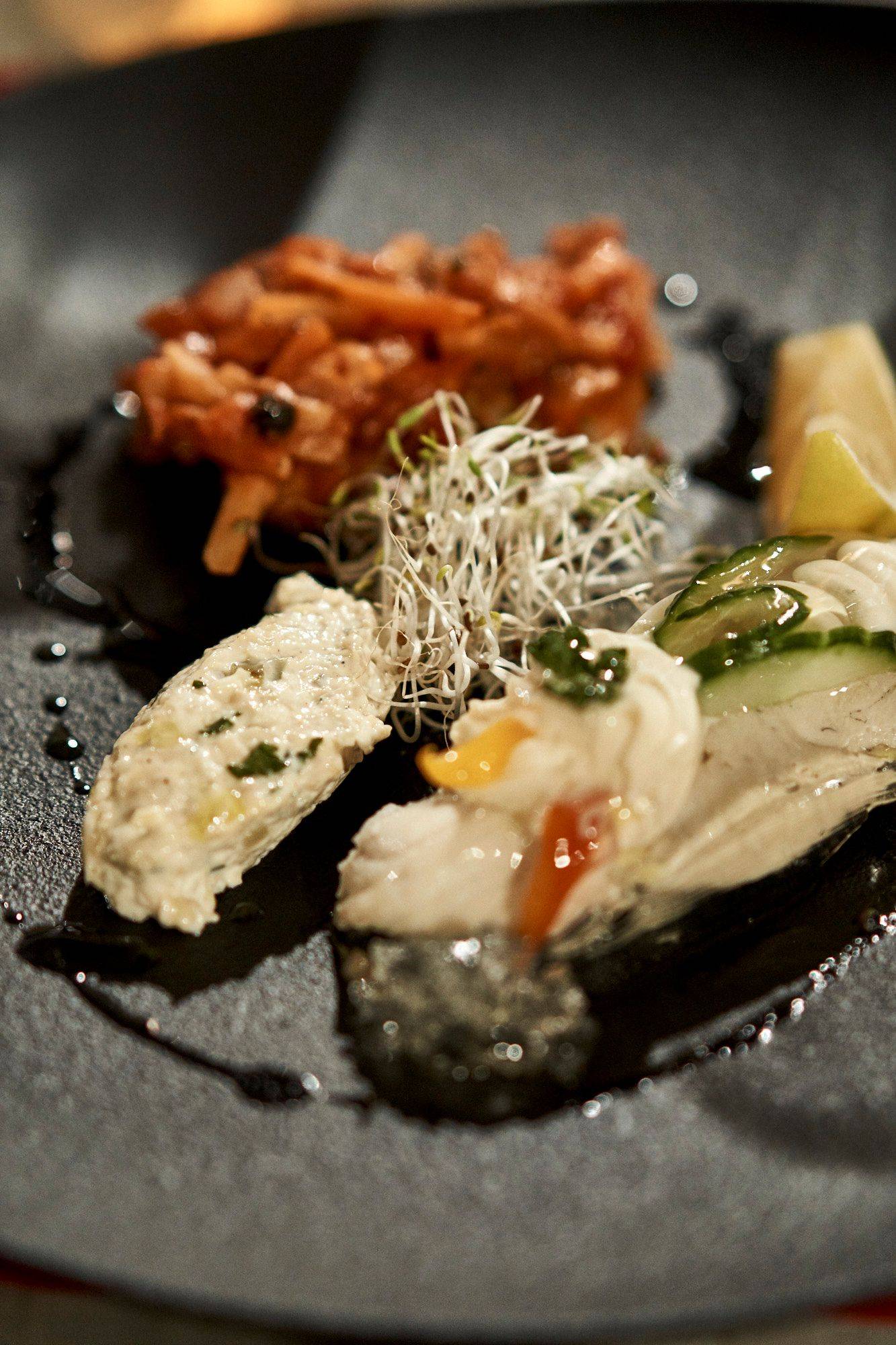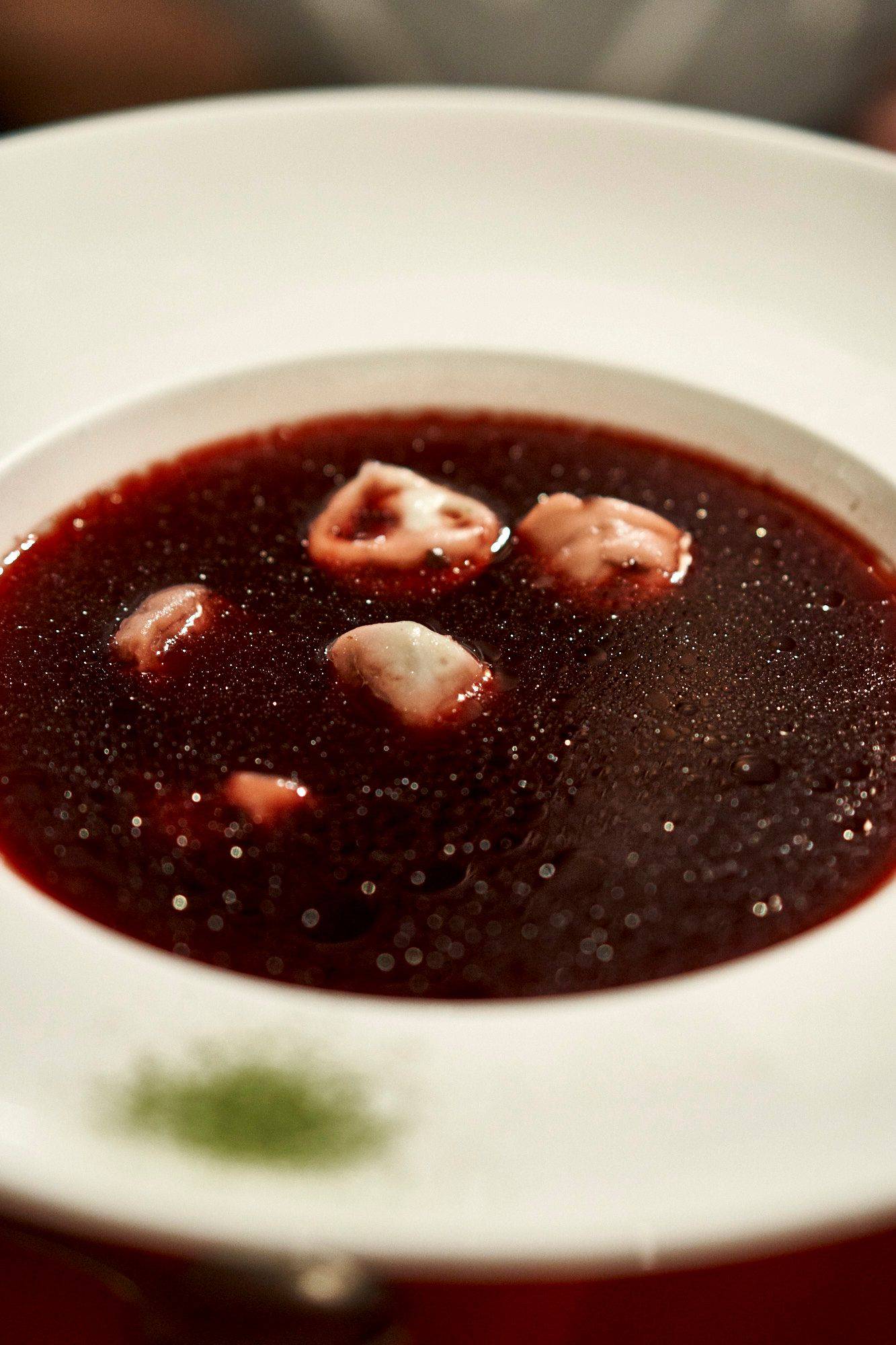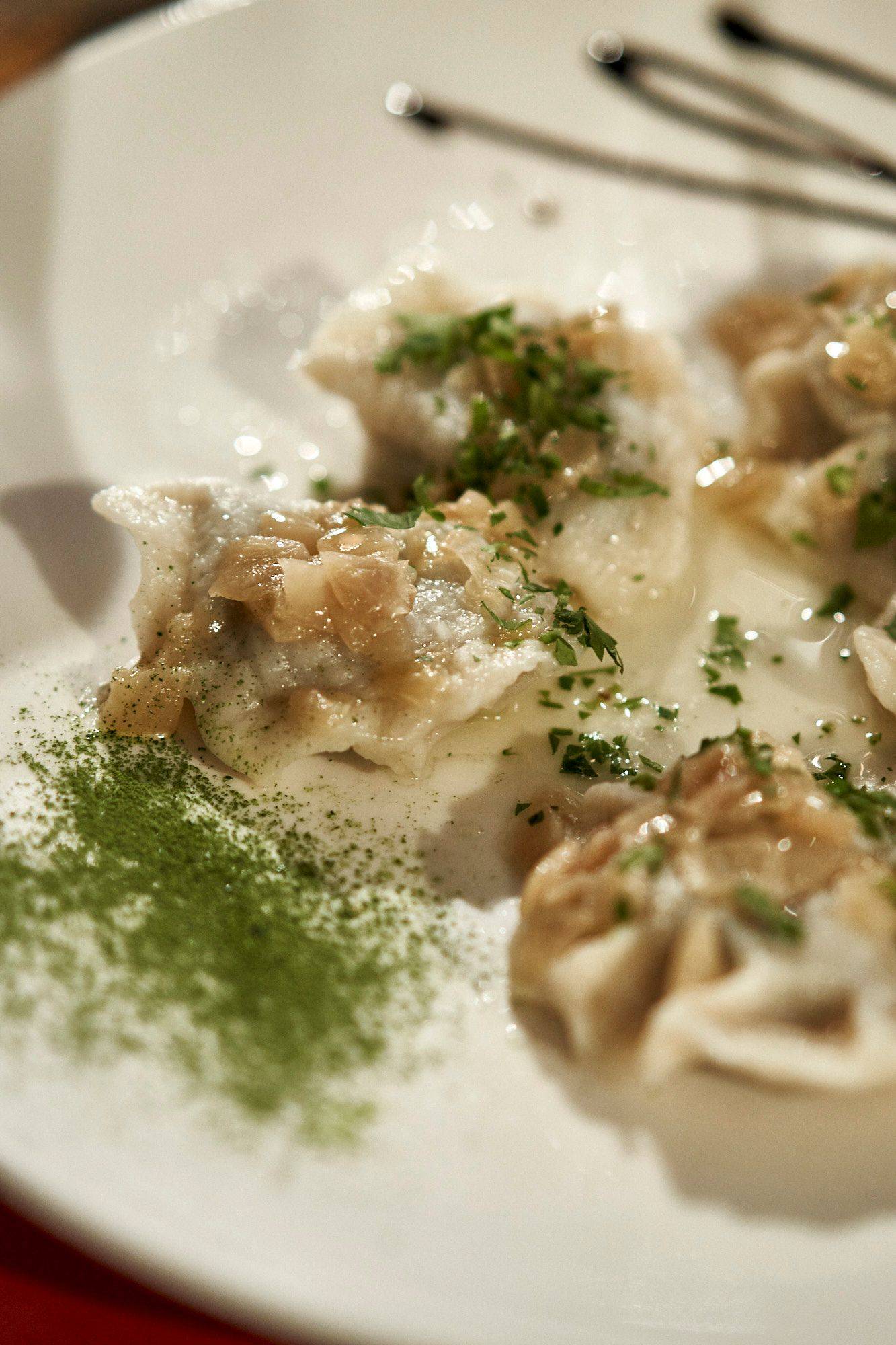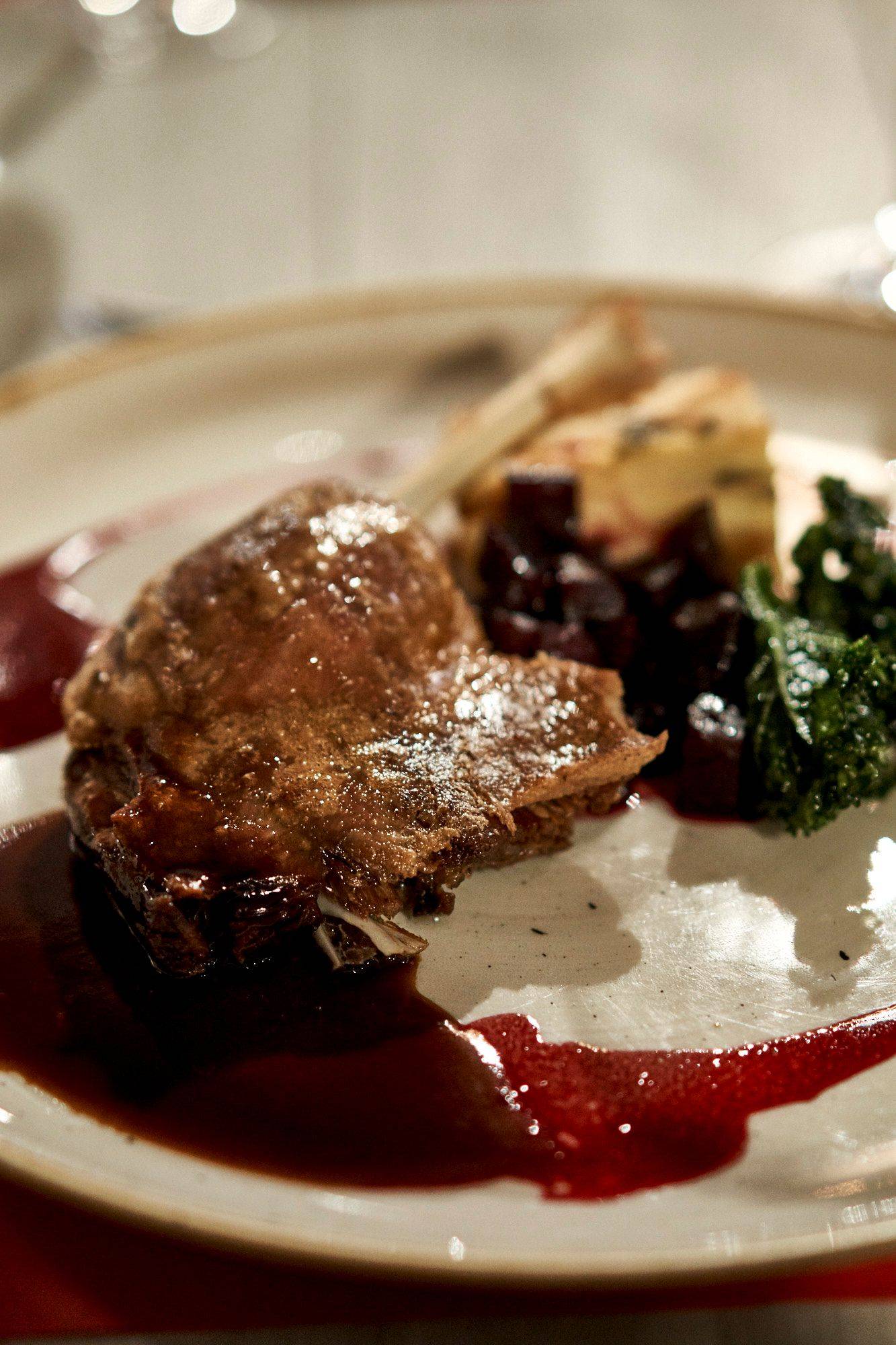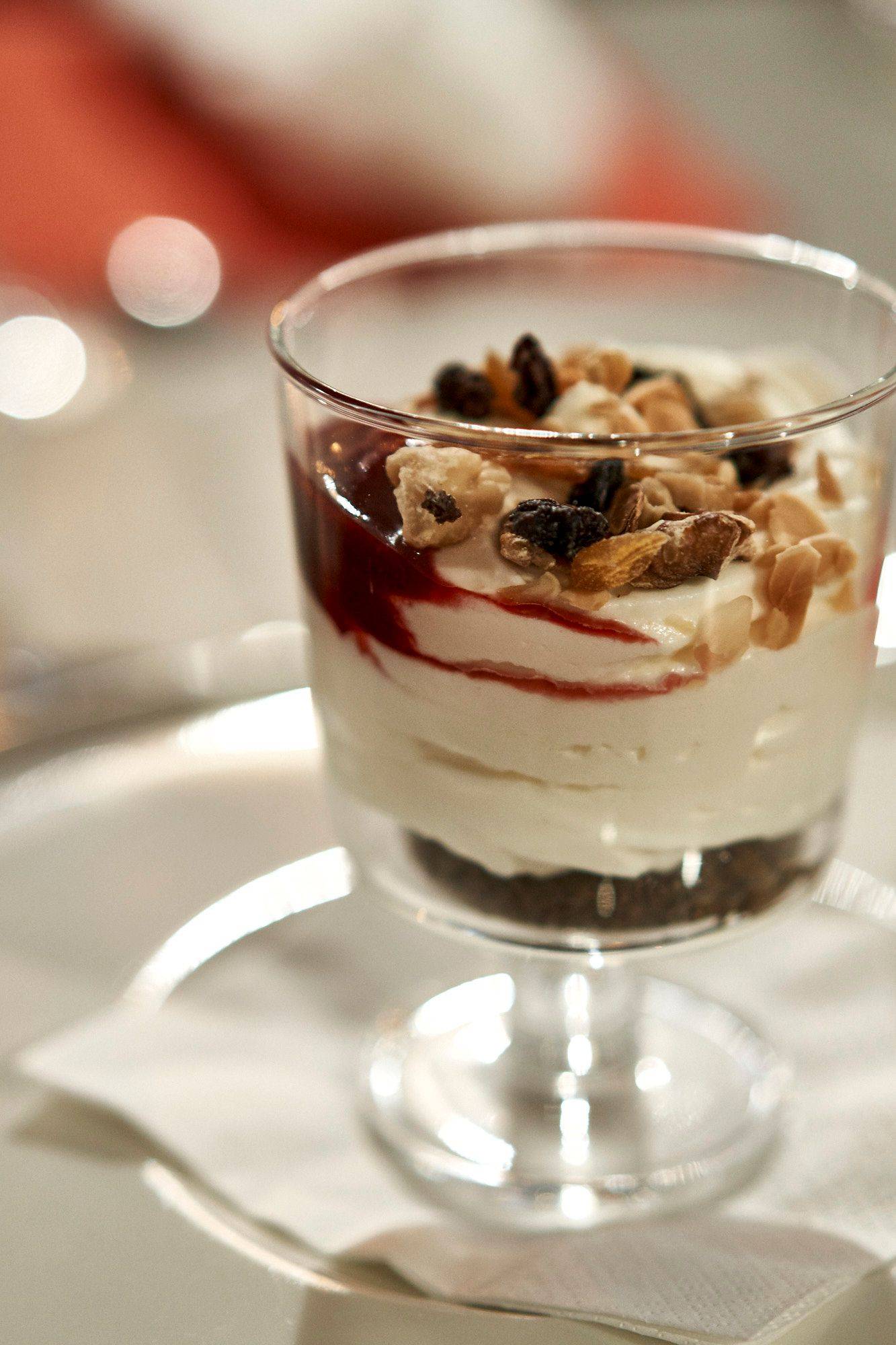 Gdańsk
The city of Gdańsk reminded me a bit of Amsterdam with all the narrow houses and water. Unfortunately, all rebuilt due to the destruction of the war, but with an effort to show people how it once used to be. In some places, though, I wasn't quite sure if all the rebuilding wasn't taken a little too far to attract tourists. We were told that prices have gone up so much that locals can sometimes barely afford to spend a night there. Nevertheless, very nice to take a walk here.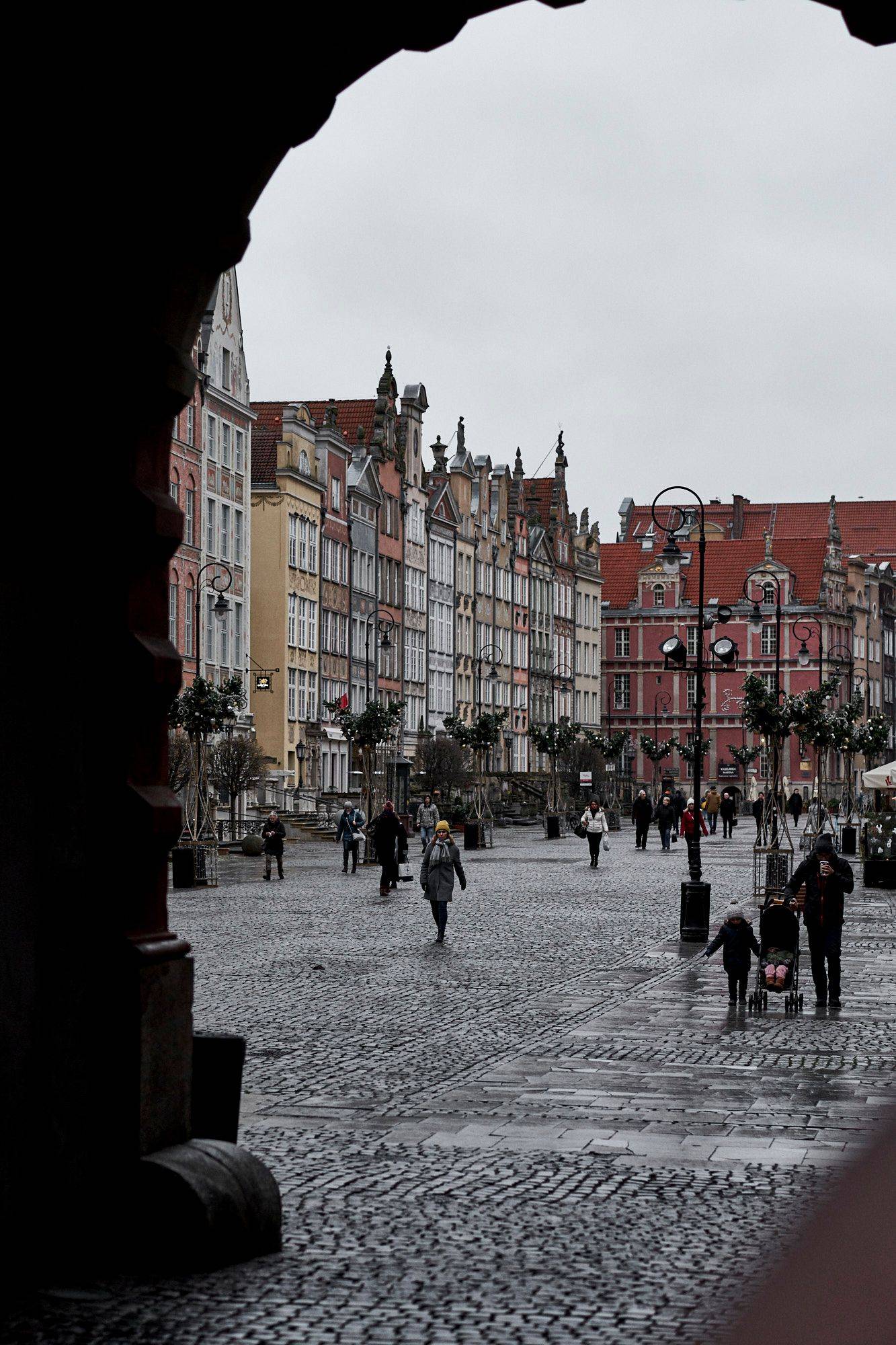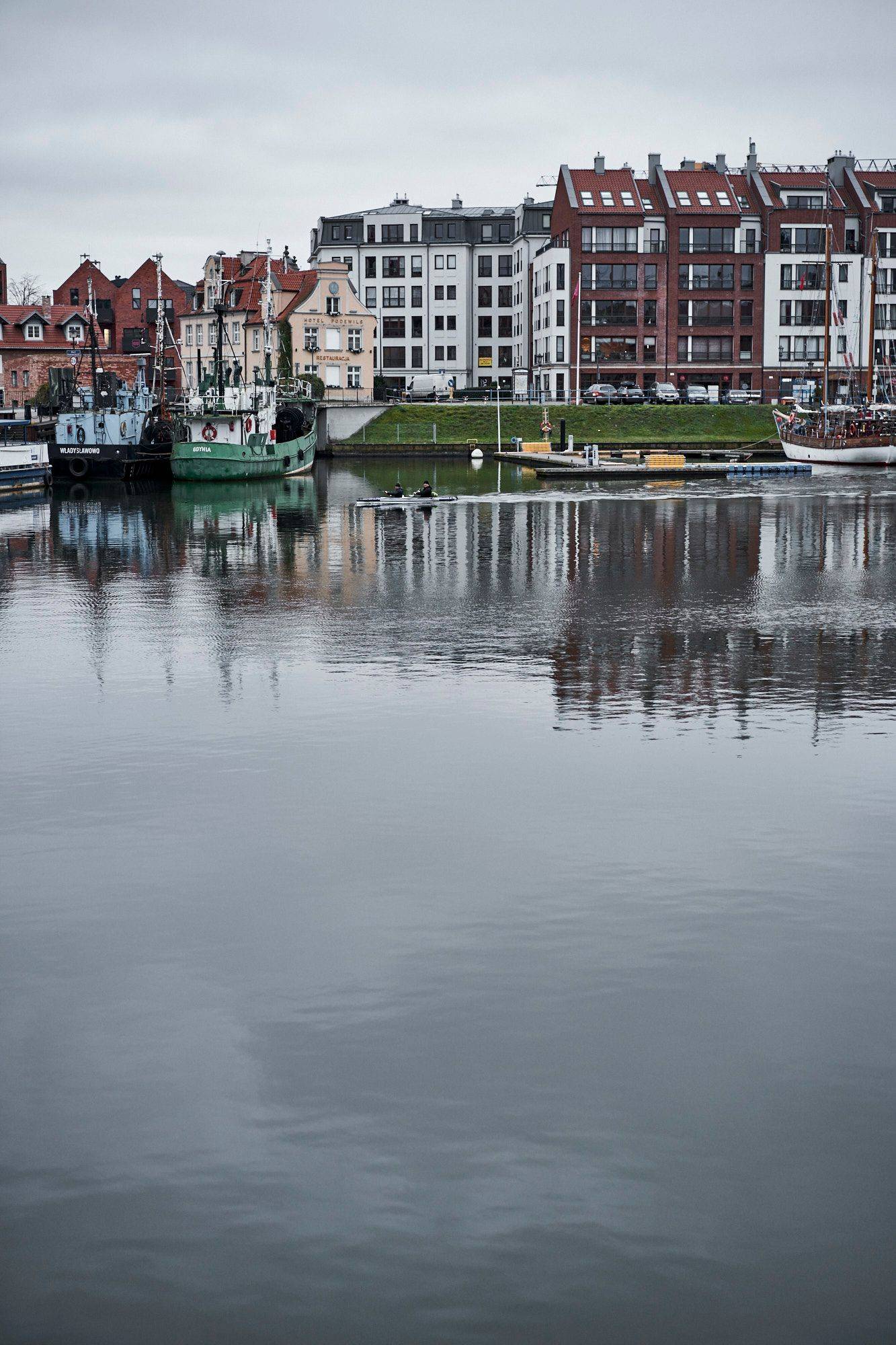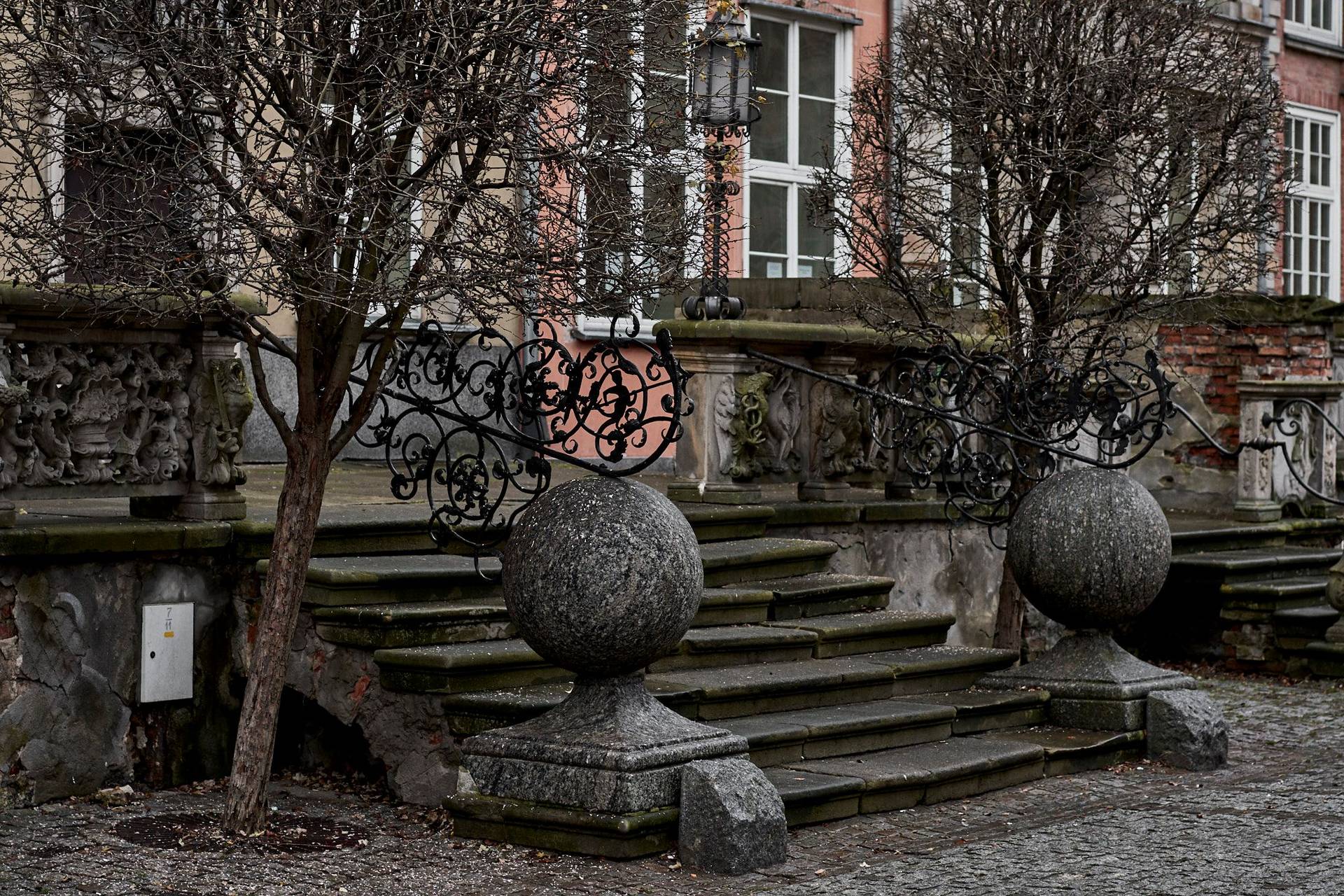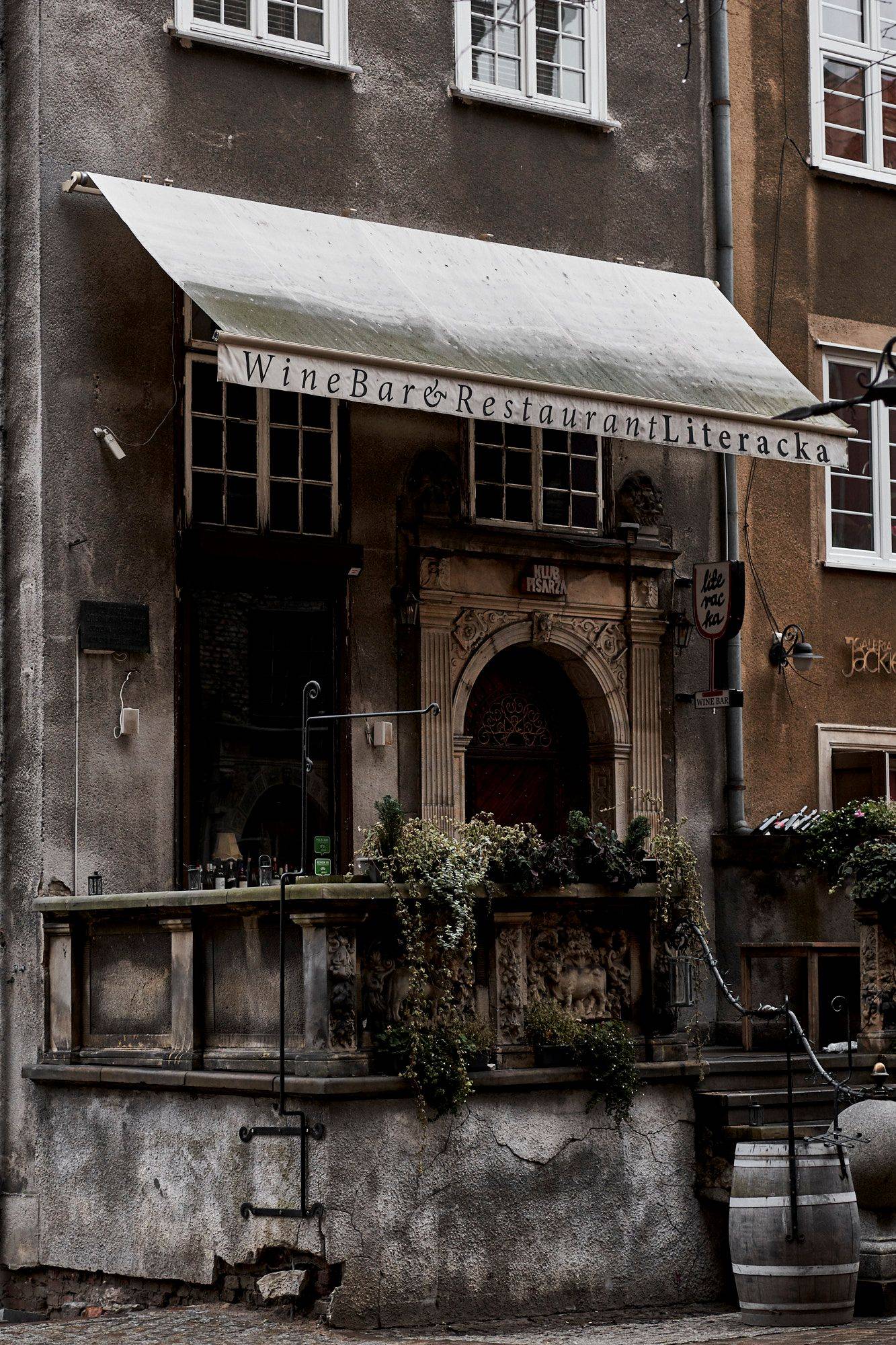 Historic dining at the Pod Łososiem house
After creating some space to experience more food, we went to the Pod Łososiem house, which would translate to "under the salmon". Inside was the Winne Grono restaurant, which had a beautiful museum style interior due to its heritage. The restaurant's history dates back to 1598, so it's probably been around much longer than most restaurants will be these days. It offers not only original fish dishes, as the name suggests, but also a famous liqueur called Goldwasser. The latter is a traditional clear and sweet herbal liquid with gold leaves in it. No offense, but it wasn't quite to my taste...though, I can understand why it is for many people.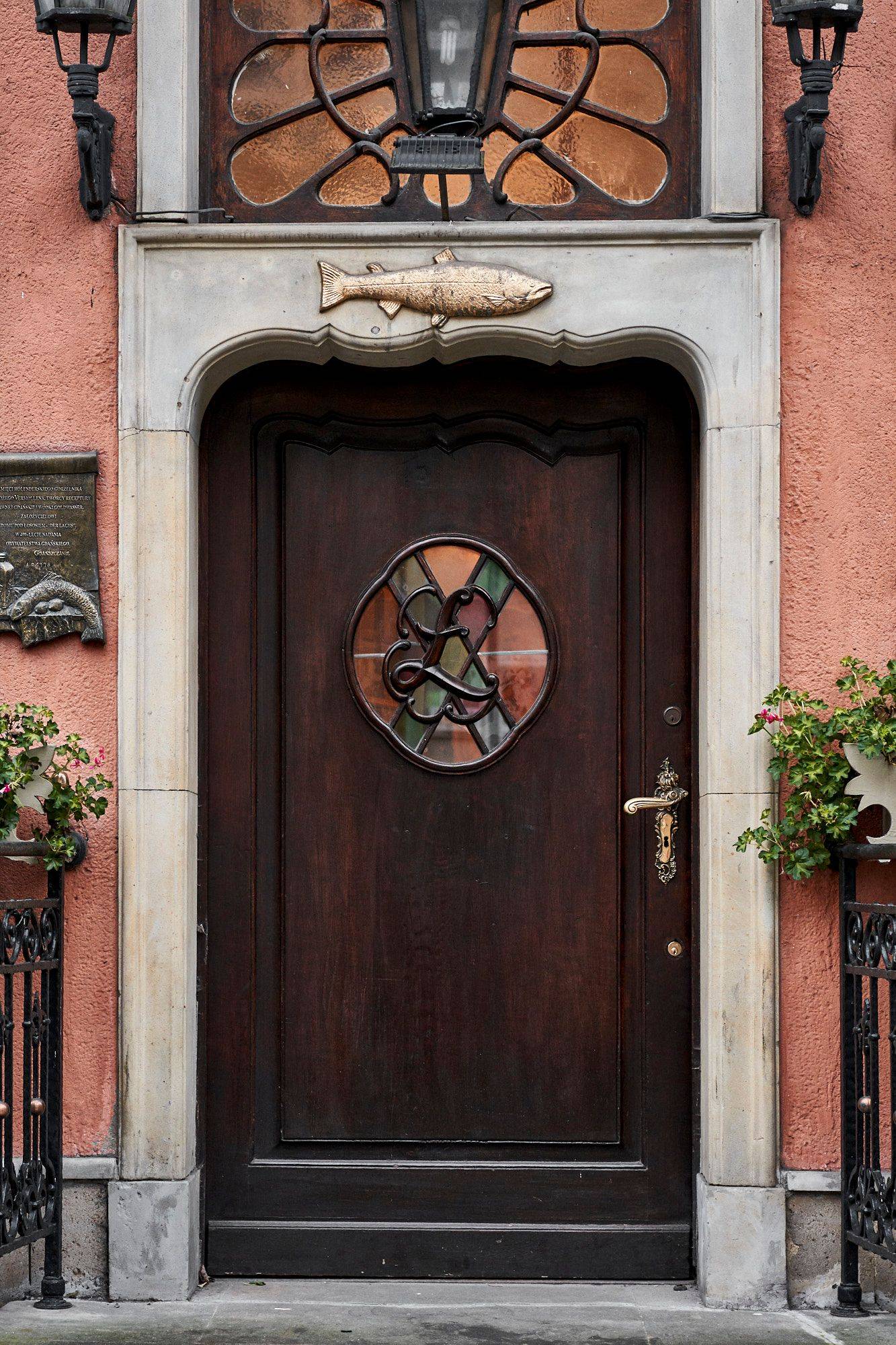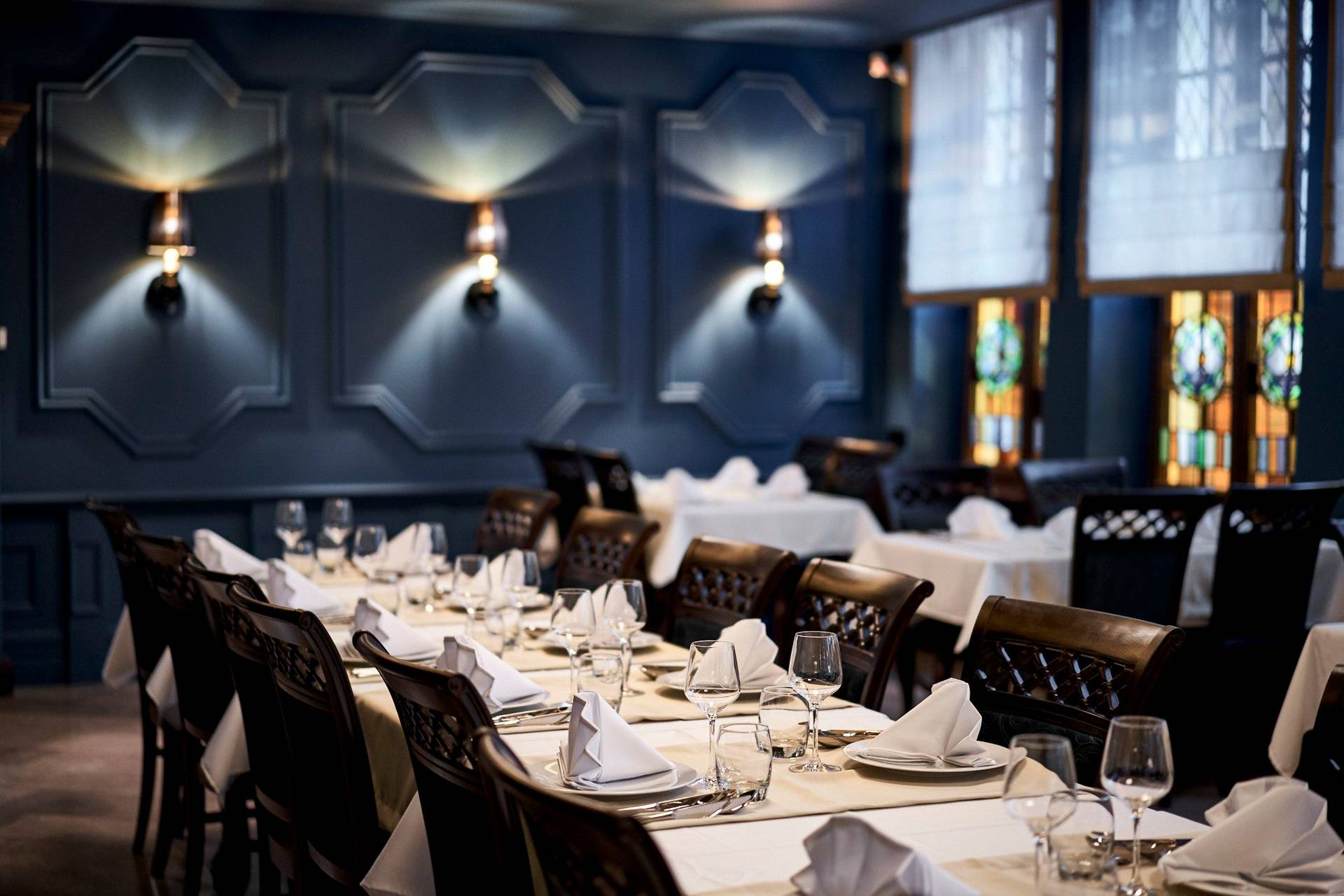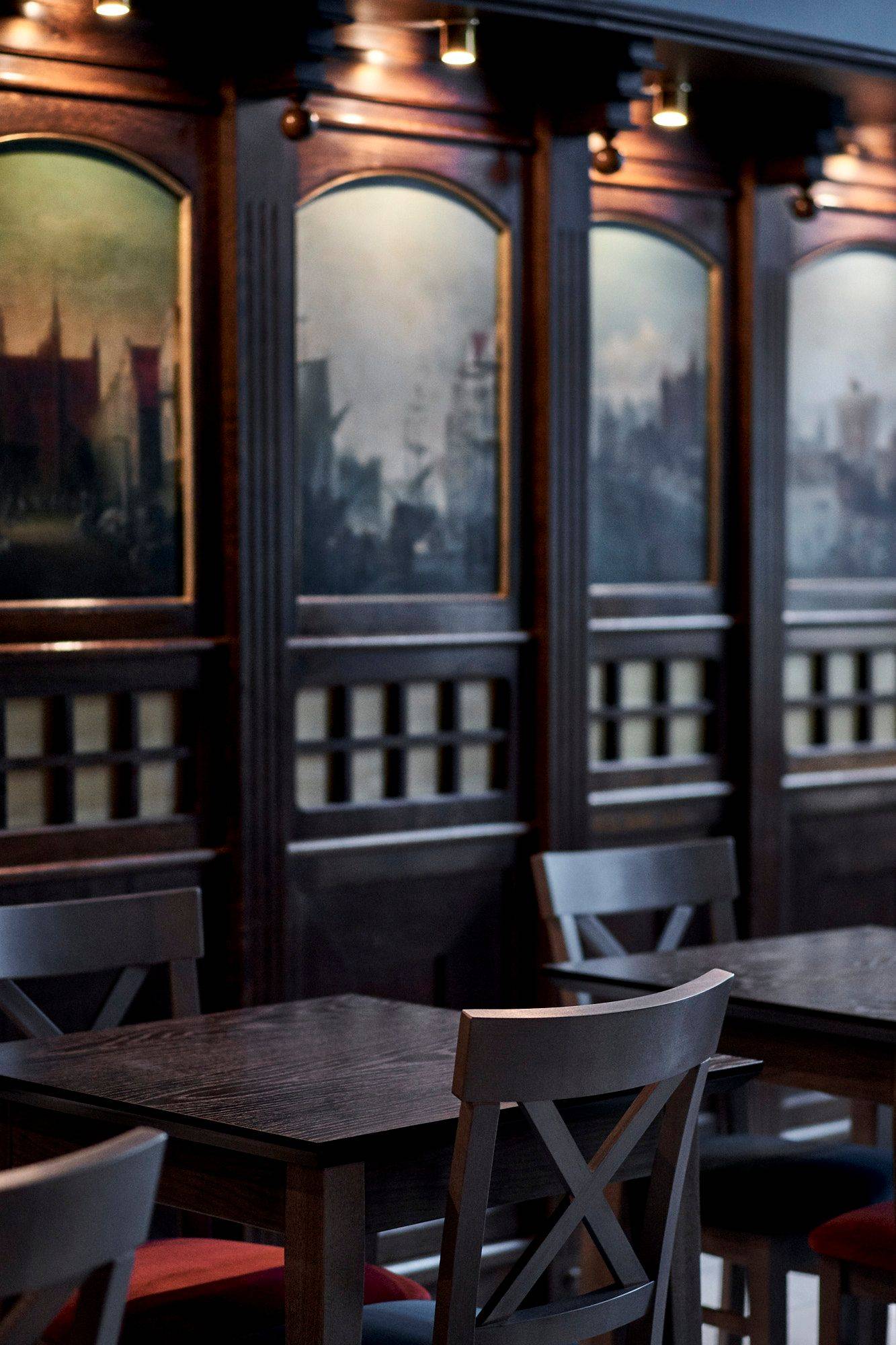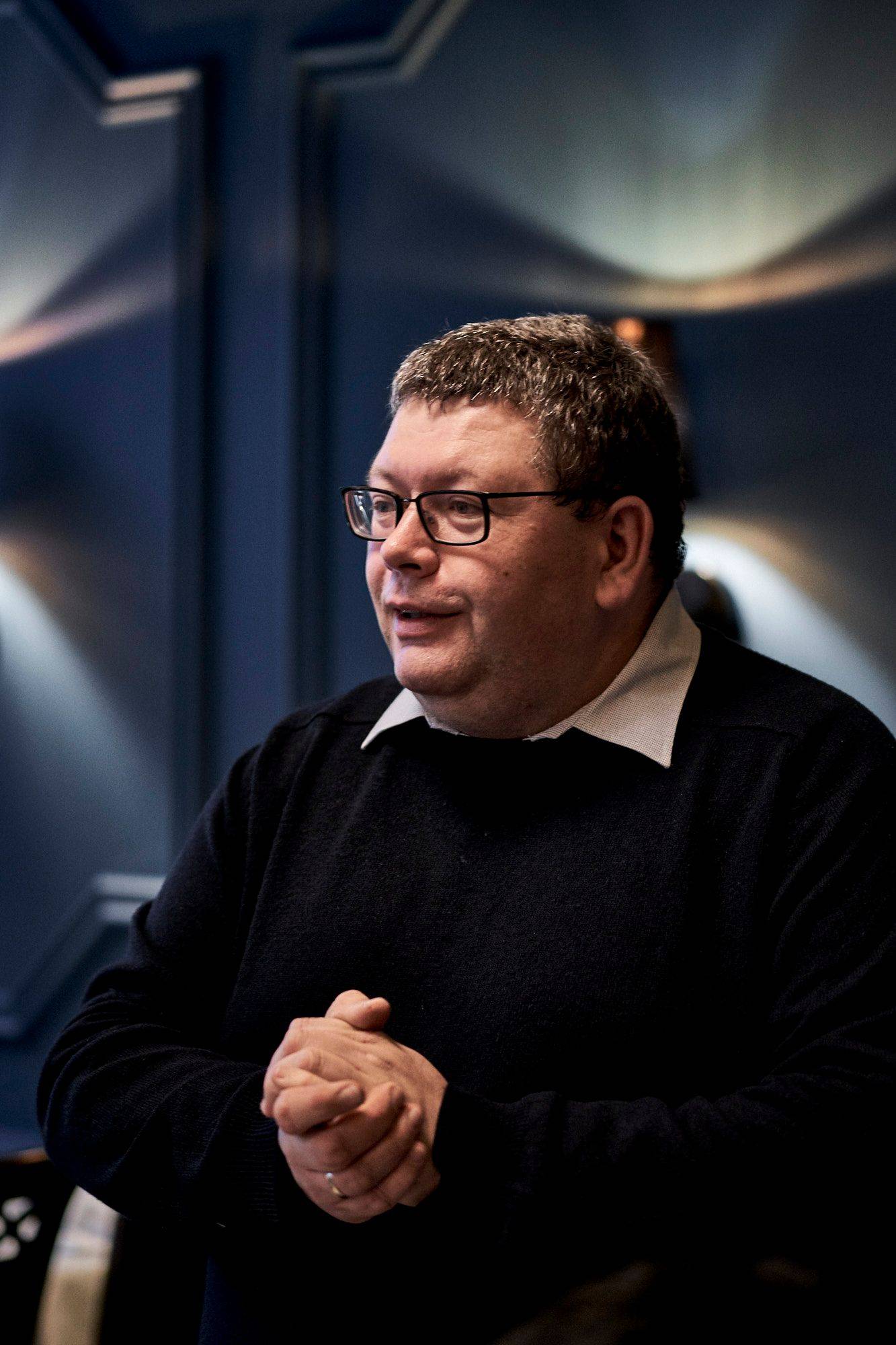 Hering
We were greeted by the friendly owner Arkadiusz Onasch, who actually opened the restaurant just for us, as it was closed for renovation. So, we were the first lucky guests to be served here after the renovation. We got poured a nice, slightly oaky Chardonnay while listening to Artur Michna, a gastro critic, who told us more about the gastro scene. Meanwhile, a mix of herring compositions made up the appetizer. Herring is one of the most common local fish and the chef presented different ways of preparing it, from the owner's family recipe to a more modern Asian influenced recipe, and all very tasty. Followed by a rustic fish soup with cheese and the main course, which was a crispy pikeperch with duxelles, gnocchi like dumplings and dill sauce, the chef's cuisine had us all really satisfied. We said goodbye with a glass of Goldwasser...Na zdrowie!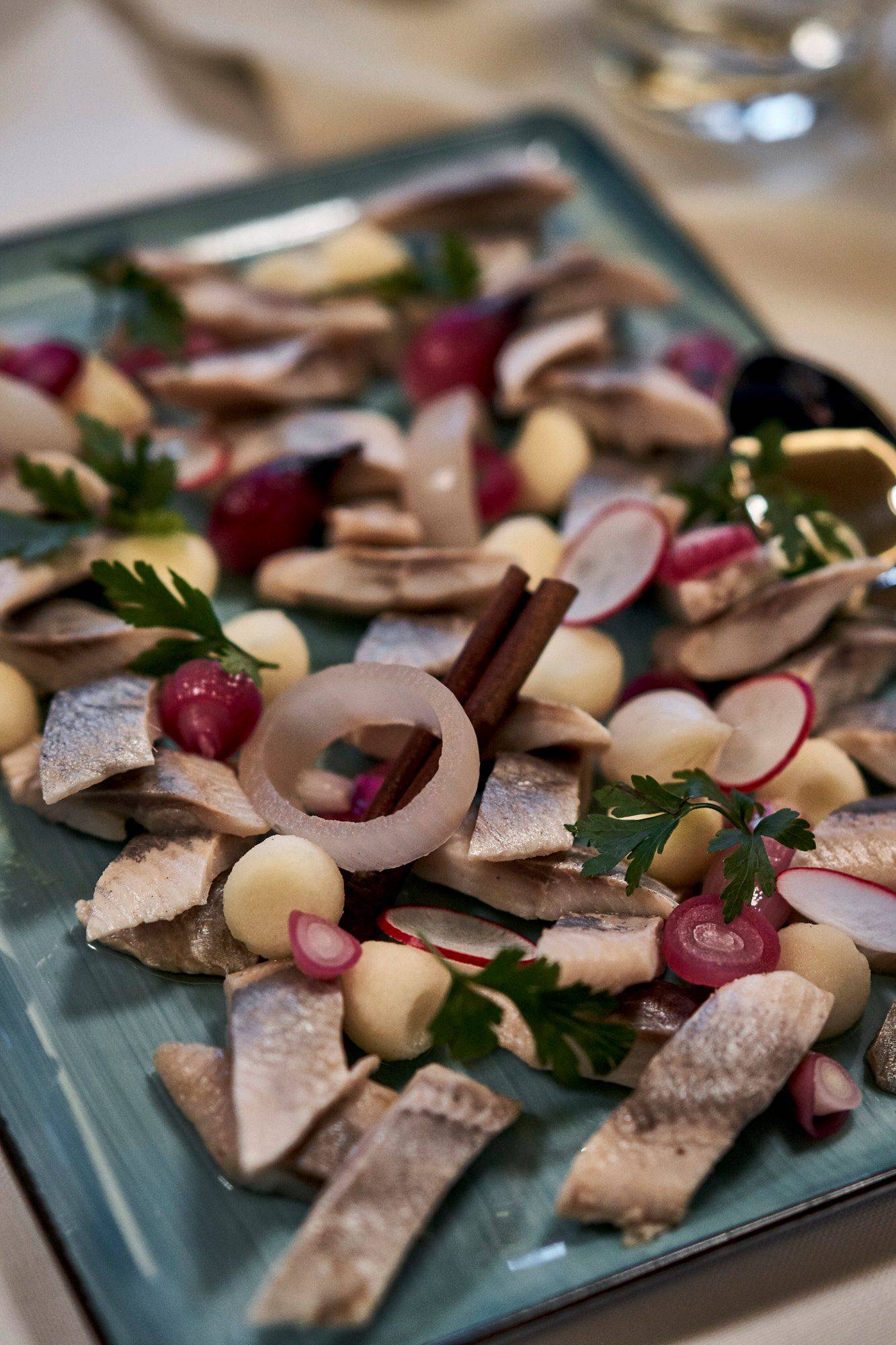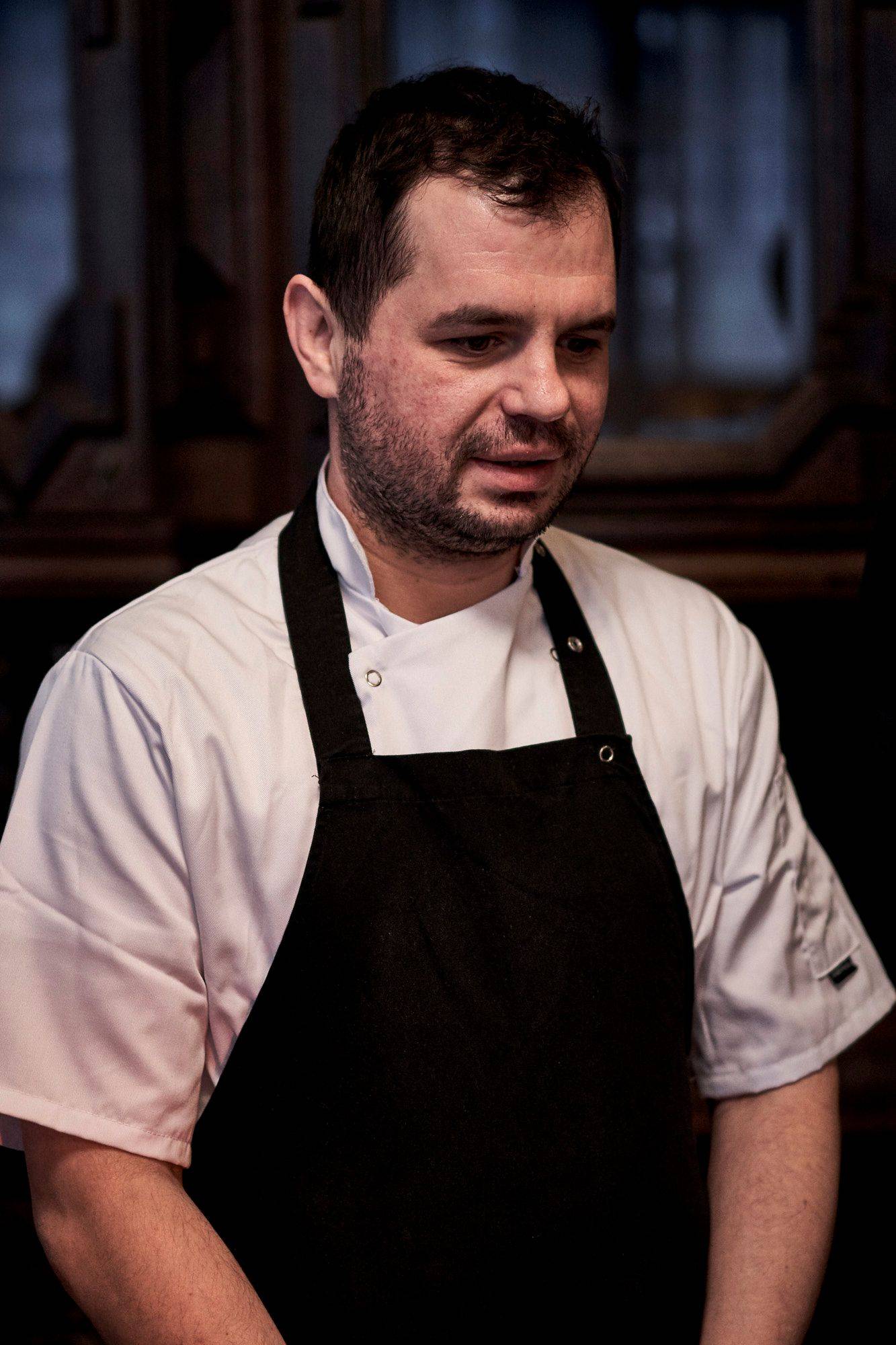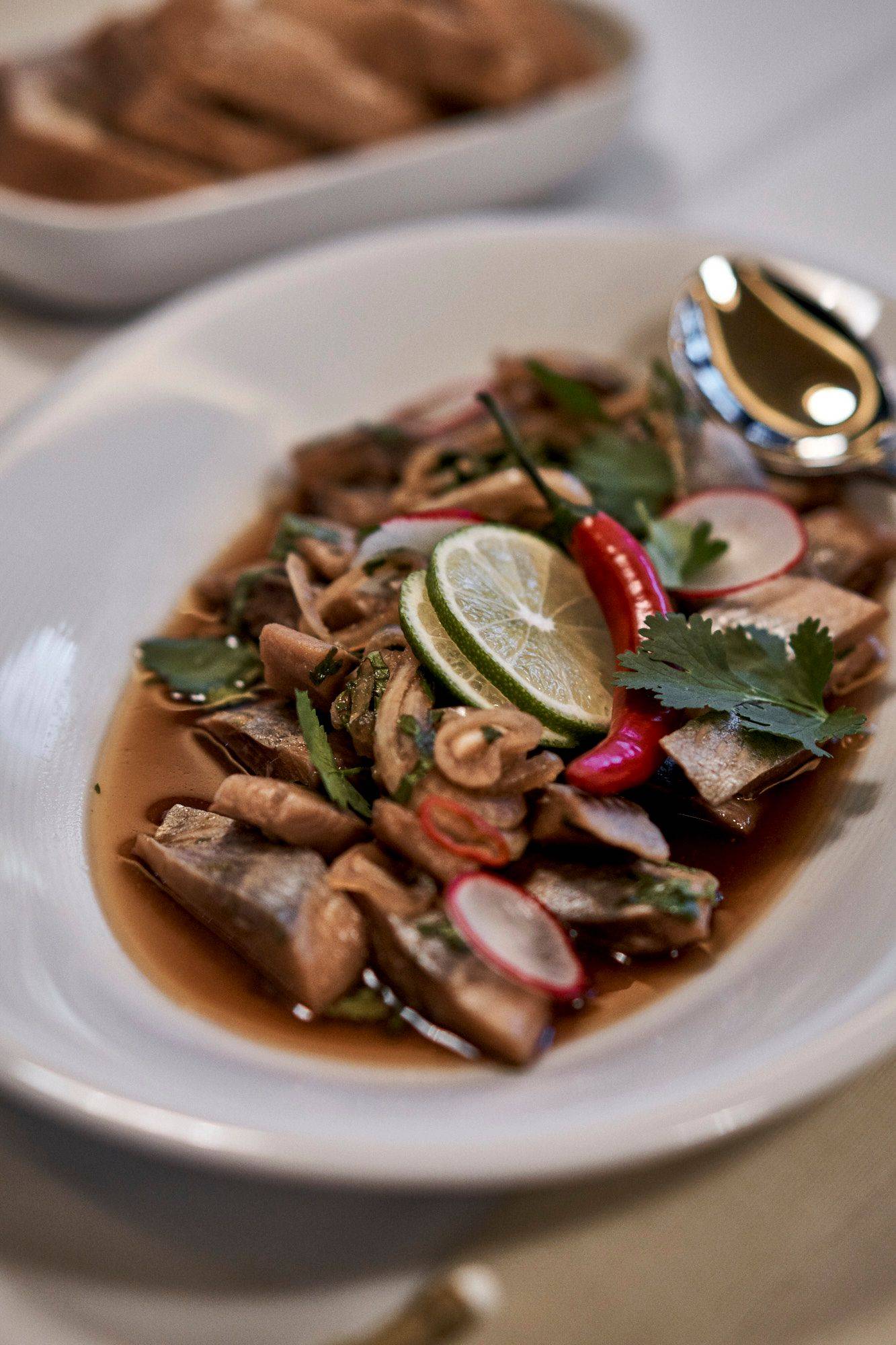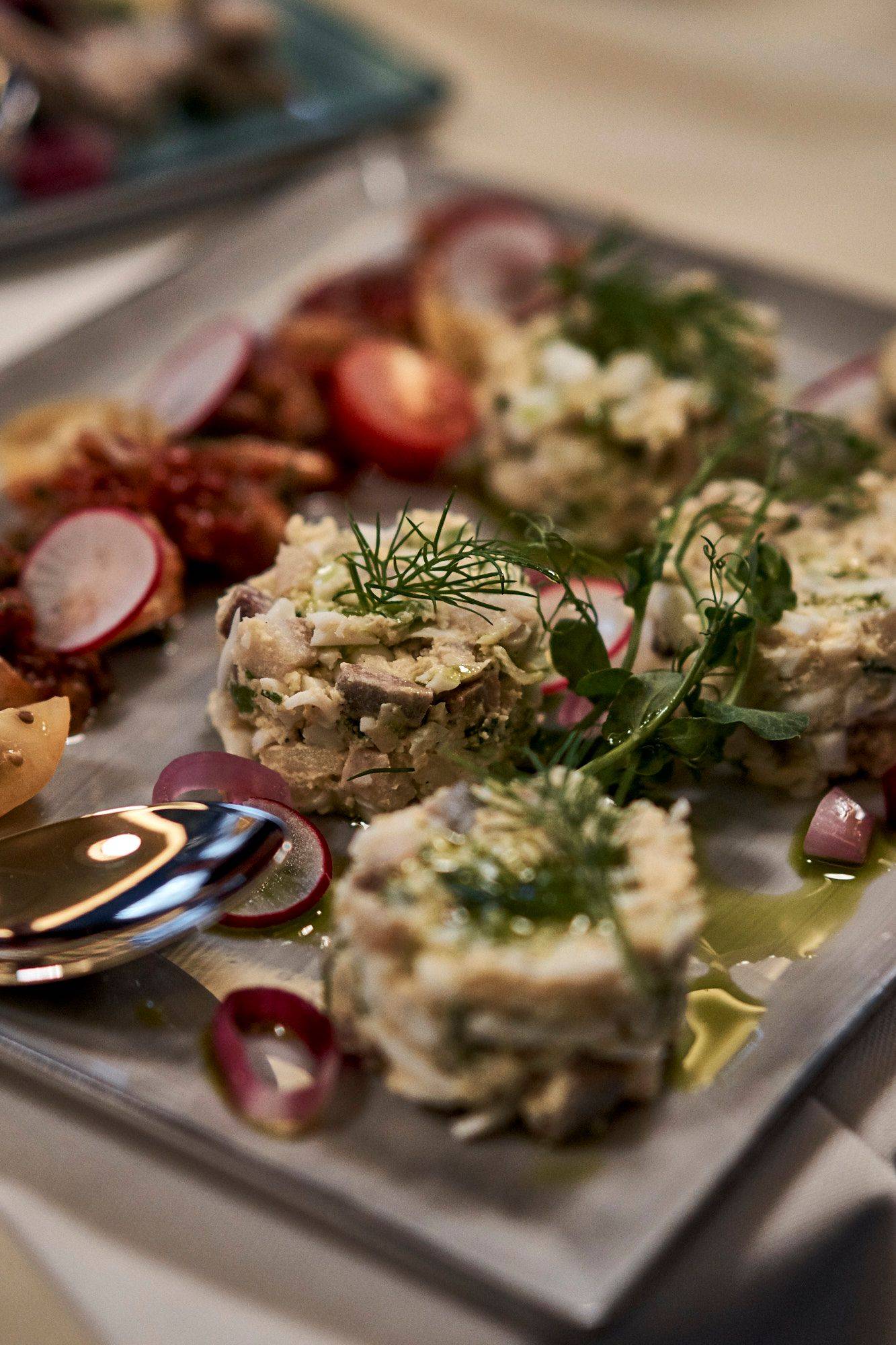 Back in the Polish countryside
With full bellies, we got back on the bus to continue the loop to the west of Poland and got to the Kozia Farma goat farm. By now it was 3:30 pm and it was not to be the last stop of the day. Greeted by the nice owners, we sat down at a small kitchen table already prepared with homemade cheeses, jams and dried fruits. It was the first time on the trip that felt so cozy as if visiting friends.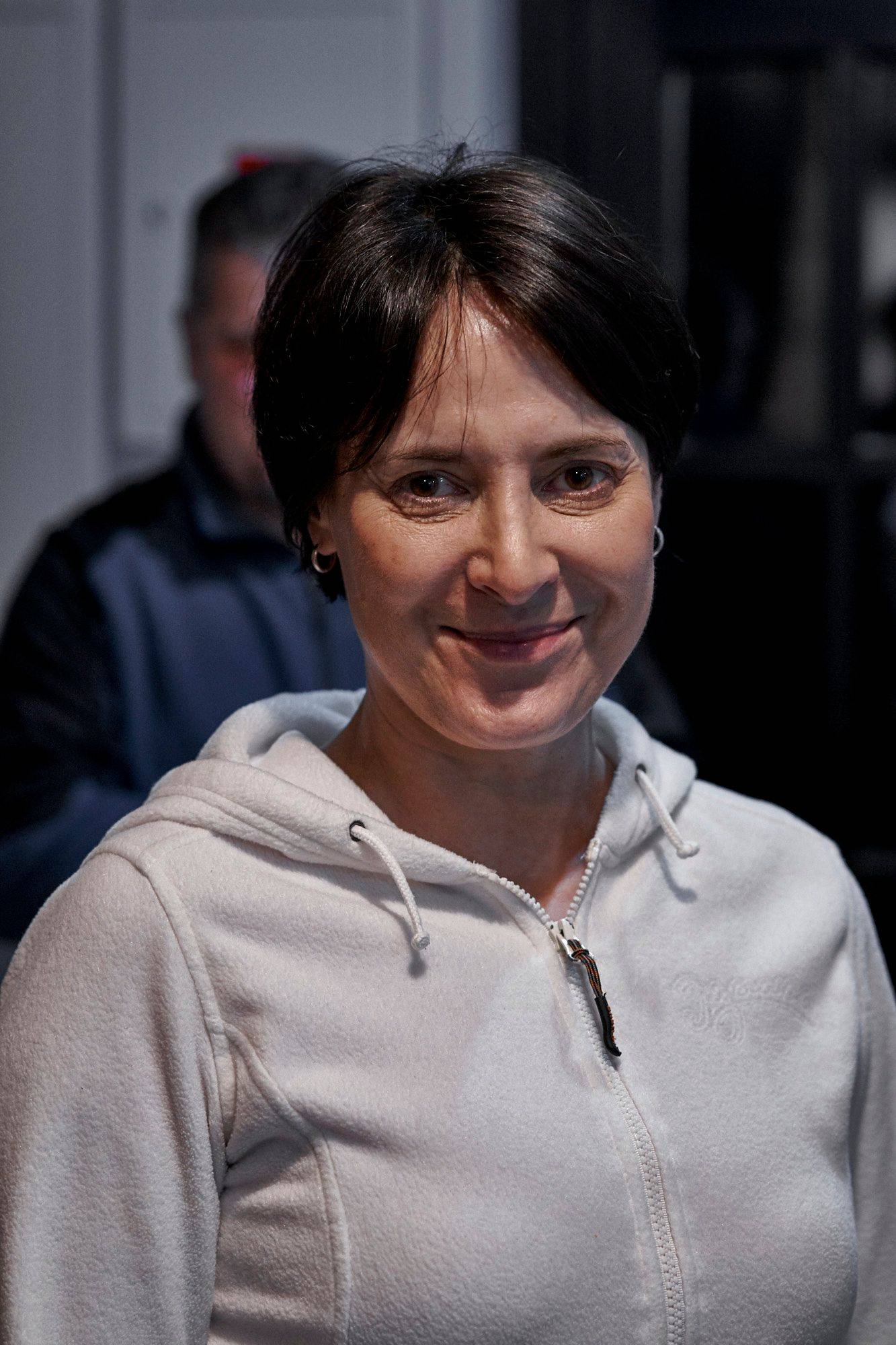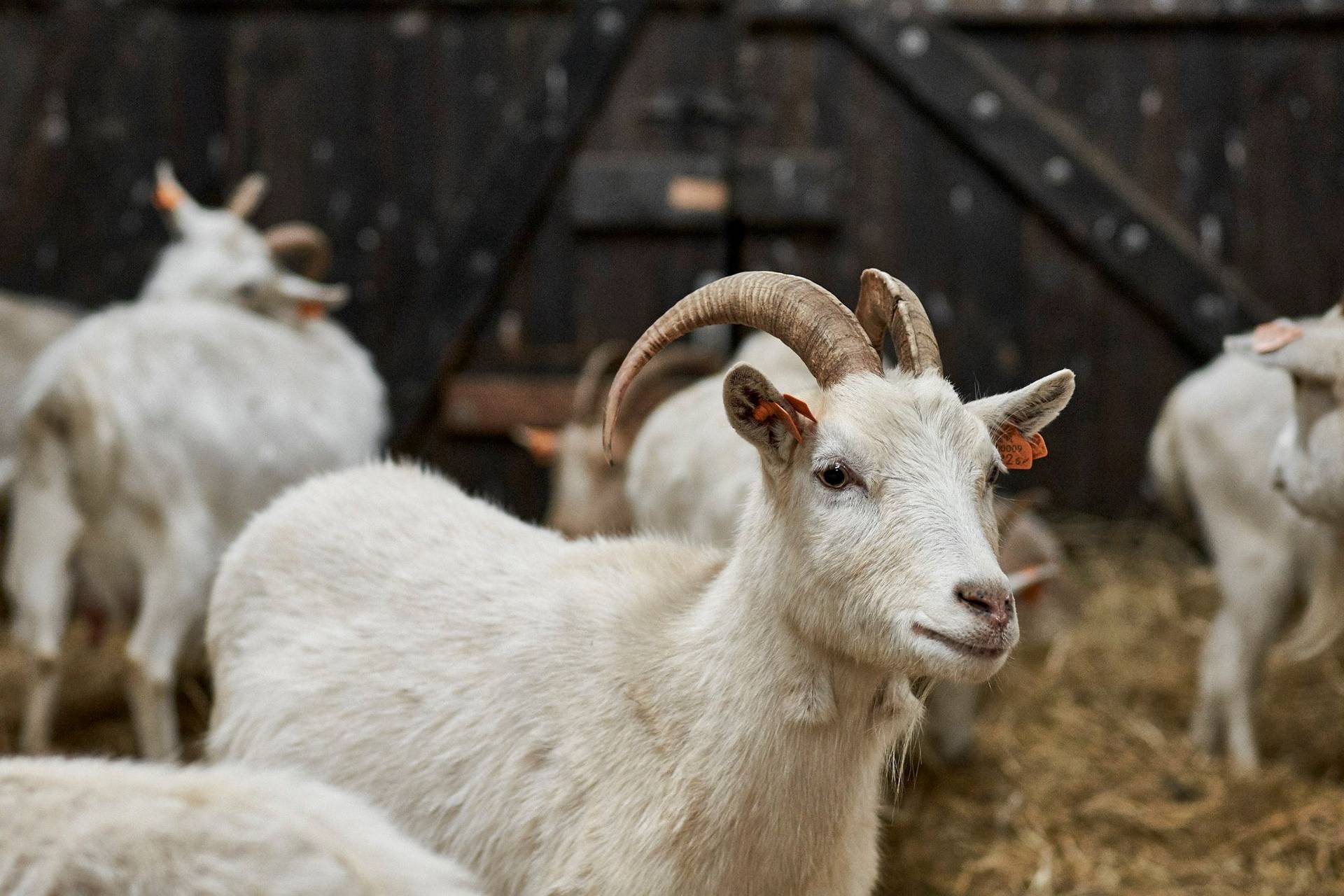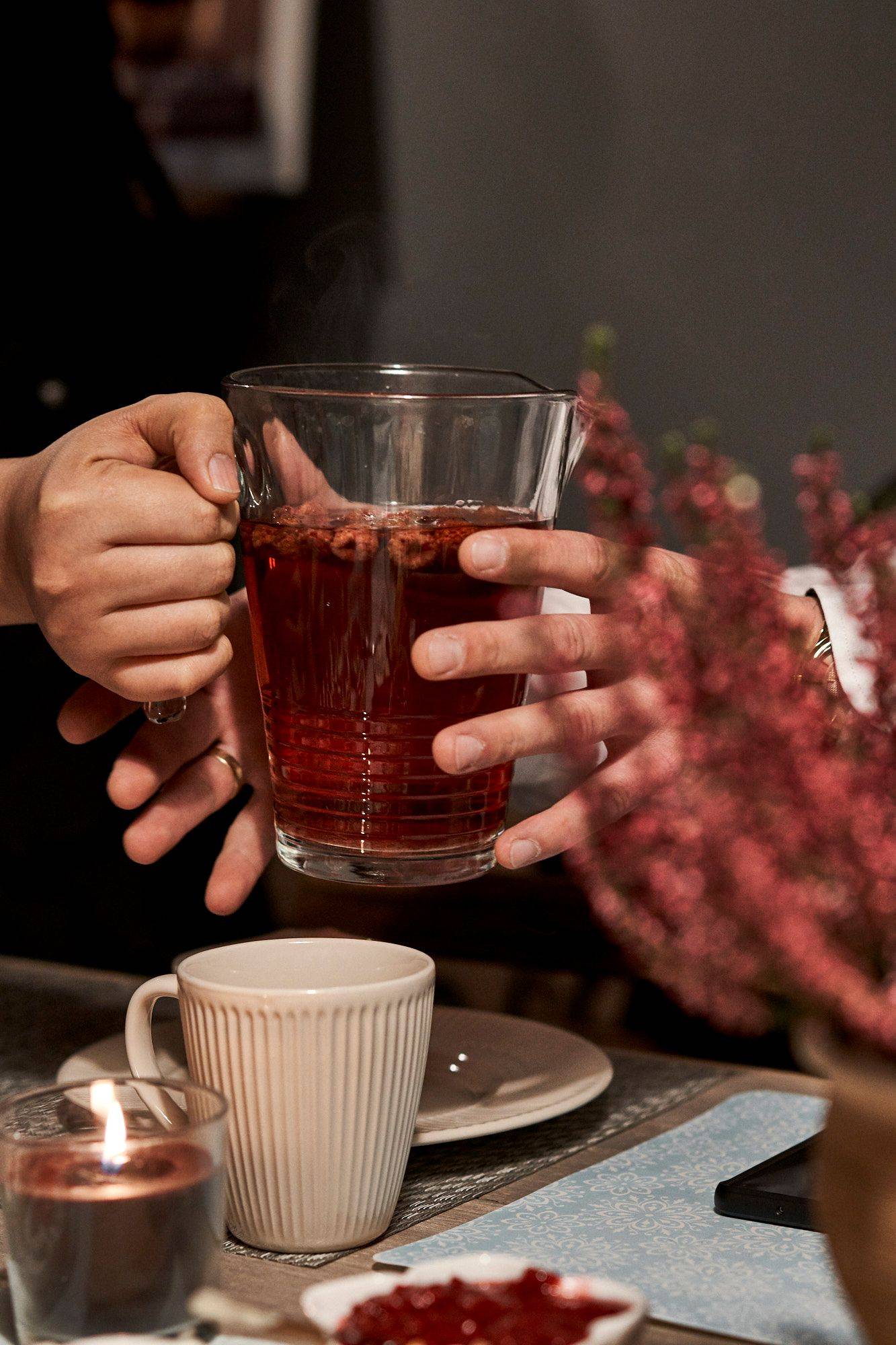 From manager to goats
Both Katarzynę and Grzegorza left their "normal" jobs to realize this farm. Today they produce different types of goat cheese, yogurt and milk, but also vegetables and fruits. So, if you feel like taking a break from your stressful daily life, book a room and spend some time on the farm. While you enjoy the silence out there, you will learn how to take care of the goats or how the delicious cheese is made.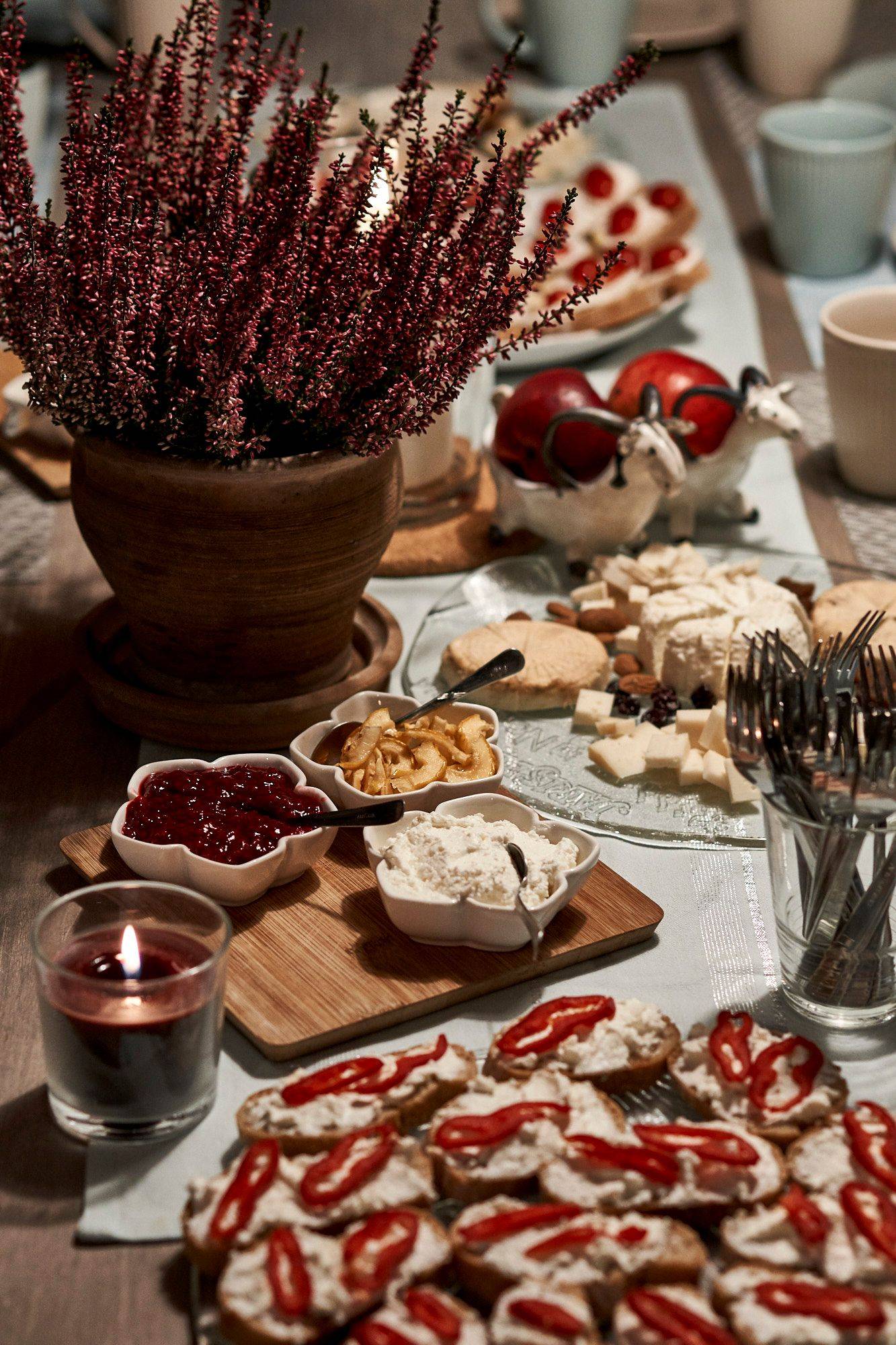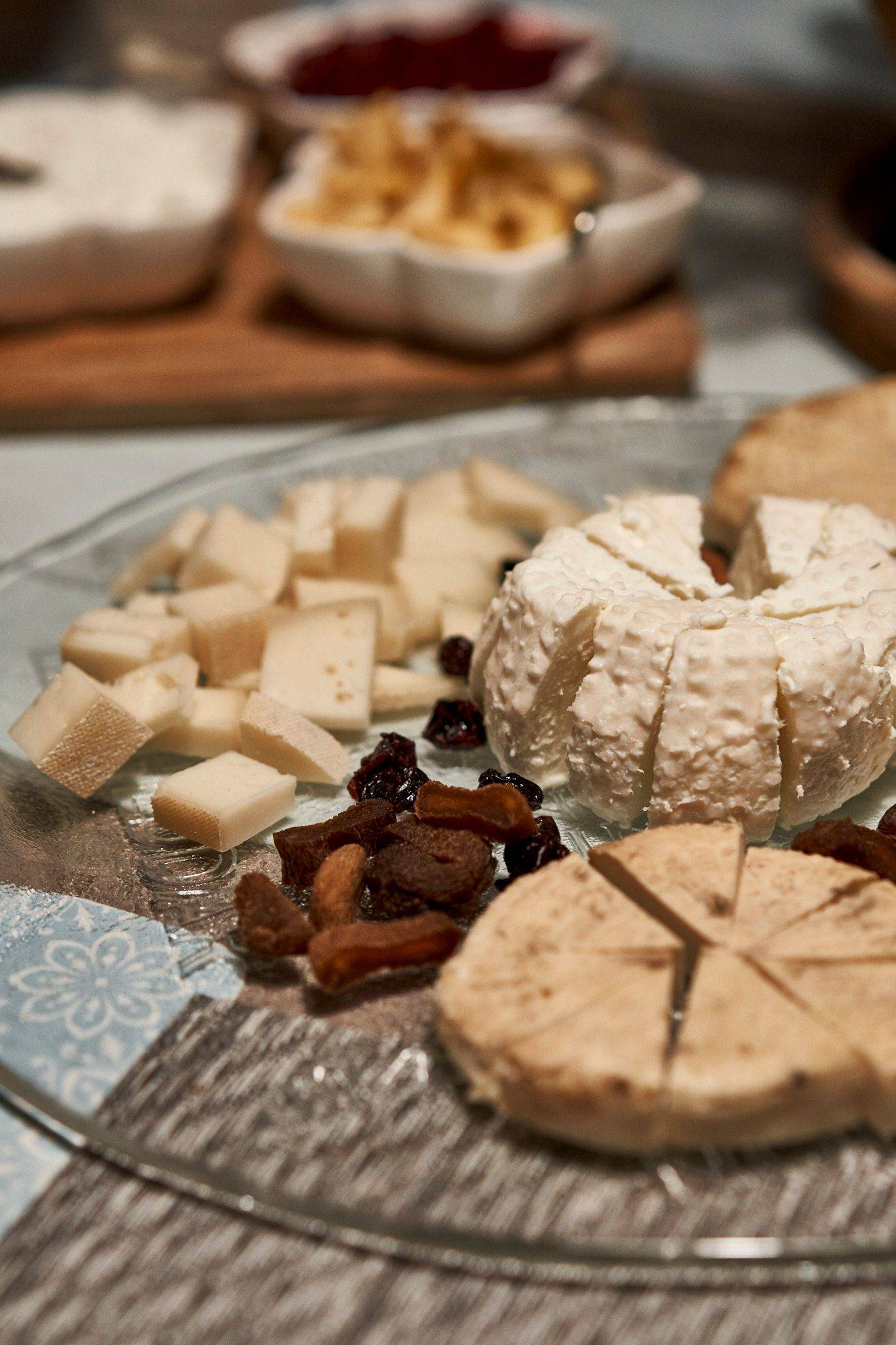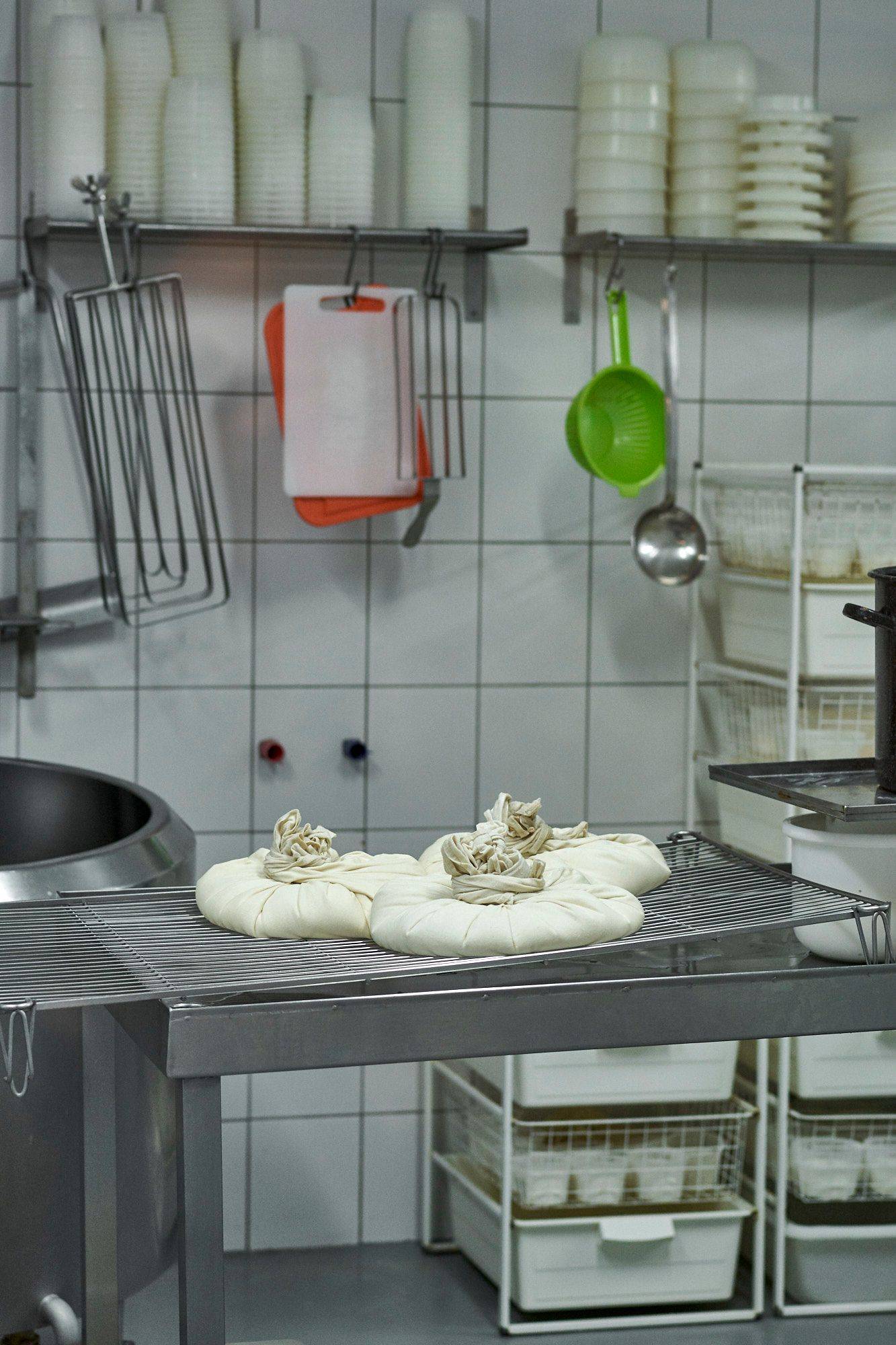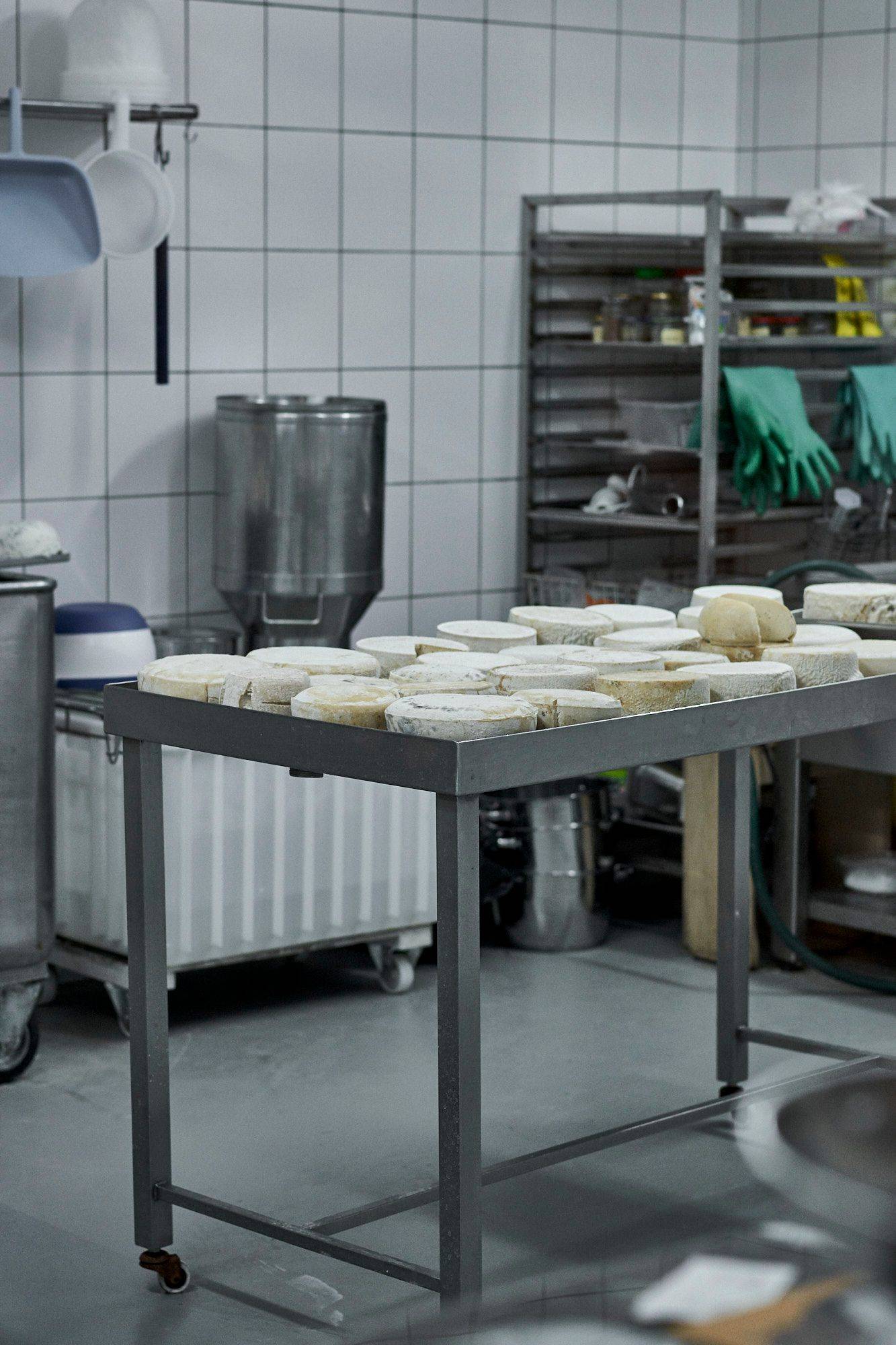 100 % organic
Katarzynę and Grzegorza have the ambition to run their farm fairly and respectfully for animals, climate and nature and therefore do everything organically. This status is checked every year to maintain it. They may not produce tons of cheese and milk, but they certainly contribute to a better agricultural culture. Katarzynę has named each goat and is even able to recognize them by their appearance. Pretty good, since some goats live on their farm.
After the tasting and a delicious homemade fruit liqueur, we were allowed to visit the goats in their pens. I have to admit that they all looked like happy goats in the hay. Everything was clean and the goats were so relaxed that they even asked to be petted. It's certainly not an easy life for them and their kids, but definitely a satisfying one. Maybe one day I can come here again to spend a few relaxing days.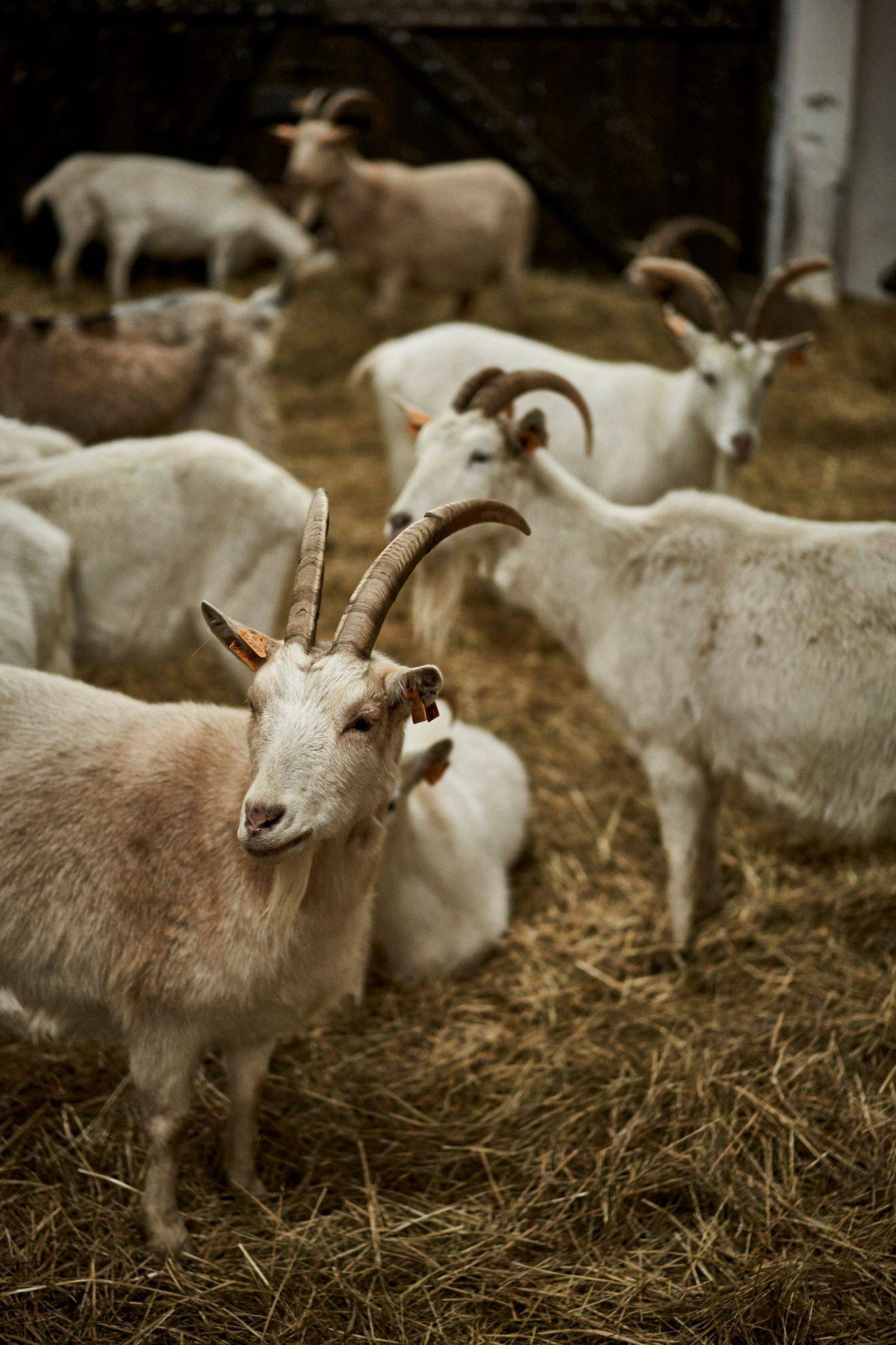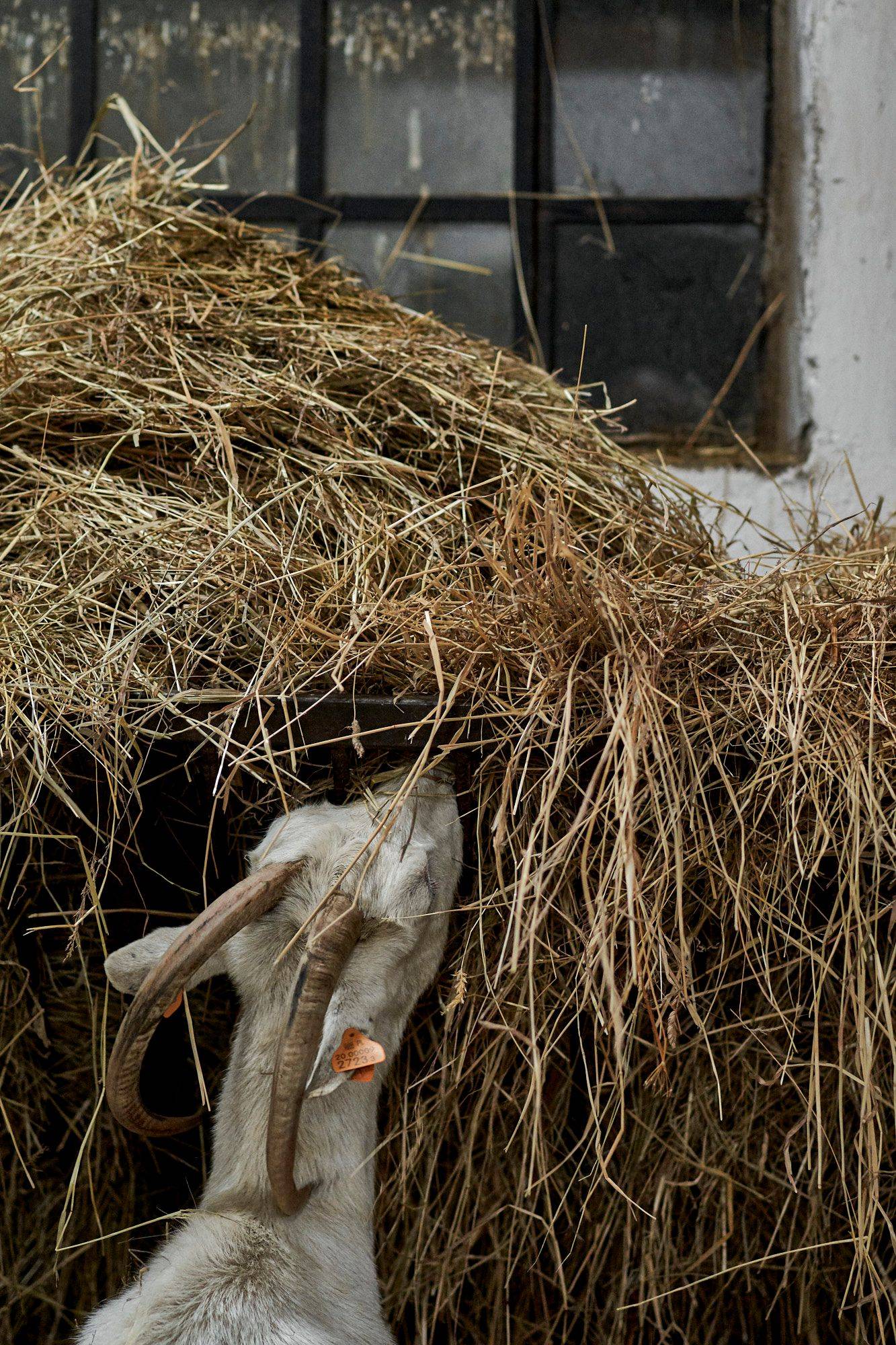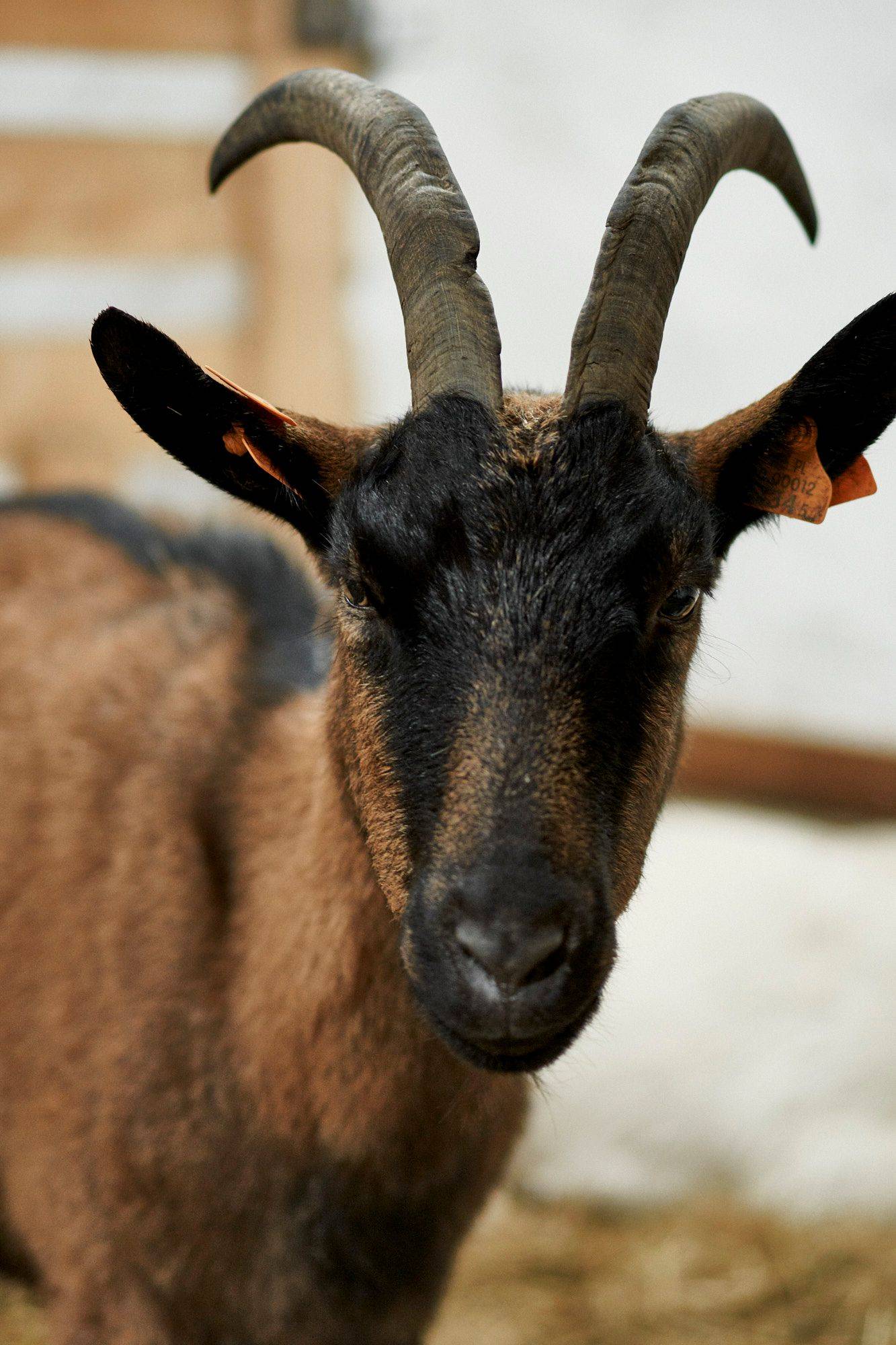 Aktywna Agroturystyka
The last stop of the day was made at Aktywna Agroturystyka, a farm with the concept of experiencing activities related to regional cuisine. The goal here was to learn about food preservation. As you all know, every season has something to offer, but in order to have ingredients available in the off-season, when there is less to harvest, you need to preserve them. A very common way to do this in Poland is to fermenting cabbage or cucumbers, for example, and smoking meat or fish.
One thing we experienced here and everywhere before was that everyone likes to host guests and here at the farm it should be no different. When we arrived, the table was set with various ferments, from cucumbers to peppers, homemade cake and smoked trout. If you ask me, that's all it takes, you get to a place and you know right away what it's all about. And I loved that we got to experience something different at each stop.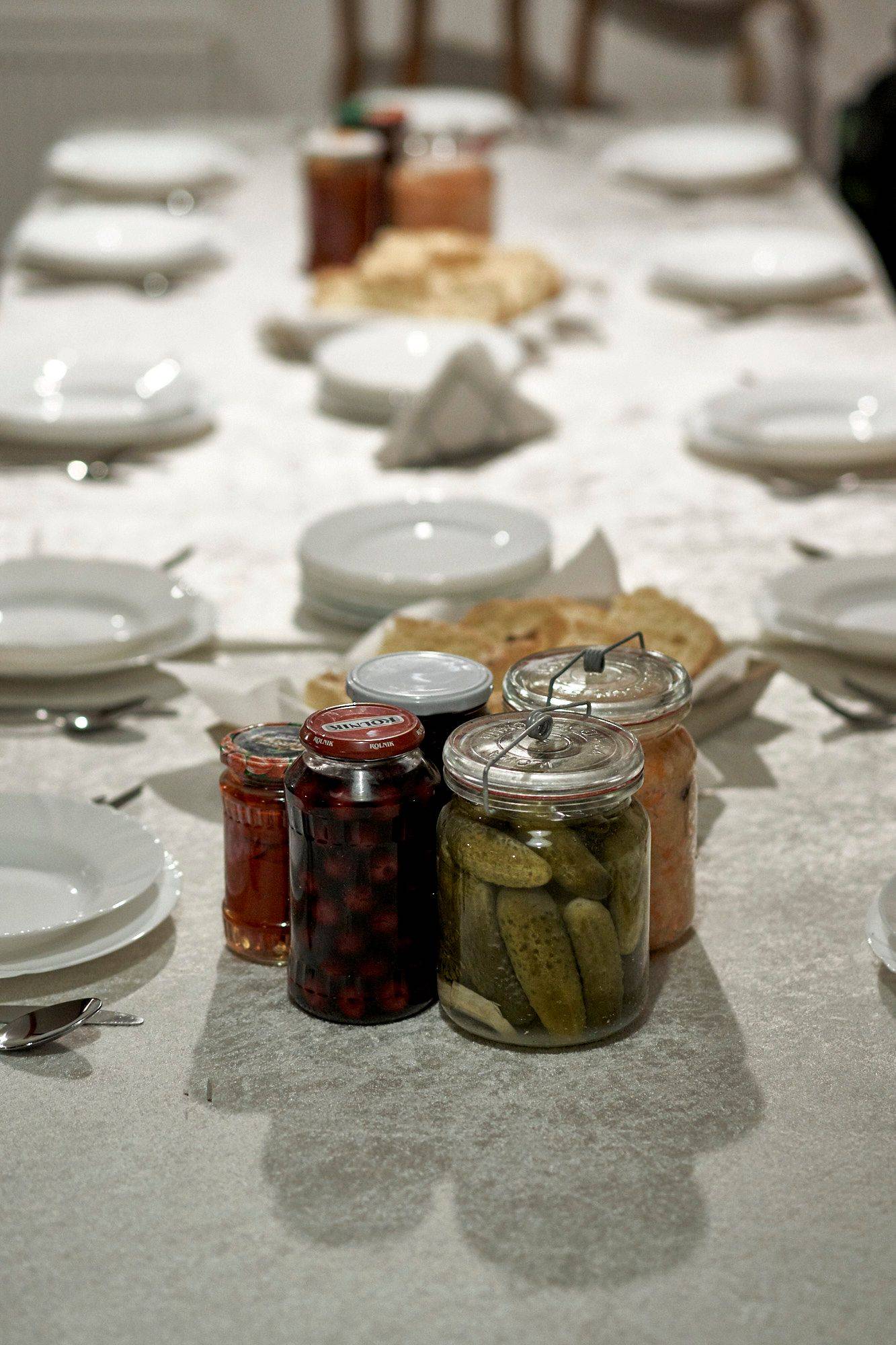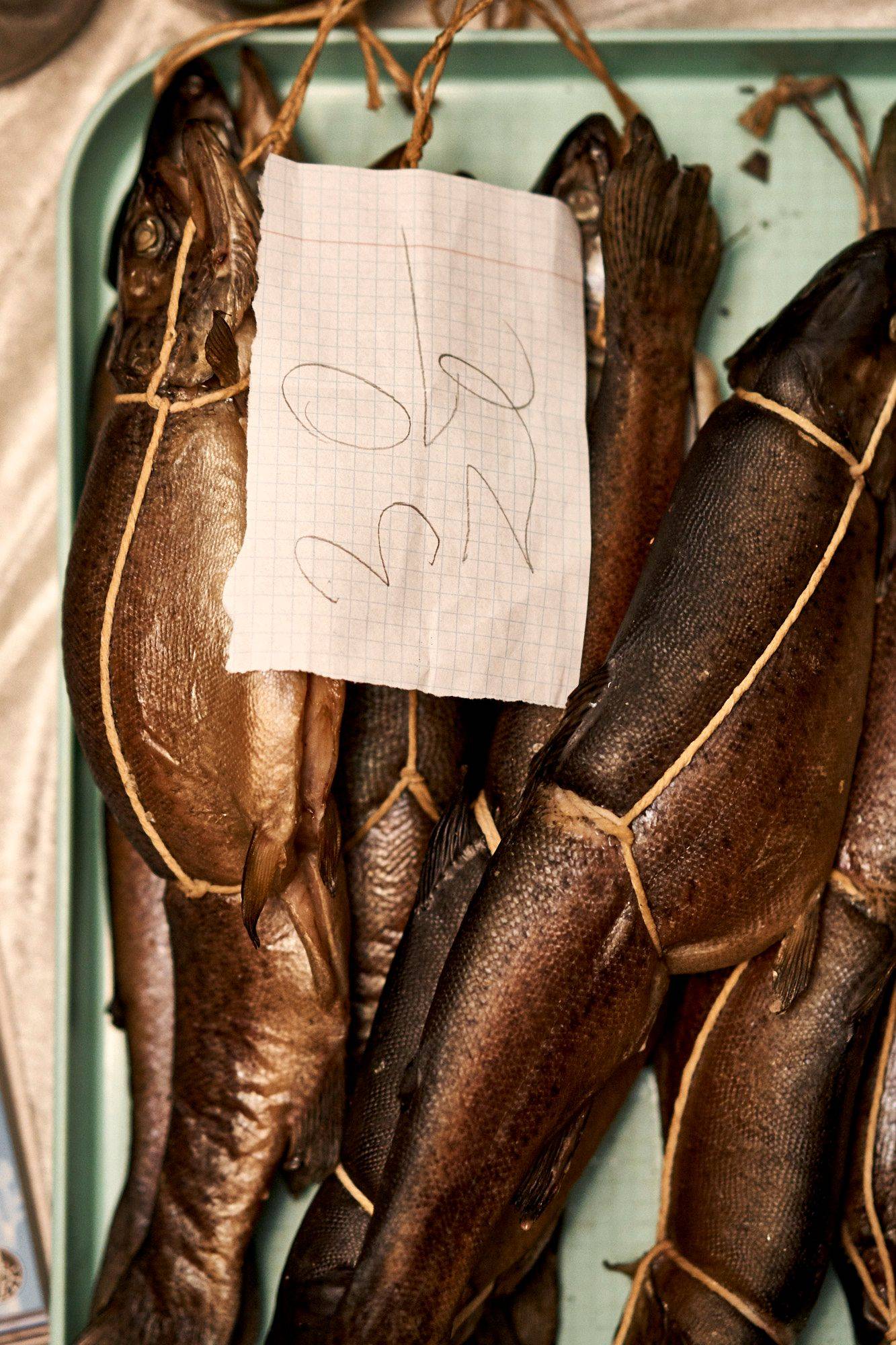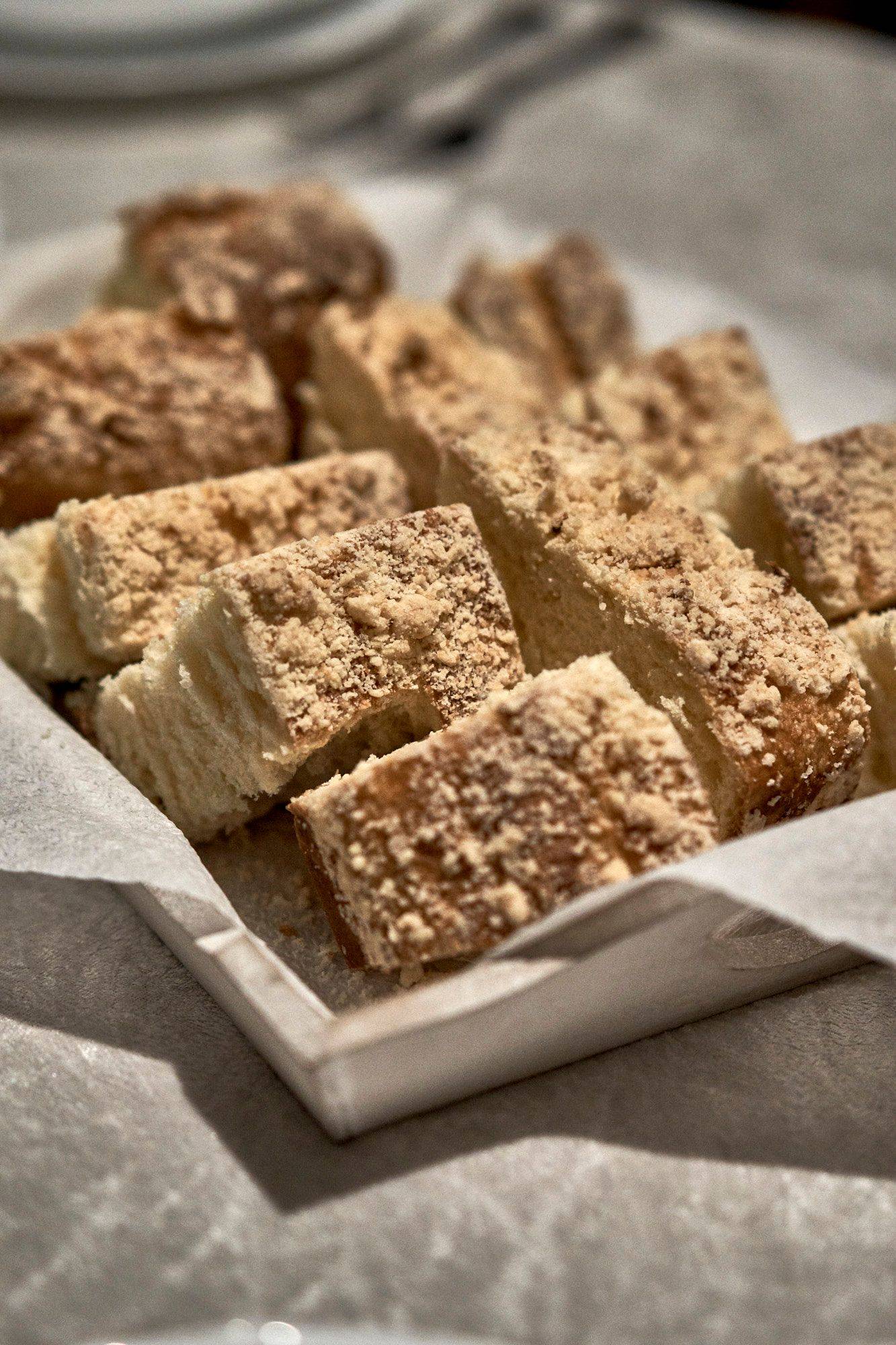 Fermented cucumbers and sauerkraut
It was time to get our hands on some ferments ourselves, so we learned how to ferment sauerkraut and cucumbers. The cabbage was first grated and then salt has been added. Then everything was kneaded for quite a while and pressed firmly into large clay pots to keep the oxygen out as much as possible. The outer leaves of the cabbage were used to cover the sauerkraut and the pots were then kept at room temperature for three to five days to ferment the cabbage. Once a day, a wooden stick is pushed in to allow the fermentation gases to escape from the pots. When the cabbage has fermented to the desired point, it is kept in a cold place to prevent ongoing fermentation.
Doesn't sound too complicated but takes some time and experience to know when the fermentation is completed and what suits your taste. Another tasty way of preserving, are pickled cucumbers. To prepare these, water and salt are brought to a boil and allowed to cool again. The cucumbers are then placed in clean jars along with some herbs and spices and filled with the saltwater. This is also left at room temperature for a few days until the fermentation reaches the desired level, and from then on it is stored in a cold place like any other ferment.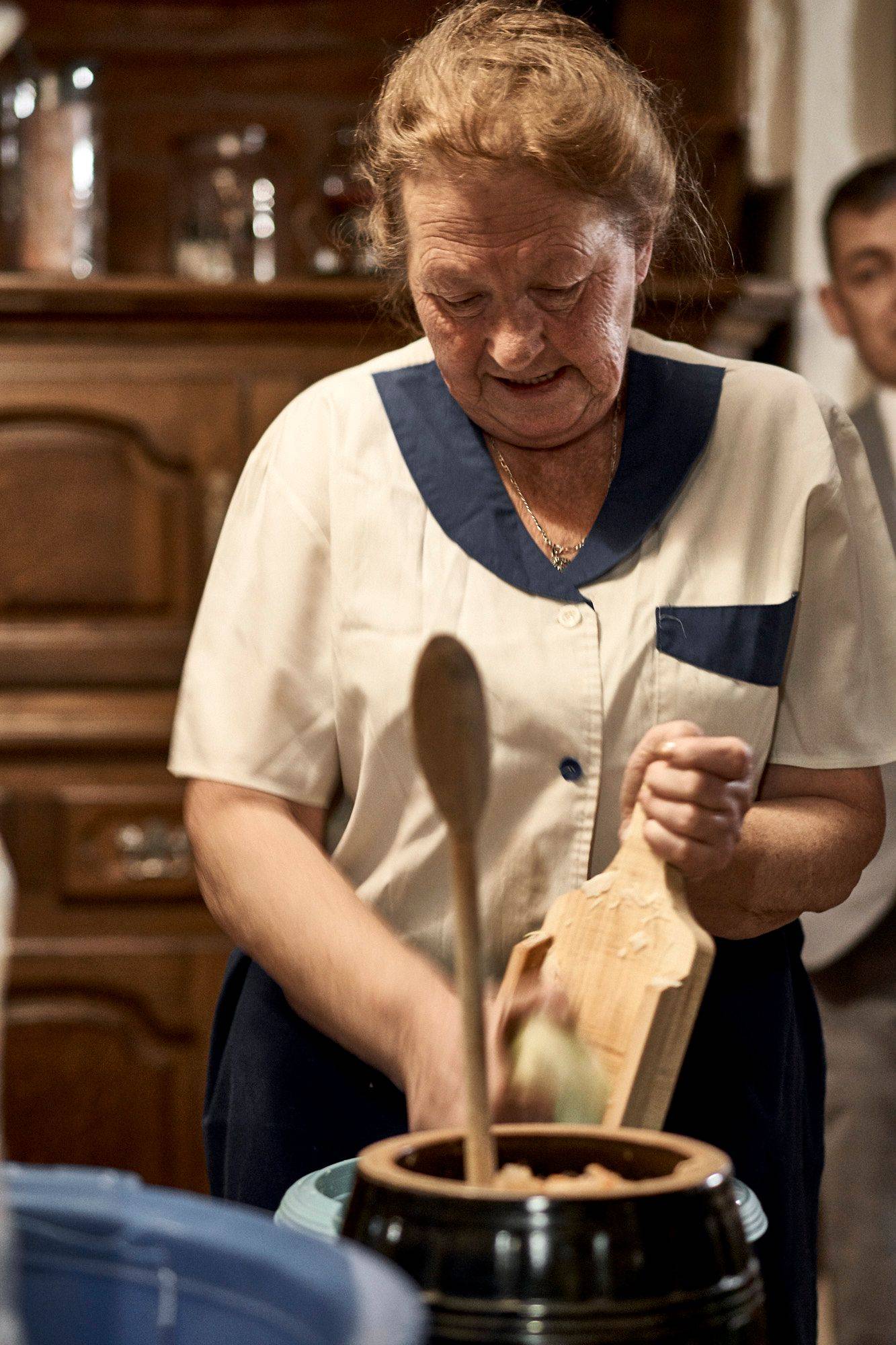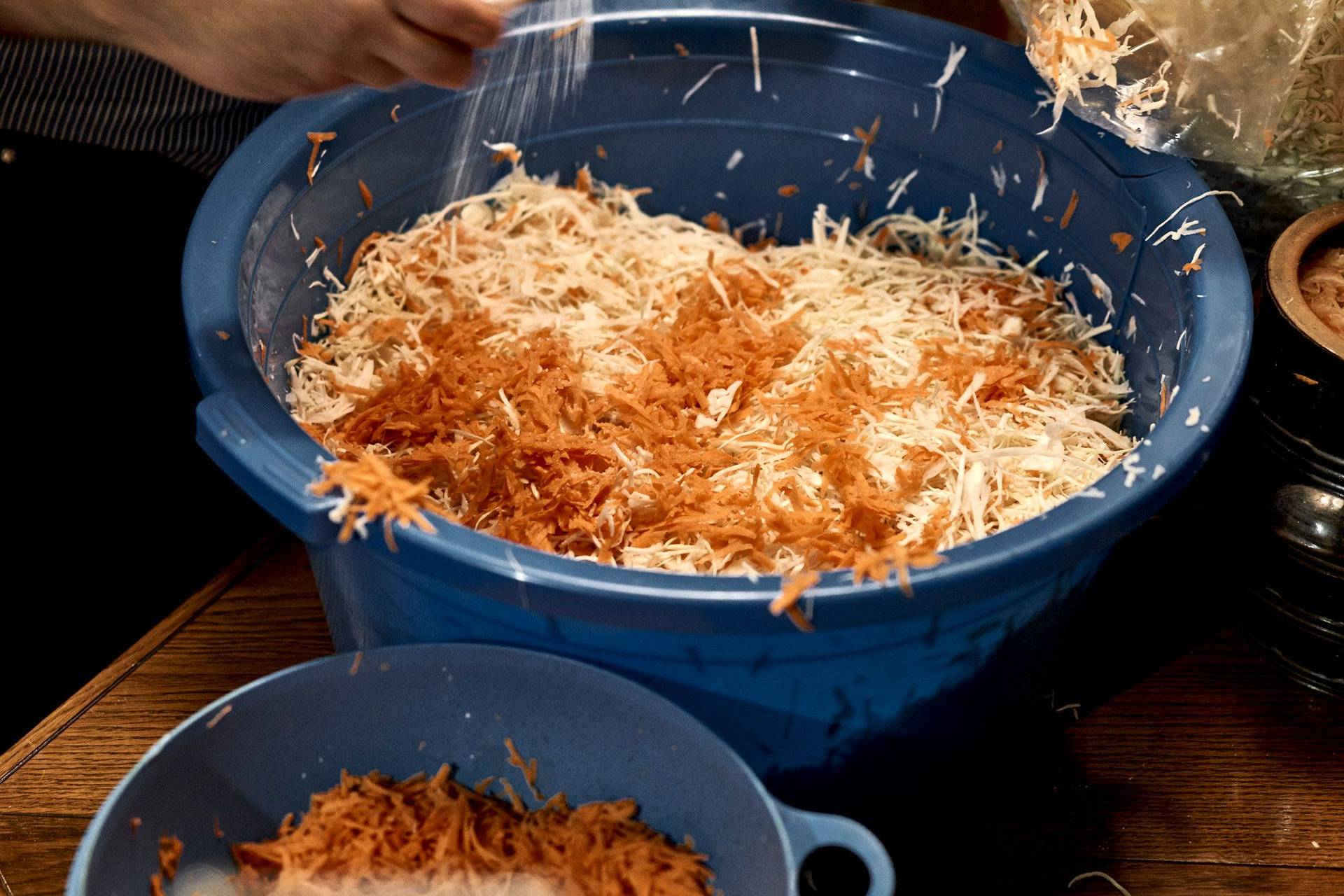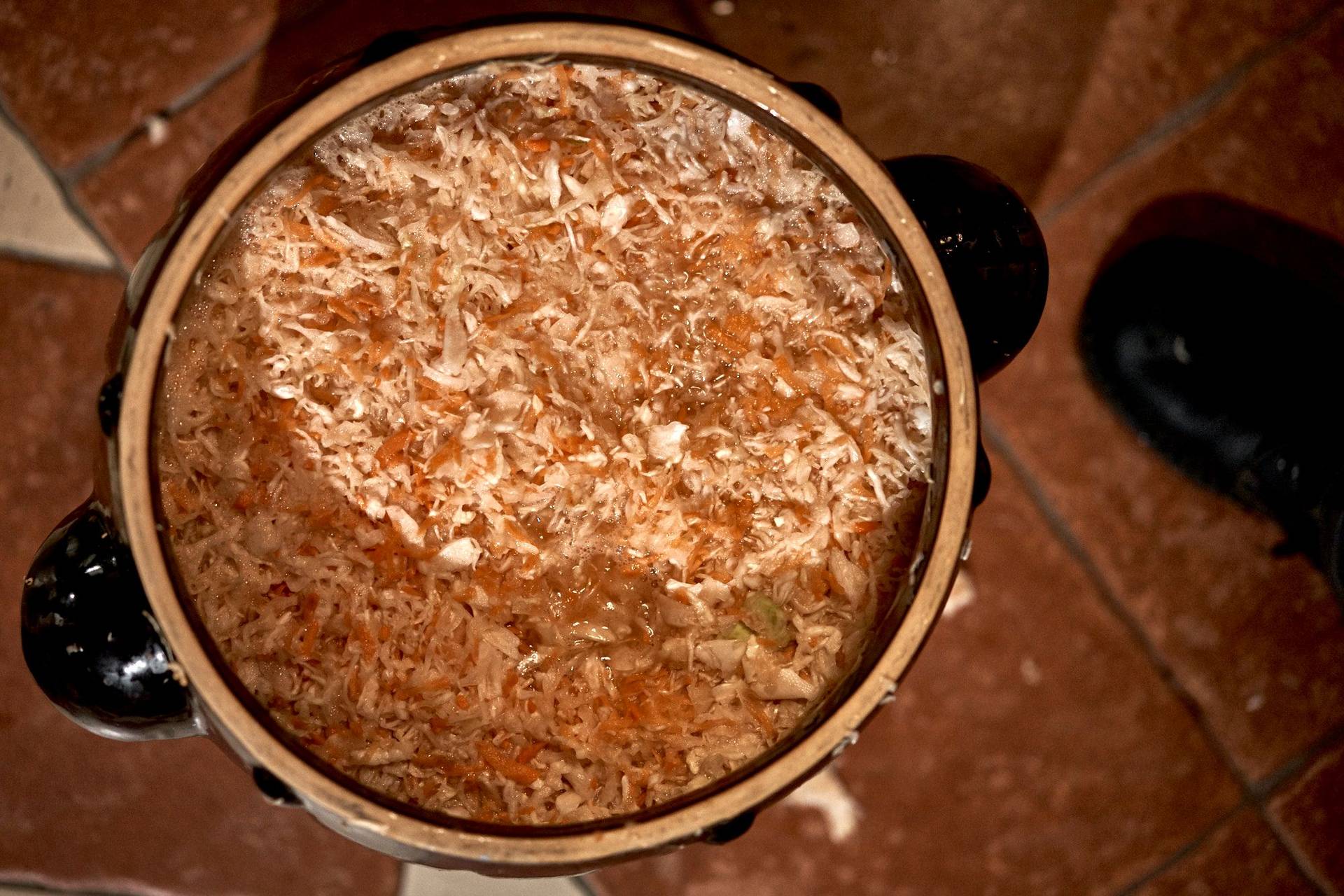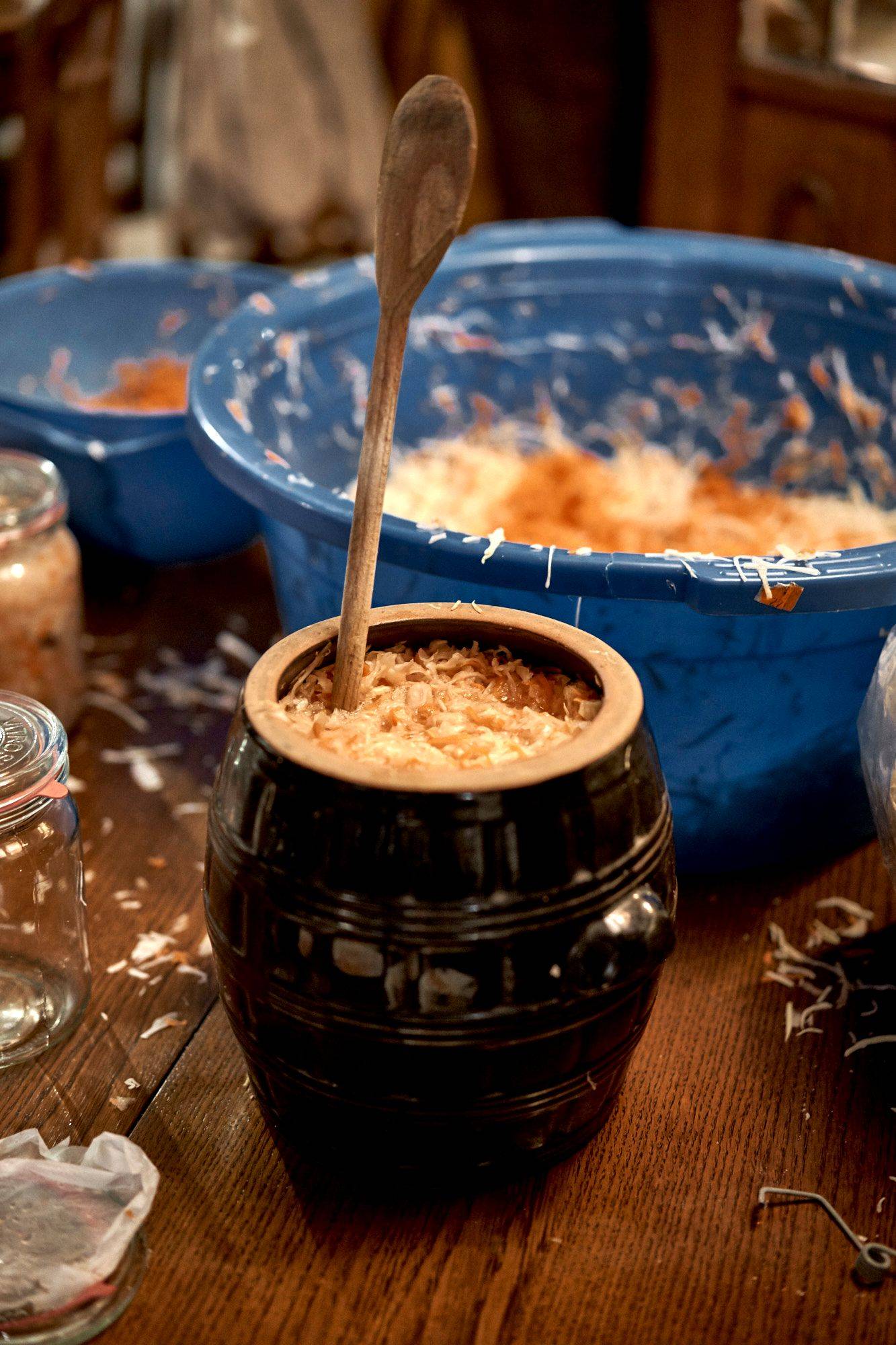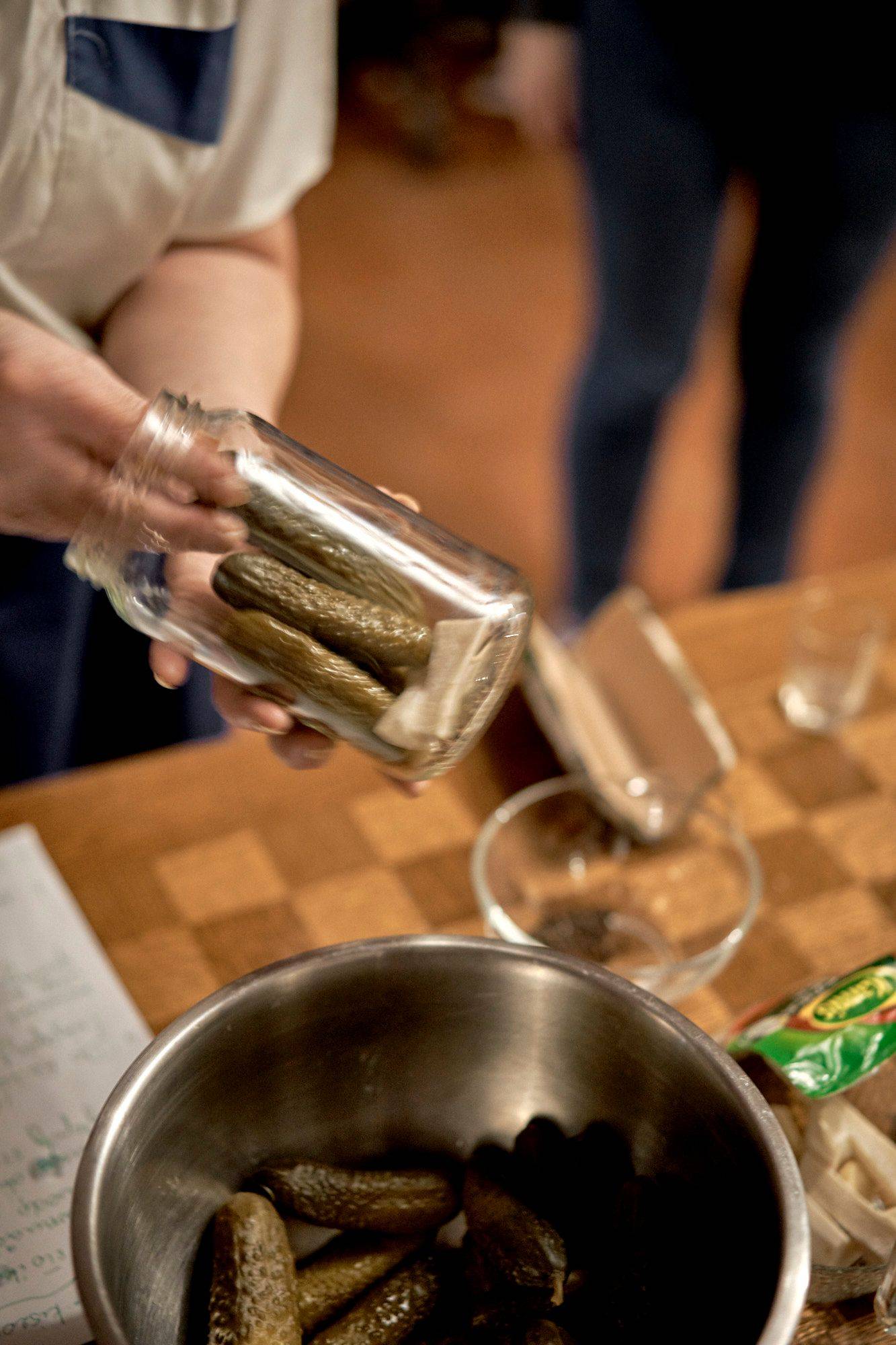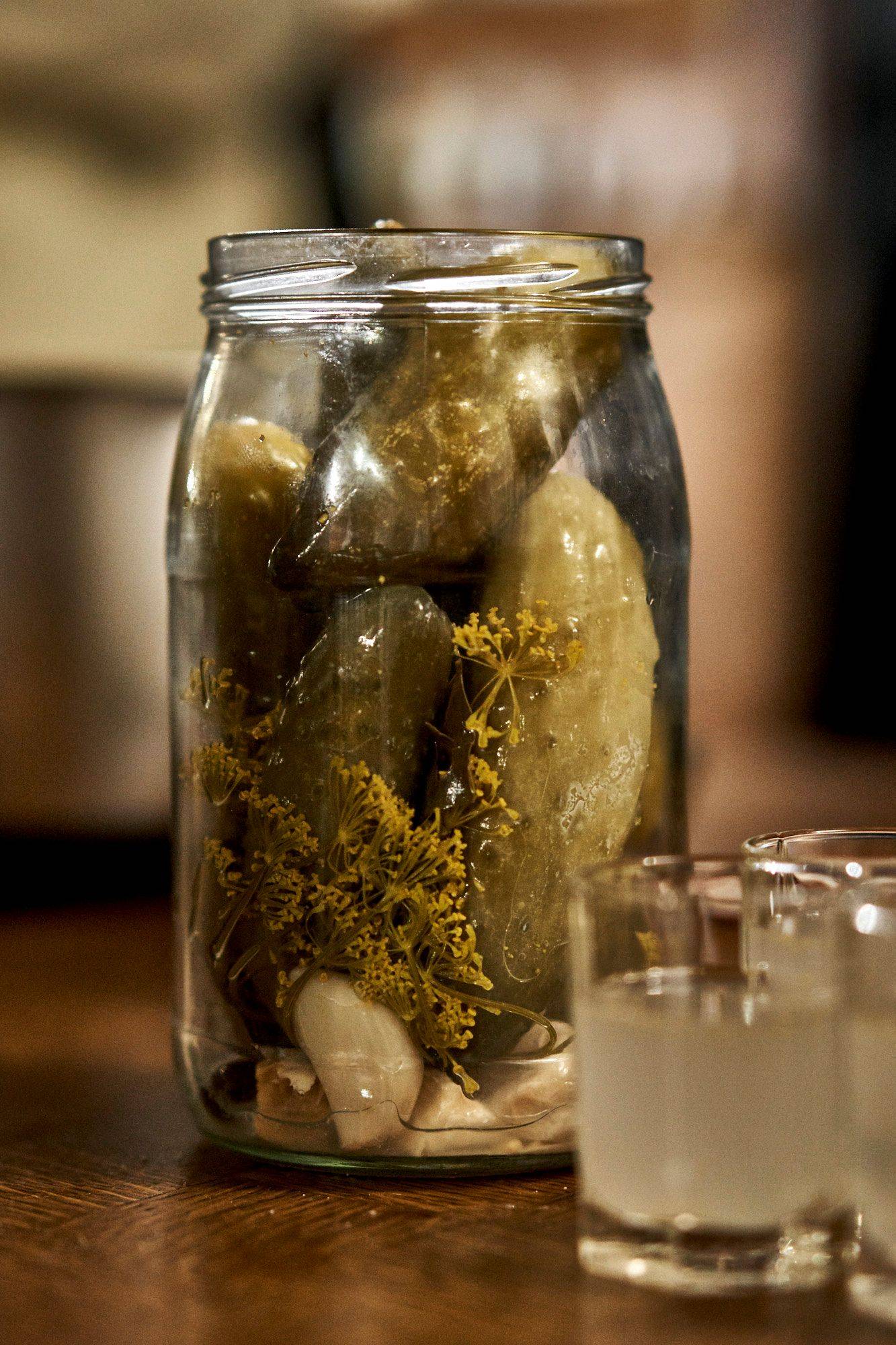 Smoked trout
Taste-wise, this may not be everyone's cup of tea as ferments have a certain flavor, but I really like them and have already made my own attempt at fermenting some kimchi at home. For a first attempt, it actually turned out really well, but there's still room for more improvement and I'll be trying other things as well. We slowly got into dinner mood and prepared some trout that we smoked fresh for our feast. For this we learned some fish tying techniques to be able to hang the fish in the smoke. Then we went out into the darkness to fiddle the fish on metal poles and hang them in the smoker. Large chunks of beech wood now fired the smoker for a good 45 minutes to cook the fish. The other method would have been cold smoking, but as the name suggests, 40 °C is not exceeded here, which would then have made us wait much longer for dinner.
The dinner with different ferments like cucumbers and cabbage, roasted potatoes and the tender smoked trout was very good and again different from all the previous meals. One funny thing should be mentioned here though. On the table have been some jars of preserved cherries, which serve a very different purpose than I know. We always preserve the fruit to enjoy it in the winter, but here the opposite is the case. Everyone is only after the juice in the jars and not the fruit itself, which is more or less just a supporting actor here. Different country, different point of view...in any case, fun for all of us.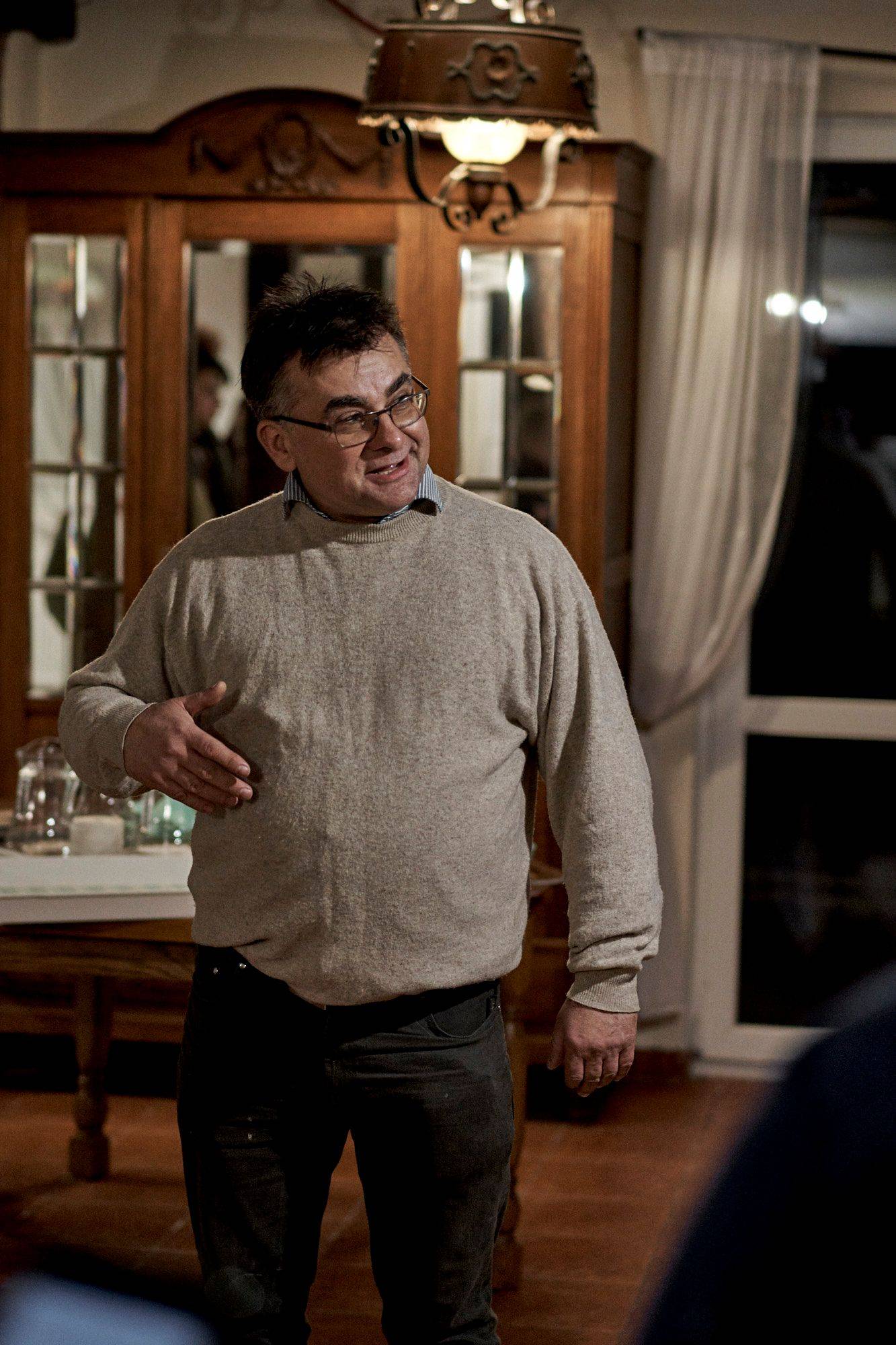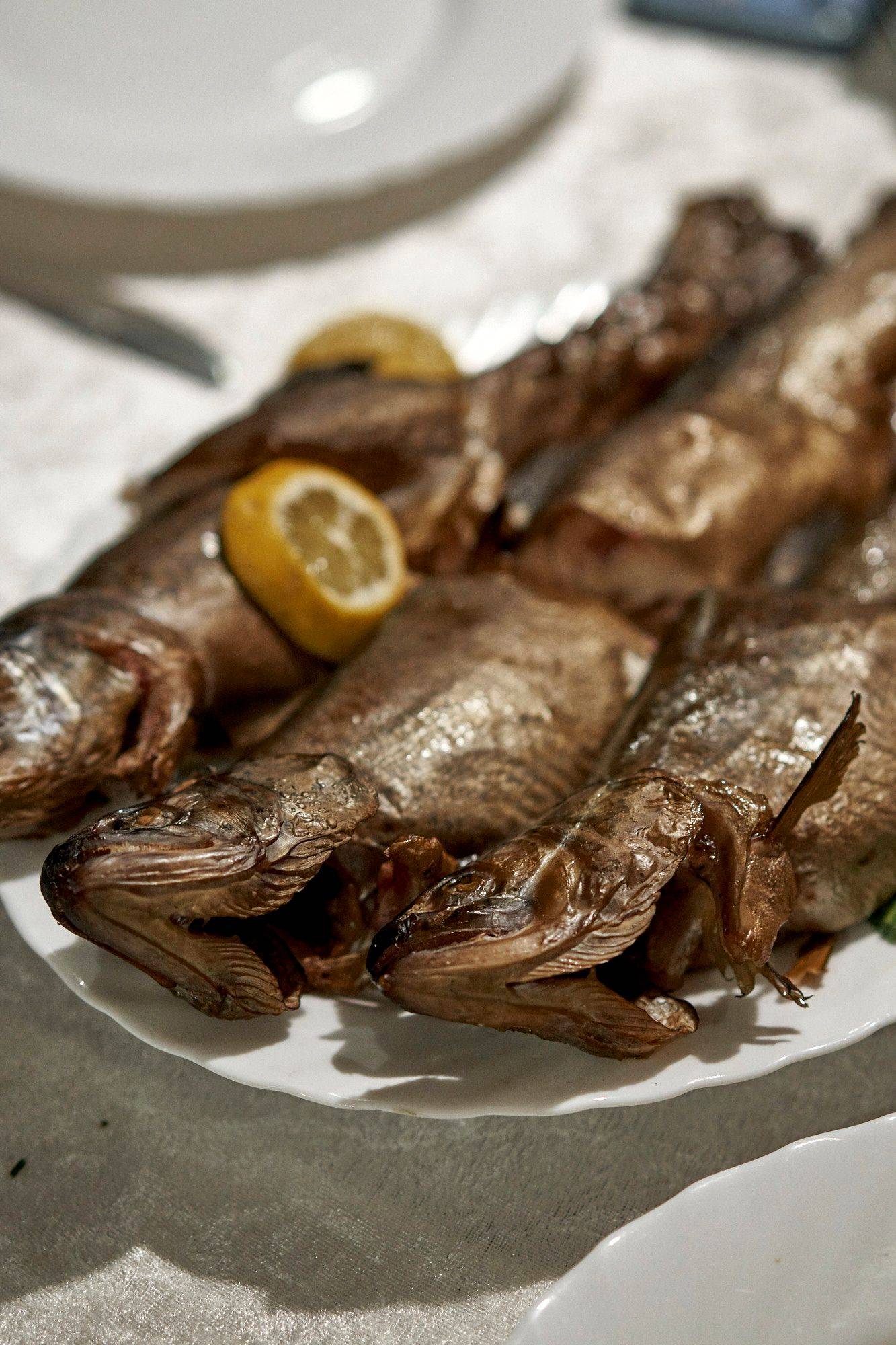 The Bees
The next day we set off again further towards Warsaw. The first stop we made that day was at Stowarzyszenie Nasze Pszczoły or the Beekeeper Friends Association in Jabłonna. Sure, no bees to be seen at this time of year, but a really important stop on our trip to remind us of the importance of these little animals. Bees are not only synonymous with the honey on our breakfast table, bees are the most important factor in making the cultivation of food possible that we need for our nutrition.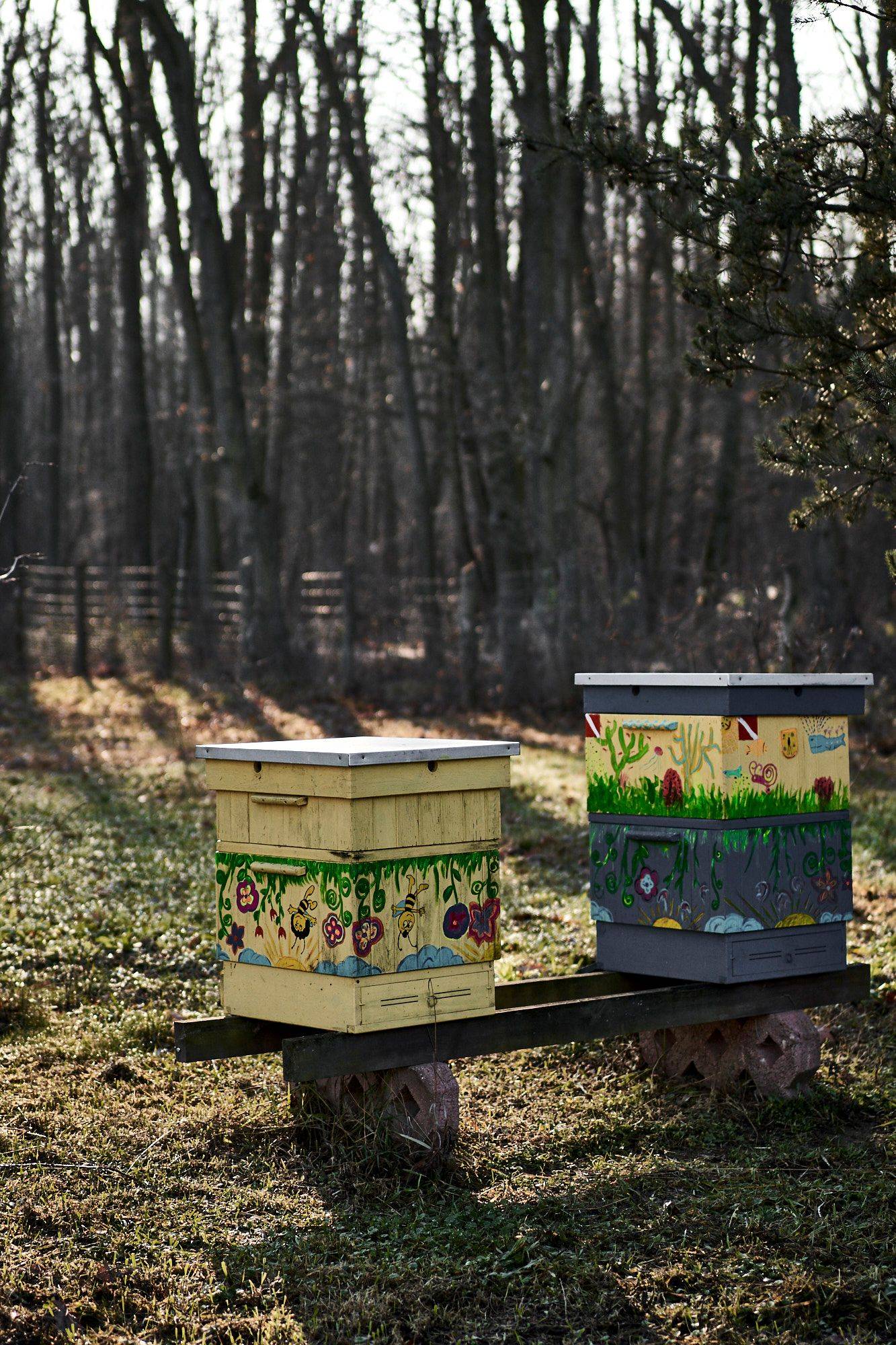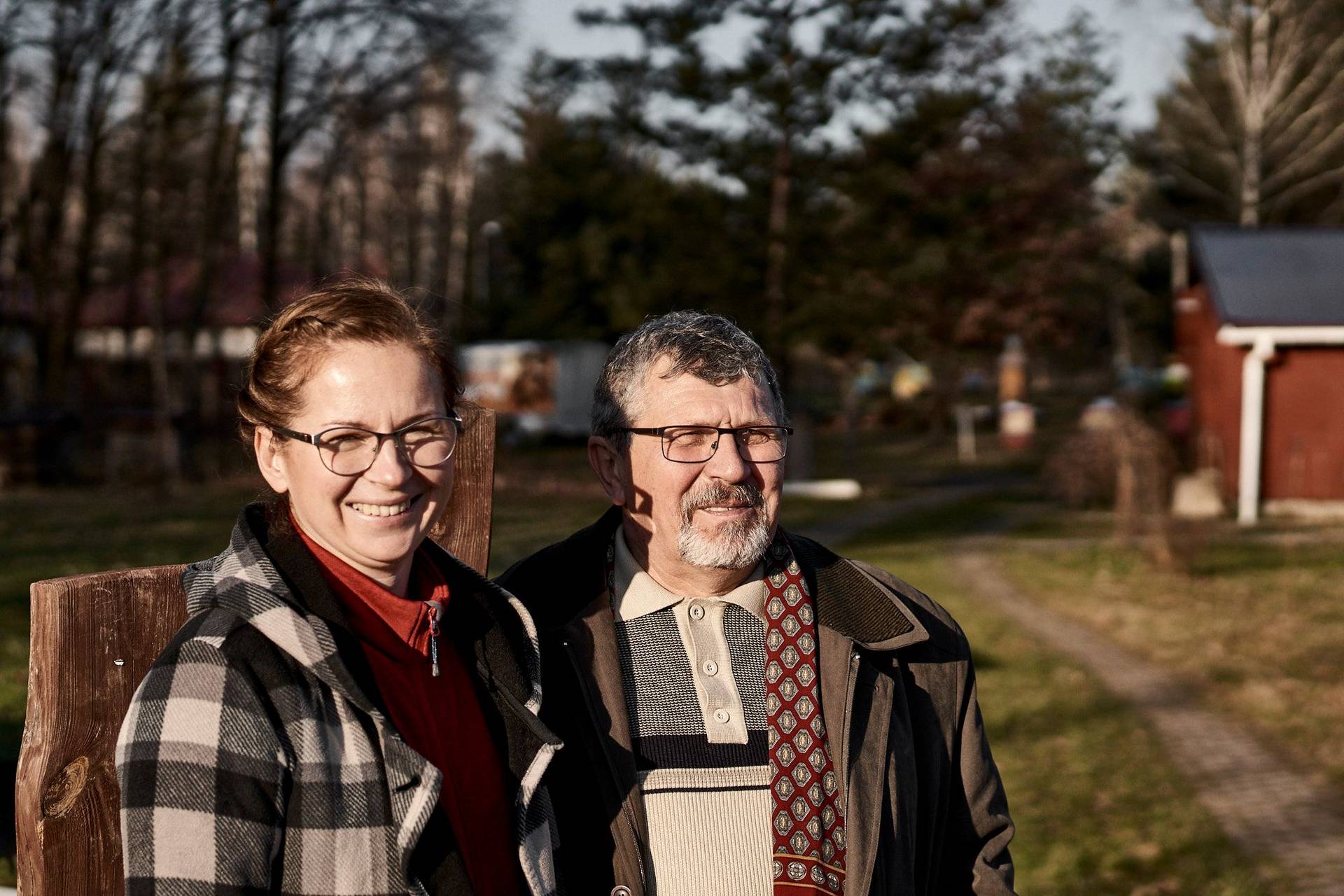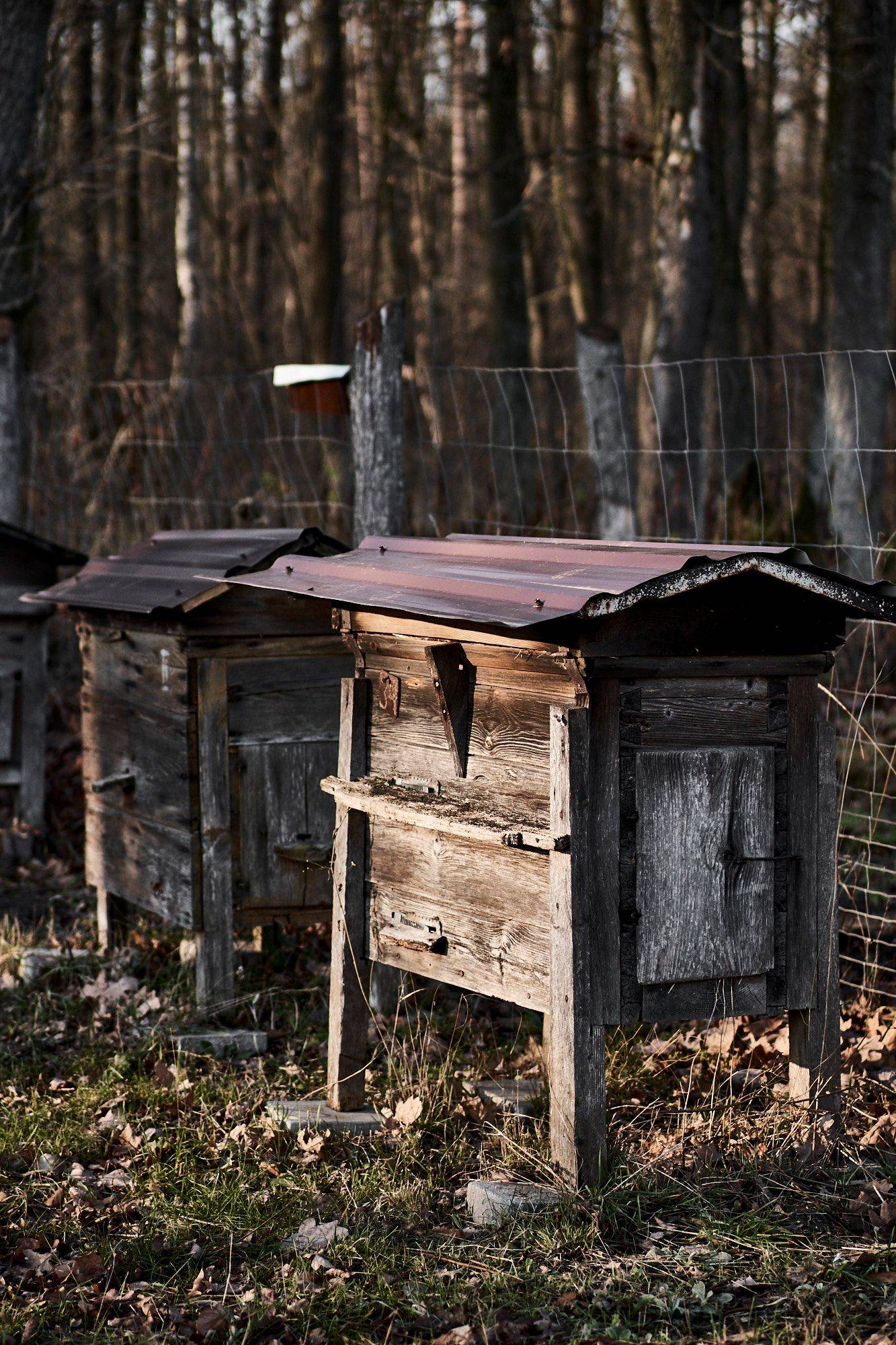 Help the bees
Bees are very sensitive to changes in their ecosystem, a whole population can easily disappear if pesticides are used nearby and you don't want to know what would happen if the bee disappeared completely from this planet. This is the reason why many beekeepers travel with their bees to clean places. Now, I know that not all of you can have your own bees, but everyone can do at least small things to help them. Simply by doing some of the following things:
Plant some bee-friendly flowers in your garden or even on your balcony
Do not use pesticides or chemicals on your plants
Support beekeepers and farmers who grow food without chemicals by eating local honey and vegetables
We can all make the right choices every day about what we eat and where we buy our food. This tiny decision can make a huge difference in agriculture and keep the bees flying.
Natural immune system booster
Bee products have so much to offer besides the sweet taste of honey on a breakfast bun. Want to stay healthy year-round without popping pills or taking powders? Here's how: Bring 250 ml of water to a boil and let it cool in a clean container. Add 1 tablespoon of bee pollen and 1 tablespoon of honey and let it sit overnight, done. Every day take 2 tablespoons of the bee booster and you are good. The pollen contains vitamins, enzymes, minerals and proteins, making it a perfect dietary supplement.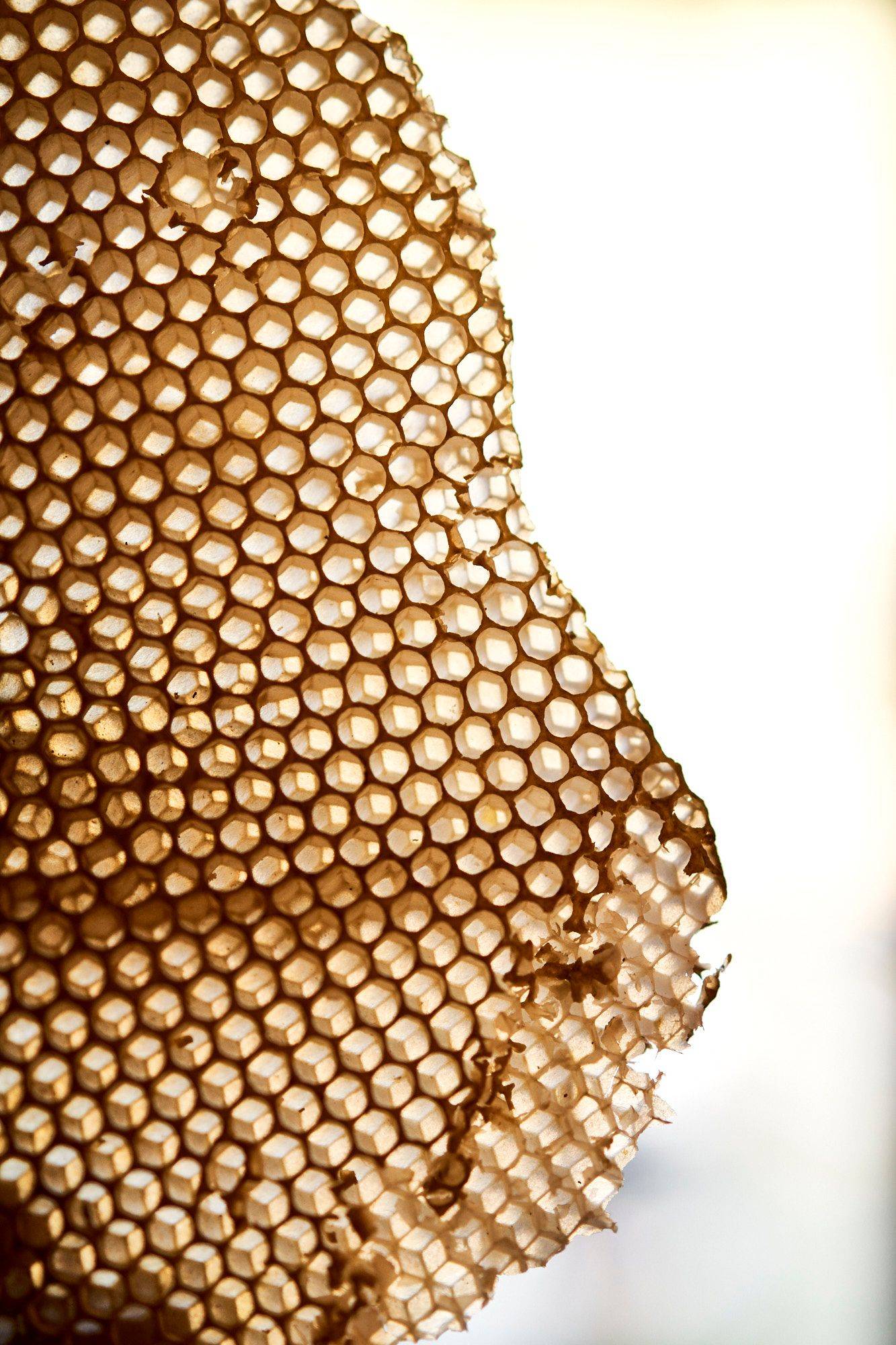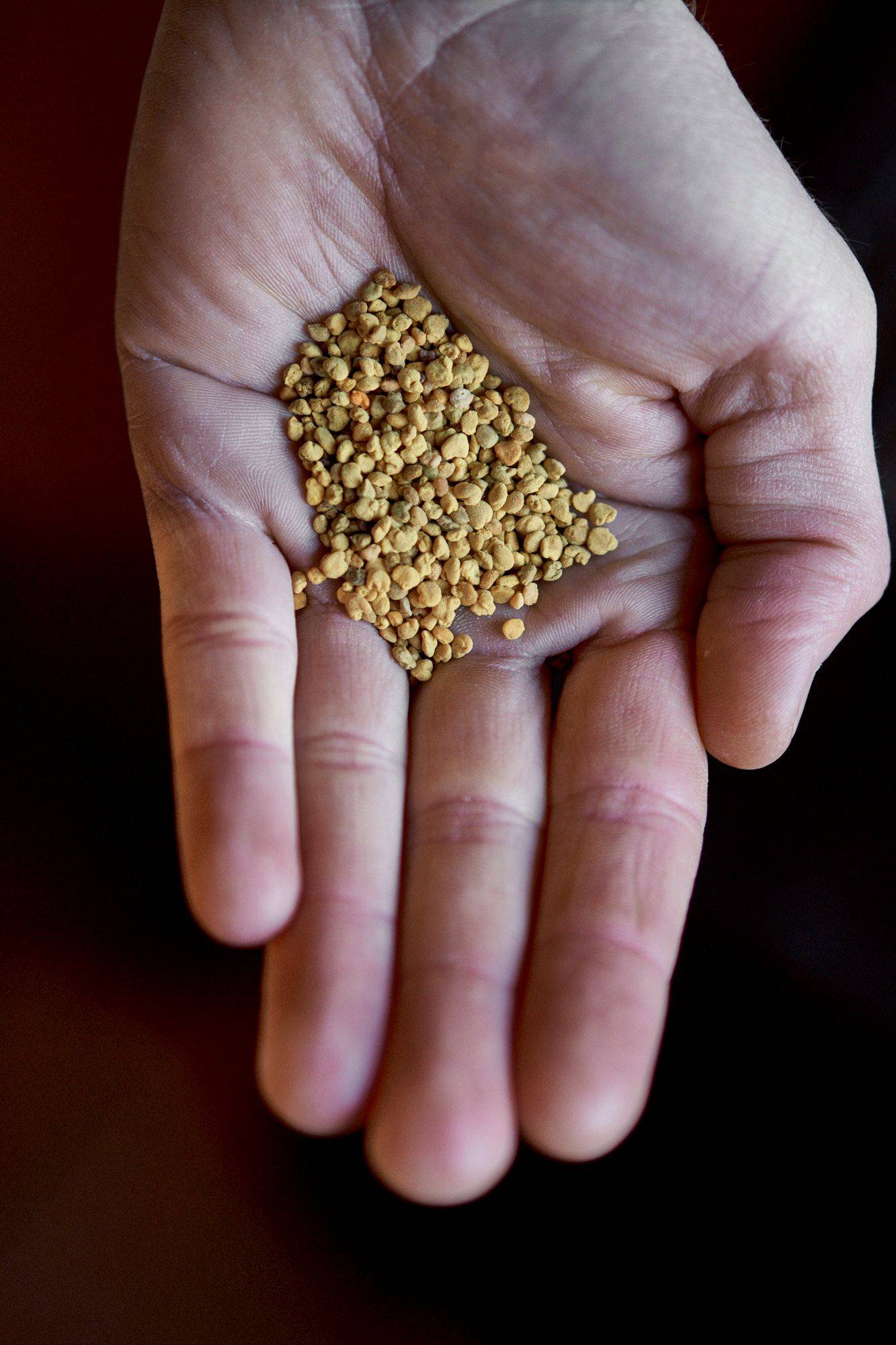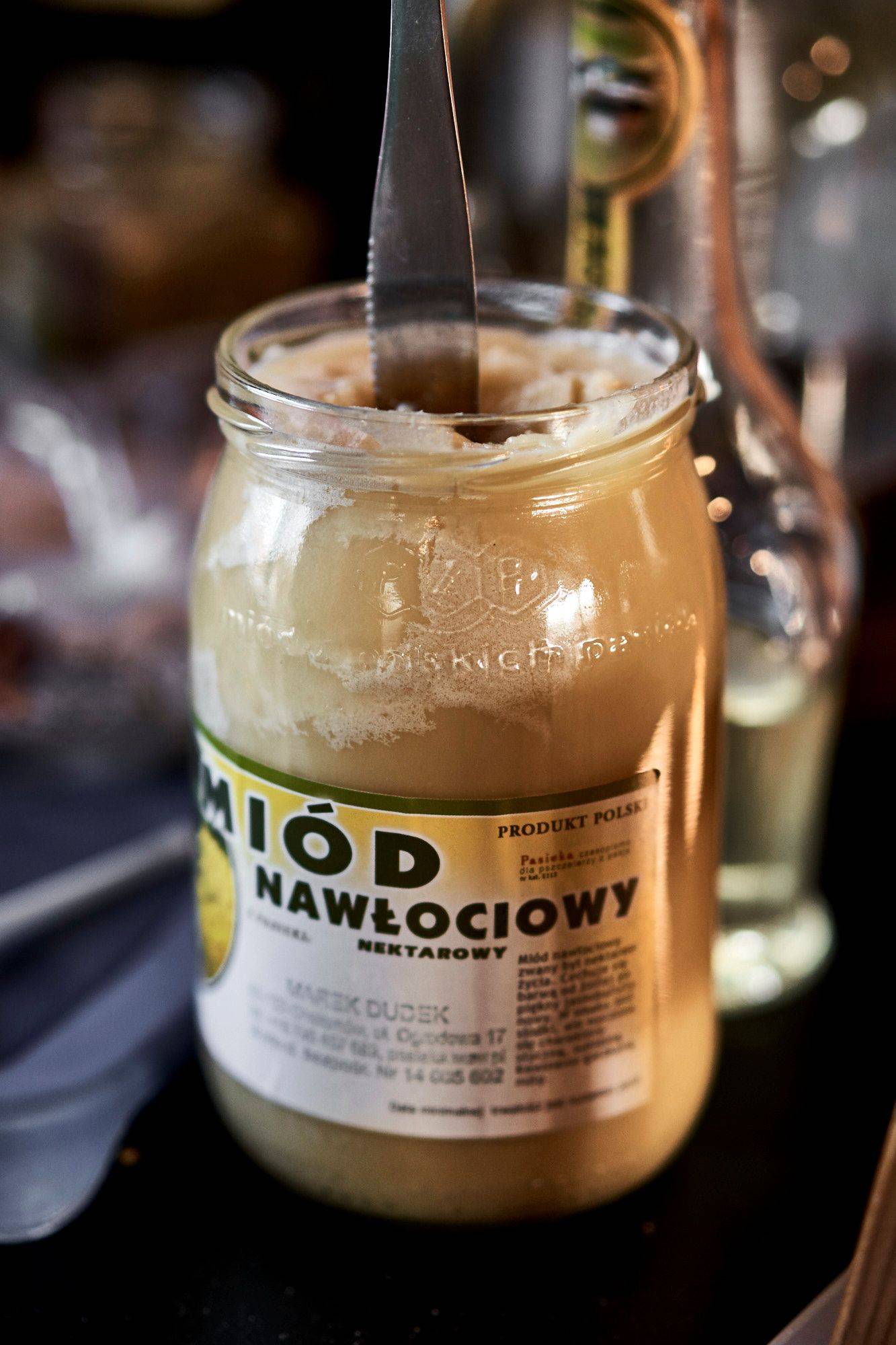 Vodka - Polish national heritage
Back in Warsaw, our way led us to the Polish Vodka Museum to learn more about the clear liquid. First question, who invented vodka, the Russians or the Poles? Well, people argue about it, but according to this statement, it was the Poles who invented vodka in the 1400s. At that time, however, only half as strong as today and made from rye, which was grown a lot at that time. The name is based on the Polish word "woda", which stands for water. A good vodka should be clear and strong and have no artificial flavors. That's why Poland and Russia want a purity law like the one for brewing beer. According to this, only cereals or potatoes and water may be used for distilling.
The first step in vodka production is very similar to that of beer brewing. It begins with the production of the so-called mash, the mixing of the respective raw material, i.e. crushed and malted cereals or crushed potatoes, with water, whereby in the case of potatoes additional enzymes, e.g. from malt, must be added. During subsequent heating, the enzymes contained in the malt (especially amylase) become active and break down the starch molecules. Yeast is added to the now sweet mash (the wort) to start fermentation. During fermentation, the sugar in the mash is converted to alcohol, up to a level of 6 to 7 percent alcohol by volume. Then the actual distillation takes place, obtaining the so-called raw alcohol. This is then brought to the drinkable level, which is usually 40 percent by volume, by adding filtered water.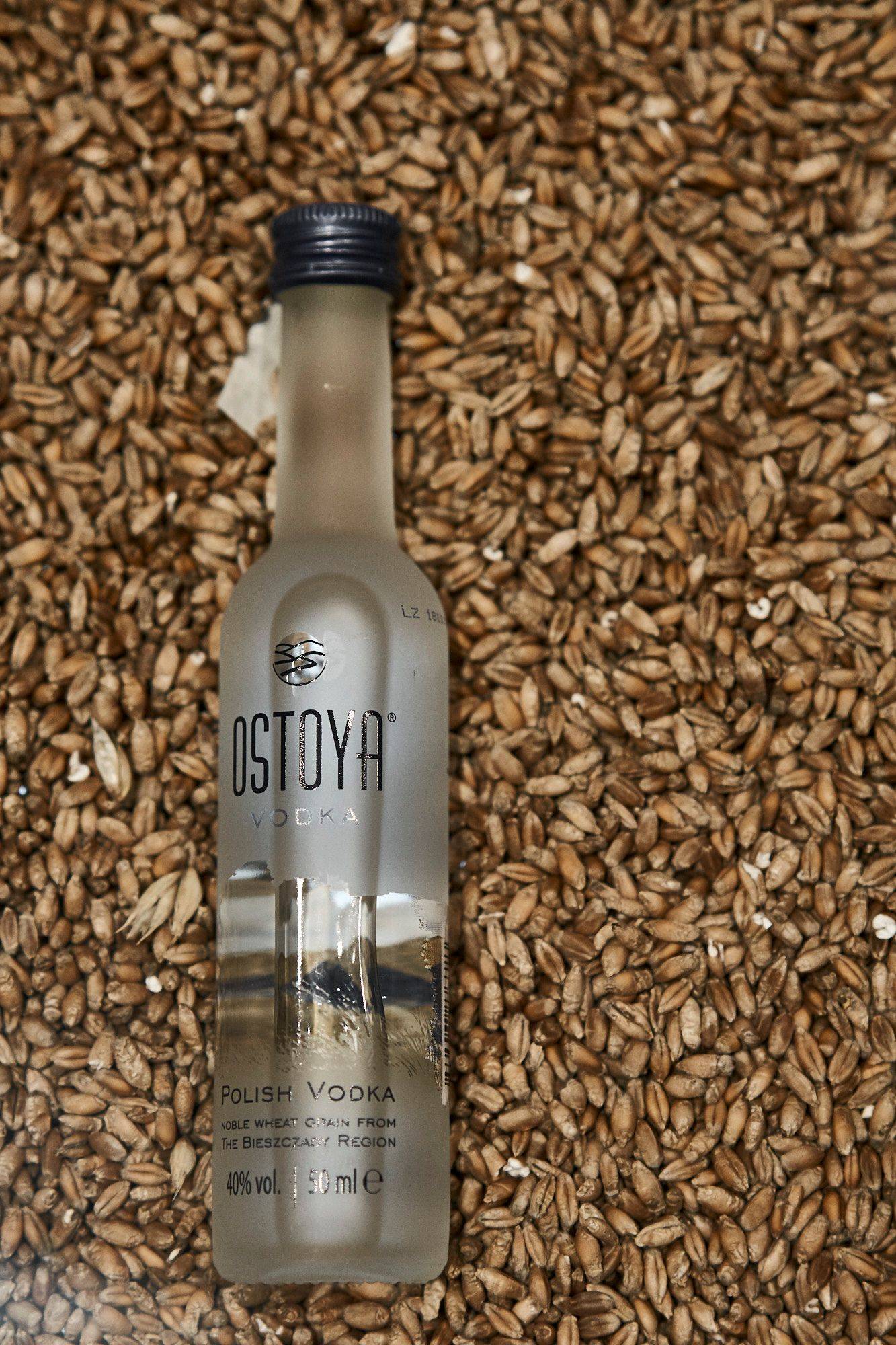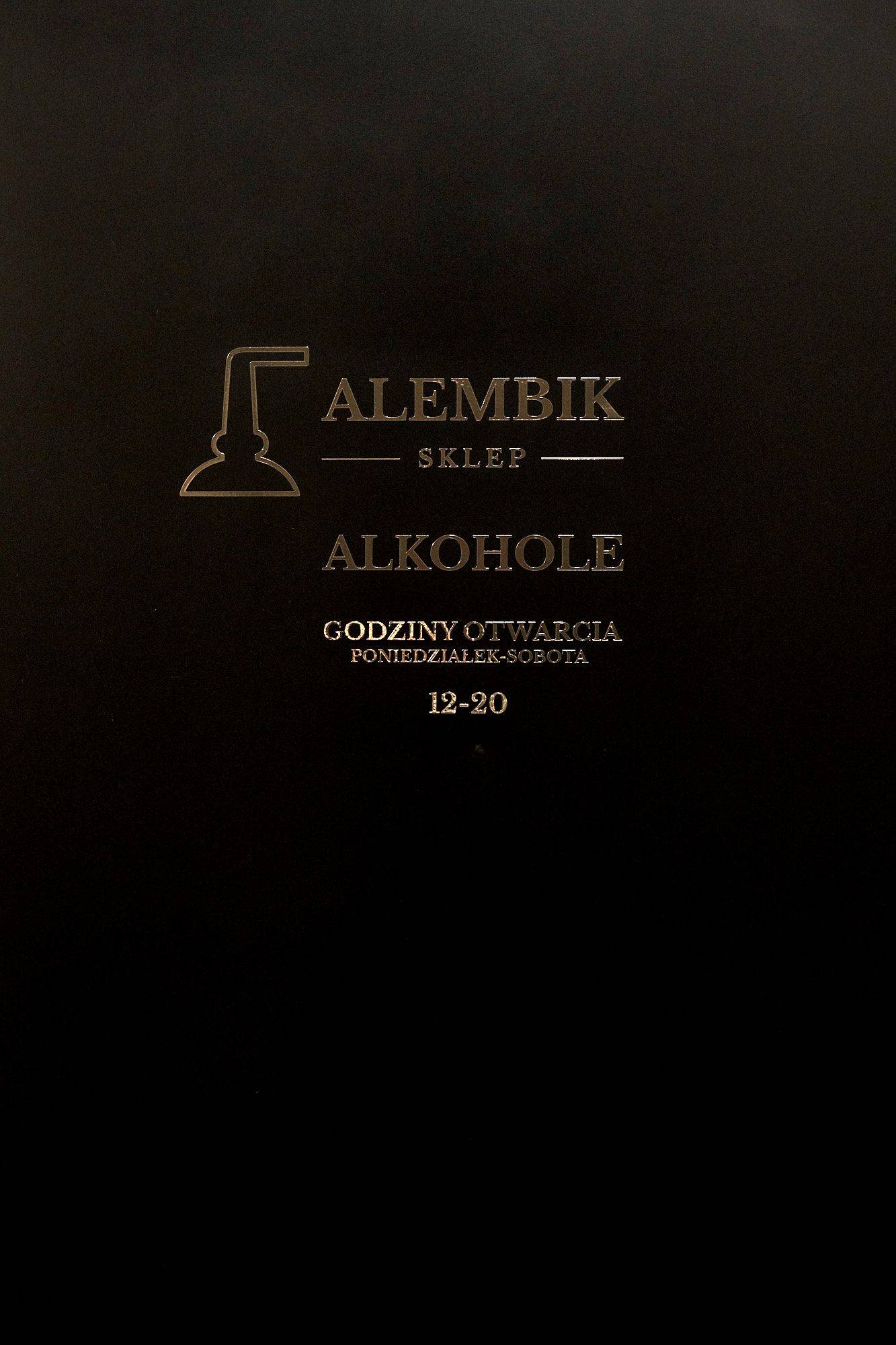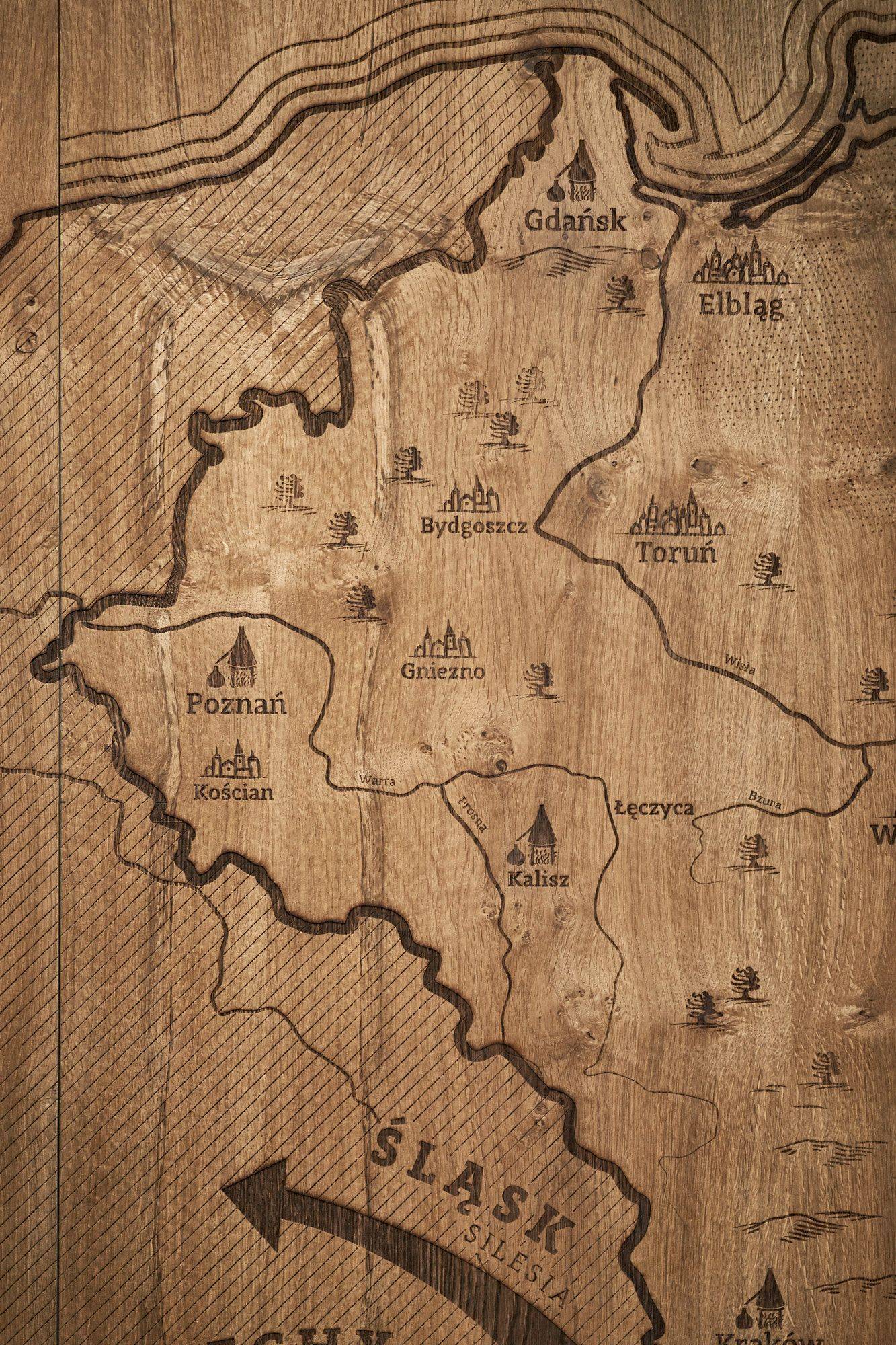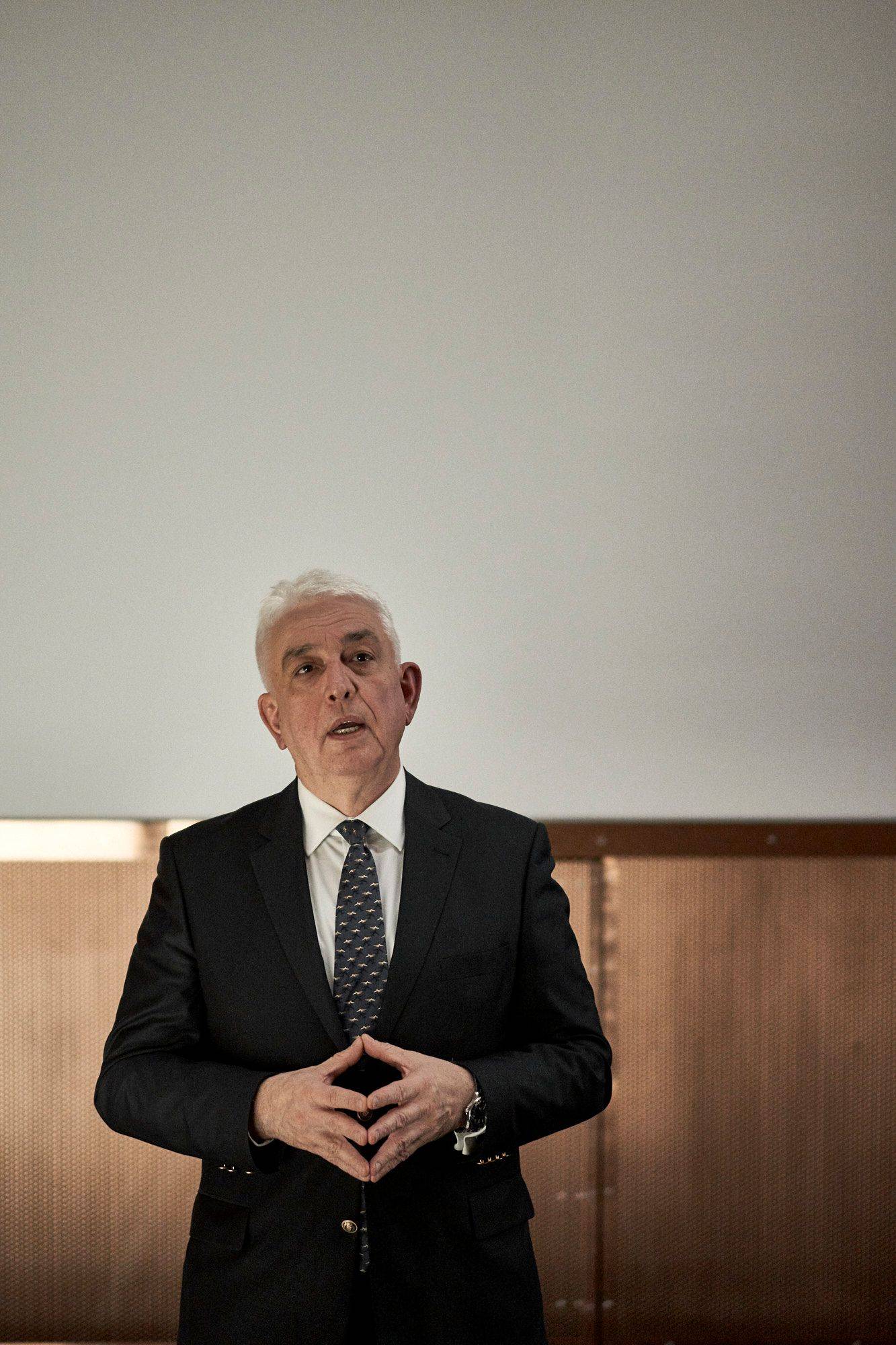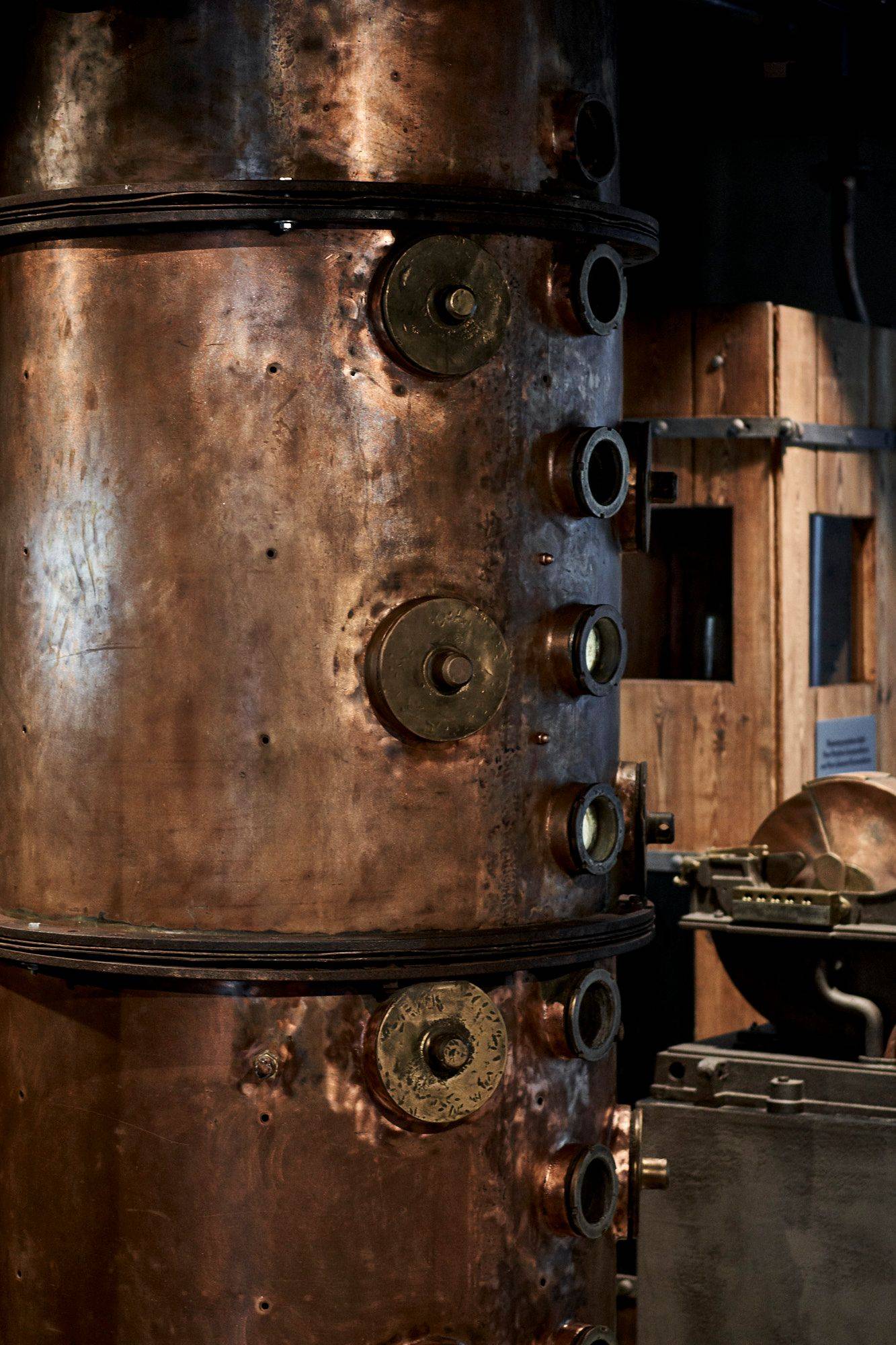 How to drink vodka properly
Vodka in Poland is enjoyed in good company and should not be drunk alone, because then you are considered an alcoholic. It is usually drunk with food and could be a reason for the hour-long meals where food is brought to the table well past midnight. To drink properly, you hold your breath and down the small glass all at once, then exhale deeply. Even though vodka is considered a neutral spirit, it has different tastes depending on the base ingredient and alcohol content. Thus, there are differences in aromatic character, sweetness or texture (softer or somewhat rough in the throat).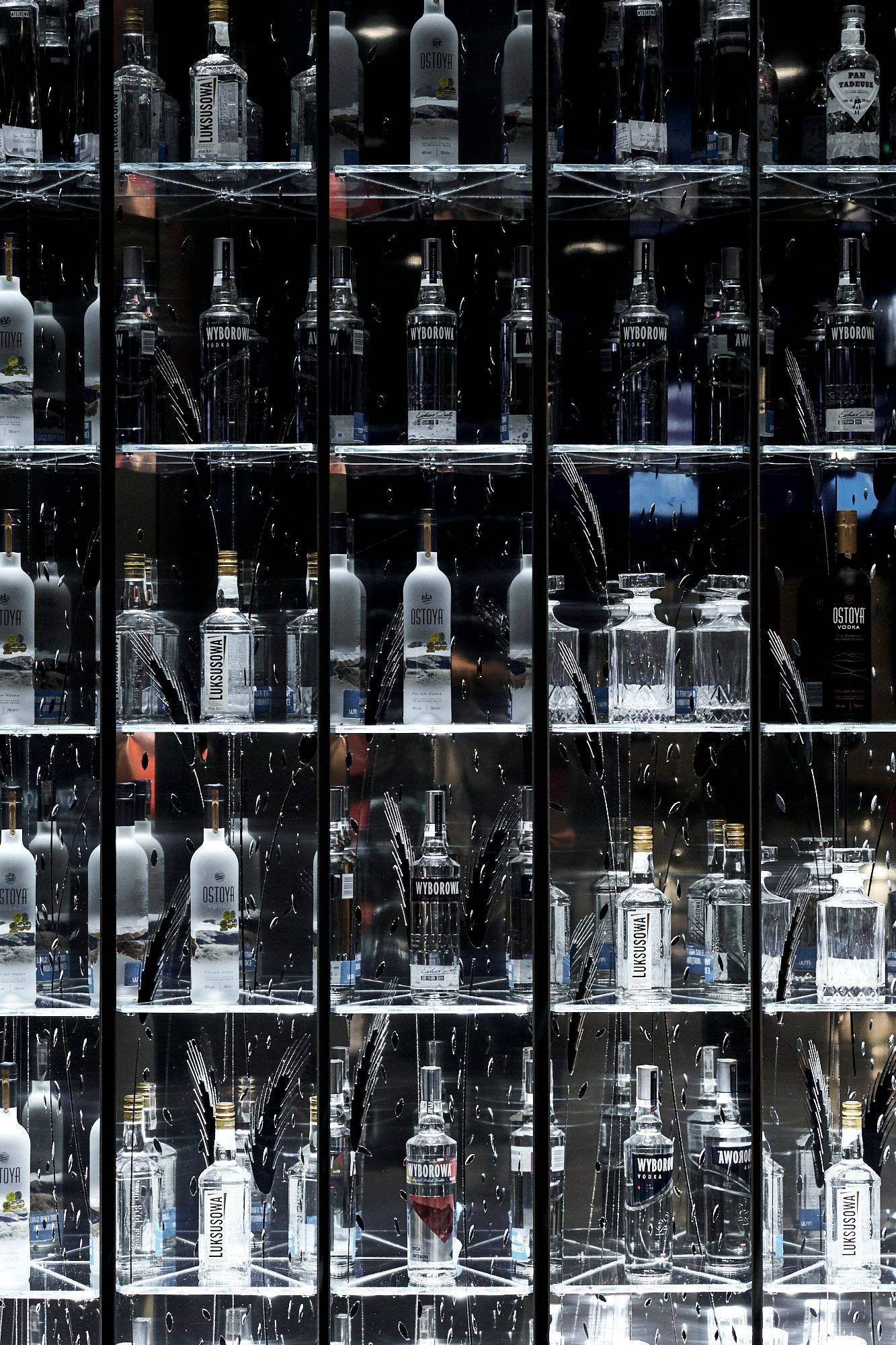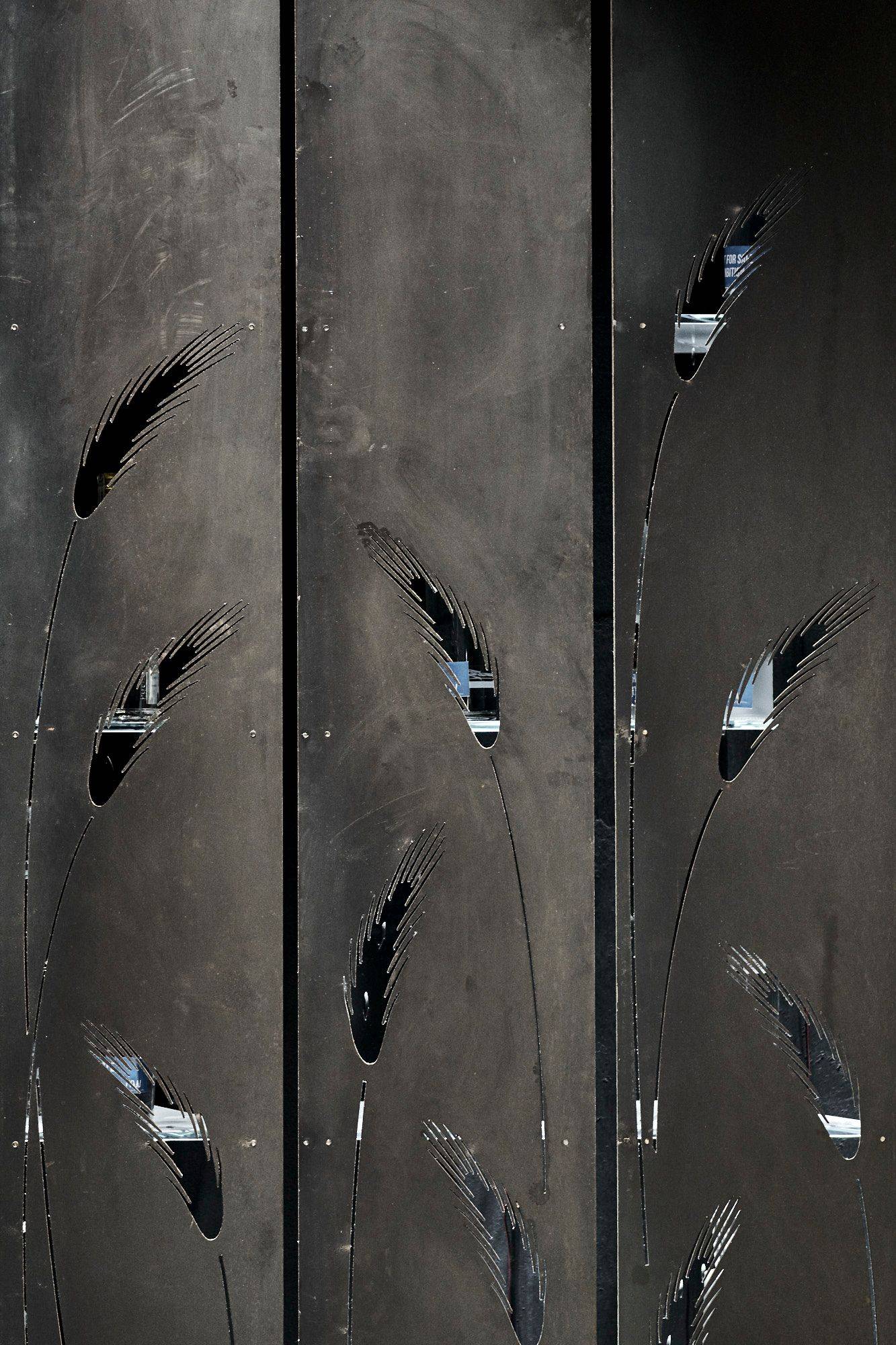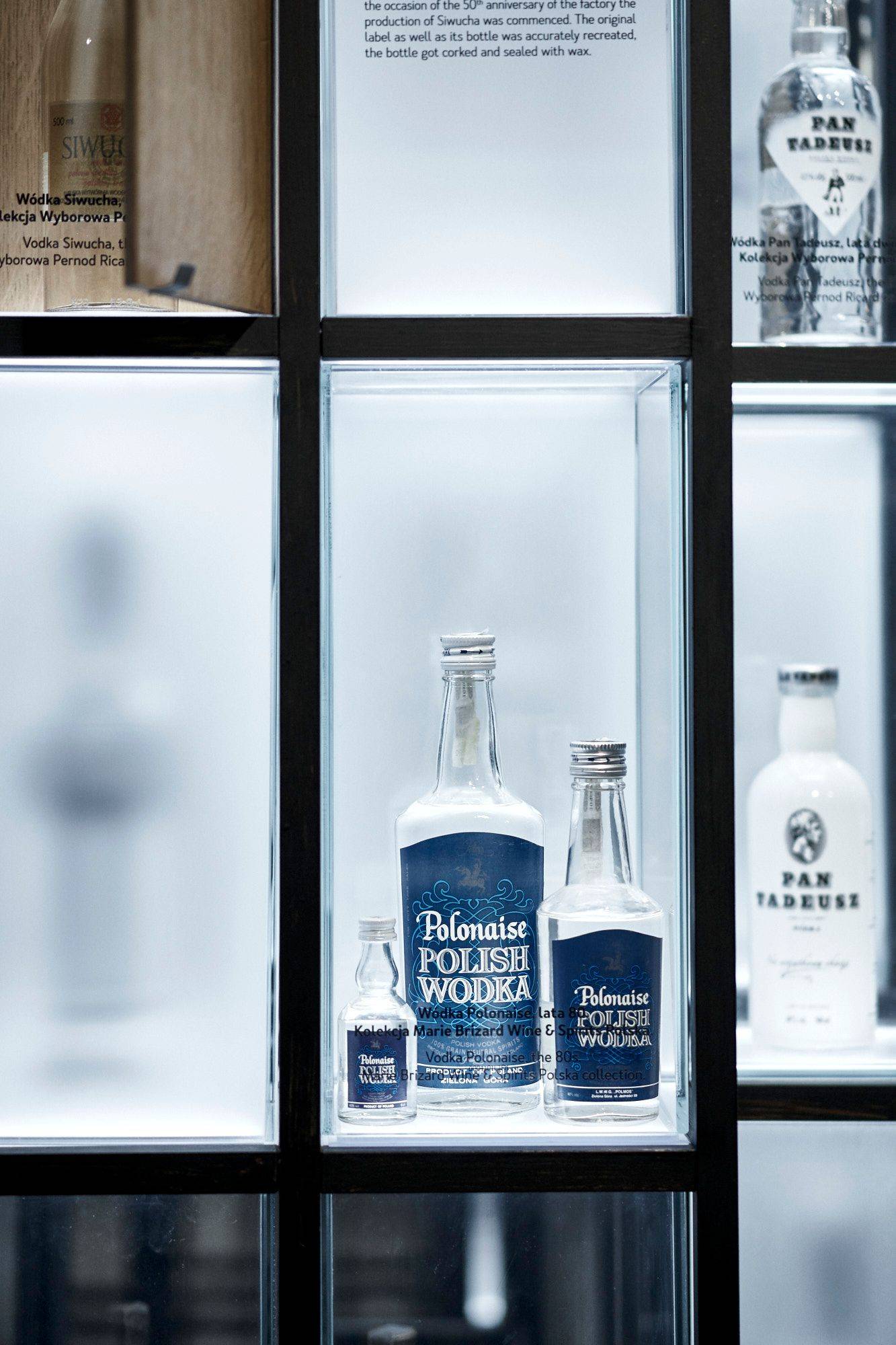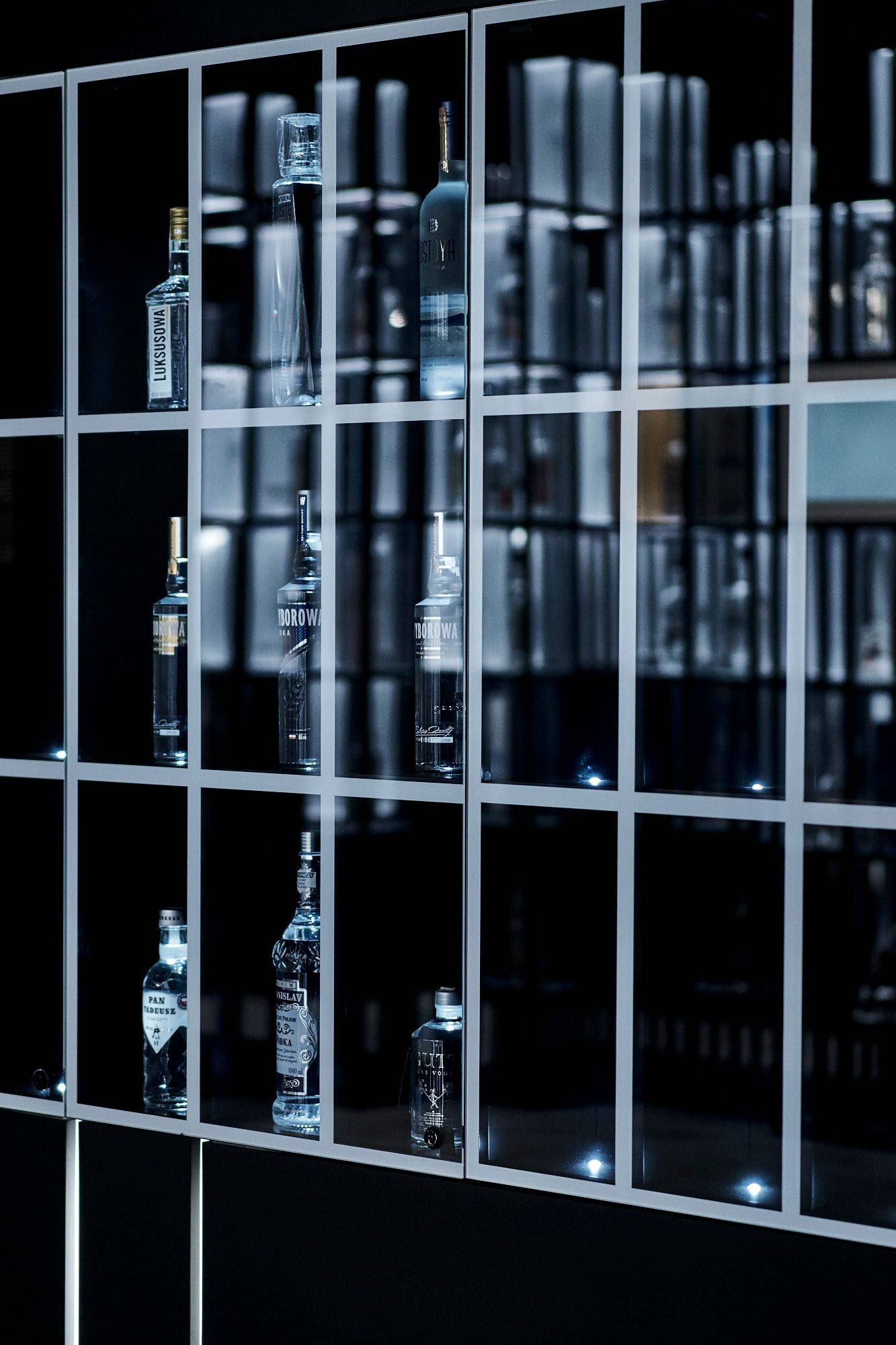 ZONI Restaurant
In a good mood after our vodka tasting, which by the way is not meant to be spit out like on a wine tasting, we headed just around the corner to Zoni Restaurant. This restaurant, located in parts of the former vodka factory, is a good address in Warsaw when it comes to contemporary fine dining. The interior focuses on the building's history, combining copper, wood and metal, and guests can enjoy the open kitchen as a stage for the ambitious chefs.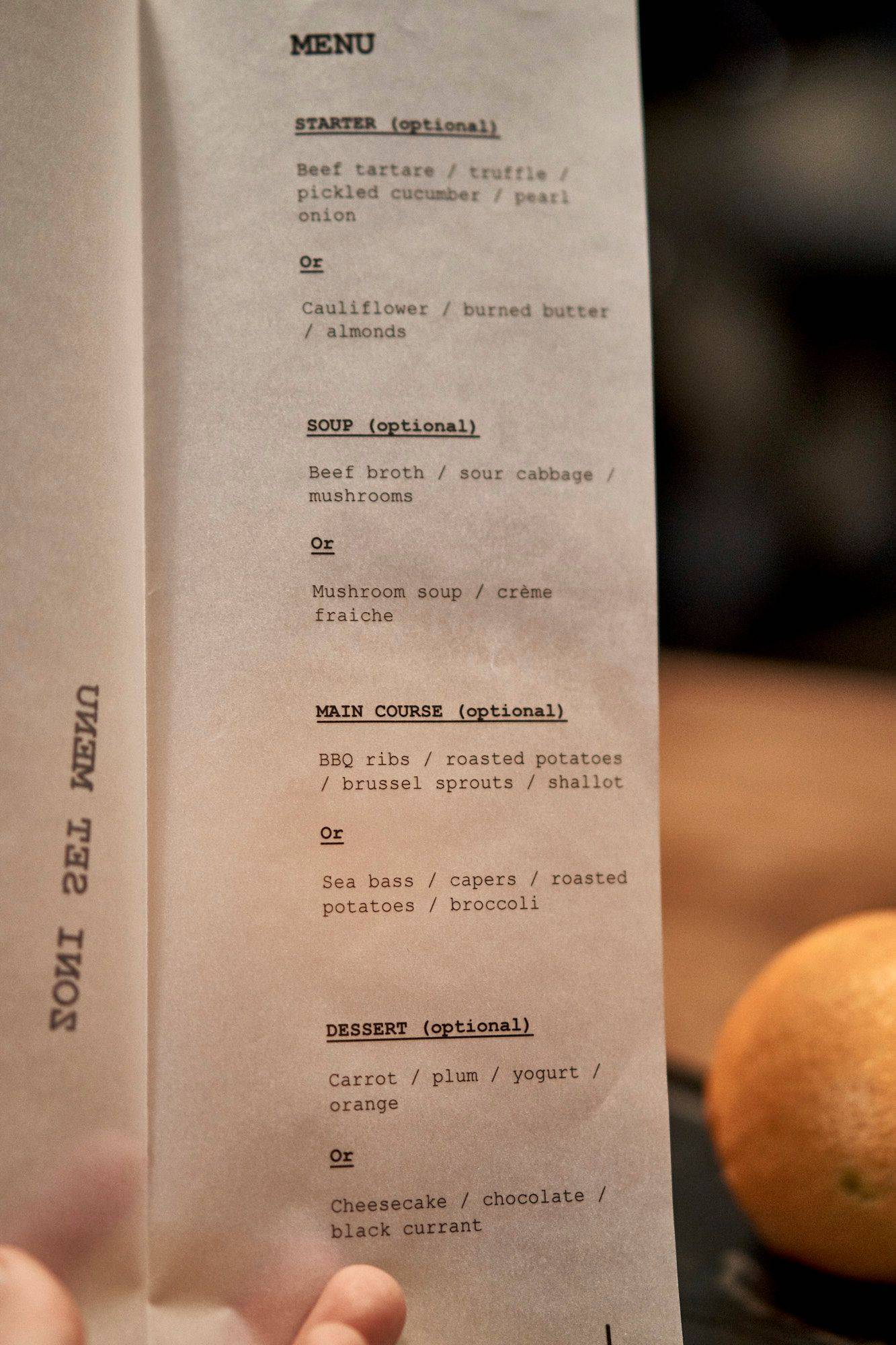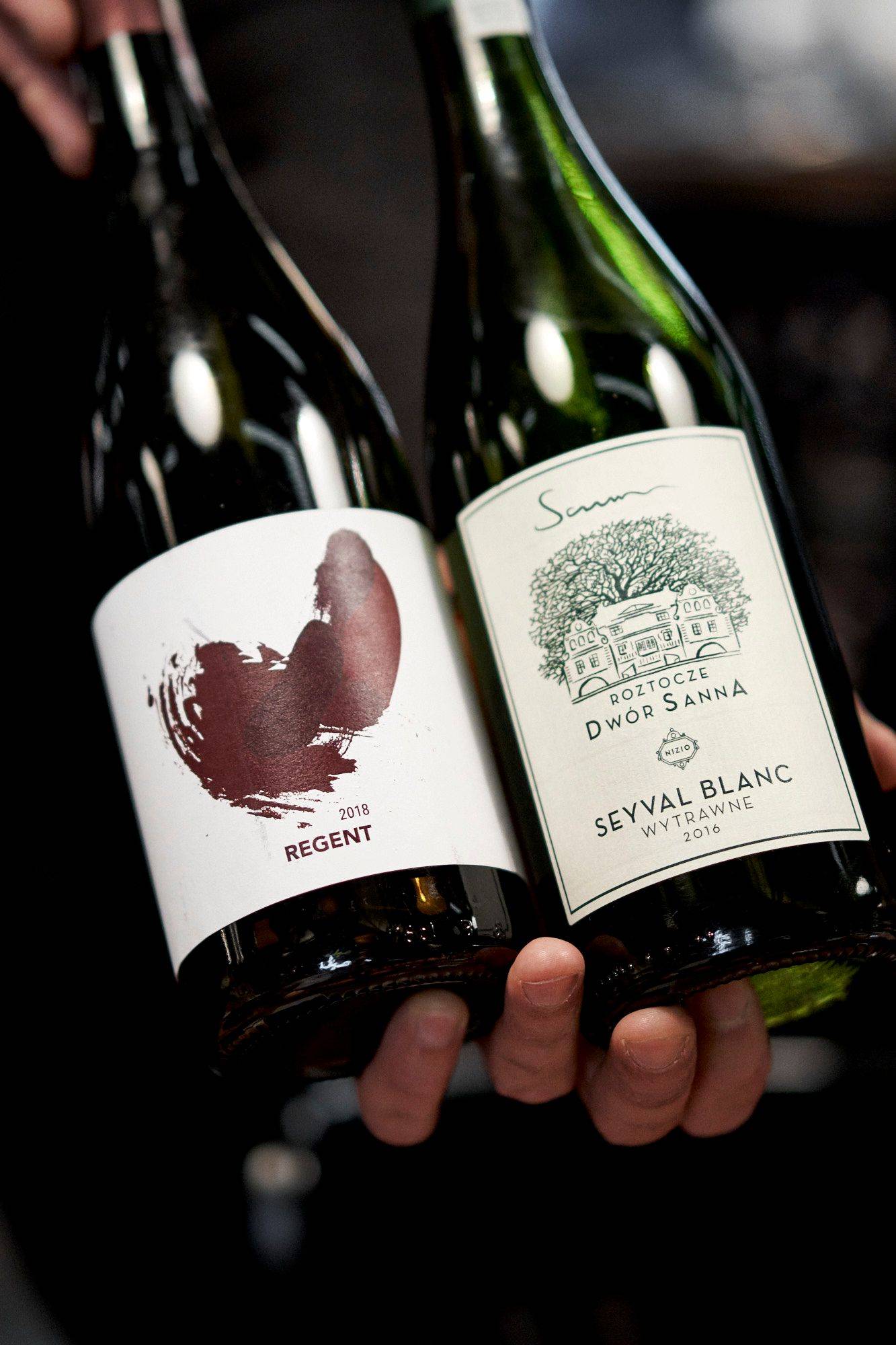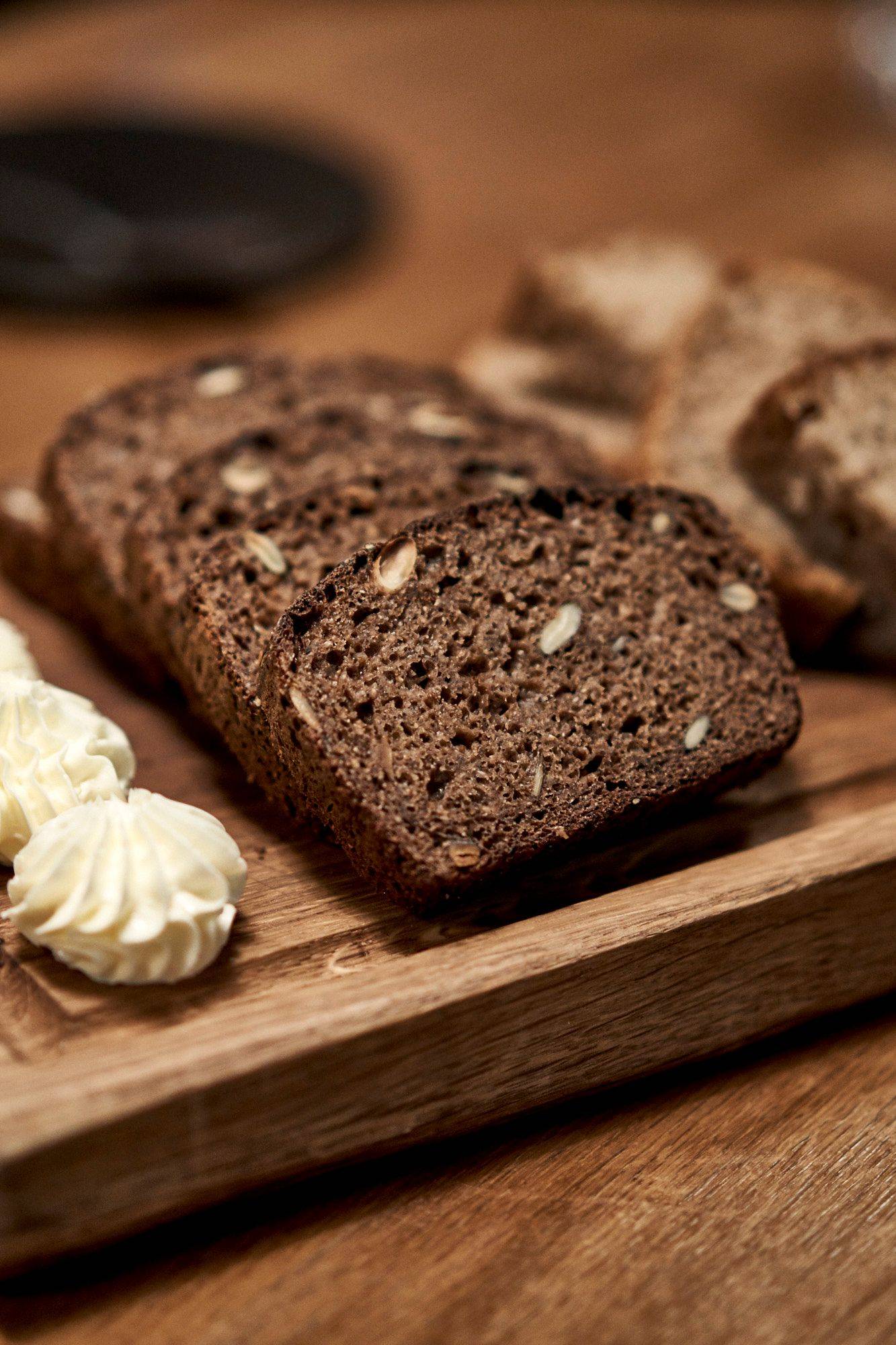 The last Polish supper
A selection of Polish white and red wines was offered along with bread and butter. I must admit that I was not expecting any wines at all from Poland and they were not too memorable yet, but a start has been made and good vines take decades to bear excellent grapes. Nonetheless, both versions were simple and not at all complex for my taste. Fortunately, Magda, our tour guide, was willing to share the menu with me so we could sample each dish from the menu, which offered two choices for each course.
This dinner was by far the most complex in terms of composition and technique, which should not mean it was better than the others we got to try. Still, it was a great way to end the trip and see what the chefs are up to here. I really liked the roasted cauliflower with brown butter as an appetizer and the tender ribs we had as our main course choice. Zoni Restaurant wouldn't be booked up well in advance if it didn't offer the standard we tasted on this last evening. It was just a very nice location with great staff and very good food.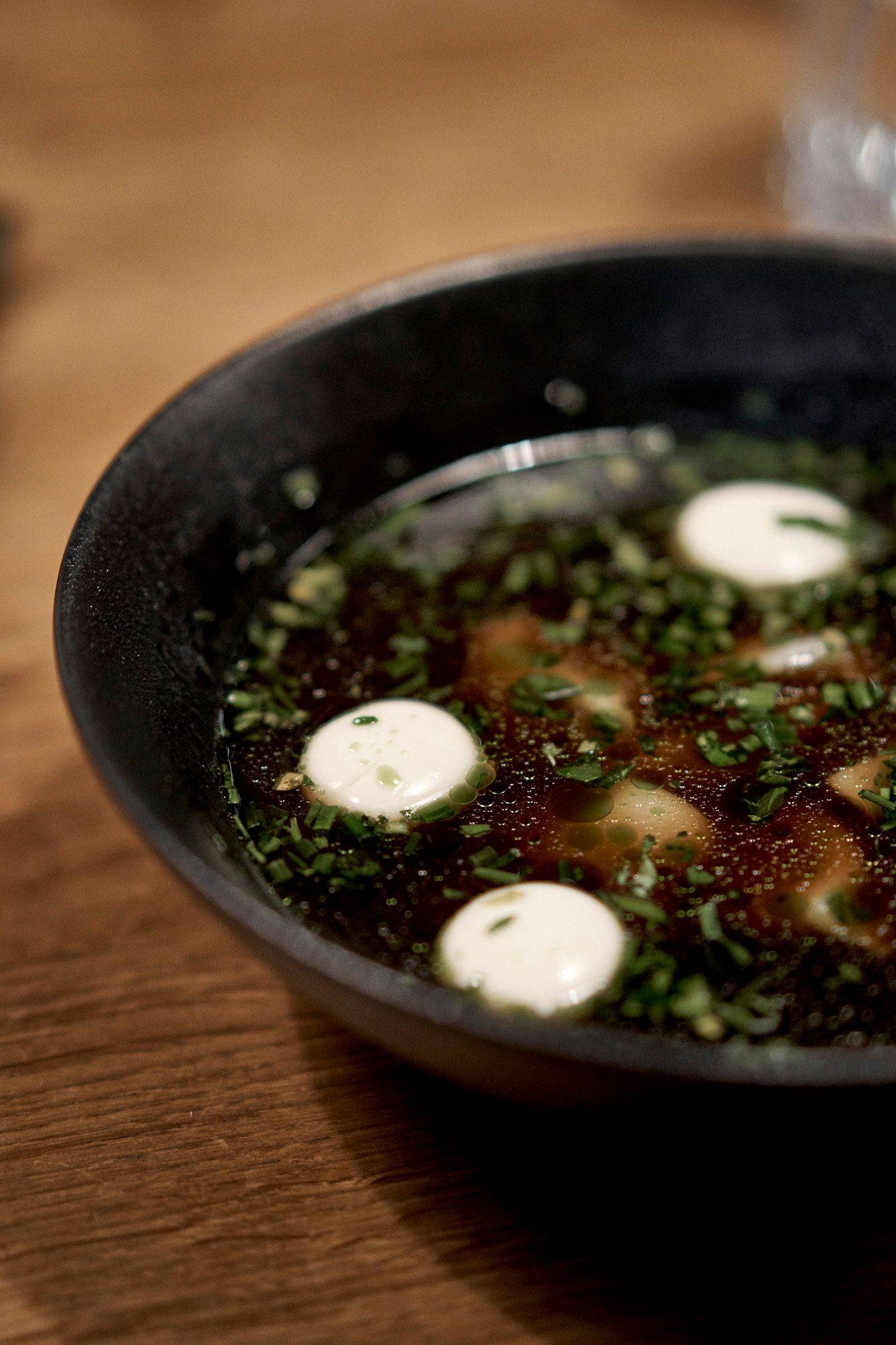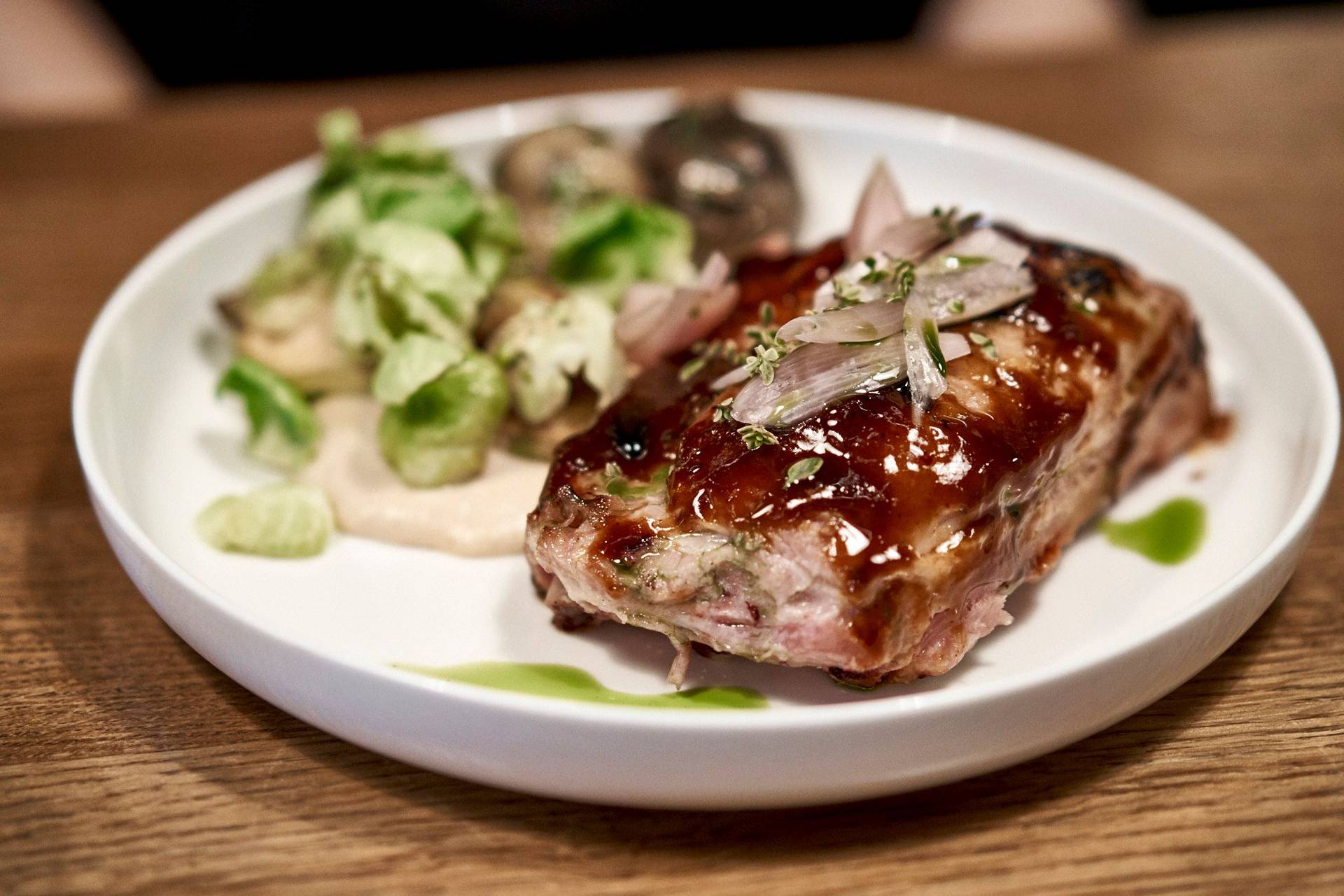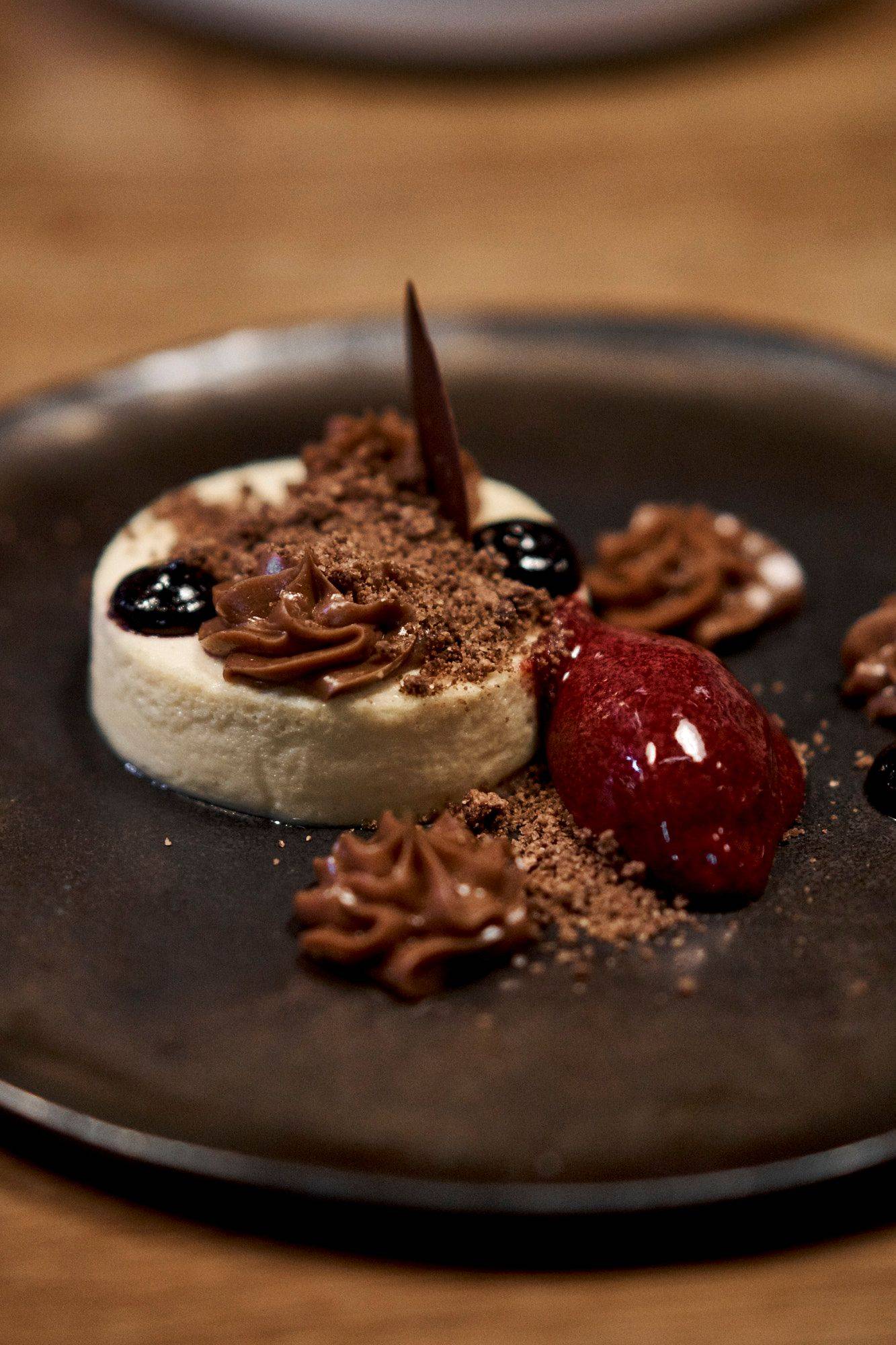 Poland really tastes good
First of all, Poland tastes really good and I feel very lucky to have participated these days. From the moment I arrived until I left, I always felt welcome, whether on a farm or in a fancy restaurant. Poles are great hosts by nature and know how to make you feel welcome. They like company and they like to celebrate that. The reason for me to come here was to experience a cuisine that was under the radar of most people, including myself, but also some Poles.
As mentioned earlier, at the time when influences from western countries or Asian were possible, much of the nation wanted to know anything but their own cuisine. Today, global influences can still be found in many restaurants, but the younger generation is trying to find their own way, mainly by preserving traditions and combining Polish heritage with new influences...and it just works very well. I'm glad to have met all these people with their different stories and their very own products. Polish cuisine can't be wrapped up in one sentence, it's a feeling you discover while sitting at their table, listening to stories, cooking and eating together.
Newsletter
Can't get enough?
Get some secret ingredients through our newsletter!