Recipe
Vegan Red Cabbage Steak with Cashew Cream & Tangerines
Vegan | Gluten-Free | Dairy-Free | Sugar-Free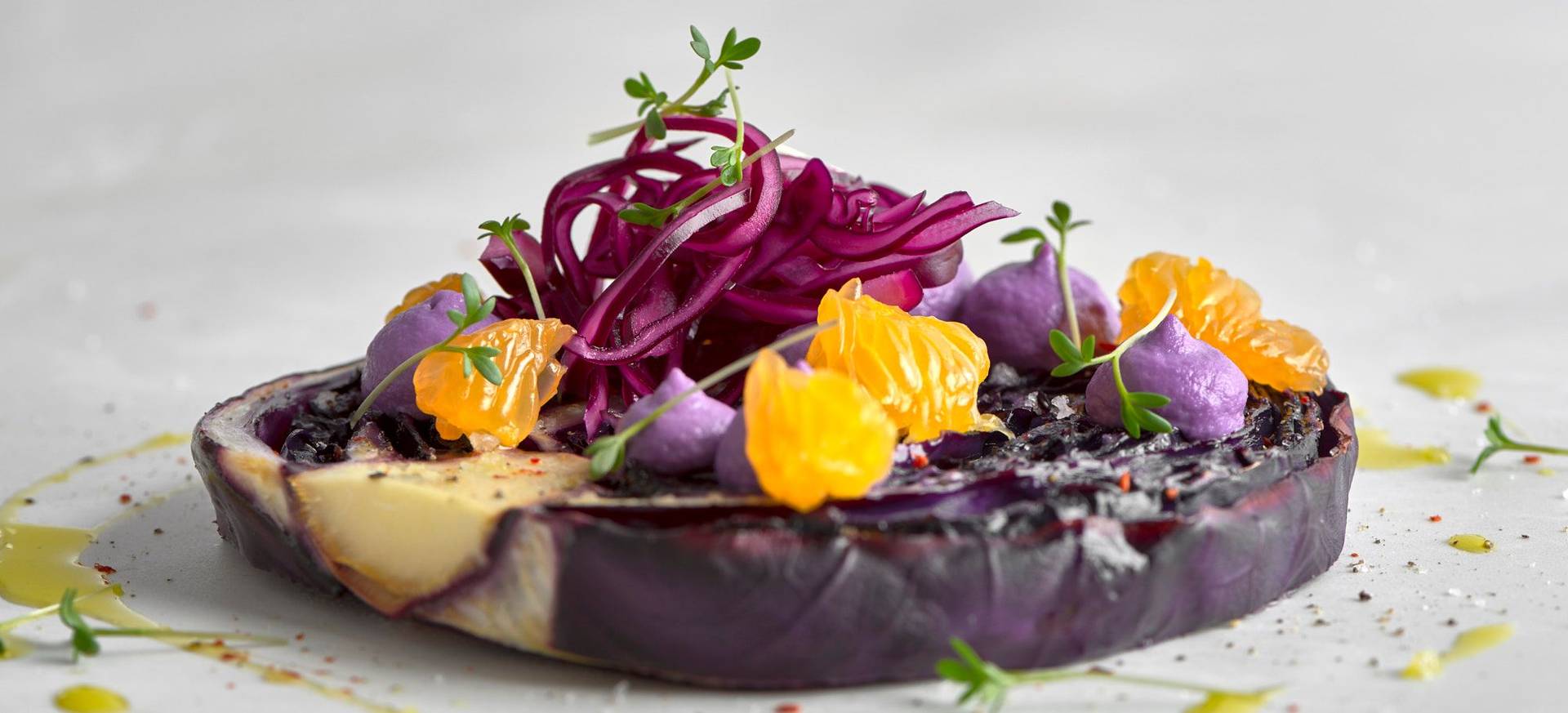 Winter is usually the time of year that requires a little more creativity in the kitchen. There are not many ingredients available and those who have not canned their fruits and vegetables in the summer are usually dependent on the ingredients that are available in the winter. But if you think that red cabbage, beets & co. can't be used to prepare anything exciting, you're wrong. I usually focus on preparing a vegetable, such as red cabbage in different ways and thus give my winter recipes texture and flavor variations.
Red cabbage steak
Vegan nutrition has nothing to do with how best to create meat flavor with vegetables, but much more to do with how to get all the important ingredients without animal products. So, don't let the red cabbage steak fool you, because it simply refers to a thick slice of red cabbage that subsequently gets roasted flavors from cooking on both sides. For me, it's exactly the roasted flavors that give vegan recipes that savory character and turn a crunchy fresh vegetable into a savory component on the plate.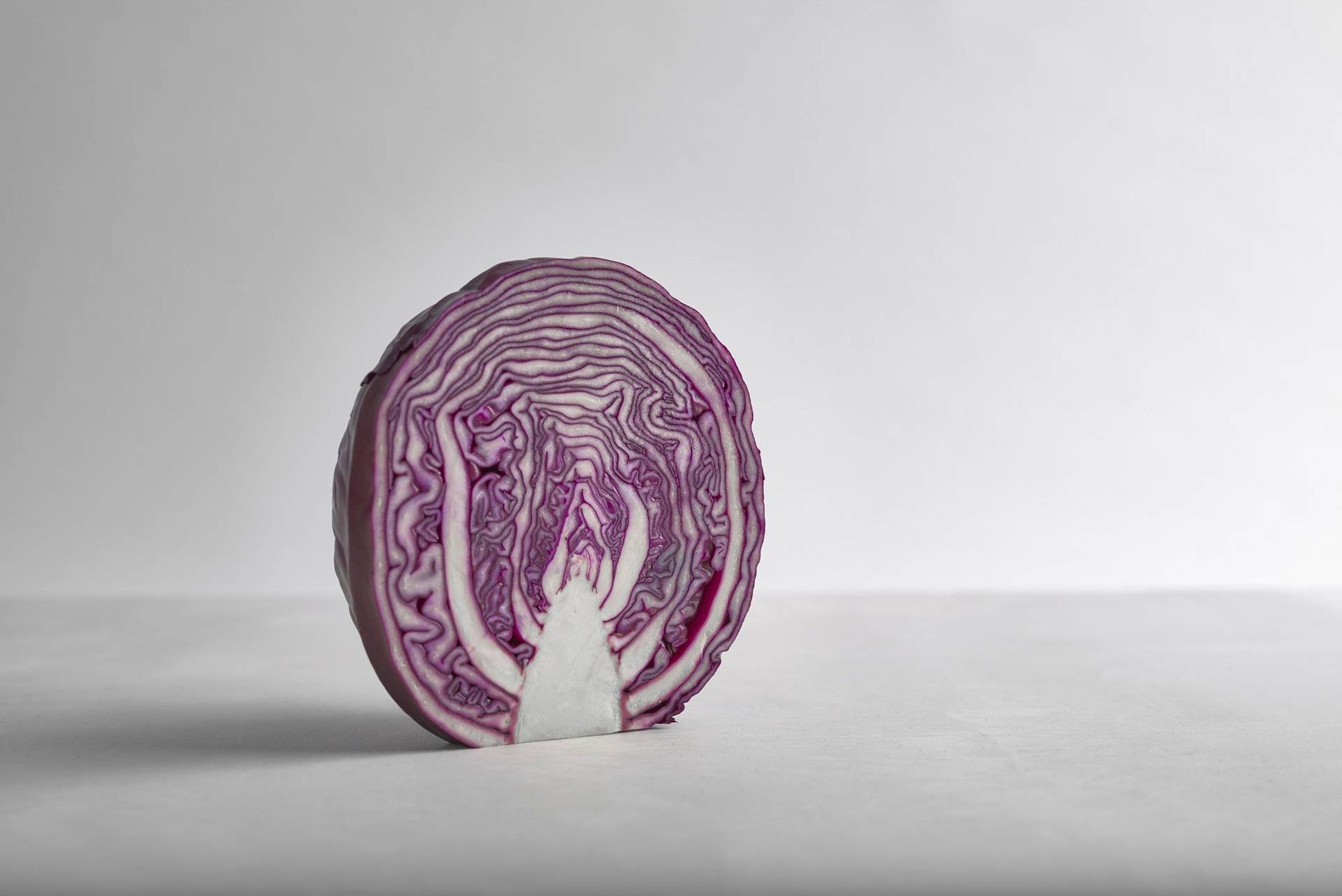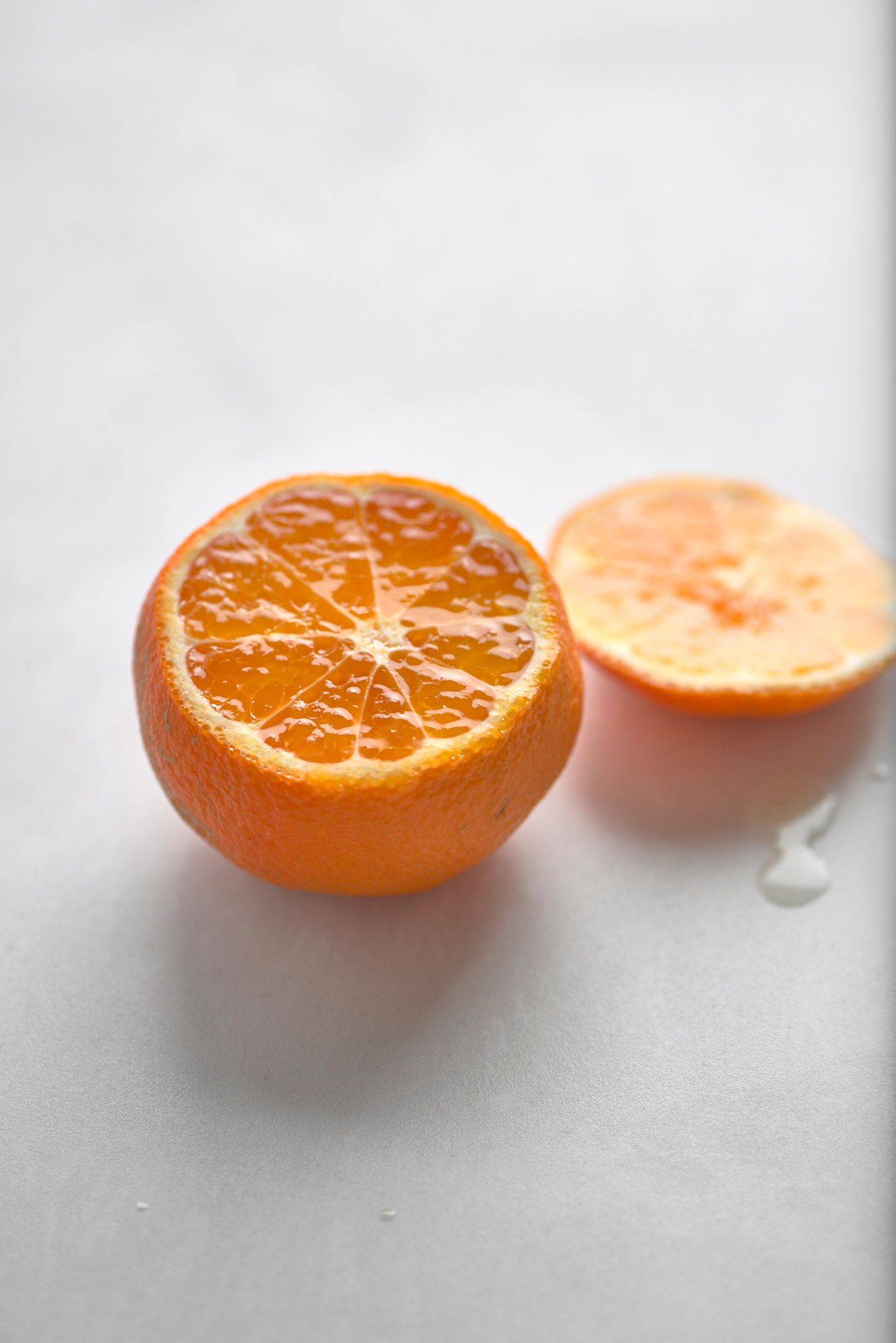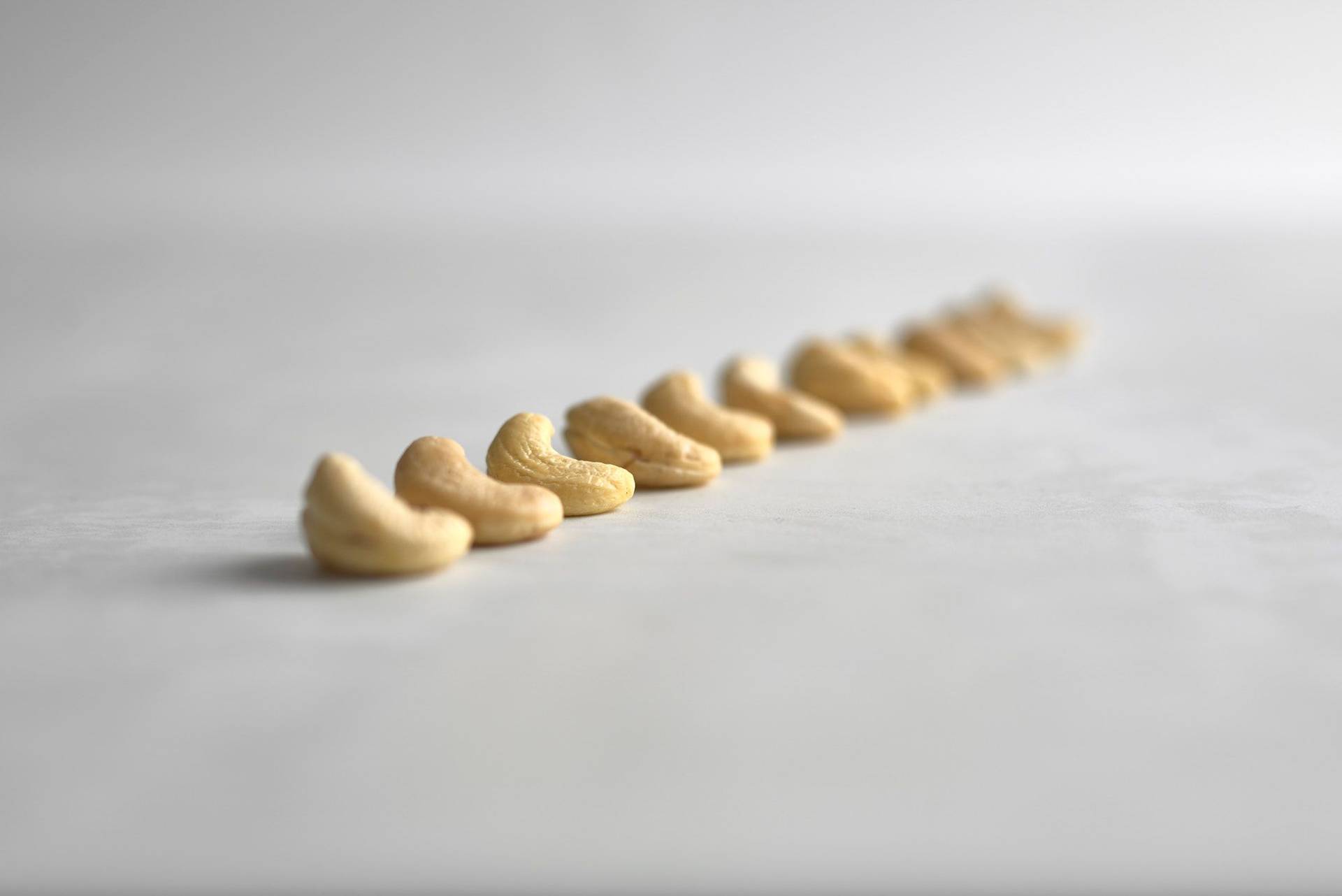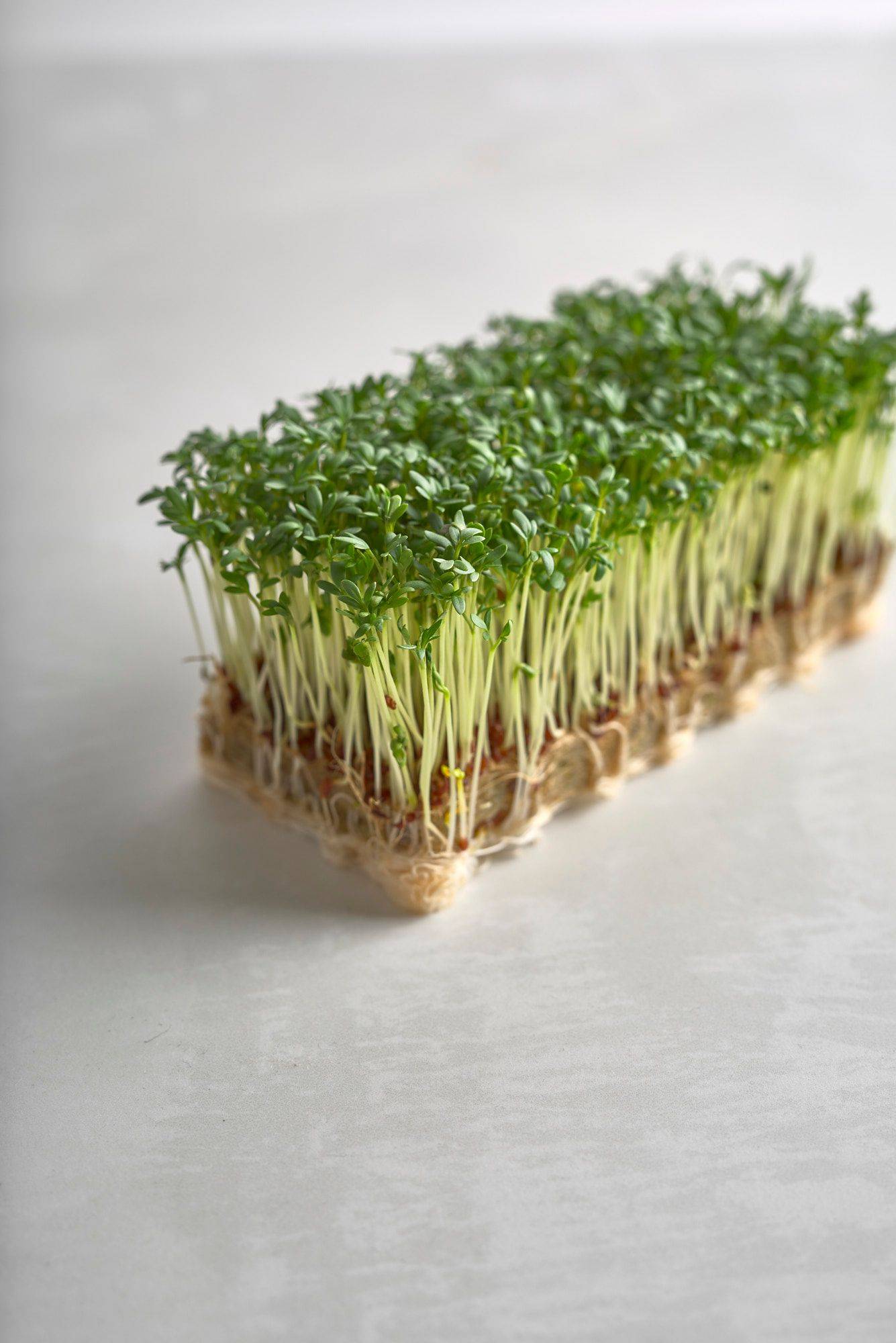 Cashew cream & tangerines
Cashews and other legumes are often the base for sauces, masses or creams in vegan cooking. Because of the relatively neutral flavor when used unroasted, cashews give such binding and richness to vegan recipes. Since I still had some left over from the red cabbage after cutting up the red cabbage steaks, it lent itself to bringing these into a creamy texture. Mixed with cashew nuts and a few spicy ingredients, the leftovers turned into a velvety red cabbage cream. Sure, even different ways of preparing it let red cabbage still be red cabbage and something was missing to break up the flavor here and there. Fresh tangerine was just right for this and it is usually found in every household in winter.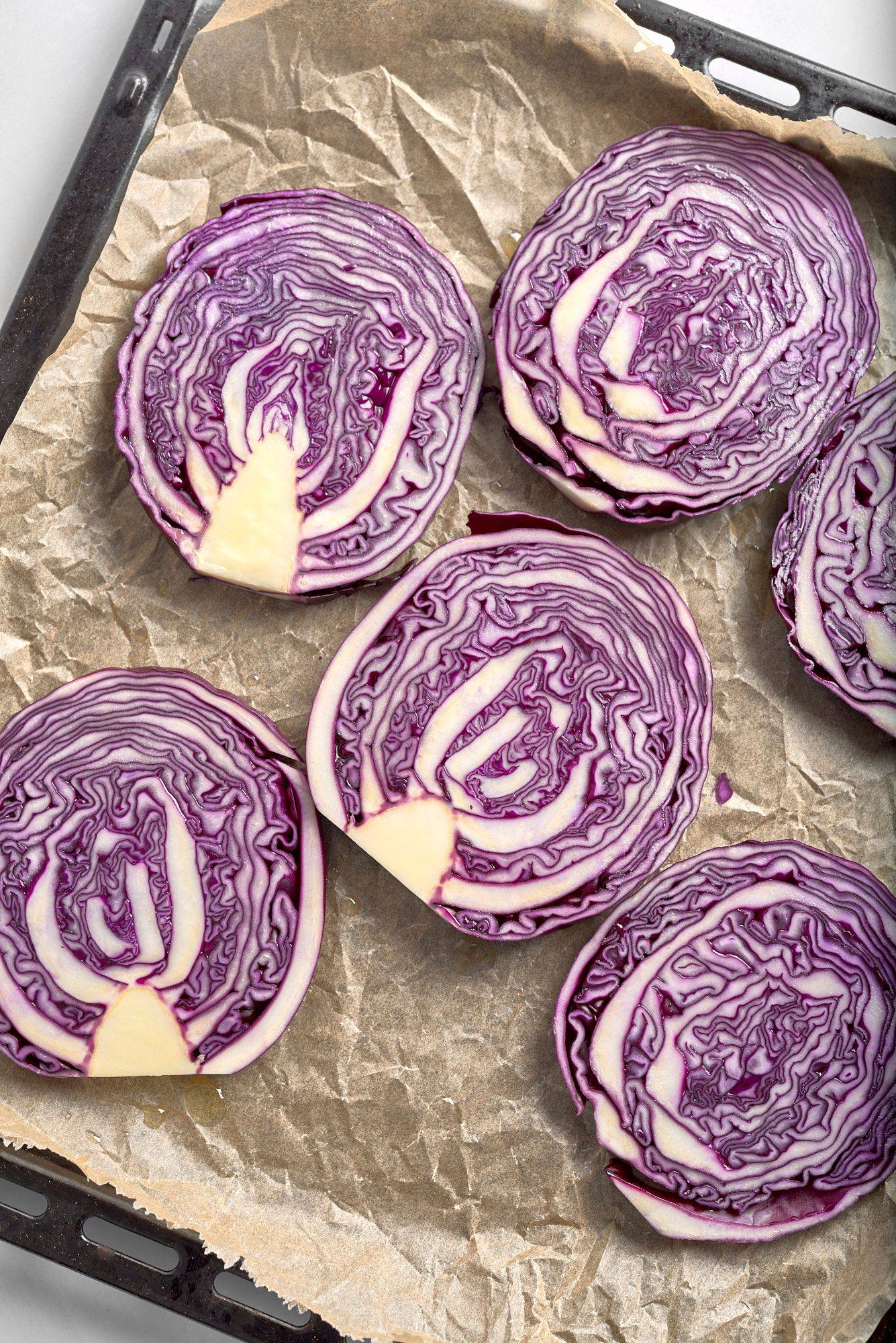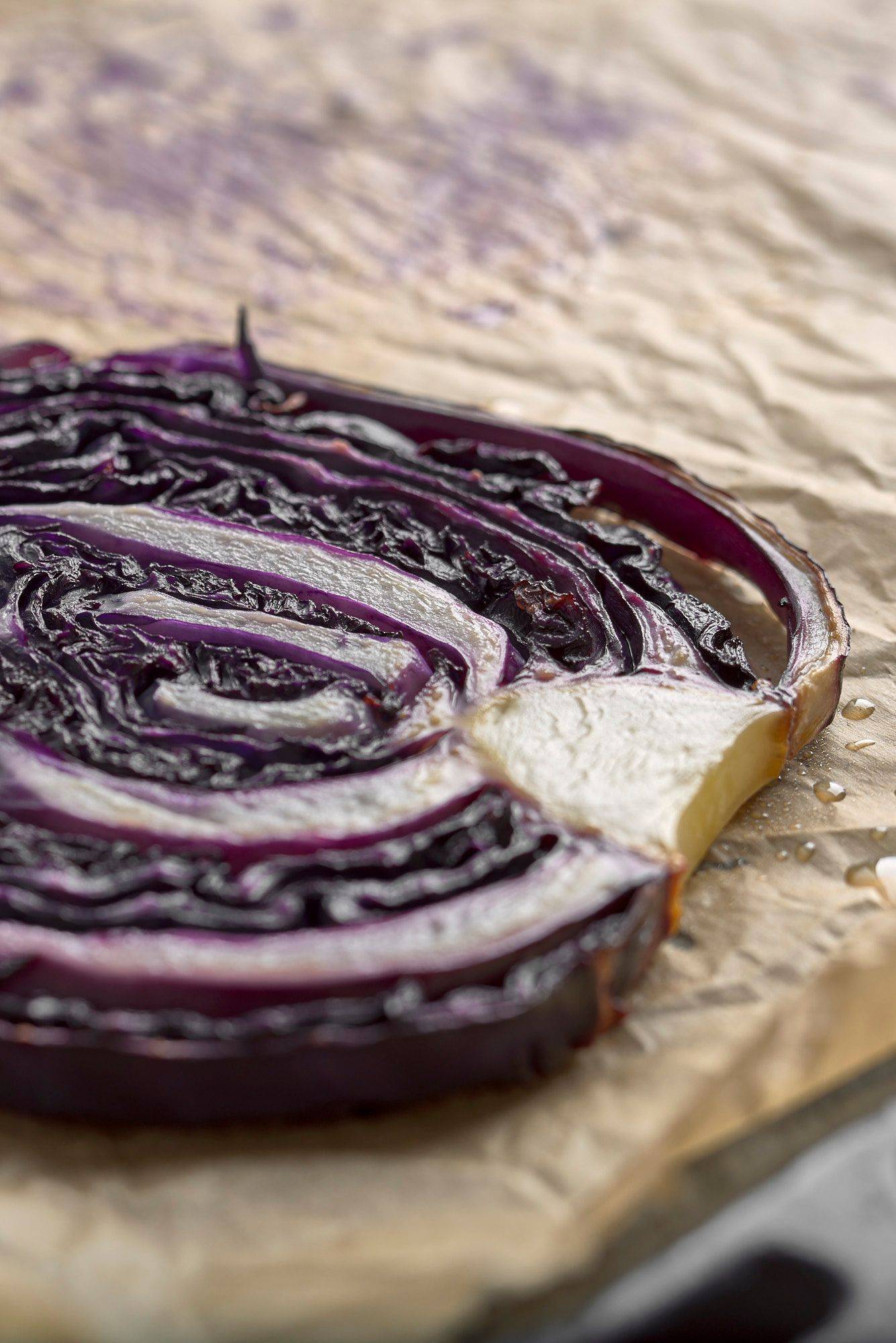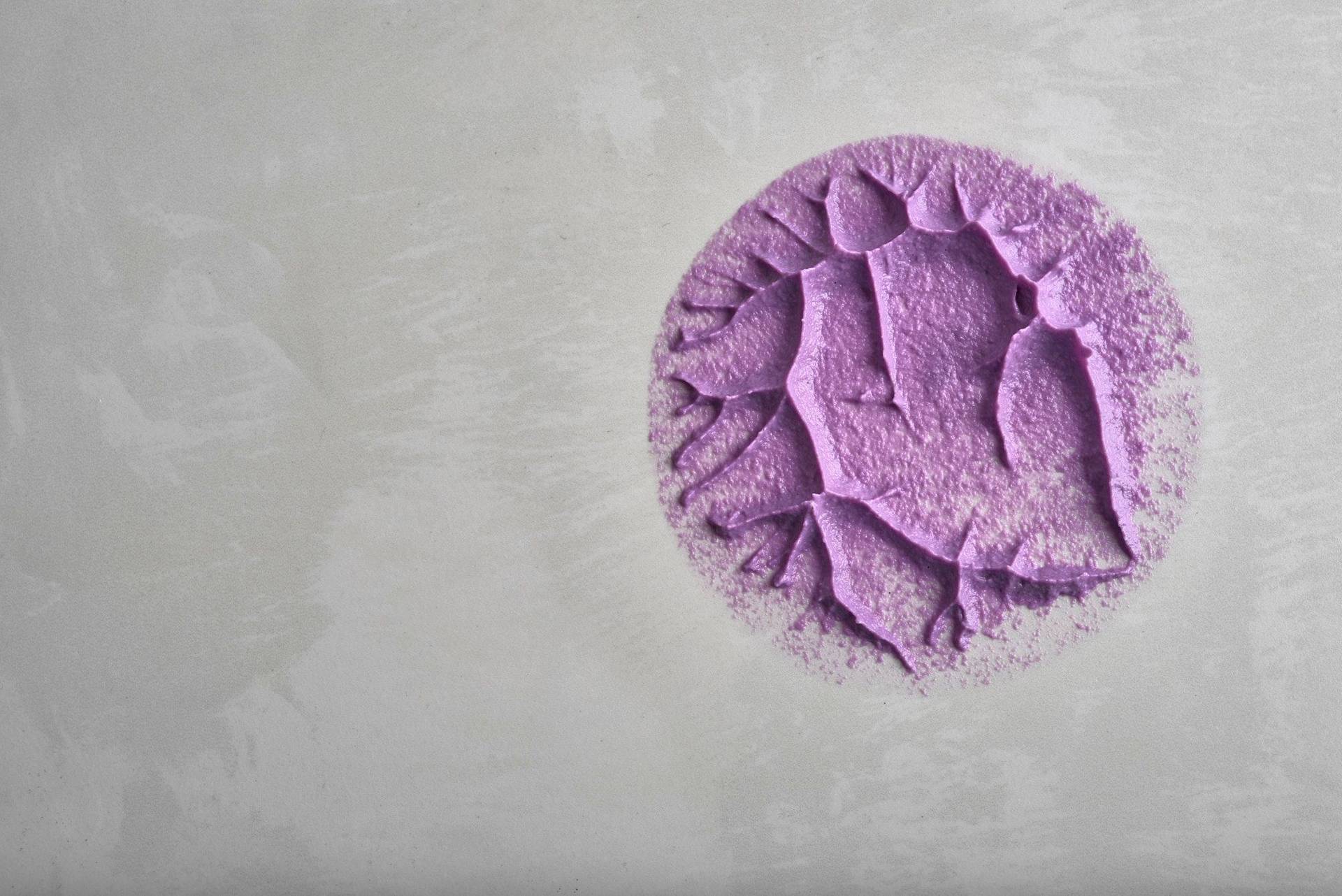 Recipe
Vegan Red Cabbage Steak with Cashew Cream & Tangerines
4 Persons45 Minutes
Red cabbage steaks
1 Red Cabbage
Olive Oil
Salt, Pepper & Chili to taste
For the red cabbage steaks, remove the outer leaves of the cabbage and cut the stalk straight off. Then stand the red cabbage up and cut off the edge, creating a nice cut surface. Now cut down four 1.5 cm thick slices and cut off an additional 150 g for the cashew cream. Put the remaining red cabbage aside and place the red cabbage steaks on baking paper, brush with a little olive oil and bake in the oven at 220°C for about 20 minutes. After baking, season with spices to taste.
Red Cabbage-Cashew Cream
150 g Red Cabbage, Baked
130 g Cashew Nuts
30 g Tangerine Juice
1 tbsp Maple Syrup
2 tbsp Mizkan Vinegar
70 ml Water
Salt & Pepper to taste
For the red cabbage-cashew cream, blend all ingredients in a blender until creamy. Then season with salt and pepper to taste. Place the cream in a piping bag with a hole nozzle and set aside until ready to serve.
Raw Marinated Red Cabbage
100 g Red Cabbage
1 tbsp Mizkan
1 tbsp Olive Oil
Salt & Maple Syrup to taste
For the raw marinated red cabbage, finely chop the leftover cabbage and marinate it with the remaining ingredients.
Serving
2 Tangerines
4 tbsp Olive Oil
1x Garden Cress
To serve, cut the tangerines into fillets and roughly chop them. Place a red cabbage steak in the center of each plate and drizzle with 1 tablespoon of olive oil. Pipe the cashew cream from the piping bag onto the cabbage and add the tangerines as well as the raw marinated red cabbage. Finally, decorate with the garden cress.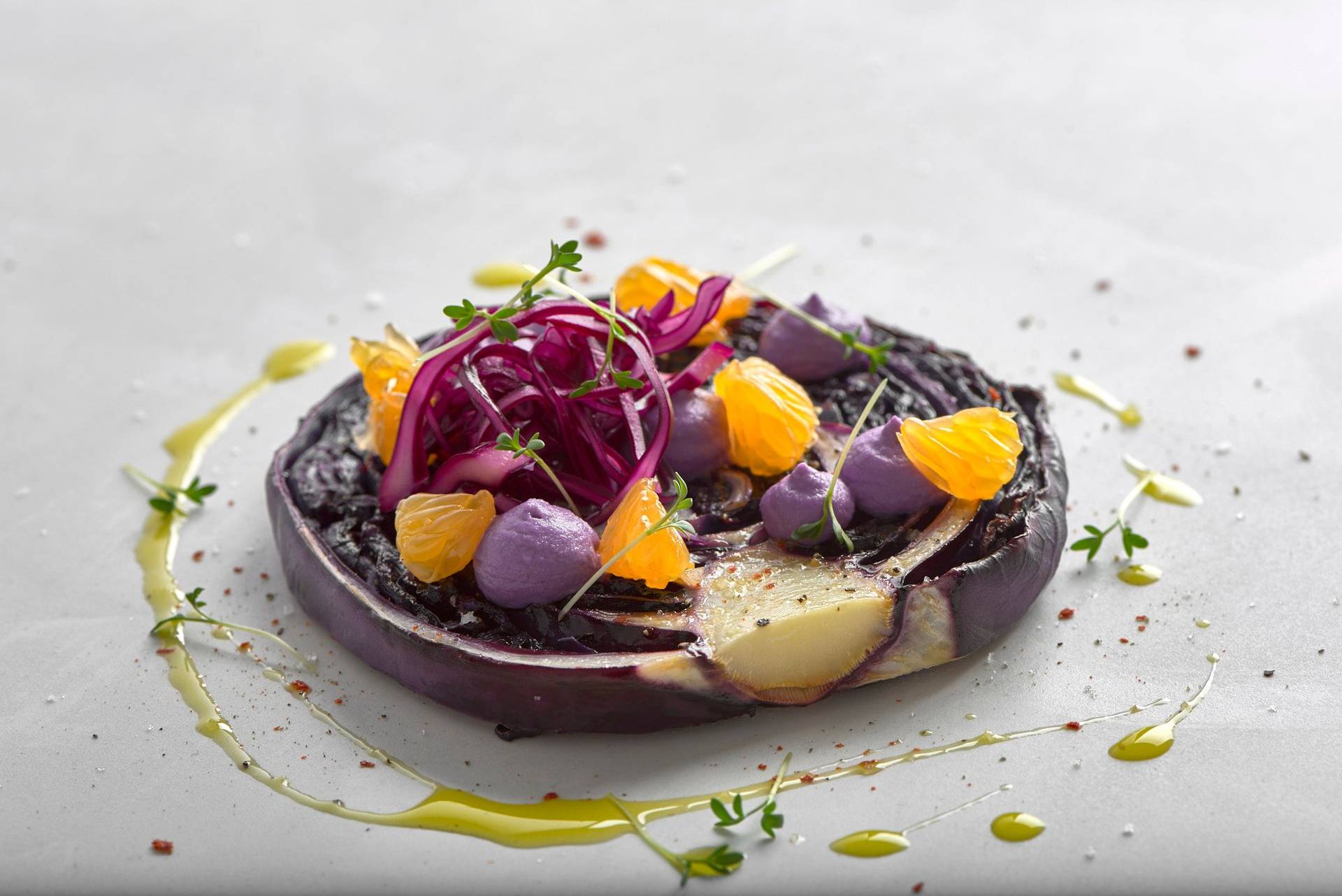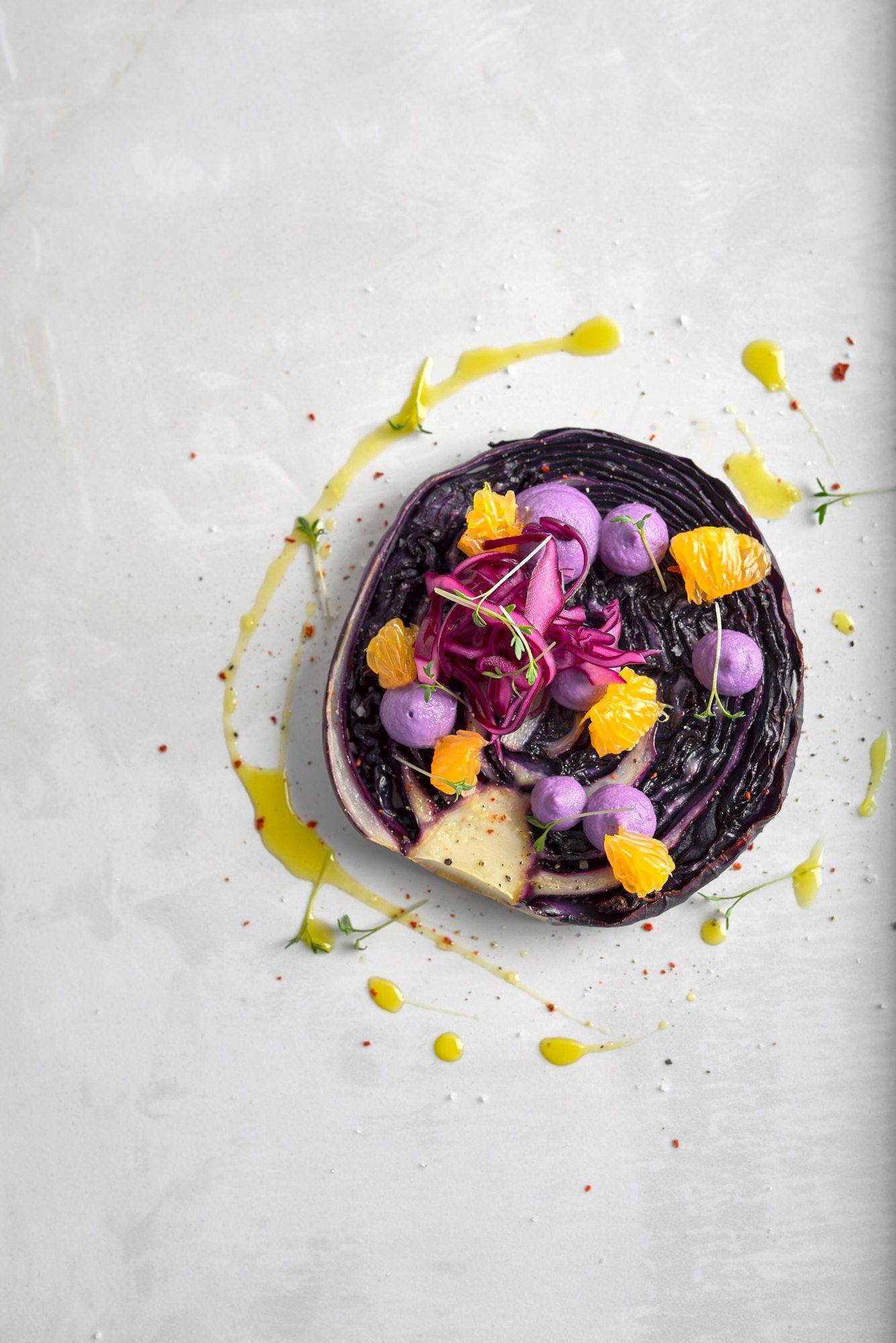 Newsletter
Can't get enough?
Get some secret ingredients through our newsletter!