Recipe
Vegan Migas with Roasted Broccoli & Plum Pickles
Vegan | Dairy-Free | Sugar-Free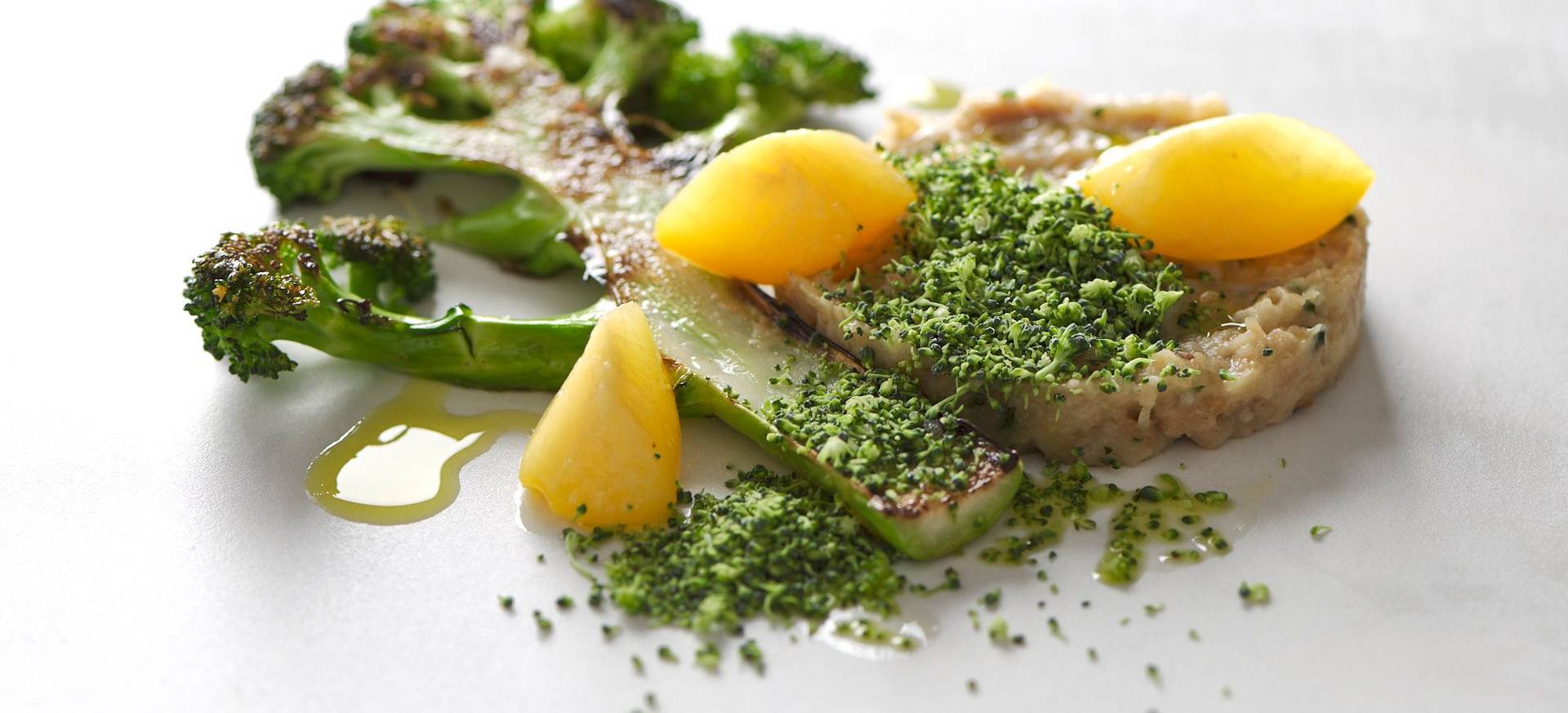 In December, I had the pleasure of taking a short trip through the Alentejo region of Portugal. The intention, of course, was to get to know the fabulous olive oil that is produced there, but there were also a few culinary things that caught my attention. Besides the whole experience of rustic interiors, honest people and good wine, it was the chef Leopoldo Garcia Calhau of Taberna do Calhau in Lisbon who left a strong impression on me. The first night we were invited to a delicious olive oil inspired dinner at his restaurant and it didn't take long to figure out that the man in the kitchen knew what he was doing. His recipes were not complicated, they consisted of three, maybe four ingredients, but in a distinctive way.
The simple Portuguese cuisine
Later that evening I was allowed into his kitchen and had the opportunity to ask my questions, about a few things I ate and didn't know before. His dishes were packed with history of grandparents, the land and simplicity in a great way. He told me about the heritage of Portuguese cooking, the fresh and local ingredients and that it was a poor man's way of cooking. He takes his background and brings it into modern cooking, truly delicious and memorable for me.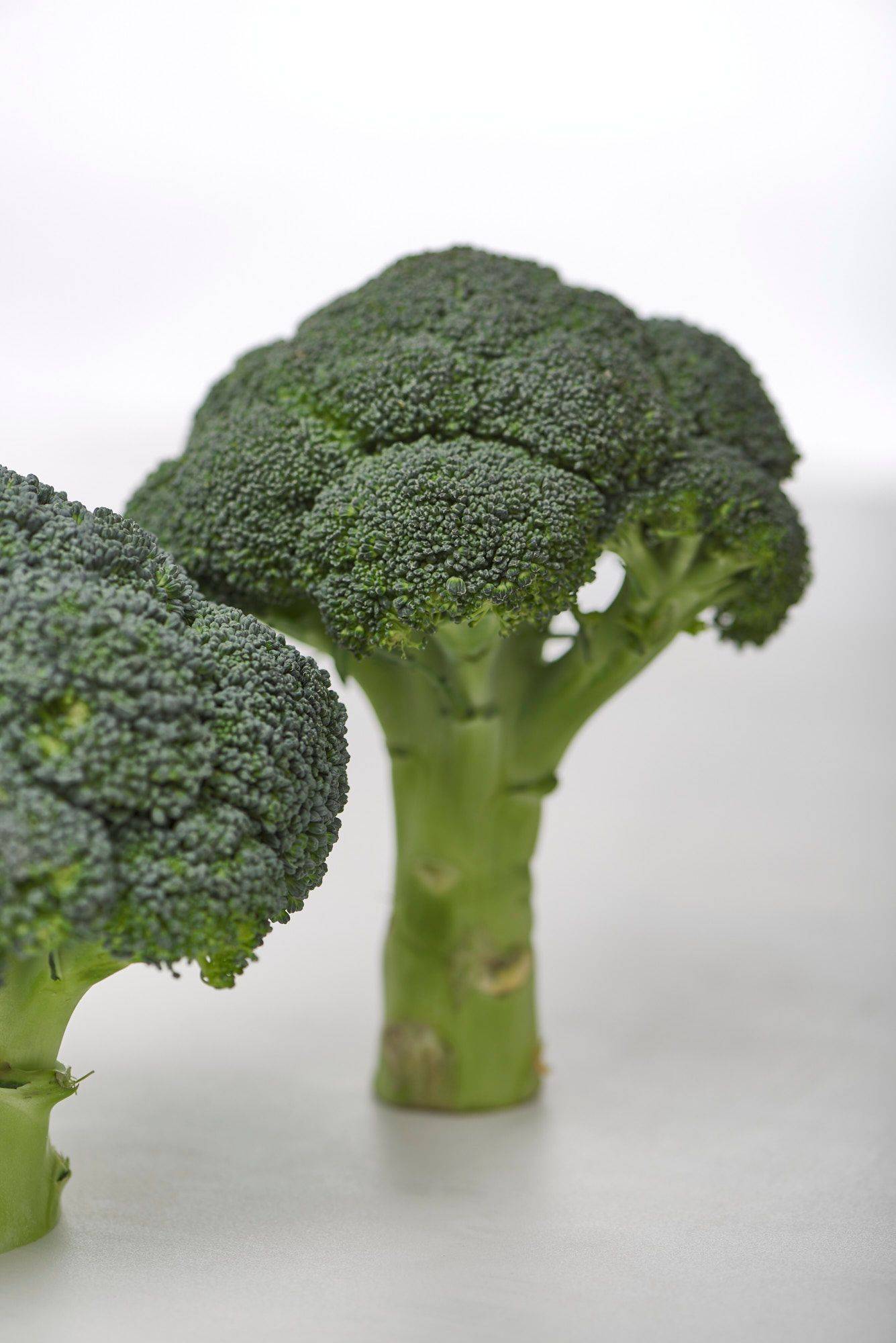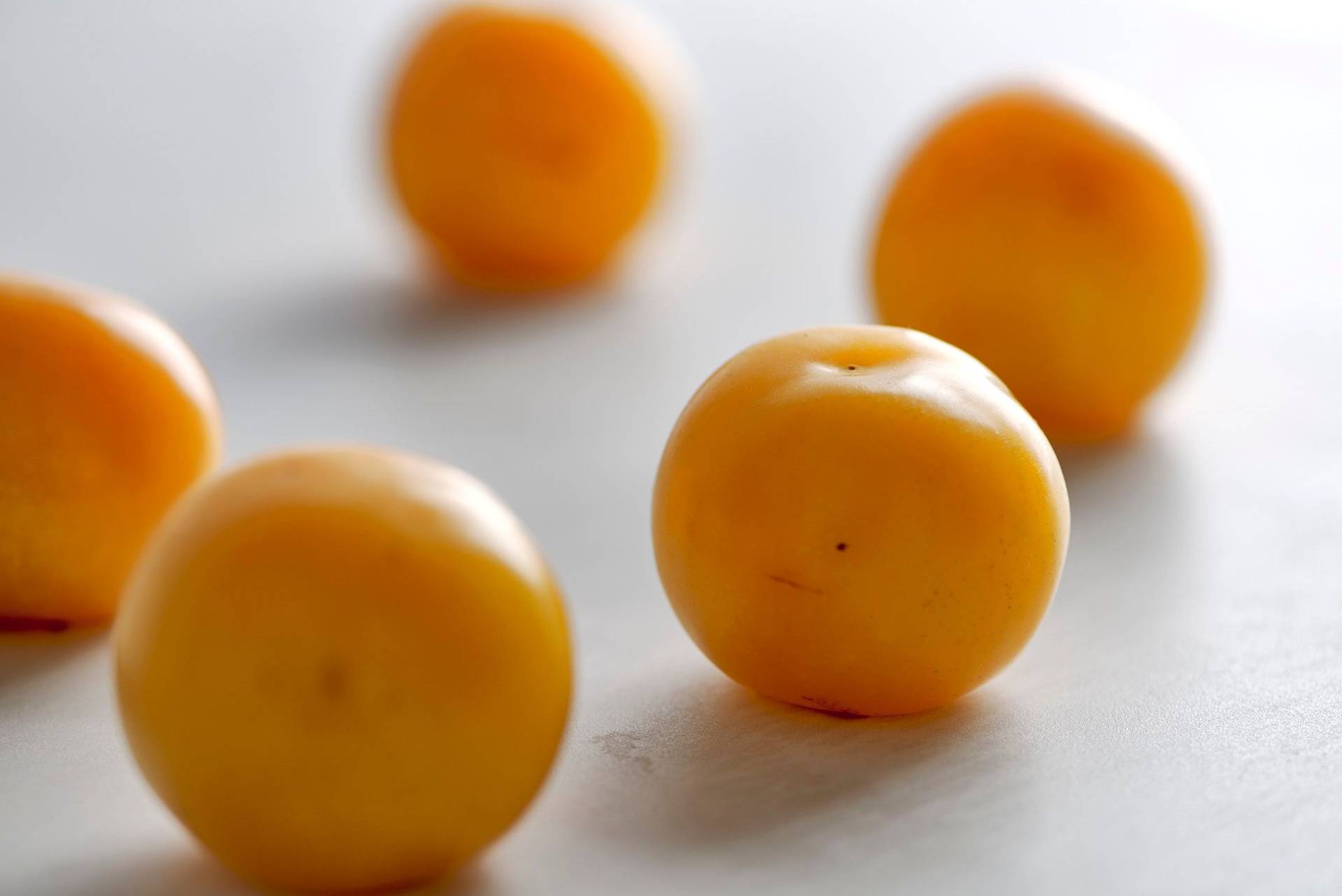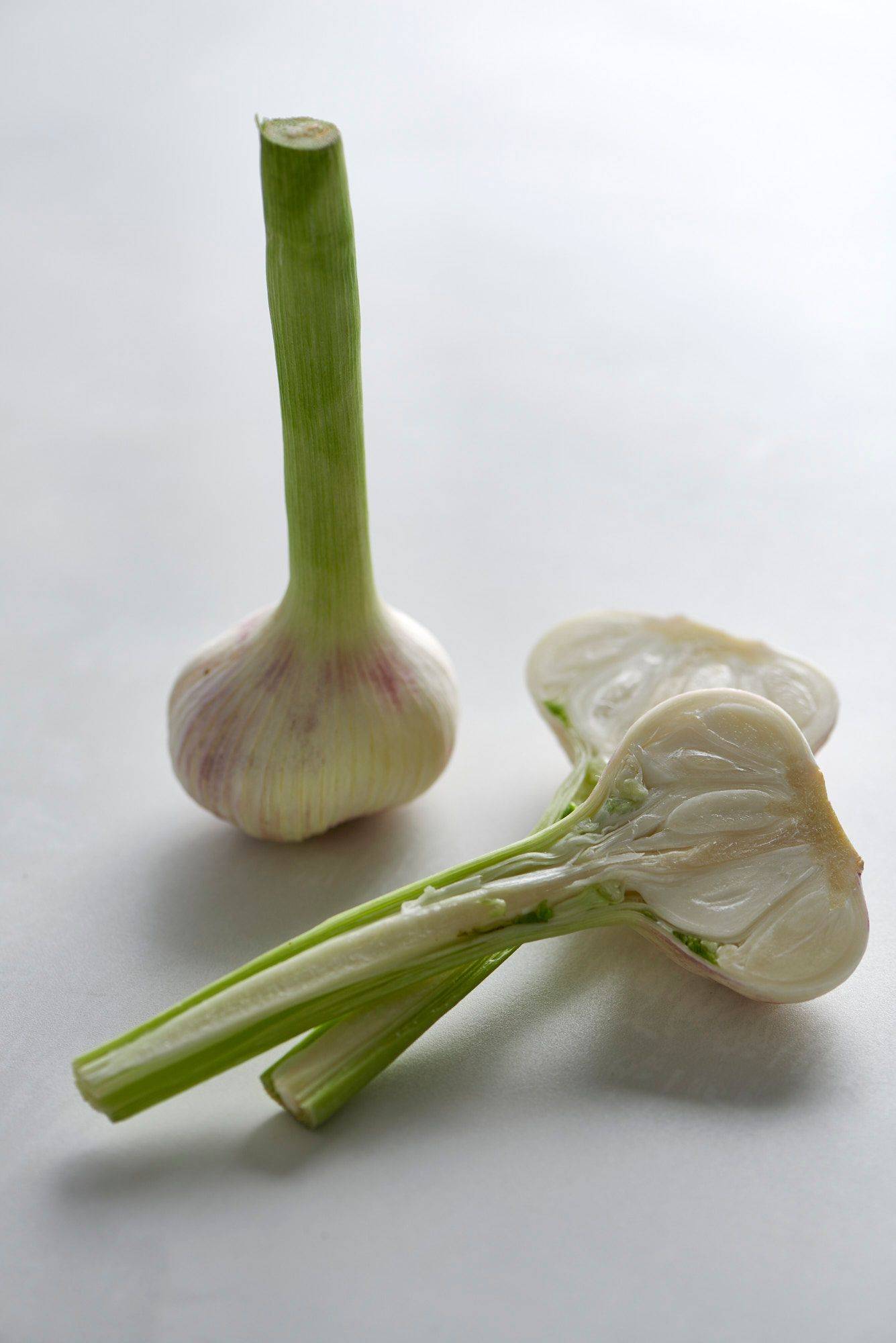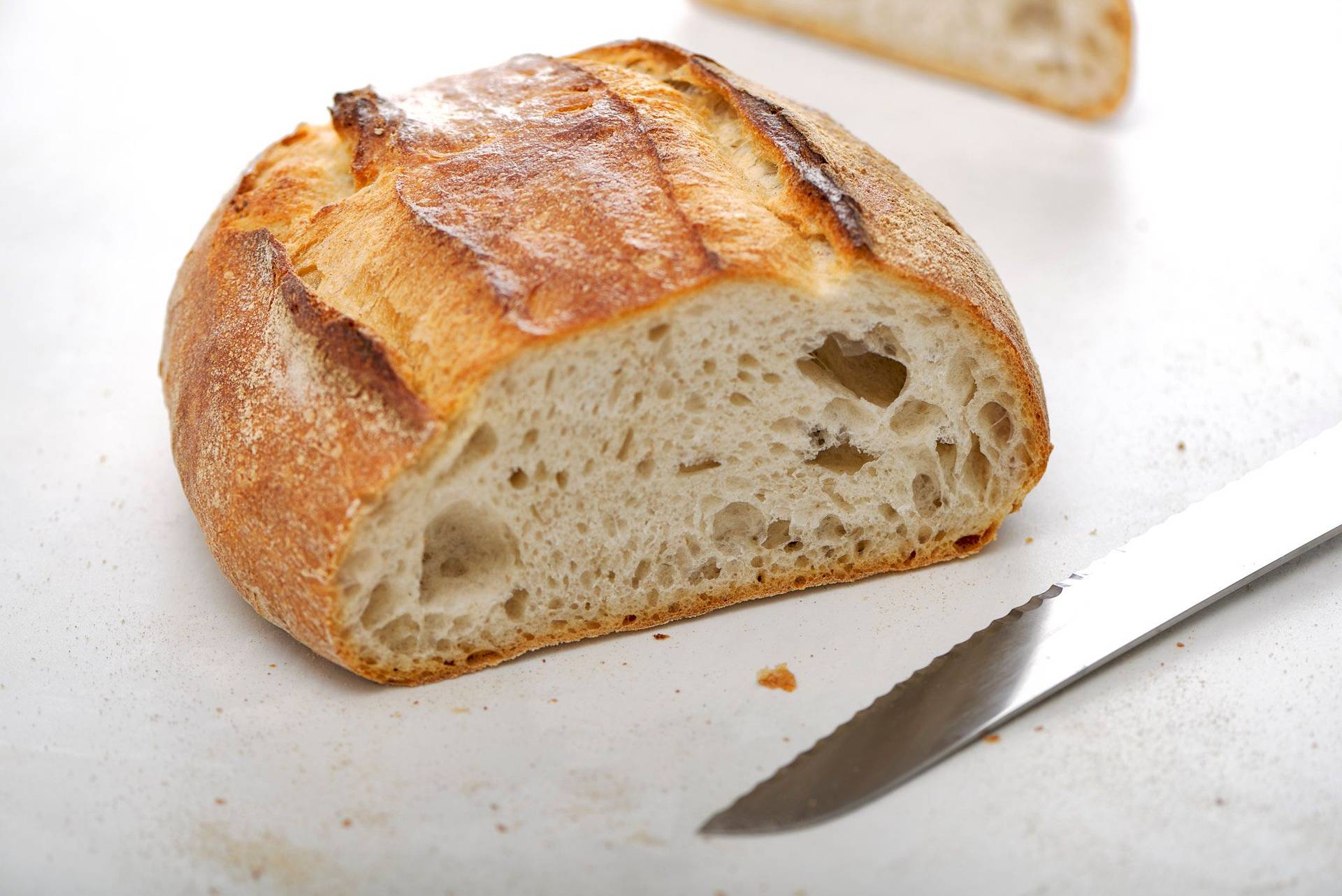 Portuguese migas
Since Portuguese migas are traditionally made with stale bread, we should think more often that there is no reason to waste "old food", be creative and make something good out of it. We can learn a lot from our grandparents in this matter, so dust off the old cookbooks and get inspired. Ever since I tasted Leopoldo's migas, I wanted to cook it myself one day. So, with only the images and memory of the stories in my head, I set to work creating my own migas recipe. My migas are plant based and sugar free, so it makes you feel good even on the second plate. I liked the taste and simplicity of this dish so much that you may find a second recipe from Leopoldo here soon.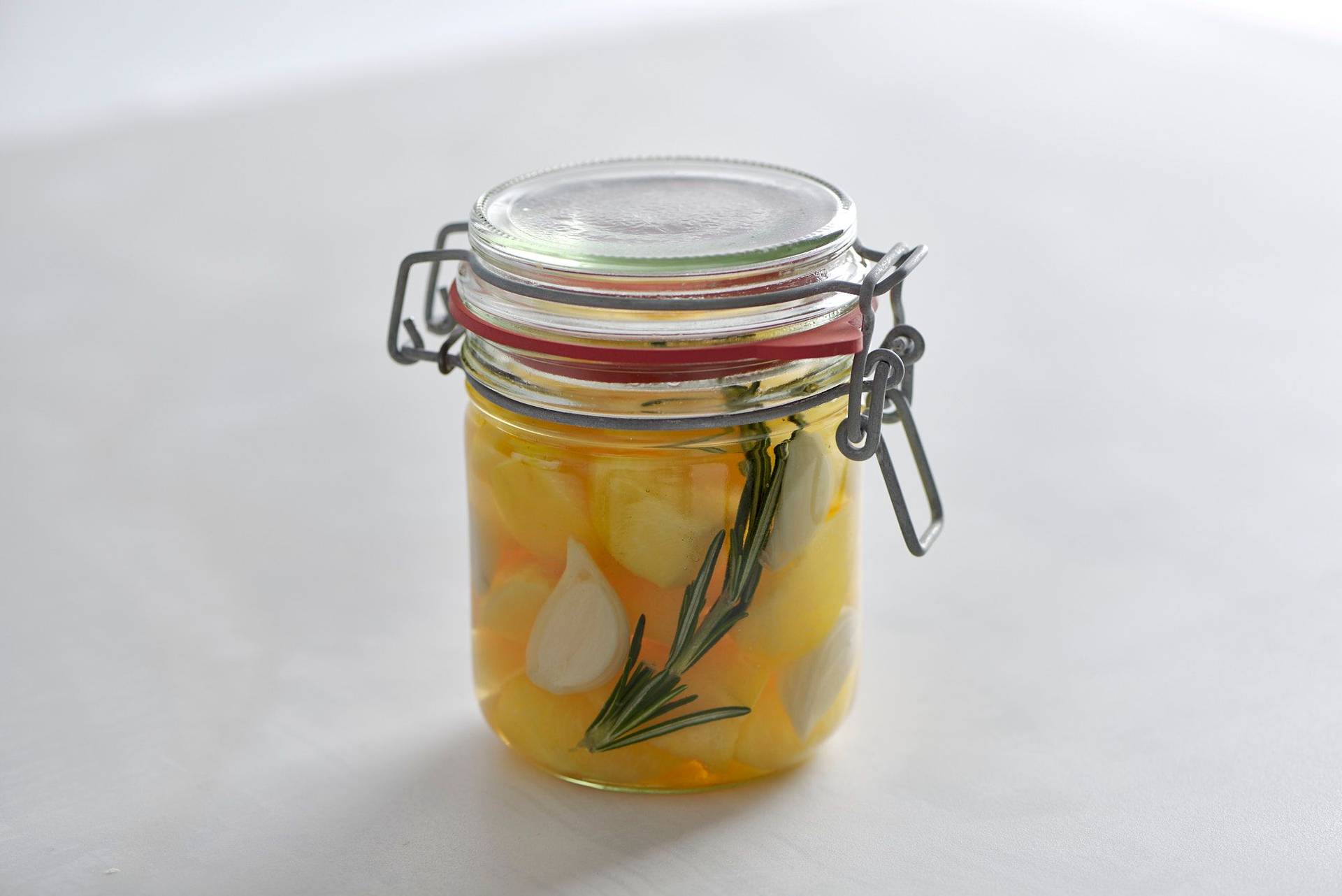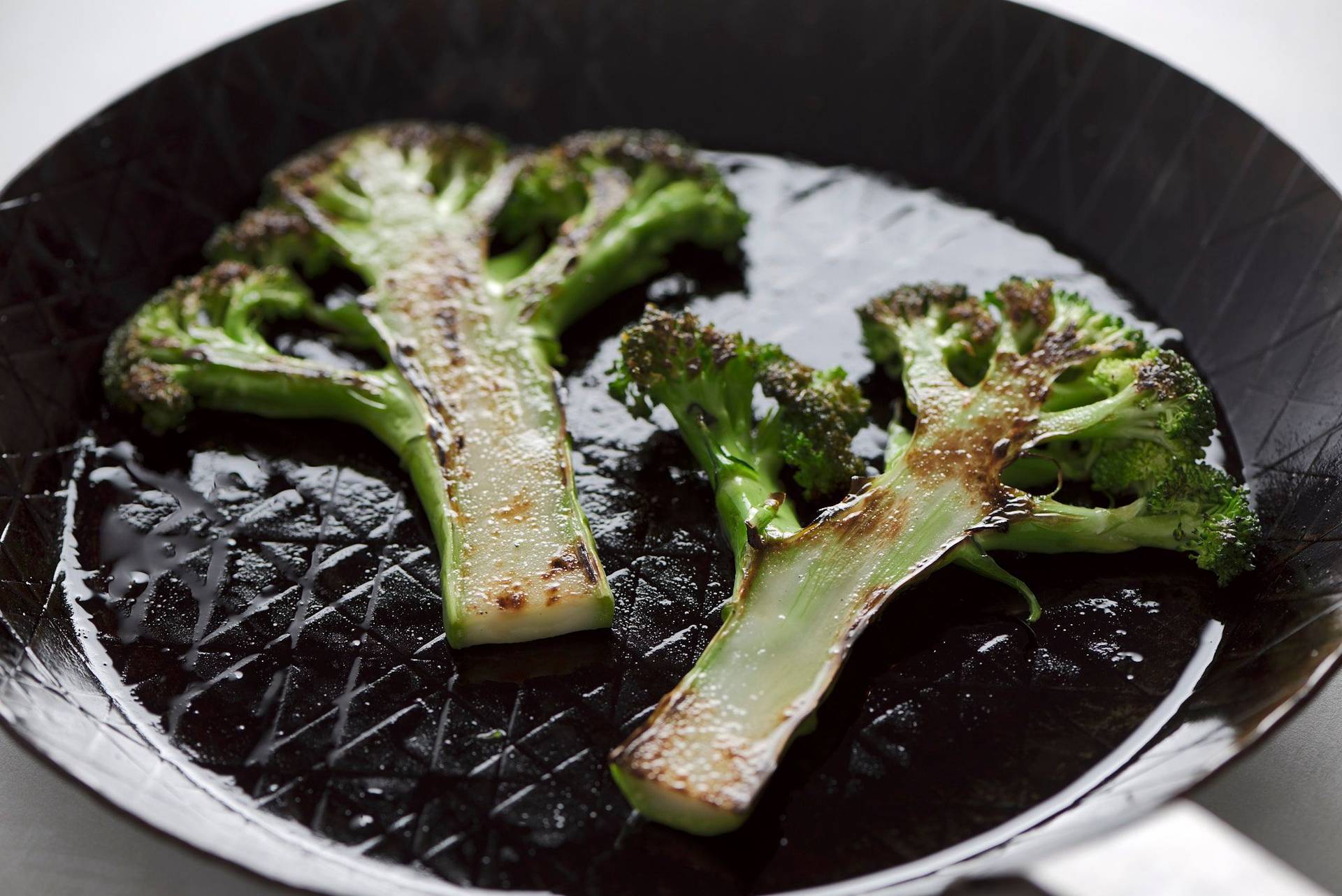 Recipe
Vegan Migas with Roasted Broccoli & Plum Pickles
4 Persons40 Minutes
Plums pickles
3 Yellow Plums
150 ml Water
25 ml Apple Cider Vinegar
20 g Agave Syrup
1 Rosemary Stem
1 Garlic Clove
1/4 Lemon Zest
Salt to taste
To make the plum pickles, first wash and pit the plums, cut into wild corners, then place in a jar. Bring the remaining ingredients to a boil and simmer briefly. Then pour the stock over the plums and refrigerate.
Migas
150 g Sourdough Bread
1/2 Shallot
1/2 Garlic Clove
3 tbsp Olive Oil
300 ml Vegetable Broth
1/4 Lemon (Juice & Zest)
10 Coriander Stems
Salt, Pepper & Agave Syrup to taste
For the migas, cut the bread into rough cubes and toast in the oven at 190°C. Finely dice the shallot and garlic, then sauté in the olive oil and add the bread. Now reduce the heat and slowly add the broth. Finally, season with lemon, coarsely chopped coriander and the spices to taste.
Serving
Before serving, cut four 1.5cm thick slices from the broccoli. Peel off the edge pieces with a peeler to make "broccoli couscous" and refrigerate it until serving. Now fry the broccoli on both sides in a little vegetable oil and season with salt. To serve, portion the migas in rings on the plate, place a broccoli next to each and arrange some plums. To decorate, sprinkle some broccoli couscous over the migas and drizzle with a little olive oil.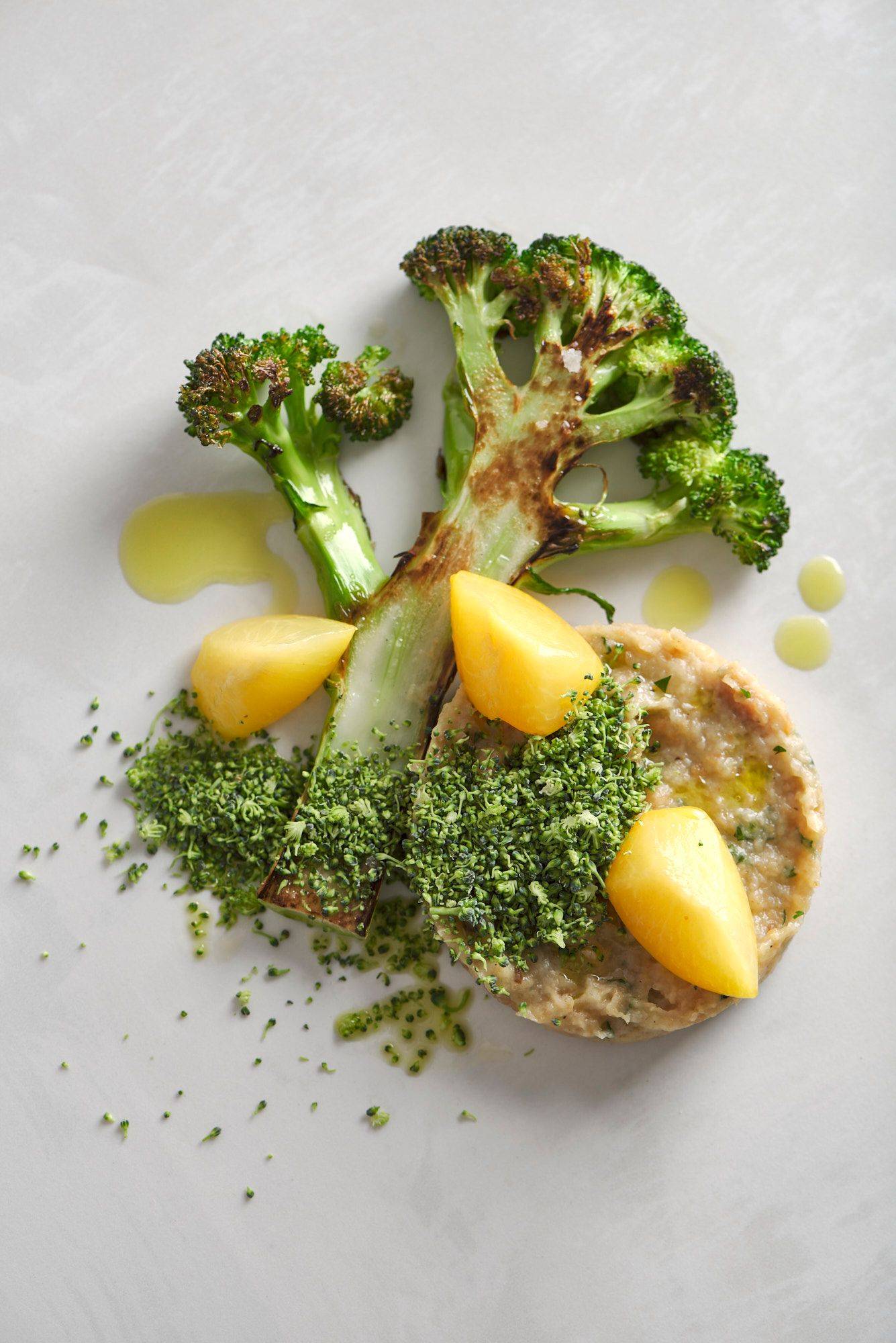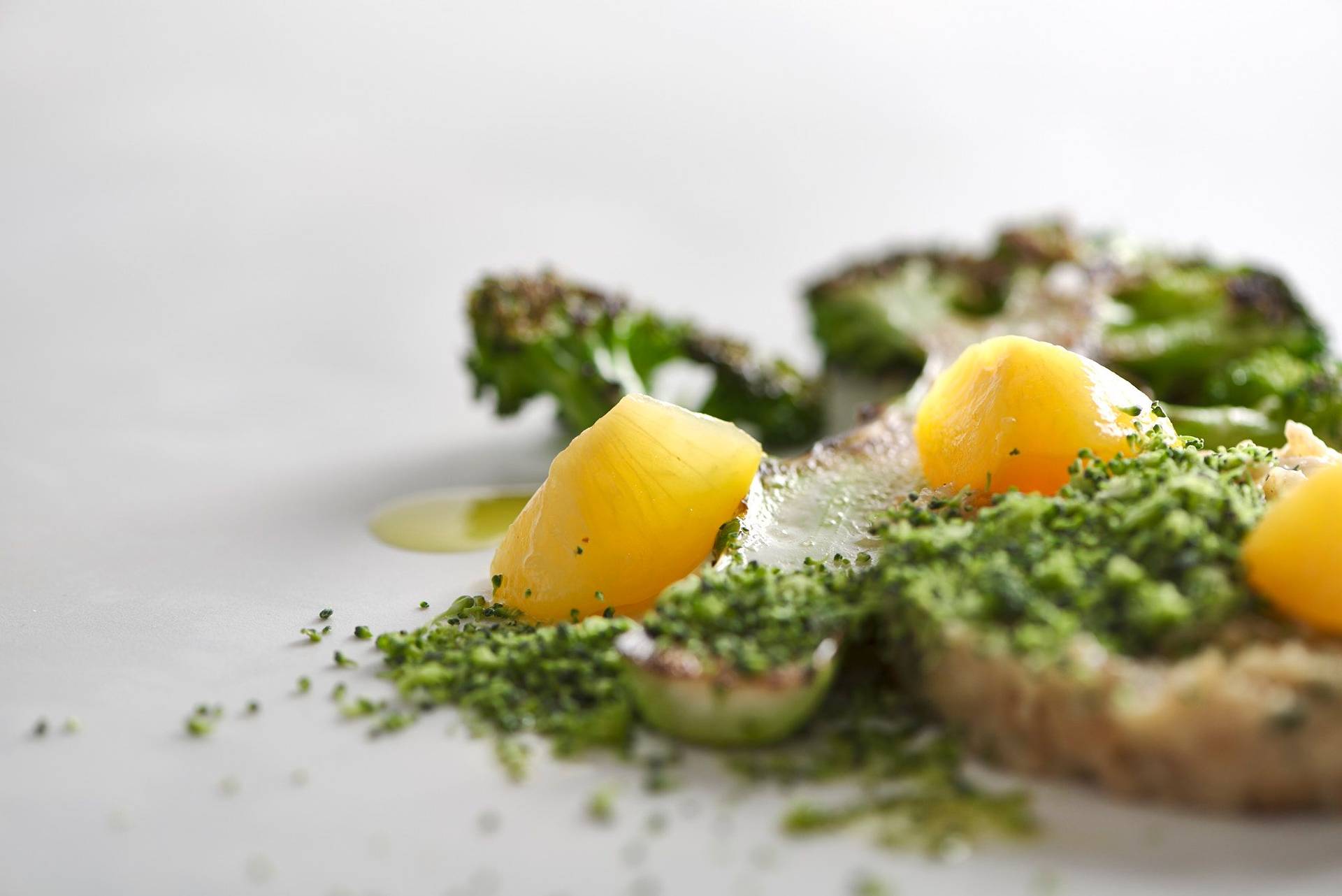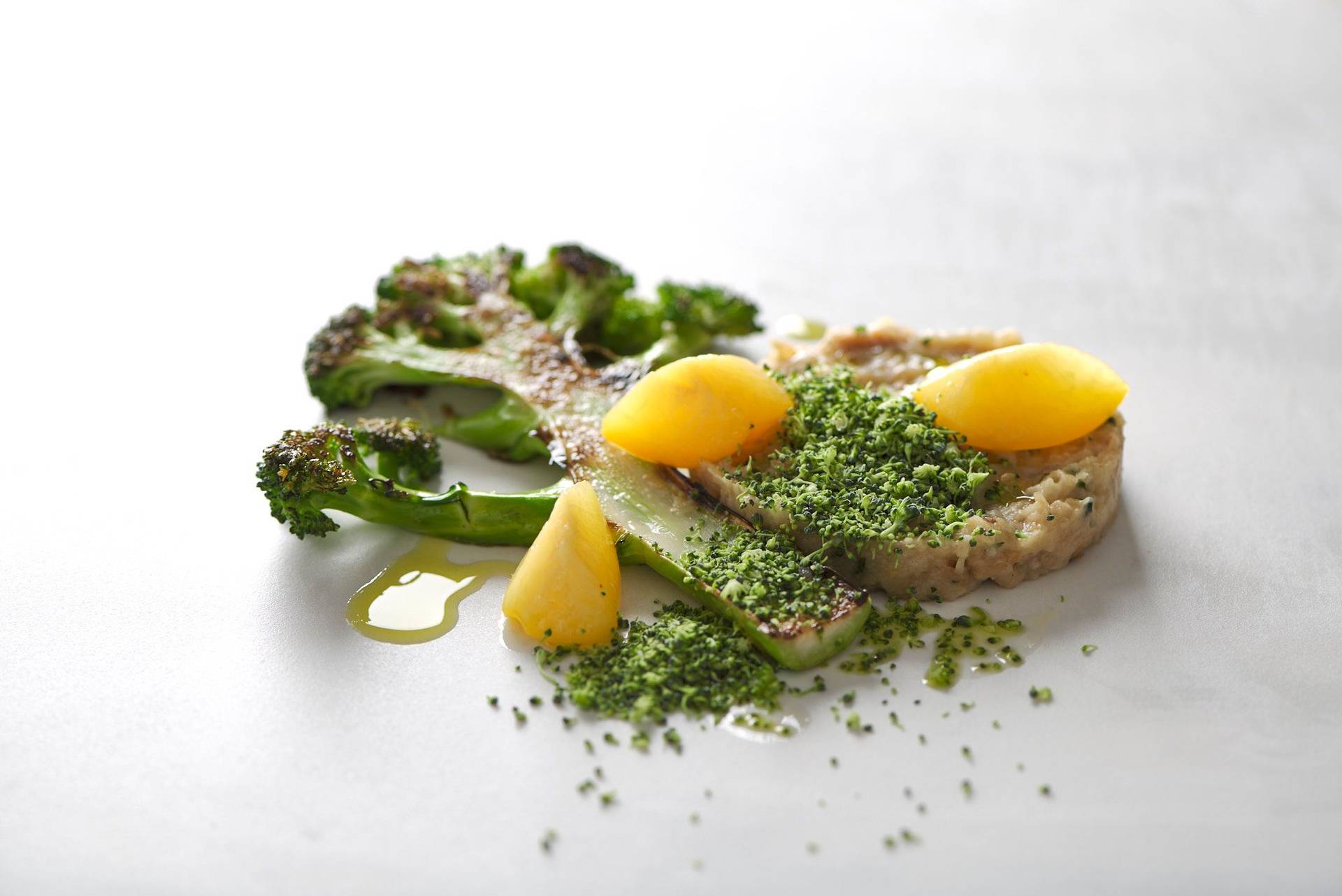 Newsletter
Can't get enough?
Get some secret ingredients through our newsletter!