Recipe
Kale Salad with Miso Egg Yolk & Rosehip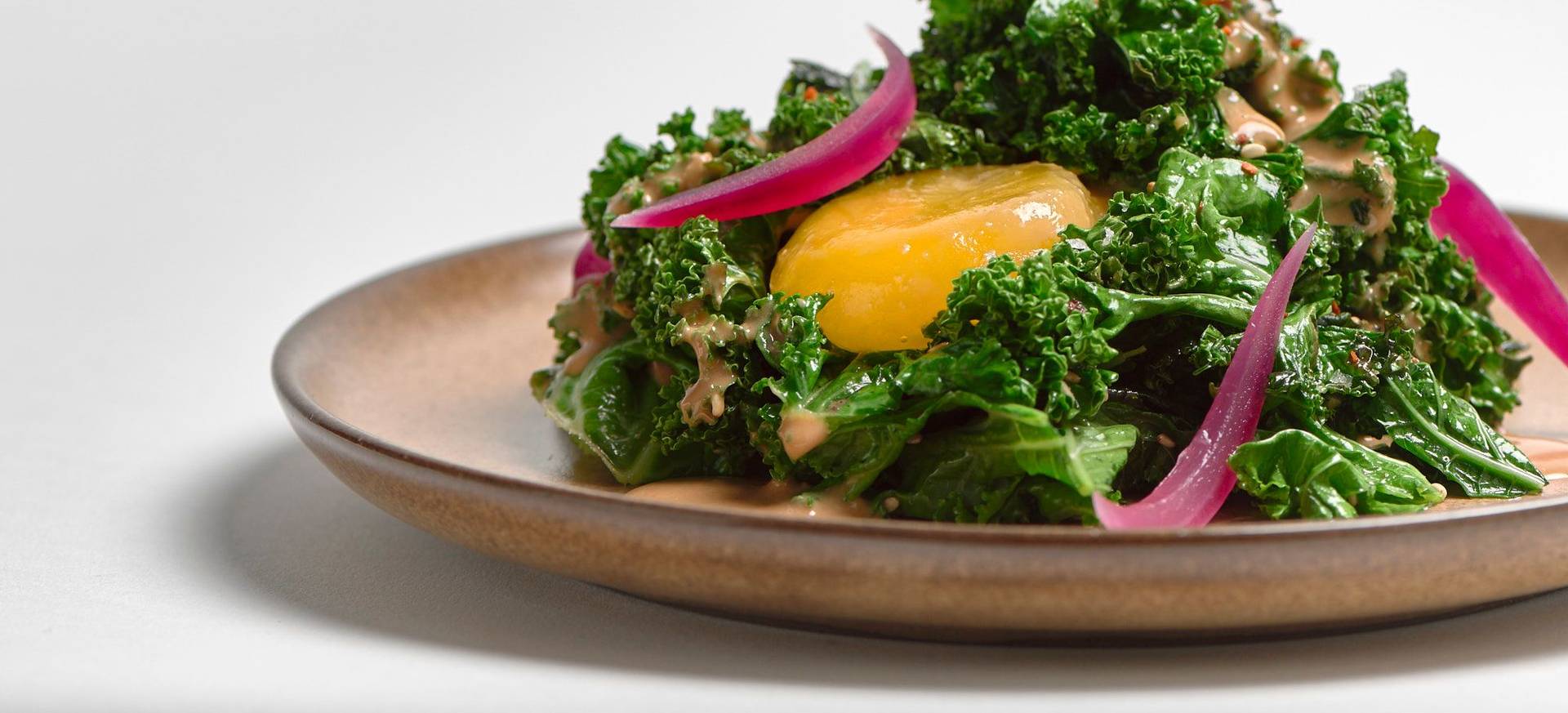 The days are getting shorter, the sun is only an occasional guest and the heater is the first thing you want around in the morning. Yes, without a doubt, Father Frost has come and brought winter to Berlin, but in doing so he has also made the first kale of the season possible. Since kale always needs frost before harvesting, the cabbage in turn is a confirmation of winter. Fortunately, kale is no longer just an overcooked vegetable with lots of fatty meat, but an energizing green, that can now be seen in a variety of recipes. You see kale smoothies, kale cakes, dehydrated kale, kale soup, or in my case, a lovely kale salad. And I can assure you that it even looks a bit like spring on the plate.
Season highlight
If you ask me, every season has its highlight and I could hardly name a favorite ingredient or dish of mine. In this case, however, kale is at the top of the list because, when it comes to flavor, texture, and variability, kale is just too far ahead. I enjoy kale in many ways and use it for sweet and savory food pairings. Plus, kale is inexpensive and when prepared properly, the most wonderful winter recipes can be created with and from it.
My kale salad
Today, I want to show you a great salad that can also be a full dinner. I once created a kale recipe for my Bowl Stories cookbook and found that it also pairs very well with Asian ingredients. So, my salad combines the typical German flavors of kale and rosehip with aromatic miso and tart mizkan pickled onions. You have great textures of the al dente cooked kale and the soft yolk with a rich rosehip dressing. Actually, too good to share, so I ate it all by myself. The recipe to recreate though, I didn't want to deprive you.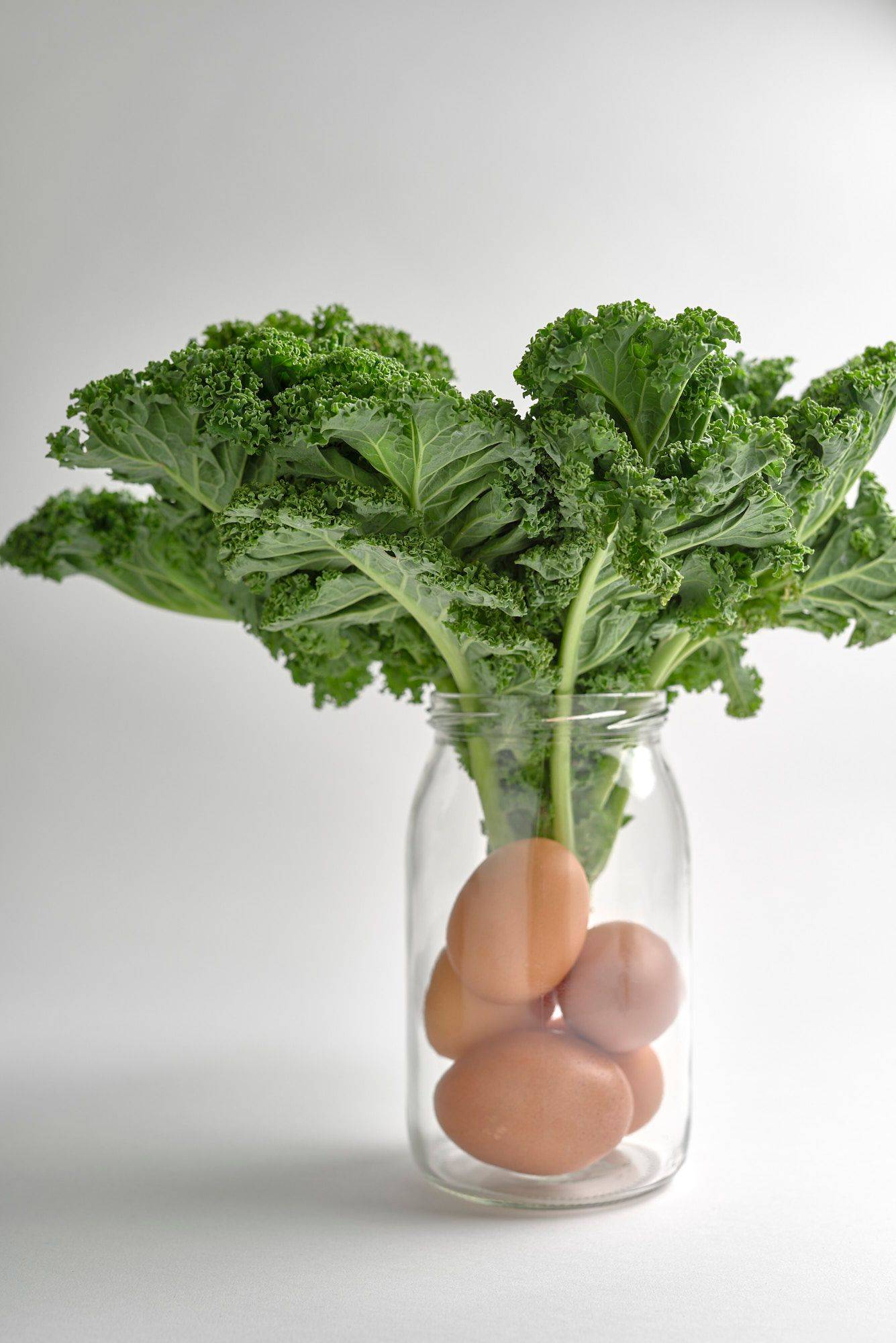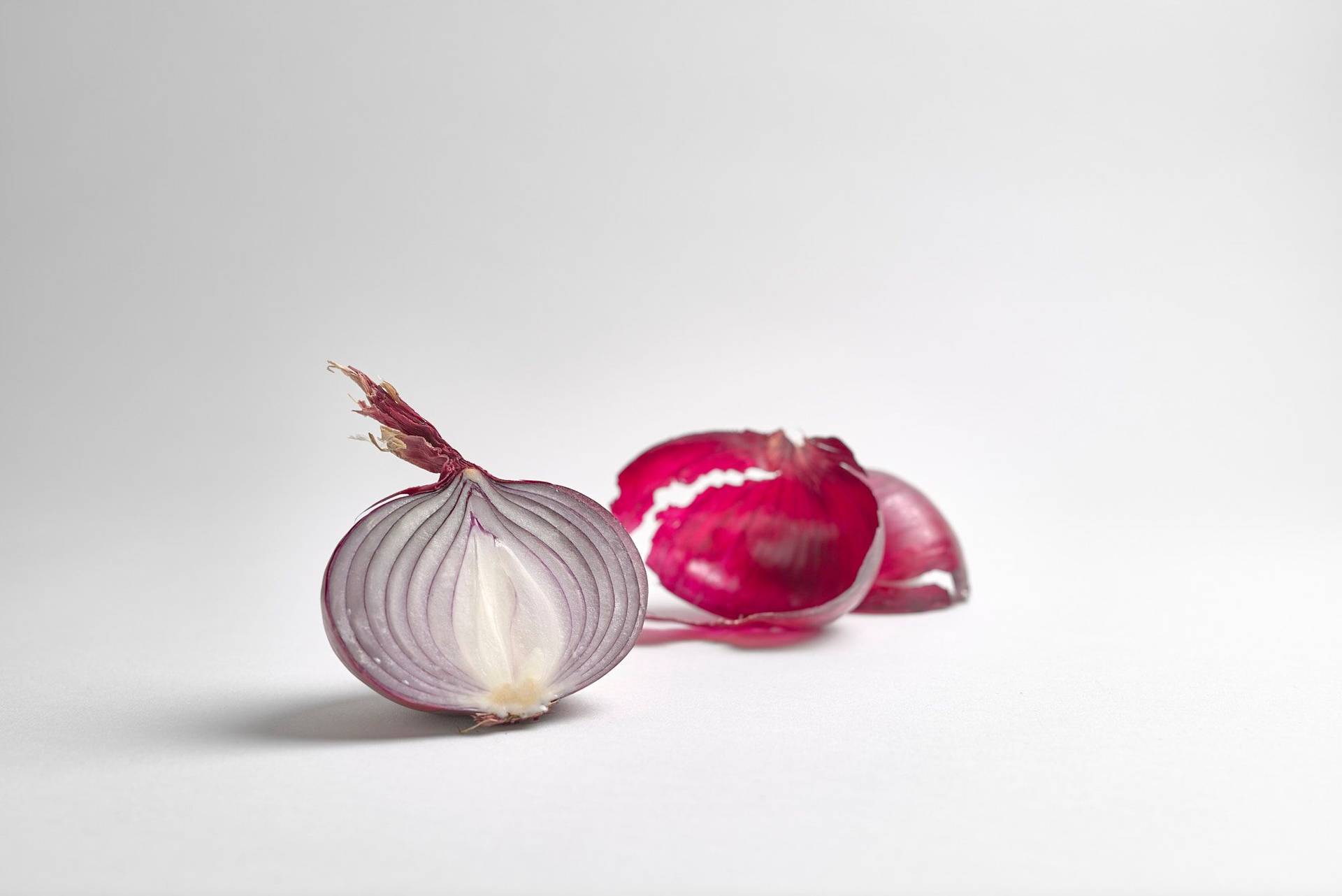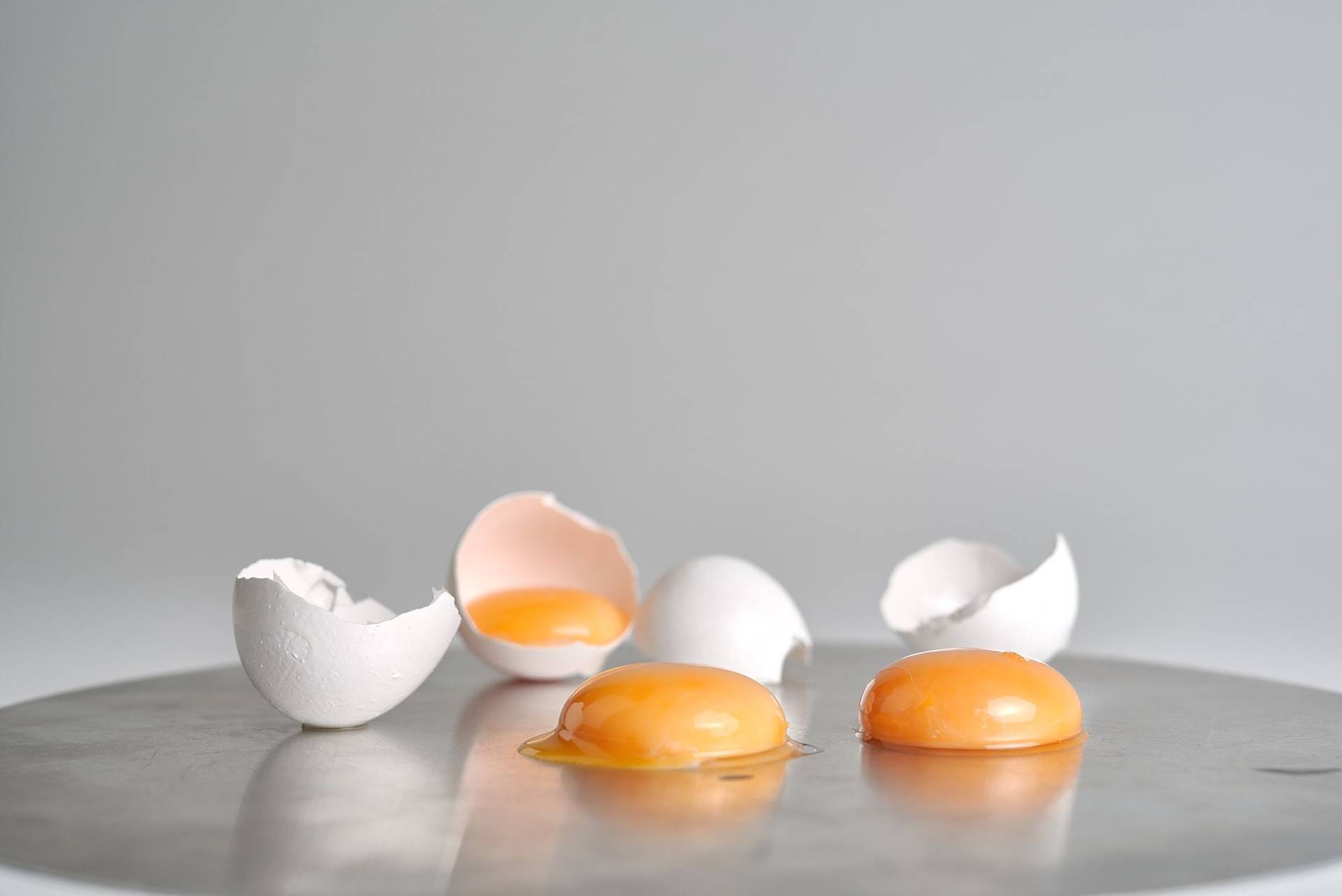 Recipe
Kale Salad with Miso Egg Yolk & Rosehip
4 Persons30 Minutes
Miso Egg Yolk
4 Eggs
90 g Miso Paste
20 g Maple Syrup
20 ml Apple Juice
For the miso egg yolks, mix the miso paste with maple syrup and apple juice. Separate the eggs and carefully add the yolks to the miso mix, so they don't break. Make sure the yolks are coated with the miso on all sides, and pickle them like this in the refrigerator for at least 12 hours. This way the salt from the miso paste extracts some of the water from the yolks. This is best done the day before, so that the yolks pickle overnight in the miso. When the time is up, the yolk can be washed off very carefully.
Onion Pickles
1 Red Onion
50 ml Mizkan
50 ml Sake
3 tsp Agave Syrup
Salt to taste
For the onion pickles, peel and halve the onions and cut them into 5mm wedges. Bring the mizkan, sake and agave syrup to a boil and simmer for a minute. Now turn down the heat, season with salt and add the onions, then simmer on low heat for 2 more minutes. Pour everything into a jar and set aside until ready to serve. You can also make this the day before.
Rosehip Dressing
50 g Rose Hip Pulp
1 tsp Tahina Paste
2 tsp Apple Juice
1 tsp Agave Syrup
1 tsp Mizkan
Salt to taste
For the rosehip dressing, mix rosehip pulp with tahina paste until smooth and then add the remaining ingredients. Season the rosehip dressing again and let sit at room temperature until ready to serve.
Sautéed Kale
500 g Kale
80 g Butter
2 tsp Roasted Sesame Seeds
Salt, Chili Flakes, Lemon Zest & Maple Syrup to taste
For the sautéed kale, wash and drain the kale. Then pick off the leaves in small pieces and heat a pan or wide pot. In it, brown the butter and add the cabbage. Add the spices and sauté over medium heat until the cabbage is cooked but still firm to the bite. Finally sprinkle the sesame seeds on top.
Serving
Sautéed Kale
Miso Egg Yolk
Rosehip Dressing
Onion Pickles
To serve, arrange the kale on a plate and put the miso egg yolk on top. Then add the onion pickles and a little rosehip dressing.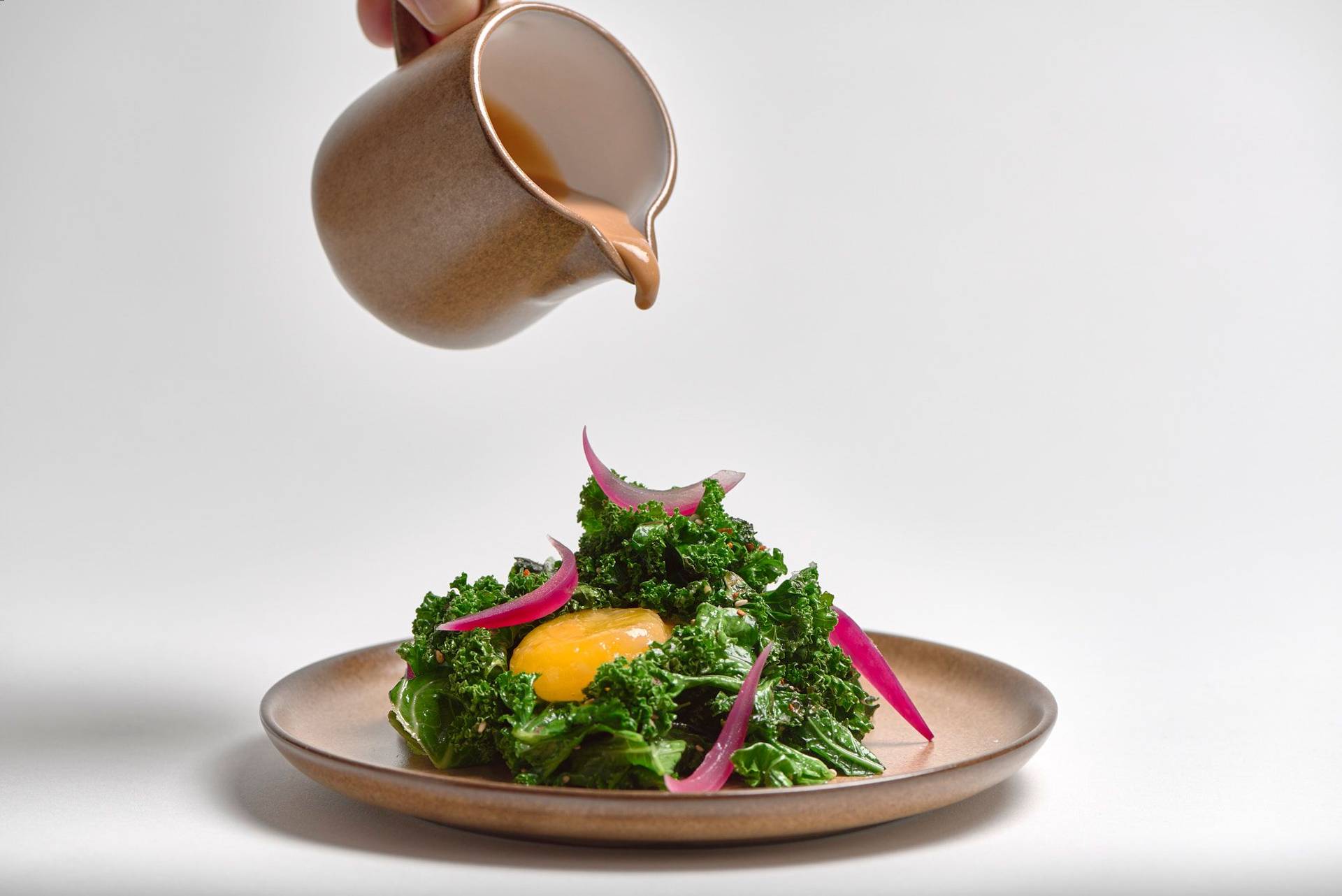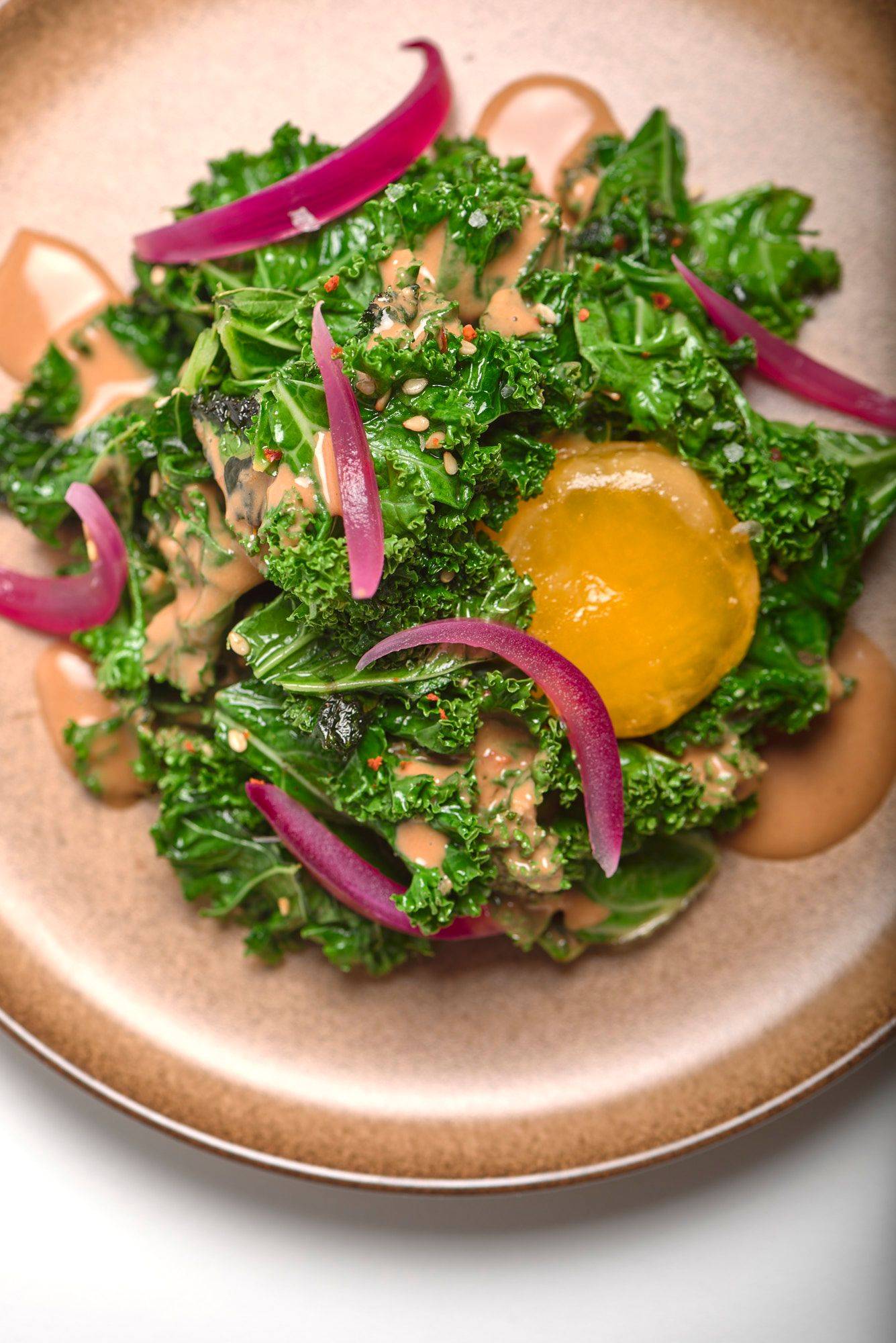 Newsletter
Can't get enough?
Get some secret ingredients through our newsletter!