Recipe
Hangover Breakfast with Sorrel Smoothie, Amaranth Bowl & Rhubarb Ceviche
Fish | Dessert | Drinks | Vegan | Dairy-Free | Sugar-Free | Non-Alcoholic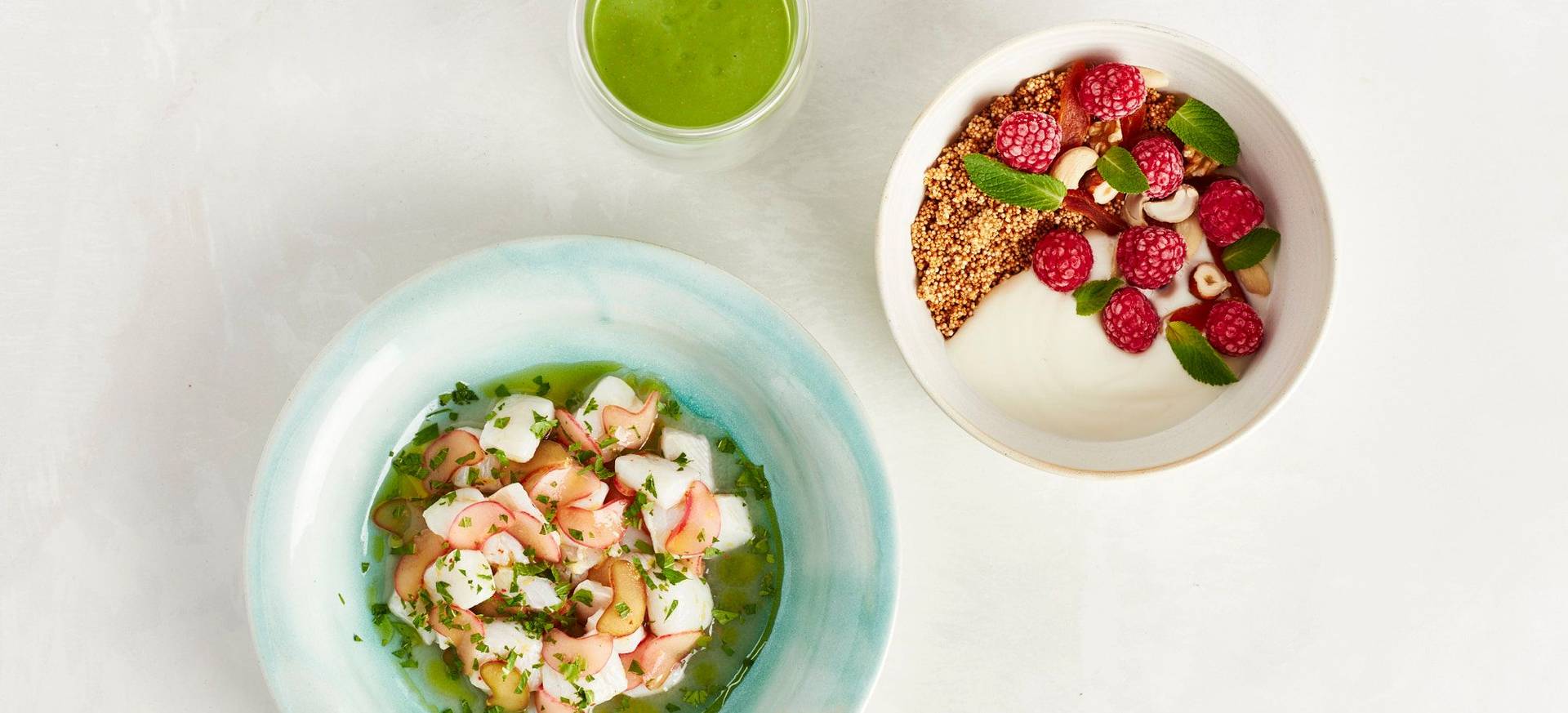 Suddenly it's there again - the hangover. Who of us doesn't know that awful feeling after a good night of partying? Everything was so much fun and you enjoyed yourself in good company and with a glass of wine or maybe a few more. Now you open your eyes the next morning, your mouth is dry, your head hurts and everything is just too much. A hangover easily spoils your whole day or even more. But what happened? In a nutshell, the alcohol has deprived your body of all minerals and you lack fluids. The good thing is, there are certain things you can do to prevent a bad hangover and if you already have one, you can help yourself getting back on your feet with some delicious dishes.
How to prevent a hangover
Now, I could be super smart and tell you "Don't drink as much or at all", but as I enjoy a good wine or drink myself every now and then, there are a few simple things to keep in mind. So, if you know there might be a few glasses tonight, make sure you've eaten properly before going out. The best thing to eat is something fatty, combined with salt and protein. This could be bacon and eggs, for example, or a hearty pasta. These ingredients will help your body slow down the process of alcohol absorption into the blood system. Also, make sure to follow a simple rule of thumb: 1 drink followed by a glass of water and maybe some salty snacks. This will help stay hydrated as alcohol will dehydrate you quite easily.
What to eat with a hangover
However, if you may have pushed your body to its limits and couldn't prevent a hangover, you can try recharging your batteries with some of my recipes below. The most important thing is to drink water and replenish your mineral levels. Your body needs all kinds of them because alcohol depletes the body of both quickly and then leaves you with a sometimes painful hangover. So, protein, calcium, sugar, iodine and vitamins are the minerals to include in a good hangover breakfast. I know that some foods just don't feel right (listen to your body), so I came up with a simple hangover breakfast for you. The Sorrel & Spelt Smoothie as a careful introduction to food intake, followed by a delicious Amaranth Bowl and should just a few headaches plague you, a delicious Rhubarb Ceviche. All these recipes will help you get back on track and are full of ingredients your body needs right now.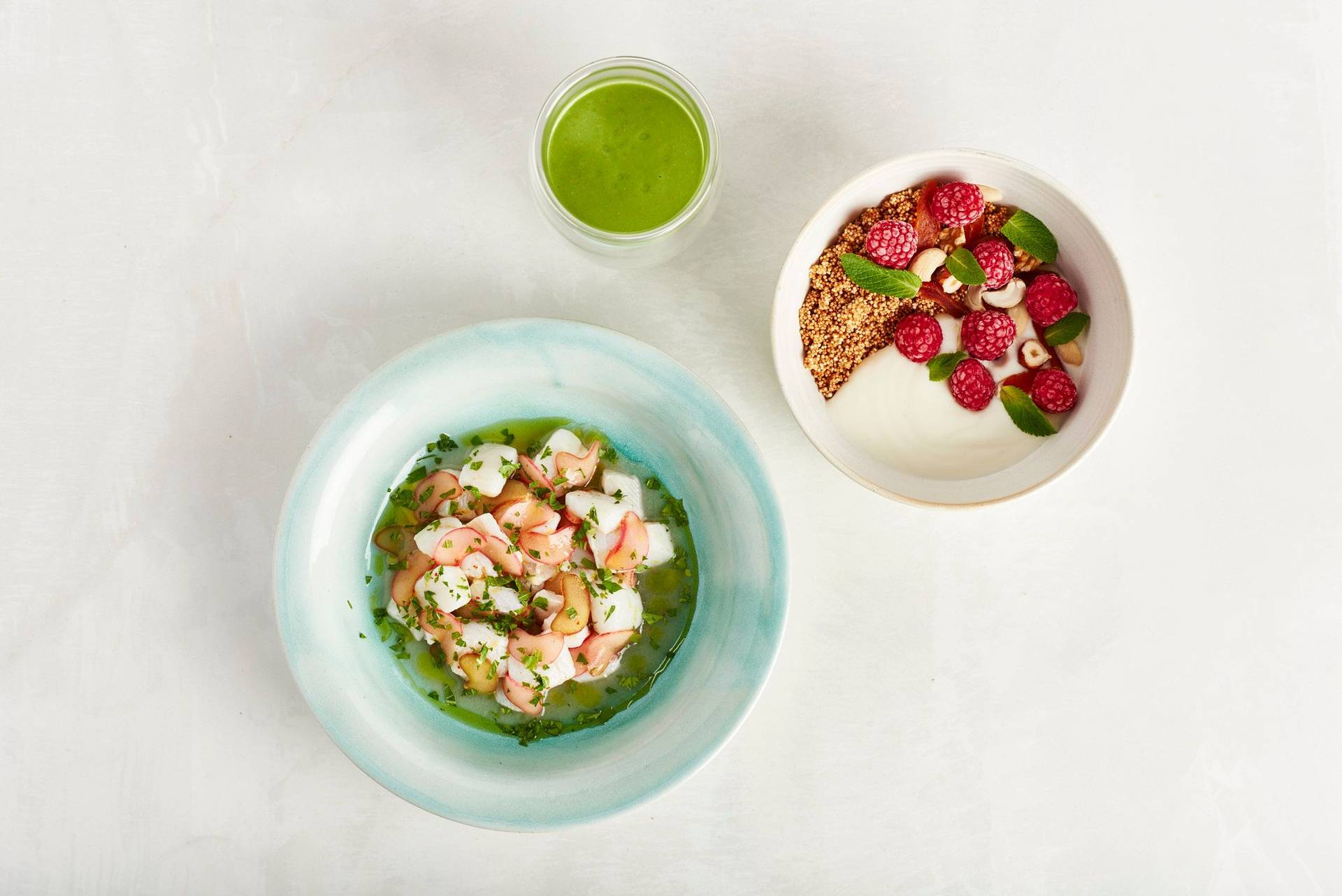 Recipe
Hangover Breakfast
2 Persons30 Minutes
Sorrel & Spelt Smoothie
1/2 Avocado
1 Banana
70 g Sorrel
50 g Baby Spinach
30 g Spelt Flakes
250 ml Water
Agave Syrup, Lemon peel & Salt to flavor
40 g Nut Mix
40 g Dried Apricots
60 g Frozen Raspberries
Fresh Mint
For the sorrel & spelt smoothie, simply peel the banana and avocado and mix in a blender with the remaining ingredients. Season to taste and blend again.
Amaranth Bowl with Berries
50 g Popped Amaranth
1 tbsp Honey
1 tbsp Agave Syrup
Salt to taste
200 g Yogurt
1/4 Orange Peel & Juice
30 g Nut Mix
40 g dried Apricots
50 g frozen Raspberries
For the amaranth bowl, mix amaranth with honey and agave syrup and caramelize at 170°C on a baking sheet until golden brown. Then set aside to cool until ready to serve. Now mix the yogurt with orange zest and juice. To serve, place amaranth and yogurt in a bowl. Then roughly chop the nuts and apricots and add them as well. Finally, arrange the raspberries and garnish with the fresh mint.
Rhubarb Ceviche
250 g Fresh Cod (sea bass, sea bream or king mackerel are also very good)
1 Lime Peel & Juice
2 tbsp Olive Oil
70 g Rhubarb
5 Coriander Stems
2 Parsley Stems
Salt, Pepper, Chili Flakes & Agave Syrup to flavor
For the rhubarb ceviche, cut the boneless cod into cubes and the peeled rhubarb into thin slices. Chop the herbs and now marinate all the ingredients in a bowl for 10 minutes. Then season again, arrange in a deep plate and pour the juice on top.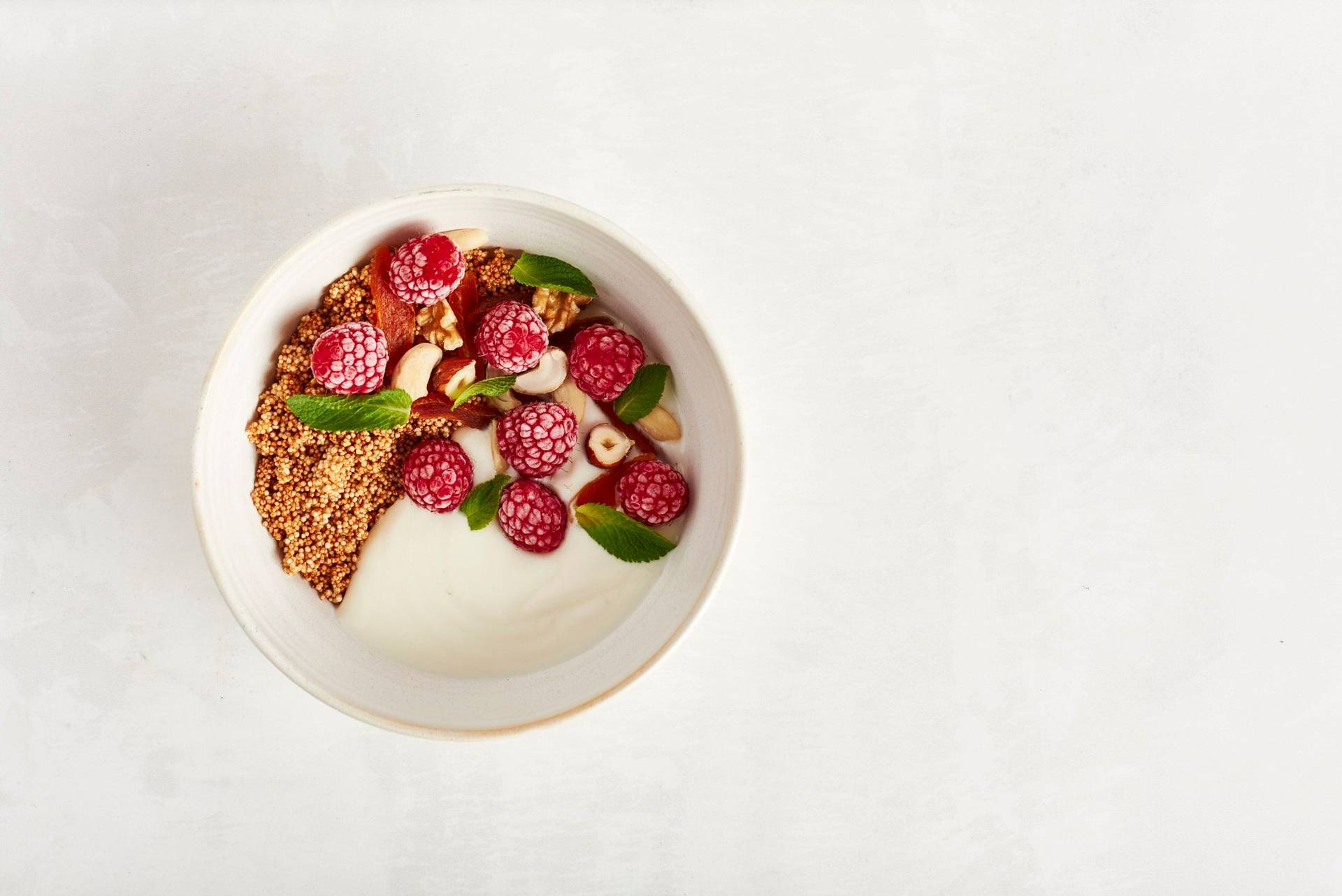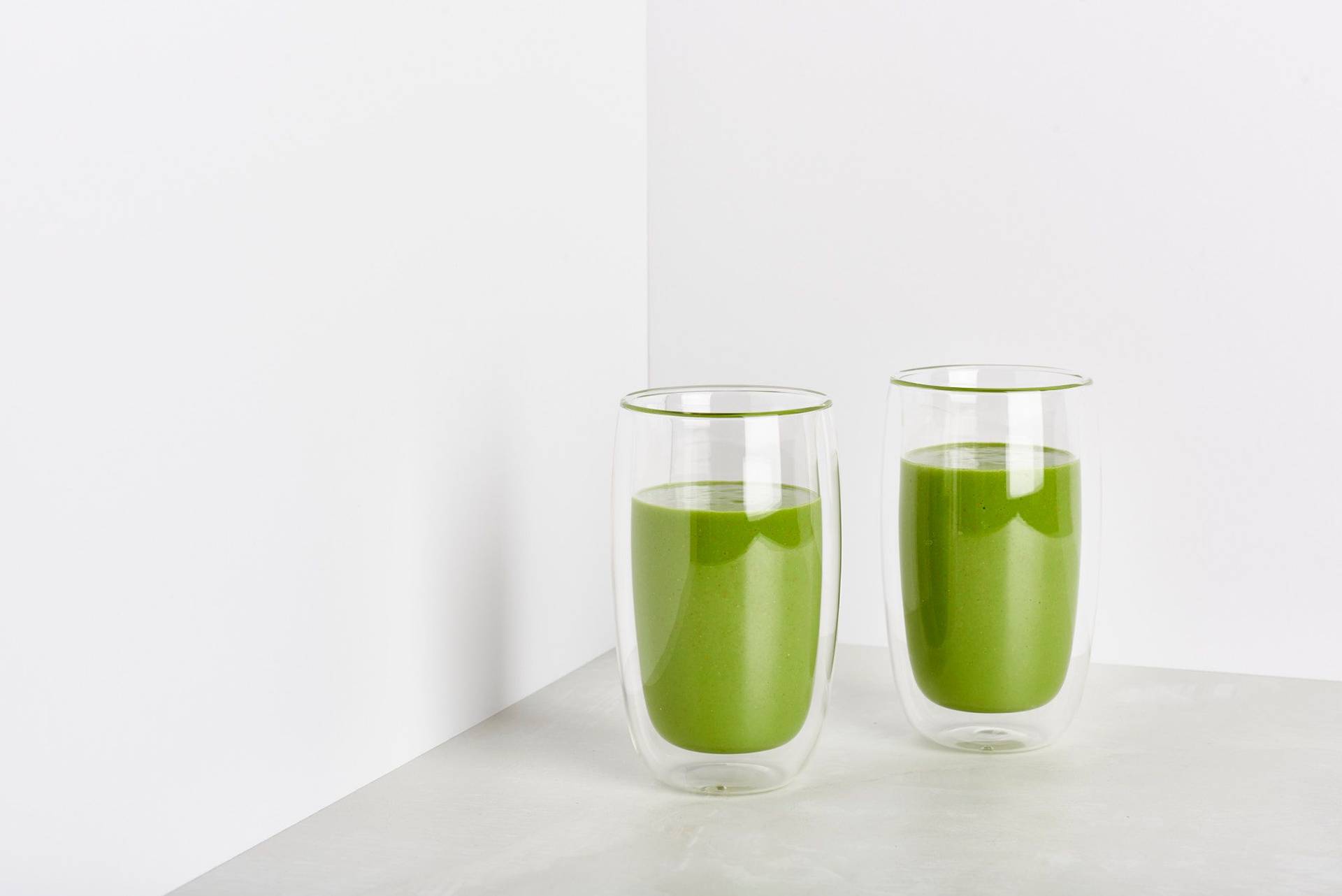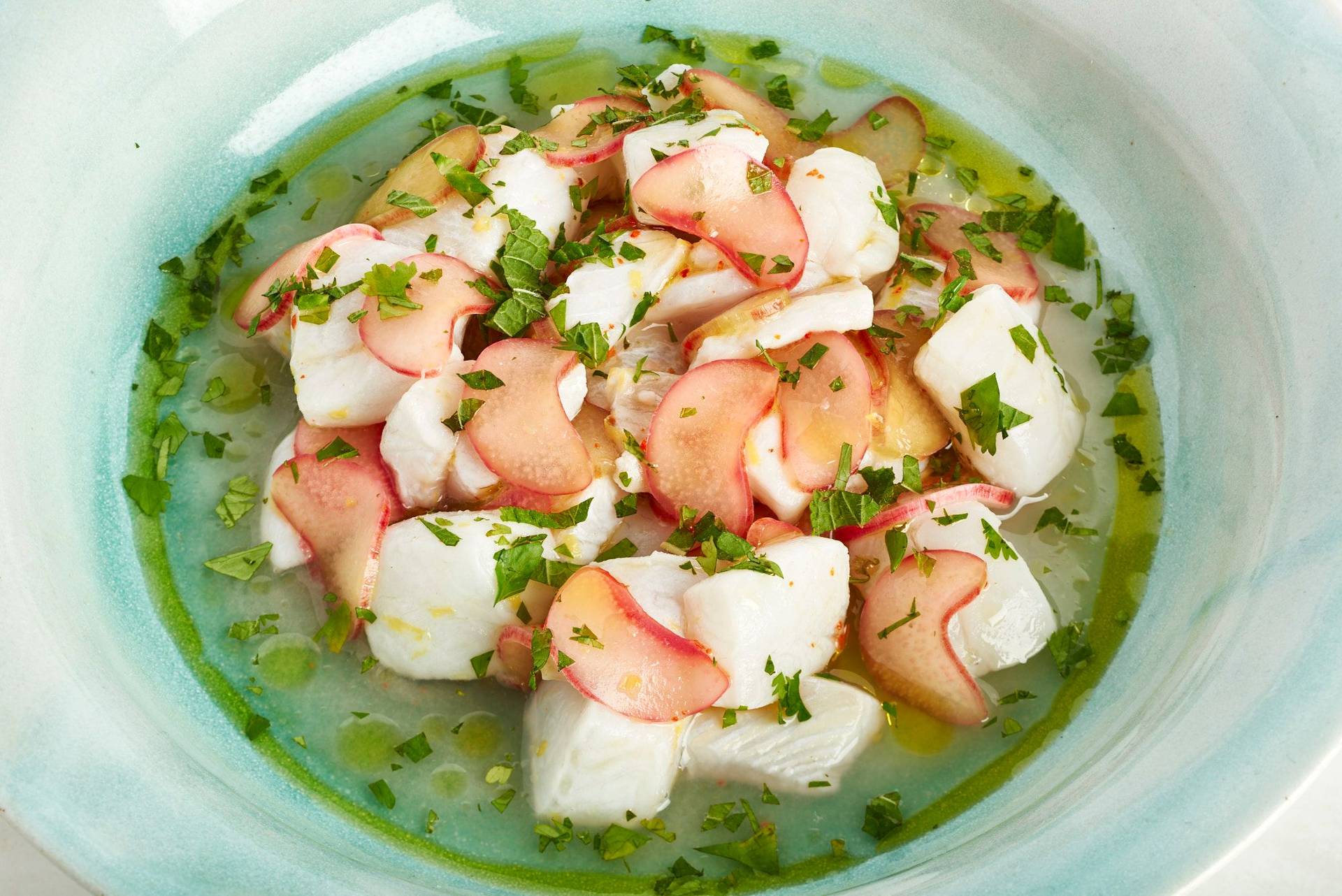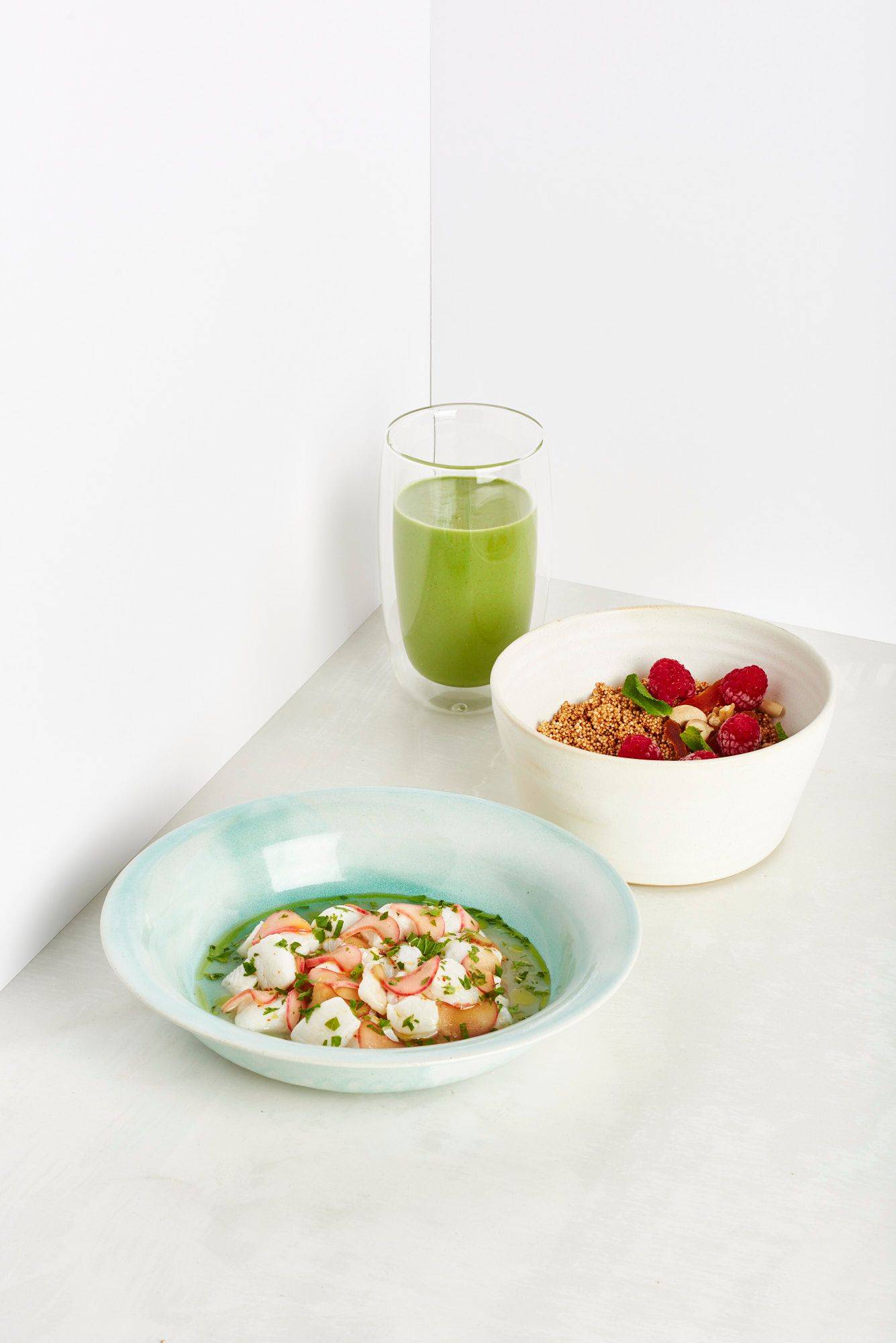 Newsletter
Can't get enough?
Get some secret ingredients through our newsletter!