Recipe
Confit Salmon with Beetroot Hummus
Fish | Gluten-Free | Dairy-Free | Sugar-Free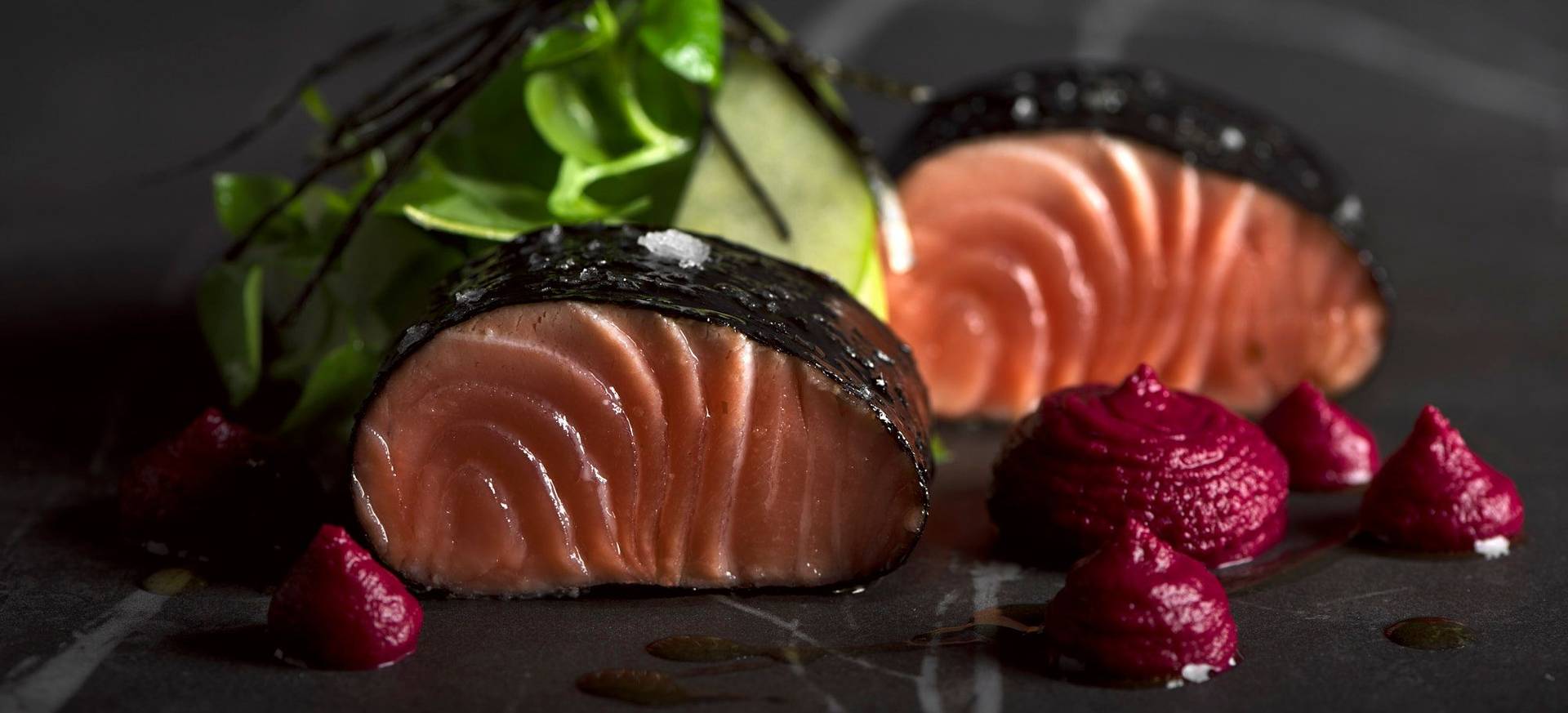 This article contains advertising.
Today's recipe brings me back to my trip to Istanbul, a city with so many culinary origins. A city where you can travel between Europe and Asia in the blink of an eye. A city with so many facets. I saw, smelled and tasted all day...such a rich culinary experience it was. I remember people fishing from bridges and selling the grilled fish on the sidewalk right after. I remember the sweetest treats like baklava, that I instantly fell in love with and I remember really rustic restaurants that sold "simple food" like hummus with pita bread to the working people. I could go on forever, as those days had a strong impact on me and I find myself reminiscing from time to time and thinking about one treat or another. One result of these daydreams, besides the combination of beets, hummus and salmon presented here, is, for example, the recipe for Ayran Black Forest Cake with Cherries & Bacon.
Culinary experiences
The best way to get inspired and gain a broad culinary background is to travel, eat lots of different things from around the world, and gain experience through experience. To be brave enough to try things you haven't tried before and open your mind to all the great ways of cooking. It doesn't matter if it's prepared over an open fire or in a modern kitchen. Take advice from people who have something to tell you, and don't hesitate to bring together ingredients from different cultures. The result can only be the next step in our never-ending culinary journey.
Beetroot hummus
Maybe you will let me be your inspiration today? In this recipe I tried to incorporate a bit of Istanbul. I wanted it to be a hearty and light recipe without too much complicated preparation. I have also tried hummus over the years in some variations and so I had the idea to use beetroot for the hummus. This not only creates this beautiful color, but the beetroot also gives the hummus a fruity-earthy note right away. Flavored, as usual, with cumin and tahina paste, this beetroot hummus recipe is also still super variable and will taste with vegan recipes just as good as with meat or even fish.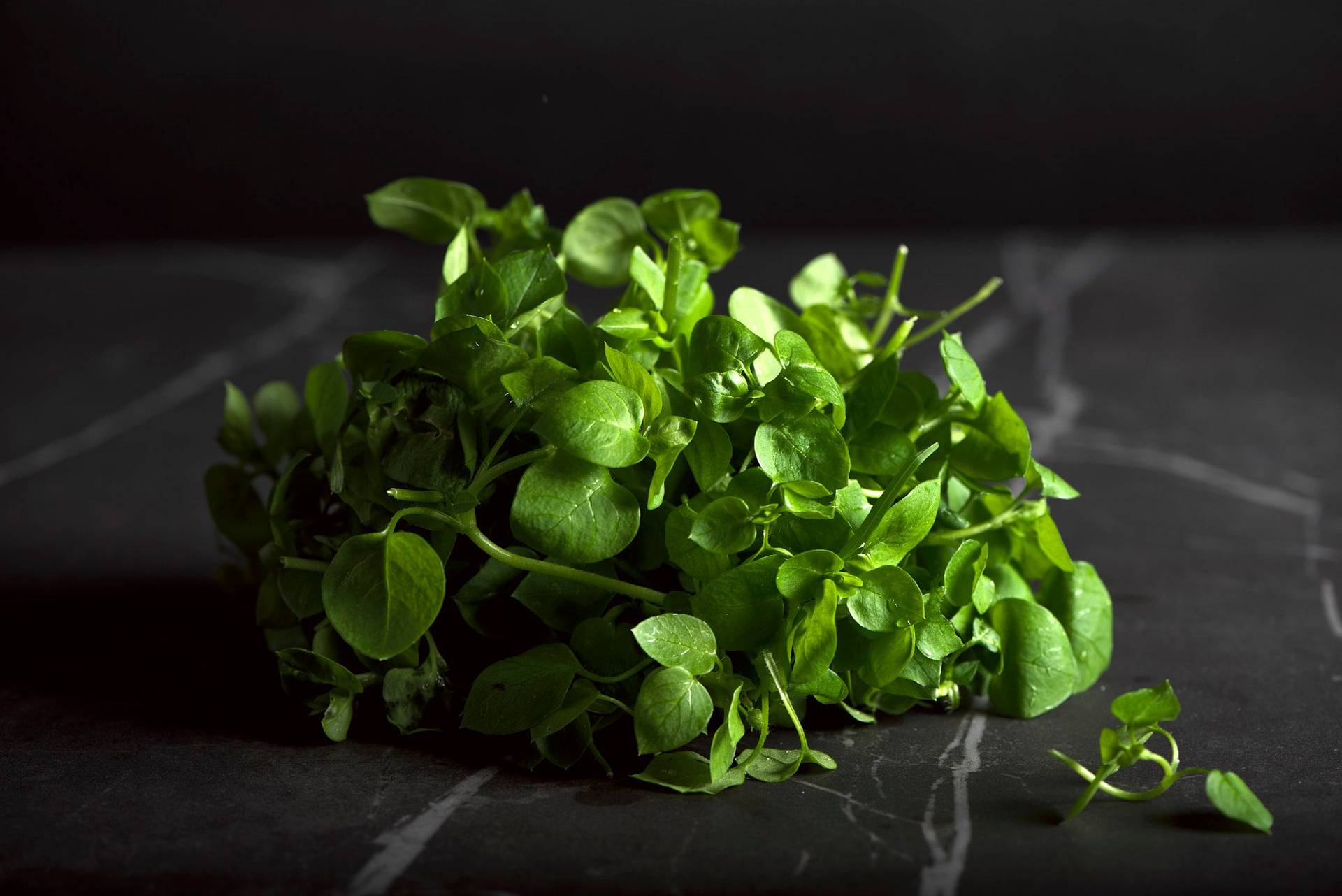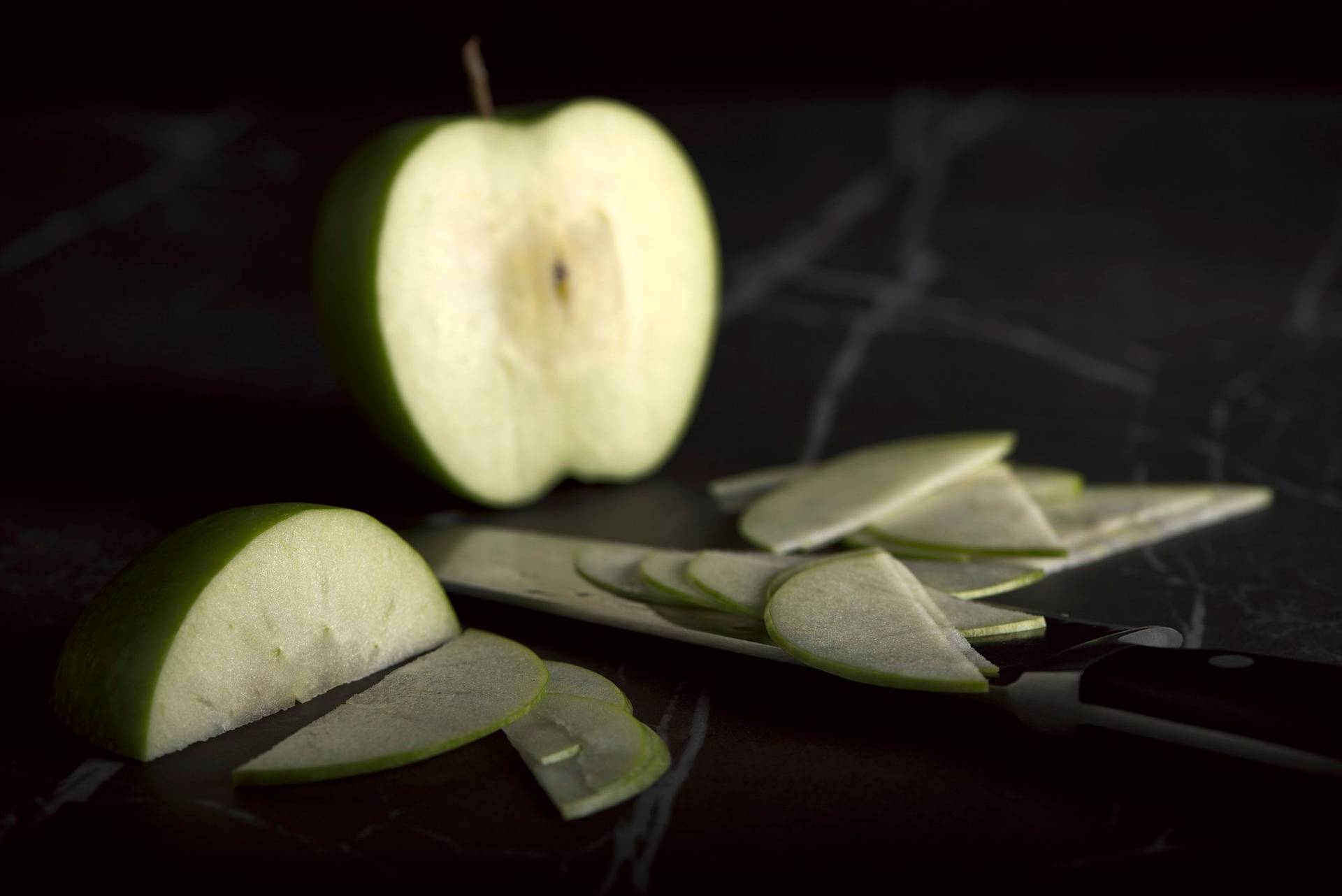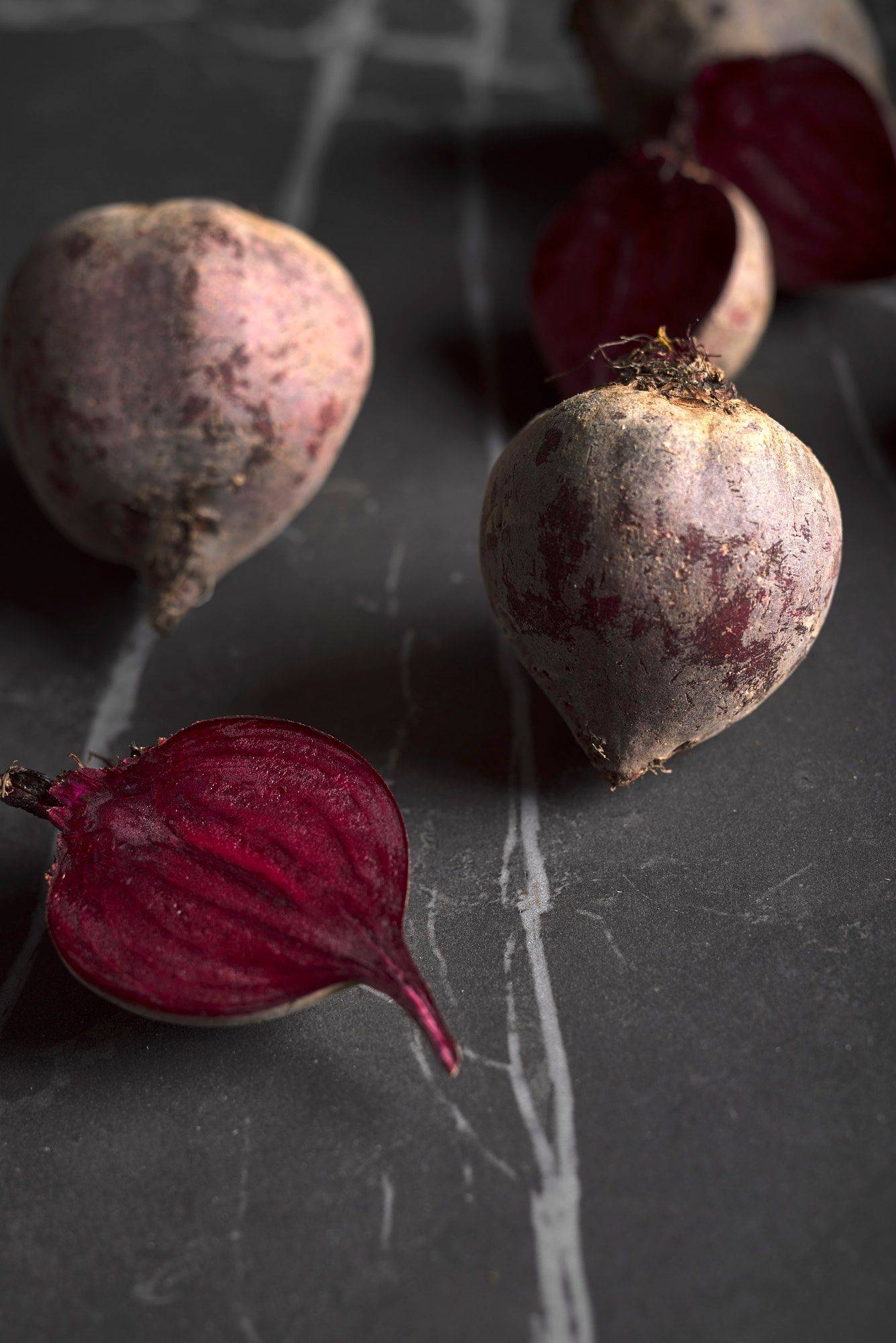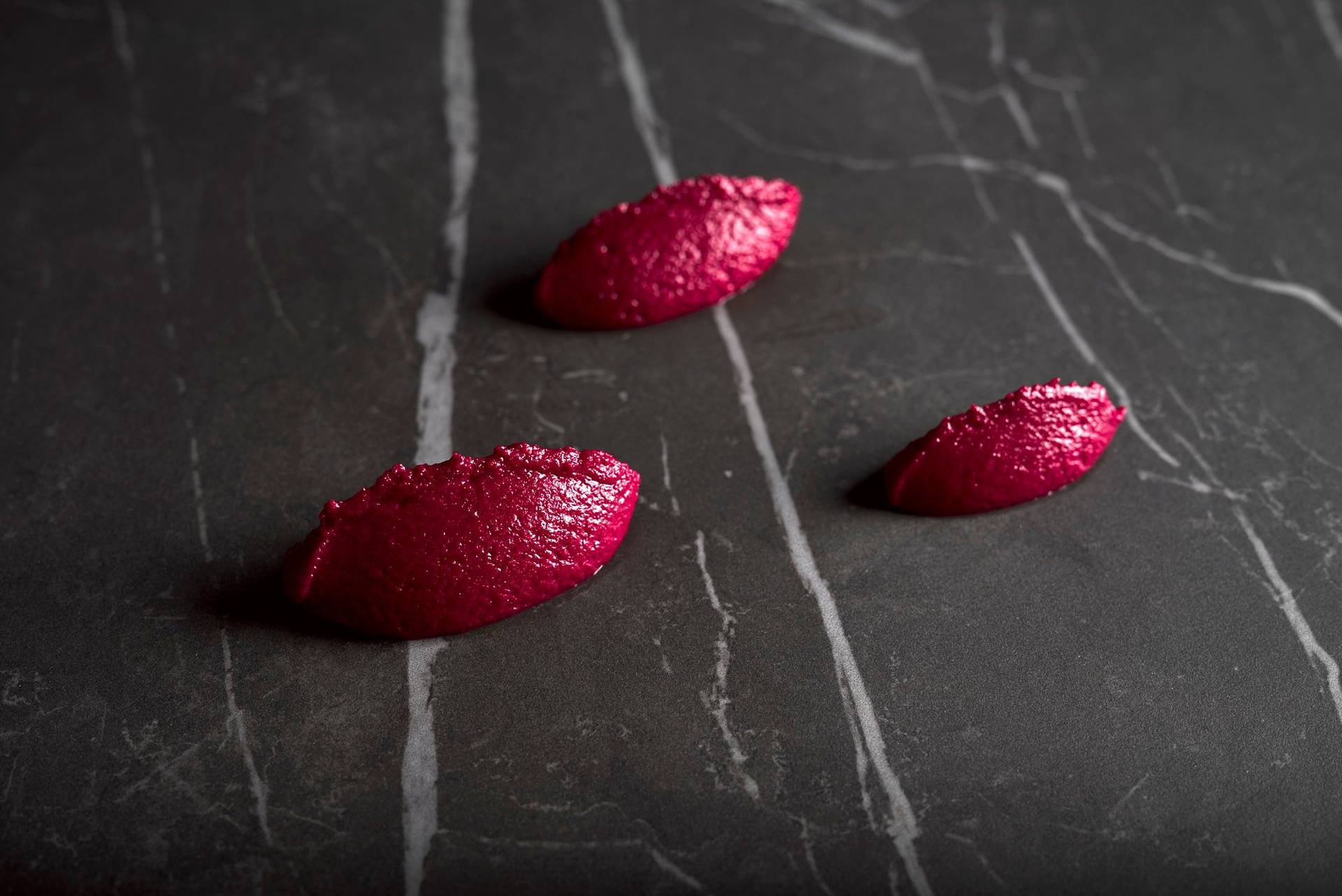 Confit salmon
Confit actually means to cook something in its own fat, e.g. goose rillettes. Nowadays, many other fats and oils are used, which are also flavored, for example, to give confit fish a completely different taste. Since the confit is usually done at a lower temperature over a longer period, the consistency achieved is as soft as butter and the process is also very gentle on the products. You can get creative here and confit fish in meat fat or use spices like star anise and cardamom to create really exciting combinations. I even wrapped the salmon in a nori sheet before, so the Asian influence of Istanbul comes out even stronger. Of course, all this is a matter of taste and you can also just confit in vegetable oil. But I think you can add a little finesse to the salmon when you confit it.
A Turkish & Asian recipe
Since my recipe in a way brings together Turkish and Asian cuisine, I have to mention the beautiful Italian countertop on which it is presented. Just like cooking, these porcelain countertops from SapienStone are finding their way into kitchens around the world and bringing them to life. The look and feel of these countertops are an inspiration in themselves, and they are simply fun to use in everyday life. The plates are heat as well as scratch resistant and their surface also provides a hygienic clean work surface. So why not eat right off the table and so, I simply arranged this recipe directly on the countertop. Sure, they are not cheap, but how often are we buying a new kitchen, which for me, is the most important place in the house.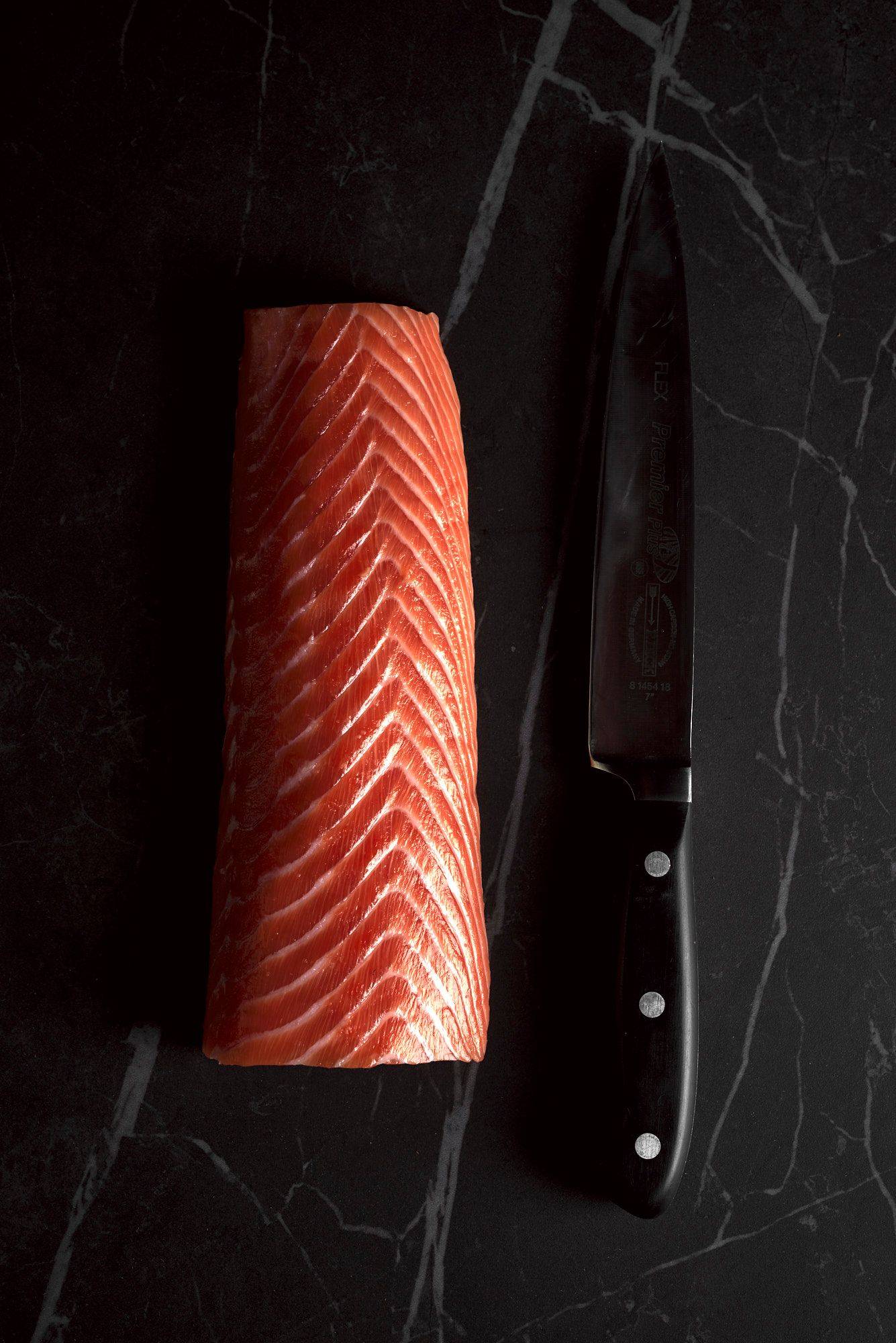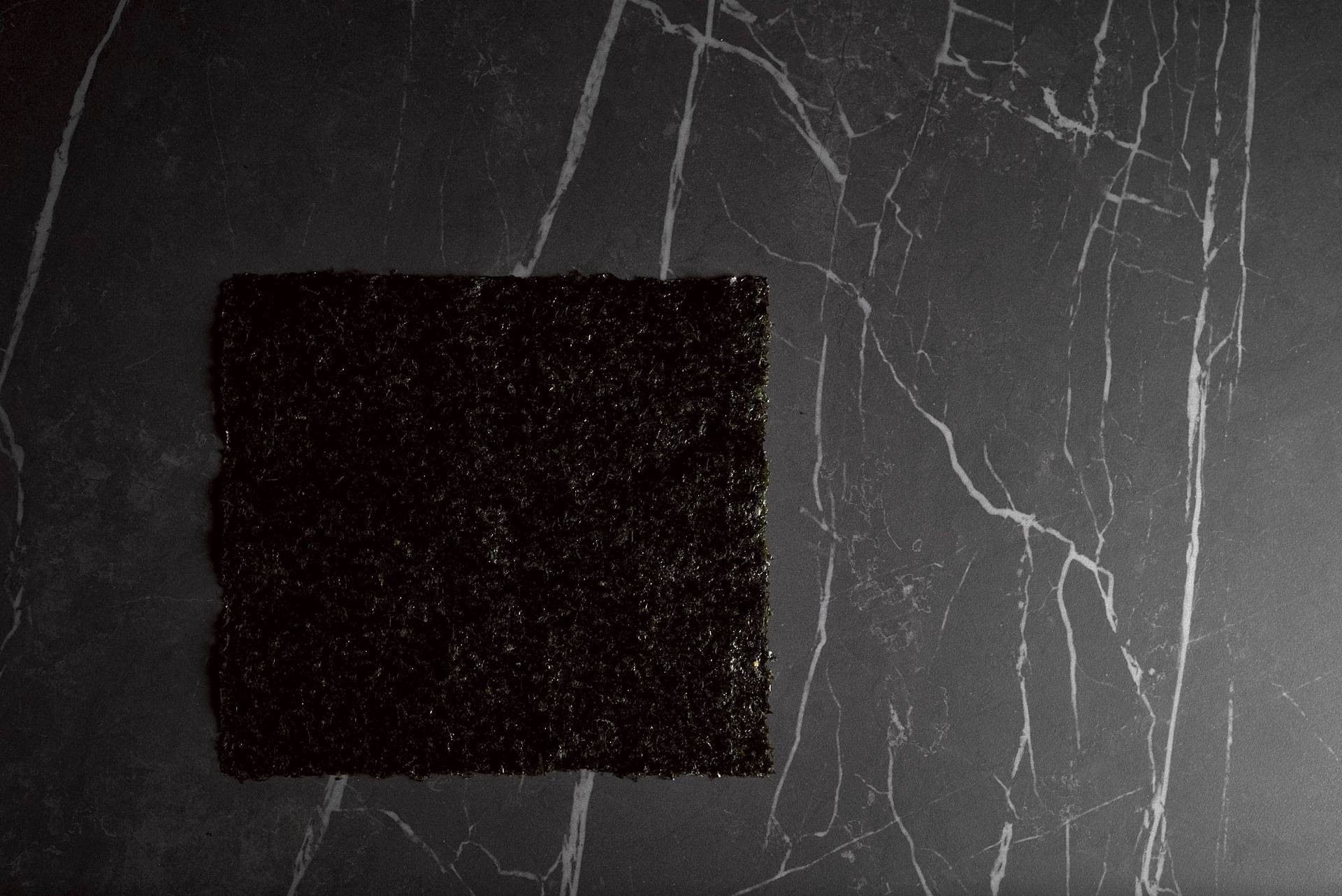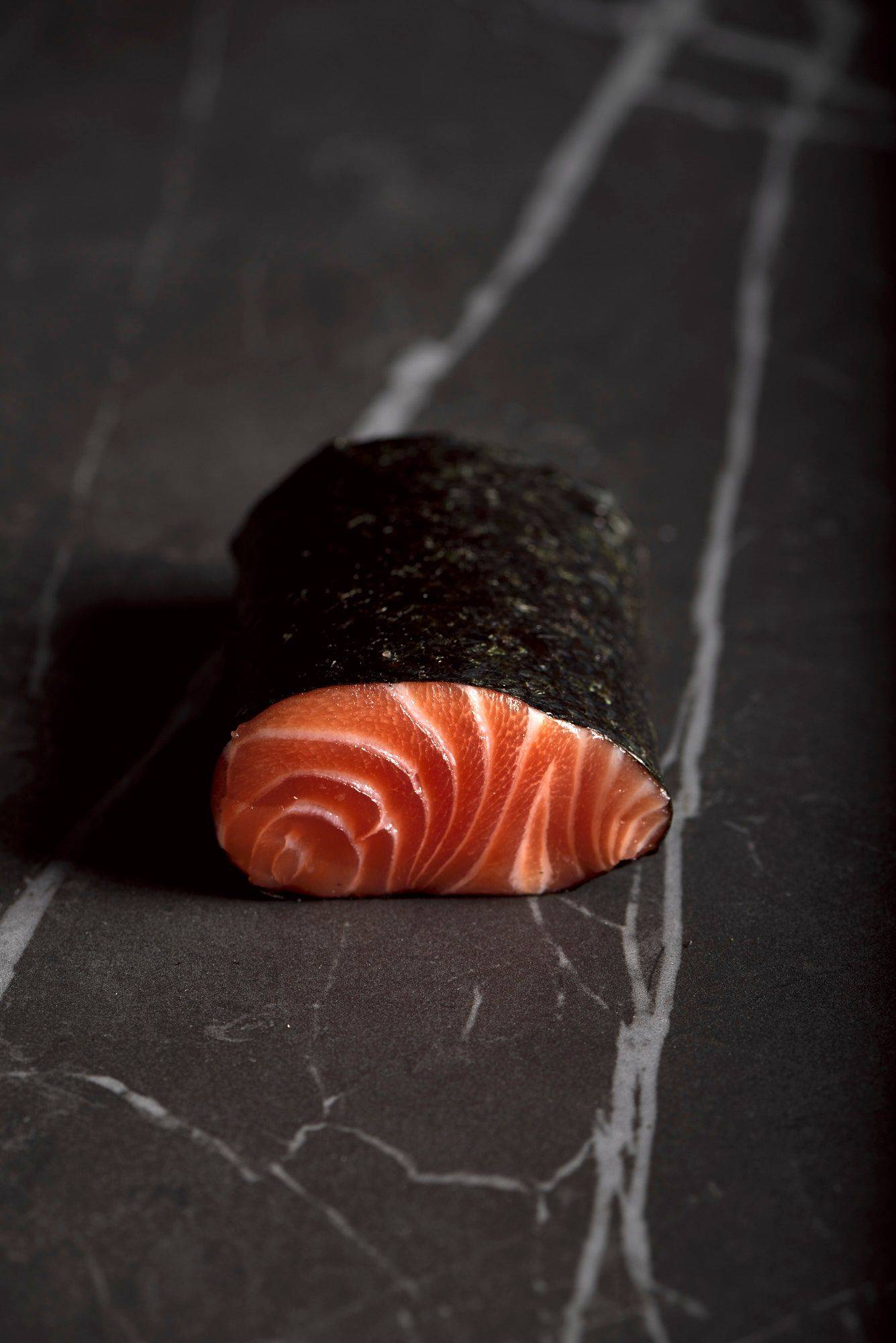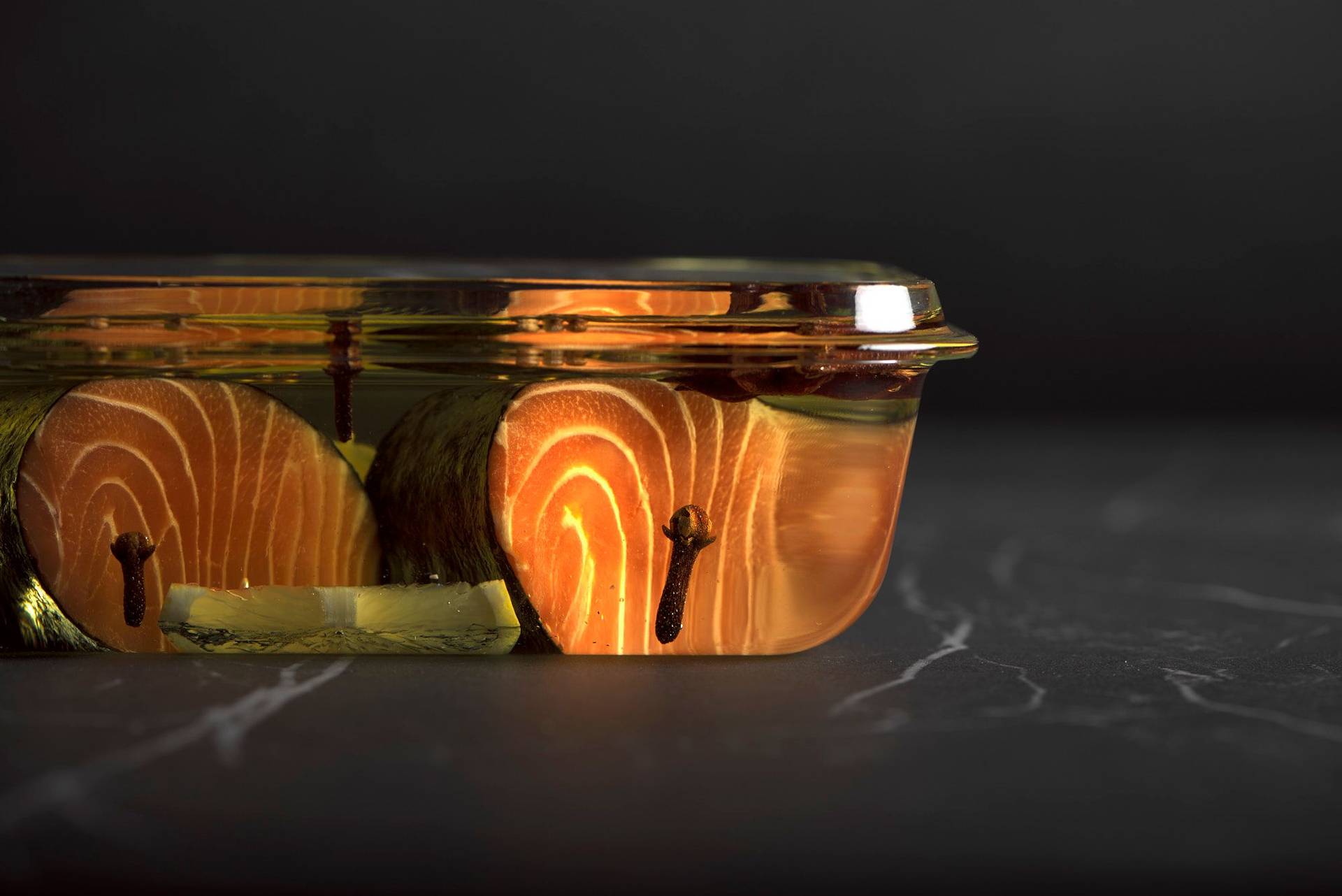 Recipe
Confit Salmon with Beetroot Hummus
2 Persons1 Hour
Confit Salmon
200 g Salmon (fillet without skin)
1 Nori Leaf
Canola Oil
1 pc Star Anise
5 pc Cloves
10 pc Coriander Seeds
2 pc Green Cardamom
¼ Lemon
For the confit salmon, heat up the oil with the spices and let it sit for 2 hours. Wrap the salmon in the nori sheet, wait a short time (this way the nori sheet will soften a bit) and cut it into 4 pieces with a sharp knife. Put the salmon into the 40° warm confit oil and let it cook slowly for about 15 minutes, depending on the size.
Beetroot Hummus
200 g Beet
125 g Chickpeas, preserved
30 g Tahina Paste
1 tsp Cumin
Salt, Agave Syrup & Lemon to taste
For the beetroot hummus, cook the beetroot in the oven at 190° until soft, then peel and finely puree with the chickpeas. Now add the tahina paste and spices and season to taste.
Serving
1 Nori Leaf
1/2 Green Apple
30 g Chickweed
Salt, Lemon & Olive Oil to taste
Before serving, marinate the chickweed with a little olive oil, salt, lemon zest and lemon juice. Thinly slice the green apple and add to the chickweed. Cut the nori leaf into fine strips and remove the confit salmon from the oil, drain on kitchen paper, season with salt and arrange on the plate. Pour the beetroot hummus into a piping bag and pipe it in dots around the fish. Finally, add the chickweed salad, top with the nori strips and drizzle with olive oil.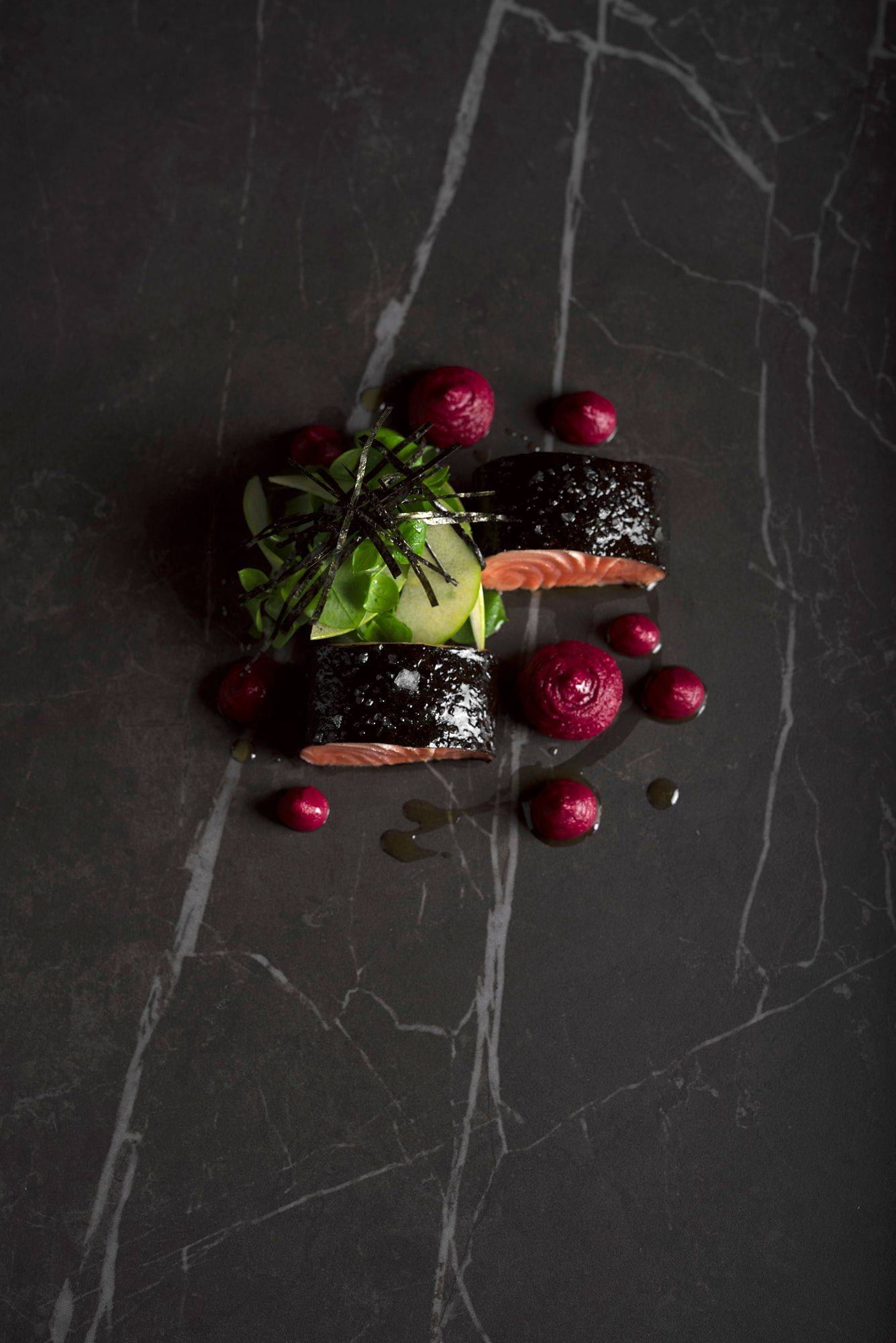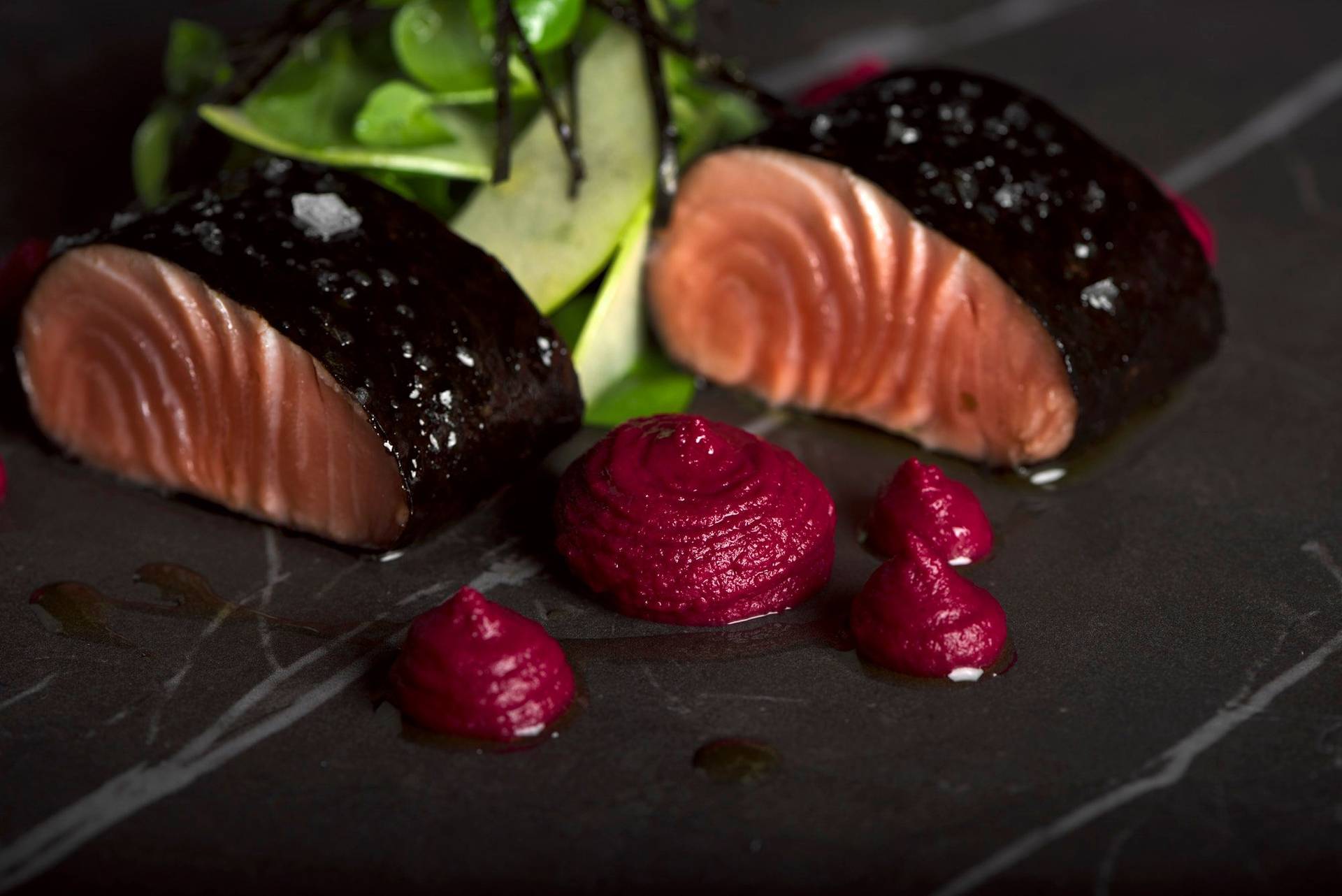 Newsletter
Can't get enough?
Get some secret ingredients through our newsletter!