Story
Multi-sensory dinner at Miele Gallery Berlin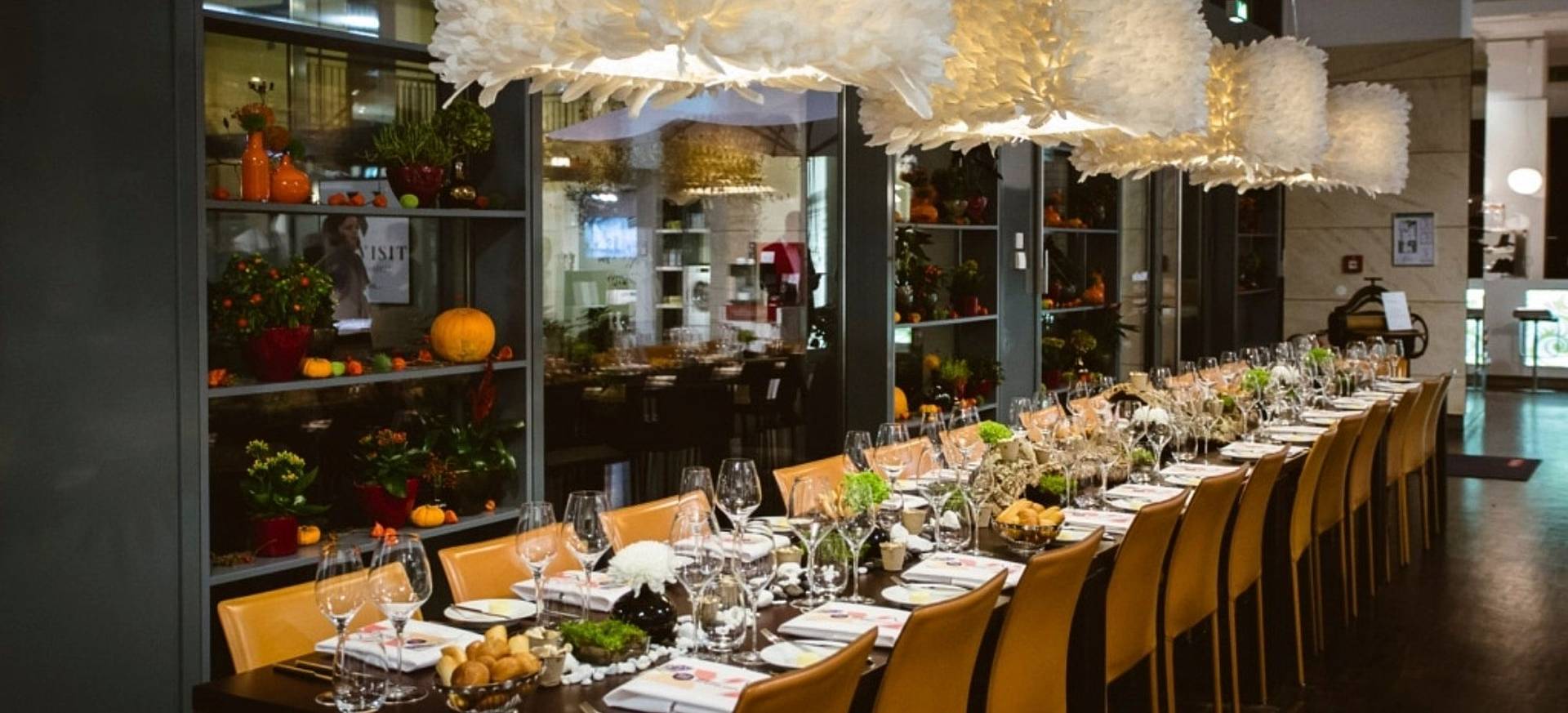 This article contains advertising.
To celebrate the closing dinner of the Berlin Food Week 2016 at Miele Gallery Berlin, we had the pleasure of directing a very special evening. We, that's Steffen Sinzinger and I, had helping hands, of course. Not to forget all the generous partners on board. They made it possible for us to turn this idea into reality. When Steffen came up with the question, if I would join this special event, I didn't hesitate at all to confirm my participation.
The art of smart eating
We picked this as the theme of our dinner. We had previously thought a lot about external influences and how we are actually experiencing food. Sounds, colors, smells & presentation are just some of them. These factors lead us to different ways of perceiving. So, if we change something about one factor and maybe enhance the other, the result will be different. This is a really interesting point of view that Melanie Mühl and Diana von Kopp wrote a book about. These two ladies have joined us and our guests to enrich everyone with their stories.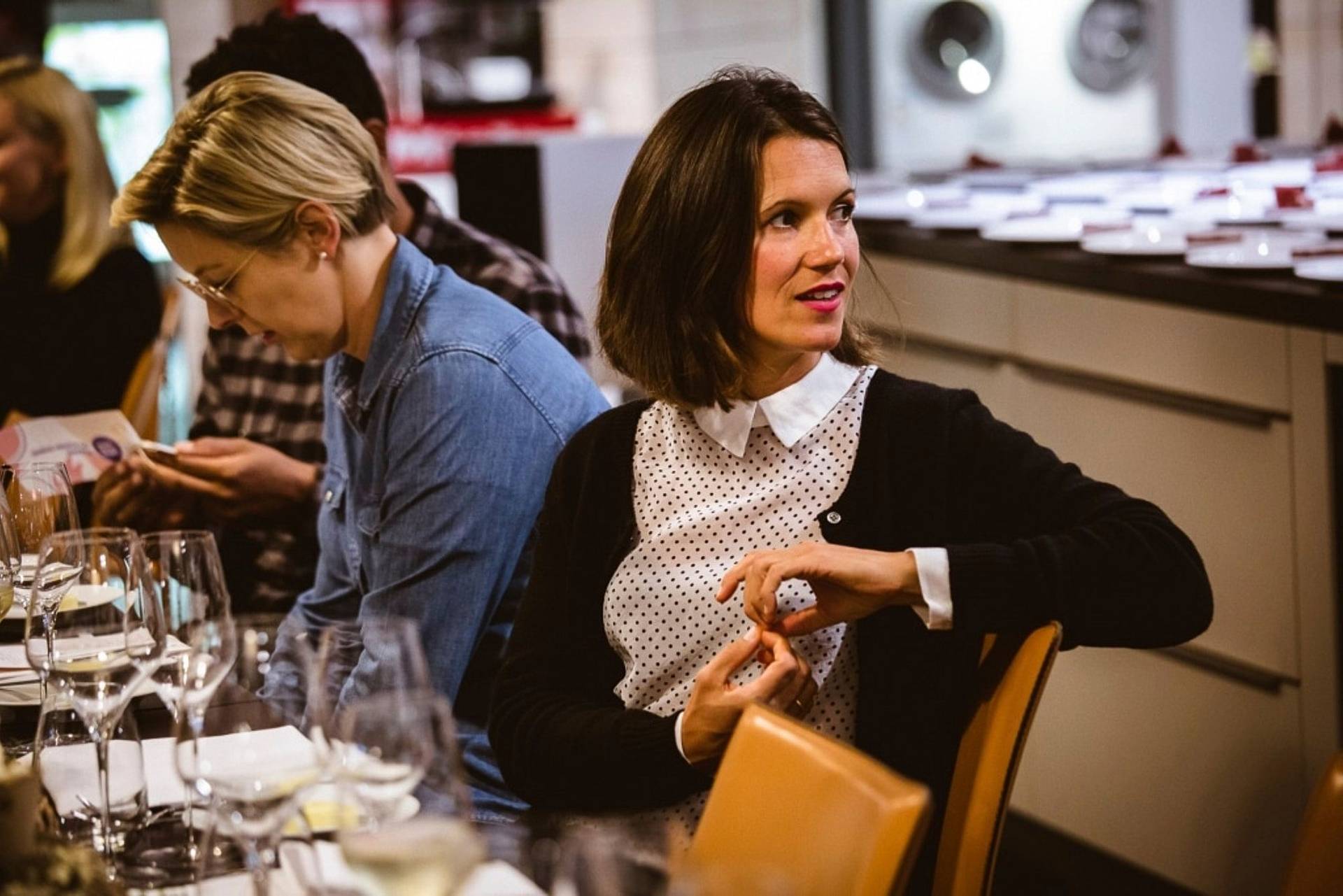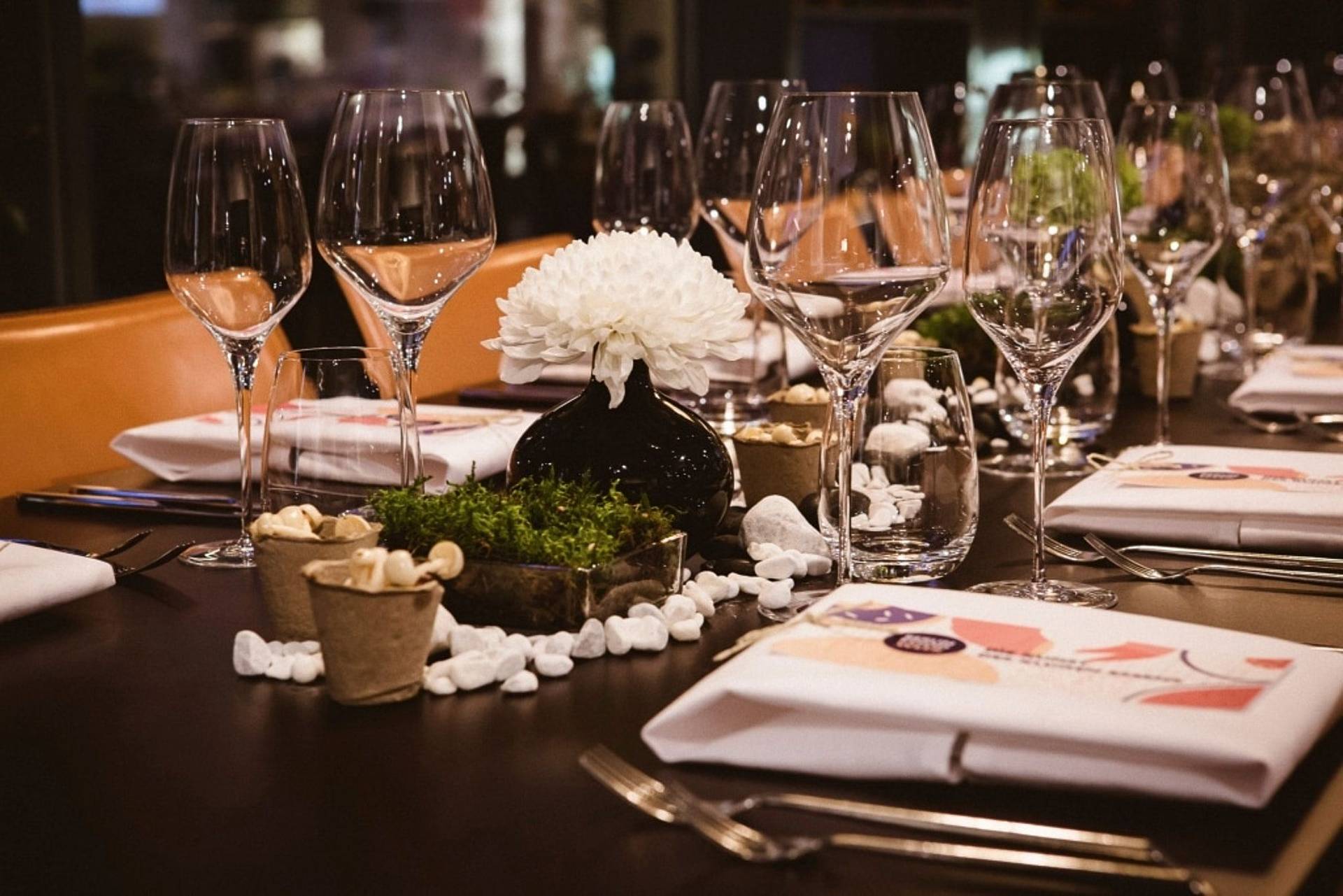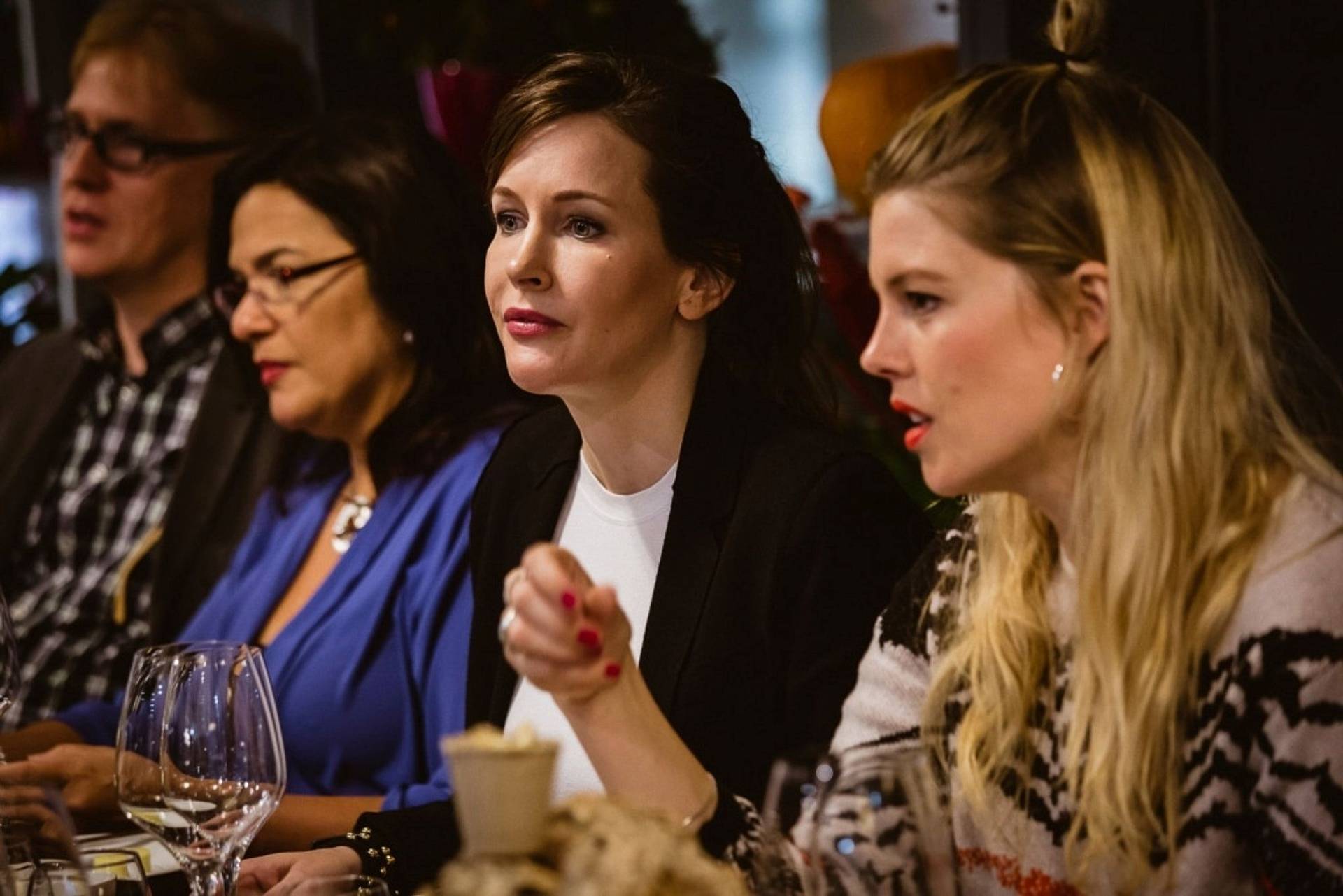 Raumfeld sounds
As mentioned earlier, there is one factor that enables us to react very emotionally. In this case, it's things that we hear. Not necessarily music but noises or sounds of the environment and this is where we did put another focus for our dinner. In cooperation with Raumfeld we wanted to create an atmosphere where guests could taste, see, hear and even feel. For example, imagine a movie without music in the background. It would be half as emotional as it would be with music.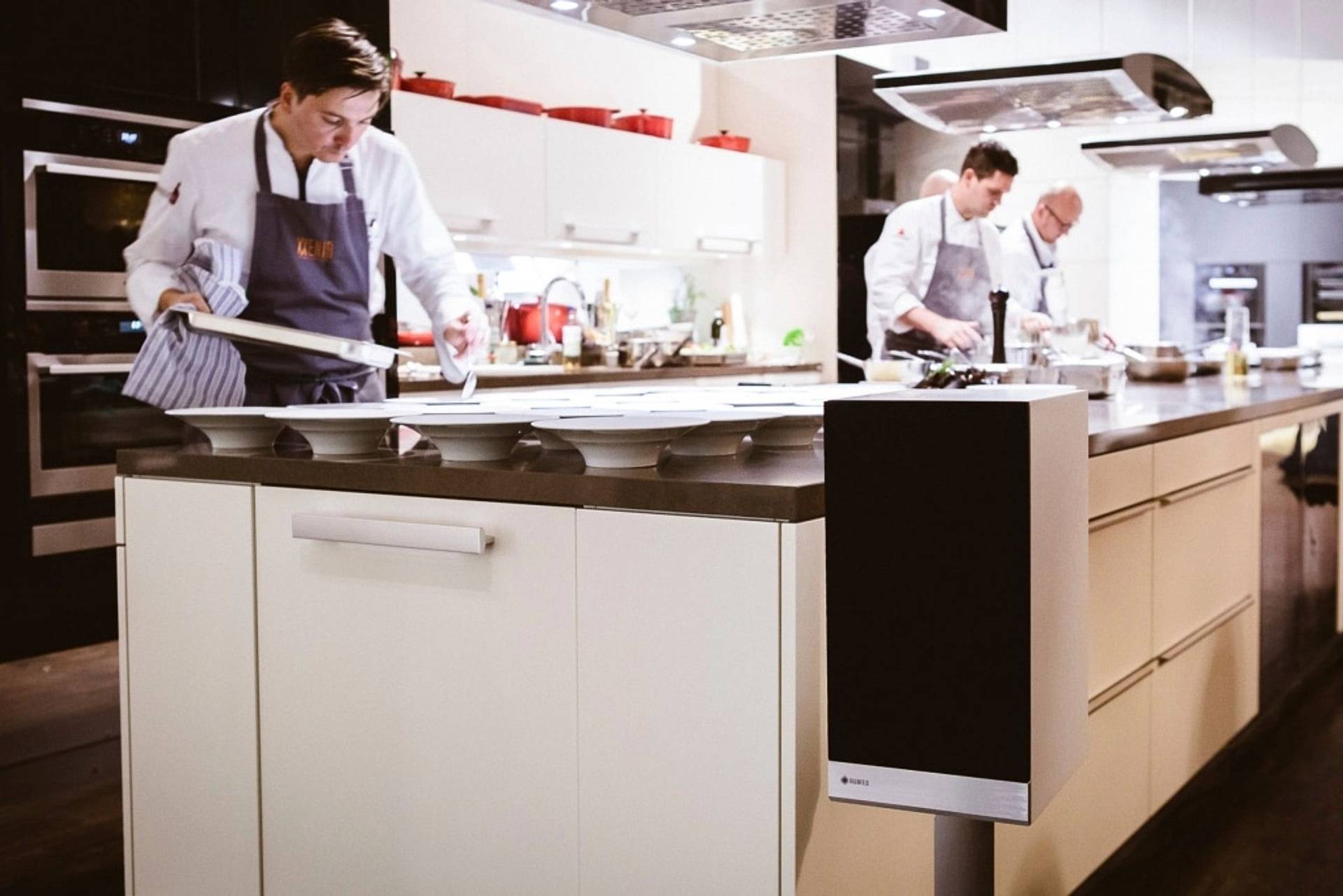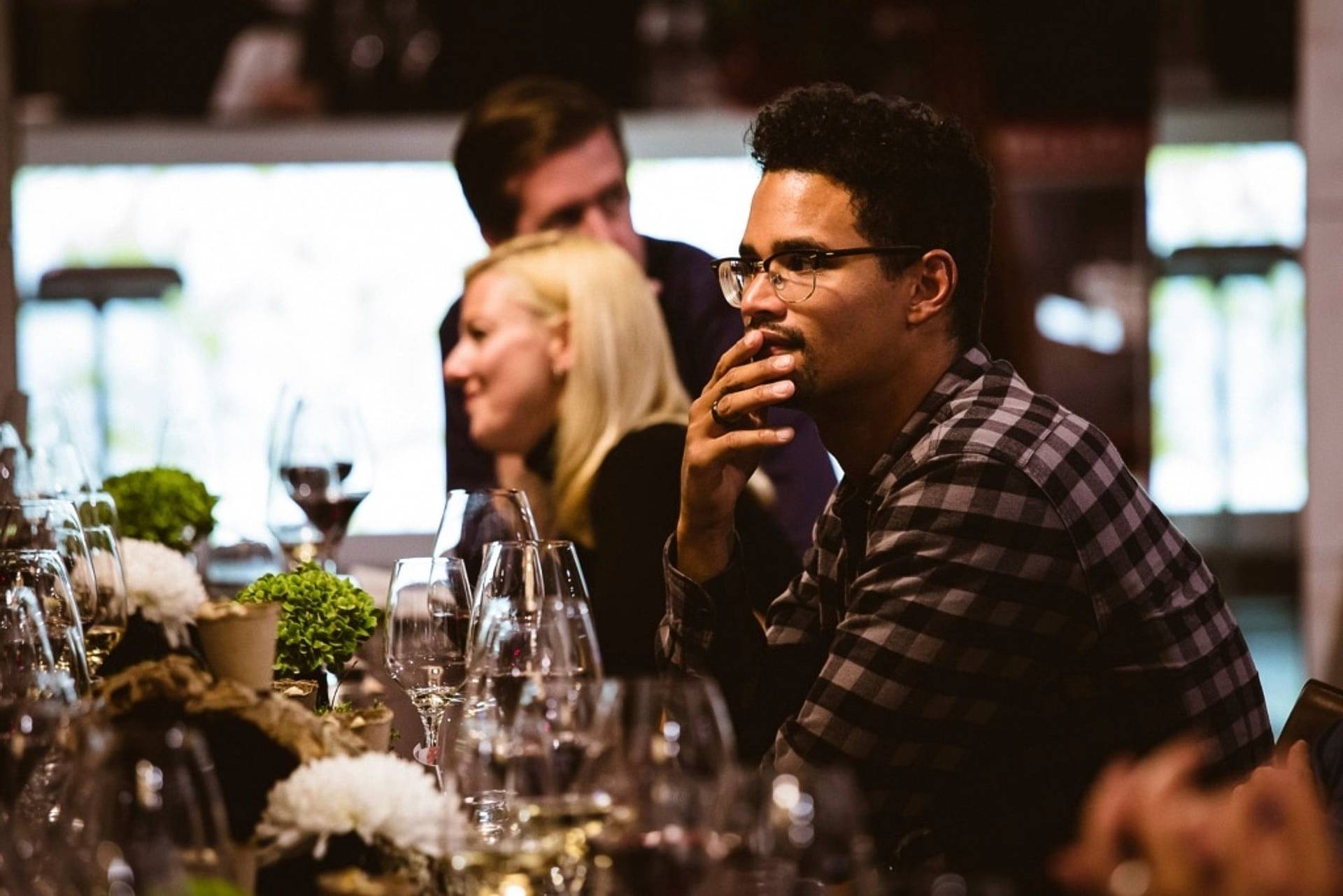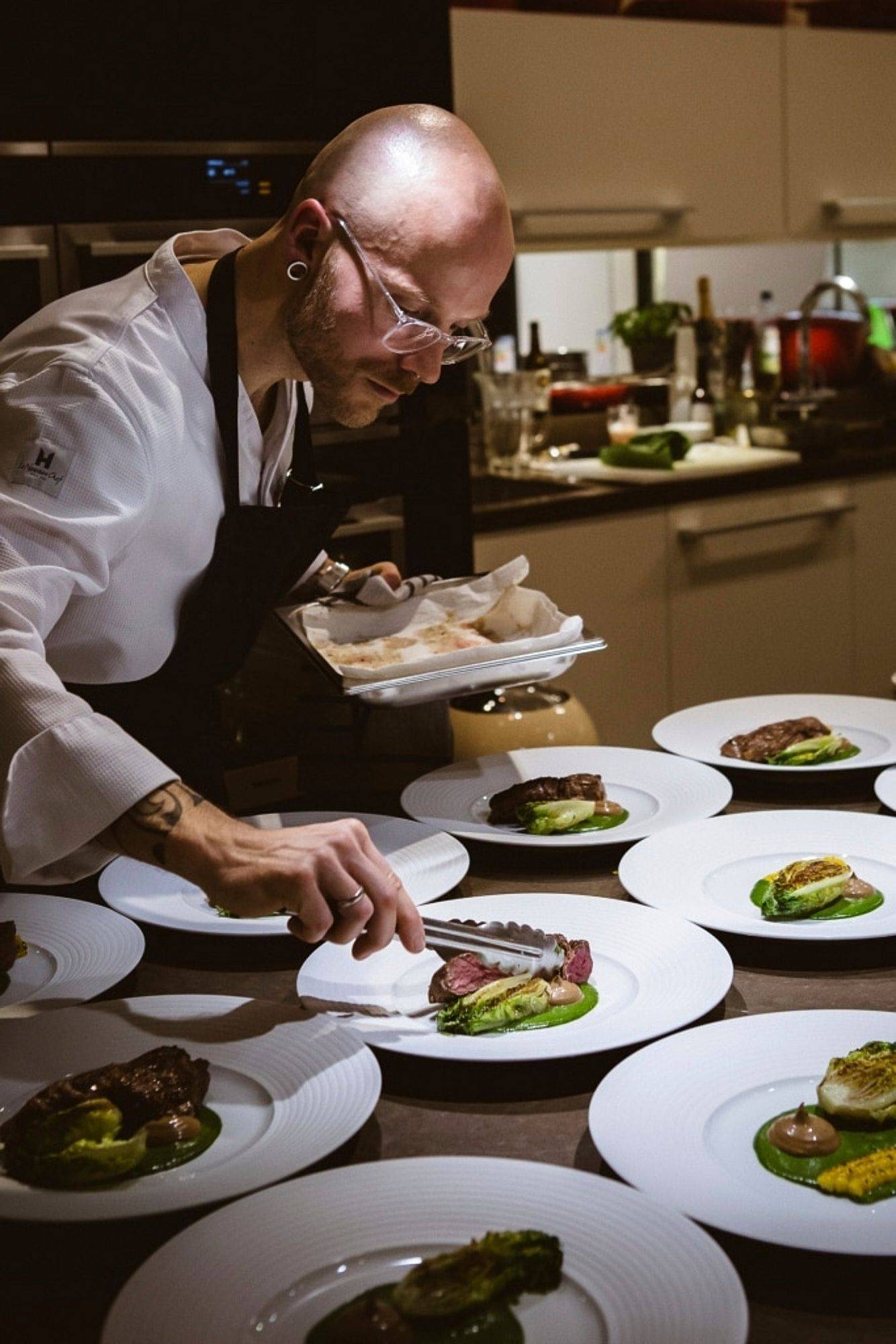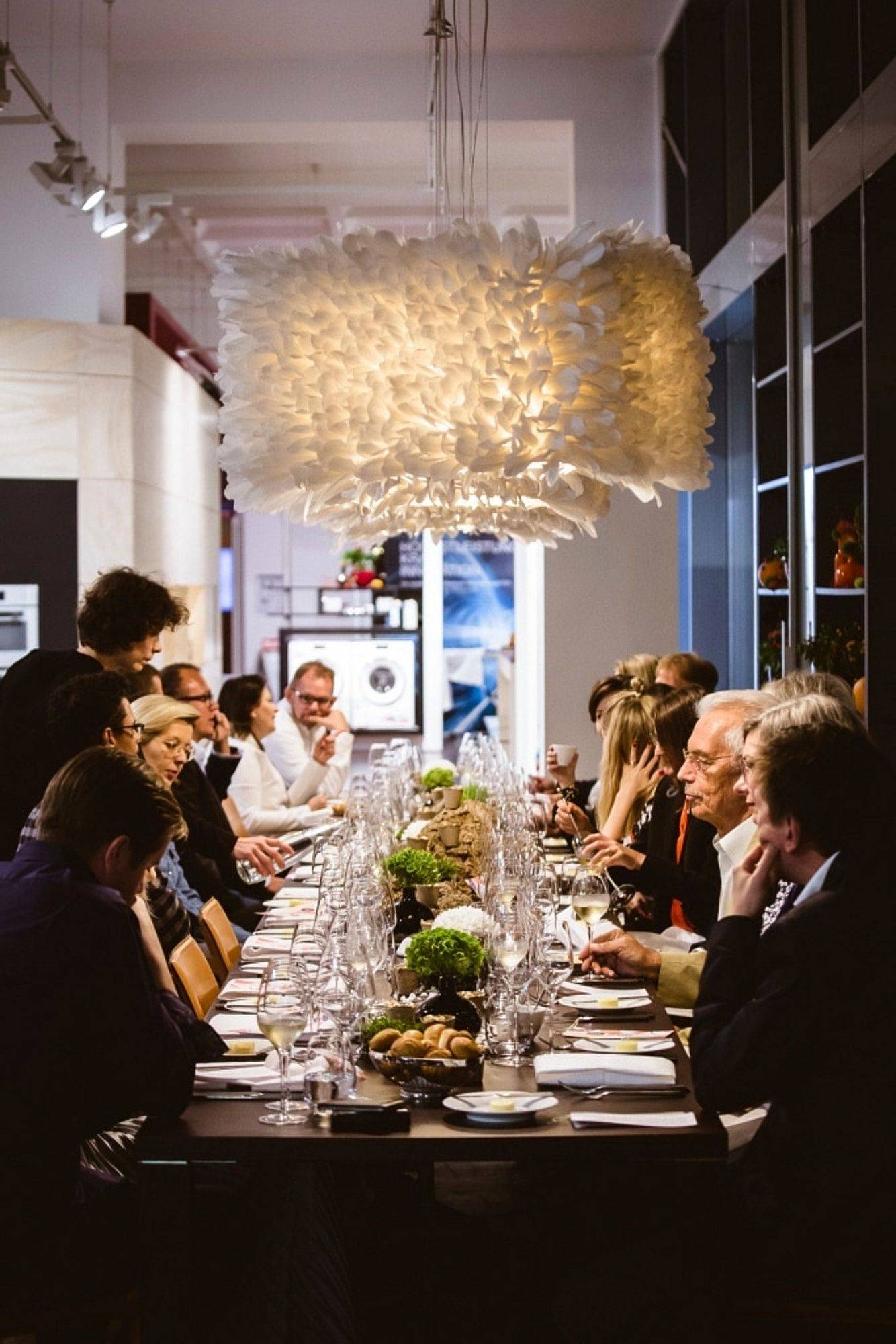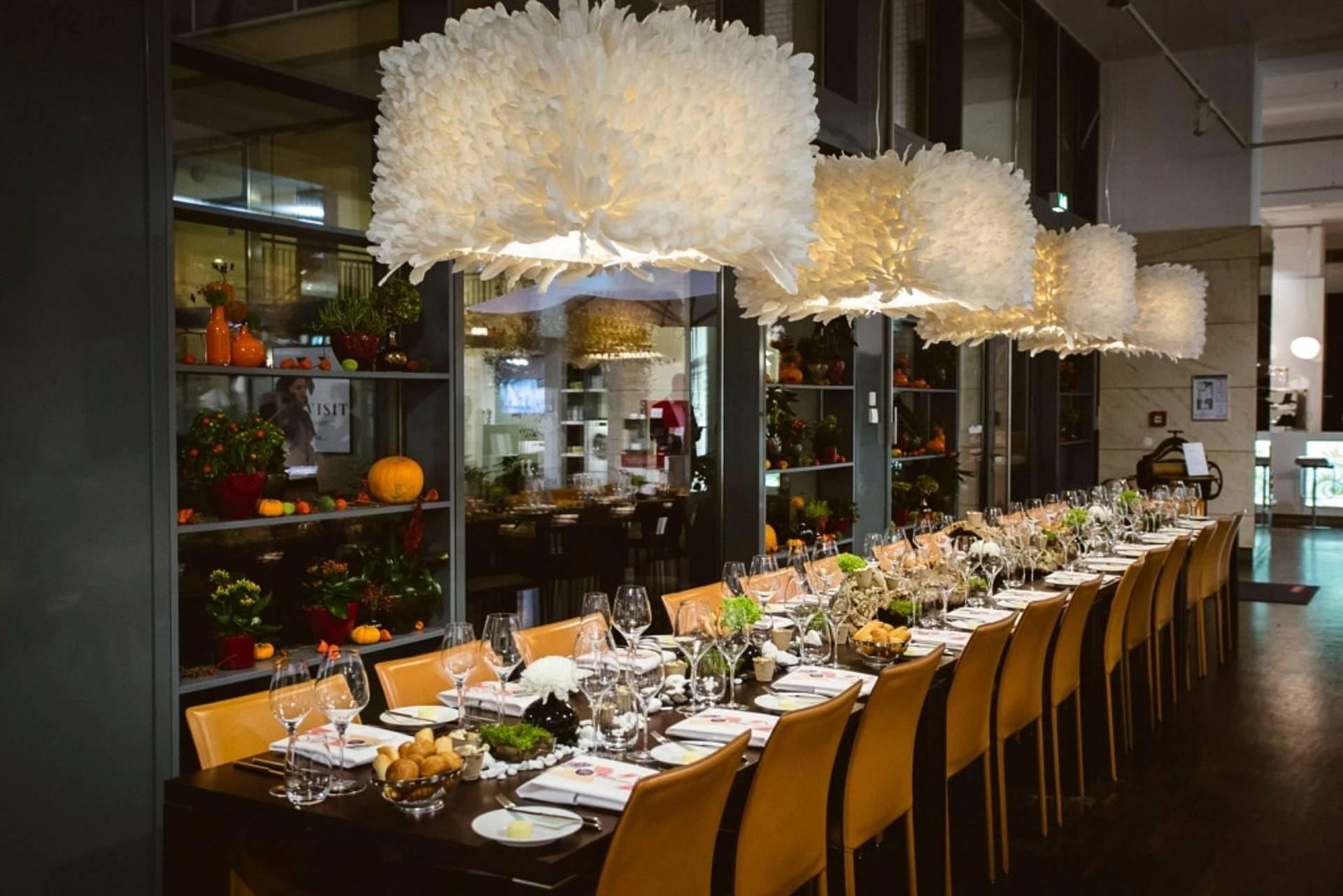 The Menu
Champagne & snacks
Tuna pizza — Sot l`y laisse & Green Asparagus, Lemon & Quinoa — Cauliflower Soup
Pommery Royal Blue Sky
"Morning dew"
Wild Boar & Beef — Wild Herbs — Mushrooms — Pumpernickel — Cranberries
BRLO Pale Ale
"Celery"
Celery — Egg Yolk — Apple — Truffle — Walnut
Apple Cider, Van Nahmen
"A day by the sea"
Turbot & Mussels, Octopus — Passe Pierre — Barigoule Vegetables — Saffron
Chardonnay Sur Lie
"Pure Japanese"
Calpico Sorbet — Sparkling Sake — Rice Crackers
"Meat with sauce"
Entrecôte — Mustard Seed Jus — Black Garlic — Romaine Lettuce — Parsley
Burgundy Pinot Noir Aoc
"Bee sting"
Brioche Cream — Plum — Almond Brittle — Honeycomb — Brown Butter — Yeast
Thomas Barton Reservé Sauternes
Petit Fours
Macarons — Chocolate Bacon Leaves — Hazelnut Dacquoise With Coffee Custard
As you can see, we offered a variation of corresponding drinks with each course. These along with the food and surroundings made the menu quite entertaining. We enjoyed the selection of food served as much as the guests and were very excited to see the reactions beforehand.
Champagner & snacks
Pommery Royal Blue Sky
Since first impressions count, it was phenomenal to have Pommery Royal Blue Sky on board for the opening. We very much liked the modern idea of enjoying this champagne from Vranken Pommery. In this case and against all tradition, this blue blood should be drunk "on the rocks". The fresh and fruity champagne was just a perfect match for our traditionally named yet modern presented snacks. What a start of temperatures and textures. All participants were now in the right mood and curious about what was to happen next.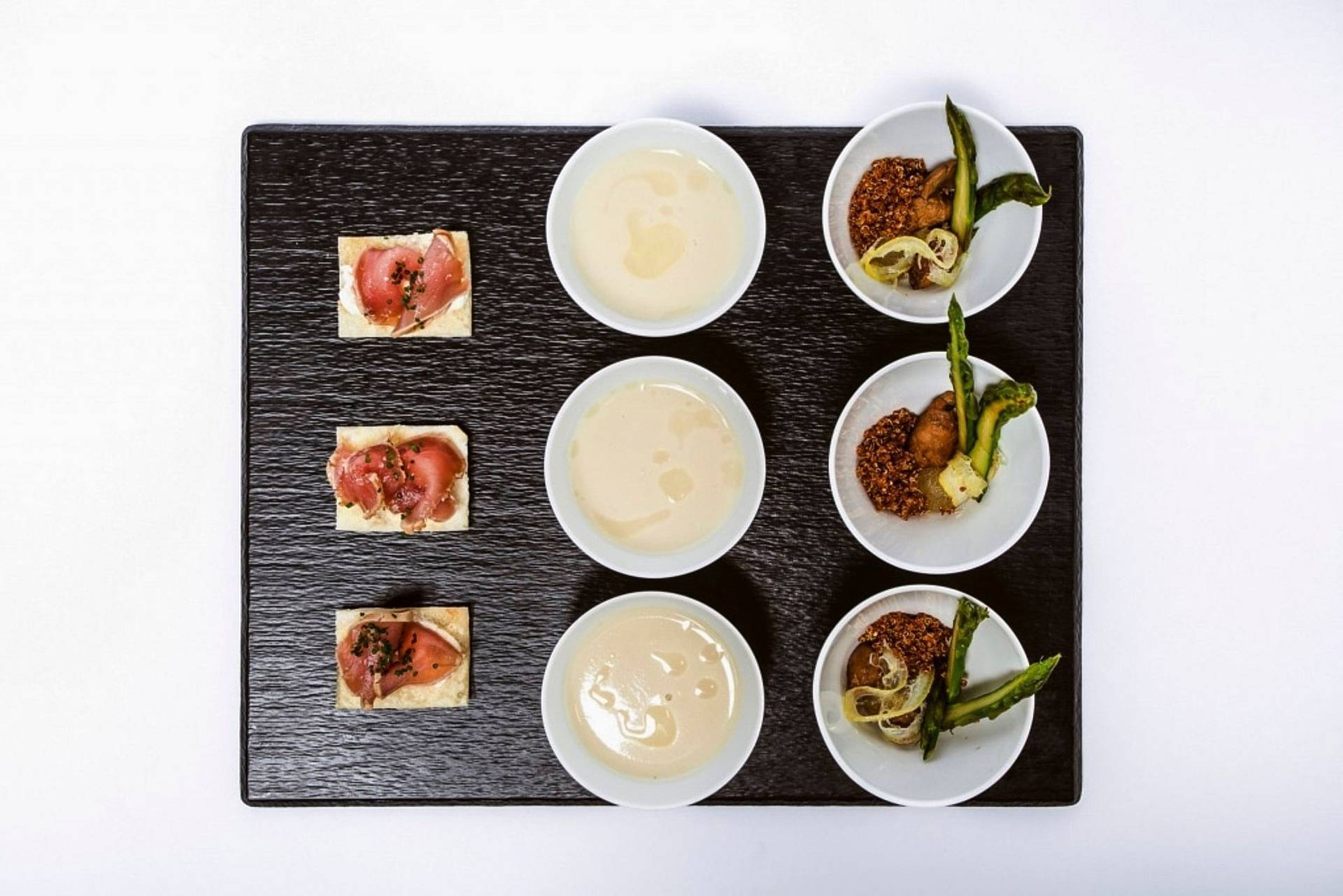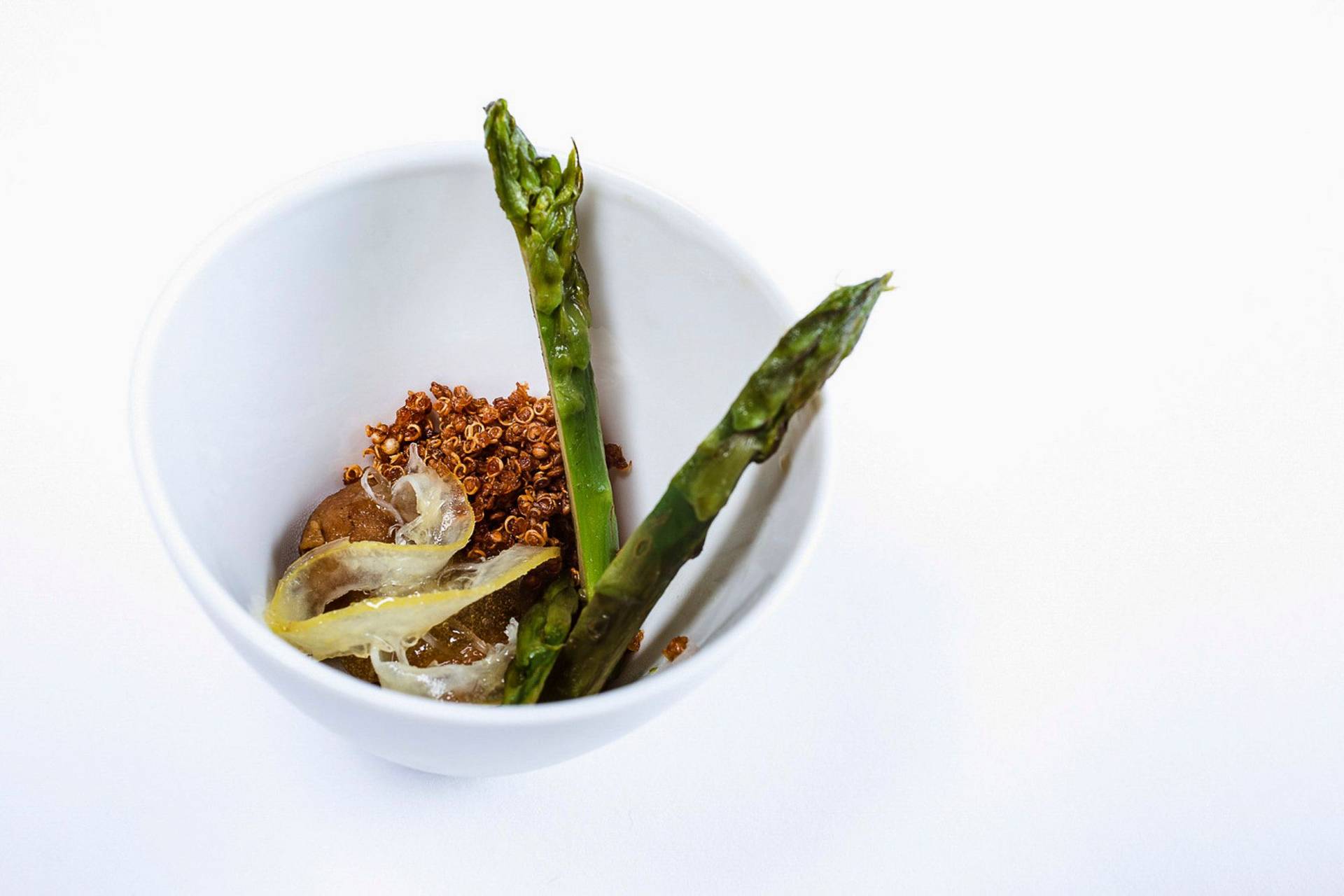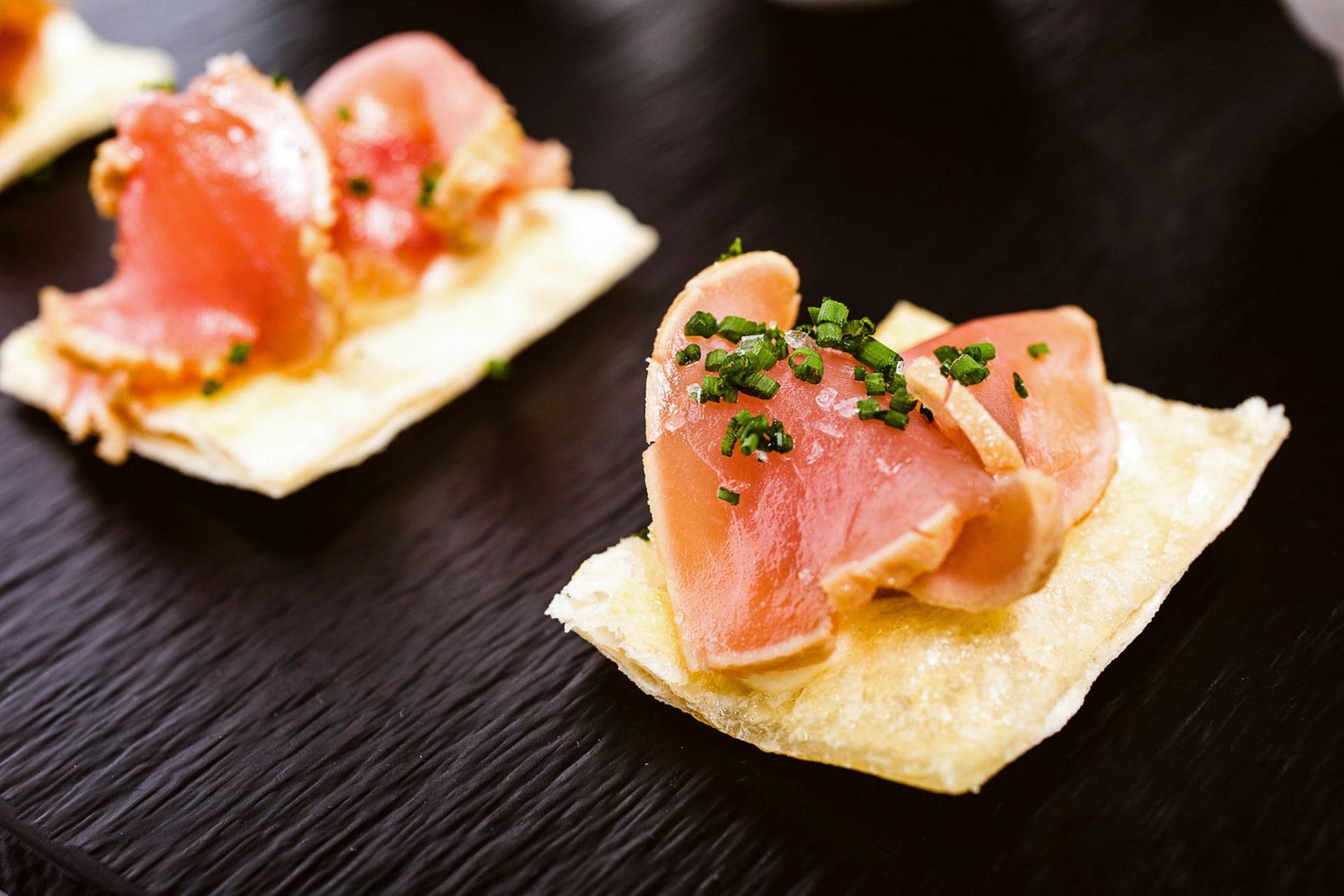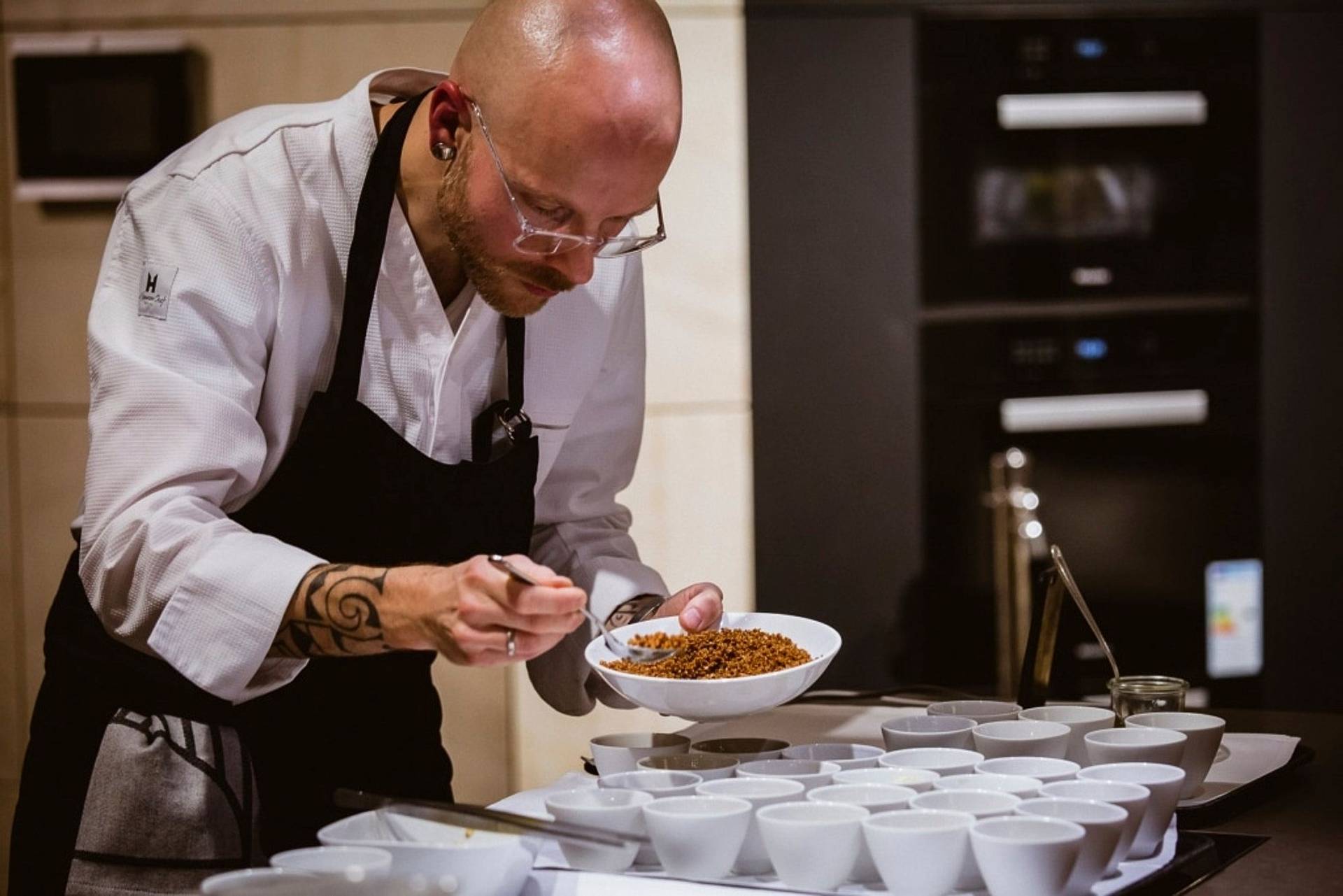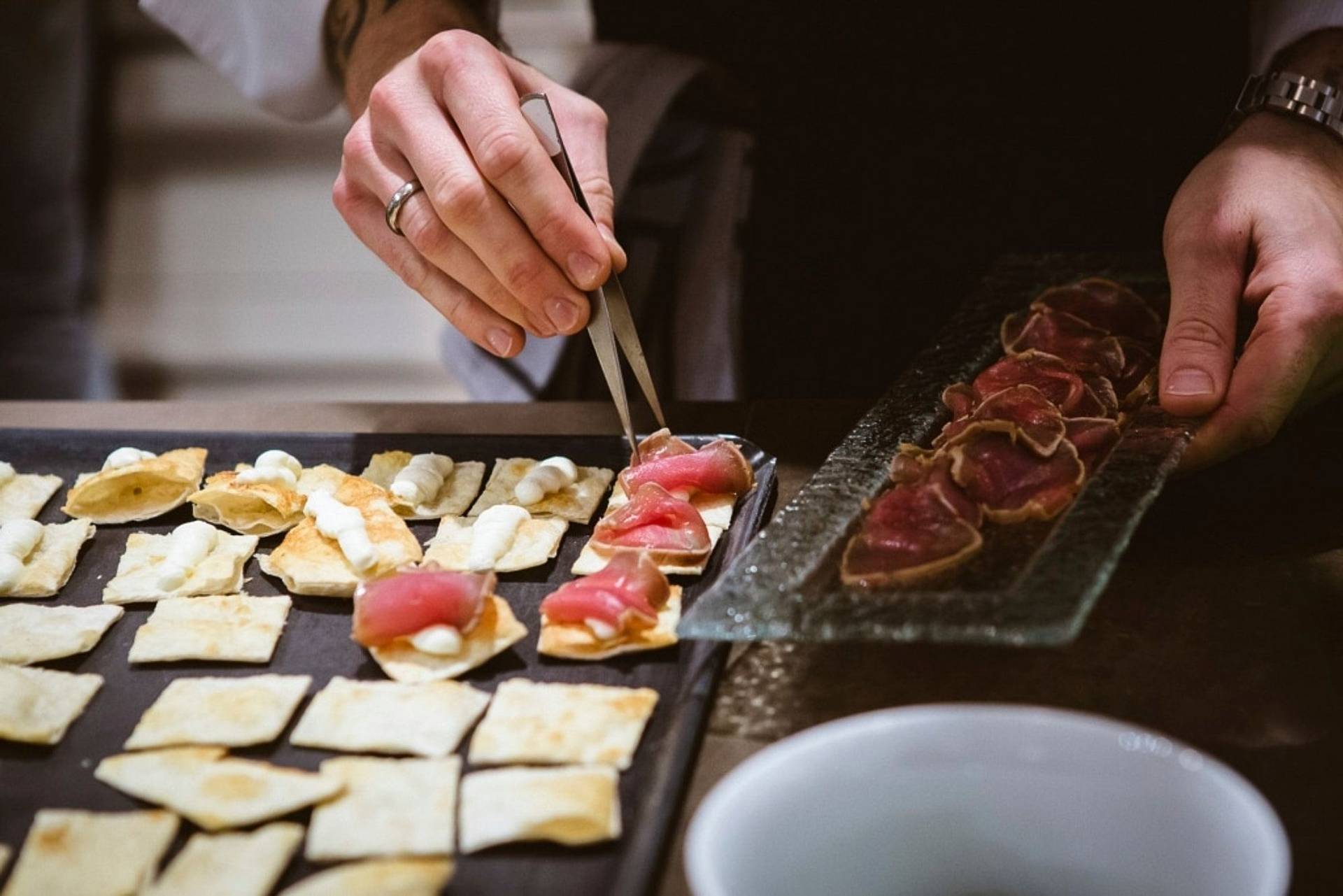 "Morning dew"
BRLO Pale Ale
This course was our way to present the taste of a morning hike in the woods on plates. There was a beef tartare and wild boar dry-cured ham, which we got from Richard's Wild as the main ingredients. Guido Richard, as a former chef, just knows from his own experience what chefs expect from quality meat. With this we served cranberry gel, wild herbs & pumpernickel in two textures with pickled mushrooms. While part of this course was already implemented in the table setting, we added mist and sounds from the wood to make it multi-sensory. Imagine the whole room suddenly is quiet where there is usually music playing. Then you hear some birds, the wind blowing in the trees and suddenly you realize that your decoration is meant for consumption. That's where we got to the heart of our dinner.
We decided to serve a simple and beautiful BRLO Pale Ale with it. Why not choose a beer with rustic flavors and try something other than wine for a sophisticated dinner? The perfect match for us.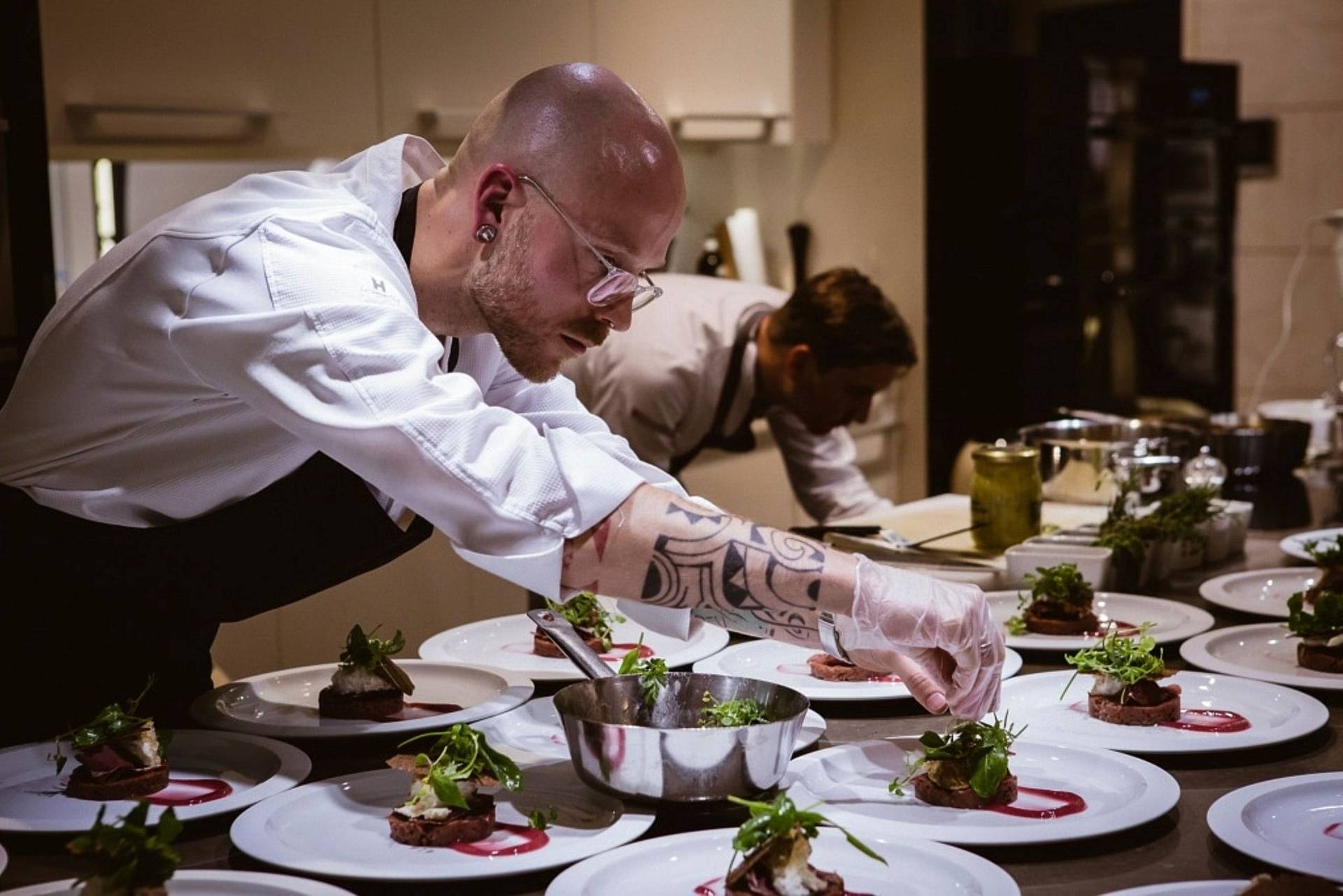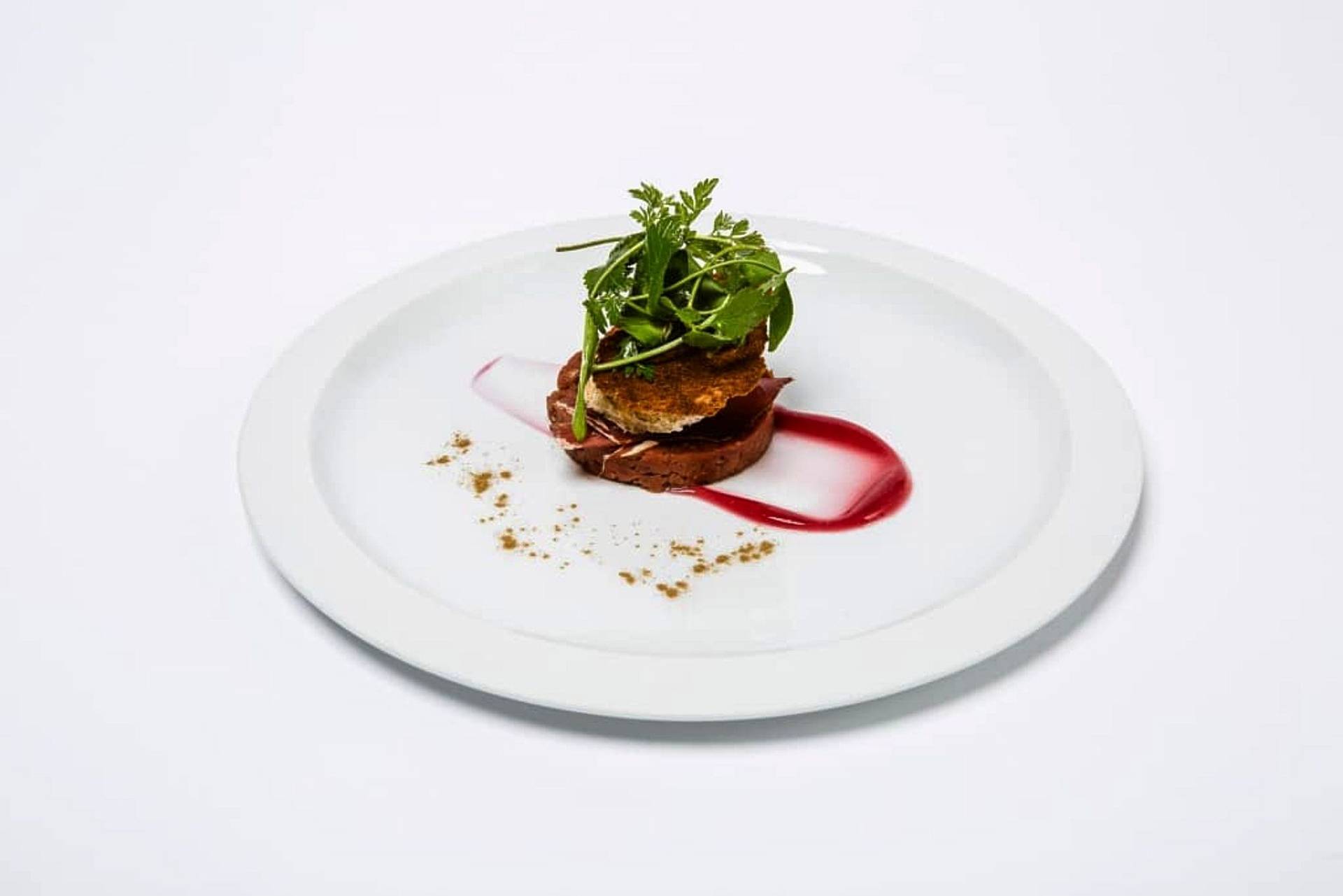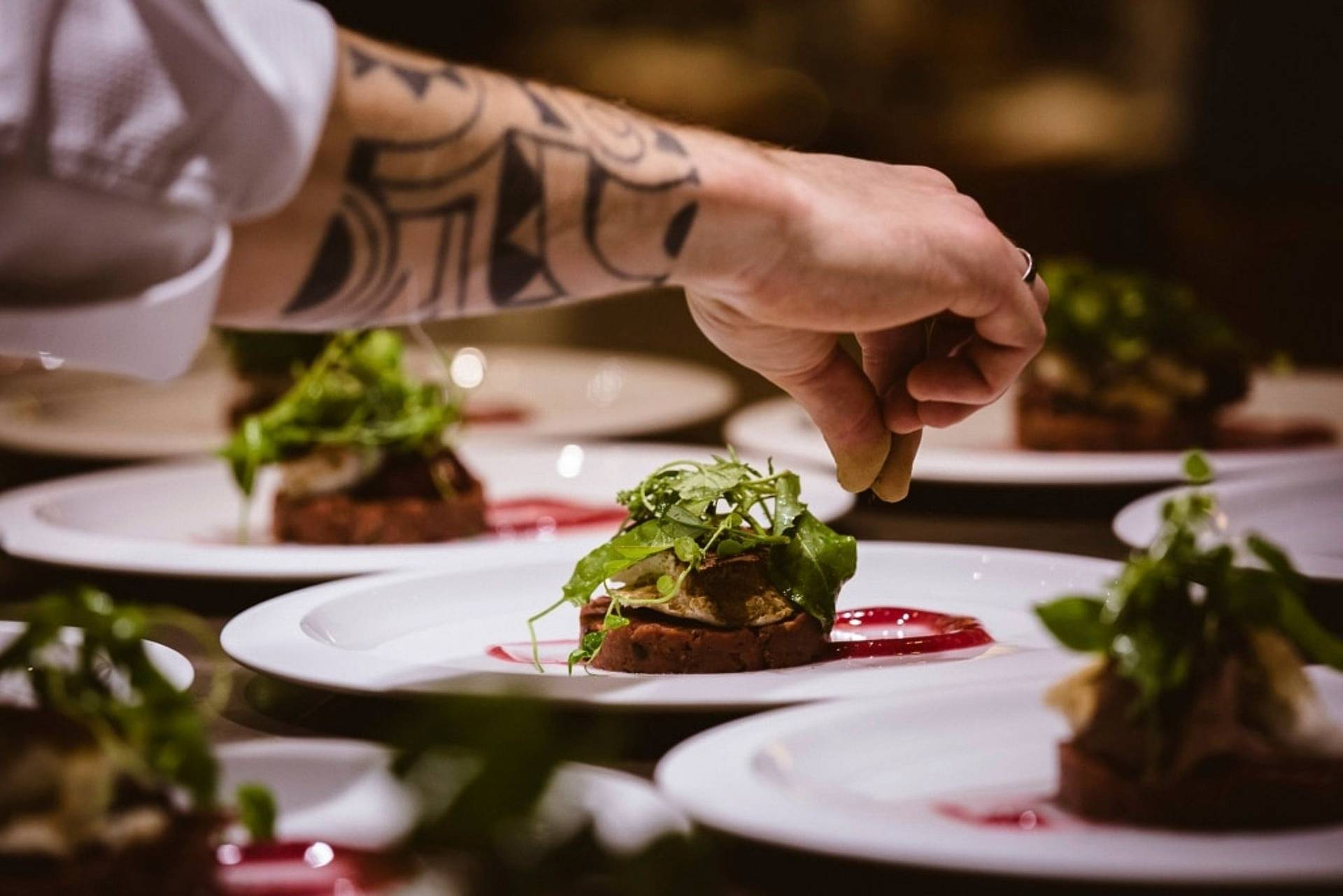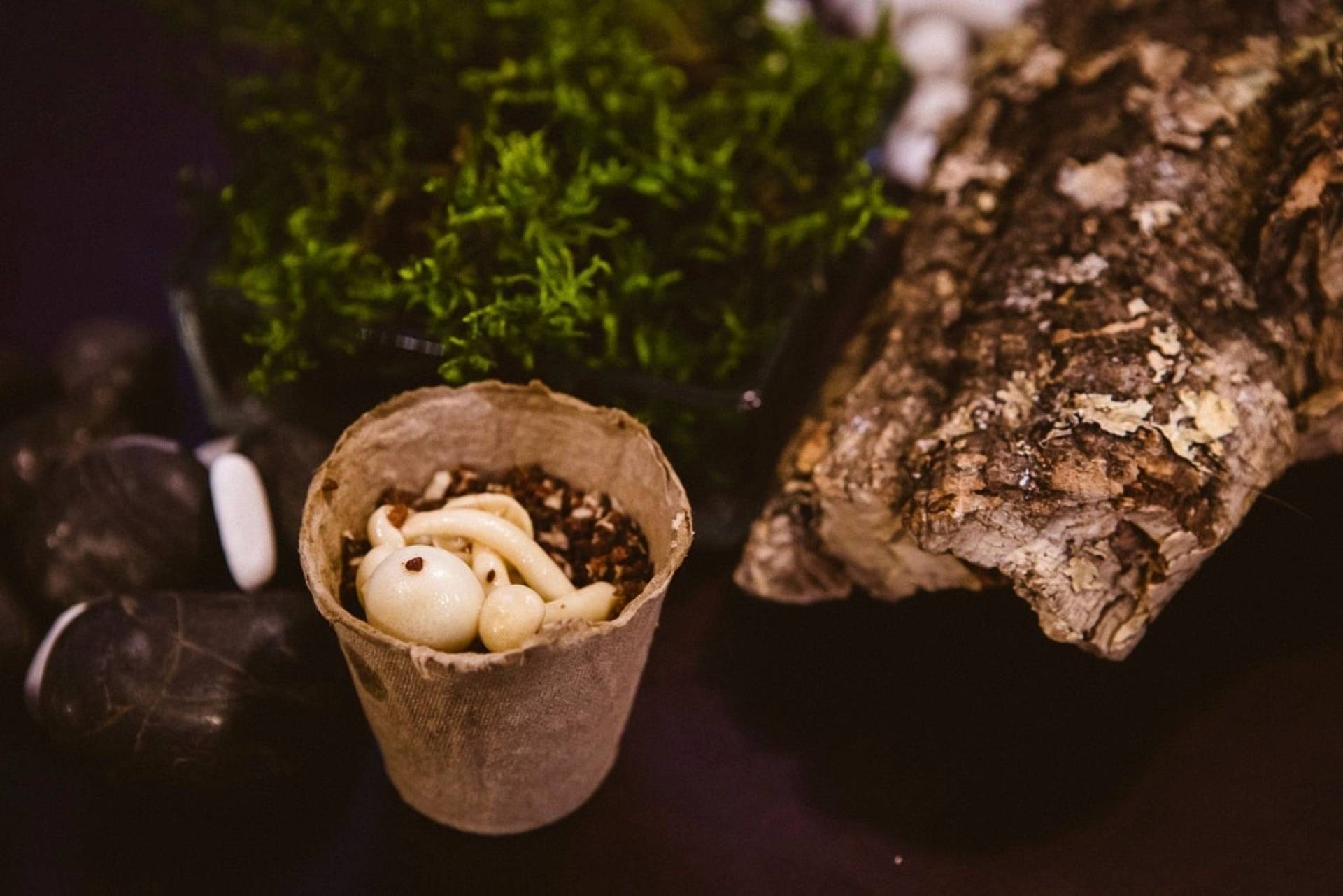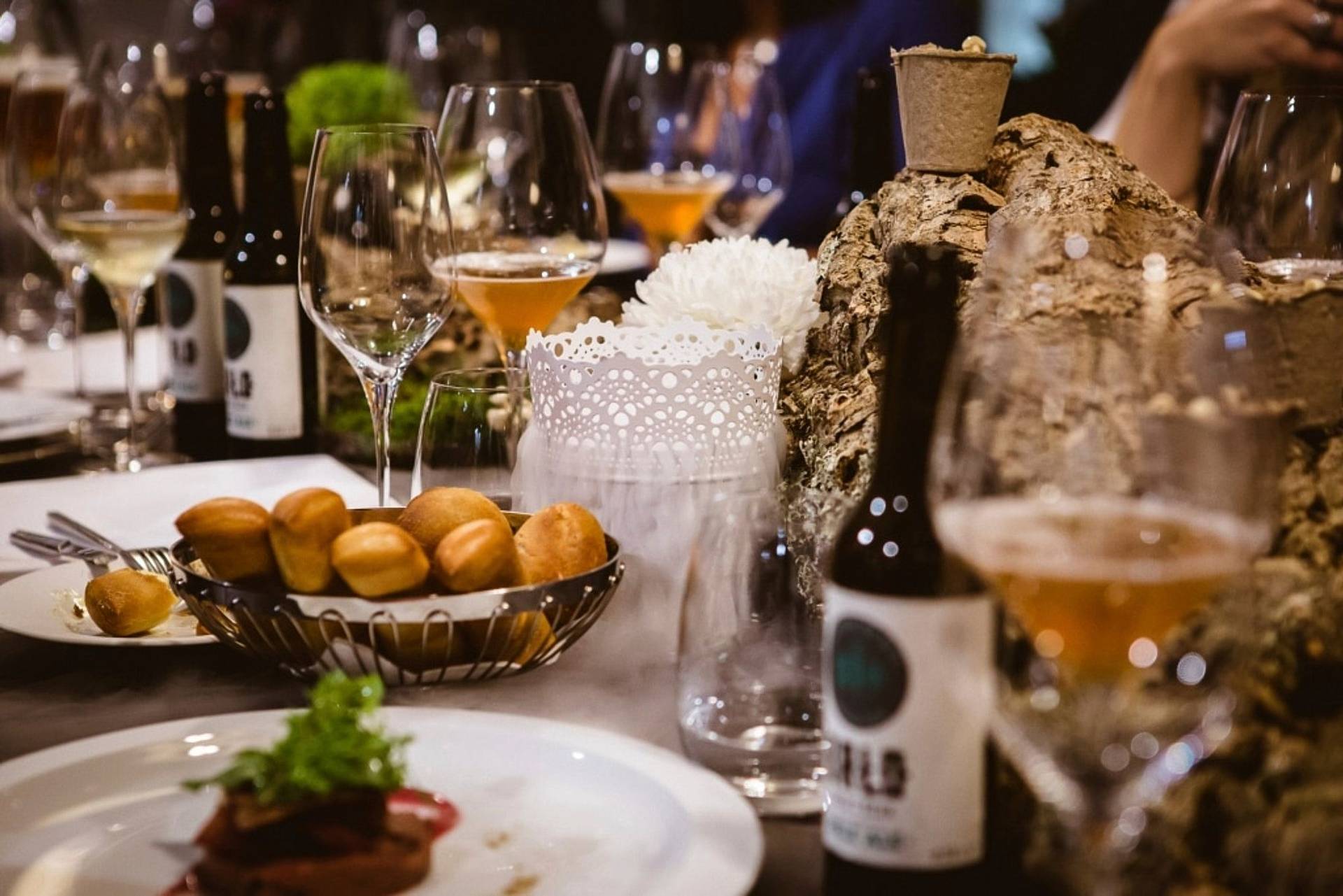 "Celery"
Apple-Cider, van Nahmen
Next up was a very sensual dish of celery at its best. We served baked celery root with blanched walnut stuffed celery. To top it up, a poached egg yolk was served and fresh truffle from our supplier of choice was grated over the entire combination. Massimo supplies these fine tubers exclusively to high-end restaurants. Meanwhile, all guests' glasses were filled with an apple cider from van Nahmen. This German apple maker was chosen for the 3rd course and only emphasized the flavor play of celery and apple.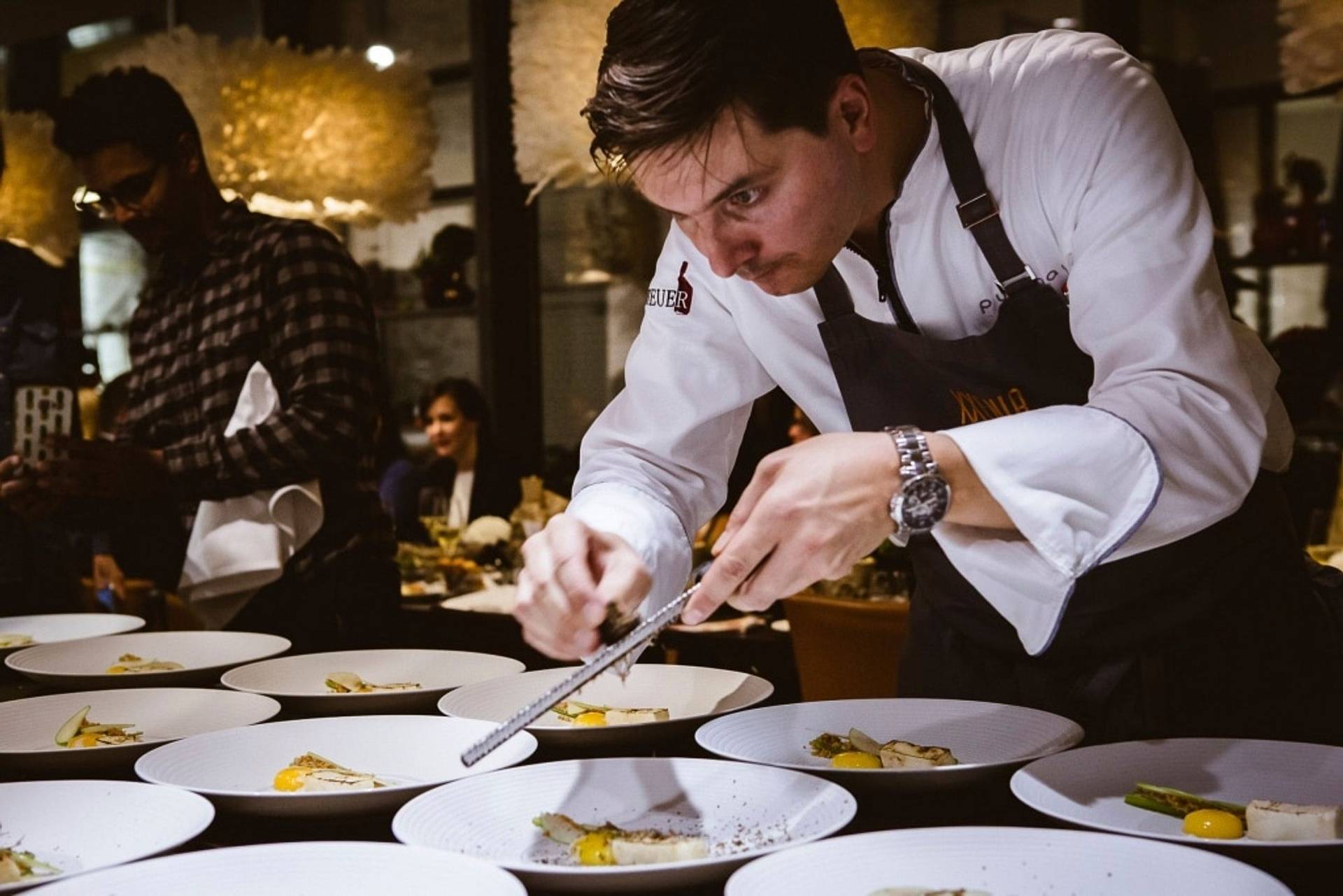 "A day by the sea"
Chardonnay Sur Lie, Dani de Wet
While reading the title, you may already imagine the next plate. We went a similar way as in the beginning. We stopped the music and the sounds of breaking waves and blowing wind reached everyone's ears. In addition, the menu service took place and left the guests and us to the flavors of turbot, mussels, octopus & saffron. Closing our eyes, we could literally feel the sand between our toes. Of course, this light and sea-salty dish needed a classic companion. In this case, we opted for the beautiful Chardonnay Sur Lie.
In sourcing all this beautiful seafood, we were assisted by Deutsche See. This company is known for top notch quality when it comes to products that the sea provides us. We felt very fortunate to be able to showcase all these delicacies on our plates.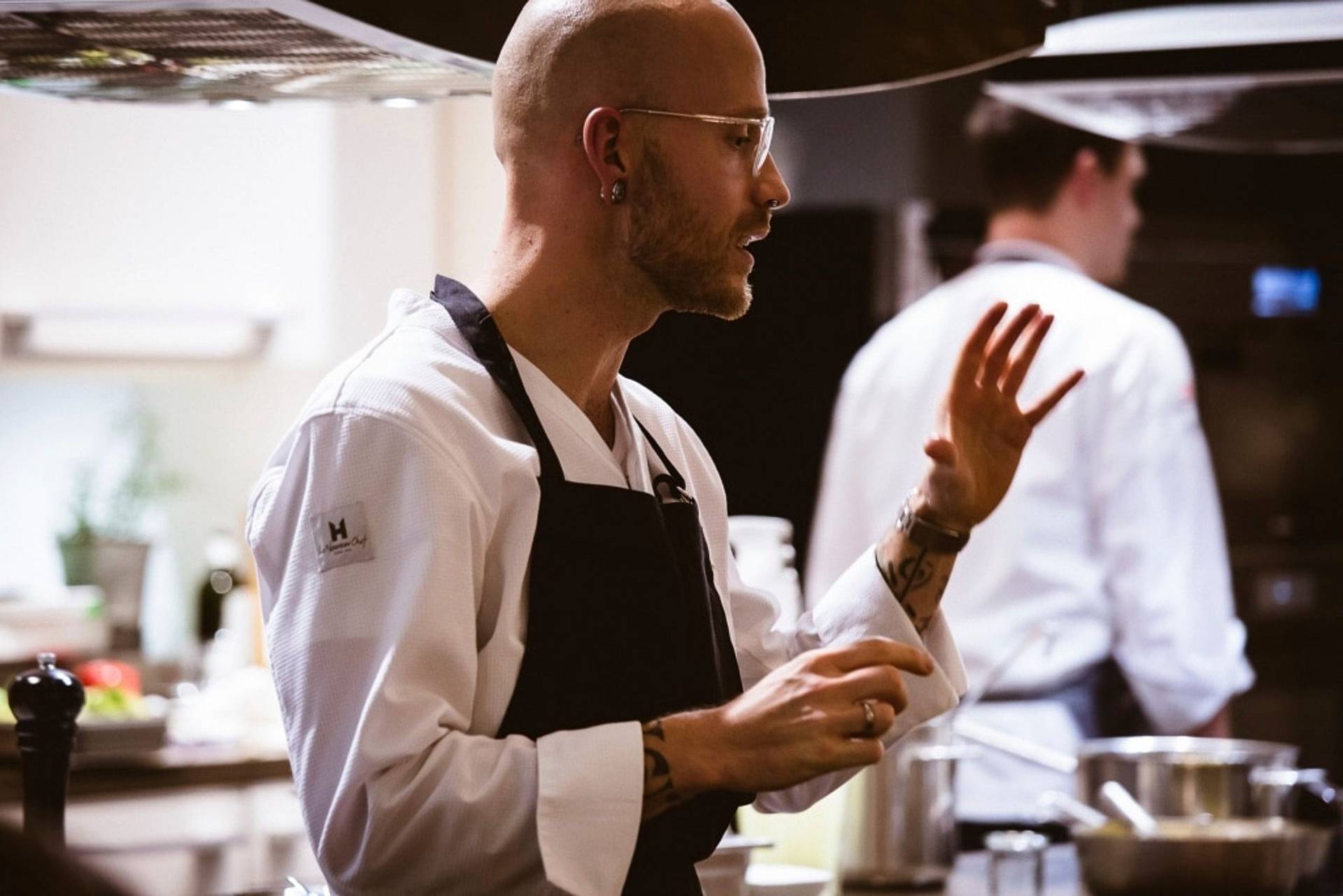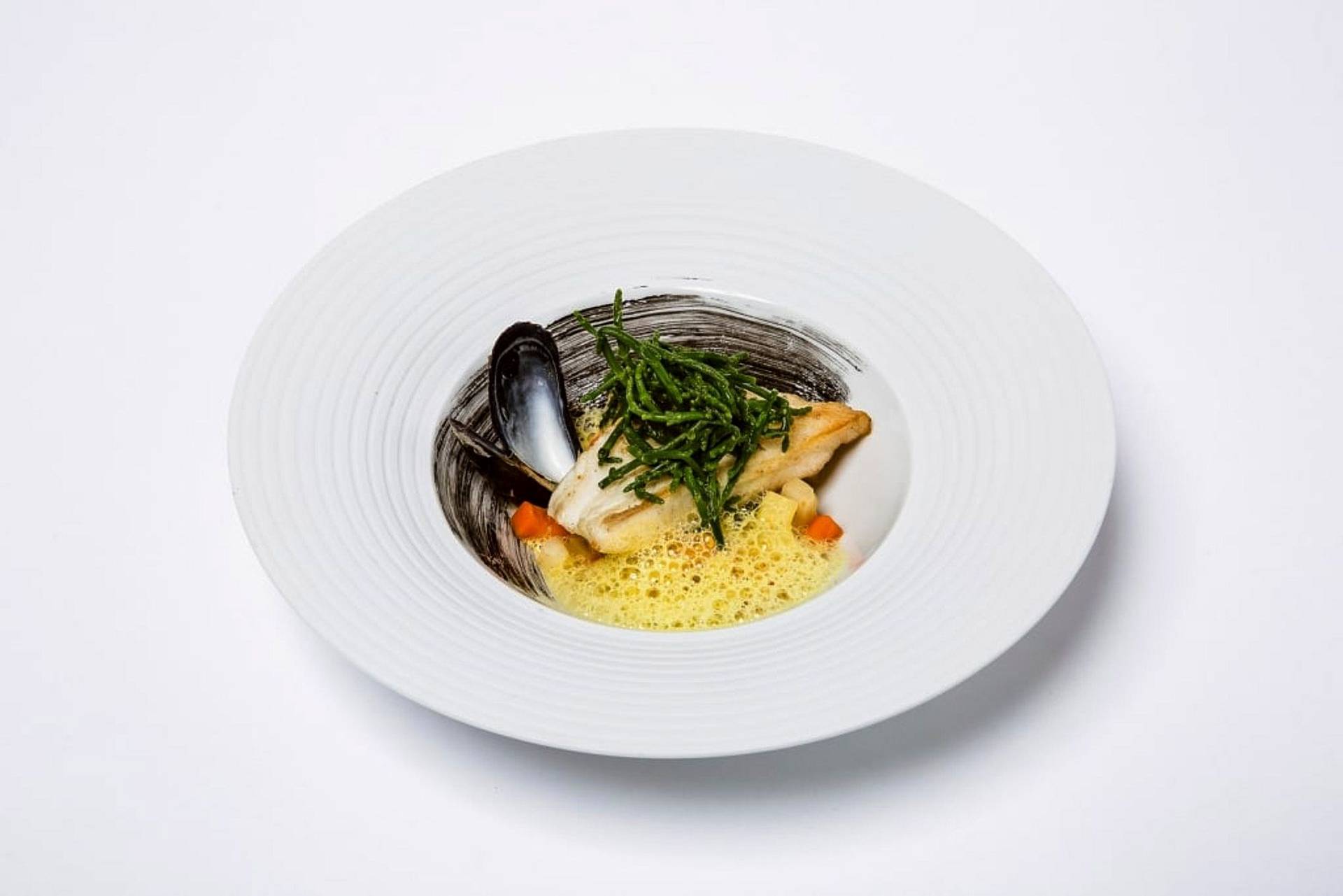 "Pure Japanese"
Sparkling Sake, Gekkeikan Sake Company Kyoto
Tiny, but wow. This little "mouthwash" was made to clear the guests' mouths for the next courses. We made a refreshing Calpico Sorbet, poured some chilled sparkling sake on top and added a rice cracker with some cilantro. It was pure freshness for in between. Clean and simple, as the title suggests.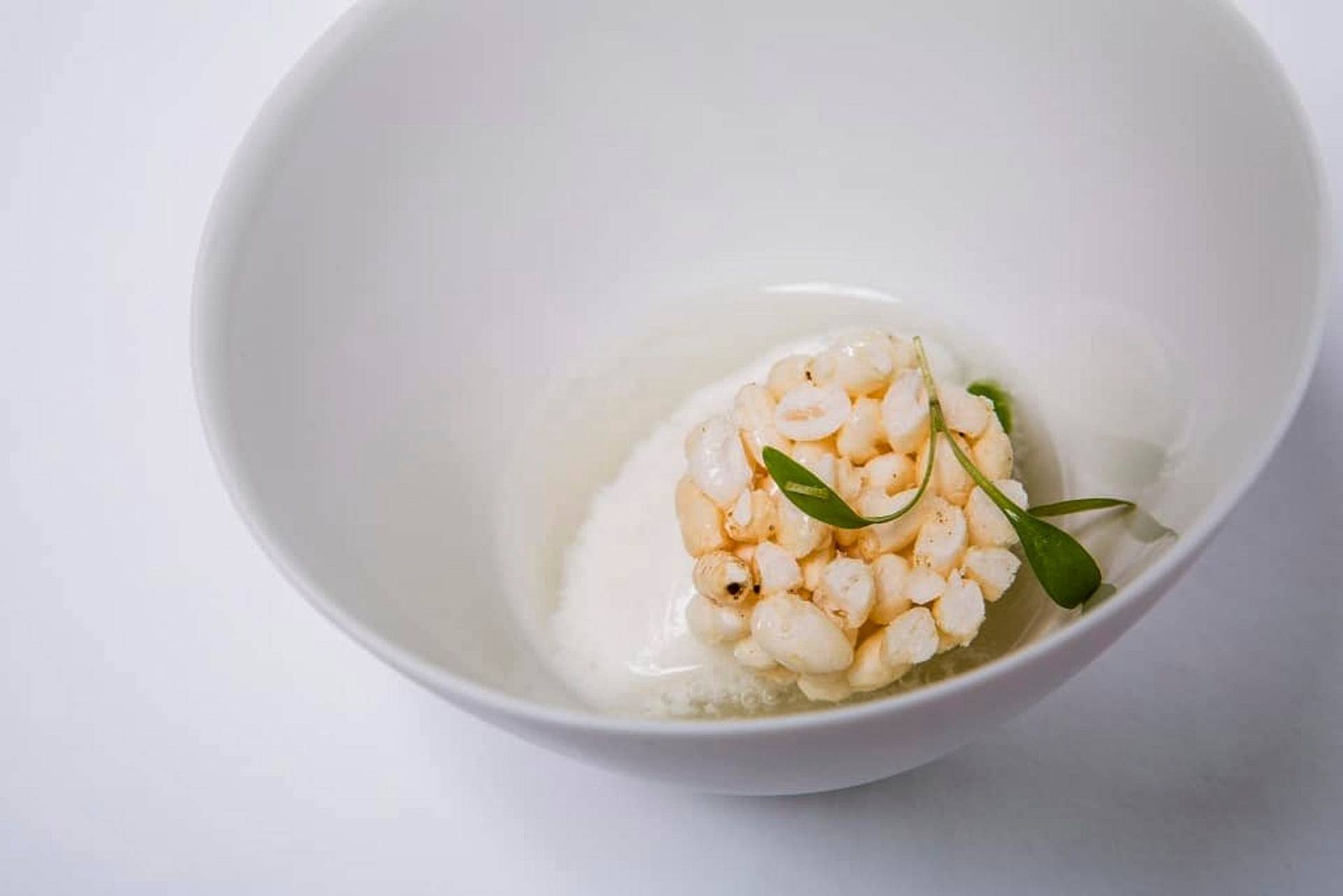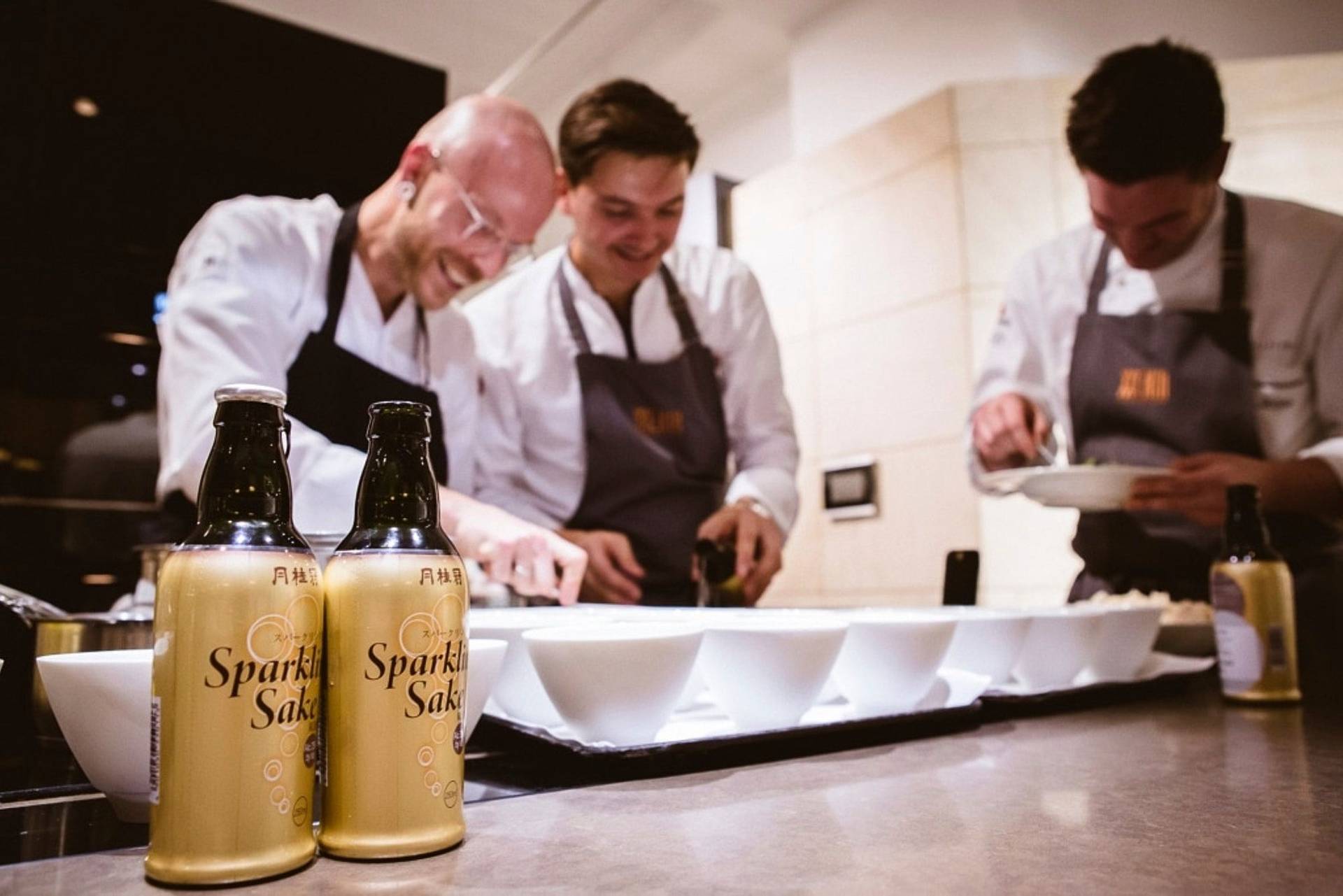 "Meat with sauce"
Bourgogne Pinot Noir AOC
It was meat(ing) time and our guests were served again. This time with a delicious slice of Entrecôte. The meat was combined with a parsley cream, black garlic mayonnaise, romaine lettuce, corn and mustard grain jus. For this course, we deliberately went for classic and good flavors. You don't always have to do everything differently or come up with new recipes. Tradition has its place in our cuisine, which we wanted to show clearly in this dish. Wine-wise, the Pinot Noir was a good choice and all in all it was again a very satisfying dish.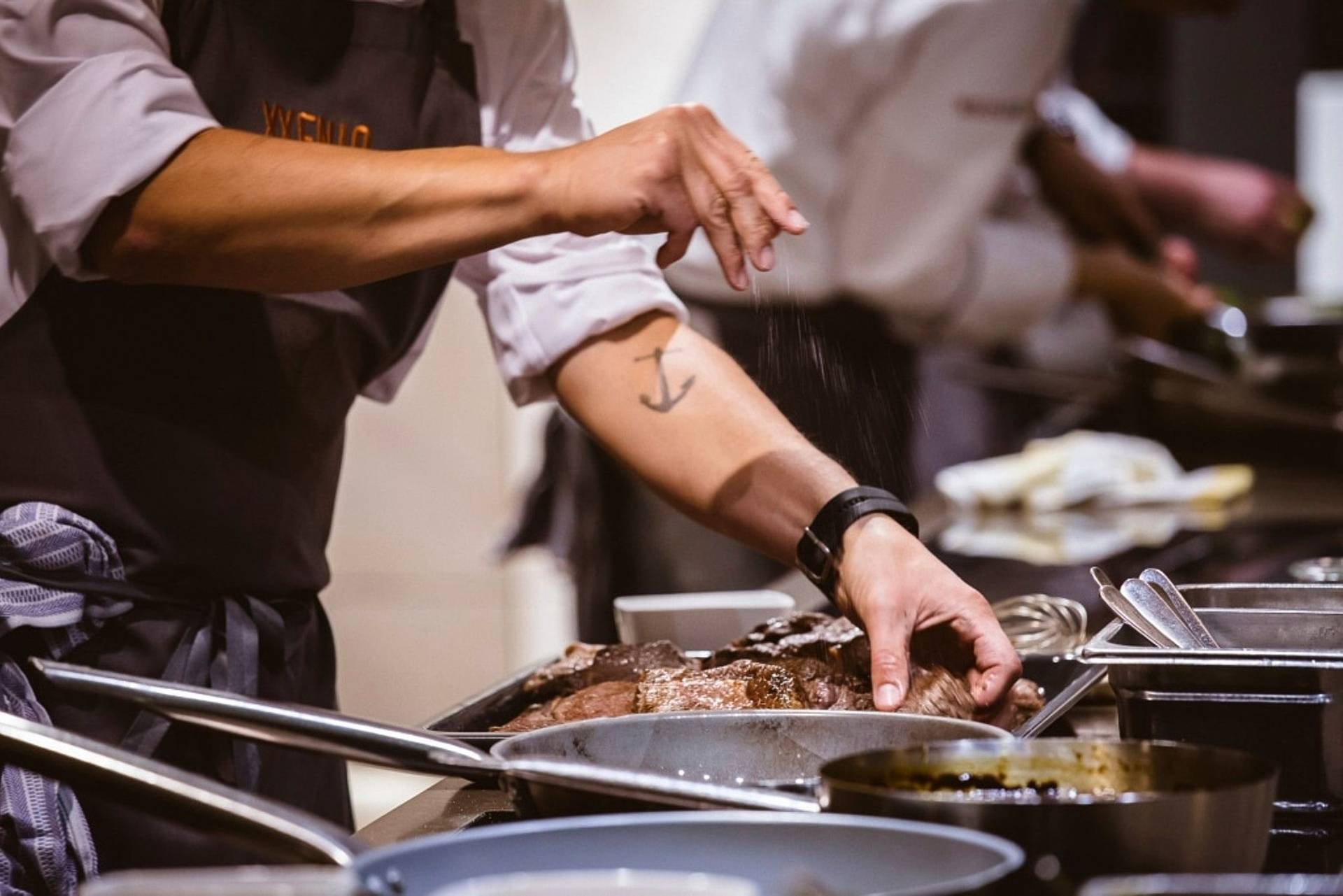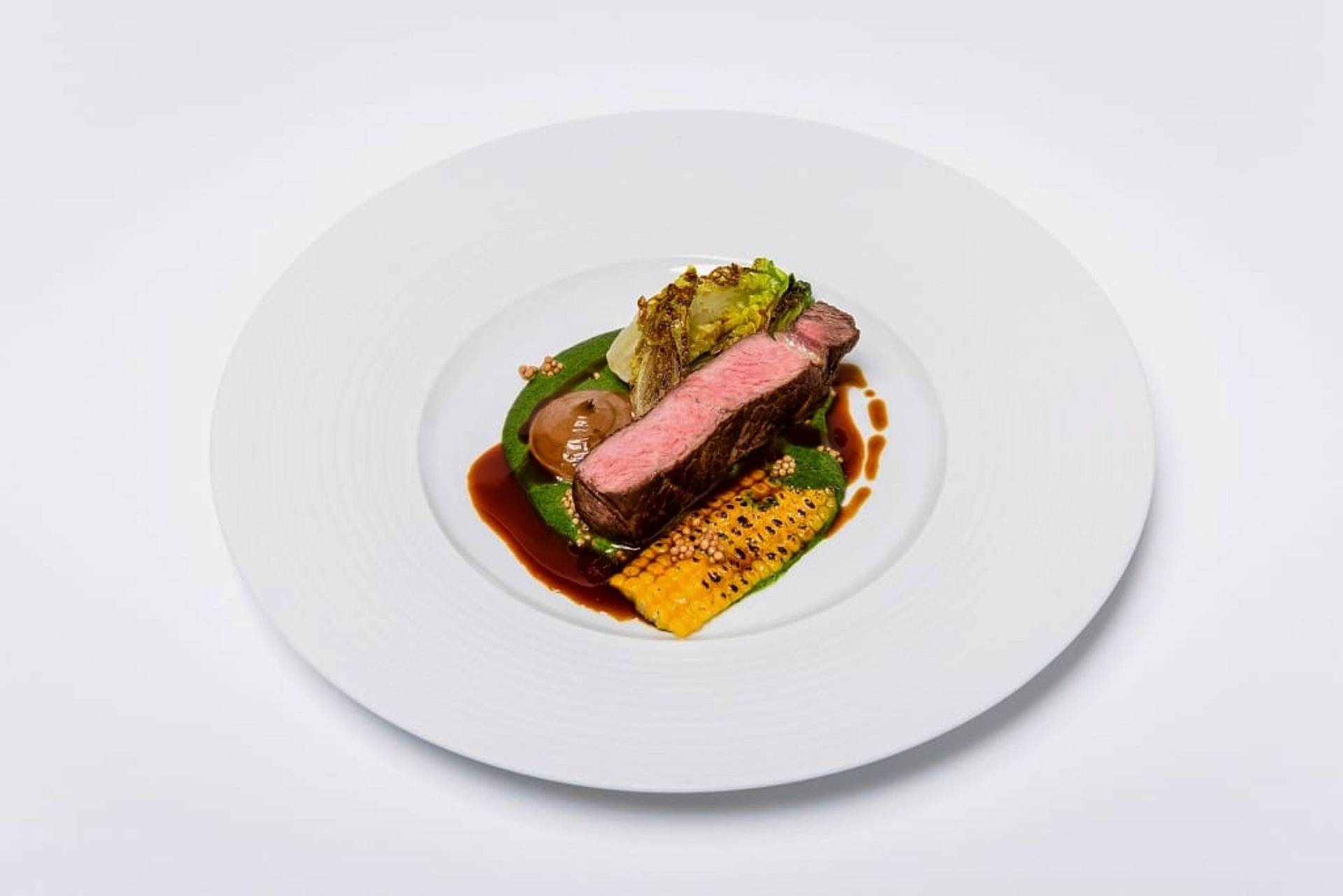 "Bee sting" & Petit Fours
Thomas Barton Reservé Sauternes
Bee Sting is a classic cake here in Germany that I really love. It's as simple as it sounds: fluffy yeast dough, vanilla custard and crunchy almond brittle. The original look is rather rustic, but the reward in taste is guaranteed. What we did, was to take the original flavors but blend them in consistency and temperature. This led us to yeast ice cream, brioche cream, almond flakes, honeycomb and some chocolate prunes. A beautiful finish on the plate that was only enhanced by the gorgeous and golden Sauternes from Thomas Barton of Vranken Pommery. Both the beginning and the end were supported by this traditional company and made our reception and dessert even better. The Sauternes, with its aromas of honey, almonds and apricots, took those of the dessert and made them even stronger. The result was a delight.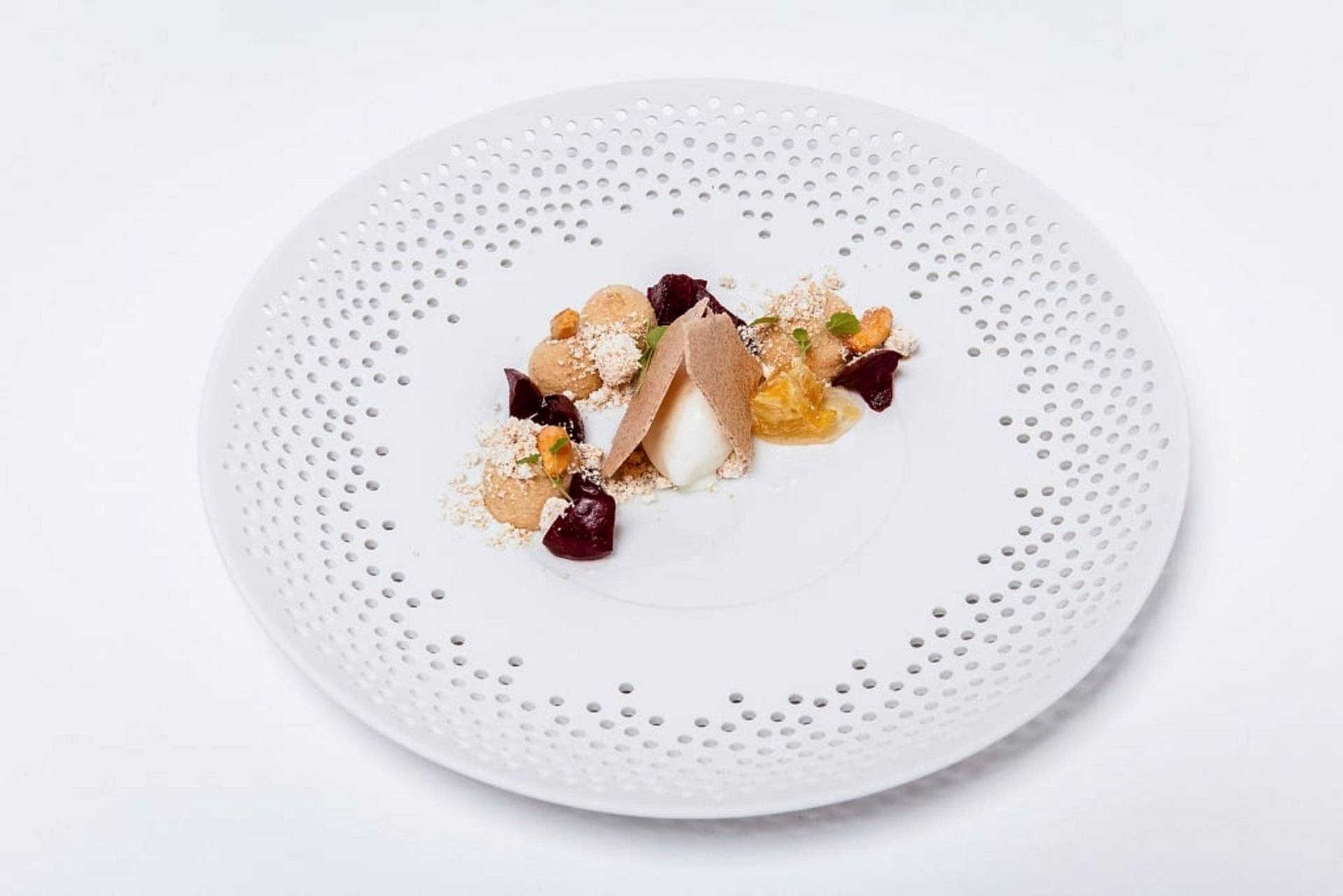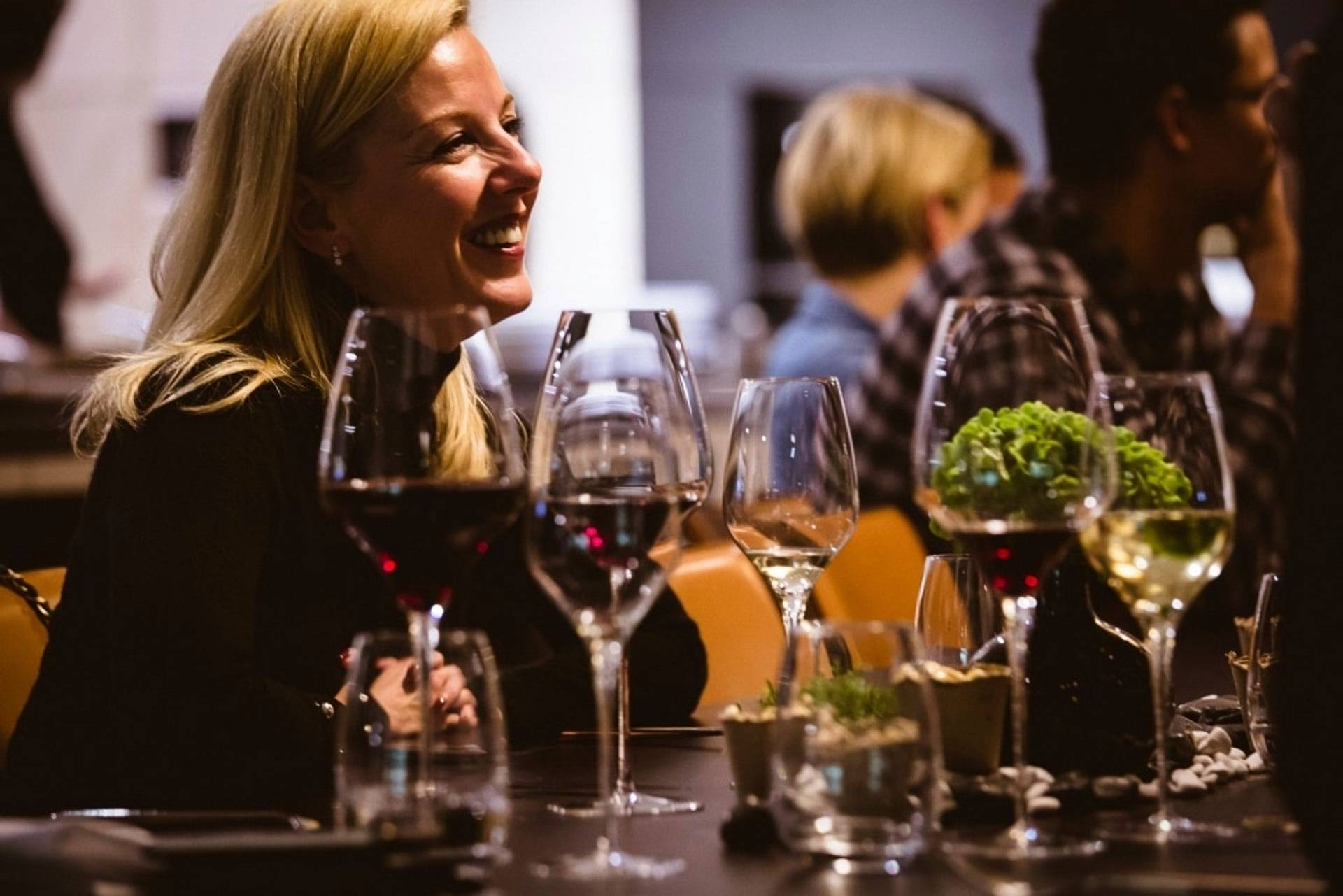 Review
We put a lot of thought into all the details long beforehand and it was more than just a job for us. It was an exciting dinner for Steffen and me. We enjoyed seeing everyone having a good time and received great feedback. To create a memory for each attendee, we wanted to present really good food, excellent drinks and a great atmosphere. Looking back, we succeeded in doing that as well.
I would like to thank Steffen for taking me on this journey. It was really a great evening and I was proud to be a part of it.
Photos by pixel and dot photography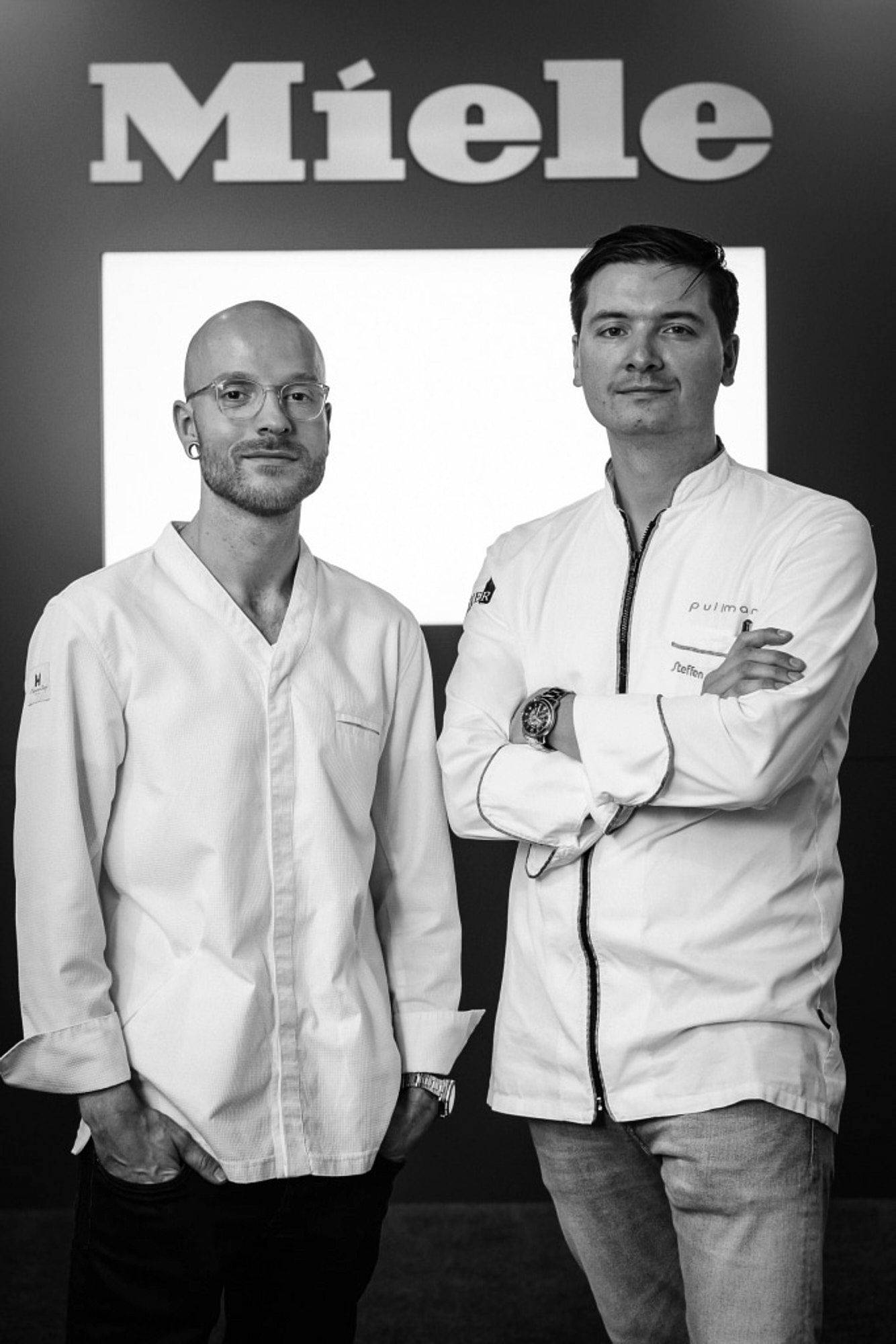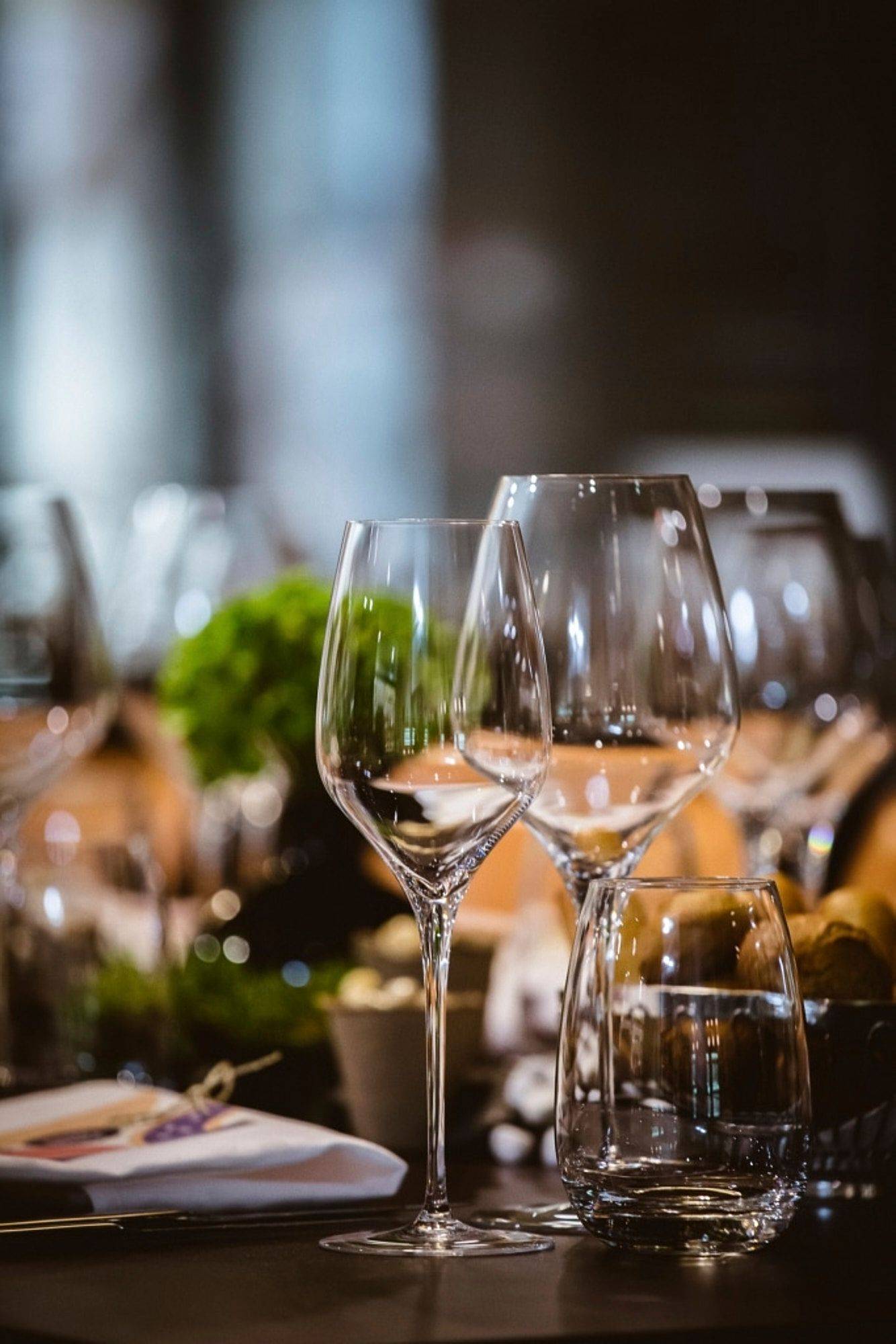 Newsletter
Can't get enough?
Get some secret ingredients through our newsletter!