Story
Le Duc Salon – by The Duc Ngo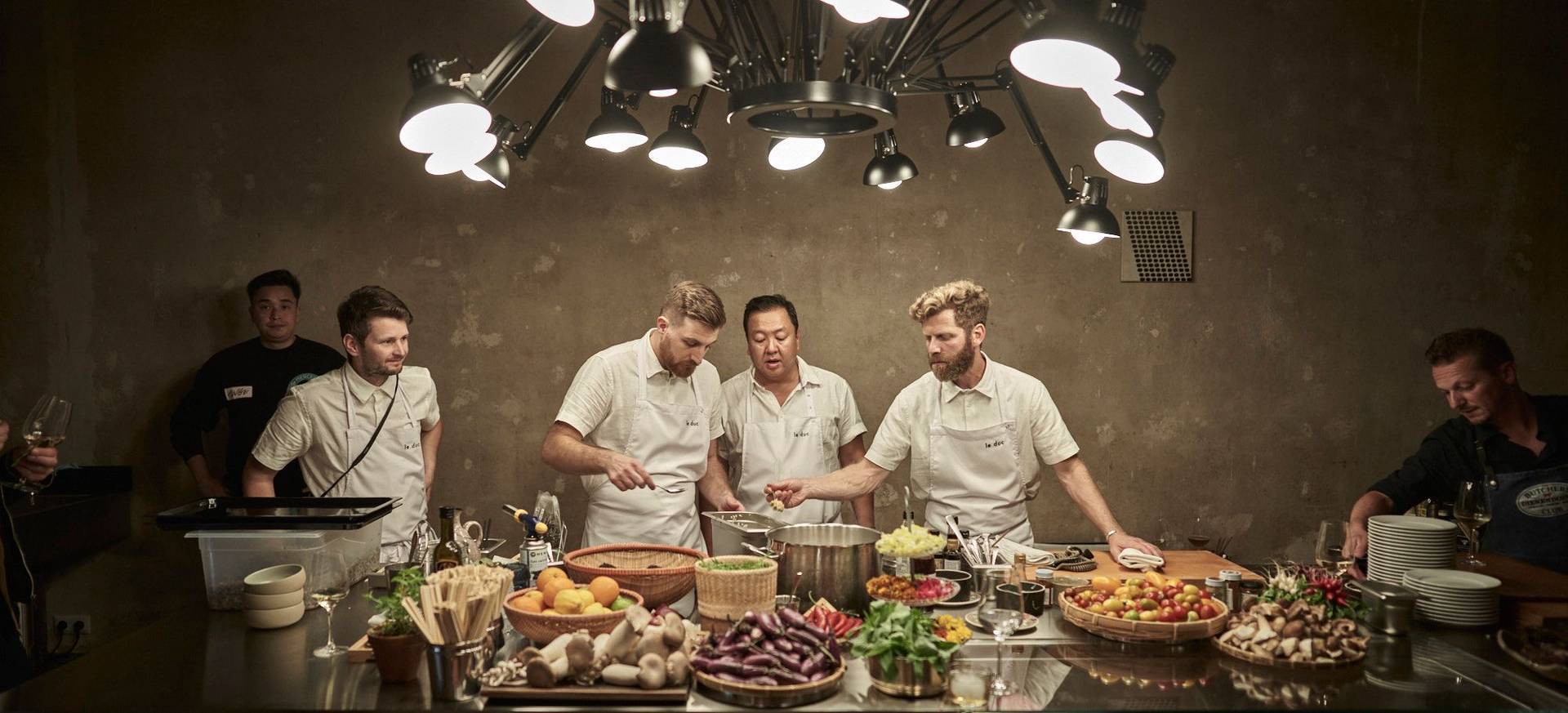 This article contains advertising.
Berlin star chef The Duc Ngo has done it again, opening his new pop-up location Le Duc Salon Berlin. It kicked off with the Rolling Pin Speakers Dinner on the occasion of the 2022 Rolling Pin Convention. Together with his guest chefs, The Duc Ngo presented, what constitutes contemporary gastronomy for him in his usual unconventional way. Fresh ingredients were prepared in front of the guests from gastronomy and media, thus cultivating the culinary network in a casual atmosphere. I had the pleasure of accompanying this evening both with a dessert and with the camera but see for yourself!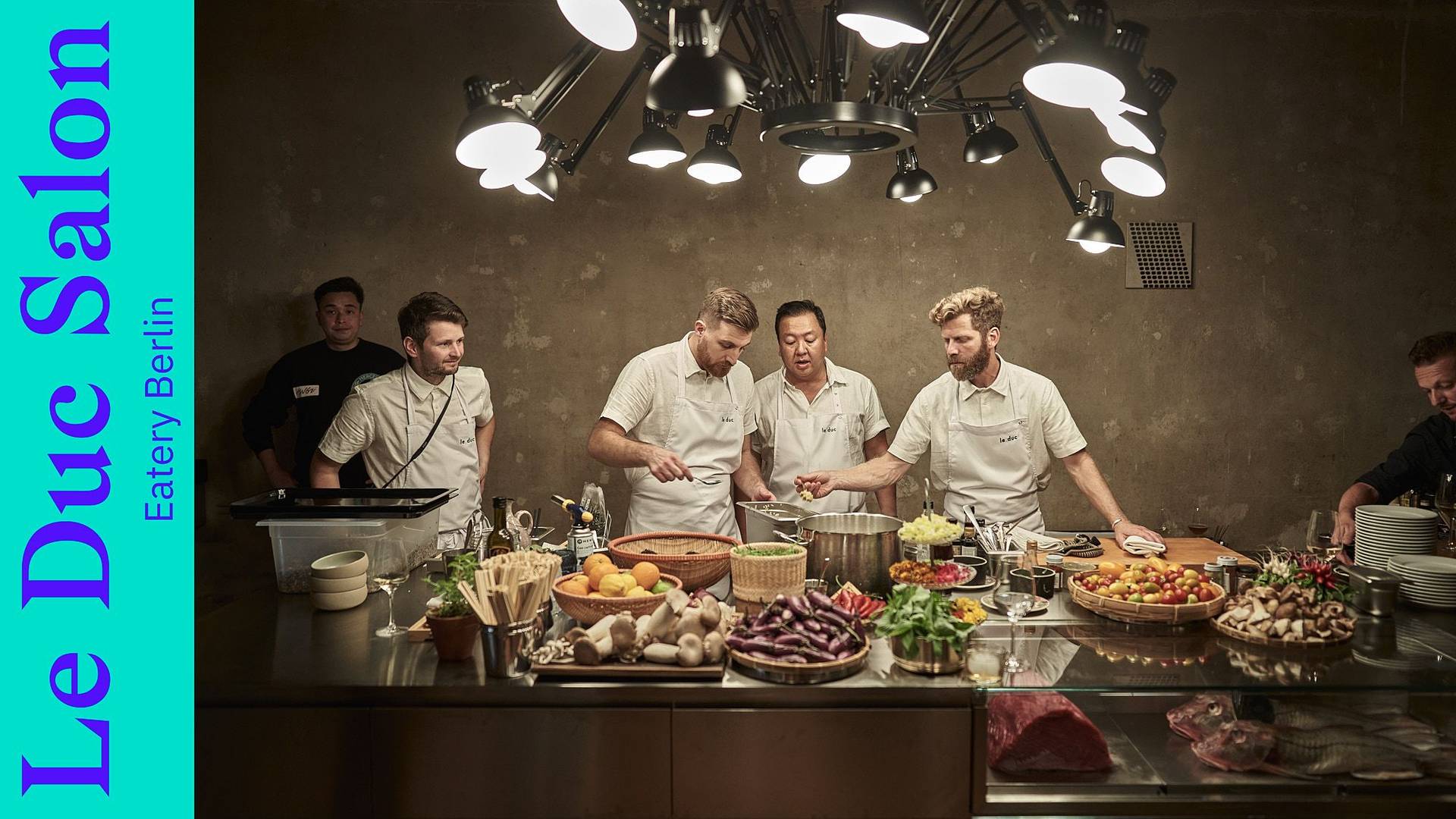 Accept YouTubes marketing cookies to watch this video.
The Duc Ngo presents his new pop-up restaurant Le Duc Salon Seafood
However, it should not remain with only one brilliant evening, The Duc Ngo has created a playground for himself and his team with the Le Duc Salon and cooks what is fun and lies on his tongue. In addition to his great team, consisting of his head chefs Daniel Feldsmann and Masao Watari, The Duc Ngo also likes to invite guest chefs to celebrate great products with him in a relaxed atmosphere. Le Duc Salon Seafood is probably the hottest topic, next to the Ramen Pop-Ups and I was allowed to cook a second time with the Le Duc Salon team as well as report a little in words and pictures.
Seafood Menu
Vegetable Ballotines, Dashi, Yuzu
Halibut Tatar & Skin, Bell Pepper
Har Kao, Halibut Dumpling, Dashi
Lambrusco Brut Nature, Alberto Paltrinieri
Sashimi
Scallop — Sepia — Tuna
Chawanmushi
Caviar
Riesling GG, Dry, 2020, Dr. Loosen
Norway Lobster
Scallop — Sweet-Sour Chili — Yuzu — Jerusalem Artichoke
Monkfish Liver
Brioche — Truffle — Nori — Monkfish Tsumue
Chardonnay Terres Mâconnaises, Dry, 2020, Macon Villages
Poached Oyster
Lardo — Egg Yolk — Kale — Ponzu
Smoked Eel
Pointed Cabbage — Dashi — Shiso — Green Apple
Picon Beer
Kohlrabi
Verjus — Szechuan Pepper — Pumpkin Seed Oil
Kombucha
Razor Clams
Scallop-Rice Soup — Wakame — Prawns — Aonoriko
Halibut
Vin Jaune — Trout Caviar — Thai Basil Gremolata
Timorasso Bianco Derthona, Dry, 2019, Terre di Sarizzola
Tuna
Tataki XO
Pinot Noir GG, Dry, 2019, Franz Keller
White Chocolate
Shiso — Lime — Caviar
Taittinger Shot
Sea Buckthorn
Matcha — Carrot — Yoghurt
Sencha Gimlet
Snacks
Guests were first welcomed with a few snacks and a glass of Lambrusco to acclimate and soak up the ambiance. Three small amuse bouche consisting of a vegetable ballotine with dashi and yuzu, a freshly prepared halibut tatar on crispy halibut skin in front of the guests and last but not least handmade halibut dumplings with hot dashi have been served. Light, uncomplicated and delicious.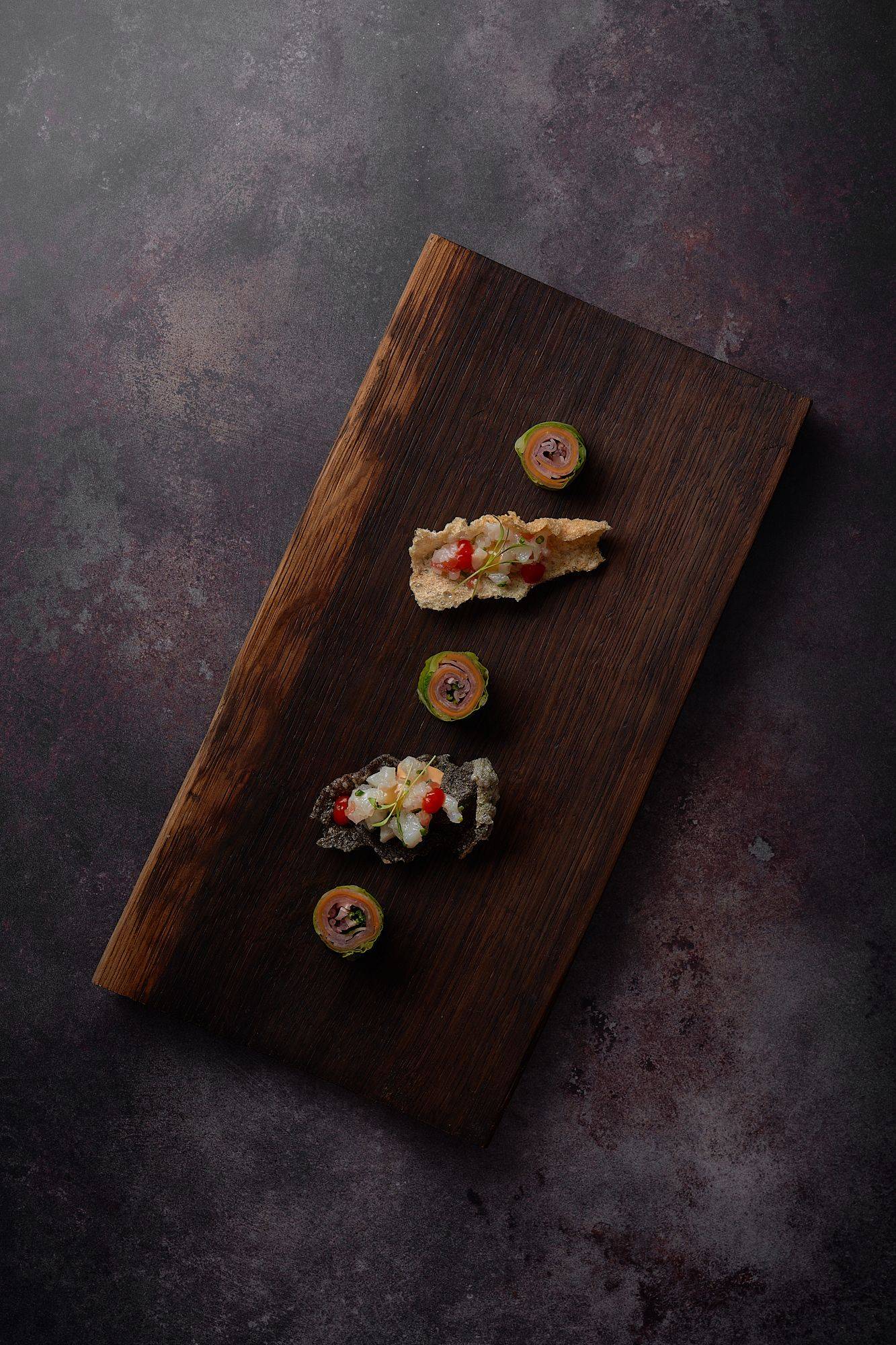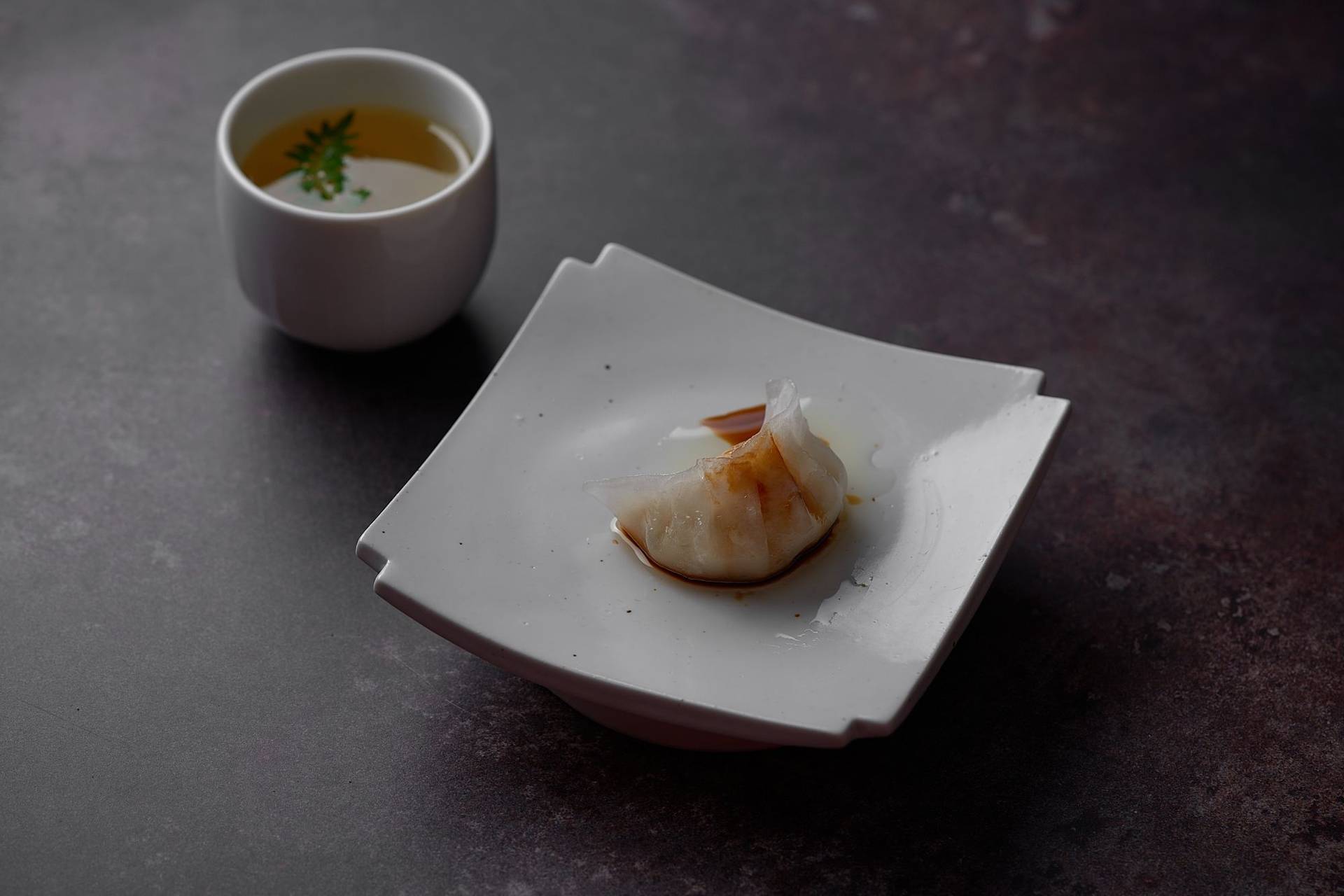 Sashimi
Anyone, who has ever eaten in one of The Duc Ngo's many restaurants knows about the quality of the sashimi on offer. Here in particular, nothing is as crucial as the quality and freshness of the fish and seafood, and this is arguably one of the most important aspects of his cuisine. The Duc Ngo is no longer concerned with emulating others, but rather with expressing his view of contemporary gastronomy, and this does not require 15 components and cooking techniques. Chef Masao Watari served scallop, sepia and tuna and kept the focus on fresh fish in excellent quality.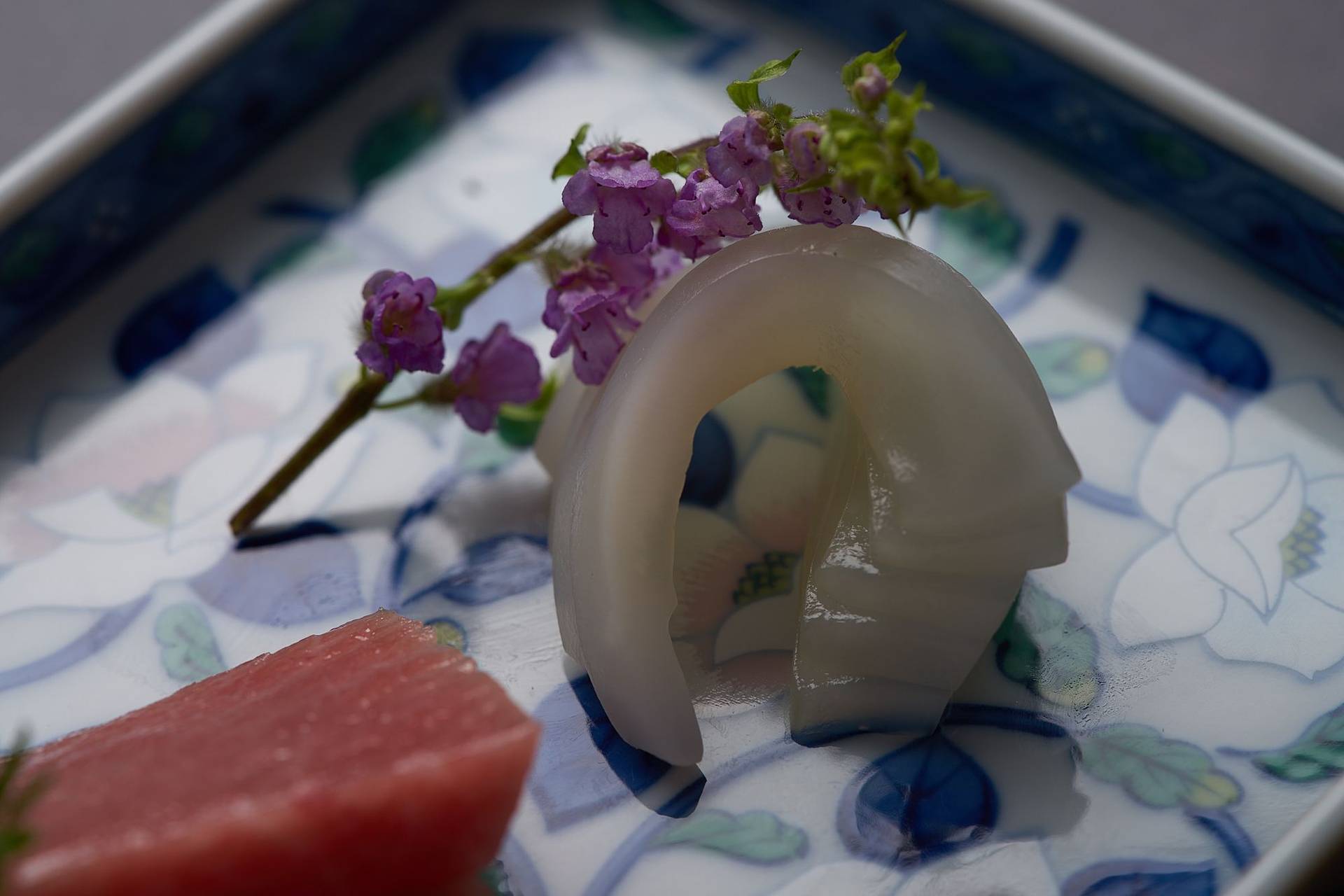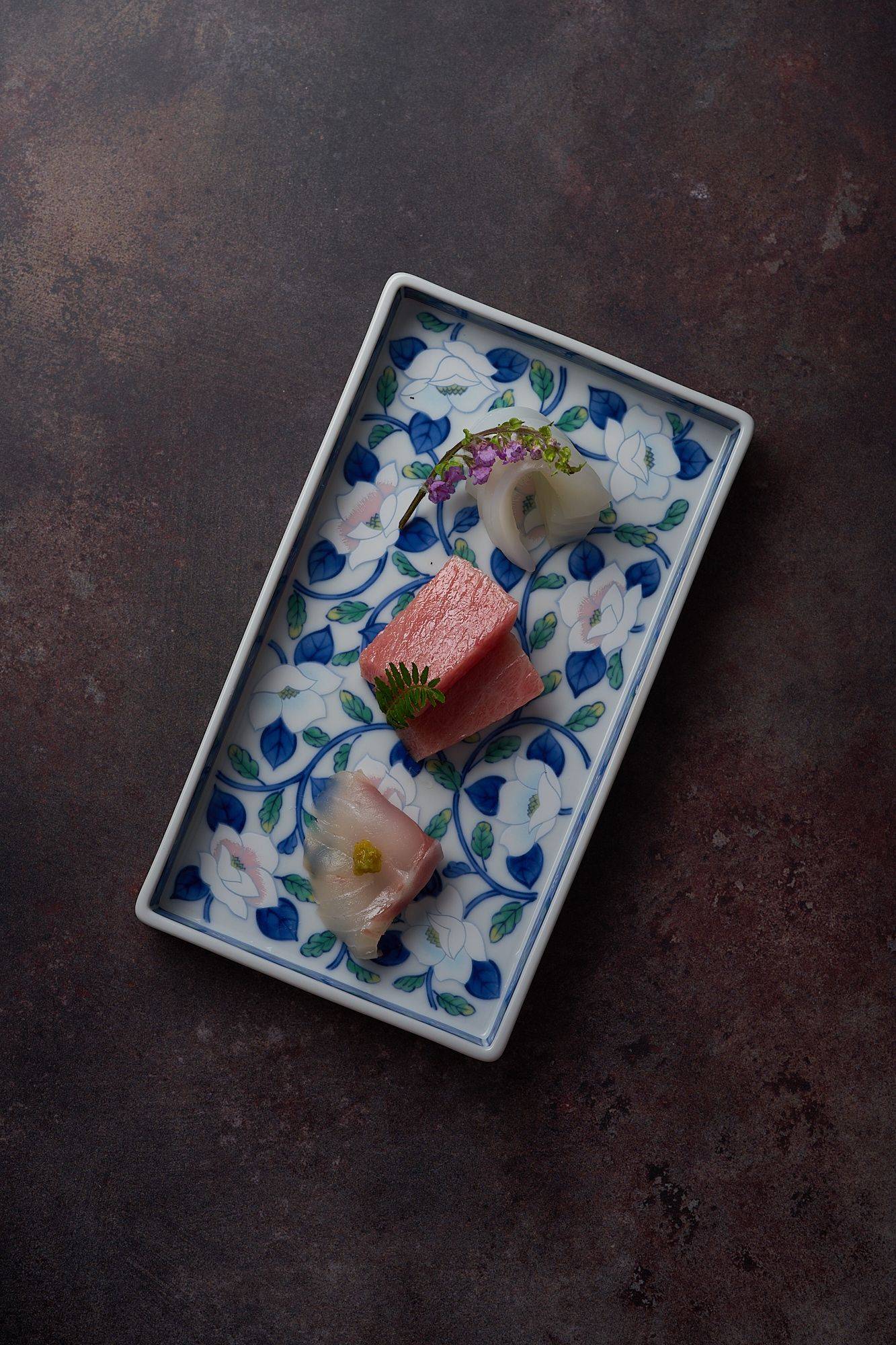 Chawanmushi
The next course served to those present was a Chawanmushi with caviar, accompanied by a 2020 Riesling from Dr. Loosen from restaurant manager Jana Kämpfer, which put the icing on the cake. For those of you not quite familiar with Japanese cuisine, a Chawanmushi is spiked egg drop soup made with Dashi and egg. Dashi is made with bonito (dried tuna) and seaweed, kind of like a spicy broth. Chawanmushi is served slightly warm and has a silky texture, paired with caviar and Riesling a truly feel-good meal that also comes across as very elegant.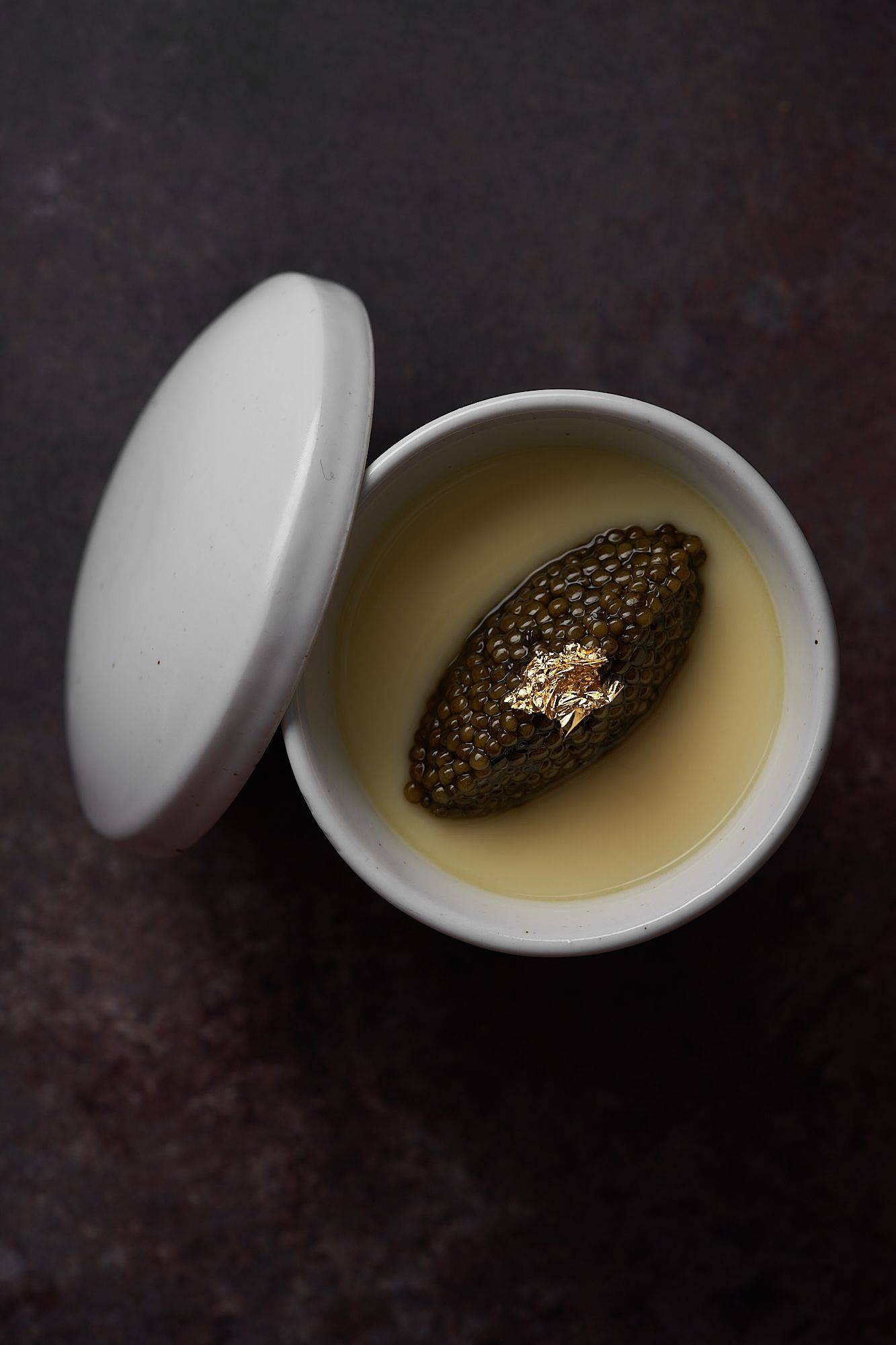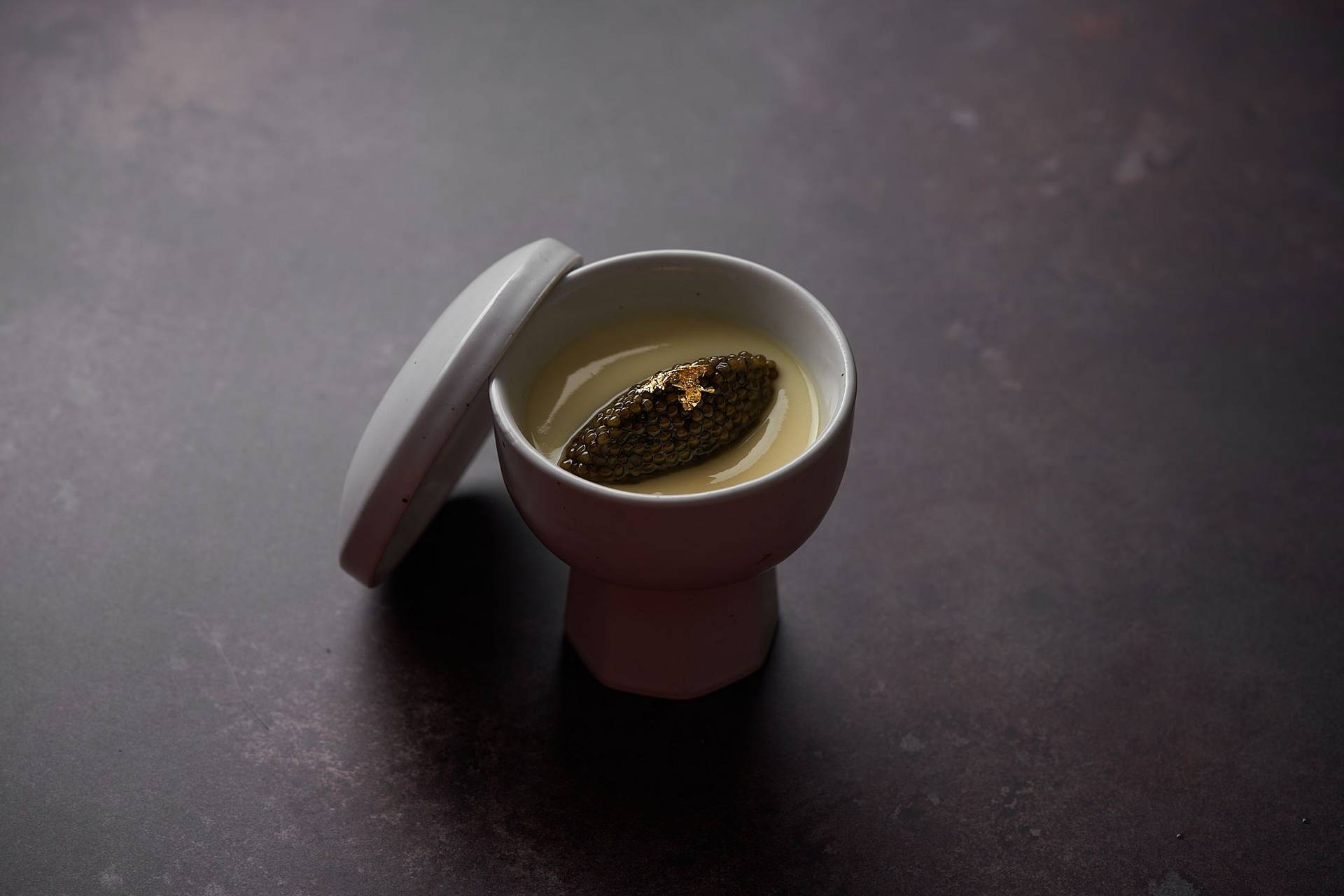 Norway Lobster
The next item in the seafood lineup was to be Norway lobster with autumnal notes of Jerusalem artichoke. This was accompanied by grilled scallop with sweet and sour chili-yuzu. This plate was all about temperatures with the addition of creamy ice cream and textures from fried Jerusalem artichoke peel, in addition to the delicate flavors of the Norway lobster and scallop.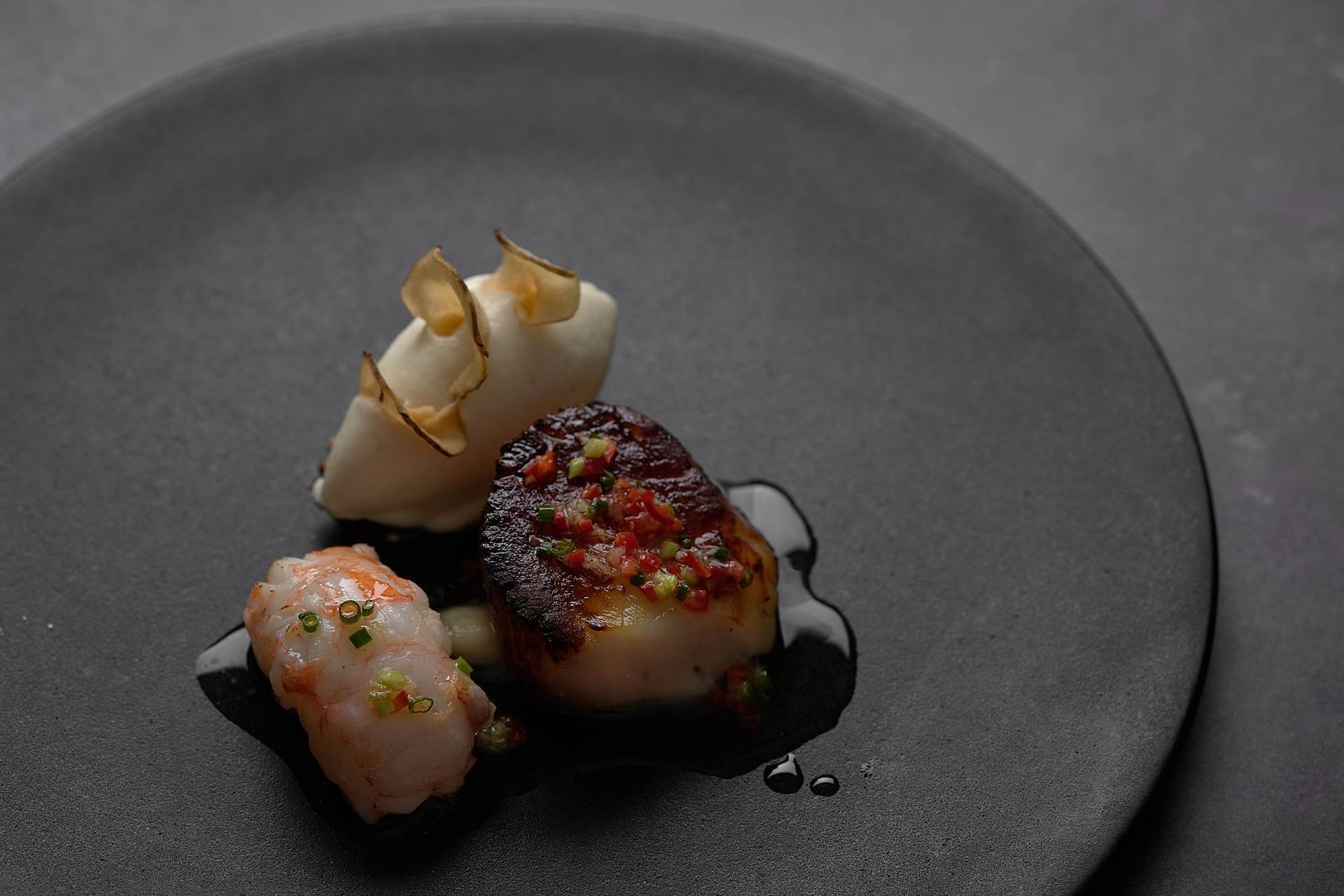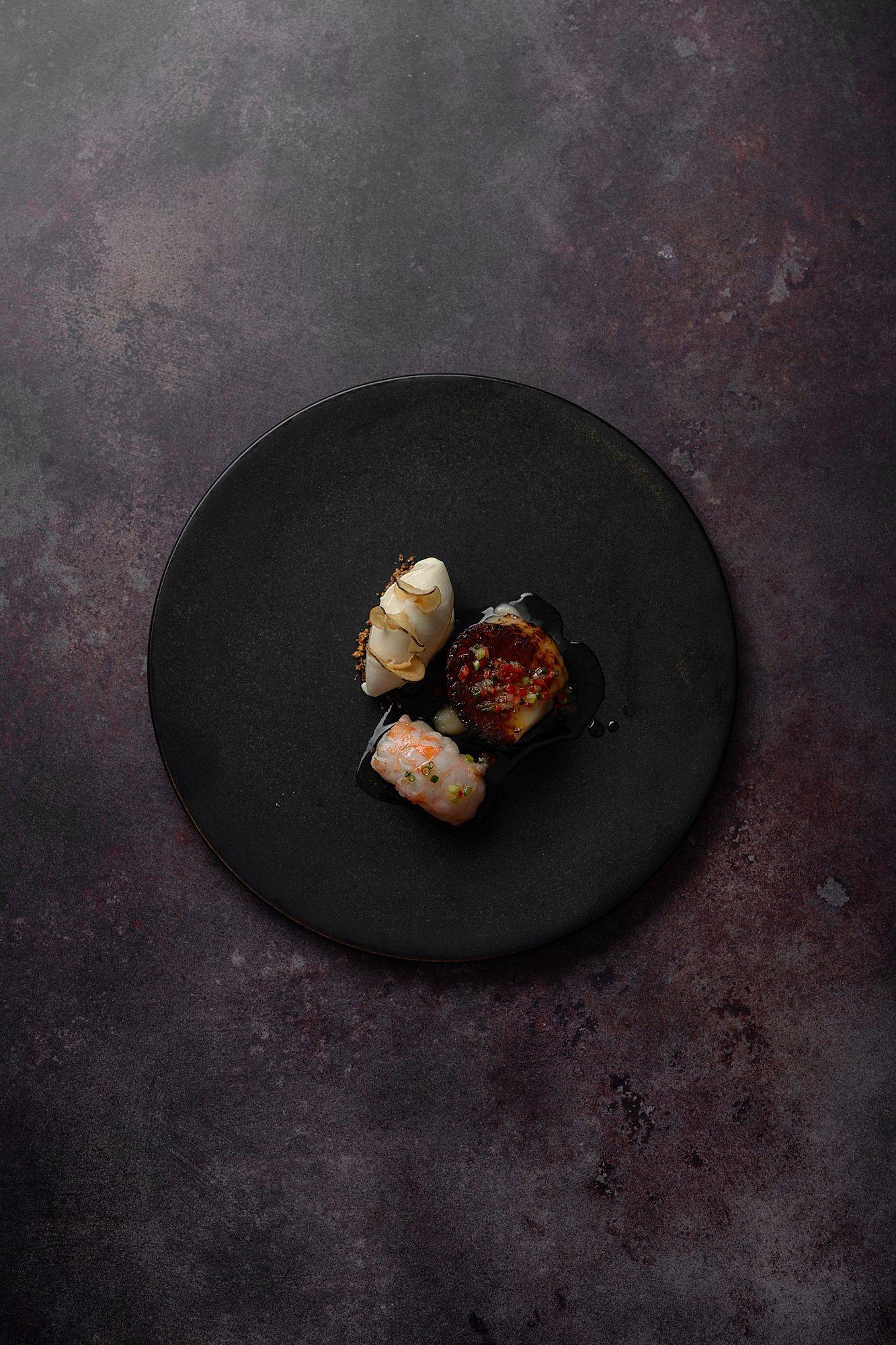 Monkfish Liver
Definitely a highlight for me and the guests, although the monkfish liver certainly polarizes, often simply by too fishy taste. This here was fine and very beautifully implemented by Masao Watari and the taste was simply stunning. The monkfish liver was served on a slice of brioche fried in brown butter with nori mayonnaise and truffle. A sandwich for which it really packs a punch. Sea flavors, truffles and of course butter. Meanwhile, in the glasses was a Chardonnay Terres Mâconnaises of 2020 and what can I say, both complemented and inspired each other at the same time.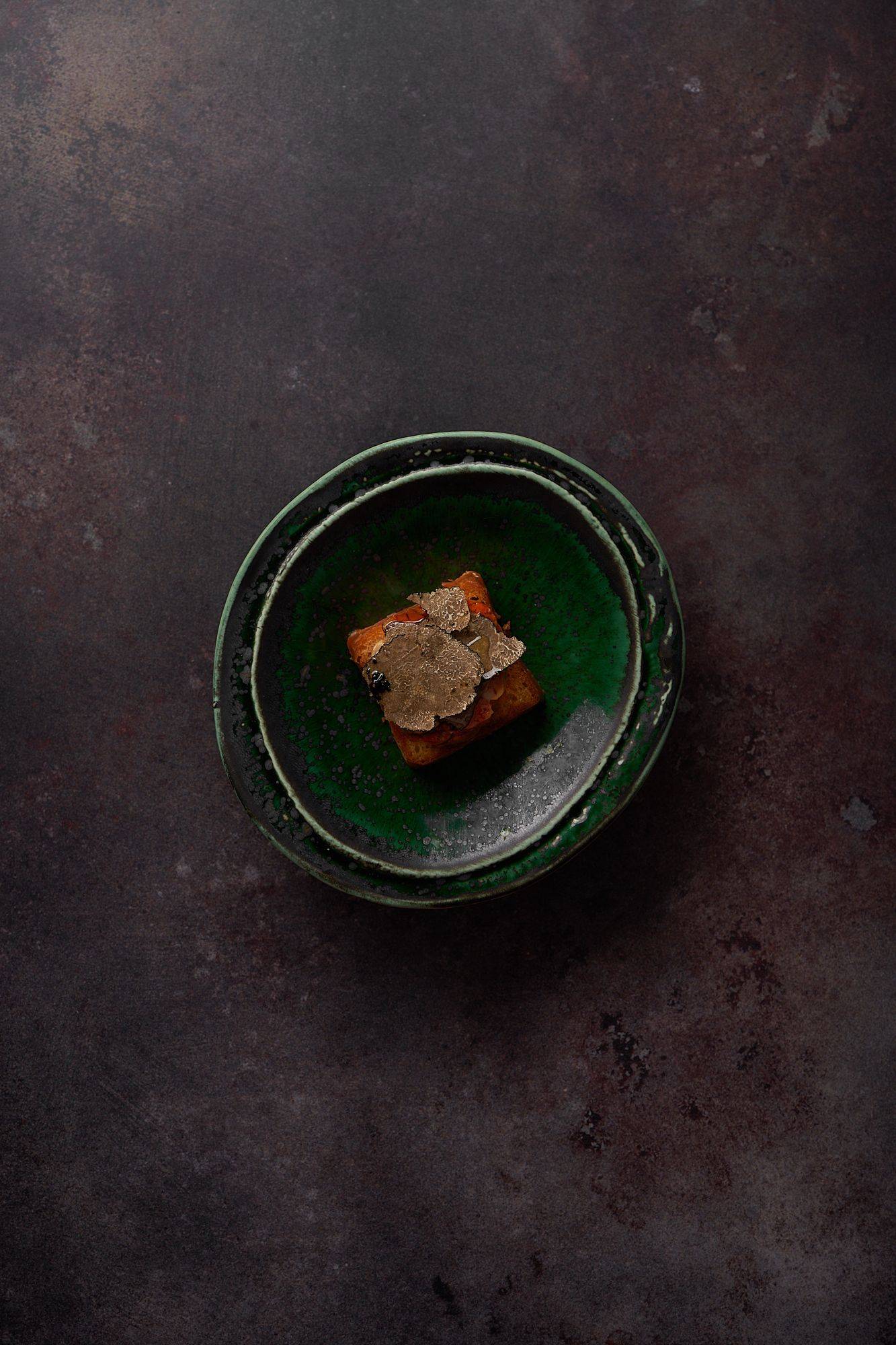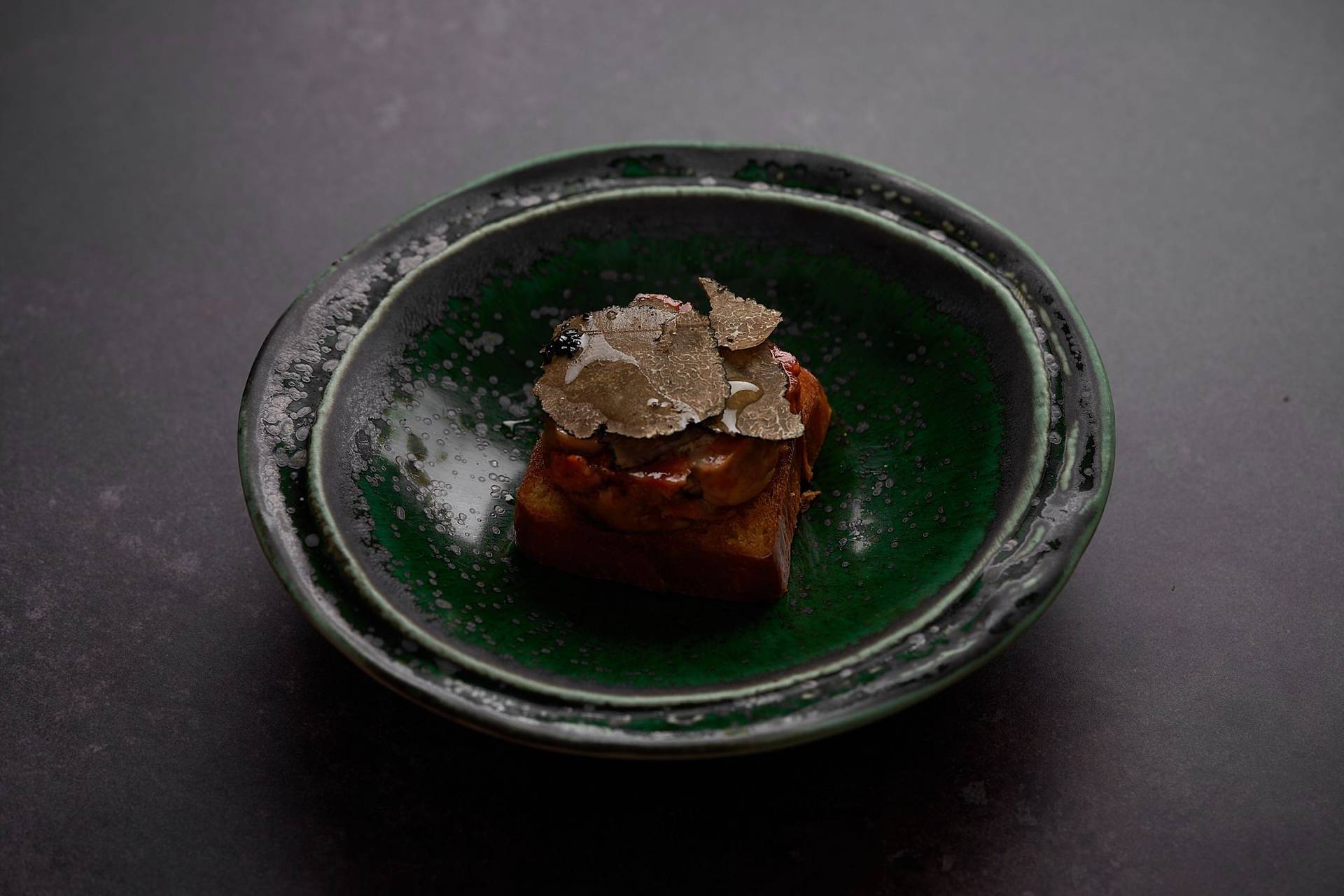 Poached Oyster
Another course that was sure to get people talking, this time from chef Daniel Feldsmann. He paired poached oysters with lardo bacon, a confit egg yolk, grilled kale and ponzu. I found this plate to be extremely exciting with the combination of sea flavors and the salty bacon. The ponzu sauce kept breaking up the flavors brought together by the egg yolk and the kale brought texture to this dish. A plate that may not have evoked the same enthusiasm in everyone as it did in me but one to remember.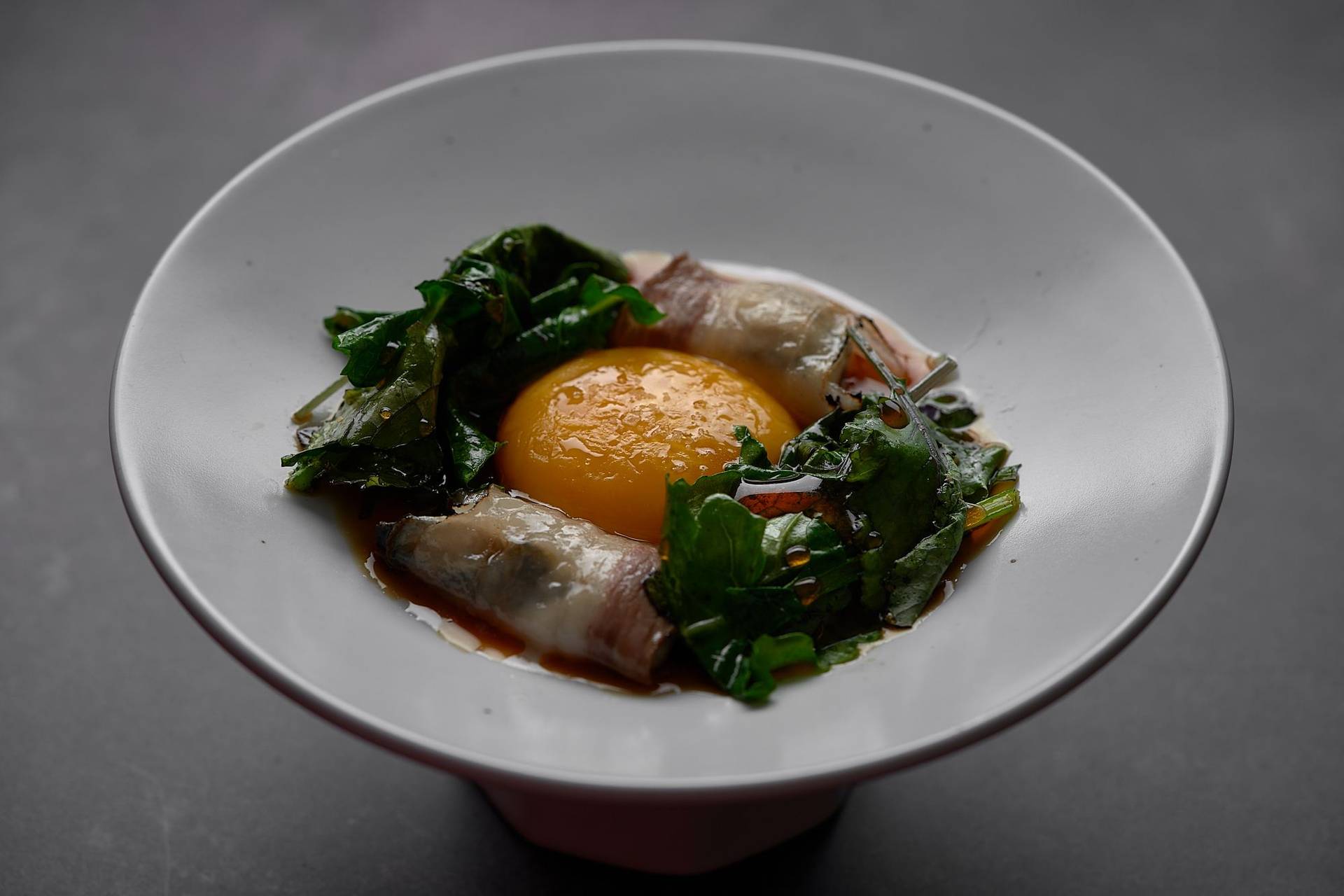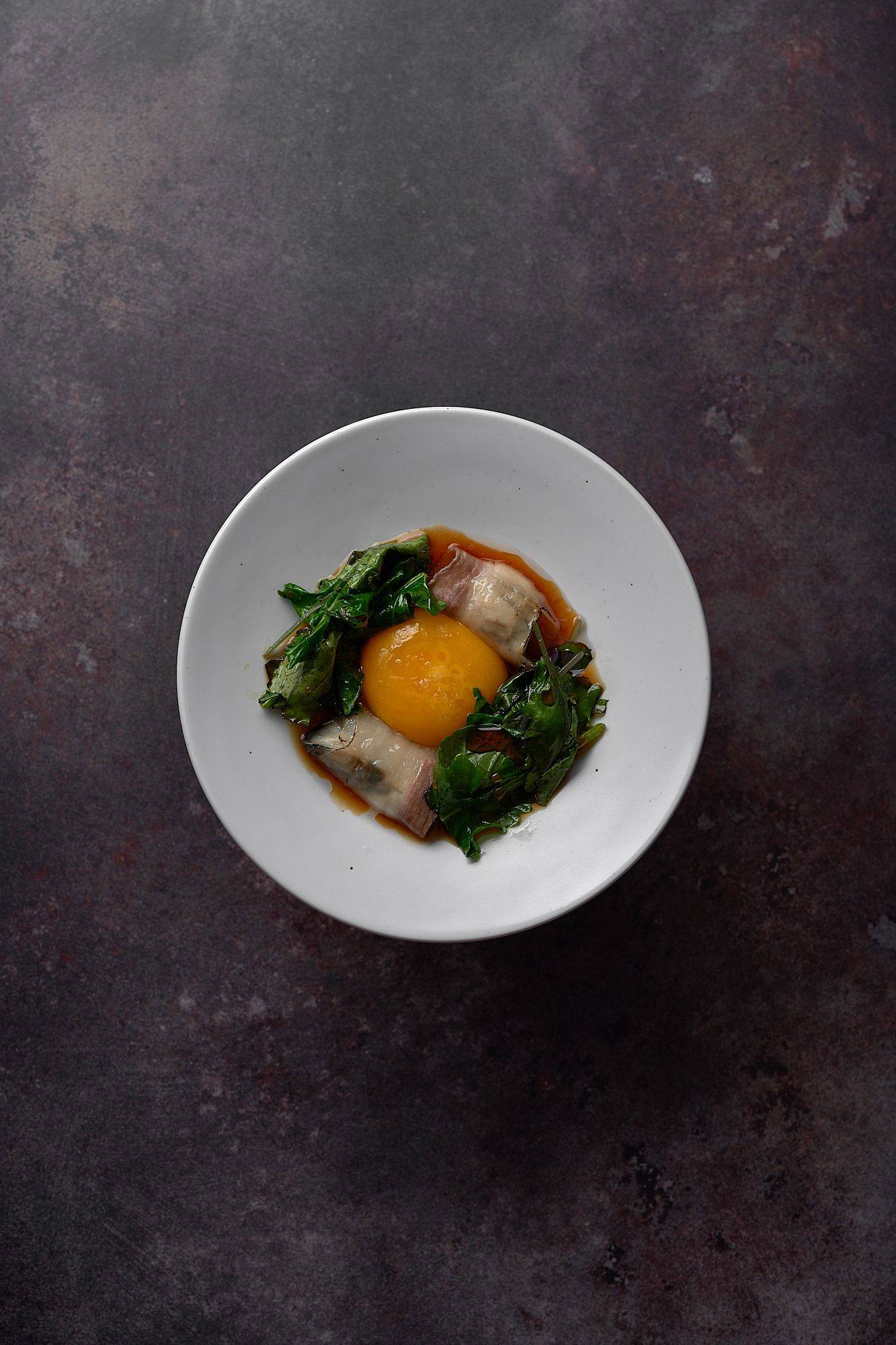 Smoked Eel
Another course from Daniel Feldsmann, this time rich smoked eel formed the basis for two kinds of pointed cabbage. One grilled and the other pickled. It was accompanied by some green apple for acidity and spicy dashi with shiso oil. In fact, it reads as delicious as it tastes. To go with it, Daniel decided to pour a Picon beer, which just made the whole thing round with its malty herbal notes.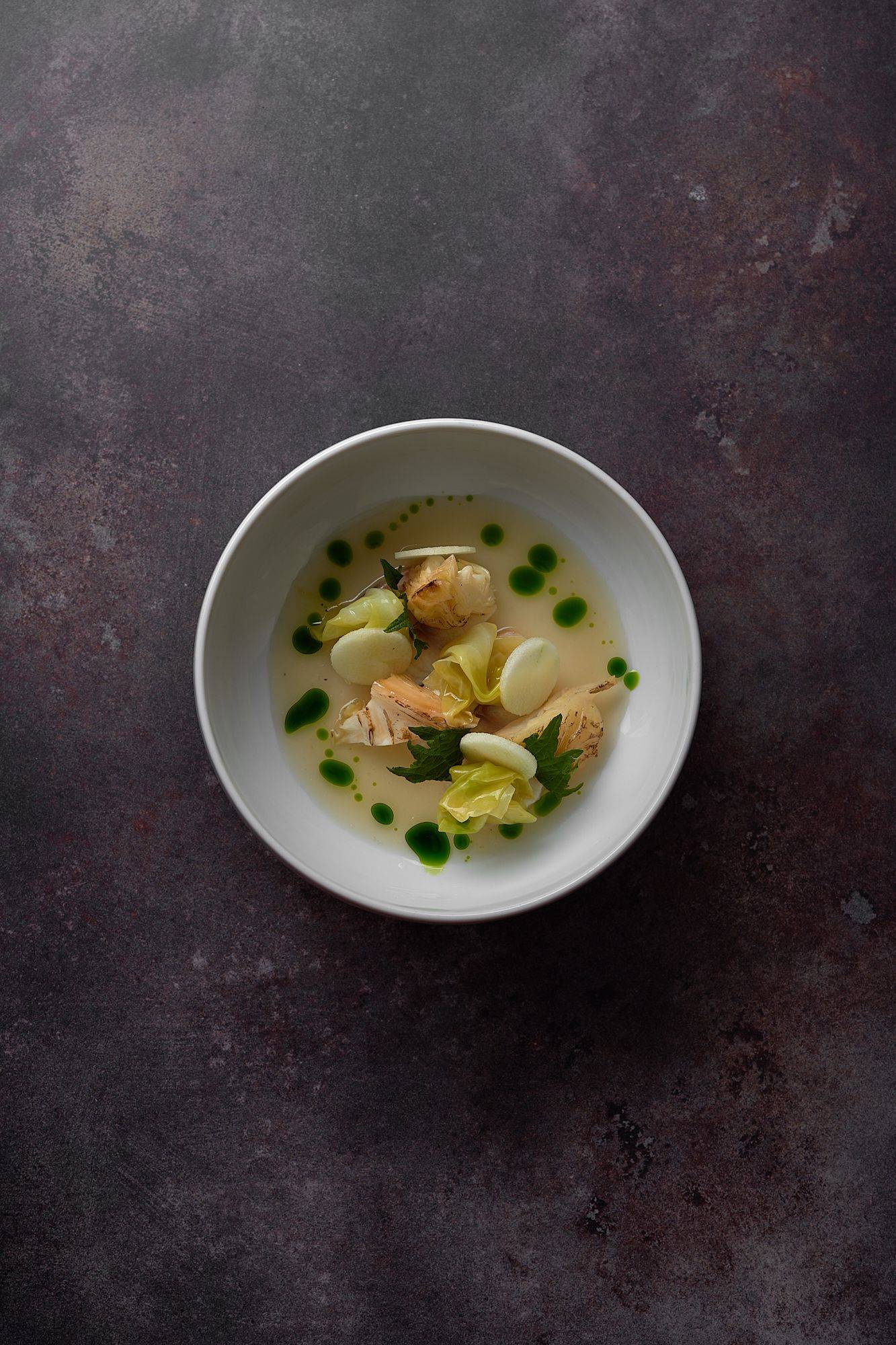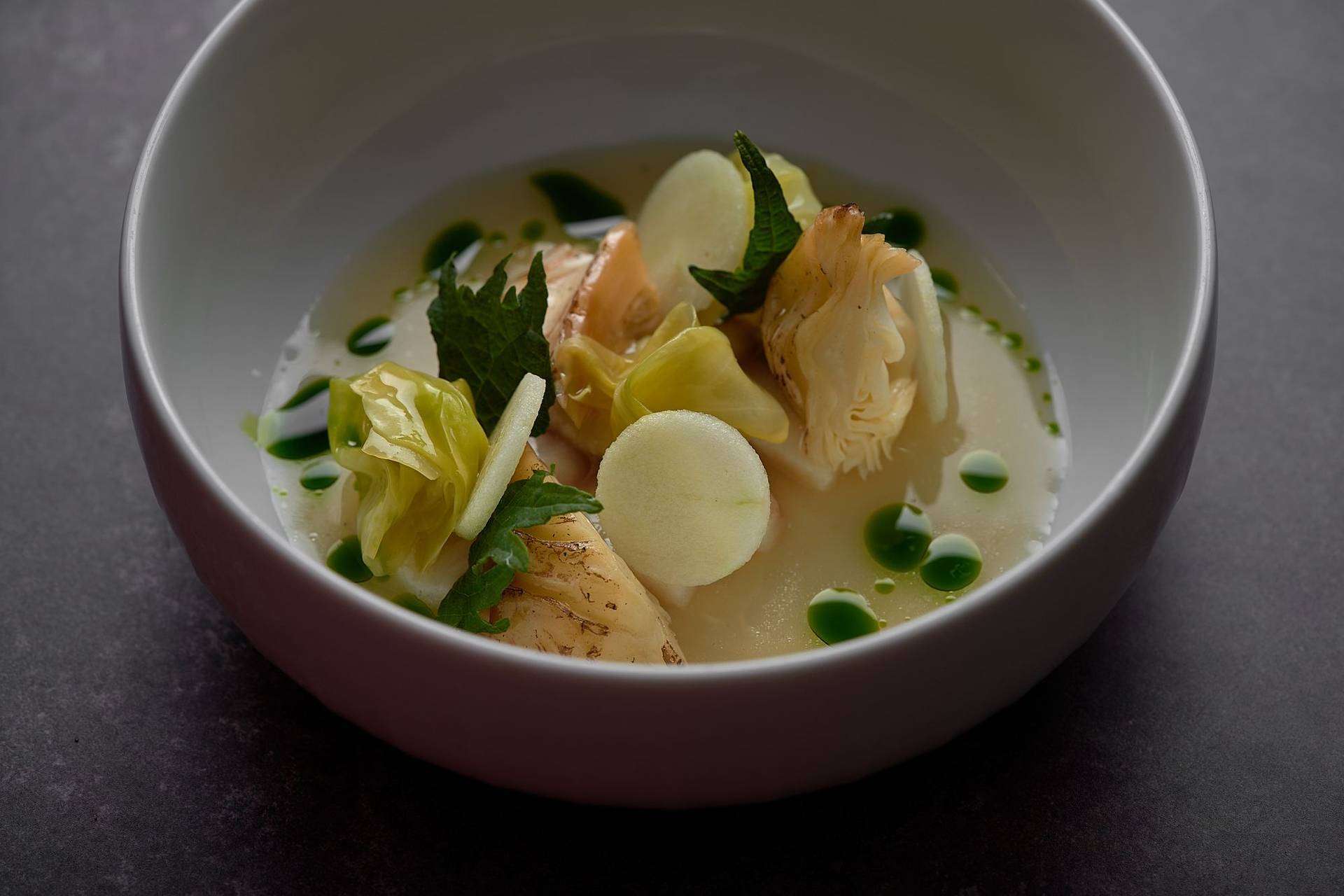 Kohlrabi
As a cleanser to prepare the taste buds on the tongue for what is to come, The Duc Ngo and Daniel Feldsmann opted not for a sorbet, as usual, but for this fresh course of raw marinated kohlrabi with Verjus, Szechuan pepper and seed oil. Homemade kombucha was poured to go with it, and a short break was taken. A crisp, fresh and vegan dish that again created space for everything else.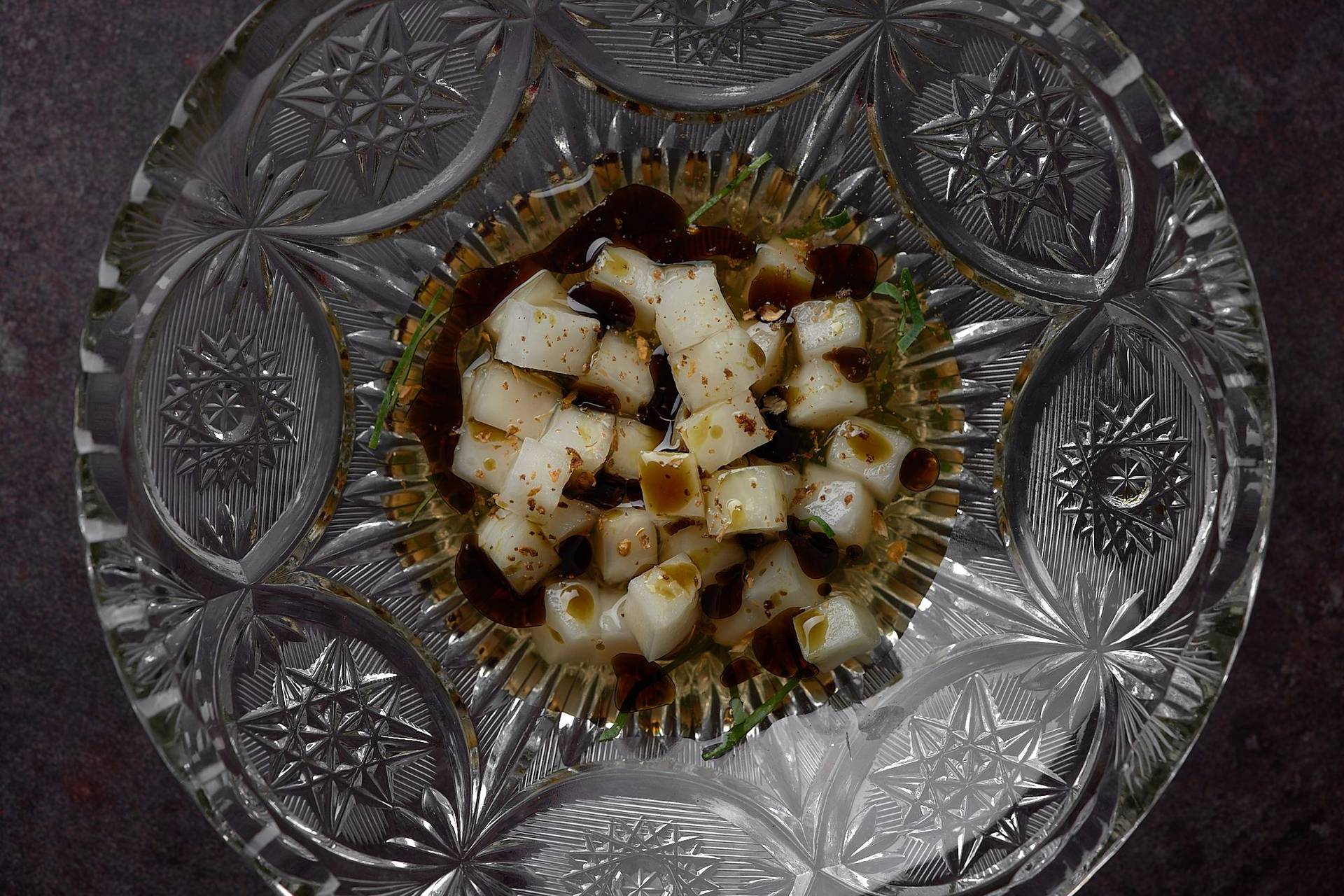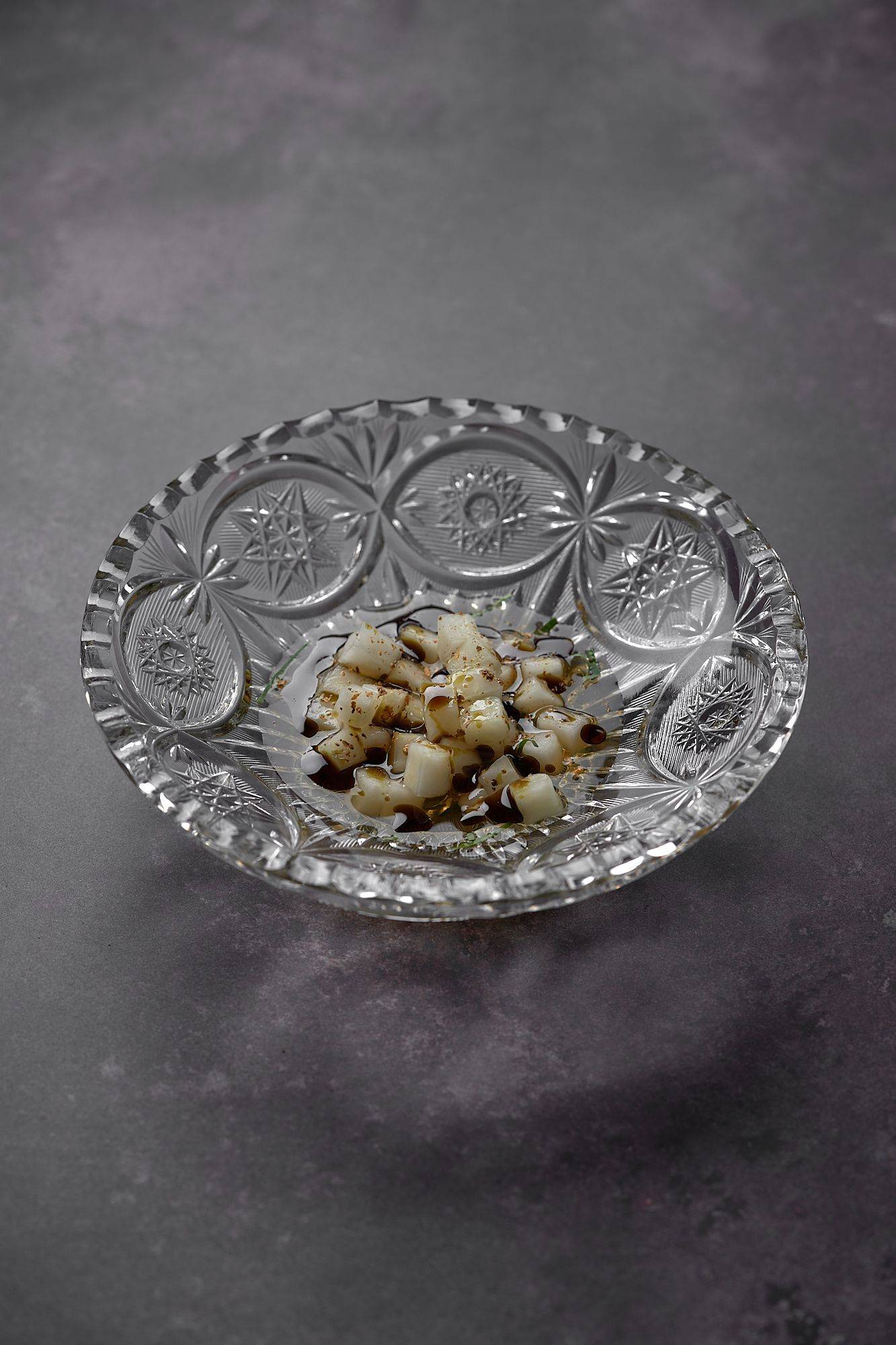 Razor Clams
We continued with a plate that reflected the flavors of The Duc Ngo's childhood. Wakame seaweed was covered with a Vietnamese rice soup cooked from scallop stock and sprinkled with grated shrimp and Aonoriko. Freshly grilled razor clams on top and done. Sounds simple and it is, but the taste and sweetness of the scallops with the comforting rice soup and crispy shrimp were truly an experience that made you want to go to the sea.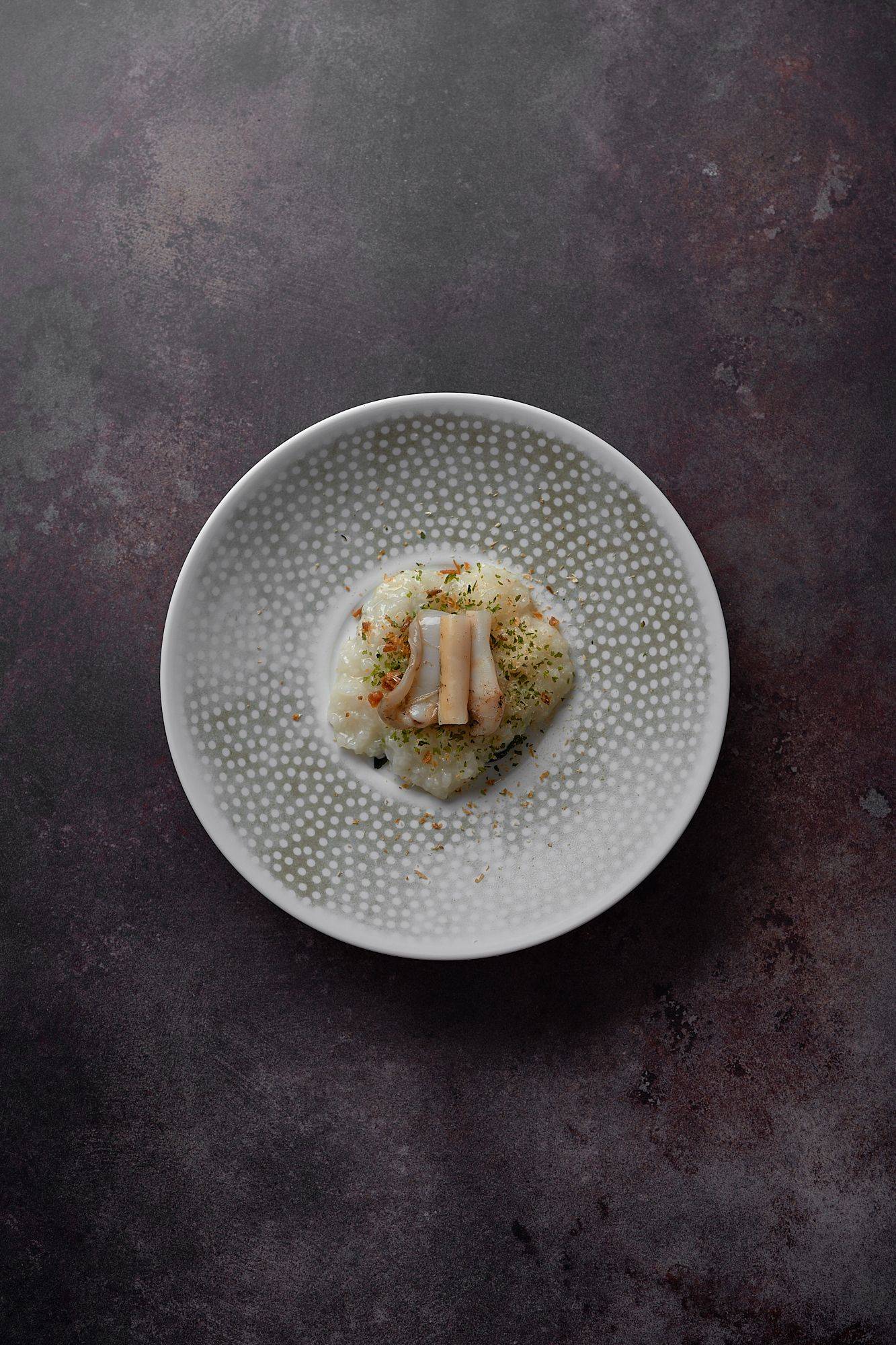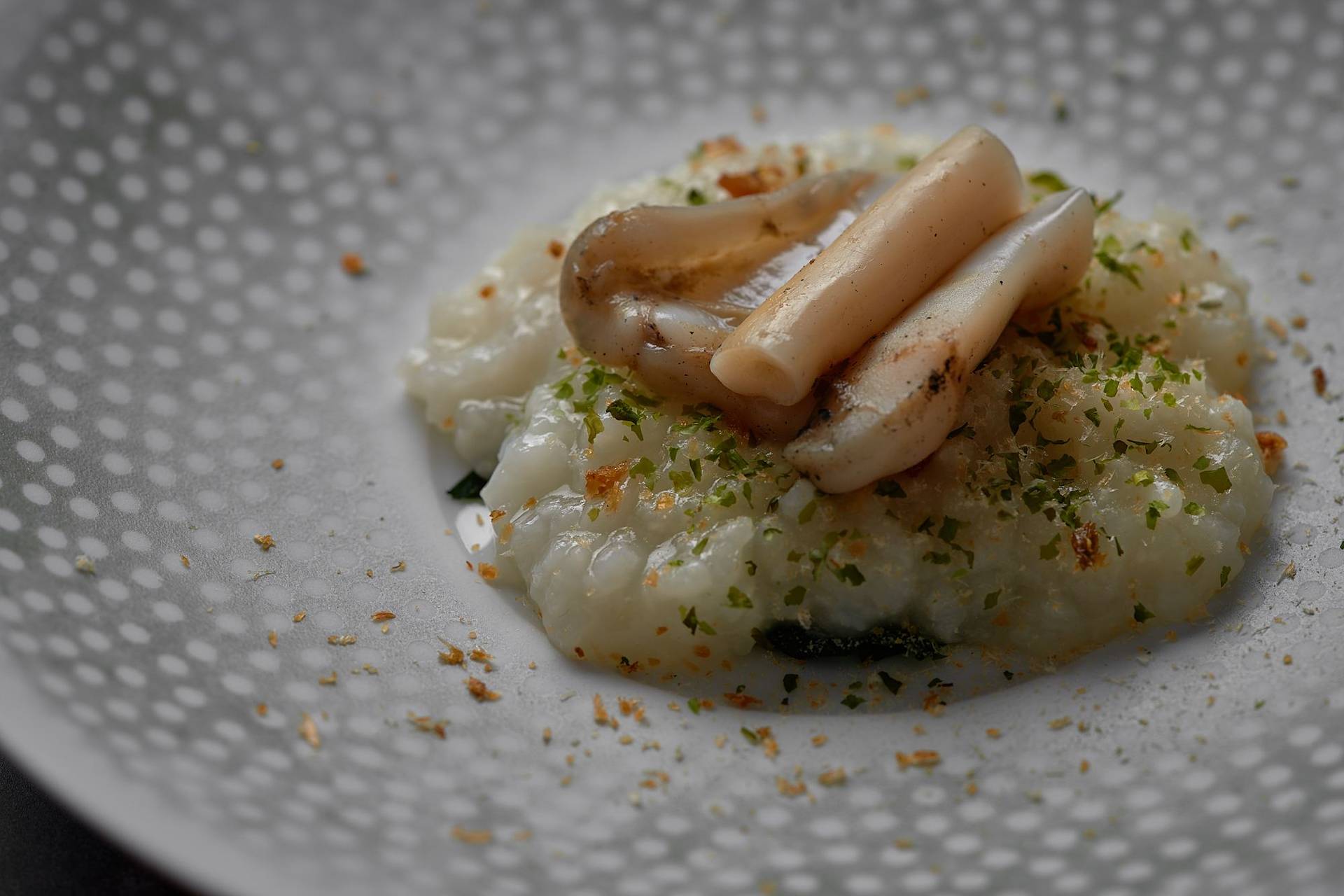 Halibut
This plate was simply terrific, and if you're a believer in butter as a flavor carrier, like Daniel Feldsmann or me, you would have kept asking for more. A butter confit halibut was set on a bed of Thai basil and gremolata and topped with a Beurre Blanc consisting of Vin Jaune and trout caviar. With this, guests enjoyed a 2019 Timorasso Bianco Derthona and had finally arrived. So much flavor and power with just three components, simple and terrific. At this point I must also highlight the beverage accompaniment. This was not only accessory, but also provided for the overall experience on the palate at some points.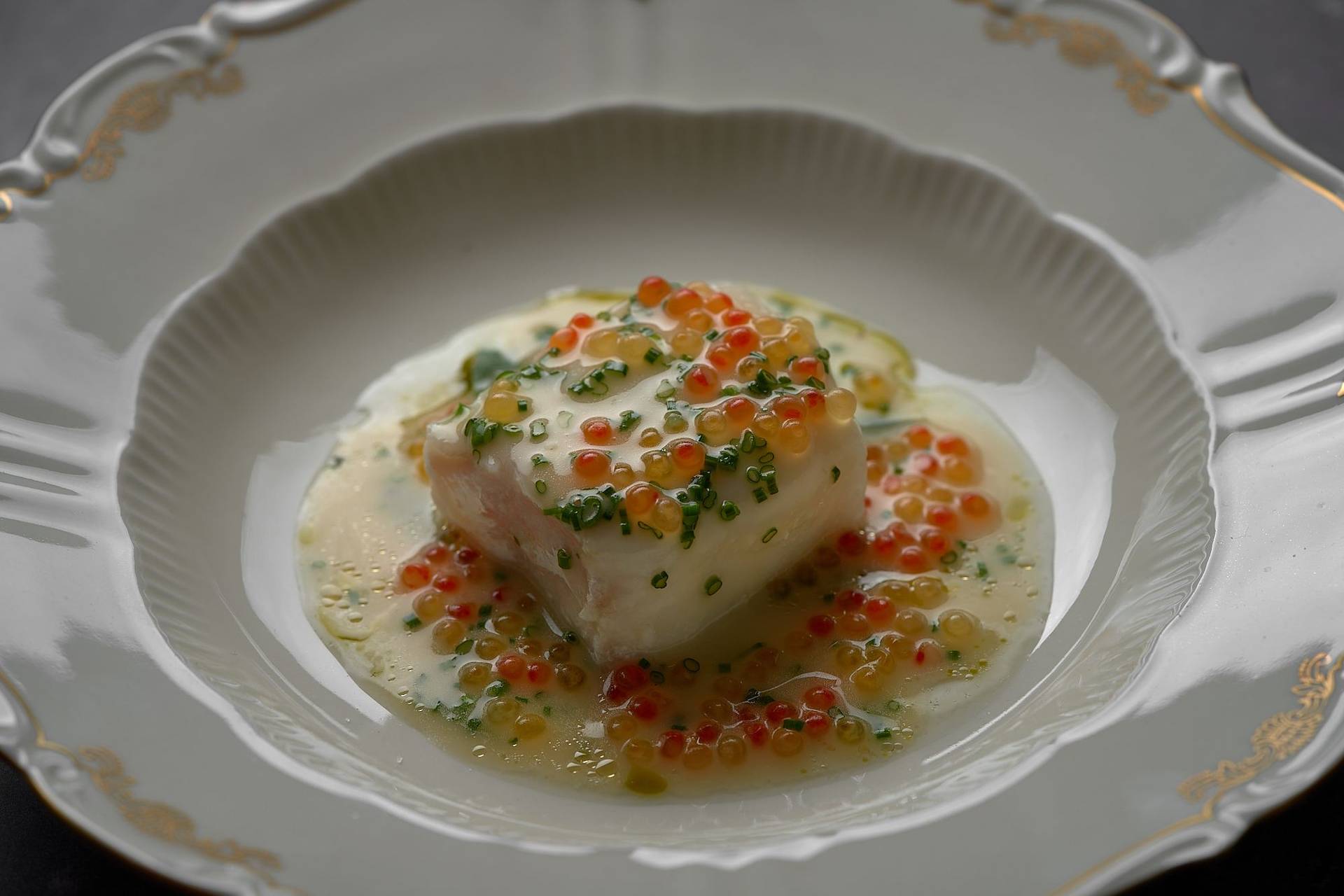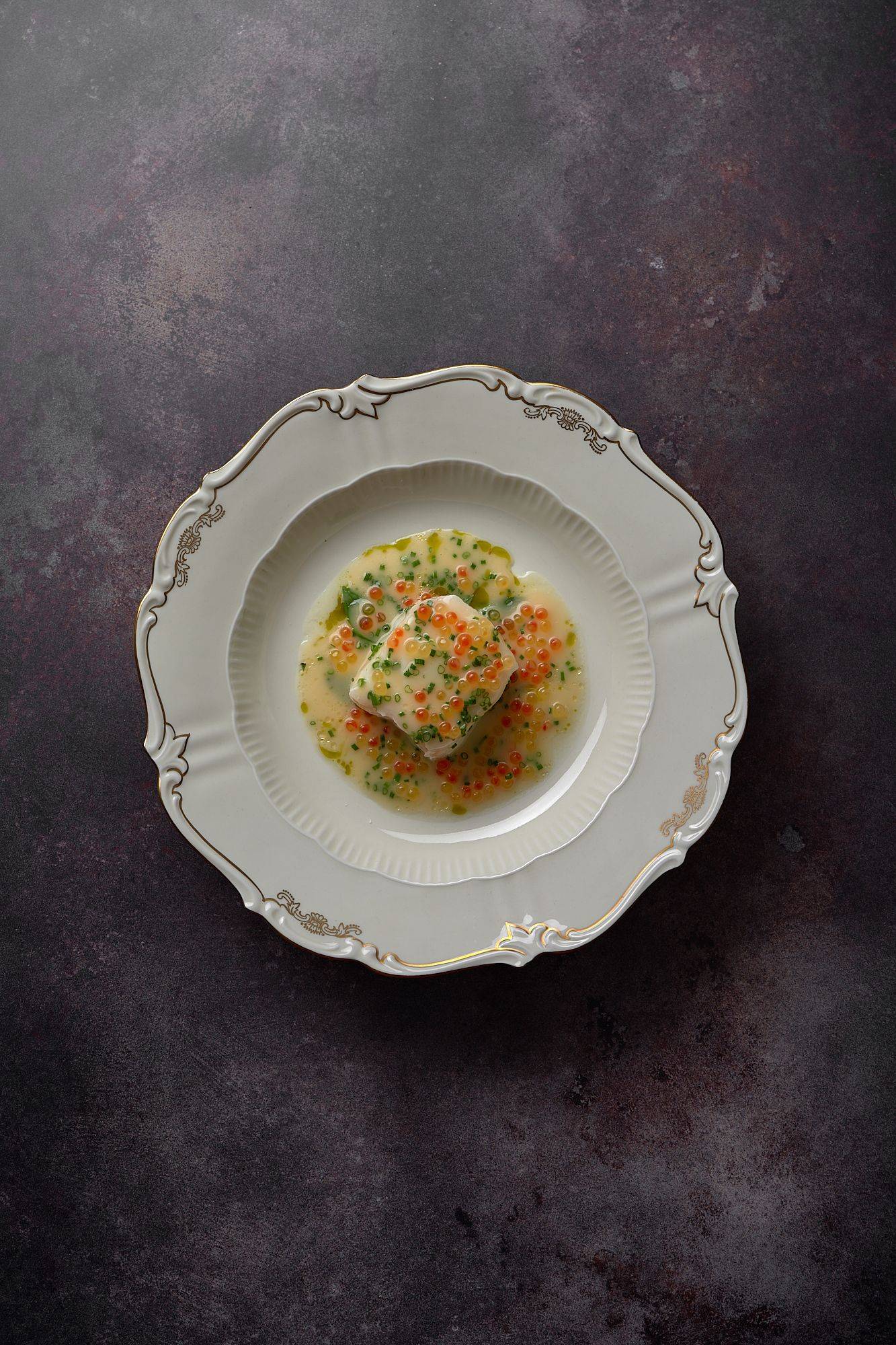 Tuna
A classic with The Duc Ngo, since my first time at the then Shiro i Shiro restaurant. Once again, the focus here was on the product. Seared hot and then placed on a bed of XO sauce, it needed no more for happiness. When asked about the ingredients in the sauce, sushi master Masao Watari simply replied, "so much Benny San." I would explain it with Mexican mole sauce just in a Japanese way. This plate had so much power that Jana Kämpfer also poured a red wine into the glasses. A 2019 Pinot Noir from Franz Keller was to be it and was once again a very nice pairing.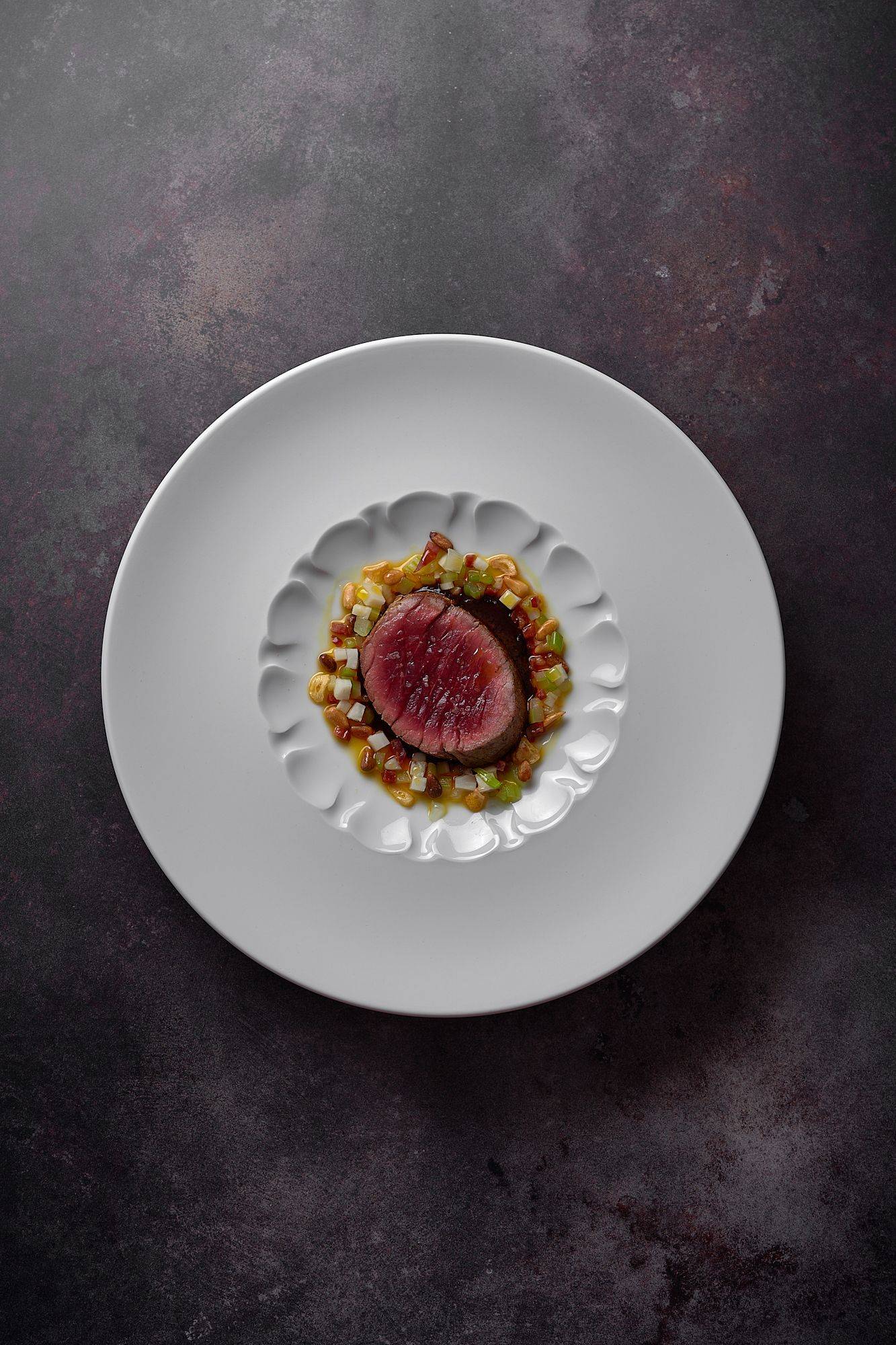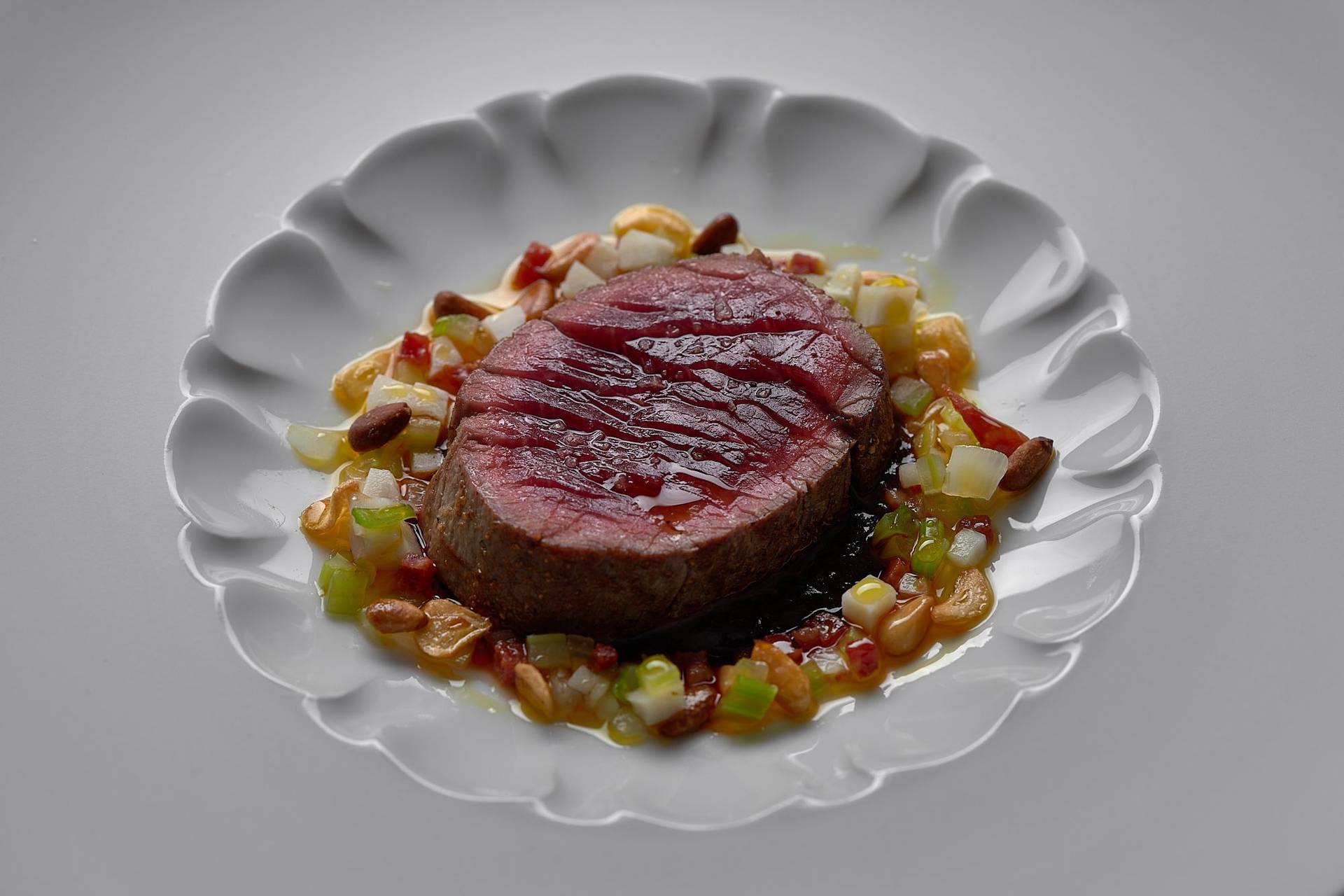 White Chocolate
Now it was time to serve my desserts and I decided to start by building a bridge to the savory seafood. For those present a parfait consisting of shiso and lime was now served, which was covered with a thin layer of white chocolate. This gave a slight crunch but was also fresh and light. The caviar added the salt of the sea and the shiso leaf underneath perfumed the parfait a bit. Jana Kämpfer also called out "shots, shots, shots" and served a champagne shot from Tattinger. Amusing and delicious in equal measure.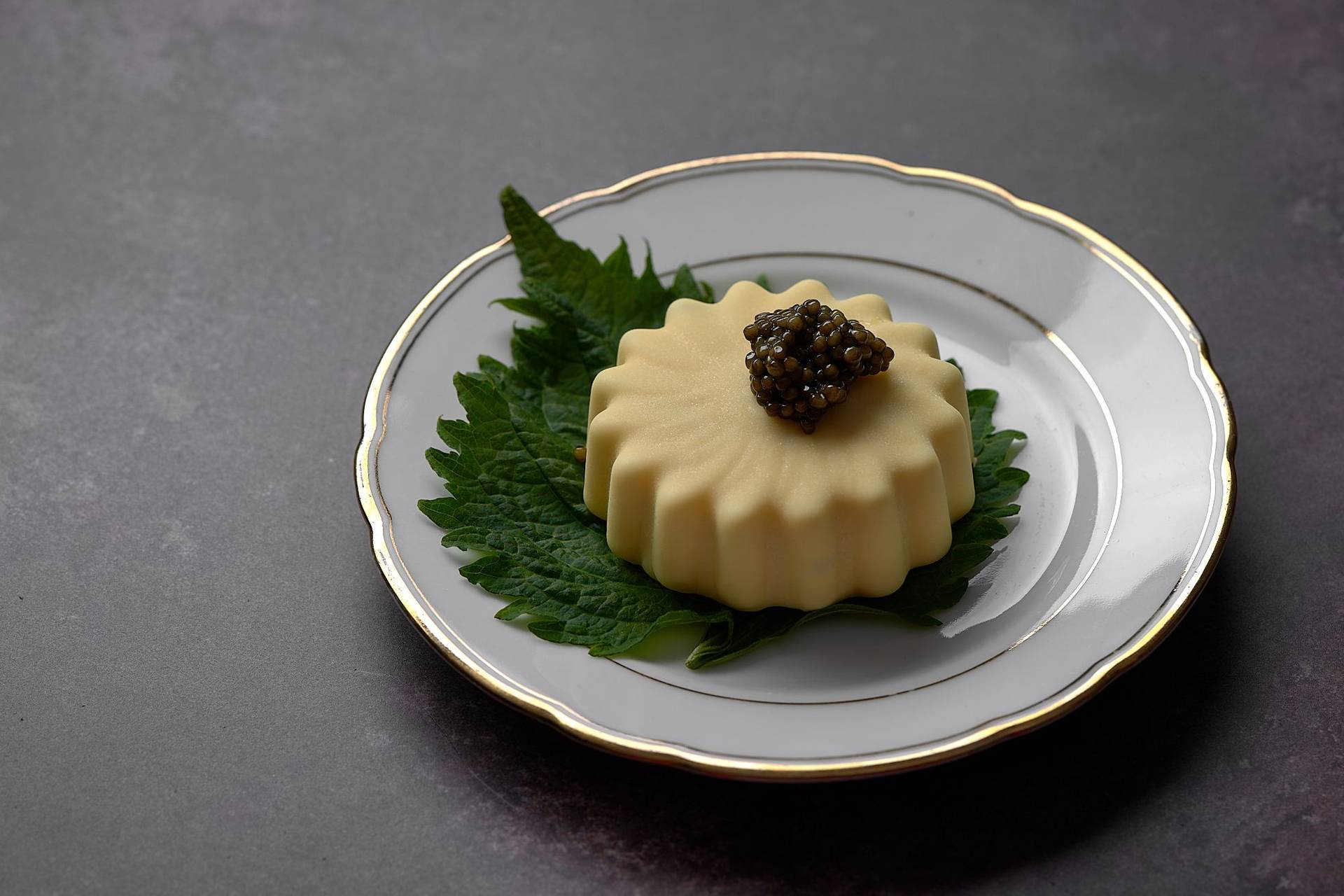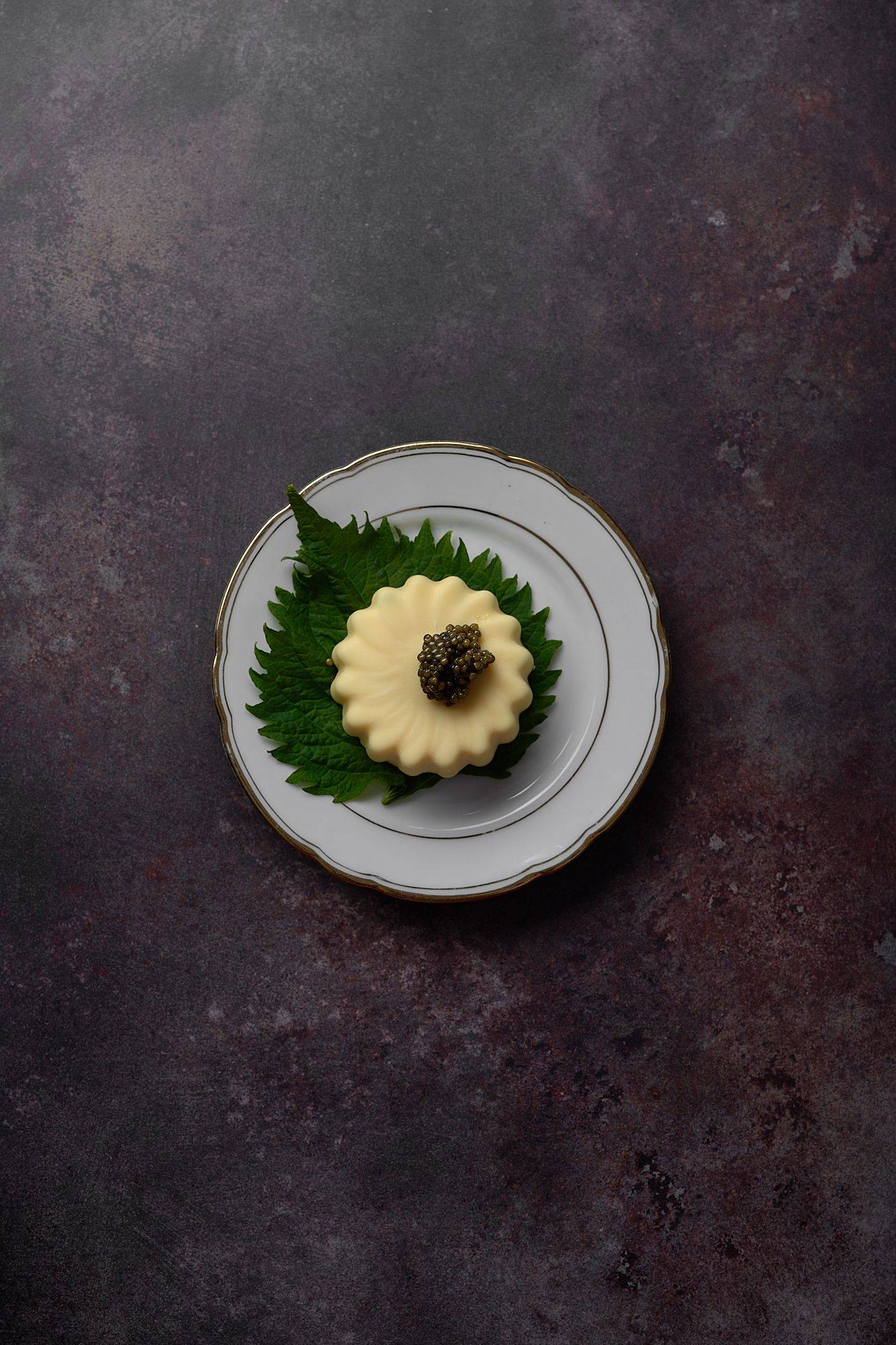 Sea Buckthorn
Daniel Feldsmann requested a sea buckthorn dessert that evening and that's what he and of course all the guests got. We layered a cream of sea buckthorn and yogurt with an additional fried matcha financier and filled the whole with a carrot ragout, which was seasoned with red miso paste and pepper. This was accompanied by a fresh broth of sea buckthorn, carrot, and coriander seeds to add acidity to the dessert. At the end, the little tower got a topping of slightly salted yogurt foam and some nori. For the drink pairing, I opted for a Sencha Gimlet with carrot. A fresh, light and very tasty dessert.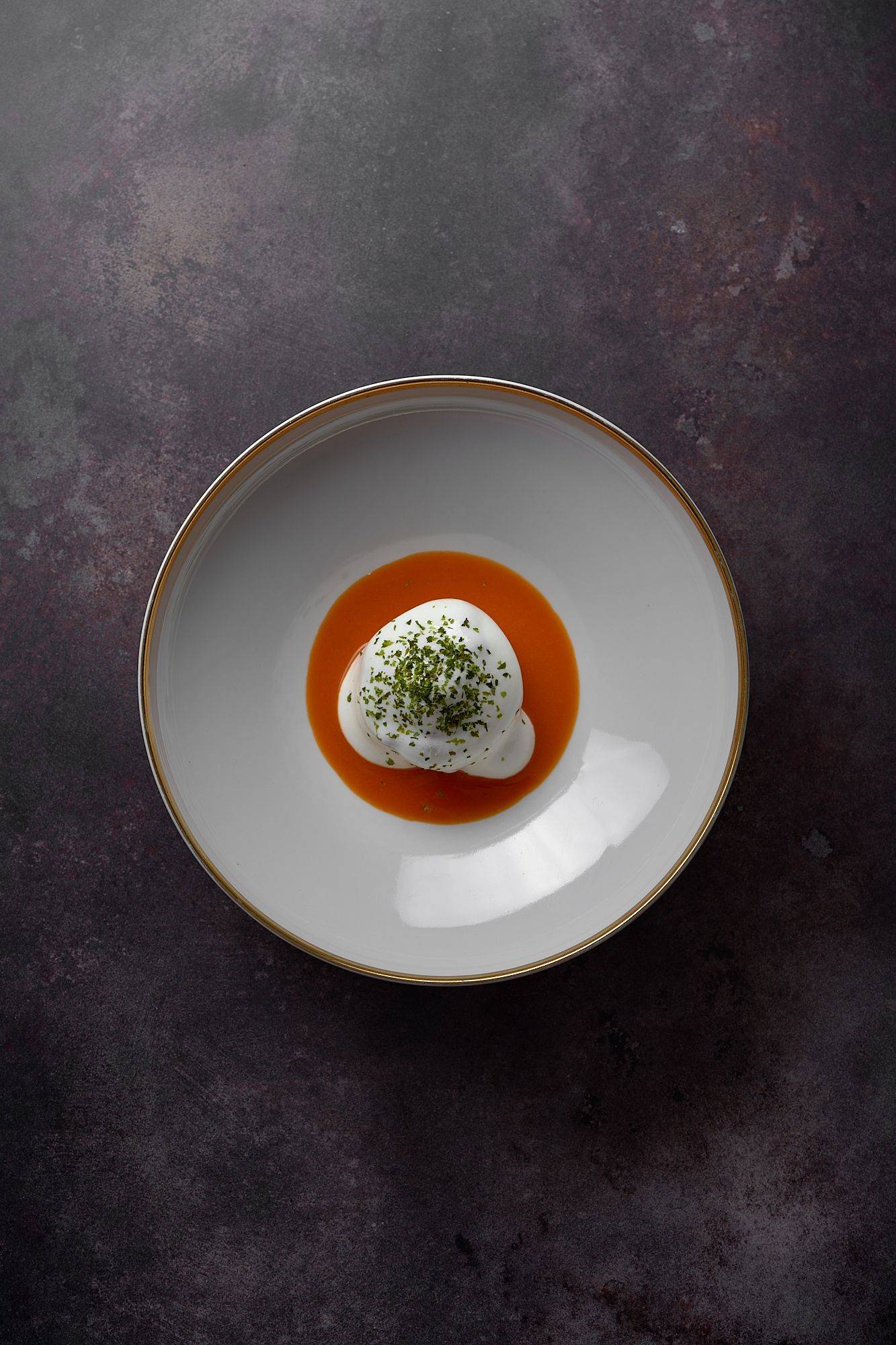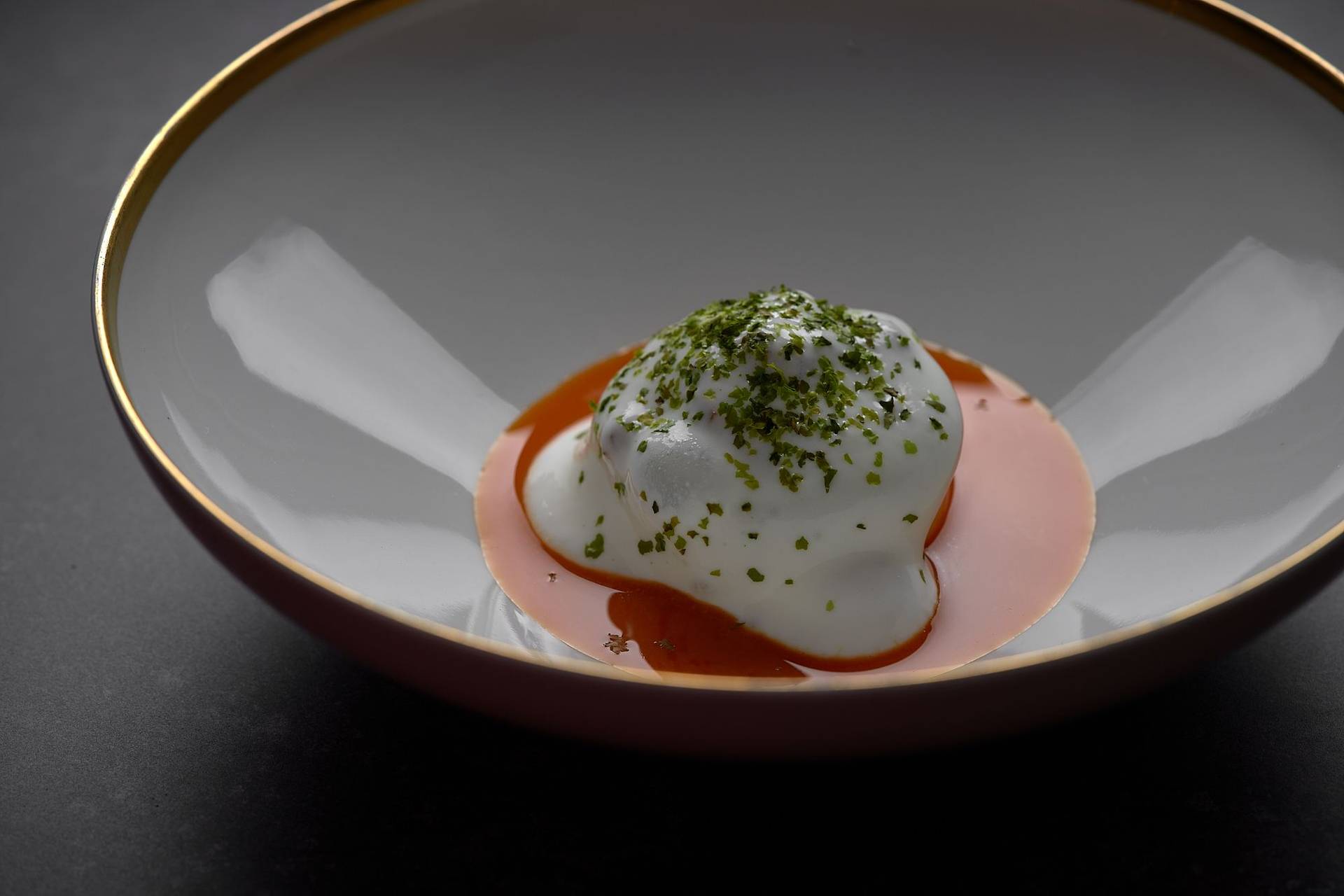 Book and experience Le Duc Salon
If you would like to experience an evening at Le Duc Salon as a guest, you can easily book it on the website. All currently planned pop-ups are offered here. In the future, however, there will still be a lot going on here and, for example, pure vegetable pop-ups are planned, just to mention one. To do this, simply subscribe to Eatery Berlin, because I may be there again as a guest chef and let you know as soon as dates are available.
Newsletter
Can't get enough?
Get some secret ingredients through our newsletter!