Recipe
Herbs–Yogurt Ice Cream with Grilled Peaches & Olive Oil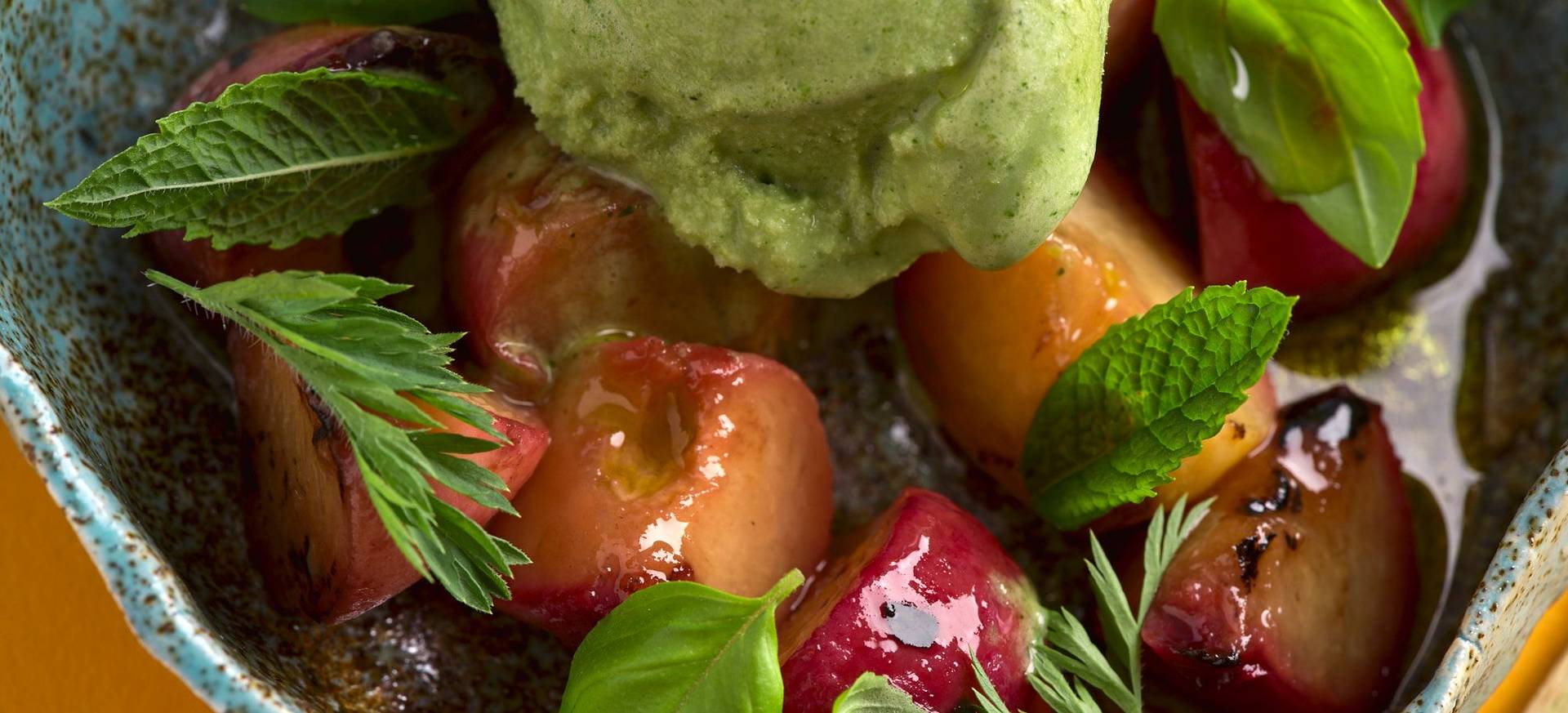 This article contains advertising.
Summer, sun and a refreshing ice cream simply belong together. If you help yourself to what is available in the garden, the homemade creamy ice cream is even better. But did you know that you can combine culinary pleasure and help for people in need? The guys from Pouli Organic Olive Oil make it possible.
Extra virgin olive oil – organic, fair & social
"When companies focus on environmental awareness, fair working conditions and social responsibility, they can have an enormously positive impact on people and nature. We act exactly according to this maxim and would like to make our contribution to this new way of doing business in the long term." Otto and David, the two founders of Pouli, spent six months on Lesbos in Greece themselves in 2019 and directly experienced the situation of refugees on the island. "We were shocked that people in Europe have to live in such undignified conditions. We want to help change that."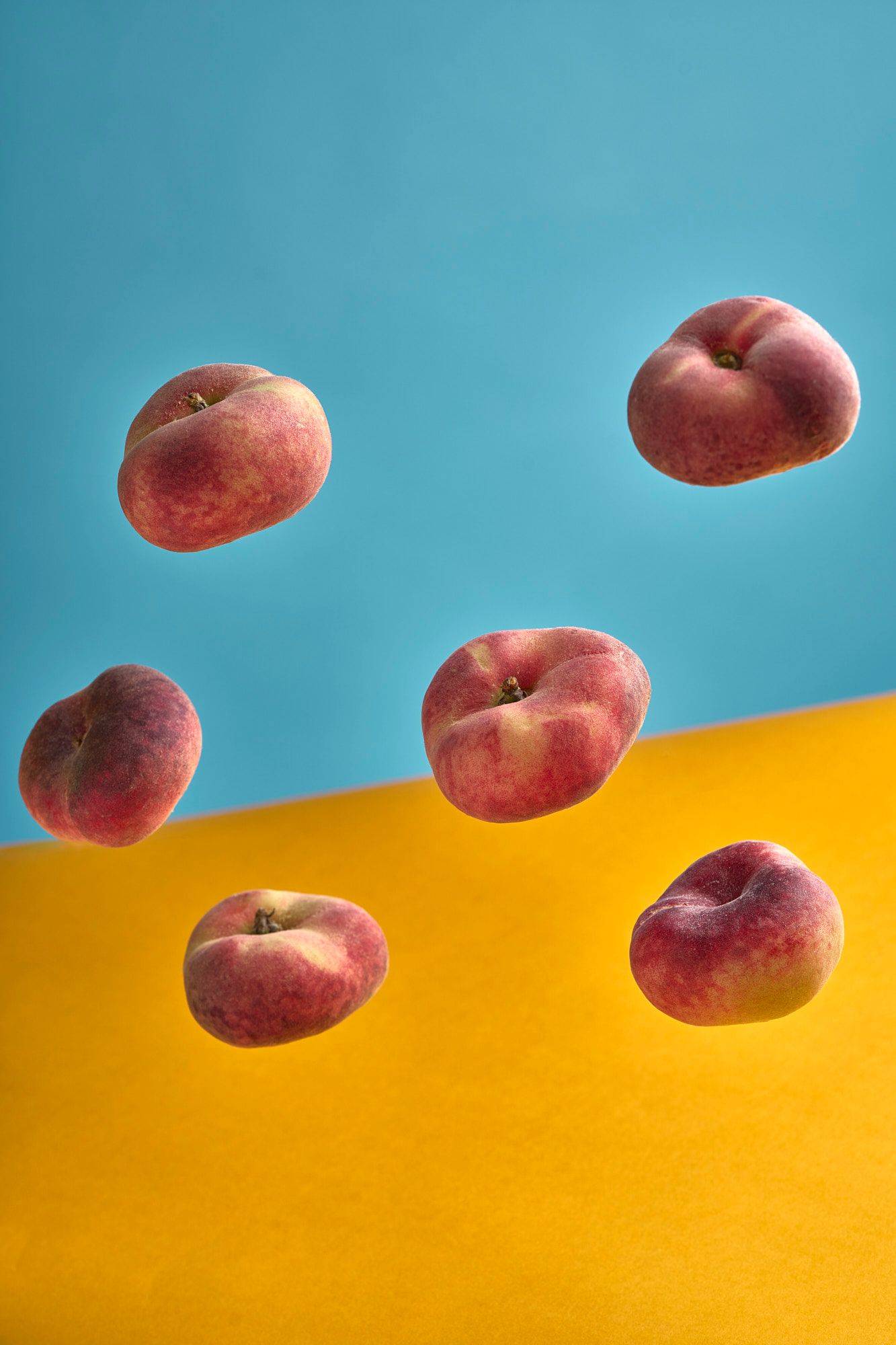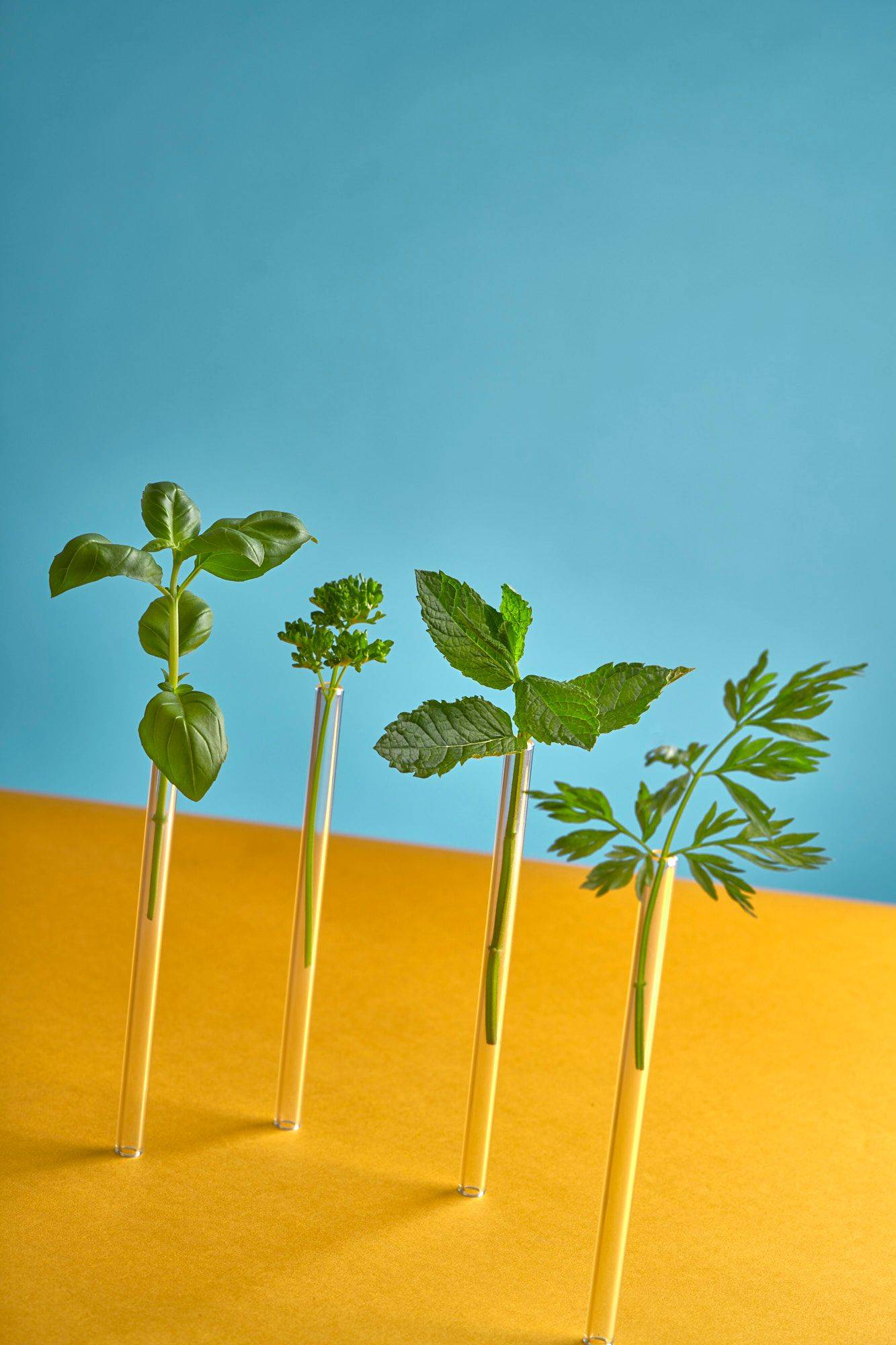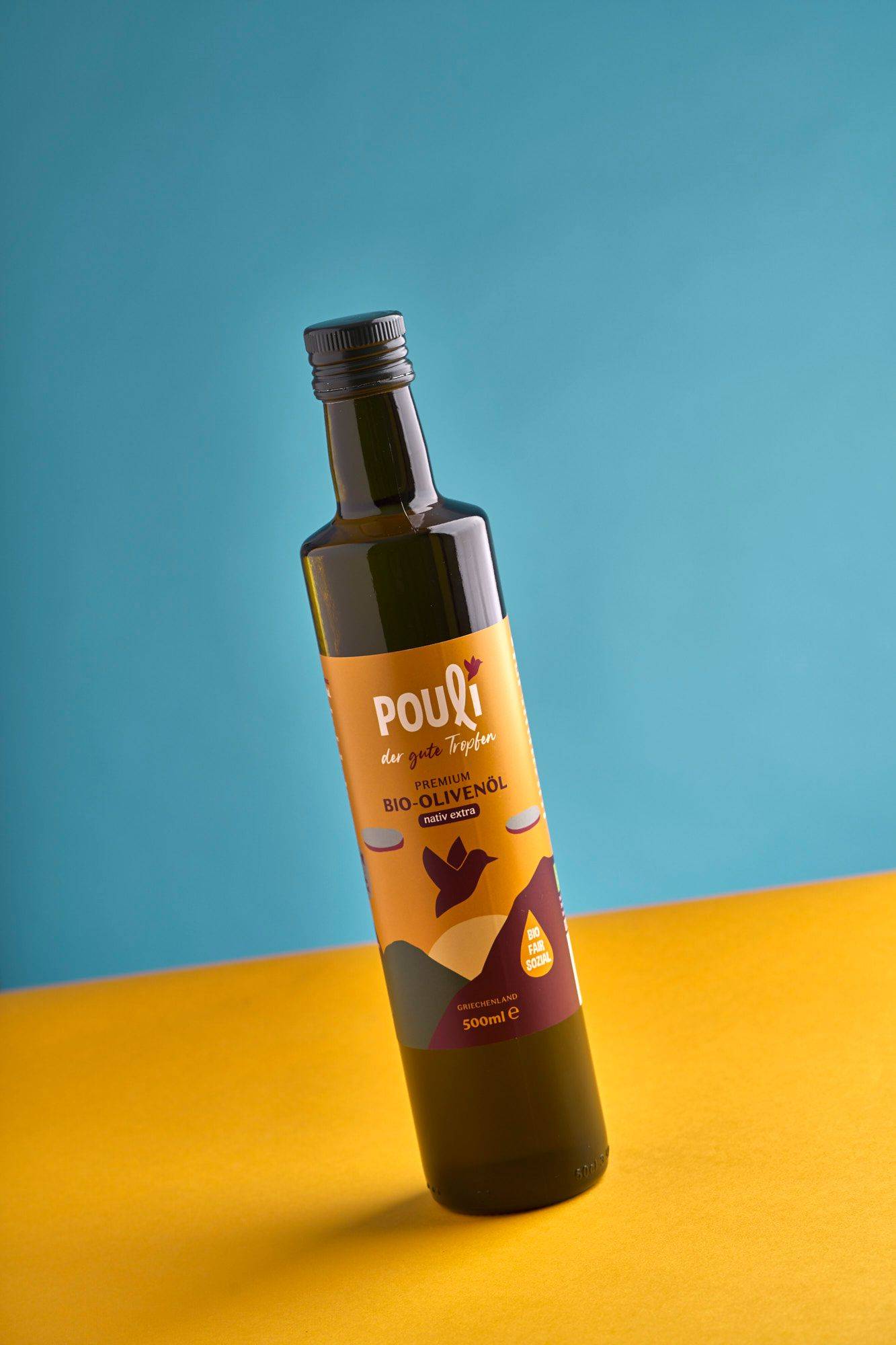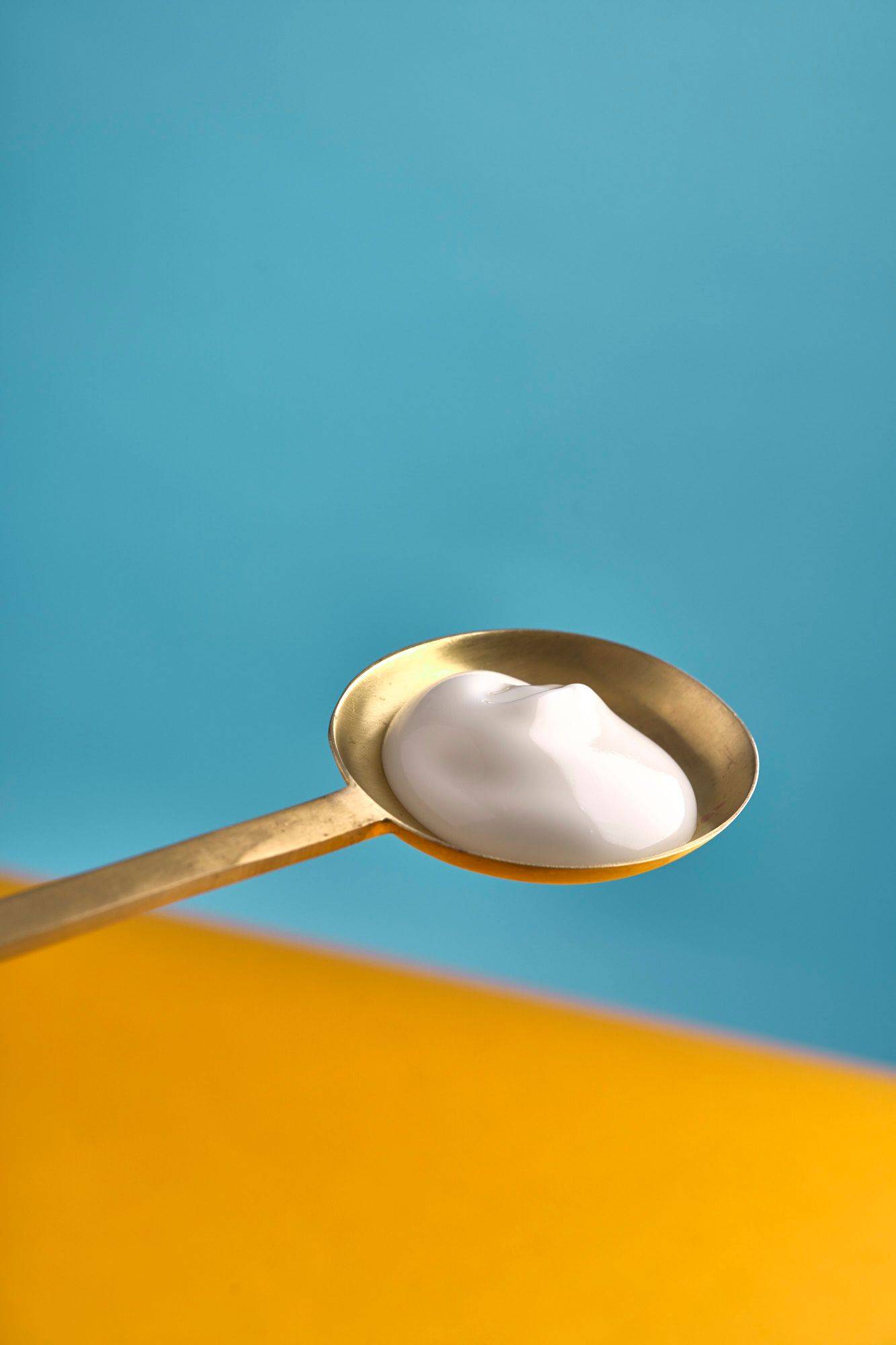 Greek olive oil – combines taste and help
Organic farming and fair payment of small farmers are basic requirements for Pouli. In addition, five percent of all sales go to the Hamburg-based aid organization Medical Volunteers, which provides basic medical care for refugees in Greece. The olives for Pouli Organic Olive Oil are harvested by hand and then cold pressed in a purely mechanical process, thus preserving the secondary plant compounds. The organic cultivation method, traditional harvesting and natural processing on site form the basis for quality that you can taste.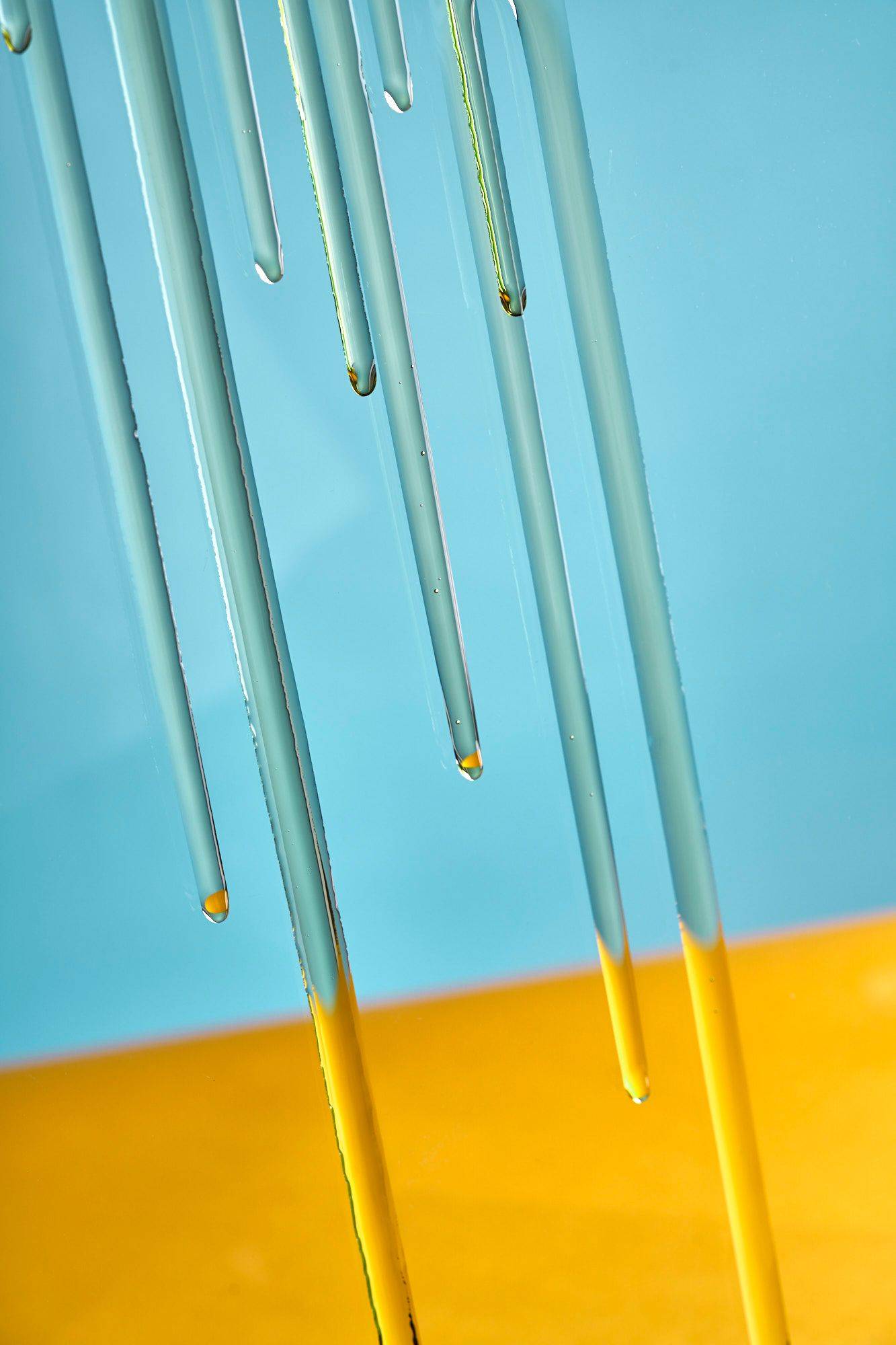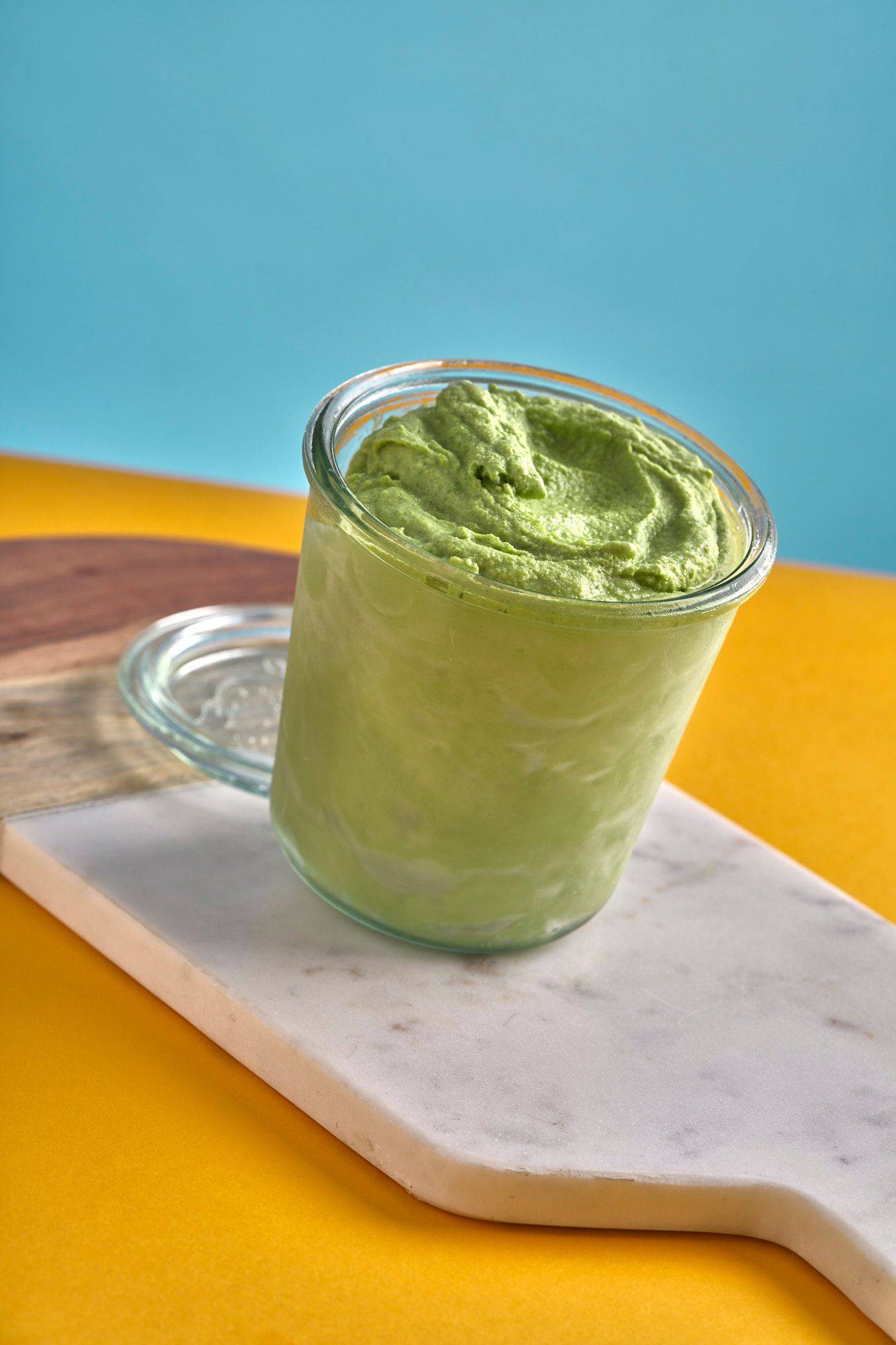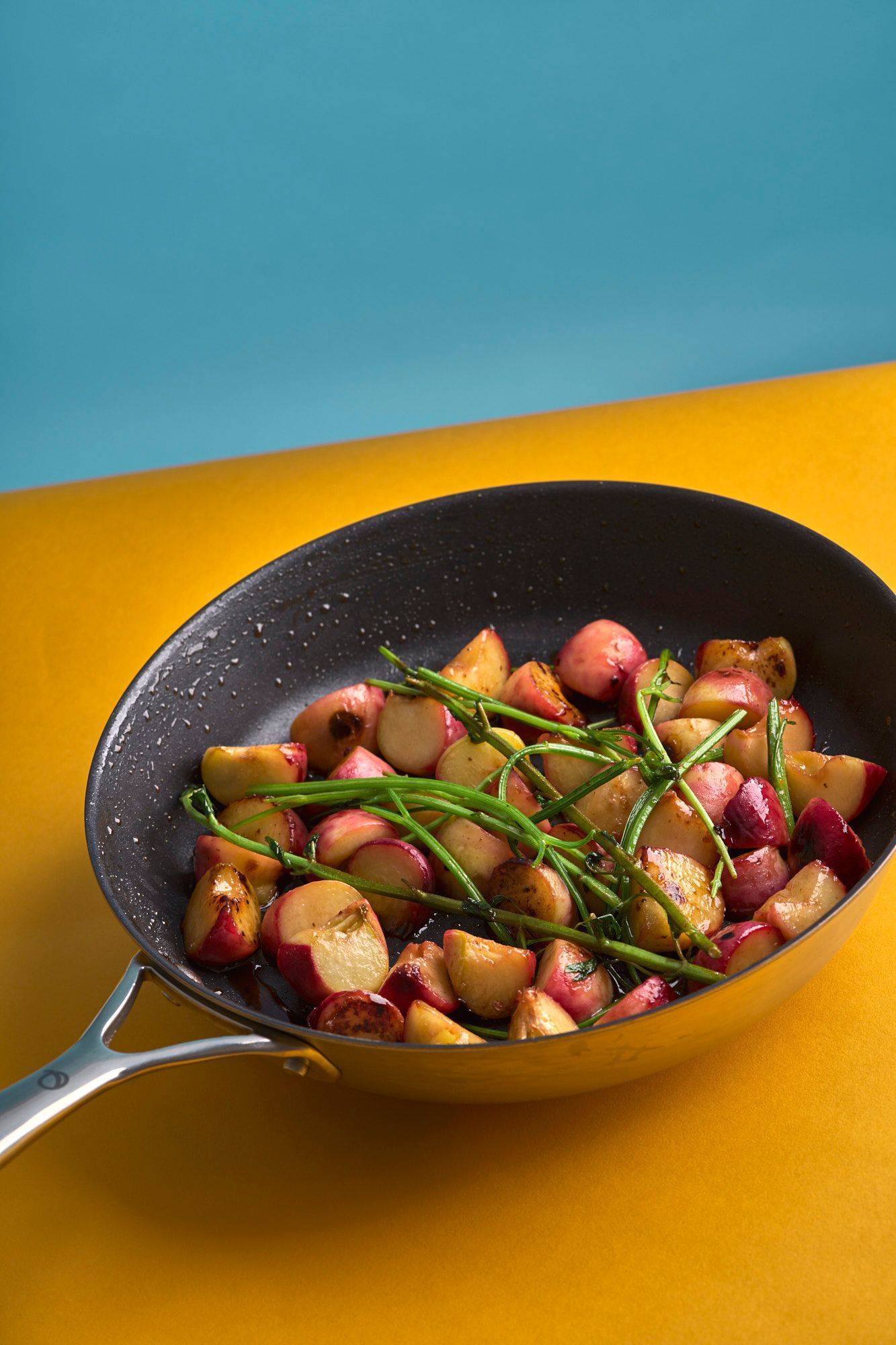 Creamy ice cream & grilled peaches
This simple recipe for creamy herbs–yogurt ice cream should have a Mediterranean character just like the mild Greek olive oil itself. Our garden also held just the right ingredients for this. A colorful mixture of herbs and delicious Greek yogurt melted on the tongue as a delicious ice cream. Accompanied by grilled white peaches and a good spoonful of extra virgin olive oil, it ended up as a delicious dessert for warm summer evenings. Try it out and order a bottle of Pouli organic olive oil, so the little sin still becomes something good for others.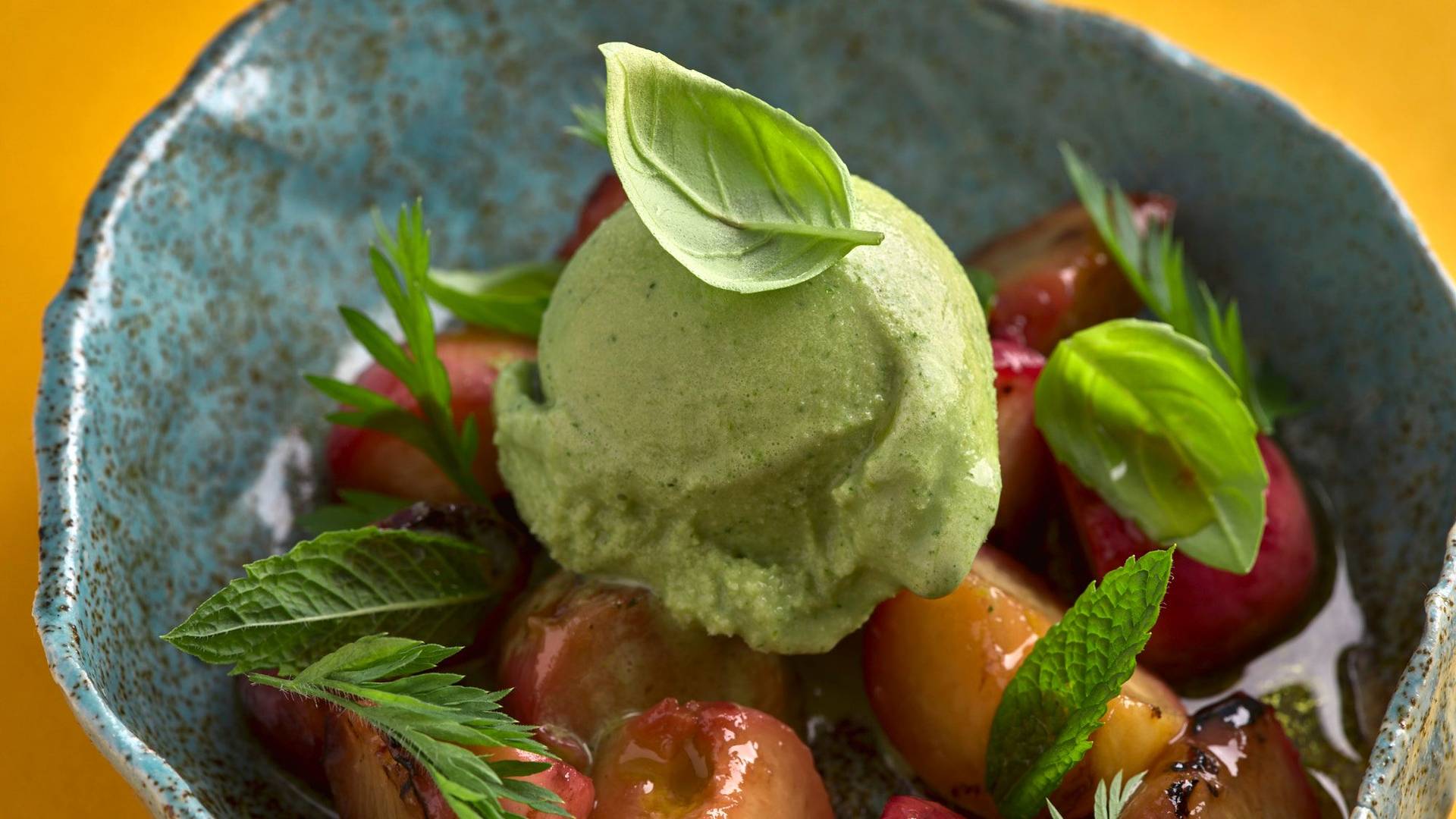 Accept YouTubes marketing cookies to watch this video.
Recipe
Herbs–Yogurt Ice Cream with Grilled Peaches & Olive Oil
8 Persons20 Minutes
Herbs–Yogurt Ice Cream
150 ml Milk
100 g Sugar
½ Lemon
½ TL Guar Gum
Salt to flavor
½ Bunch Mint
½ Bunch Basil
½ Bunch Parsley
½ Bunch Green of Carrots
450 g Greek Yogurt
For the herbs–yogurt ice cream, put the milk, sugar, lemon zest and guar gum in a blender. Wash the herbs and pluck them in the blender, keeping the stems for the peaches. Feel free to vary the herbs according to your taste and availability. Now blend everything until smooth and then mix with the Greek yogurt. Freeze the ice cream mix in the ice cream maker and let it mature in the freezer for about 1 hour afterwards.
Grilled Peaches
8 White Peaches
Extra Virgin Olive Oil
Herb Stems
1 tbsp Honey
½ Lemon
Salt to flavor
For the grilled peaches, first cut all the fruits in half, remove the seeds and then cut each half into three pieces. Heat up a pan, add a little olive oil and fry the peaches in it. Once the peaches have taken color, add the rest of the ingredients and toss the pan. Let the grilled peaches cool down a bit before serving.
Serving
Herbs Mix
8 tbsp Extra Virgin Olive Oil
To serve, place the lukewarm grilled peaches in a bowl and arrange a scoop of herbs–yogurt ice cream on top. Now pluck a few fresh herbs and refine with extra virgin olive oil.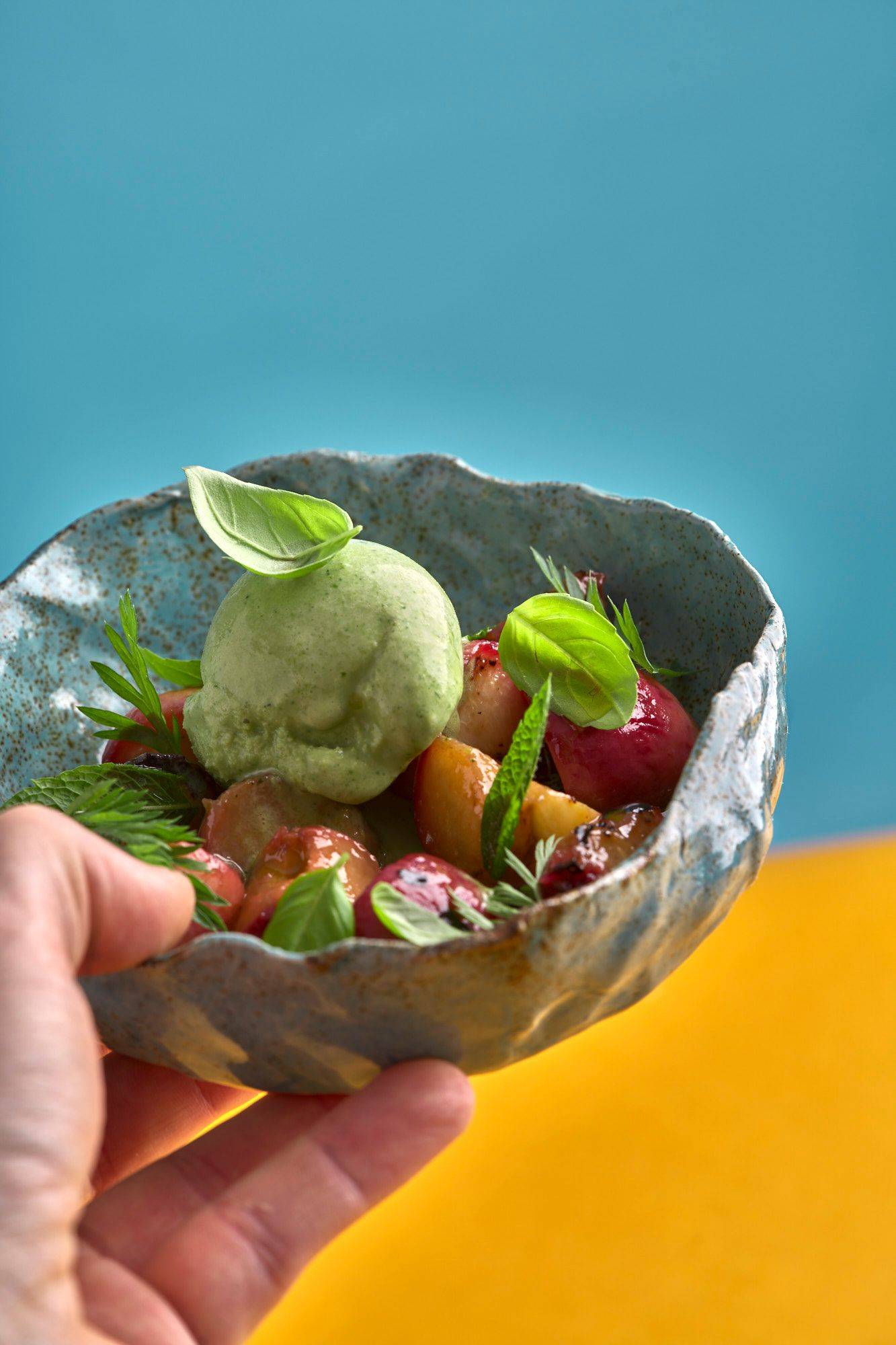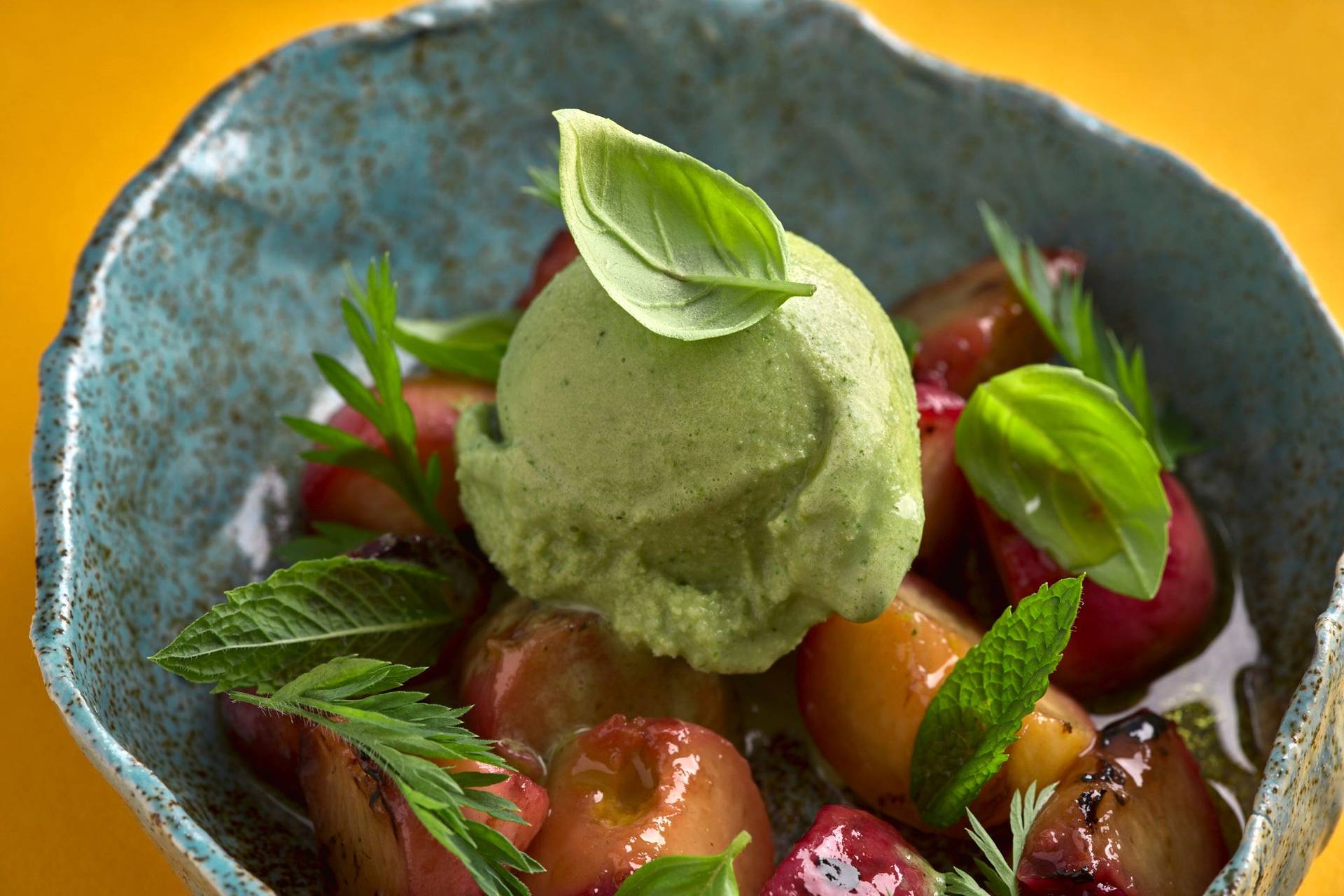 Newsletter
Can't get enough?
Get some secret ingredients through our newsletter!