Recipe
Autumn Jerusalem Artichoke Variation
Vegetarian | Gluten-Free | Sugar-Free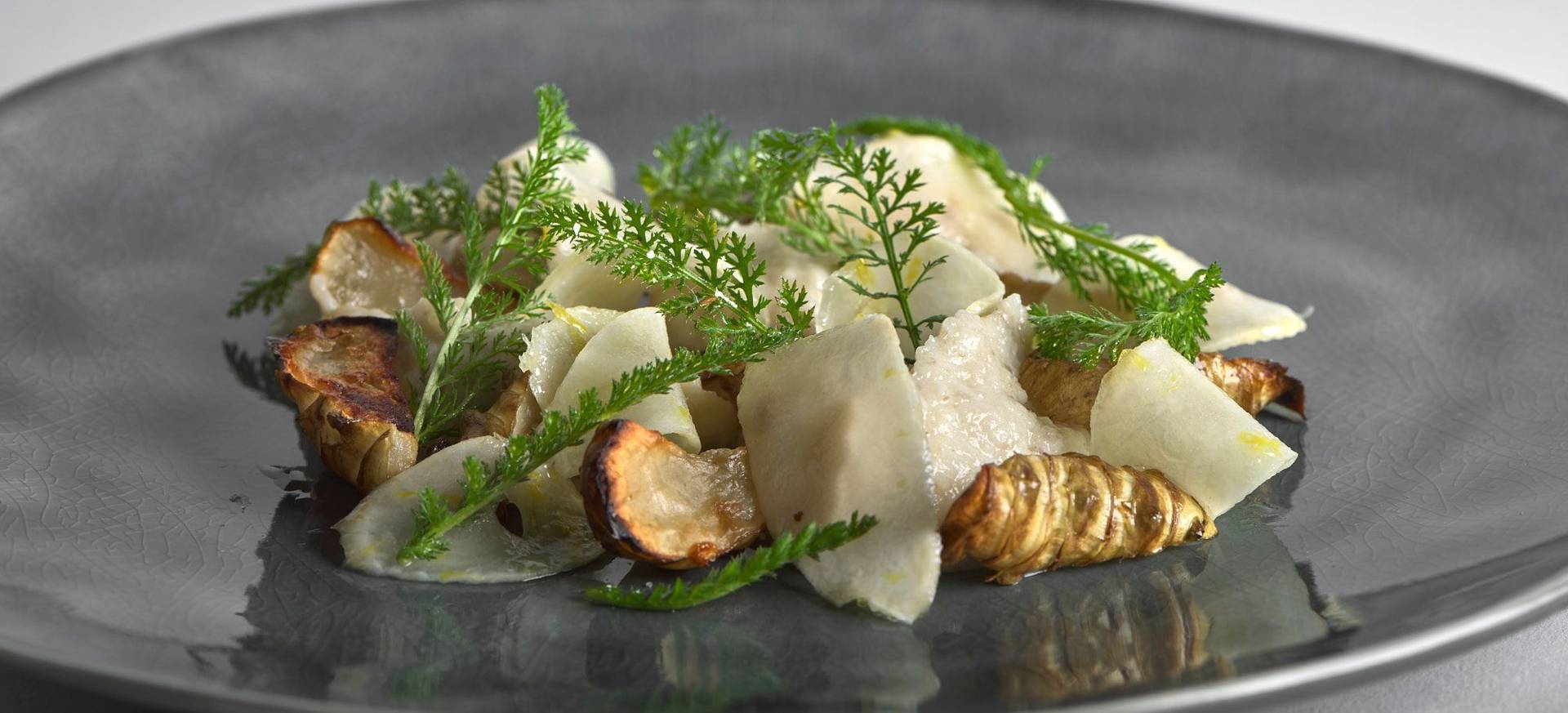 With the temperatures dropping, I figured it was time again for an oven dish, something rustic to go with the gray and rainy weather. What I always like to do is give a stage to individual ingredients like Jerusalem artichokes, that are often underrated, at least to me. For years, Jerusalem artichoke was mainly used to feed pigs and cattle, even though it tastes delicious and its juice can be used for diabetics. Fortunately, Jerusalem artichoke has returned to restaurant kitchens and diners are finding it in numerous variations, even on dessert plates.
Taste and use of Jerusalem artichoke
Jerusalem artichoke has a nutty taste and the consistency reminds a little of artichoke. Jerusalem artichoke can be used to make delicious soups, purees and creams. You can boil Jerusalem artichokes, fry them, dry them or even turn them into ice cream. Jerusalem artichoke also tastes great unpeeled, which will please those of you who like to cook with minimal effort. Cooked, it is slightly sweet and makes a great accompaniment to all sorts of Mediterranean dishes or a variety of herbs. My choice for this recipe was to prepare Jerusalem artichokes in a variety of ways and create excitement in your mouth by mixing textures. I simply roasted them in the oven with some lemon thyme, cooked a creamy Jerusalem artichoke puree, and I also left some raw, to marinate with just lemon juice and olive oil. The result is a dish that is just perfect for the coming season.
As always, you could also add some if you prefer to try my Jerusalem artichoke variation with a piece of fish or meat, for example. Sea bass, lamb or beef also go very well with it. Still, I think this recipe can stand well on its own and doesn't necessarily need meat to make it good. Roasted flavors, fat, acidity and sweetness are all present and make this a wonderful vegetarian main course.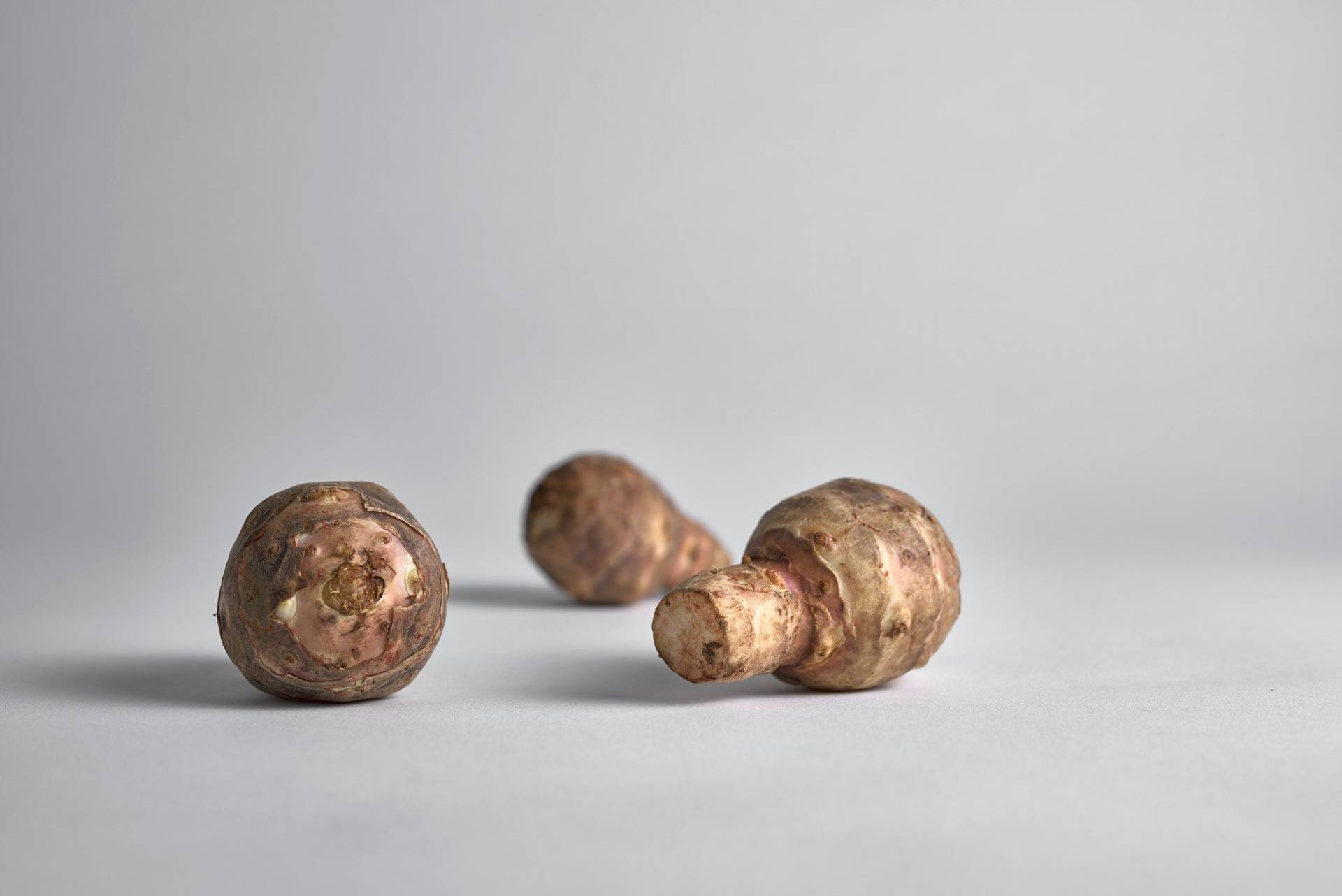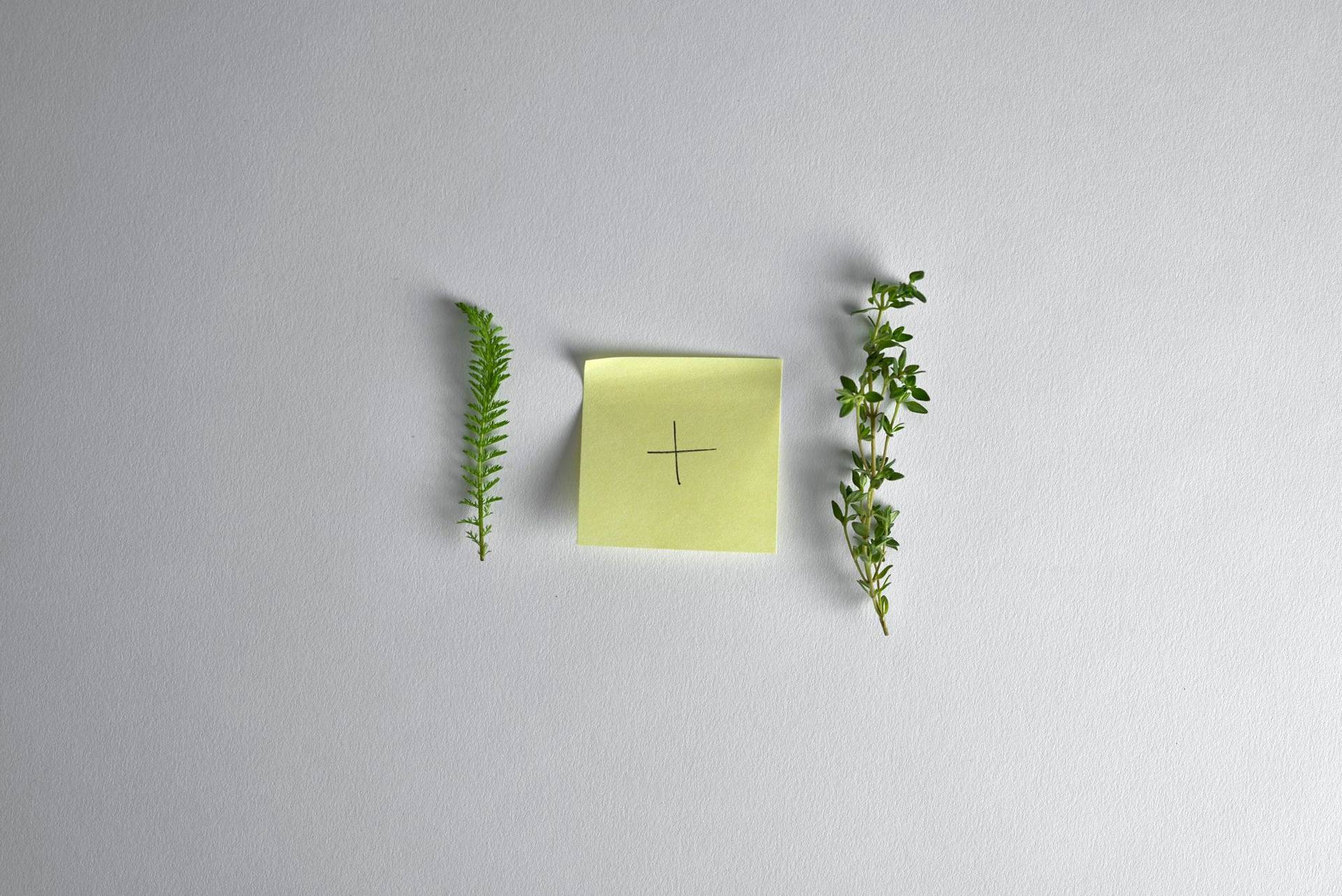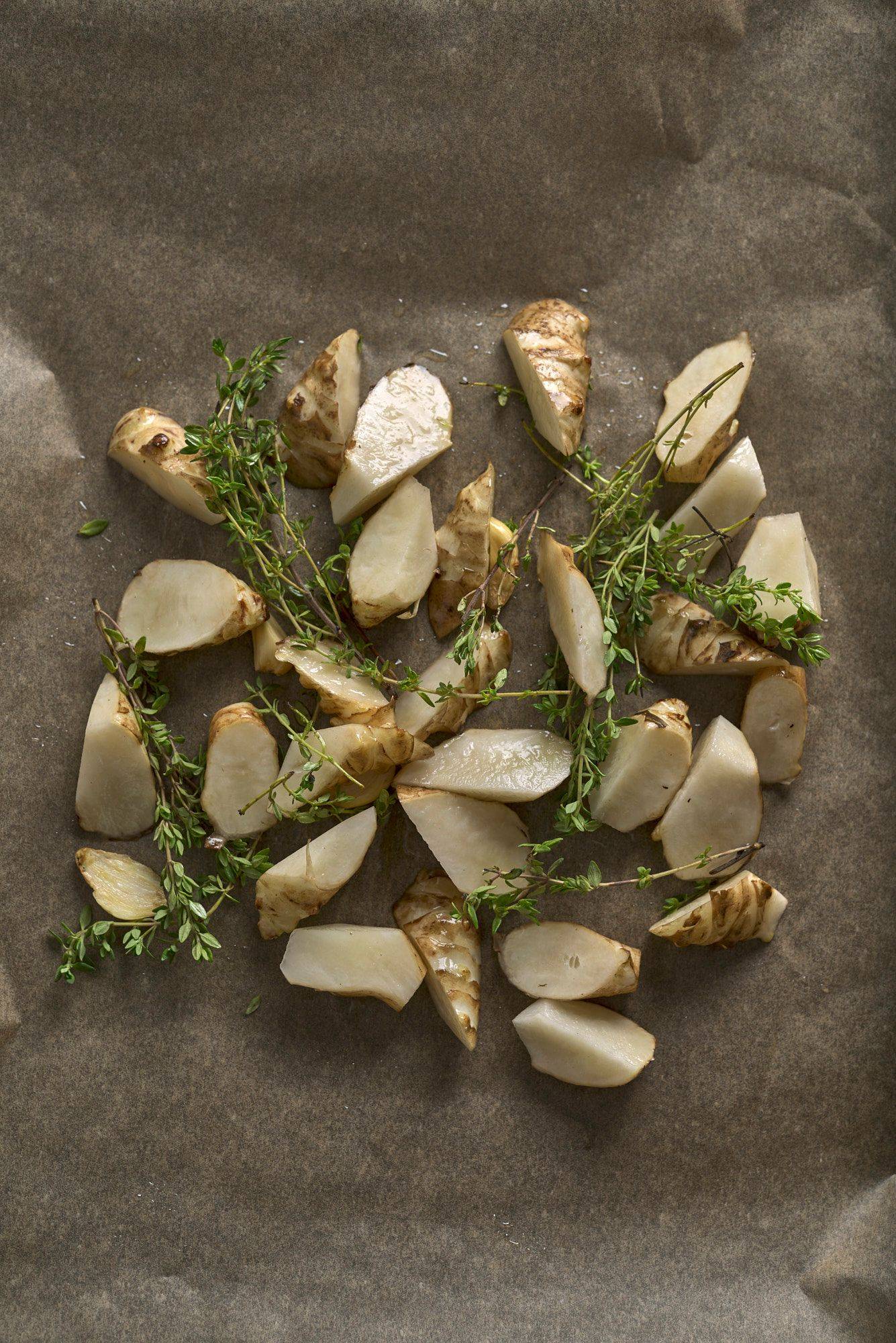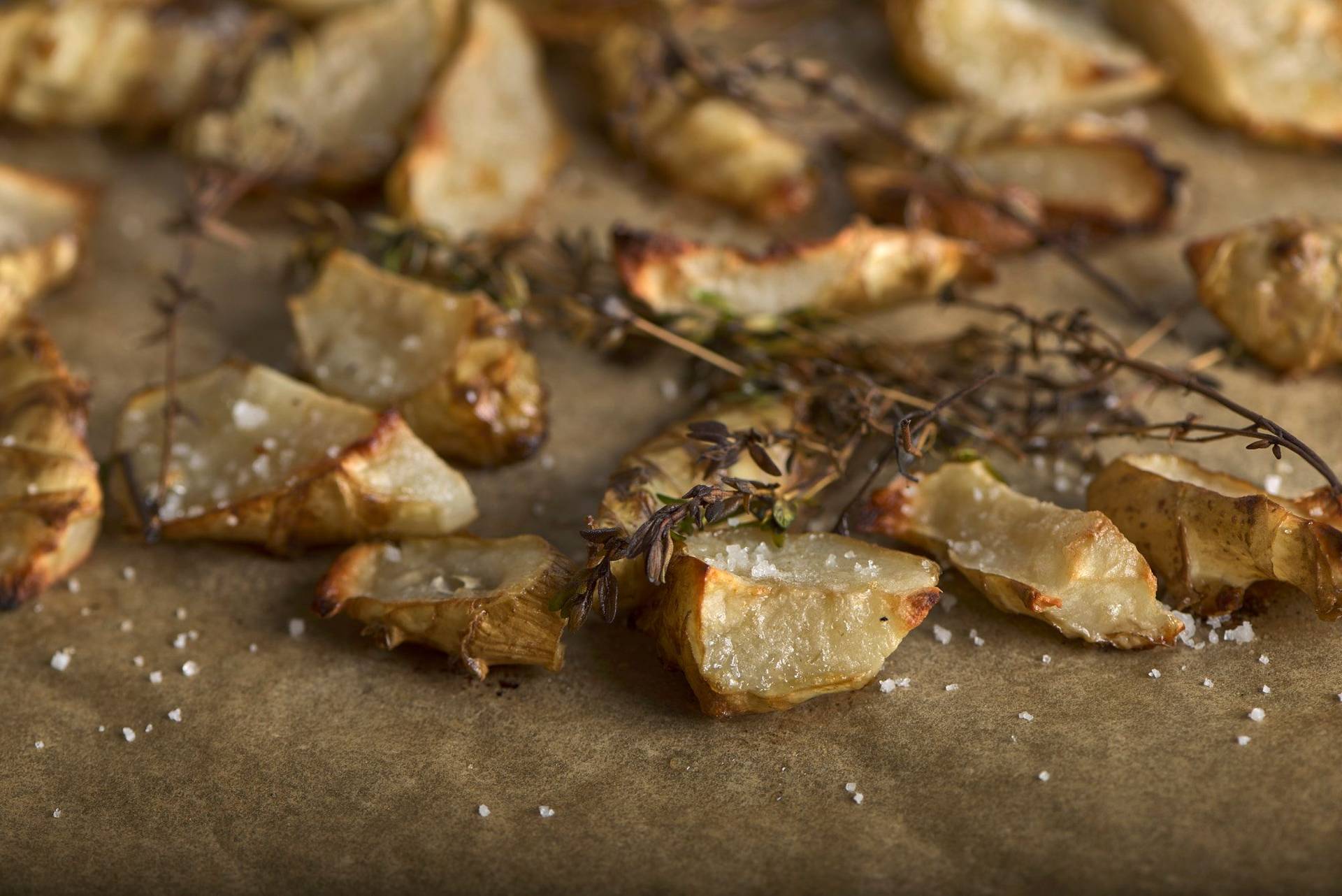 Recipe
Autumn Jerusalem Artichoke Variation
2 Persons30 Minutes
Roasted Jerusalem Artichokes
200 g Jerusalem Artichoke
5 Lemon Thyme Stems
2 Tbsp Olive Oil
1 Garlic Clove
Salt & Pepper to taste
For the roasted Jerusalem artichokes, wash the roots thoroughly and dab them dry, then cut them into wild pieces and mix them with olive oil, the crushed garlic and the thyme. Now put everything on a baking tray with paper and bake in a preheated oven at 220° for about 15-20 minutes. Season with salt and pepper afterwards.
Jerusalem Artichoke Puree
200 g Jerusalem Artichoke
250 ml Milk
2 tsp Butter
Salt, Pepper, Sugar & Nutmeg to taste
For the puree, wash the Jerusalem artichokes thoroughly and pat dry, then cut everything into coarse pieces and cook in the milk with a little salt over medium heat. Put the Jerusalem artichokes in a food processor without the milk, add butter and spices and puree until a creamy mass.
Raw Marinated Jerusalem Artichoke
100 g Jerusalem Artichoke
2 tbsp Olive Oil
20 g Yarrow
Salt, Pepper & Lemon to taste
For the raw marinated Jerusalem artichokes, peel the roots and slice them thinly. Then add yarrow and marinate with the remaining ingredients.
Serving
To serve, arrange the roasted Jerusalem artichoke and puree on a plate and finish with the raw marinated Jerusalem artichoke and yarrow.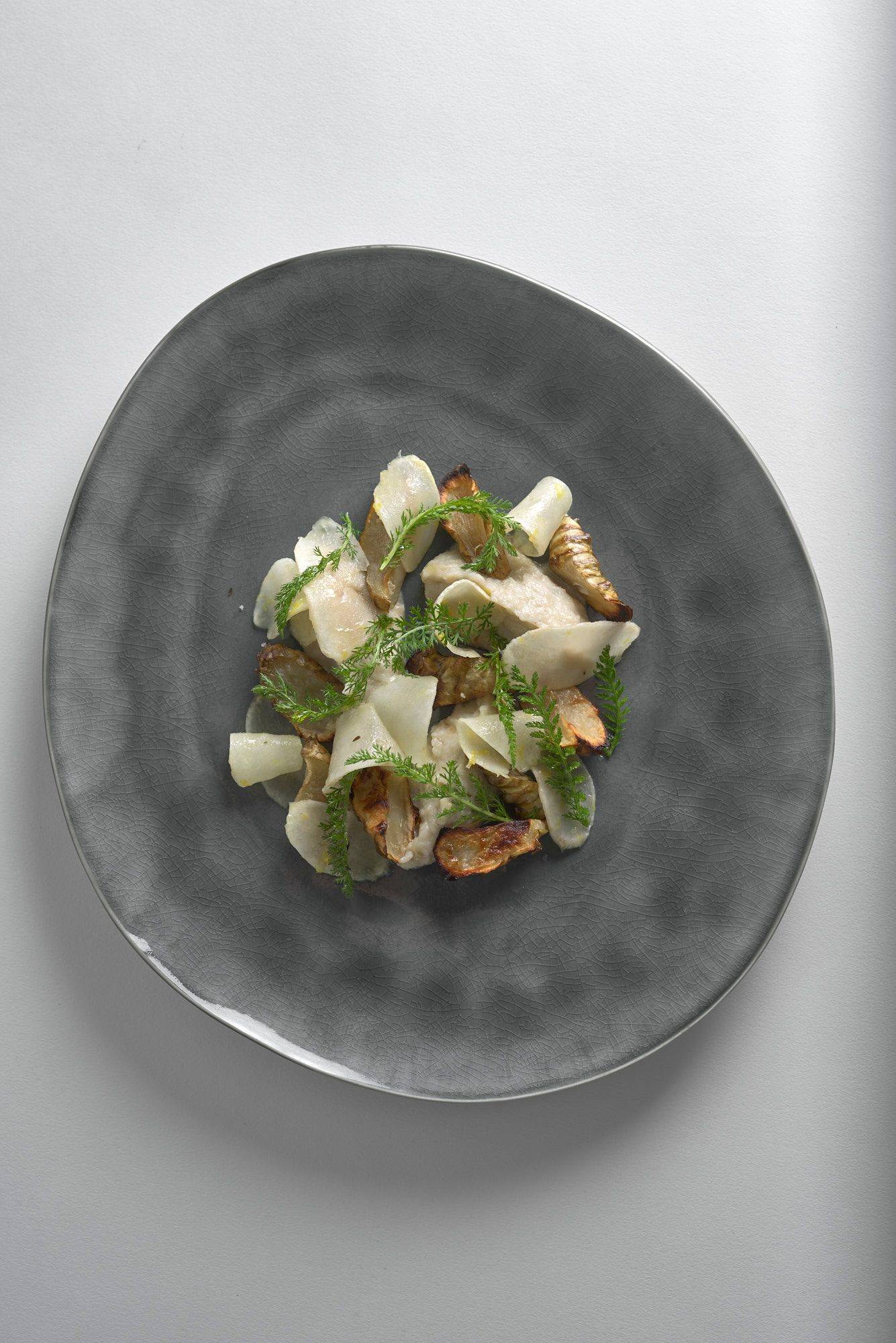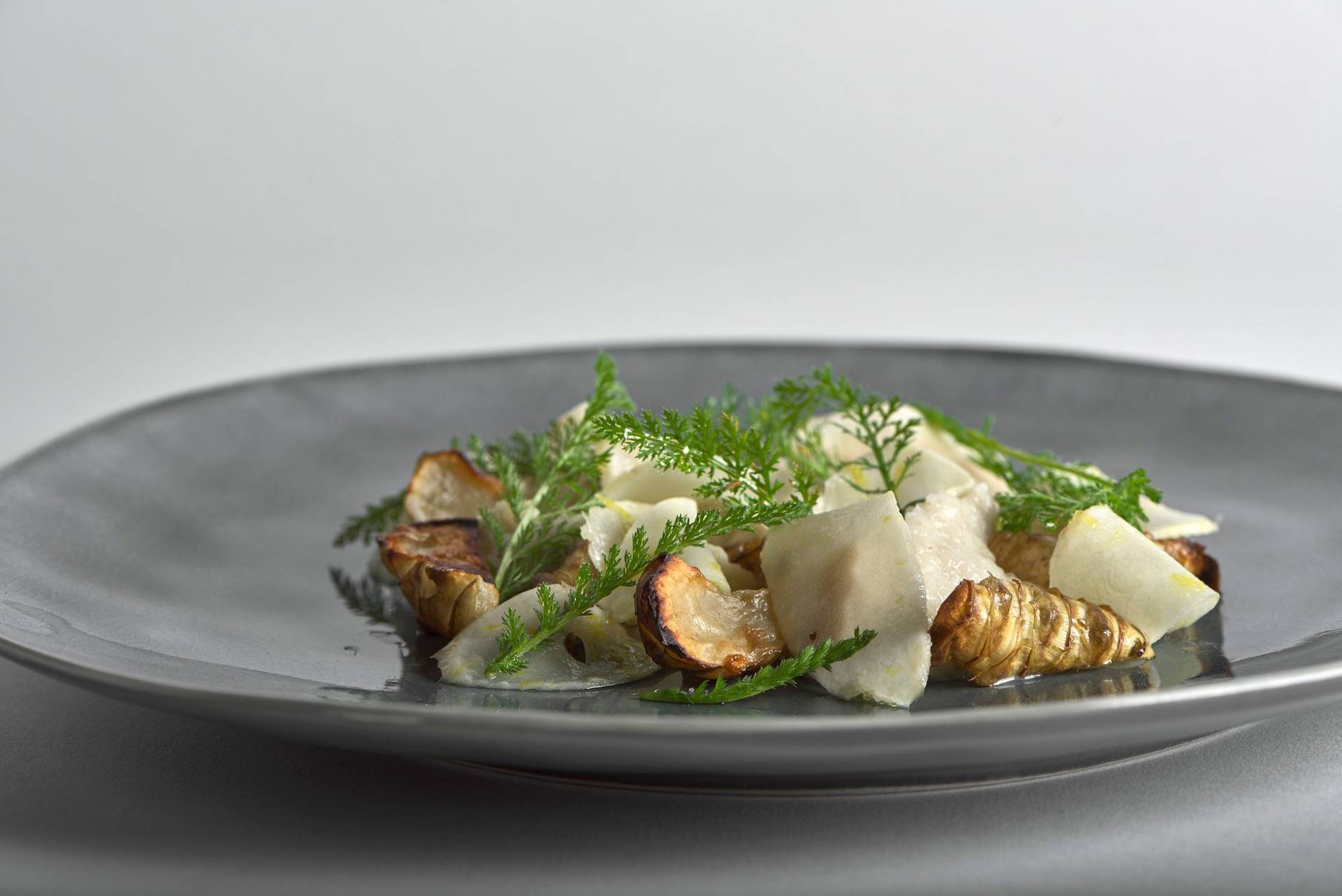 Newsletter
Can't get enough?
Get some secret ingredients through our newsletter!