Recipe
Asparagus Cappuccino with Vegan Jus & Apple Hollandaise Sauce
Vegetarian | Gluten-Free | Sugar-Free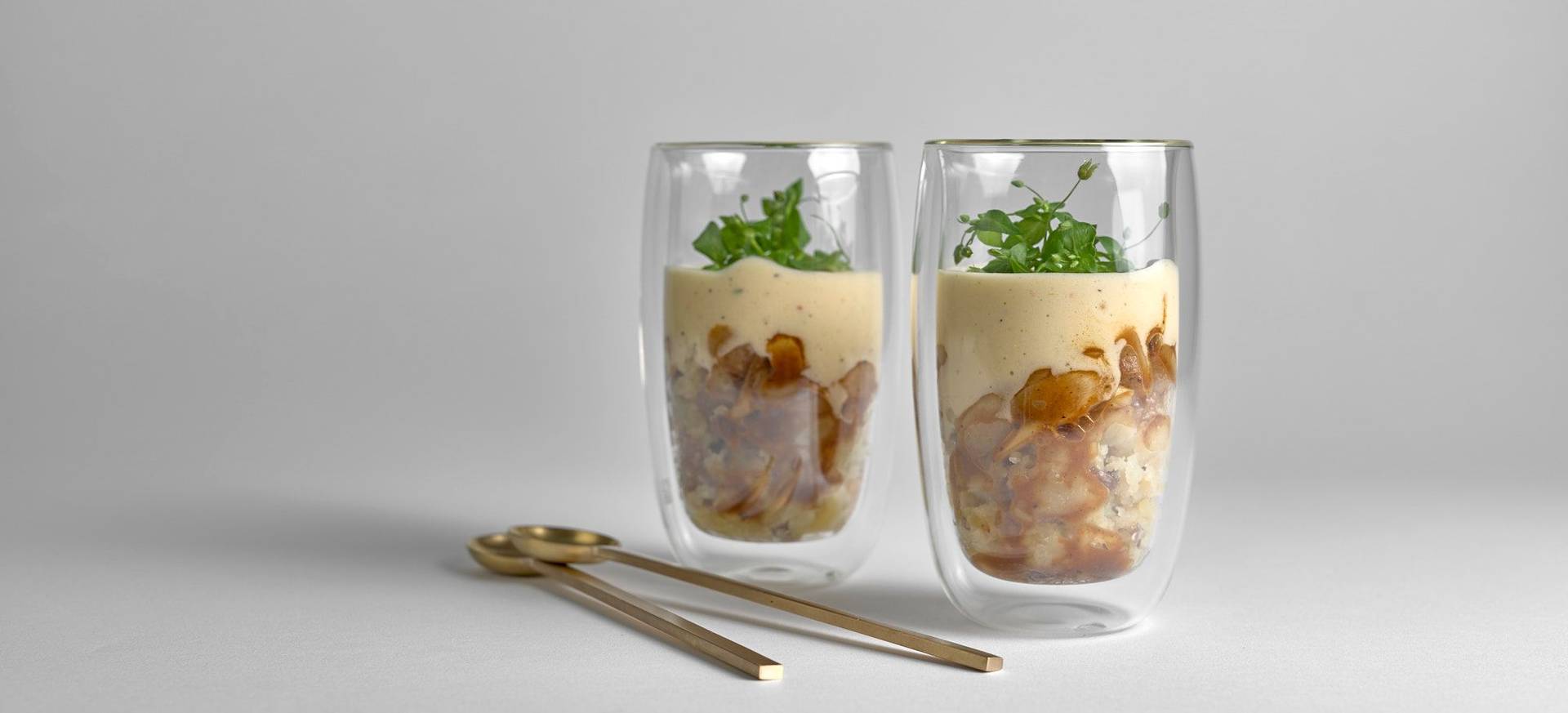 Normally cappuccino has less to do with asparagus or hollandaise sauce, but for this recipe asparagus cappuccino represents the way it is served and layered rather than coffee. I super like bowl dishes because it usually allows you to get all the components of a meal in your mouth with each spoonful, which is perhaps why I named my first cookbook Bowl Stories. Anyway, the asparagus season has begun and I wanted to bring some variety on the plate, or in the glass after I have eaten asparagus classics now a few times.
Savory cappuccino
A vegetarian asparagus recipe it should be, that much was clear and I also wanted to serve a Hollandaise sauce with it, just slightly modified. At events in the past, we have often served different savory cappuccinos, simply because it is great to serve and so easy for the guest to eat. Asparagus cappuccino it is, but what goes into the glass. The "coffee" for savory cappuccino is usually a strong jus, which is given, for example, over braised meat on a vegetable puree, some foam on top and done. The meat was replaced for my recipe with asparagus, which was given on a rustic potato mash and the milk foam has been replaced with a hand-whipped Hollandaise sauce.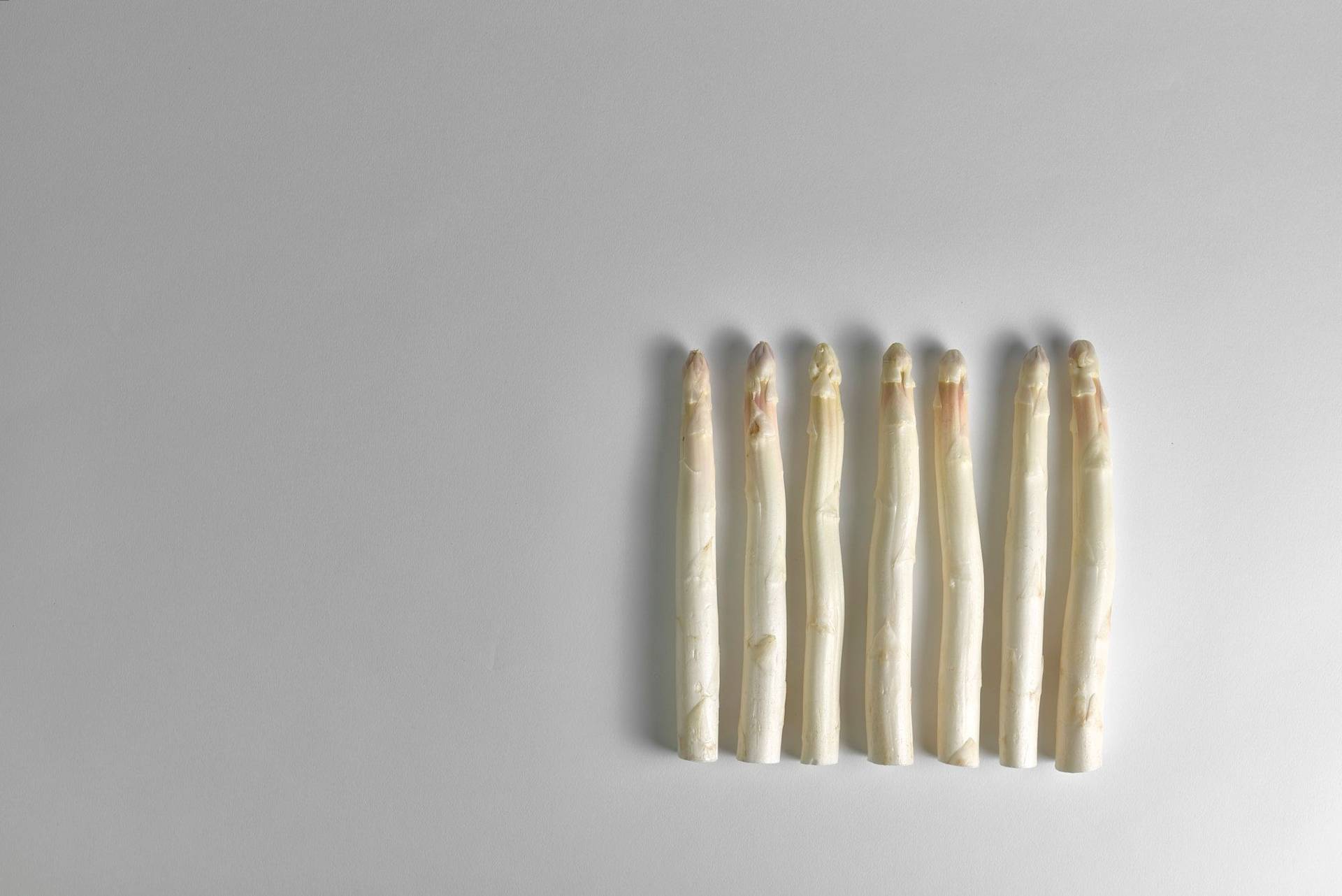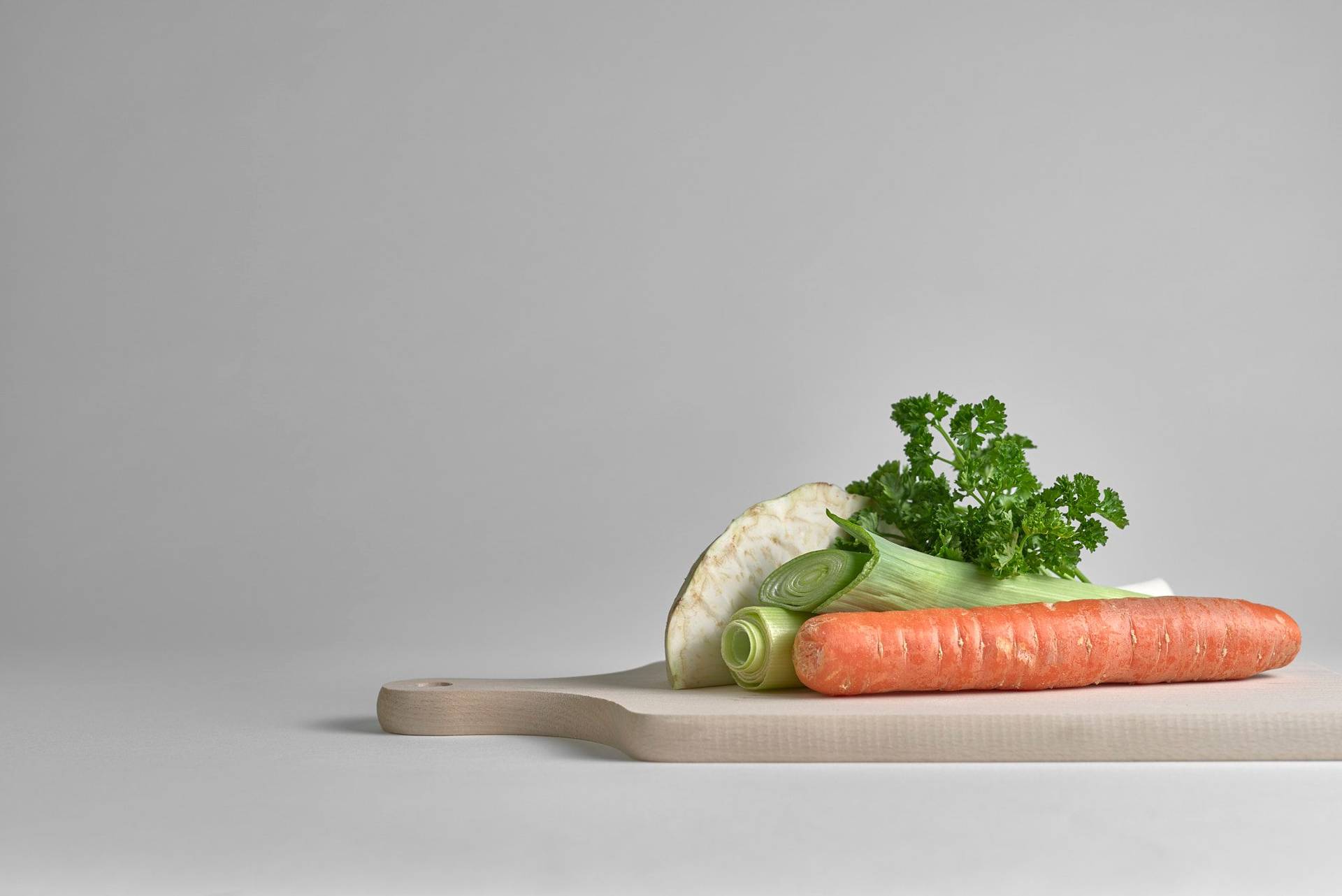 Vegan jus
A jus is usually one of the most important components for a meat dish, as it contributes significantly to the palate experience with its strong flavor. A good jus is not cooked in one day but over several steps to the finished result. It depends on many roasted flavors and even more wine. Since a jus is prepared from bones and meat trimmings, I had to think about how my vegan jus should gain a strong flavor. So, I decided to make a batch with lots of vegetables, which were roasted beforehand to develop the typical taste of jus. In addition to spices, coffee beans were then added to the mixture and then you just had to be patient, because the flavor of the jus develops during leisurely cooking all by itself.
Homemade Hollandaise sauce
For me, a homemade Hollandaise sauce is just as essential to a delicious asparagus meal as the actual quality of the asparagus. The worst thing that can happen to high quality asparagus is to douse it with Hollandaise sauce from a Tetra Pak, so for full enjoyment I like to go the extra step and always whip up my own Hollandaise sauce. It really requires very little, just some boiled down white wine, egg yolks and butter. This composition also makes it easy to modify a classic Hollandaise sauce by replacing the white wine with another flavored liquid, for example. I chose apple juice and apple cider vinegar for my apple hollandaise sauce, because apple and asparagus are real friends on the plate.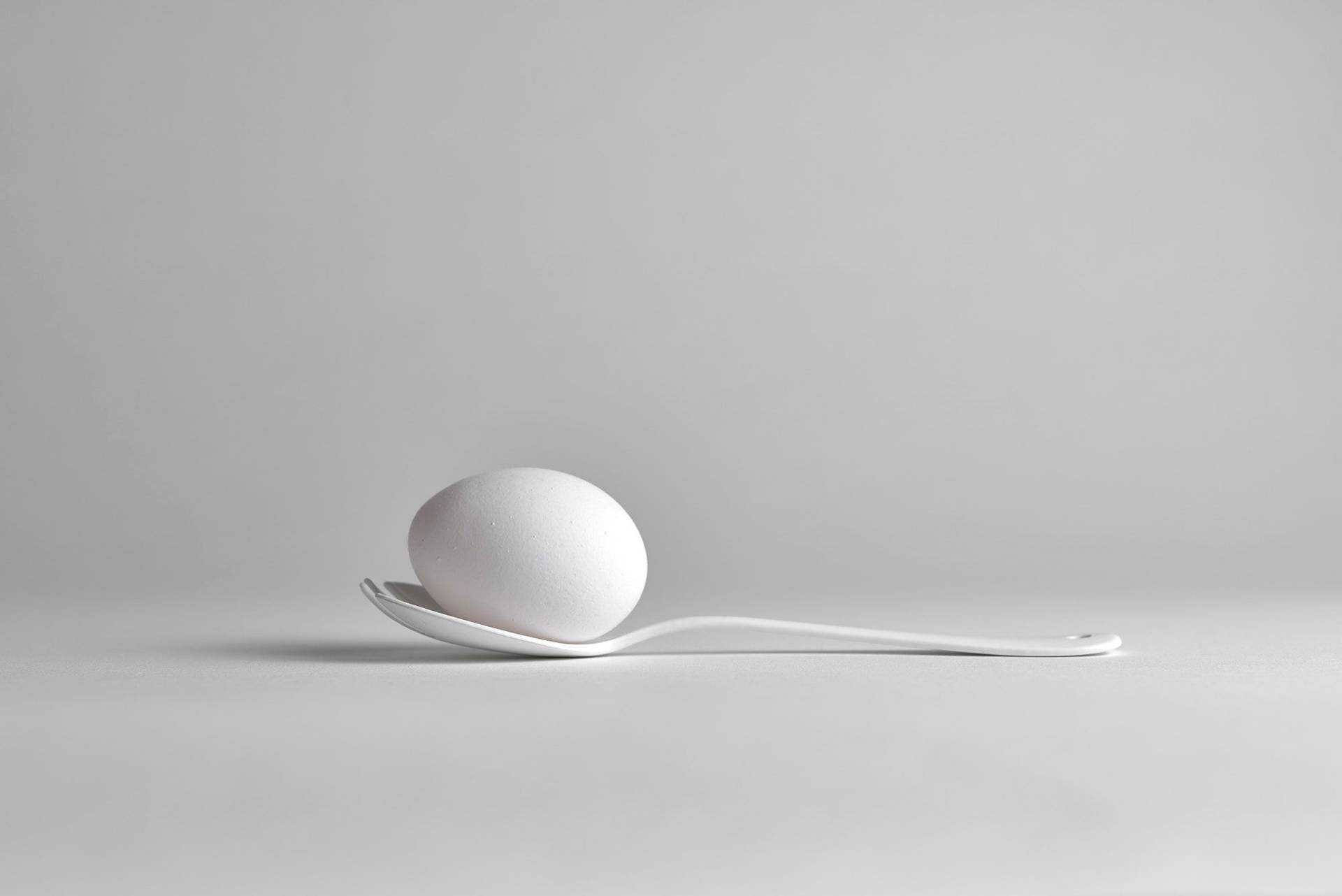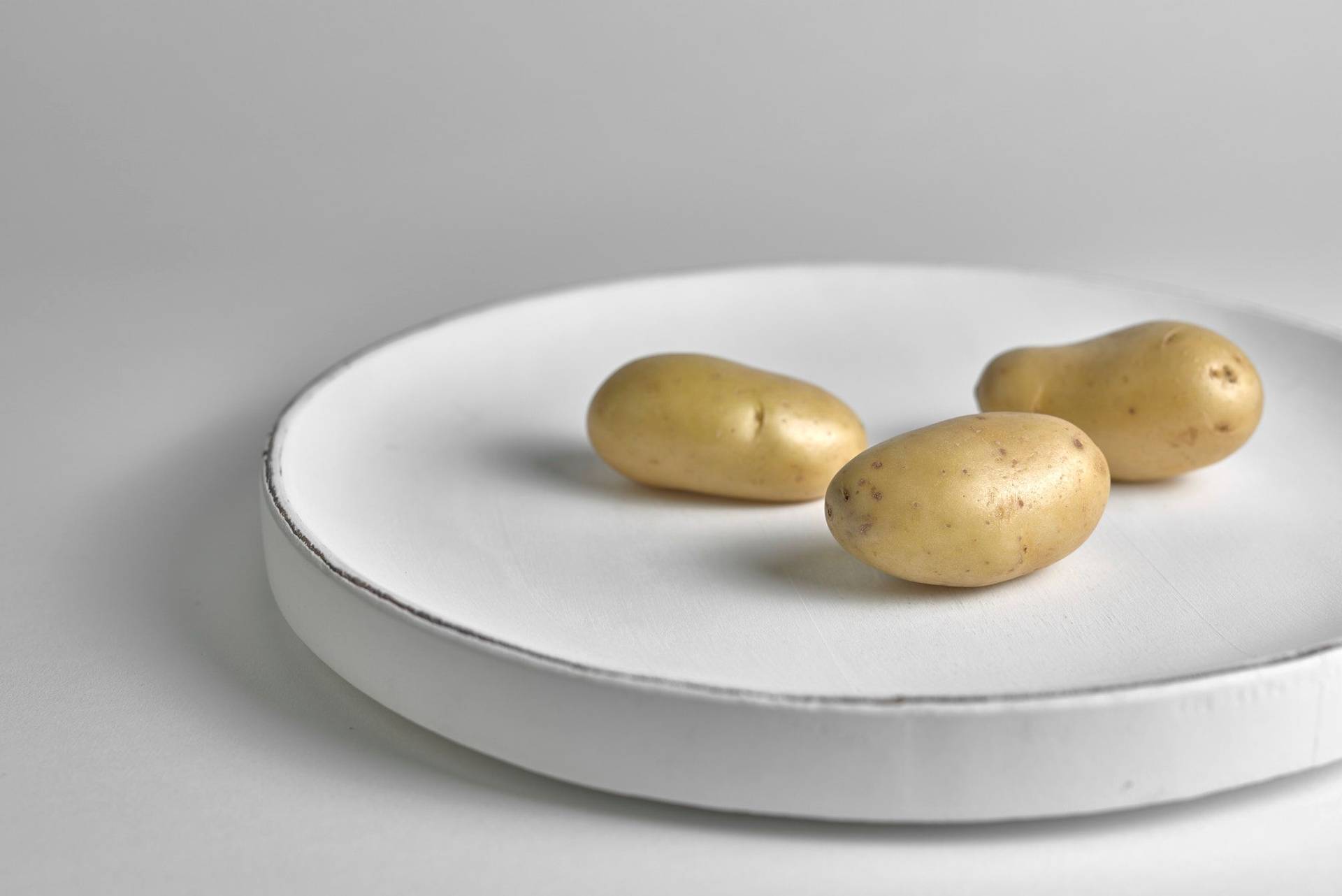 Recipe
Asparagus Cappuccino with Vegan Gravy & Apple Hollandaise Sauce
4 Persons1 Hour 40 Minutes
Vegan Jus
300 g Greens
1 tsp Tomato Paste
100 ml Apple Juice
500 ml Water
5 Pimento Seeds
2 Bay Leaves
1 tbsp Coffee Beans
1 tbsp Cornstarch
Salt, Pepper & Agave Syrup to taste
For the vegan jus, wash and peel the greens, then cut into cubes and sauté vigorously with a little oil. The vegetables may stick a bit to the pot for extra taste, then add the tomato paste and roast a little further. Now deglaze with apple juice and water, add allspice, bay leaf and coffee beans and simmer for 1 hour at low heat. Then strain the stock through a sieve and bring to the boil again. Now stir in the cornstarch mixed with a little water and thicken the jus. Finally, season to taste with the spices.
Potato Mash
500 g Red Potatoes
20 g Butter
Salt, Pepper & Agave Syrup to taste
For the potato mash, boil the unpeeled potatoes in salted water, then drain and mash coarsely with the butter. Season to taste with the spices afterwards.
Apple Hollandaise Sauce
2 Egg Yolks
40 ml Apple Juice
10 ml Apple Cider Vinegar
90 g Butter
Salt, Pepper, Agave Syrup & Chili Flakes to taste
For the hollandaise sauce, melt the butter and whisk the egg yolks with juice and vinegar in a kettle on a water bath until the mixture becomes creamy. Then remove from the water bath and very slowly stir in the butter so that the sauce emulsifies. Finally, season to taste with the spices and set aside, covered, until ready to serve. Caution. The Hollandaise sauce must not be heated any further, otherwise the emulsion will be destroyed. It is best to whip the Hollandaise sauce just before serving.
Asparagus Ragout
8 Spears Asparagus
20 g Butter
Vegan Jus
For the asparagus ragout, peel and slice the asparagus. Sauté the asparagus in butter and then add the jus.
Serving
To serve, first place the mashed potatoes in a glass or bowl and arrange the asparagus ragout on top. Top with the apple hollandaise sauce and garnish with some chickweed.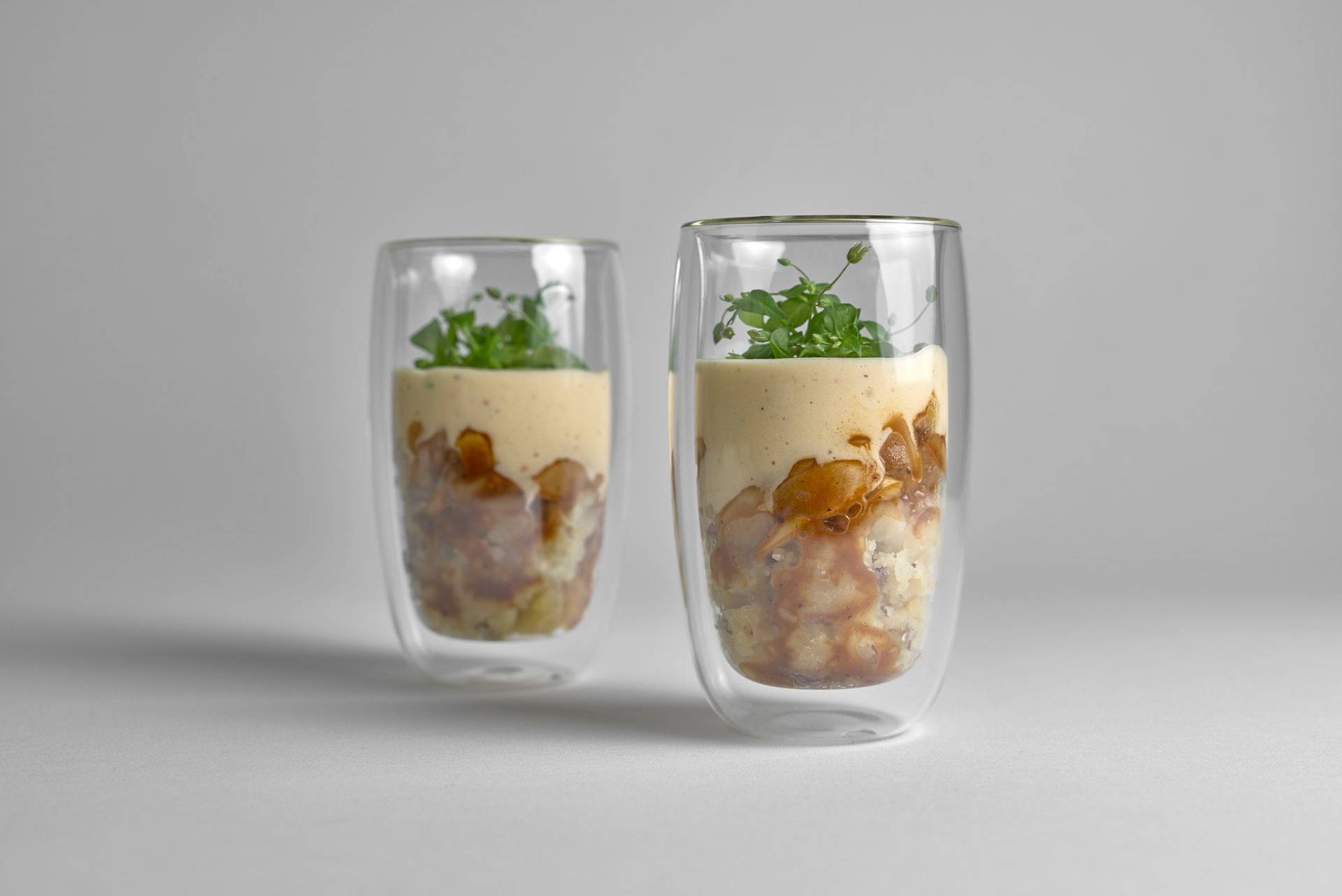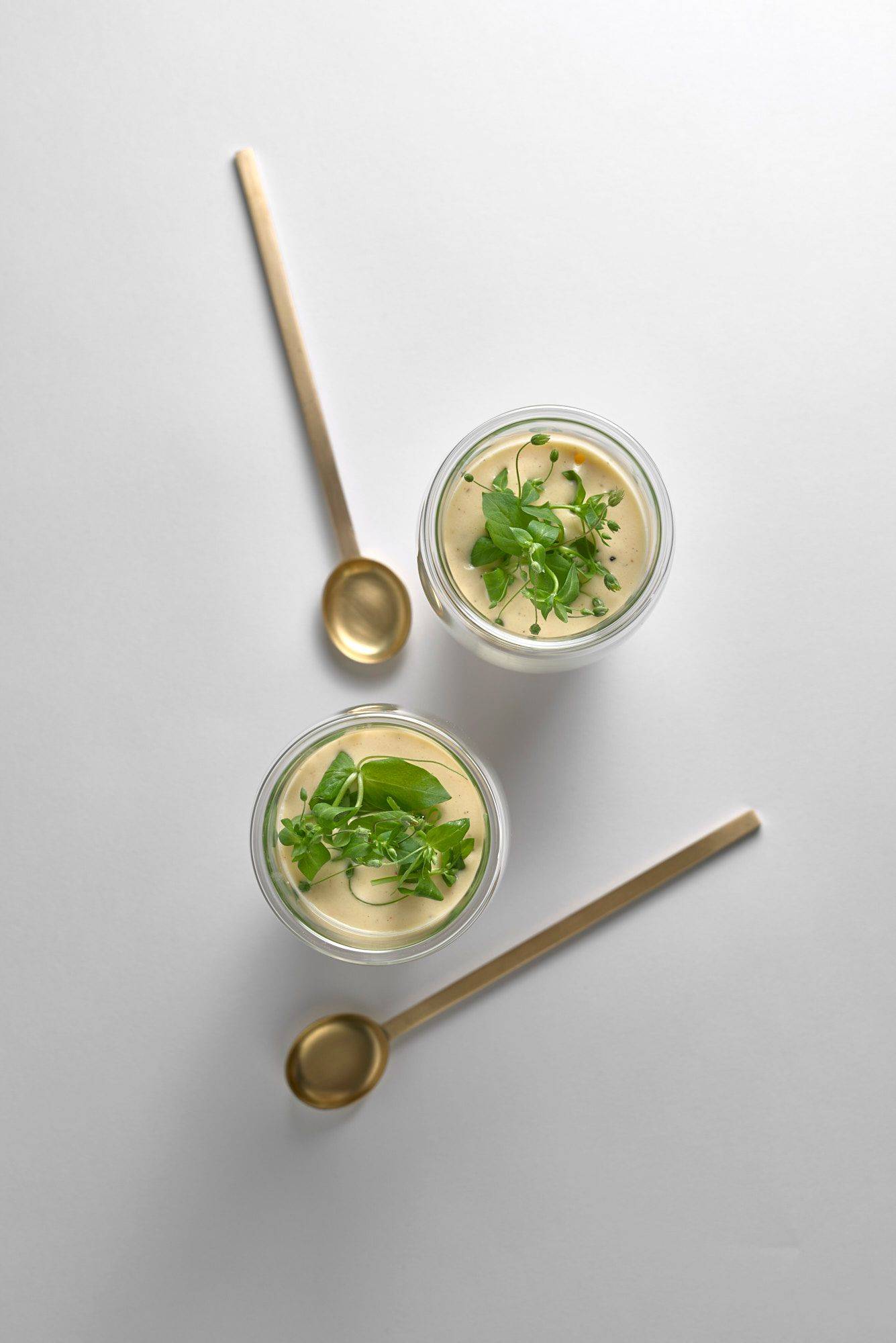 Newsletter
Can't get enough?
Get some secret ingredients through our newsletter!